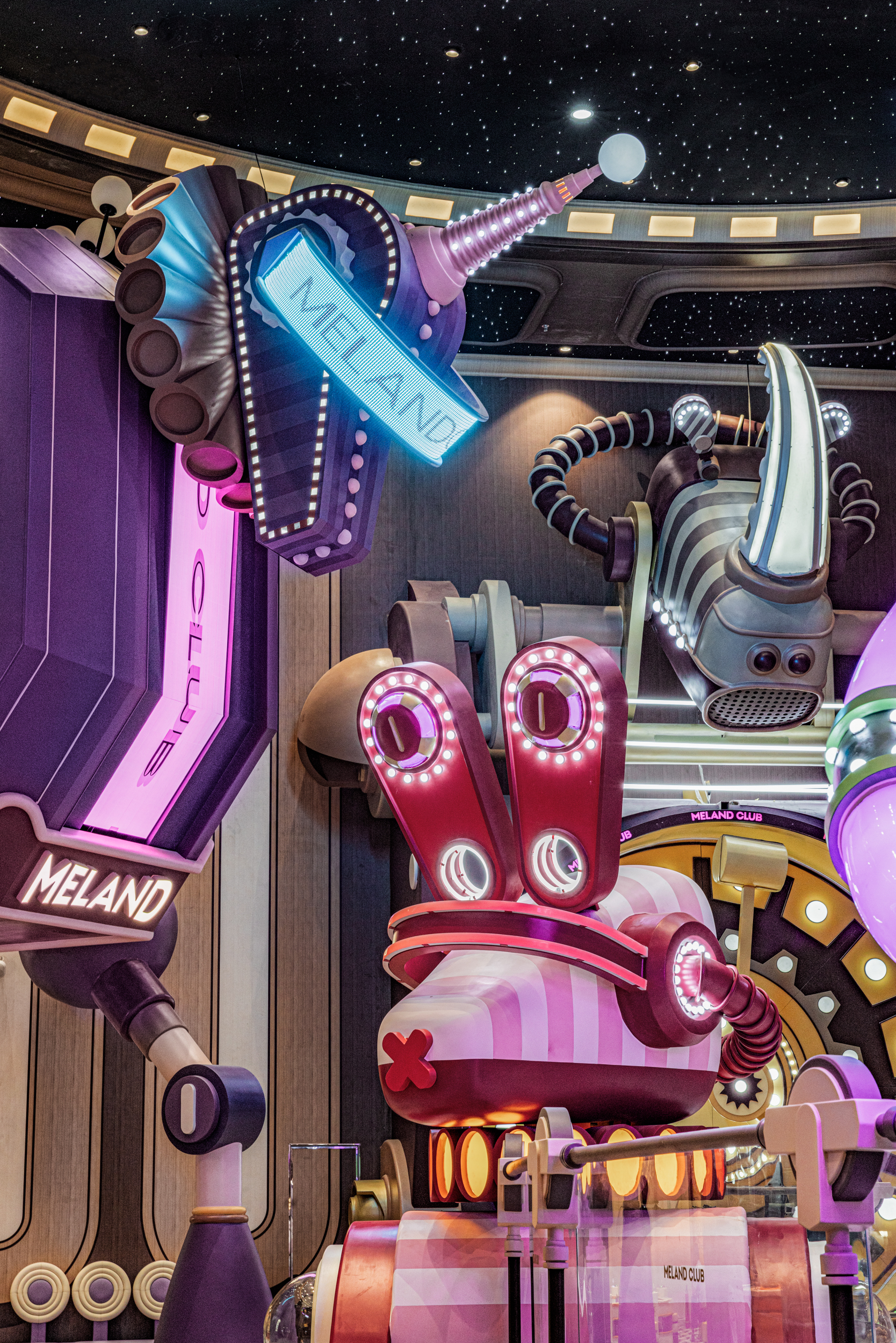 用博爱之心打造机械生物,
Design mechanical creatures with a heart of fraternity,
萌芽人与环境关系的思考。
Sprout thoughts on the relationship between humans and the environment.
---
浪漫轻盈的童话故事外壳下包裹着濒危野生动物保护的寓言内核,空间概念更是从沉浸式的灵感叙事出发。在奇幻之境,一位技艺精湛的木匠用博爱之心打造机械生物。灭绝的动物们,由此在梦幻之地中重生。
The romantic and light fairy tale shell is wrapped with an allegorical core of endangered wildlife protection, and the space concept is based on an immersive narrative. In a fantasy land, a skilled carpenter builds mechanical creatures with a compassionate heart. The extinct animals are reborn in the dreamland.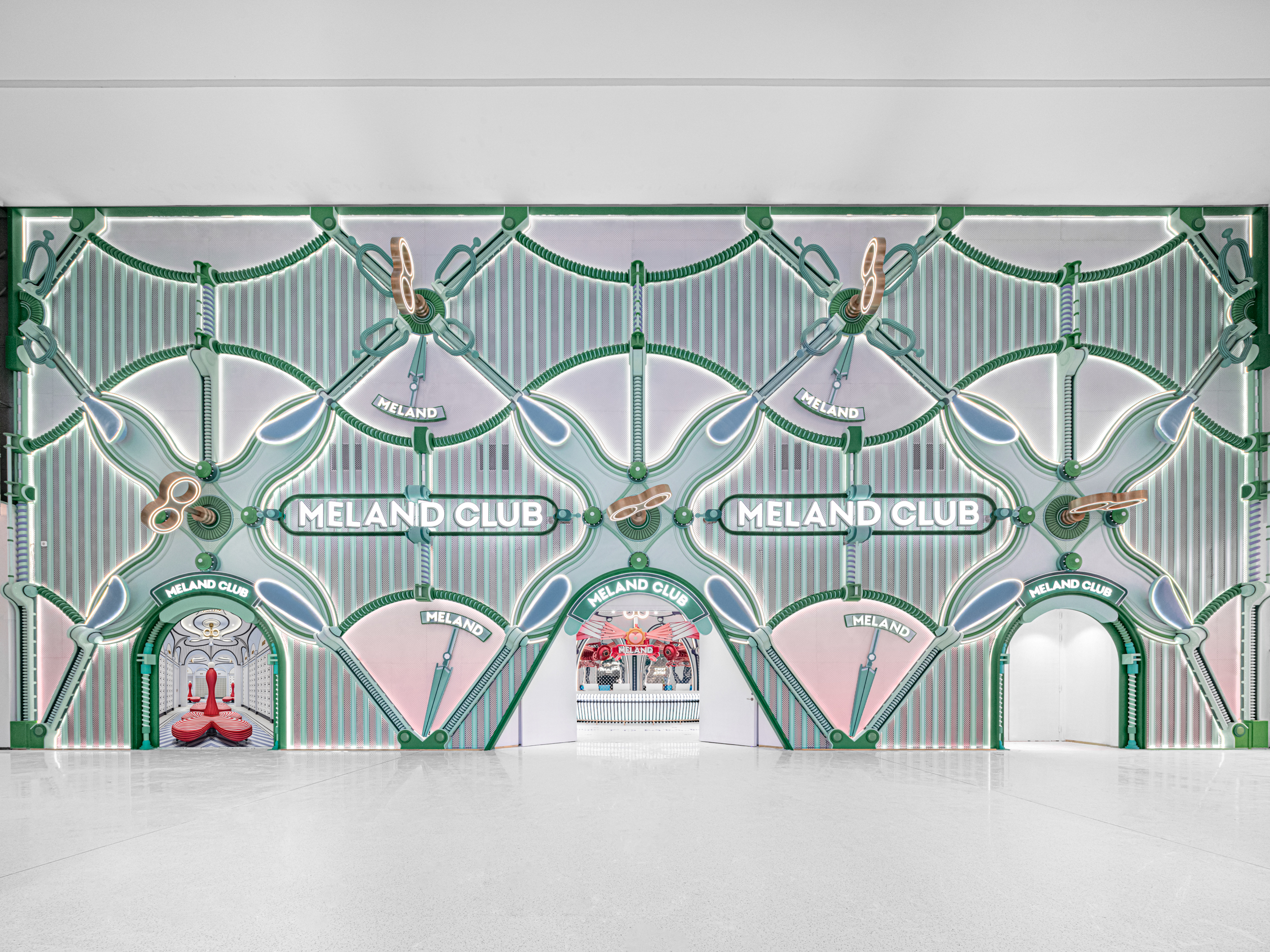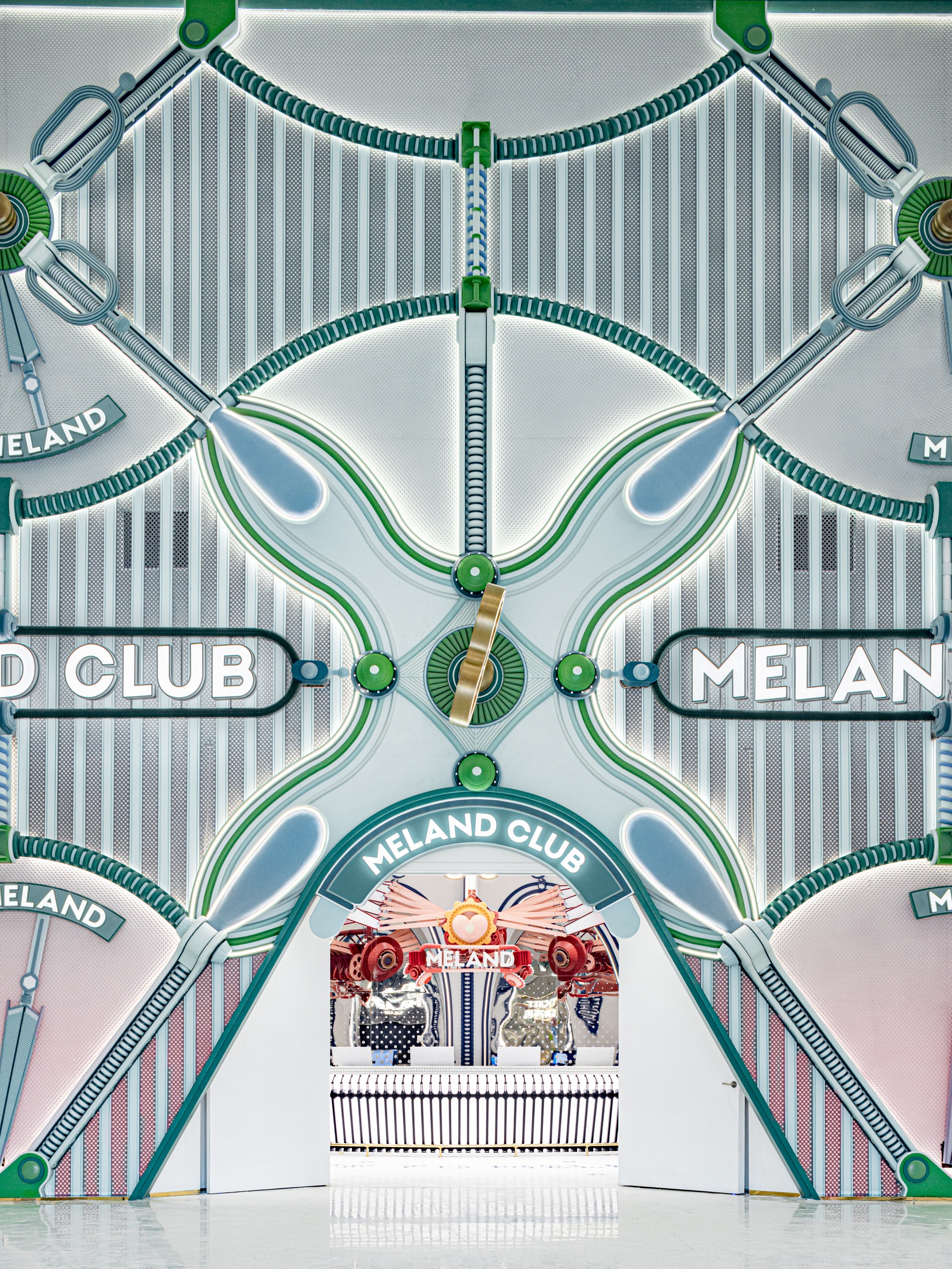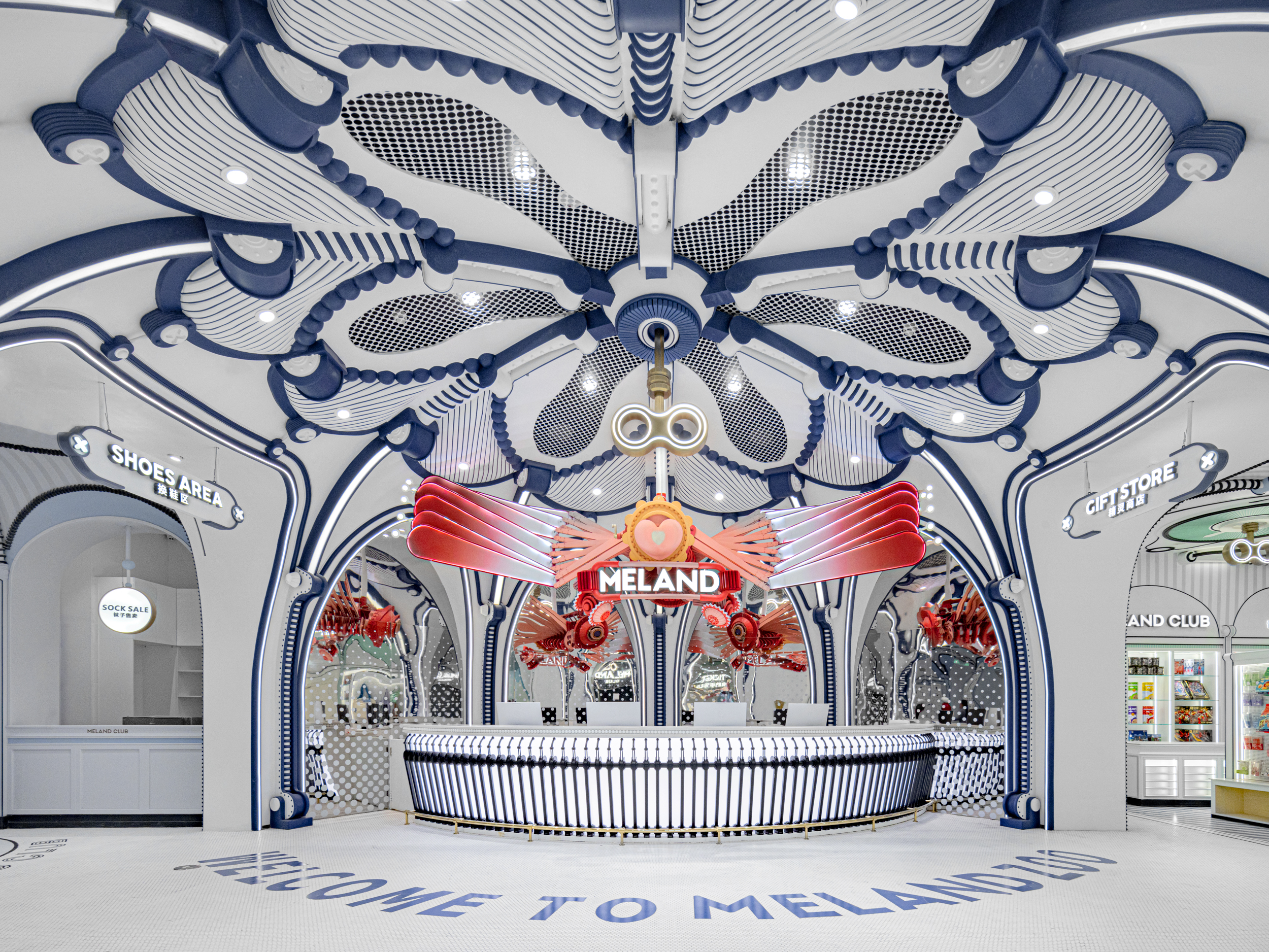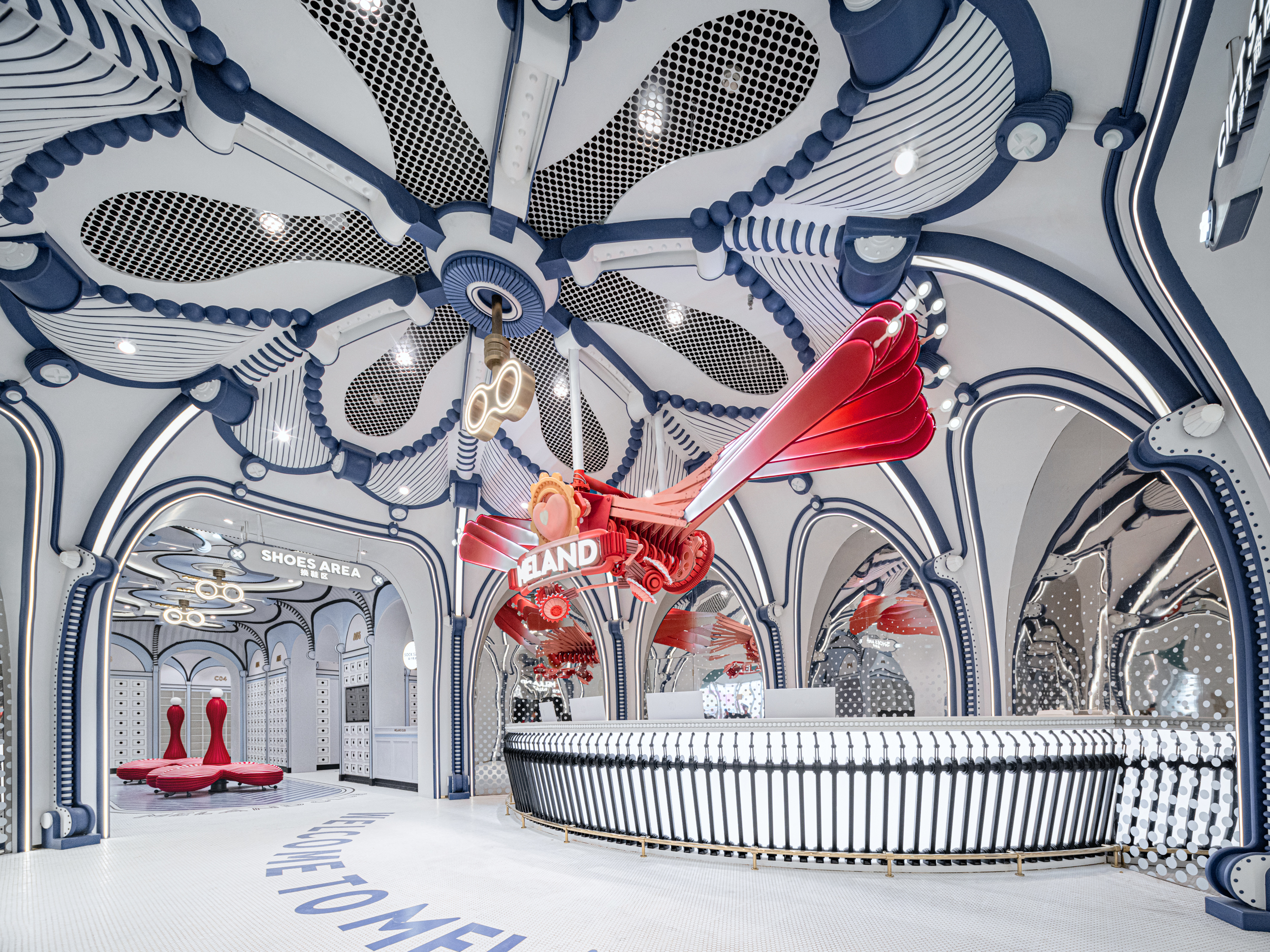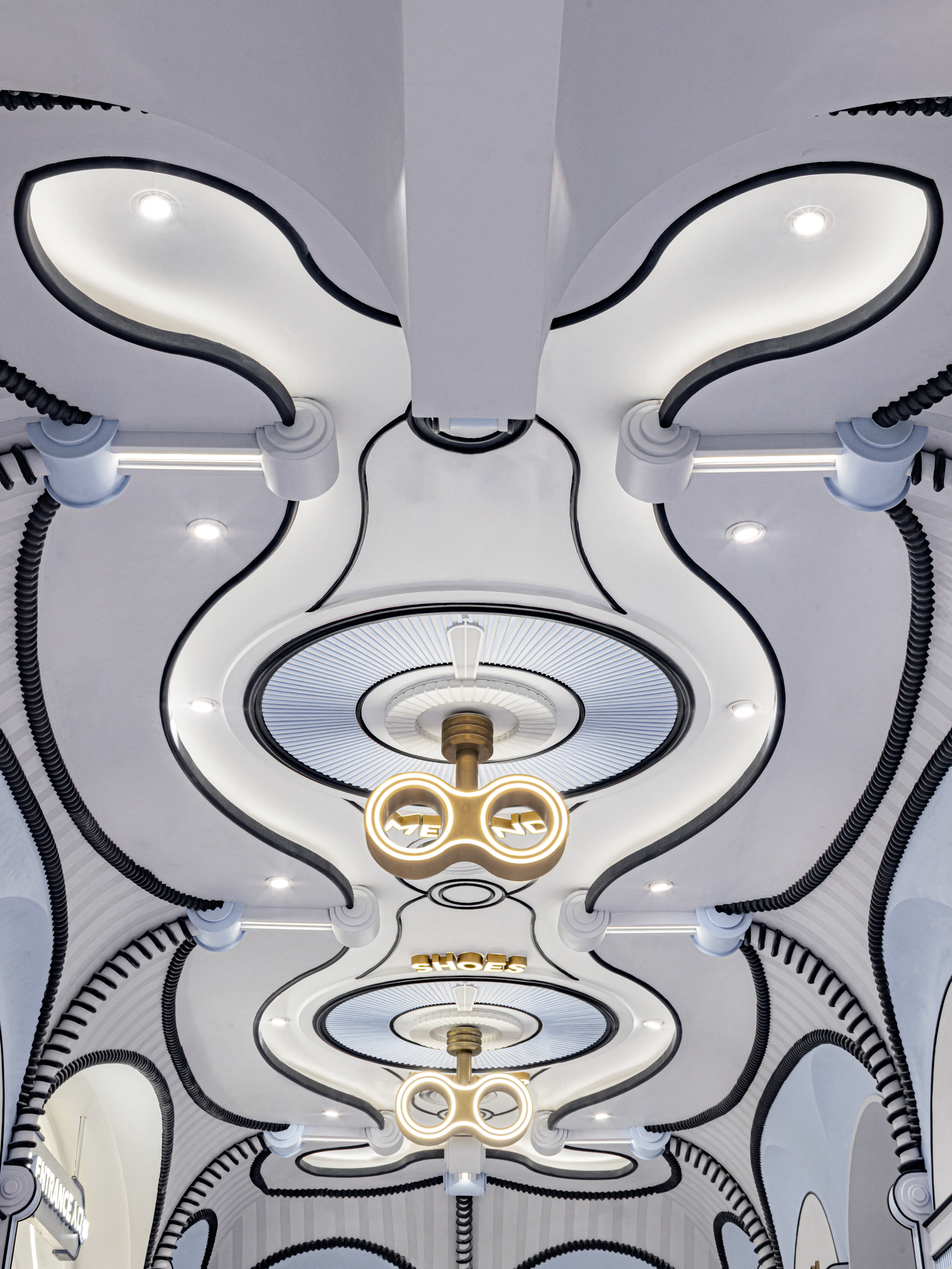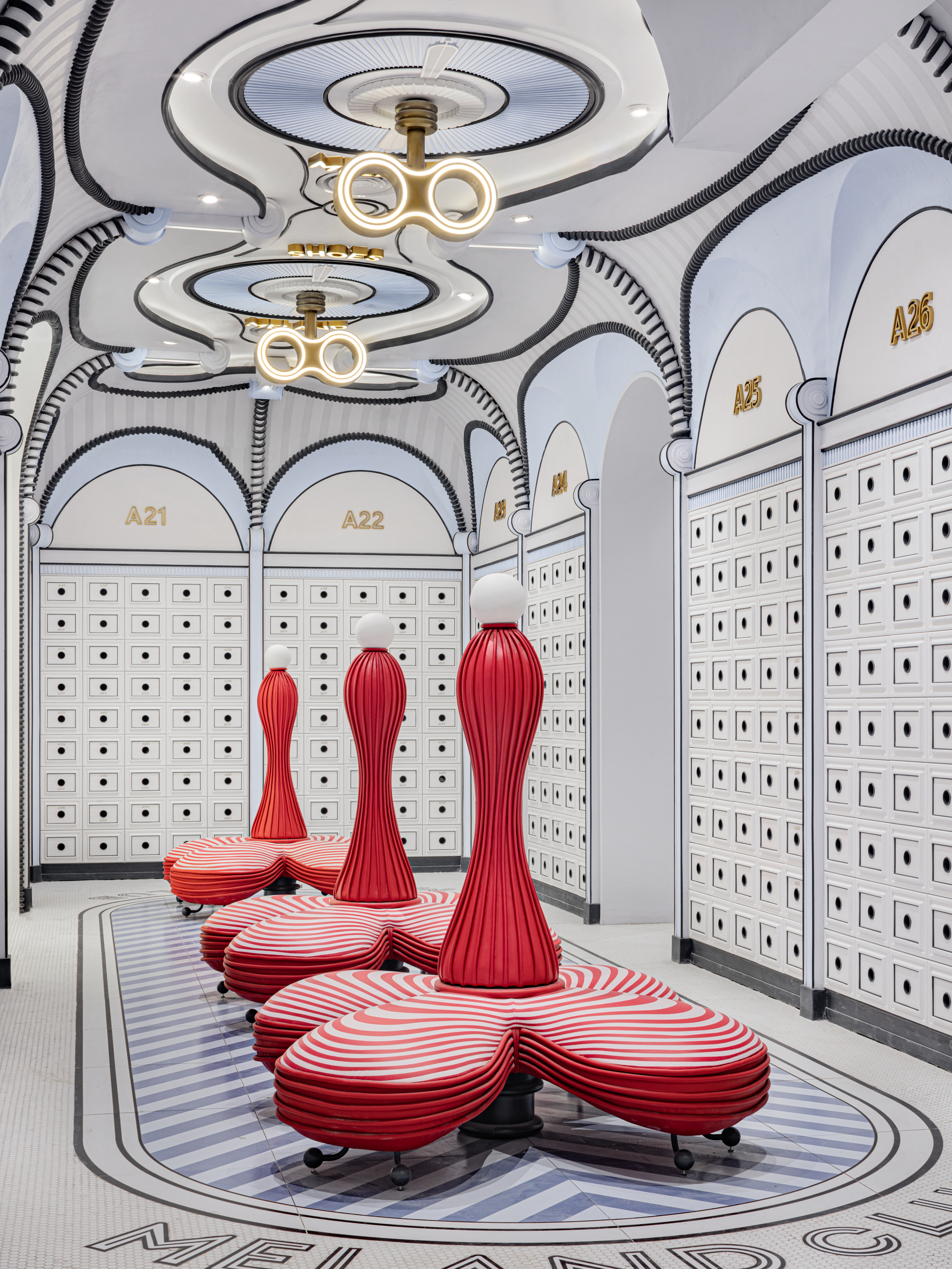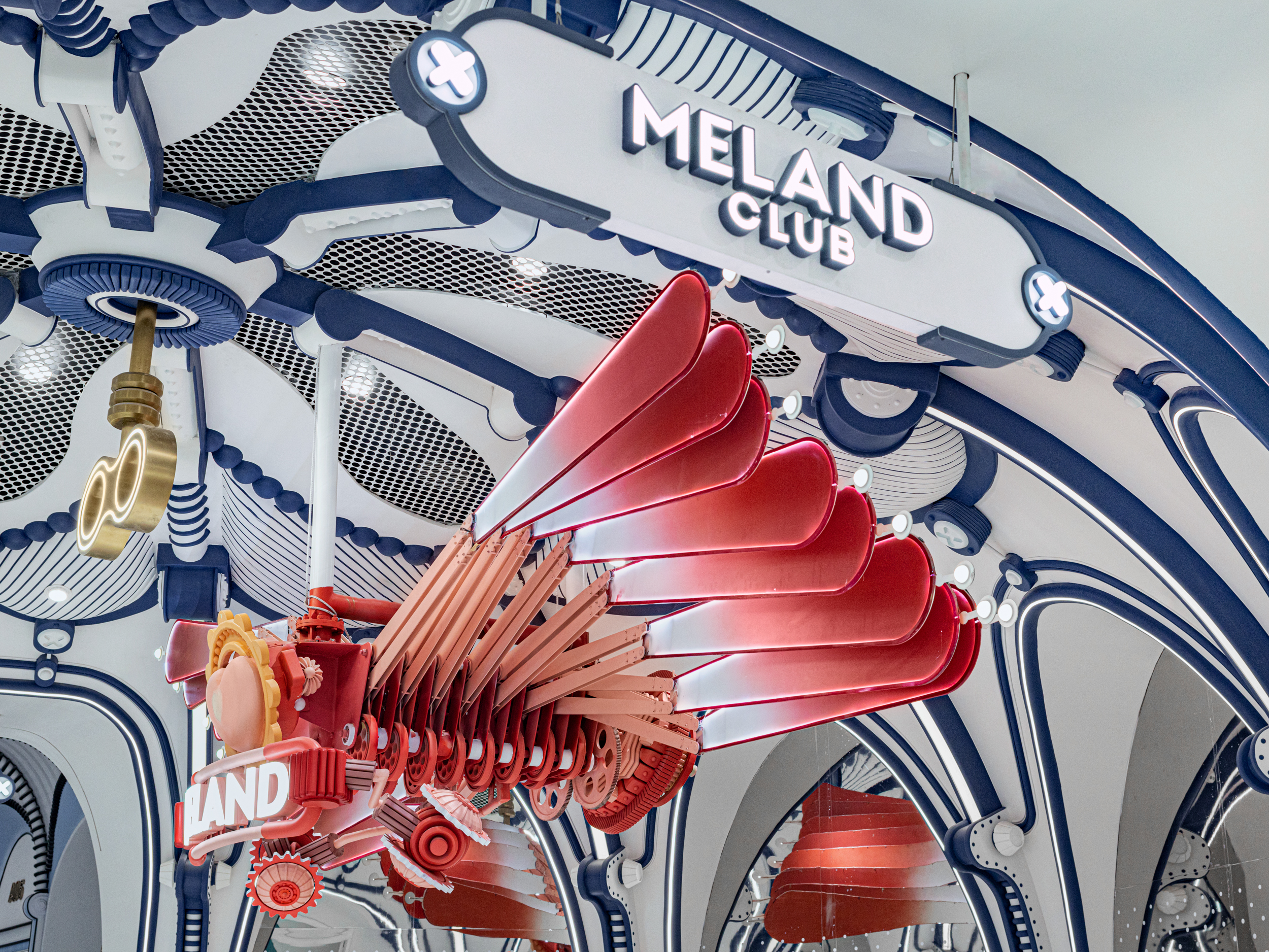 机械轴承艺术性演变成室内桁架结构和穹顶空间,作为空间主体标识贯穿整体项目,非常规的设计手法带来感官上的新奇感受,底层美学逻辑架构呈现阵列仪式美感。
The artistry of mechanical bearings has evolved into the indoor truss structure and dome space. As the main mark of the space, it runs through the entire project. The unconventional design techniques bring novel sensory experiences, and the underlying aesthetic logic structure presents the beauty of the array ceremony.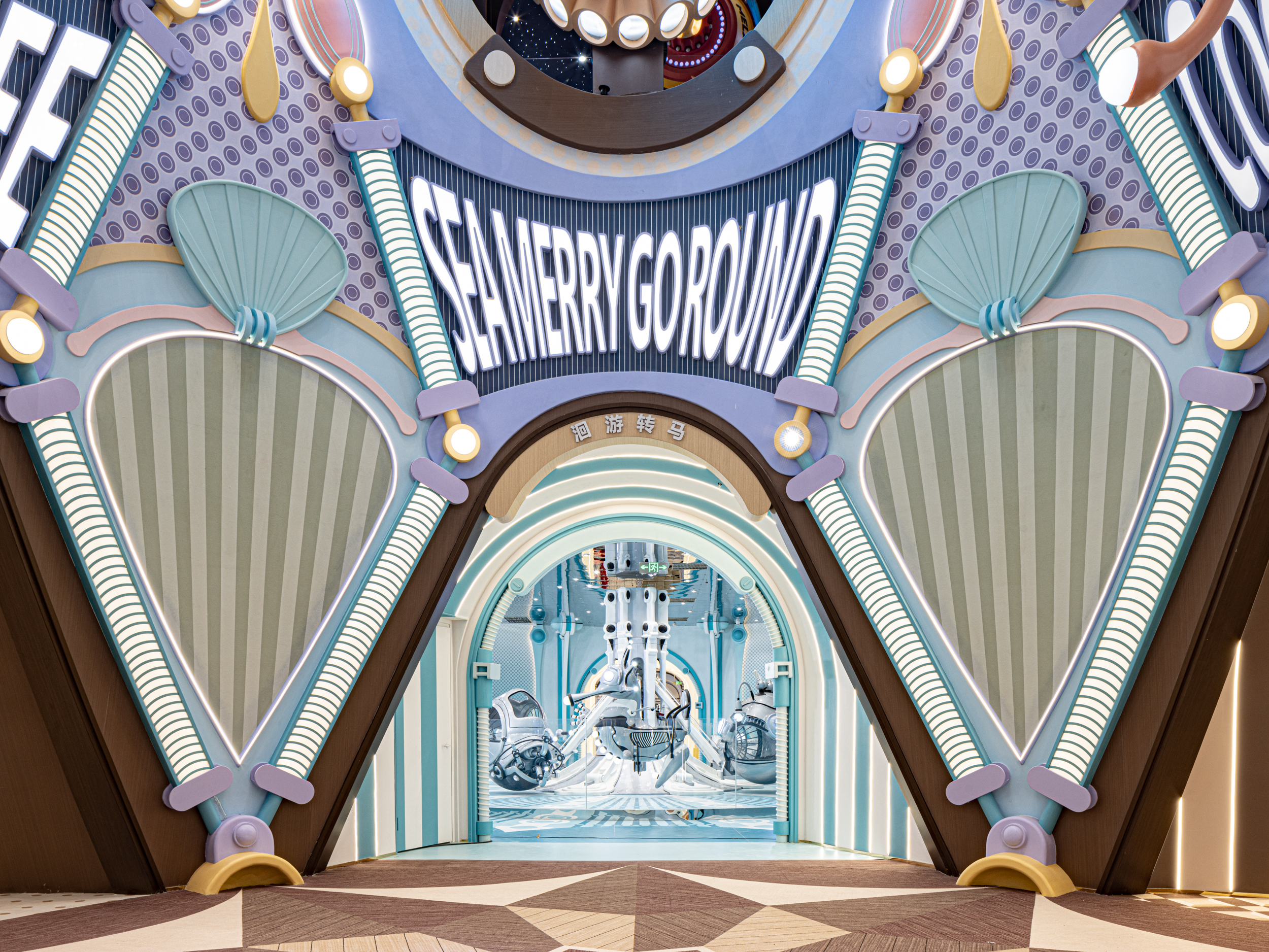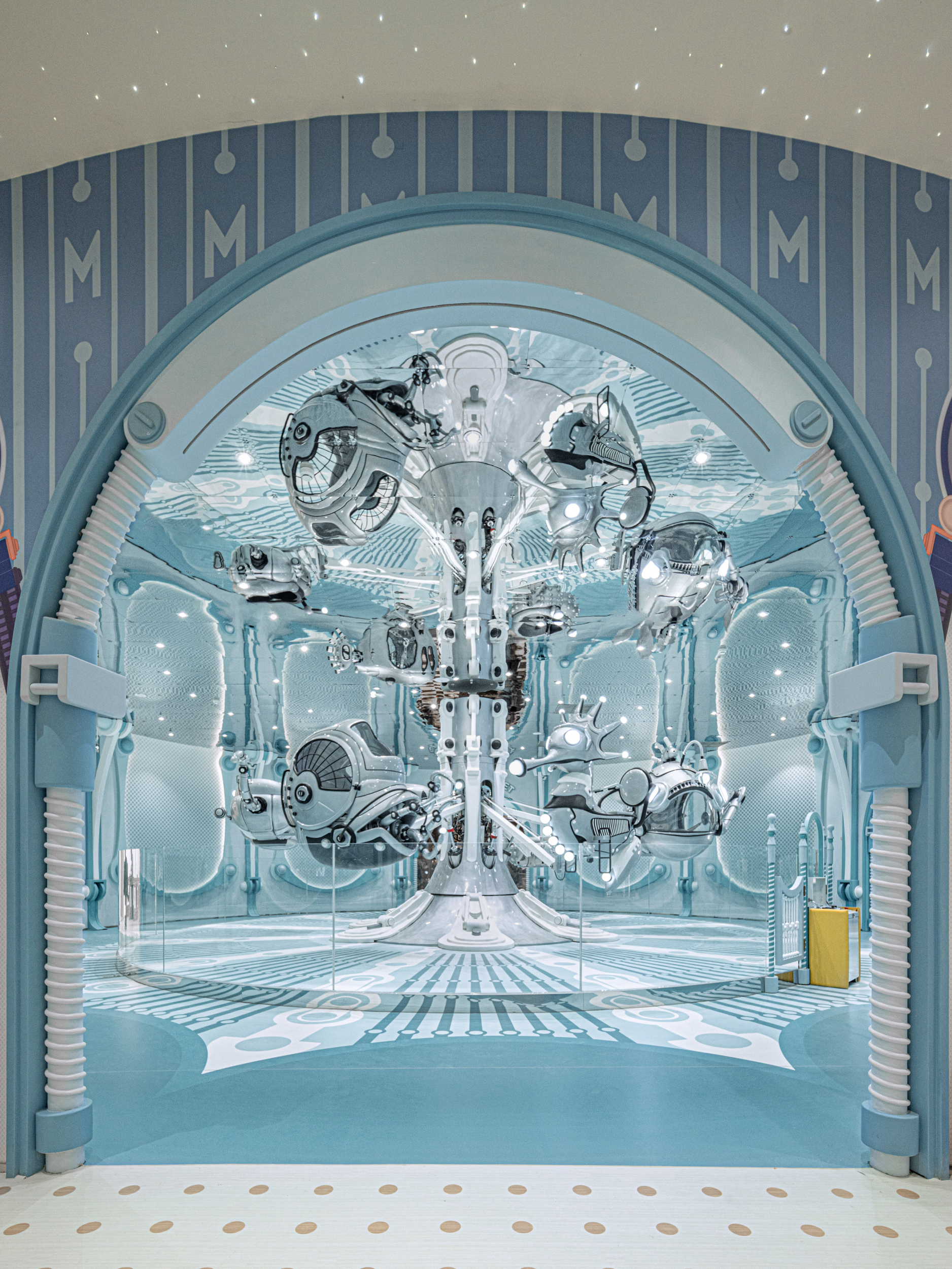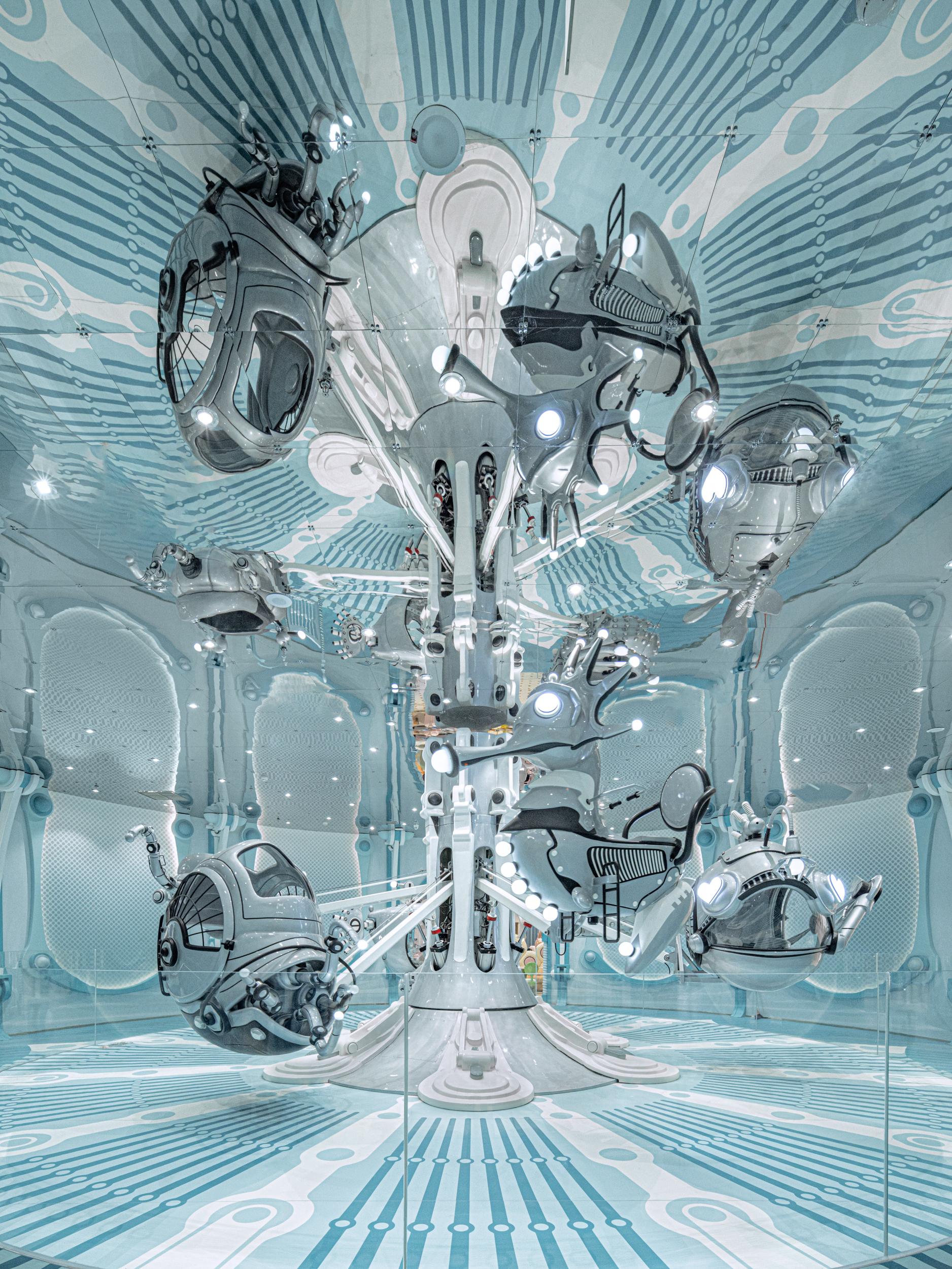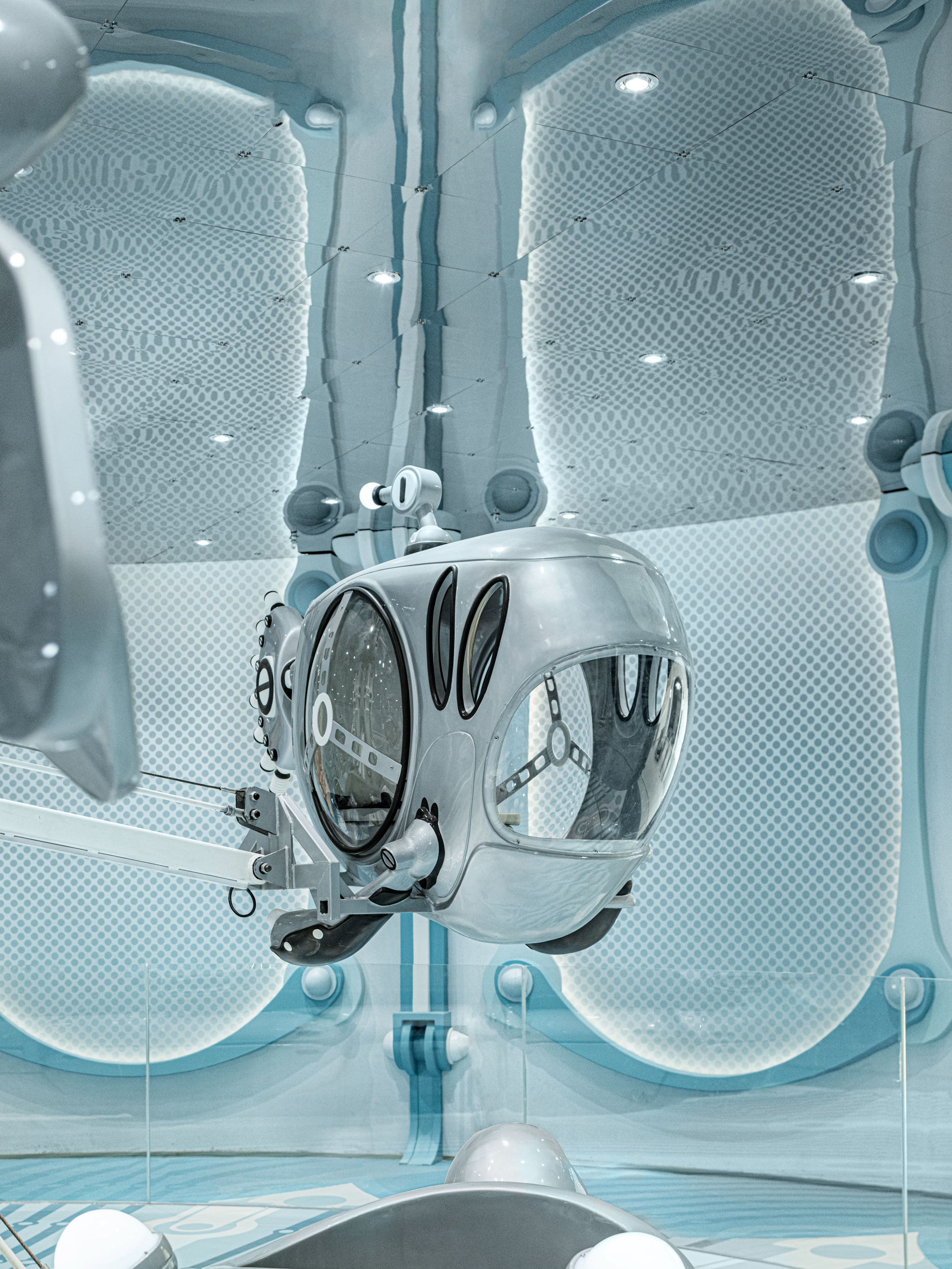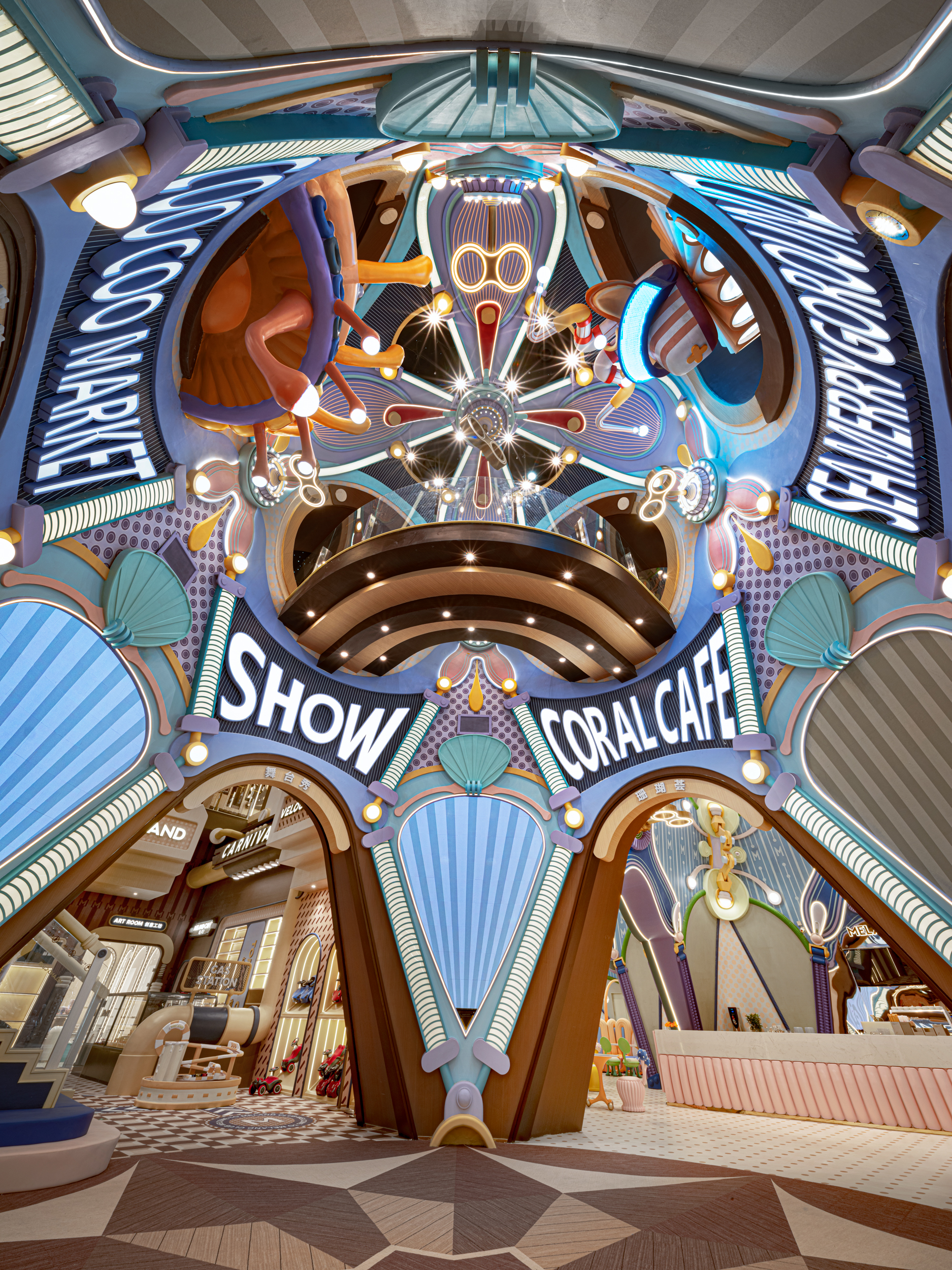 在建筑逻辑美学的基础上,设计师李想首创式地将"机械美学"融入到内建构与艺术装饰之中,试图解构机械运动的固态结构,以凝结的静态美重塑动态的韵律美,重构人们对空间筑造的认知。
On the basis of architectural logic aesthetics, designer Li Xiang pioneered the integration of "mechanical aesthetics" into interior construction and artistic decoration, trying to deconstruct the solid structure of mechanical movement and reshape the dynamic rhythmic beauty with condensed static beauty. Reconstruct people's understanding of space construction.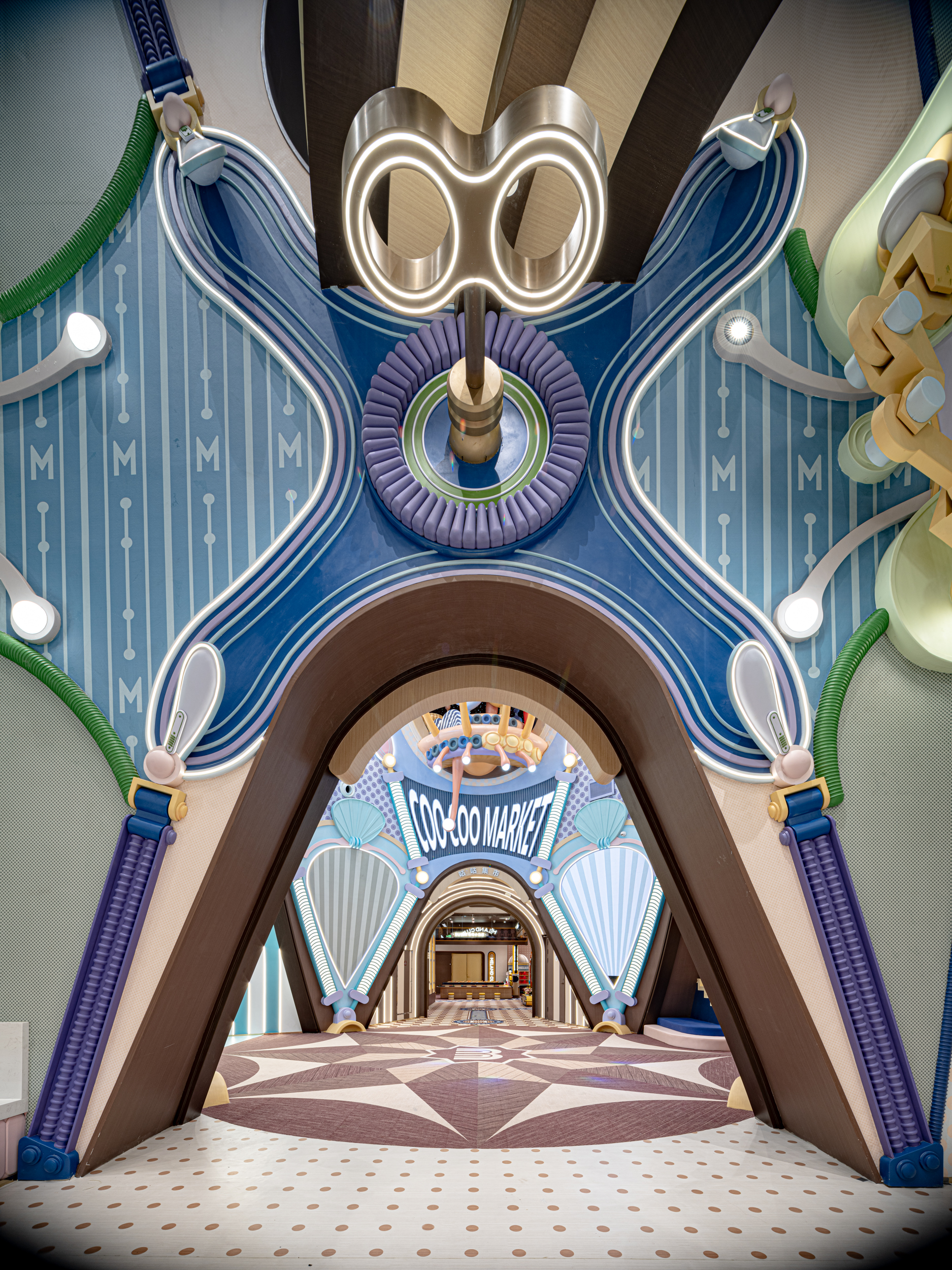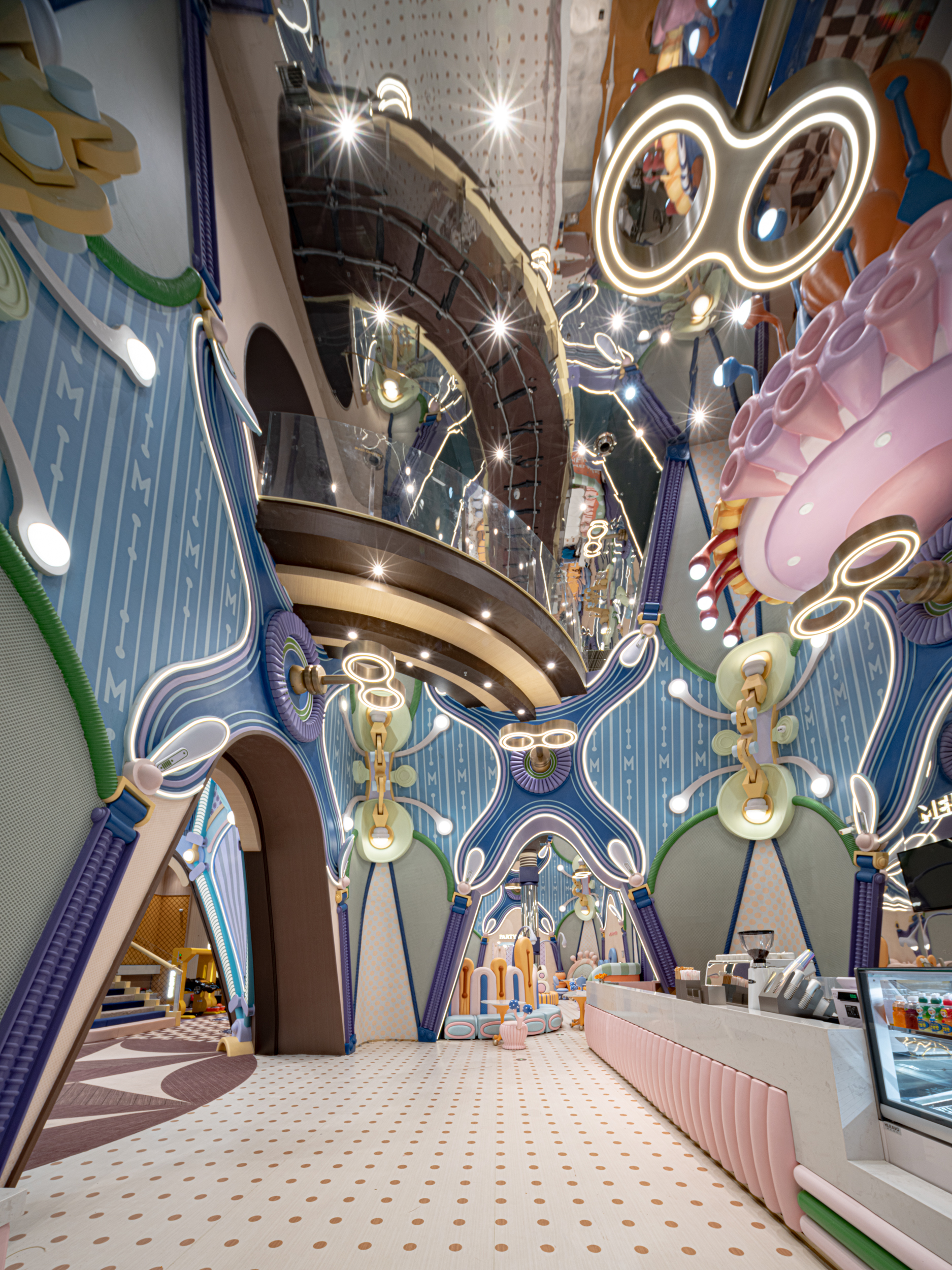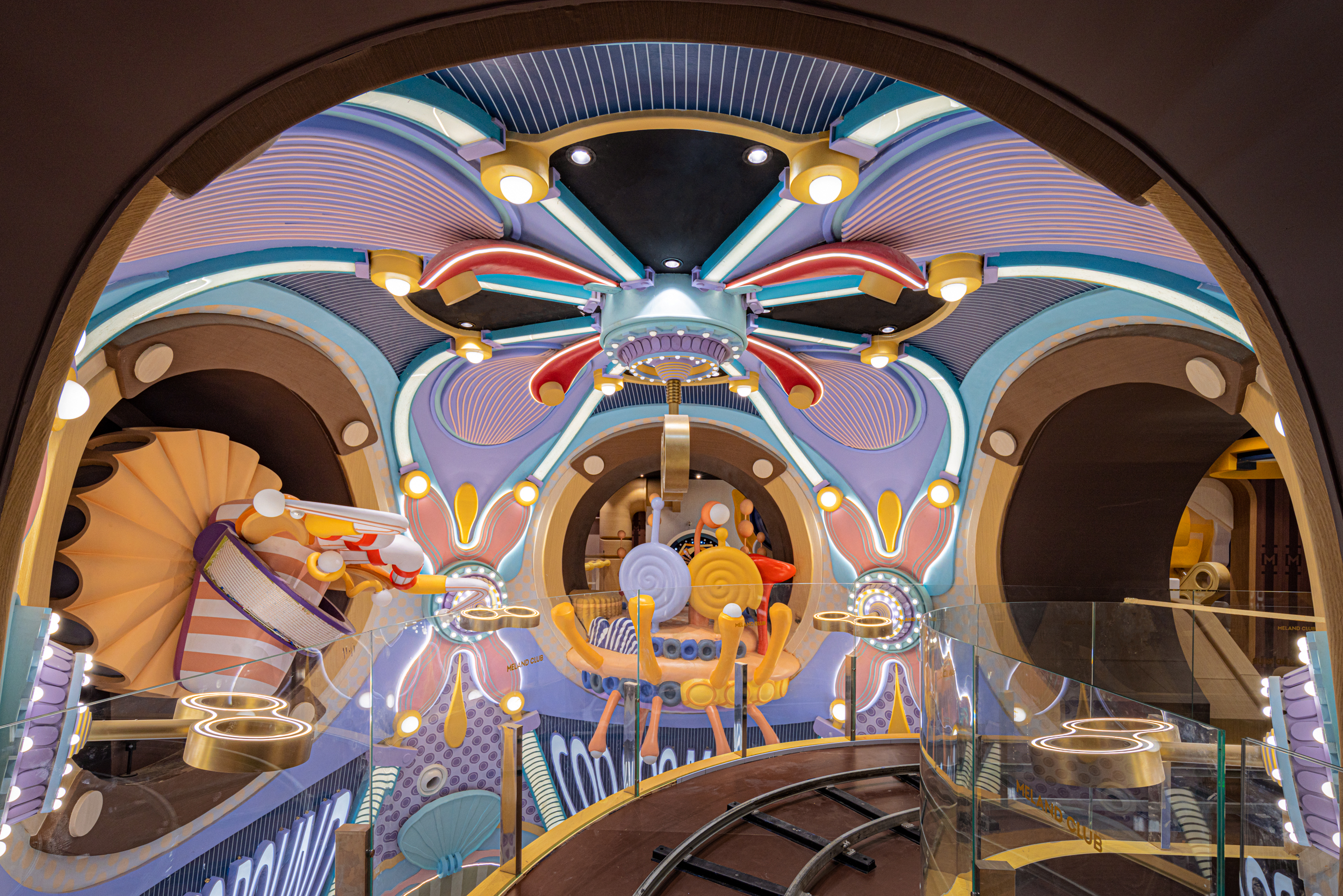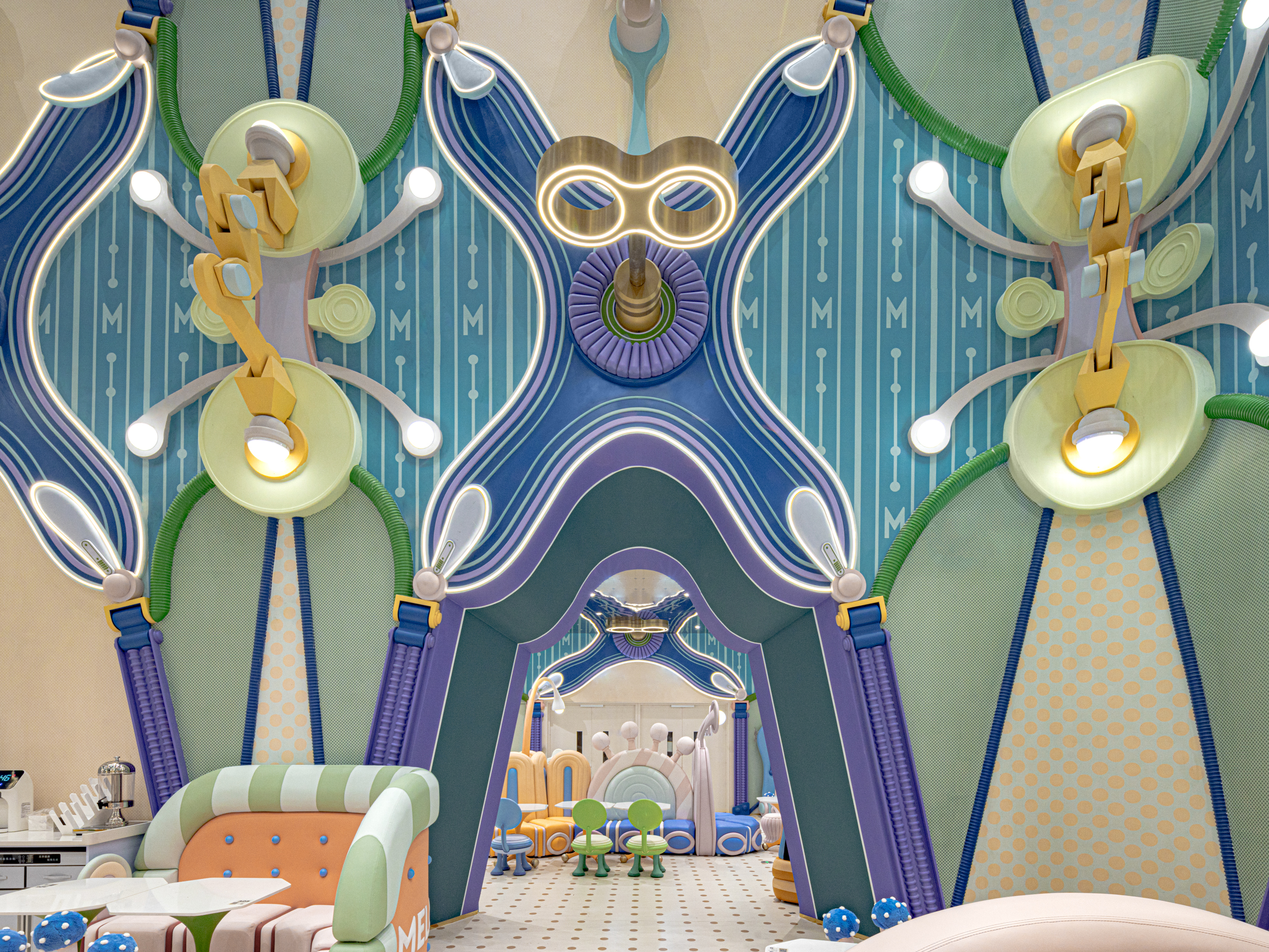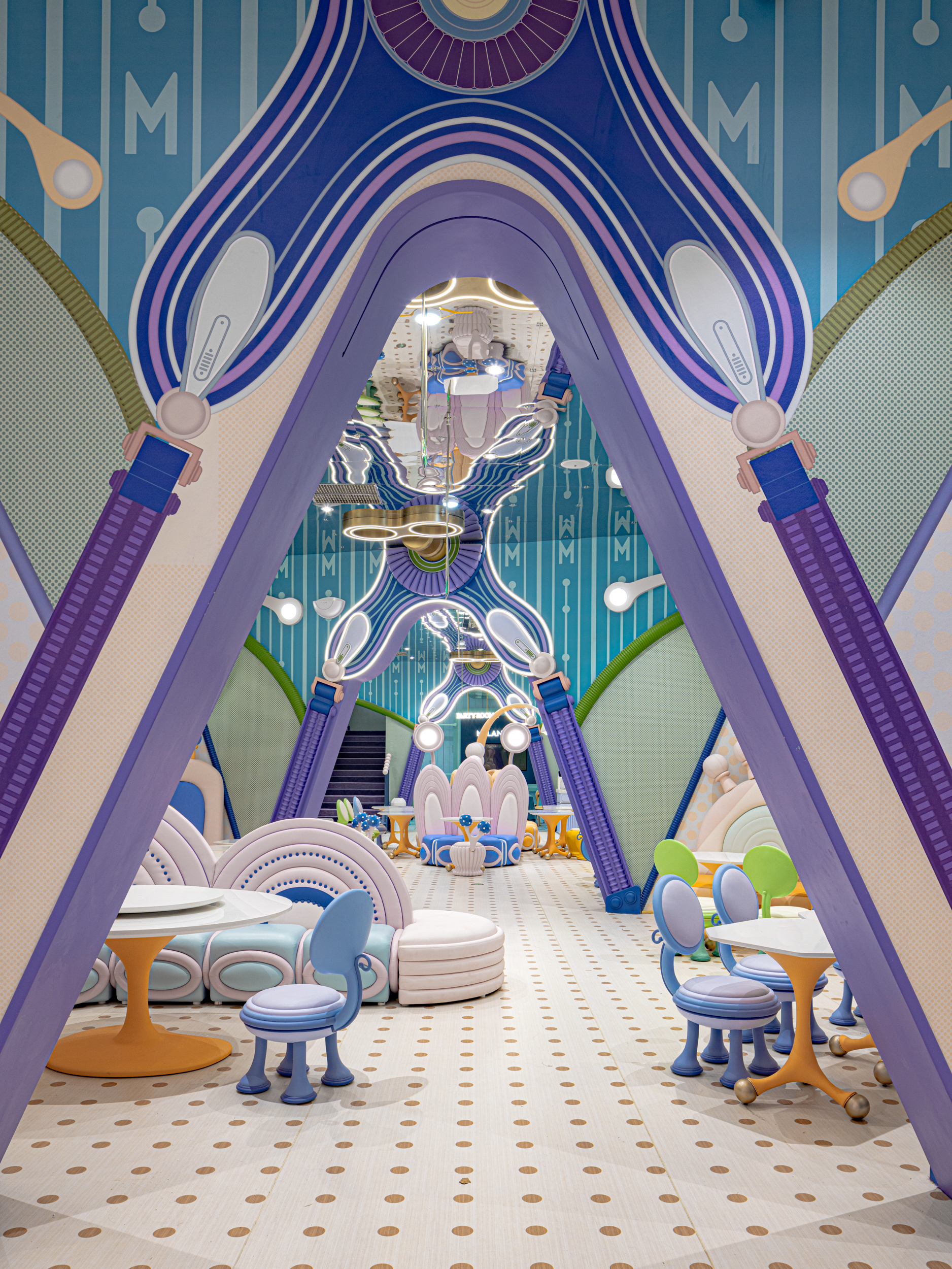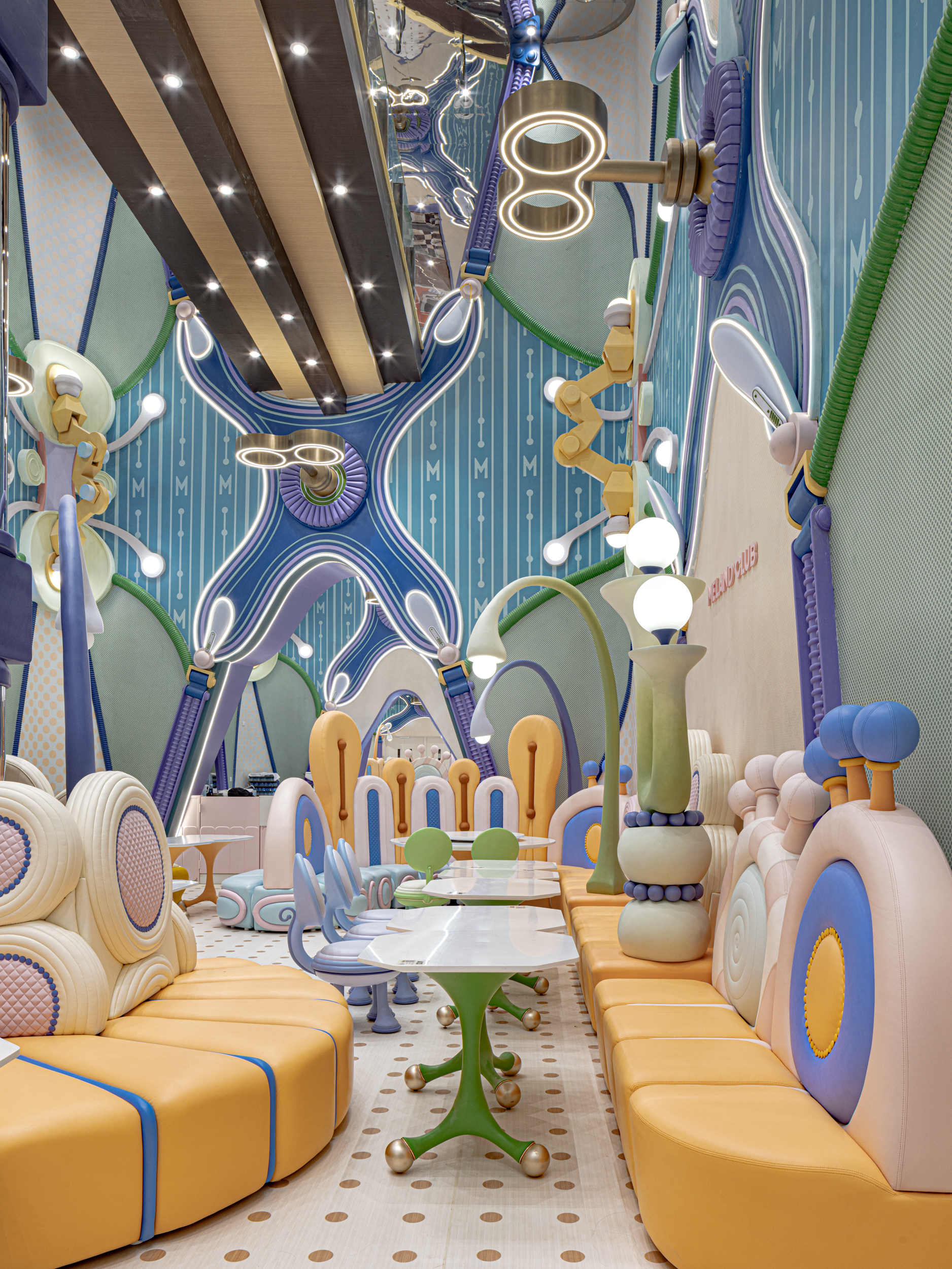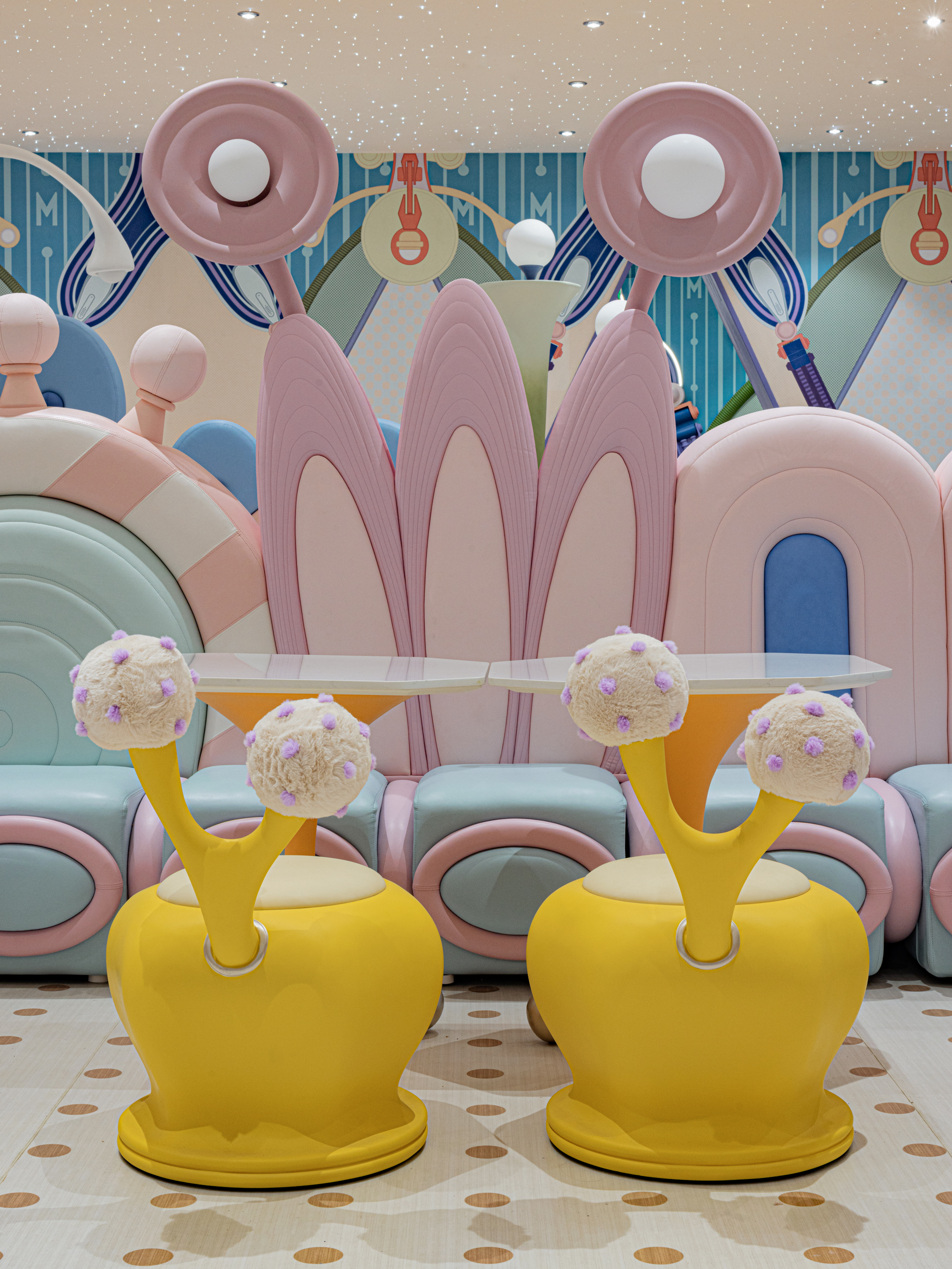 虚实结合凸显画作般精美的构图关系,机械轴承形成韵律感的几何分割,细节处处彰显对称美学,温柔的色彩消解了金属架构的凌厉,生出浪漫的科技感。海水在场地中温柔蔓延,缤纷的异形桌椅从地上生长,构建一个个海底珊瑚群落簇拥而成的小小生态。不规则的家具放置逻辑体现自然界生态的无规律感,小景观的变化丰富观察的趣味。
The combination of virtual and real highlights the exquisite compositional relationship like a painting. The mechanical bearings form rhythmic geometric divisions. Every detail highlights the symmetrical aesthetics. The gentle colors dissolve the sharpness of the metal structure and create a romantic sense of technology. The seawater spreads gently in the site, and colorful special-shaped tables and chairs grow from the ground, creating a small ecology surrounded by underwater coral communities. The irregular furniture placement logic reflects the irregularity of the natural ecology, and the changes in the small landscape enrich the interest of observation.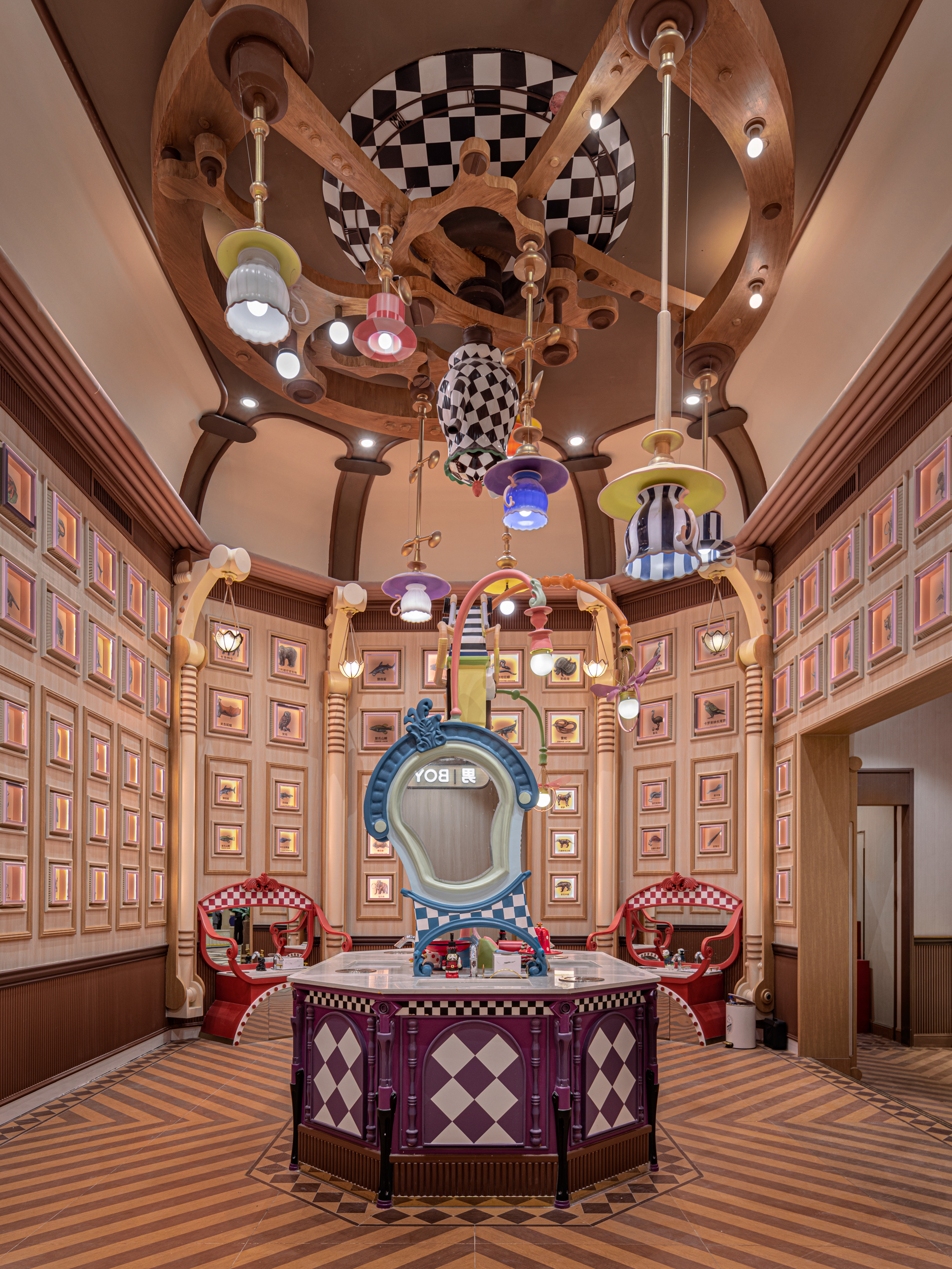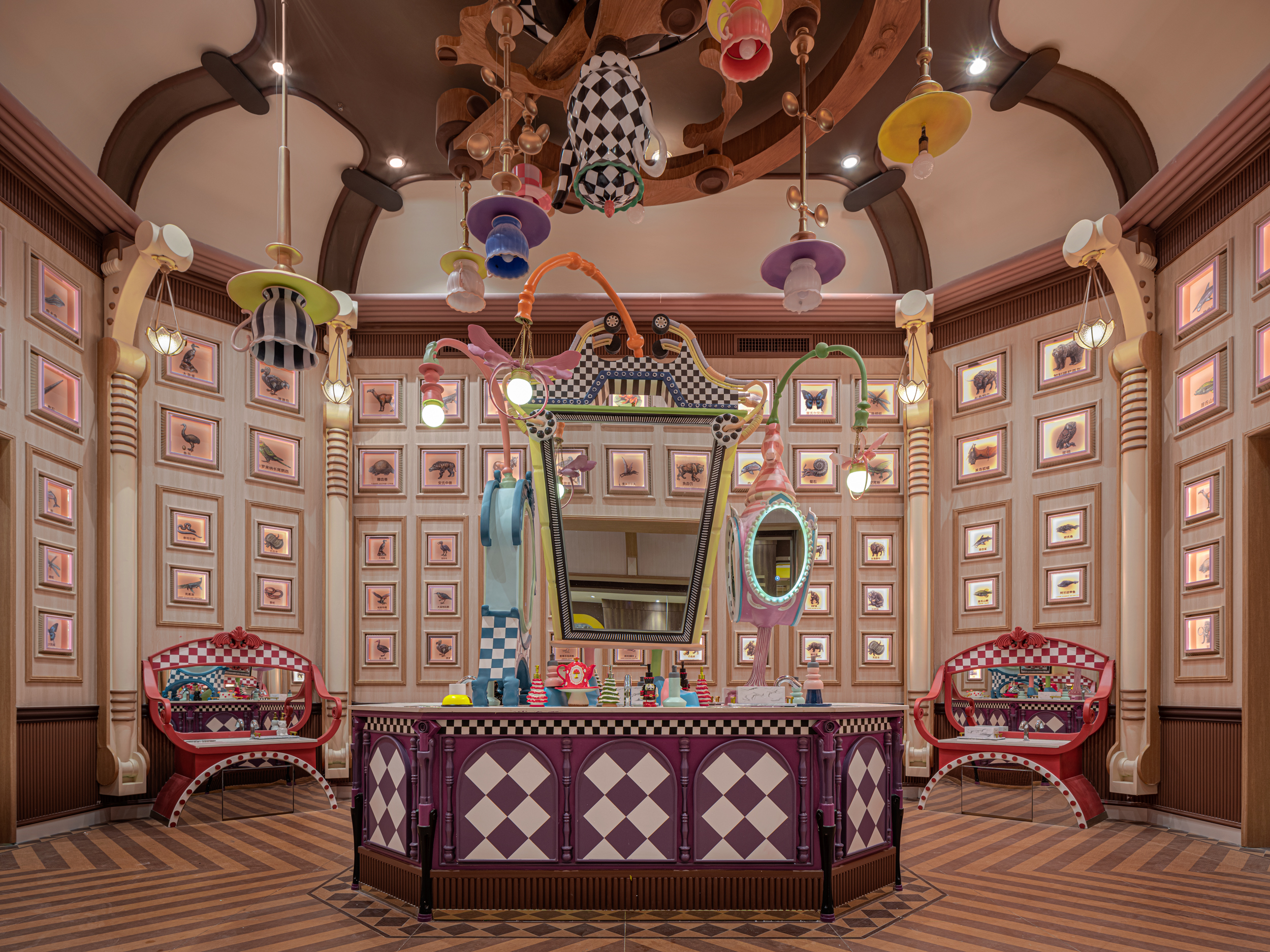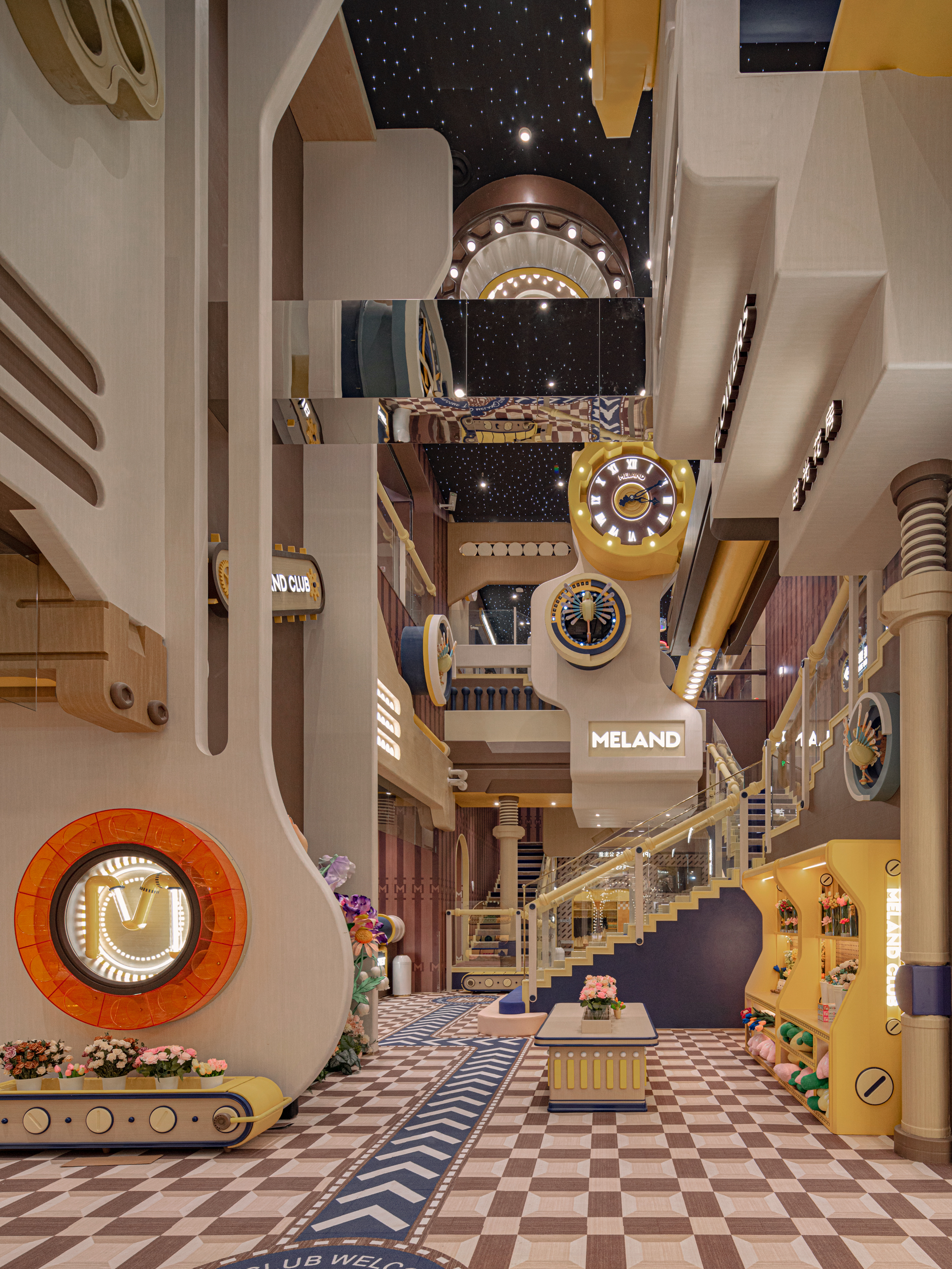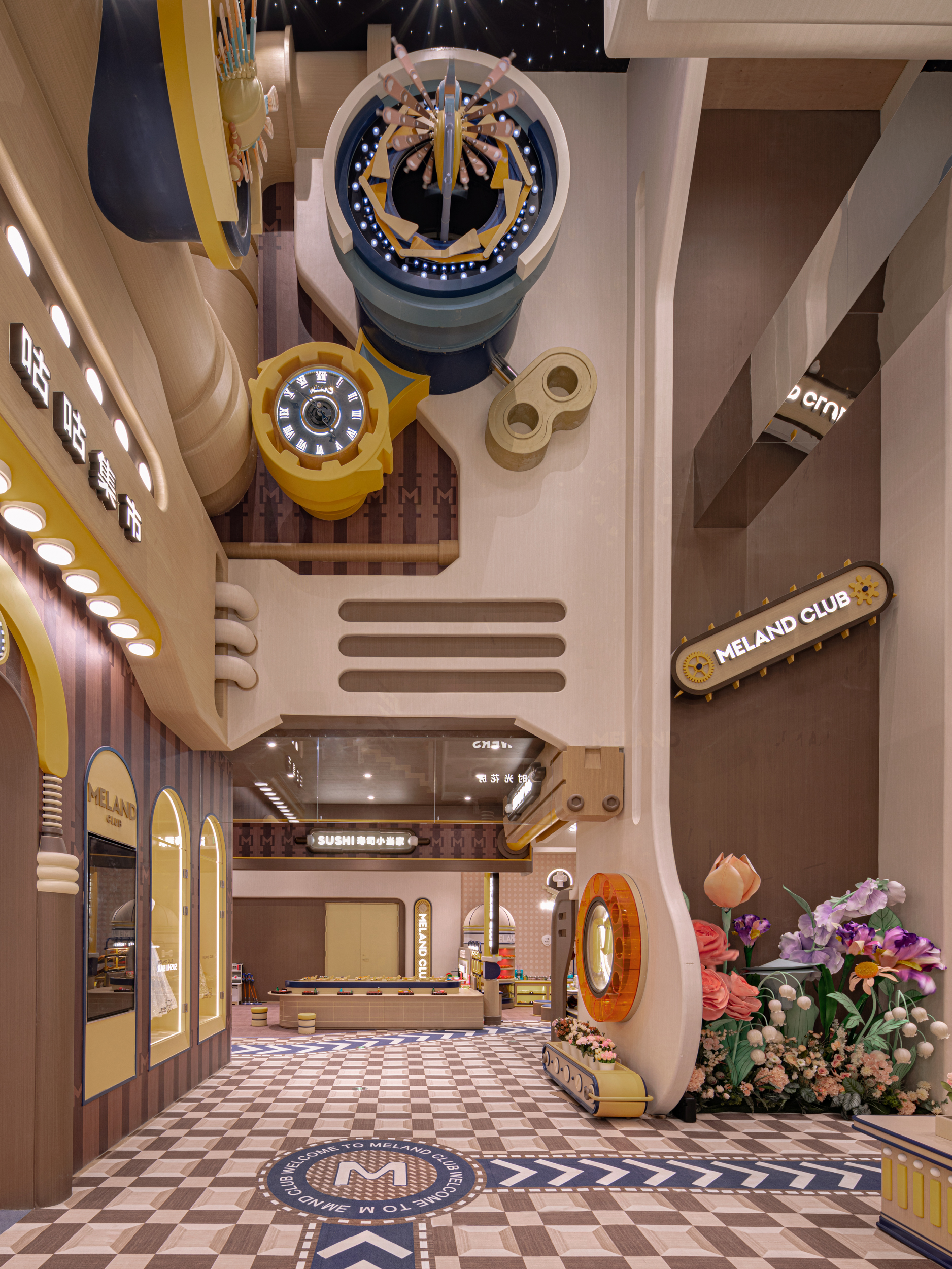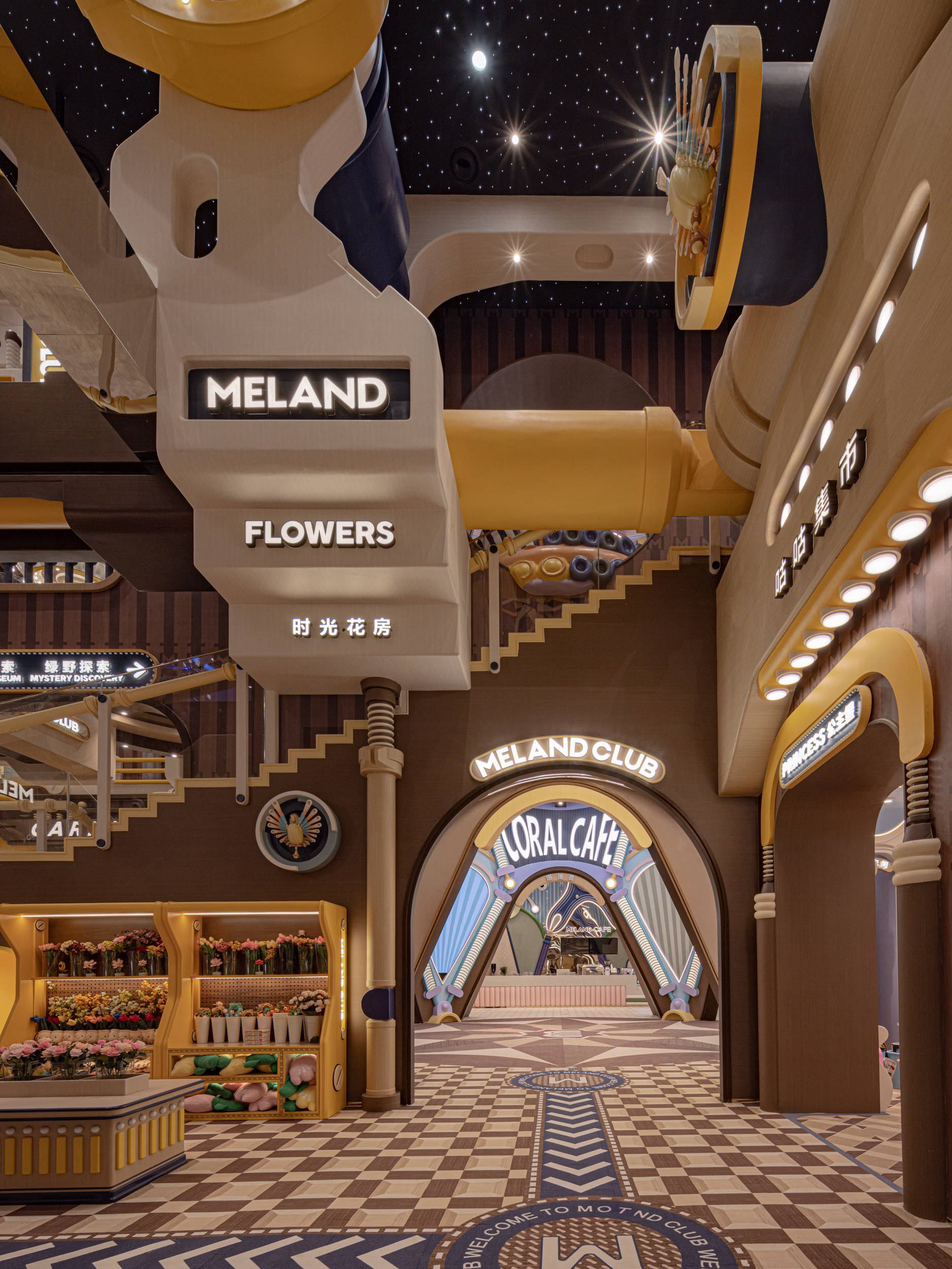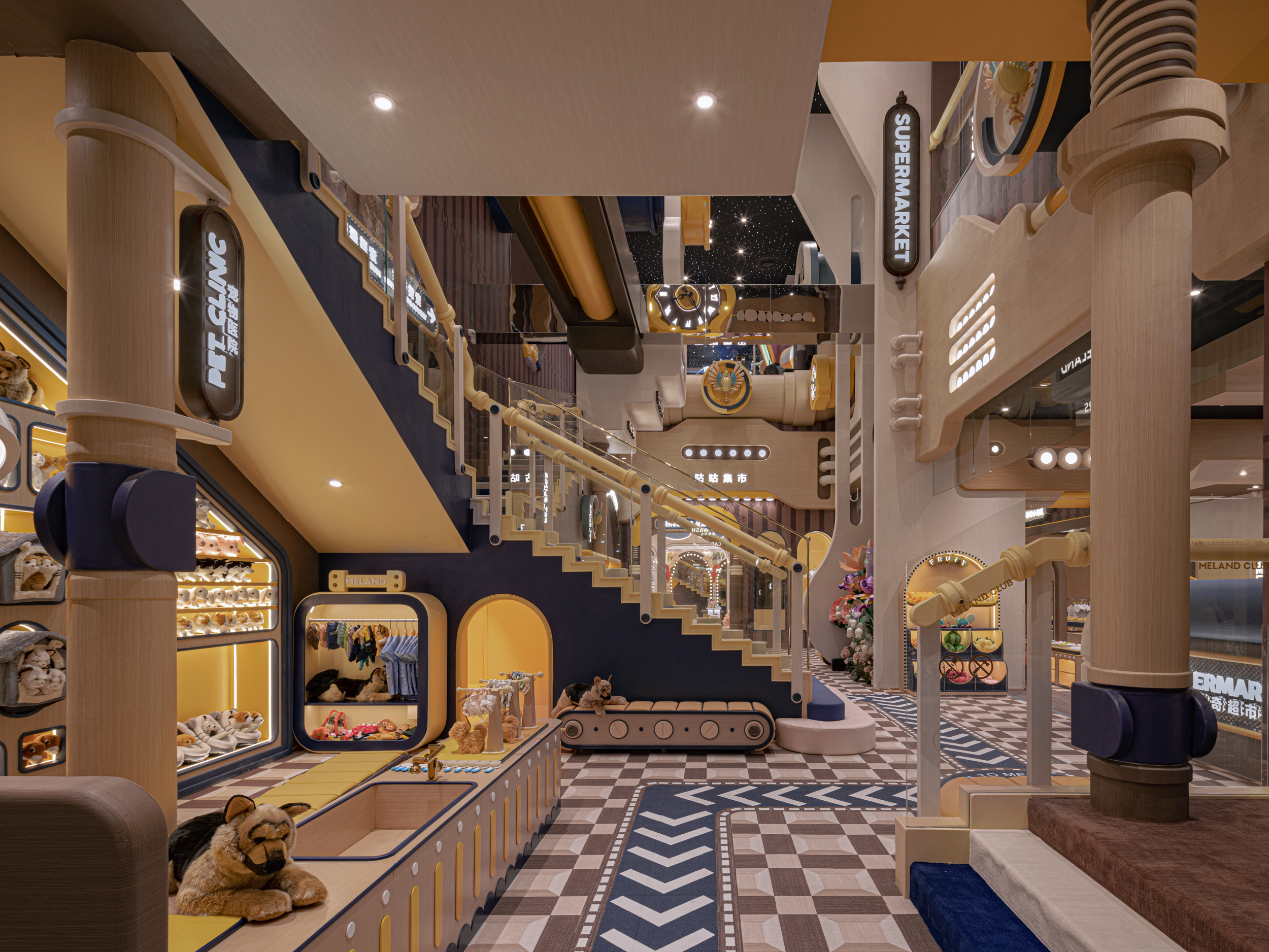 设计在延续原配色梦幻浪漫的基调之上融入木色,木色传递的深厚沉淀品质感,完美平衡了张扬绚烂的色彩。木色与彩色的惊喜碰撞,仿佛童话故事的奇异脑洞与美妙想象侵入到了真实世界,颠覆了传统美学的匮乏想象。
The design incorporates wood color while continuing the dreamy and romantic tone of the original color scheme. The deep and settled quality conveyed by wood color perfectly balances the flamboyant and gorgeous colors. The surprising collision of wood and color makes it seem as if the strange ideas and wonderful imagination of fairy tales have invaded the real world, adding a bit of a psychedelic dream atmosphere.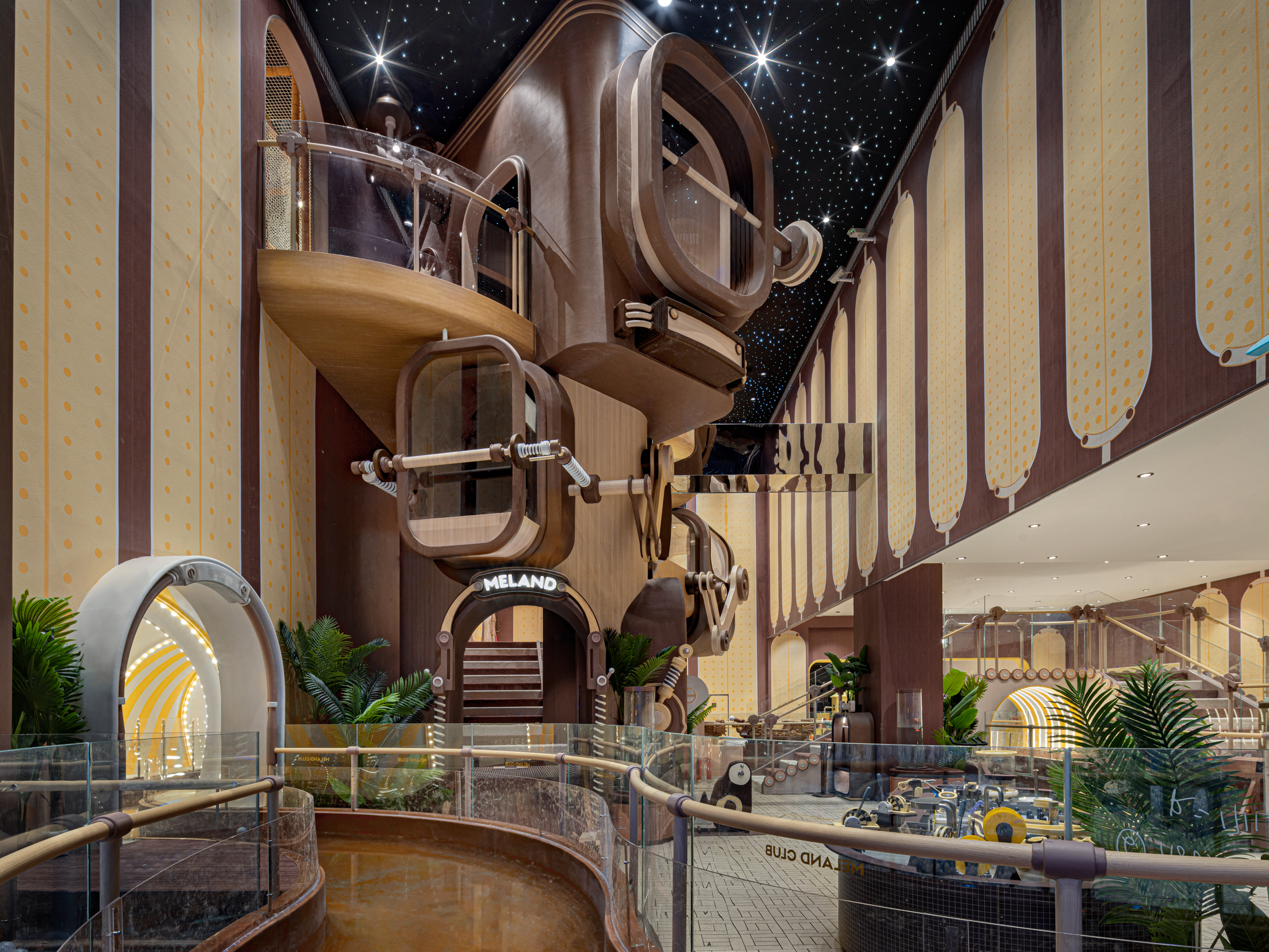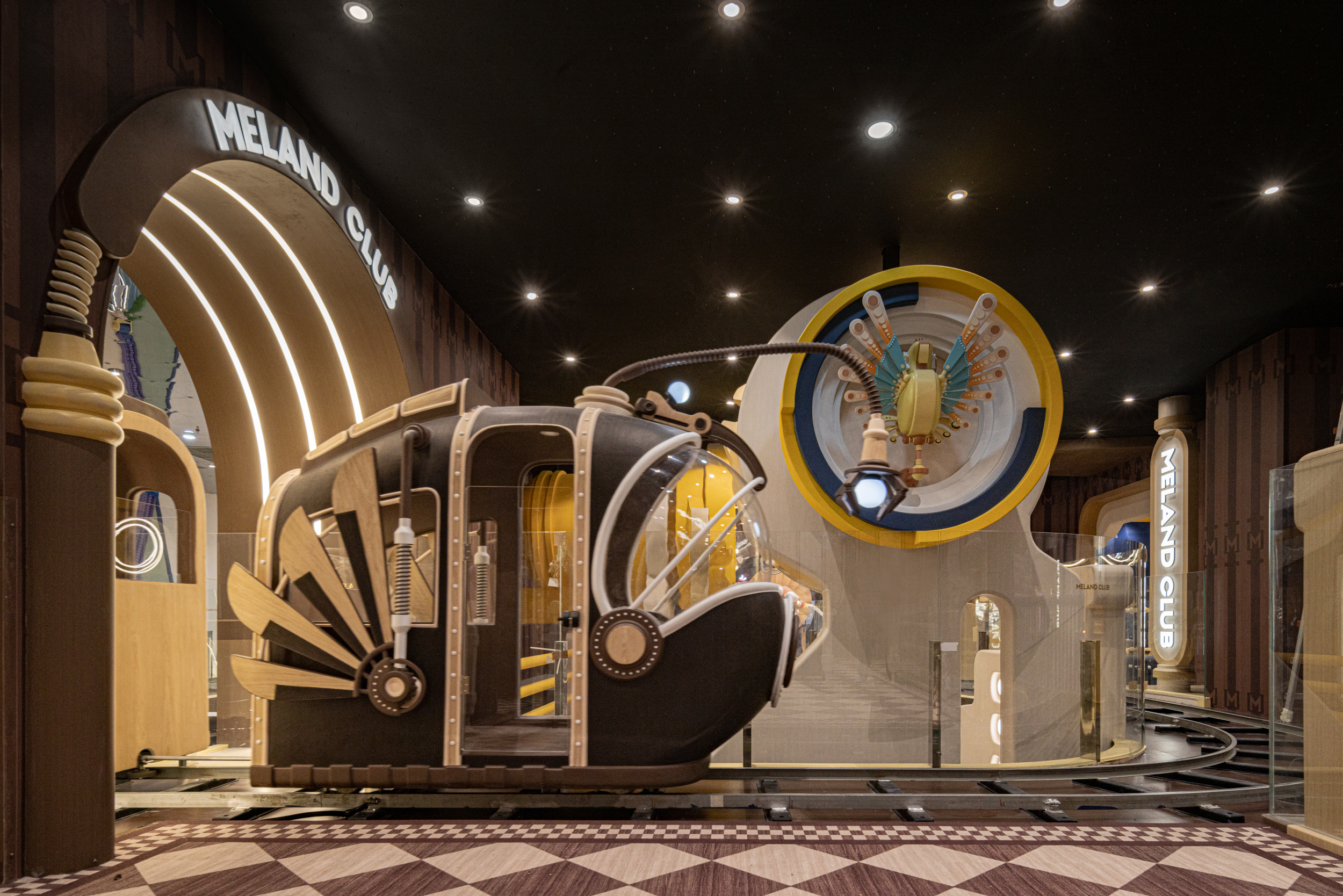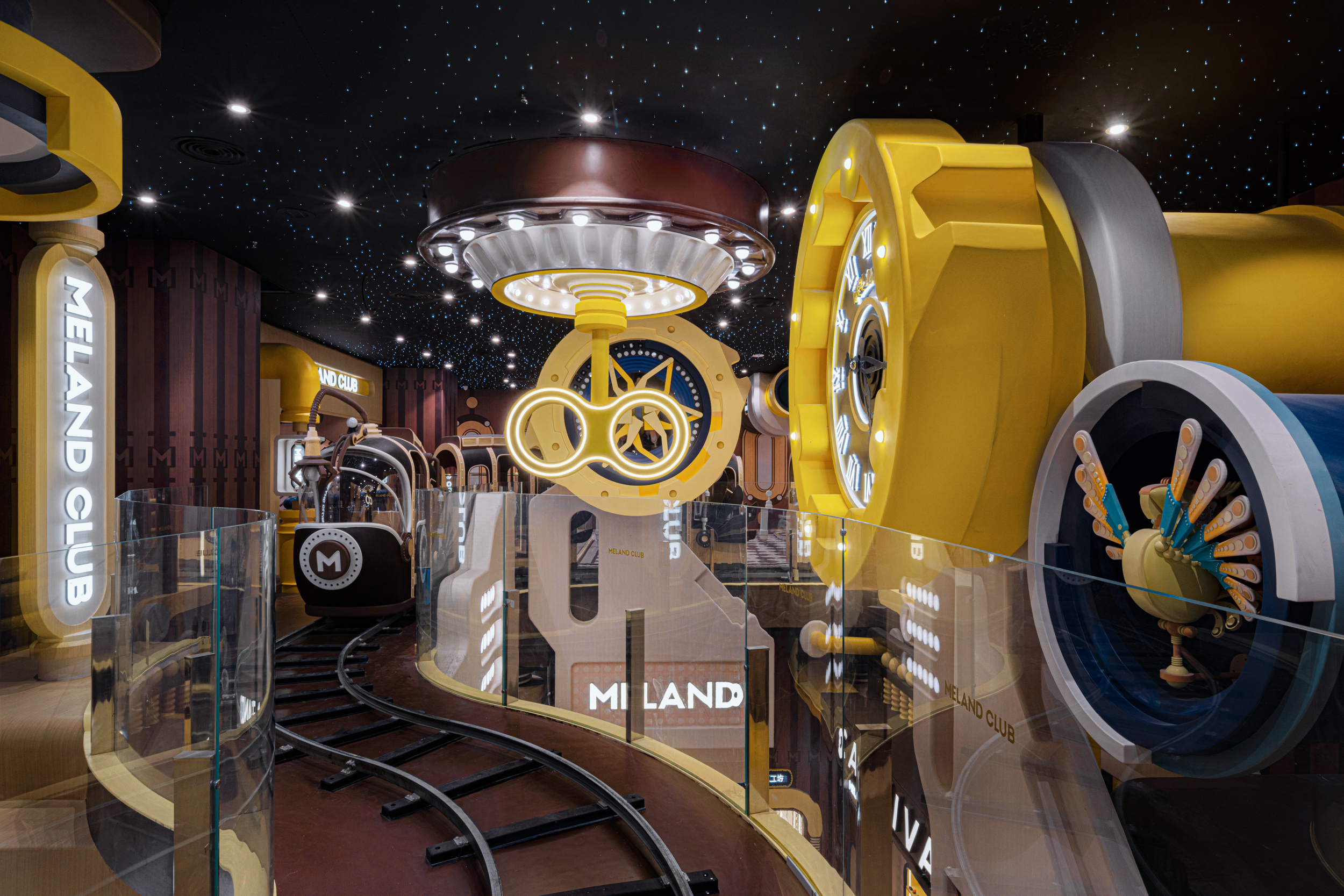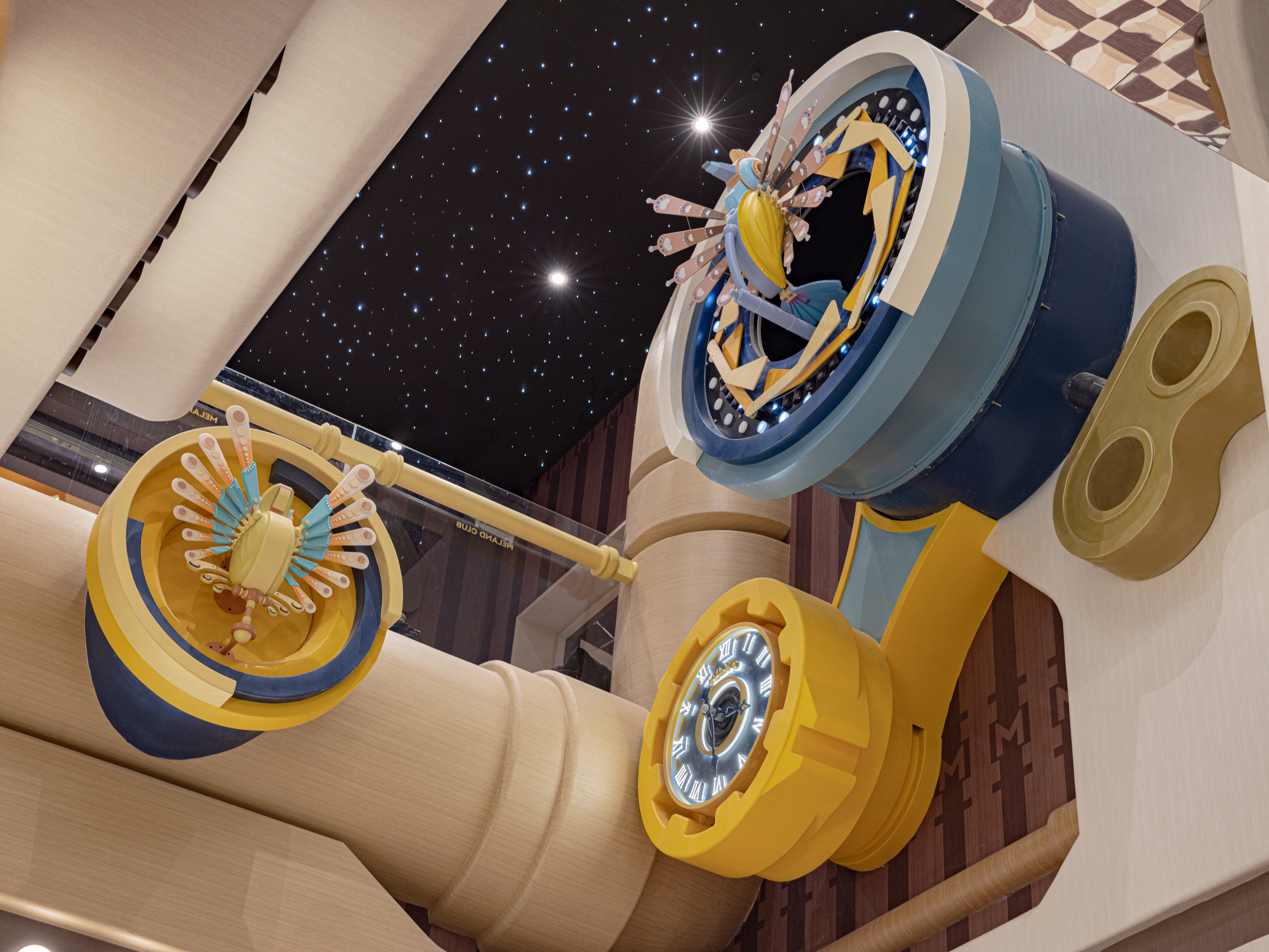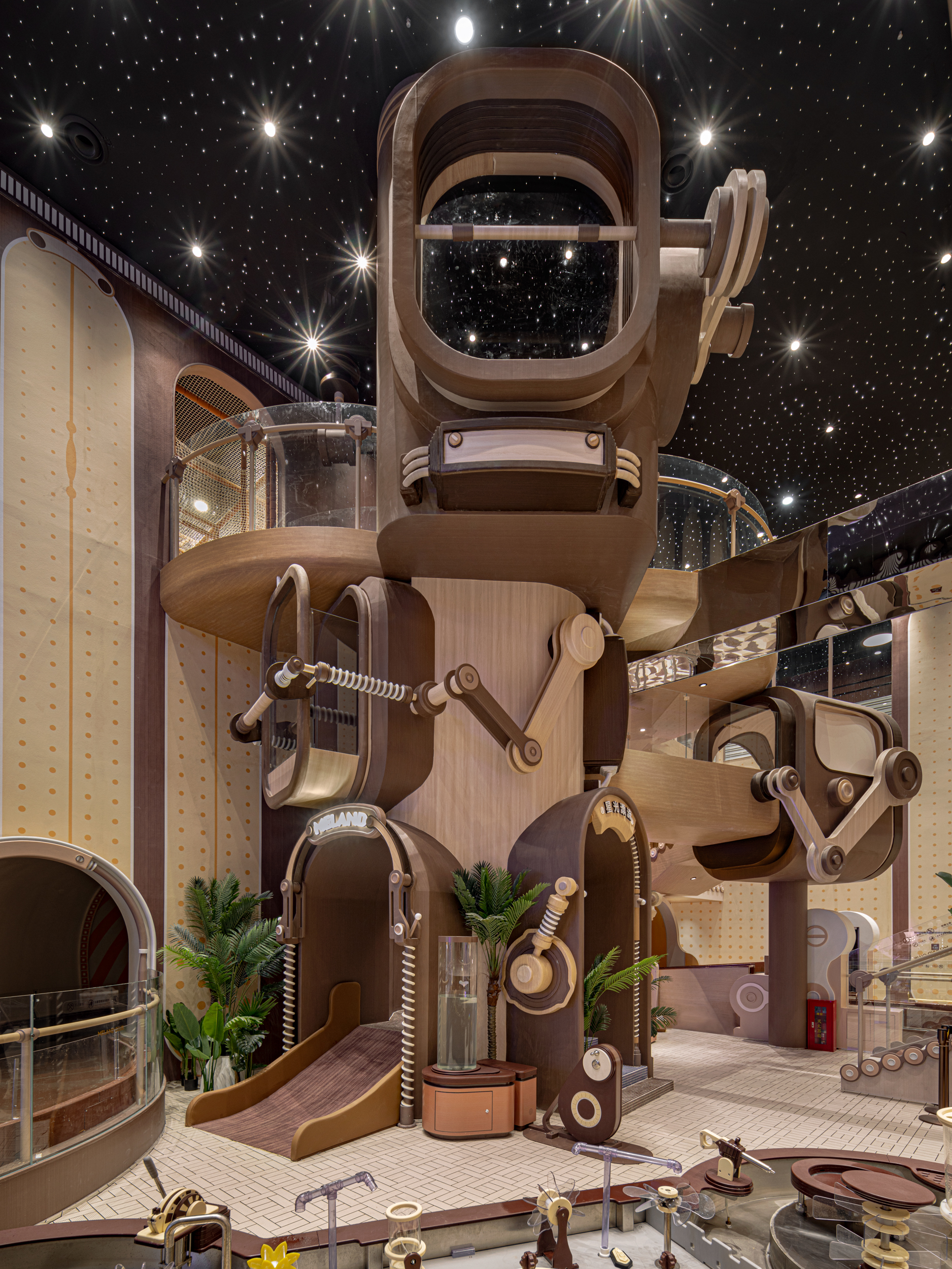 每天的特定时分,乐园空间在隐秘的角落里准备了惊喜彩蛋:钟声鸣起,一只只精美灵巧的机械鸟扇动着翅膀,从空间各处探出脑袋,鸣啭一曲欢乐的小调,歌颂朝气勃勃的万物生灵。动静之间,呈现具有丰富动态的美好乌托邦,荡漾着盎然的生命力。
At specific times every day, the park space prepares surprise Easter eggs in hidden corners: the bells ring, and exquisite and dexterous mechanical birds flap their wings, poke their heads out from all over the space, and sing a happy tune. All living things are full of vitality. Between movement and stillness, a beautiful utopia with rich dynamics is presented, full of vitality.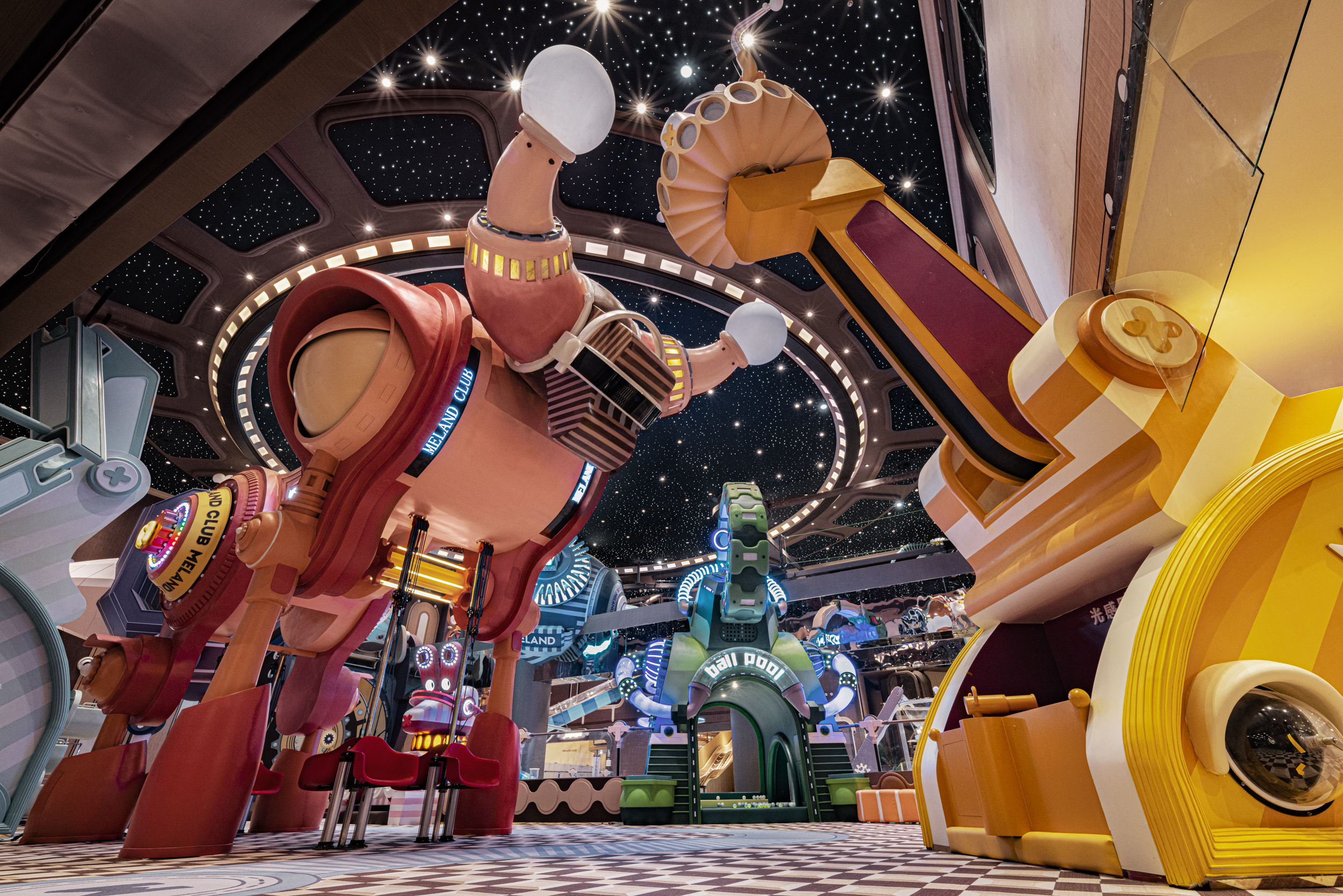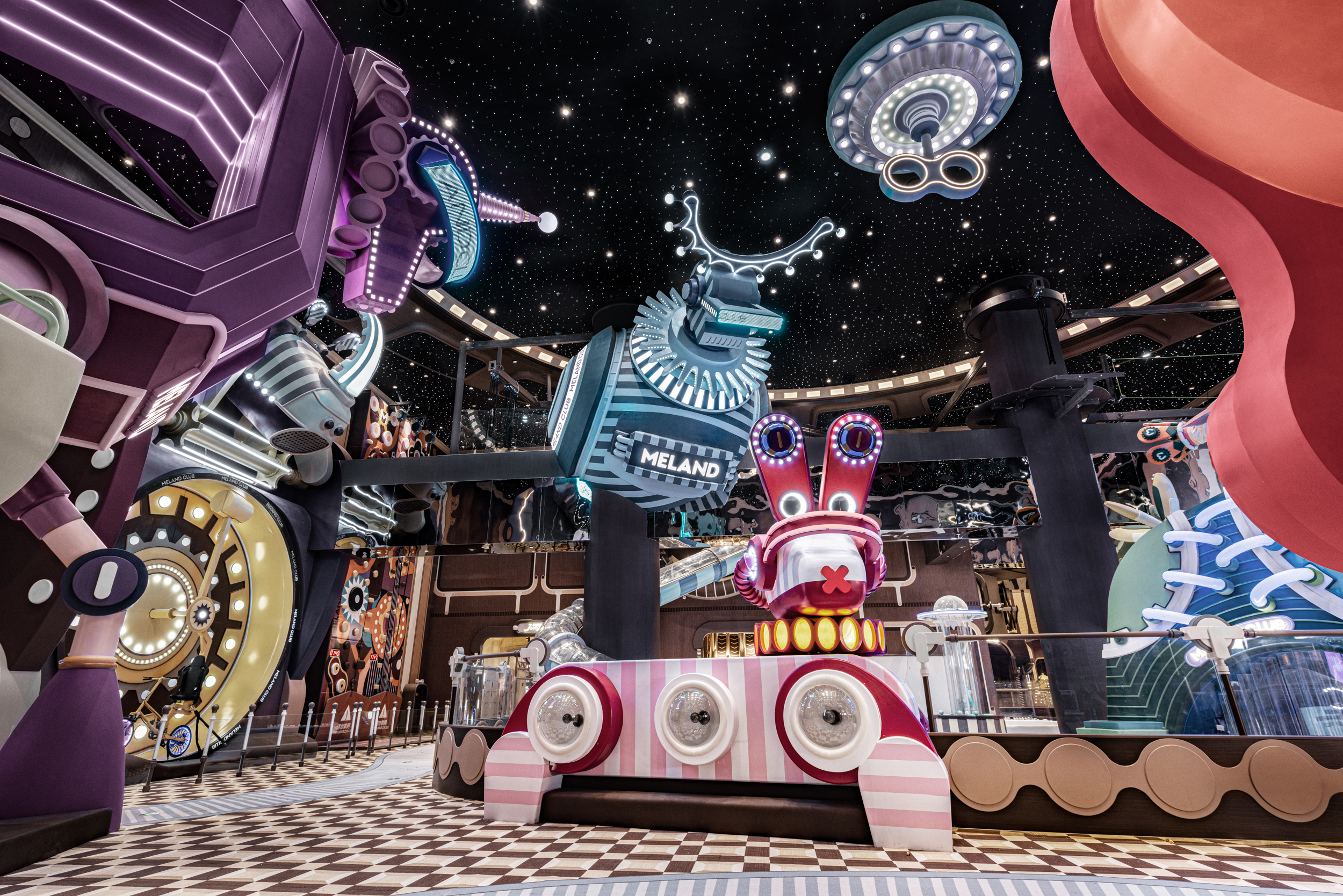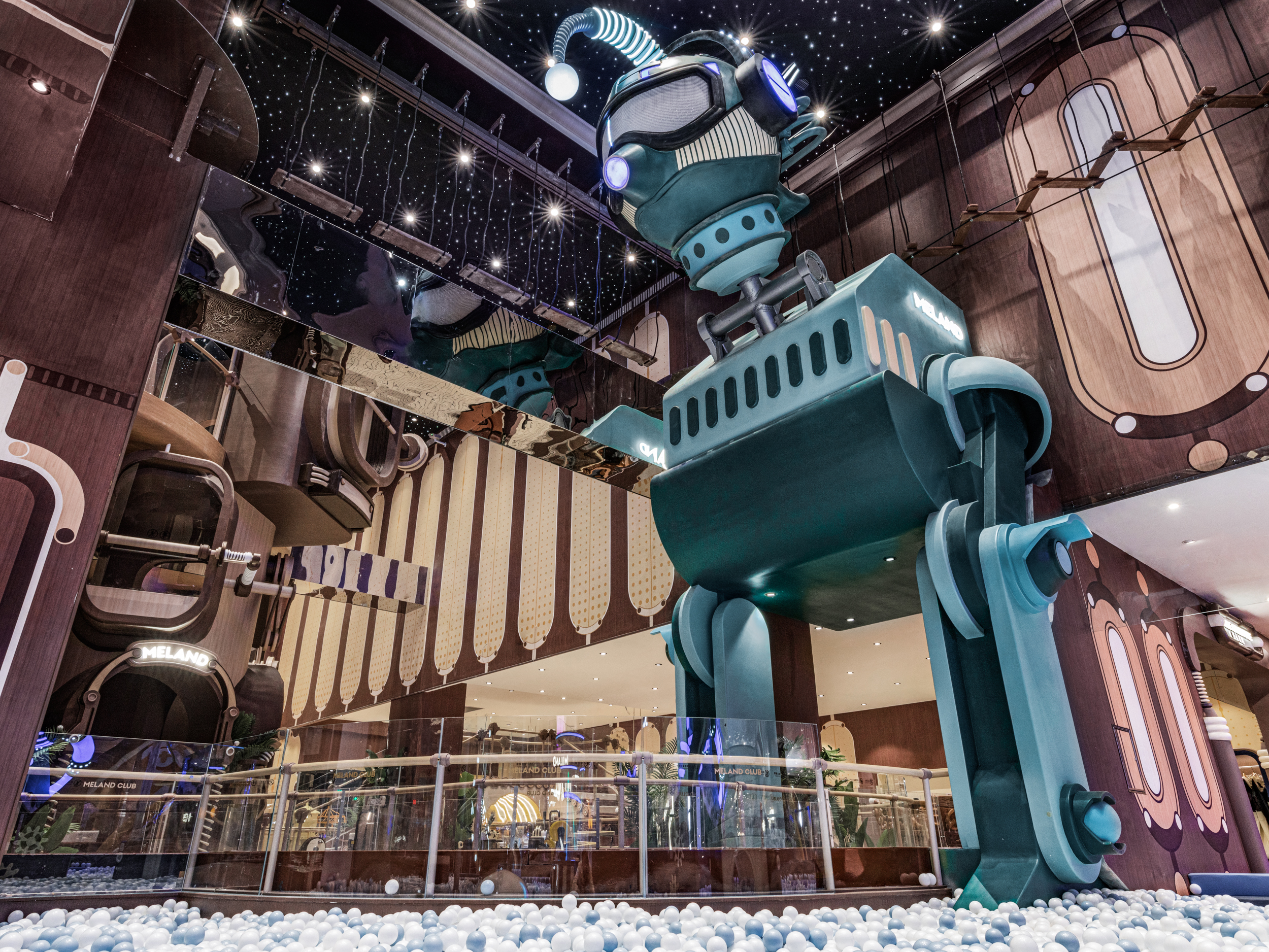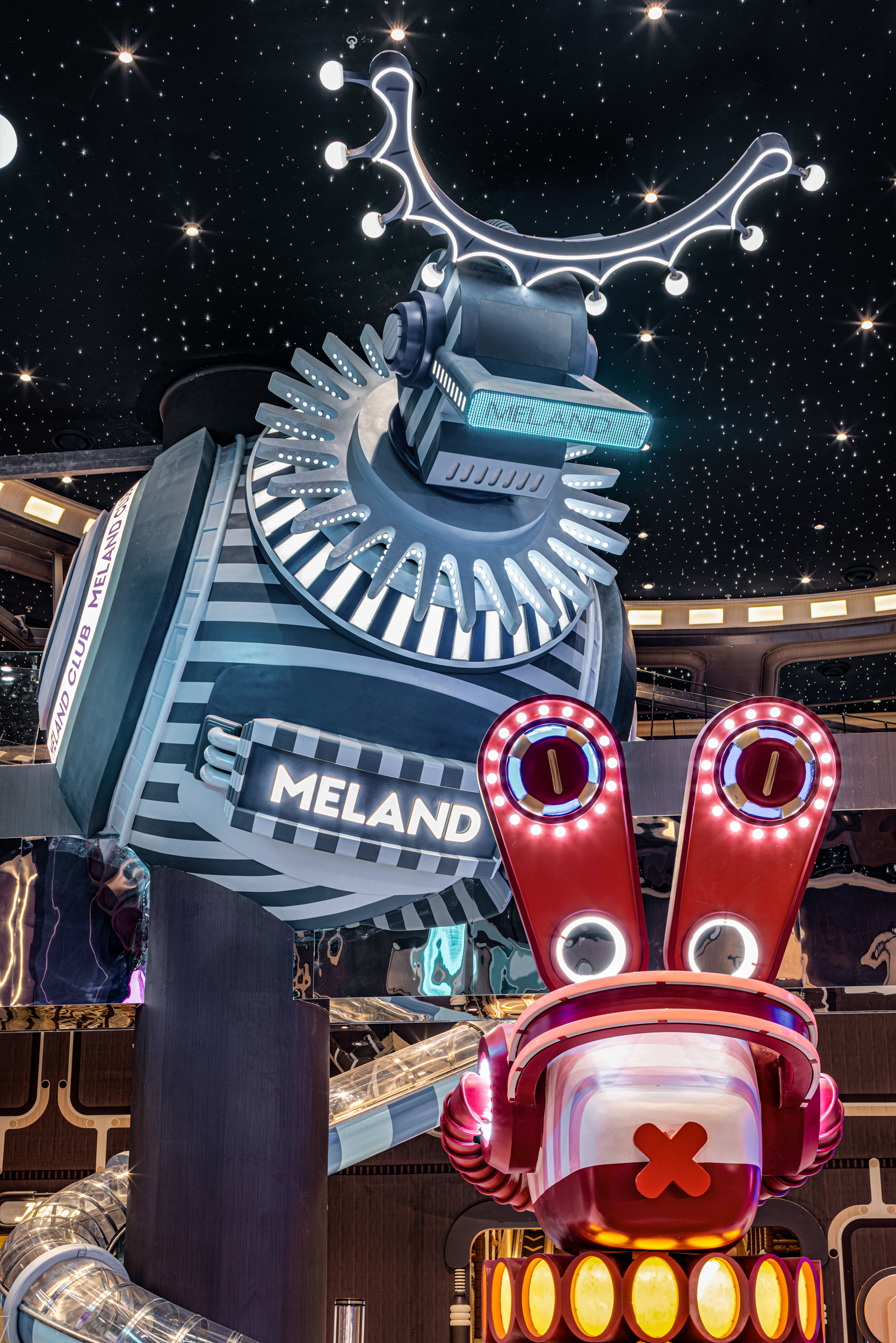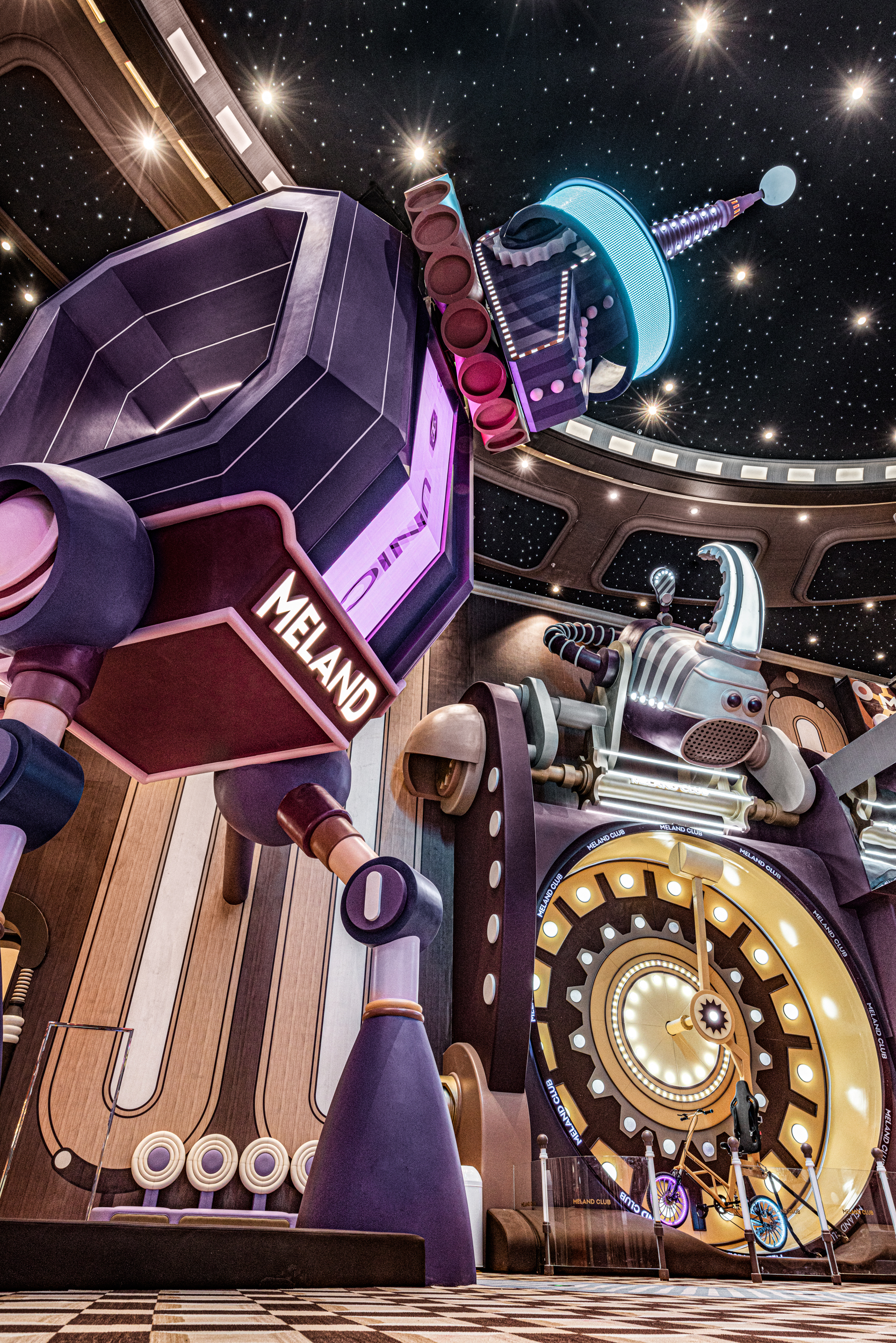 陆地馆极致的挑高与巨大生物共同塑造魔幻超现实空间,即时的交互演绎愈加沉浸的互动游戏体验。动态机械的组合也让设计的创想活灵活现地生动了起来,尽展动物的萌态可掬,处处传递着空间着意打造精工质感。
The extreme height of the land pavilion and the giant creatures jointly create a magical and surreal space, and the real-time interaction creates an increasingly immersive interactive game experience. The combination of dynamic machinery also brings the design ideas to life, showing the cuteness of the animals and conveying the exquisite texture of the space everywhere.
---