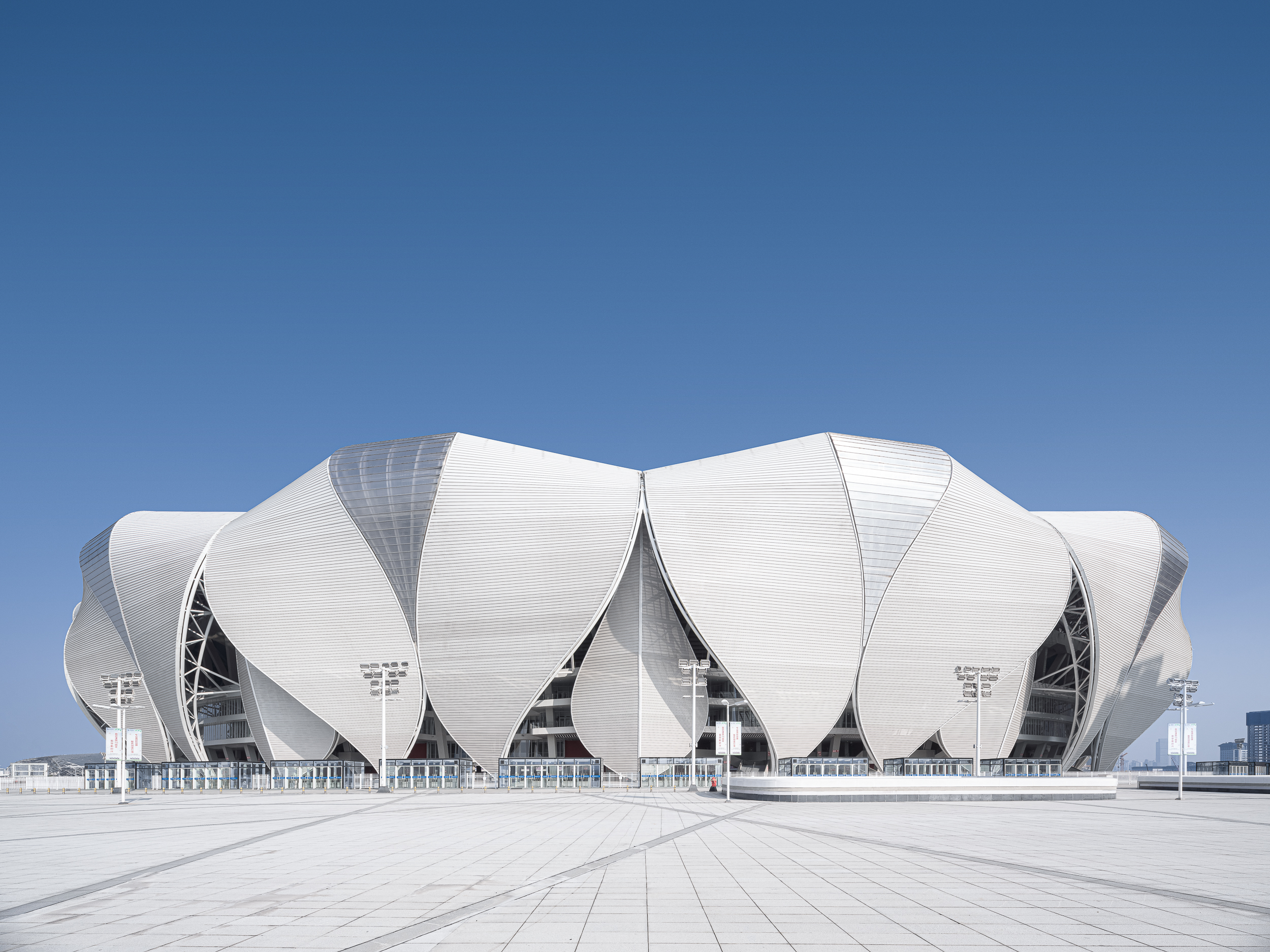 河畔白莲生多情。
The white lotus on the riverside is passionate.
---
▼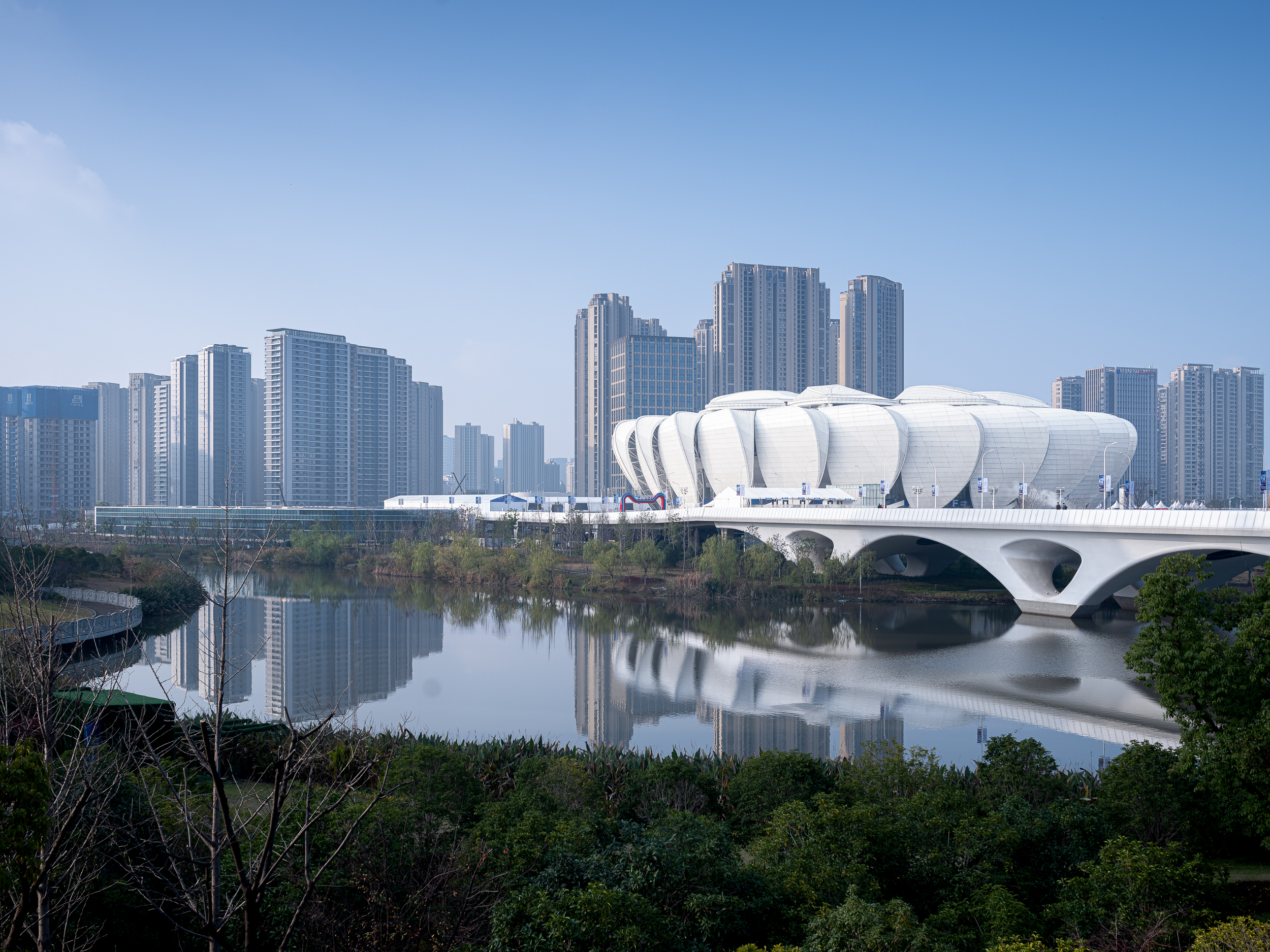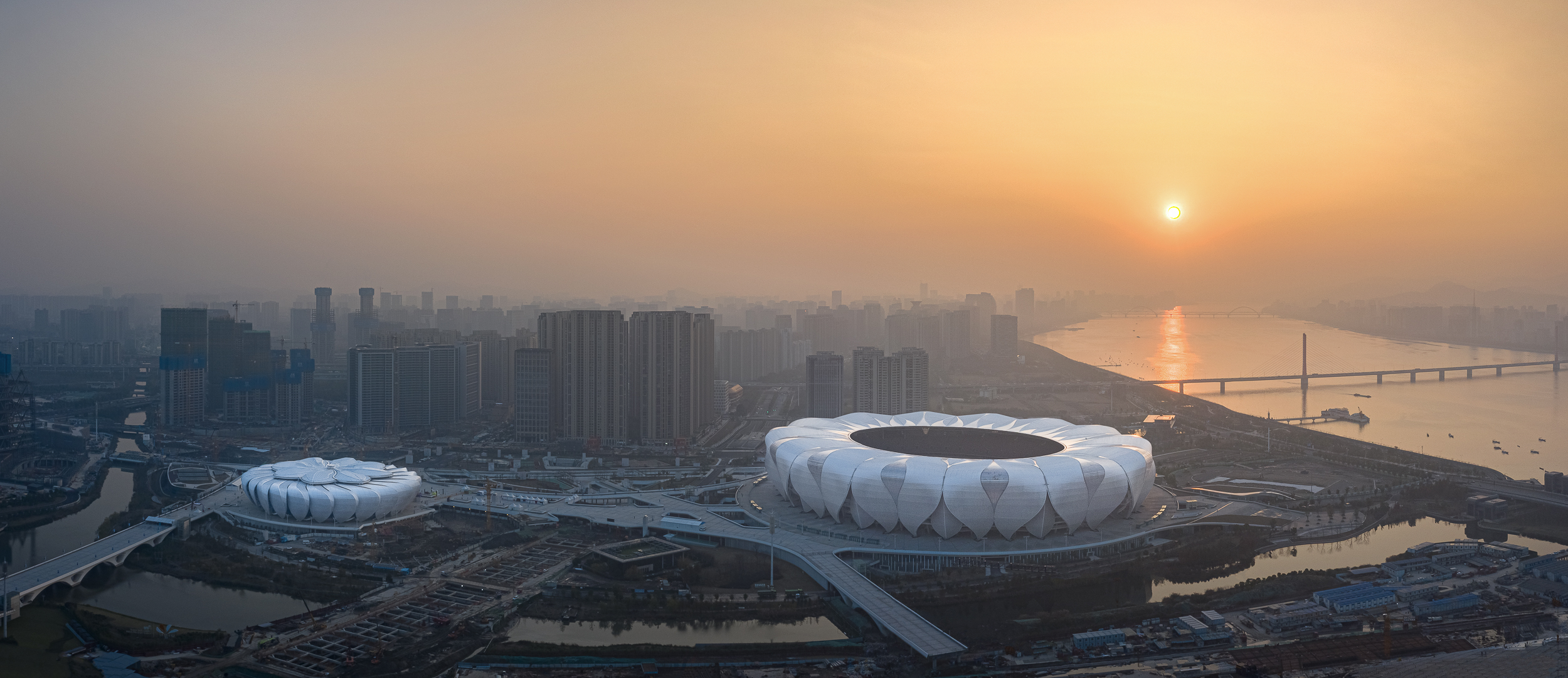 杭州奥体中心,位于杭州钱塘江南岸、钱江三桥以东,包括一个8万人主体育场、一座1.8万人的体育馆,还有网球中心、小球中心等场馆,是全国最大的体育中心之一。
Hangzhou Olympic Sports Center, located on the south bank of Qiantang River in Hangzhou and east of Qianjiang Third Bridge, includes a main stadium for 80,000 people, a stadium for 18,000 people, tennis center, small ball center and other venues. It is one of the largest sports centers in the country.
| 形态·花瓣绽放江岸 |
Form: Petal Blooming River Bank
▼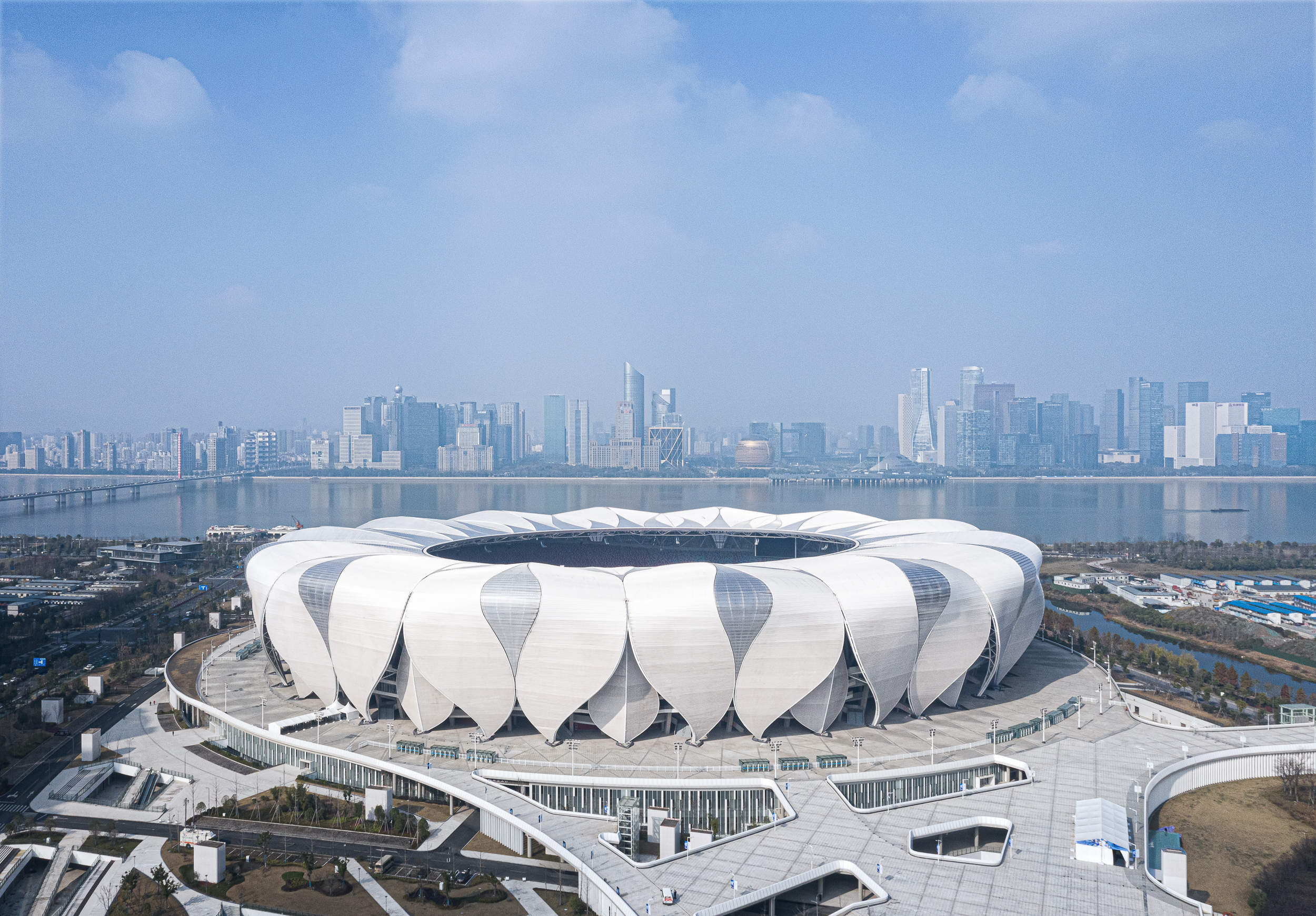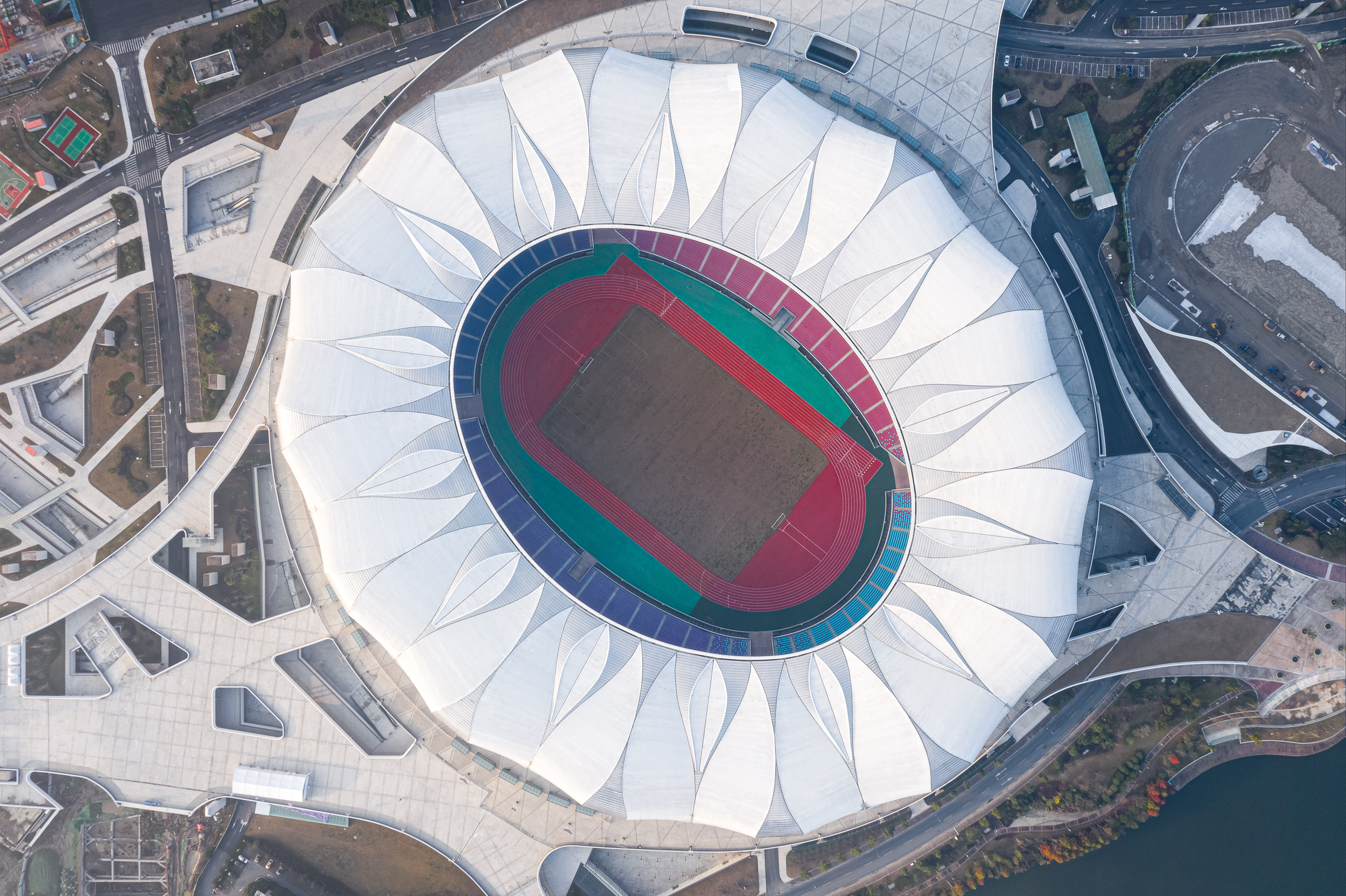 奥体中心的"有机"造型设计灵感源于自然界的莲花,造型动感飘逸,由28片大花瓣和27片小花瓣组成。场馆的造型以花瓣为母题,而半透明白色花瓣的肌理源自丝绸编织的纹理,高洁而又活泼生动。
The "organic" design of the Olympic Sports Center is inspired by the lotus flower in nature. The shape is dynamic and elegant, consisting of 28 large petals and 27 small petals. The shape of the venue is based on petals, and the texture of translucent white petals is derived from the texture of silk weaving, which is noble and lively.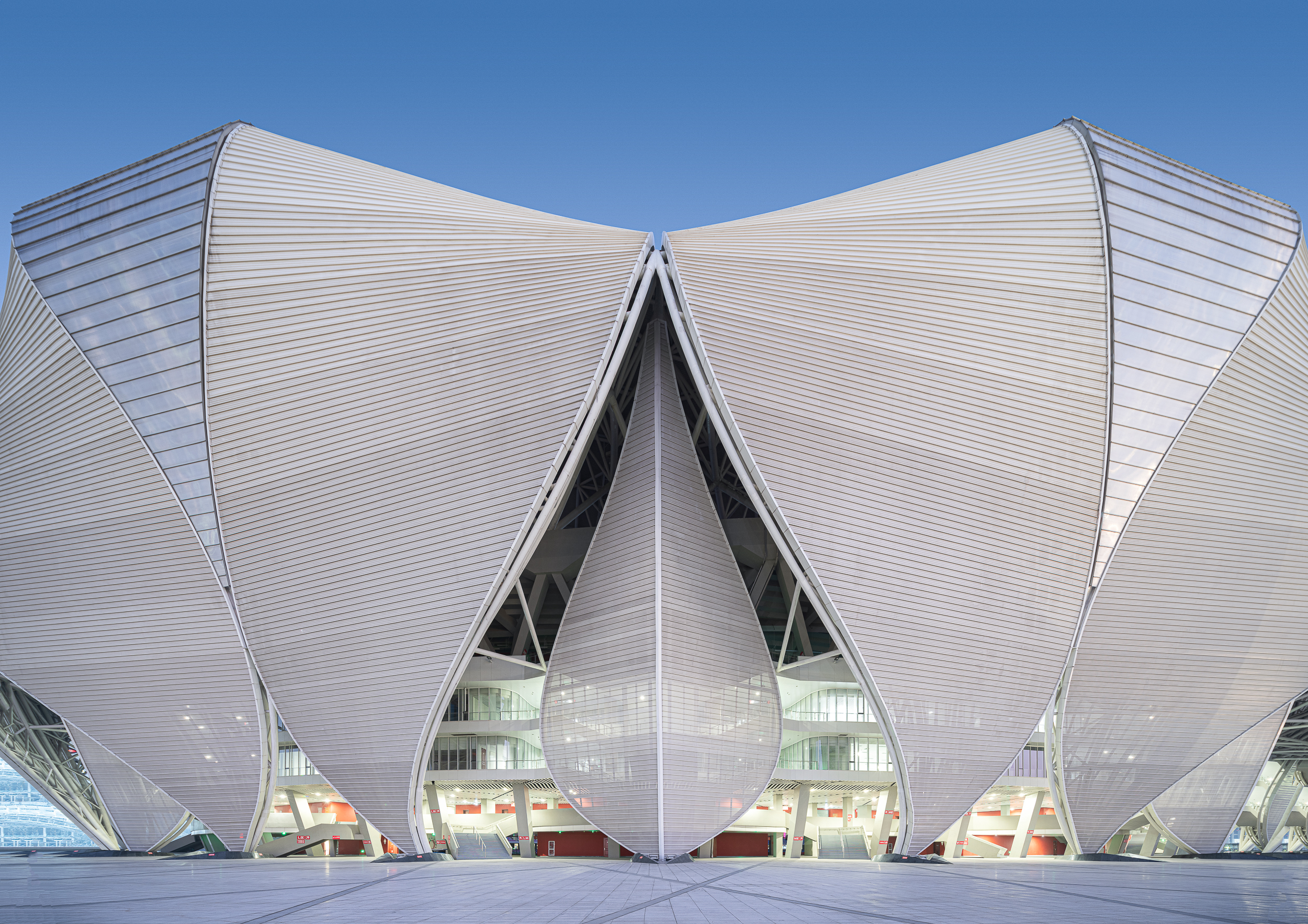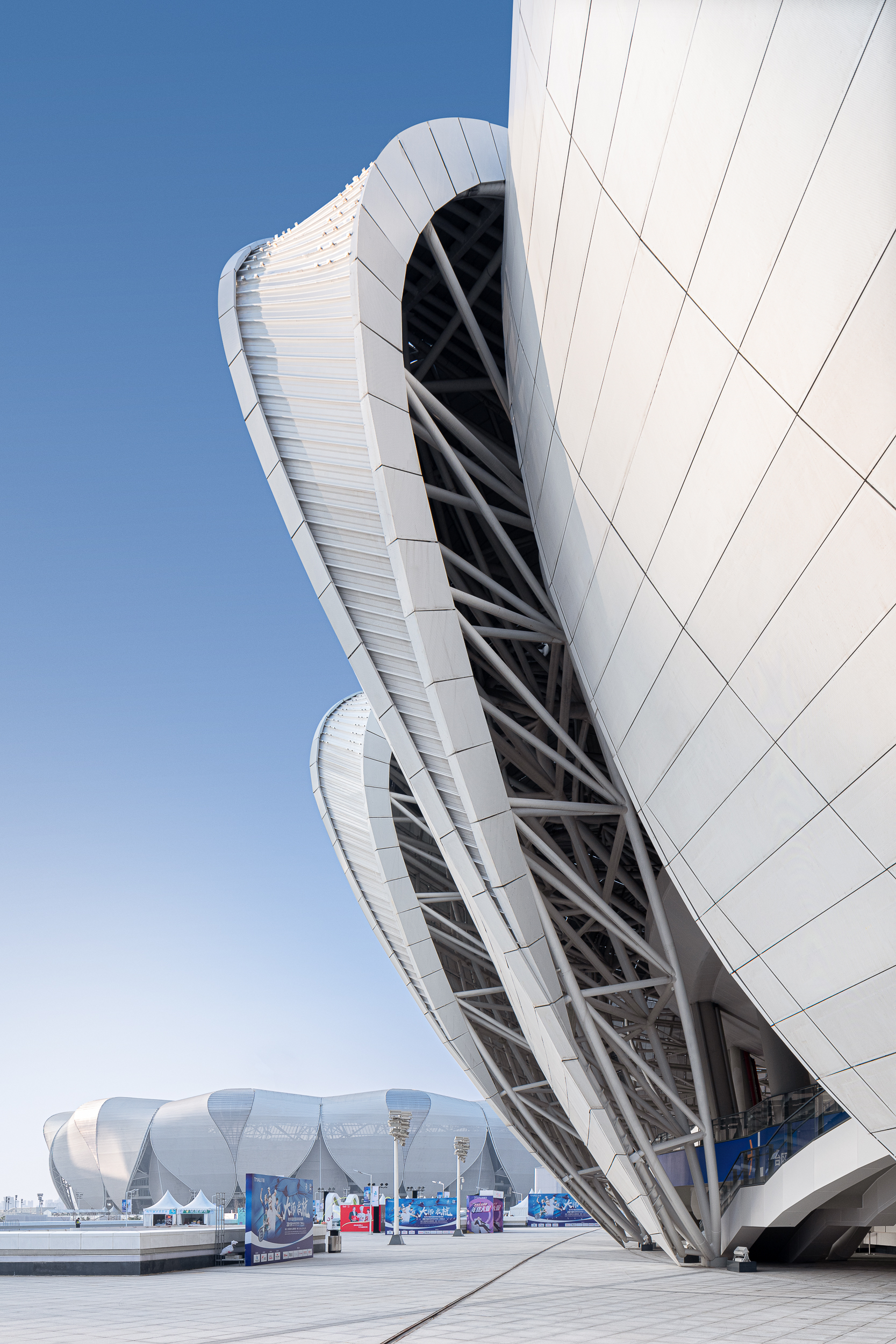 建筑师希望花瓣状的外表皮在提供自然通风的同时,更能寻求一种文脉上的呼应。花瓣状的外表皮被分解成一系列互相联系的部分,既是维护结构又是承重结构,实现了形式与功能完美的有机结合。
The architect hopes that the petal-shaped outer skin can seek a contextual echo while providing natural ventilation. The petal-shaped outer skin is decomposed into a series of interconnected parts, which are both maintenance structures and load-bearing structures, realizing the perfect organic combination of form and function.
| 结构·展现构造之美 |
Show the Beauty of Structure
▼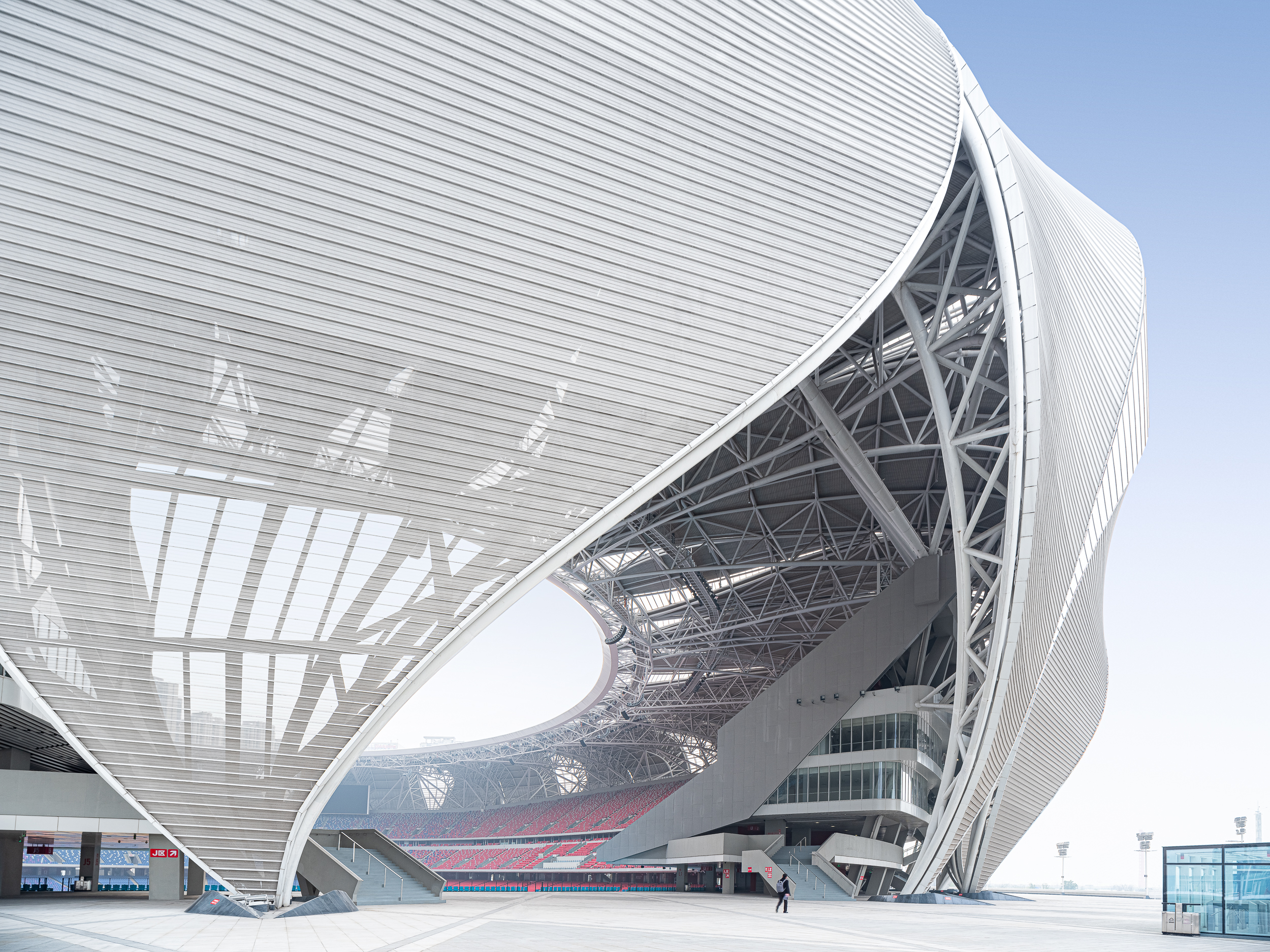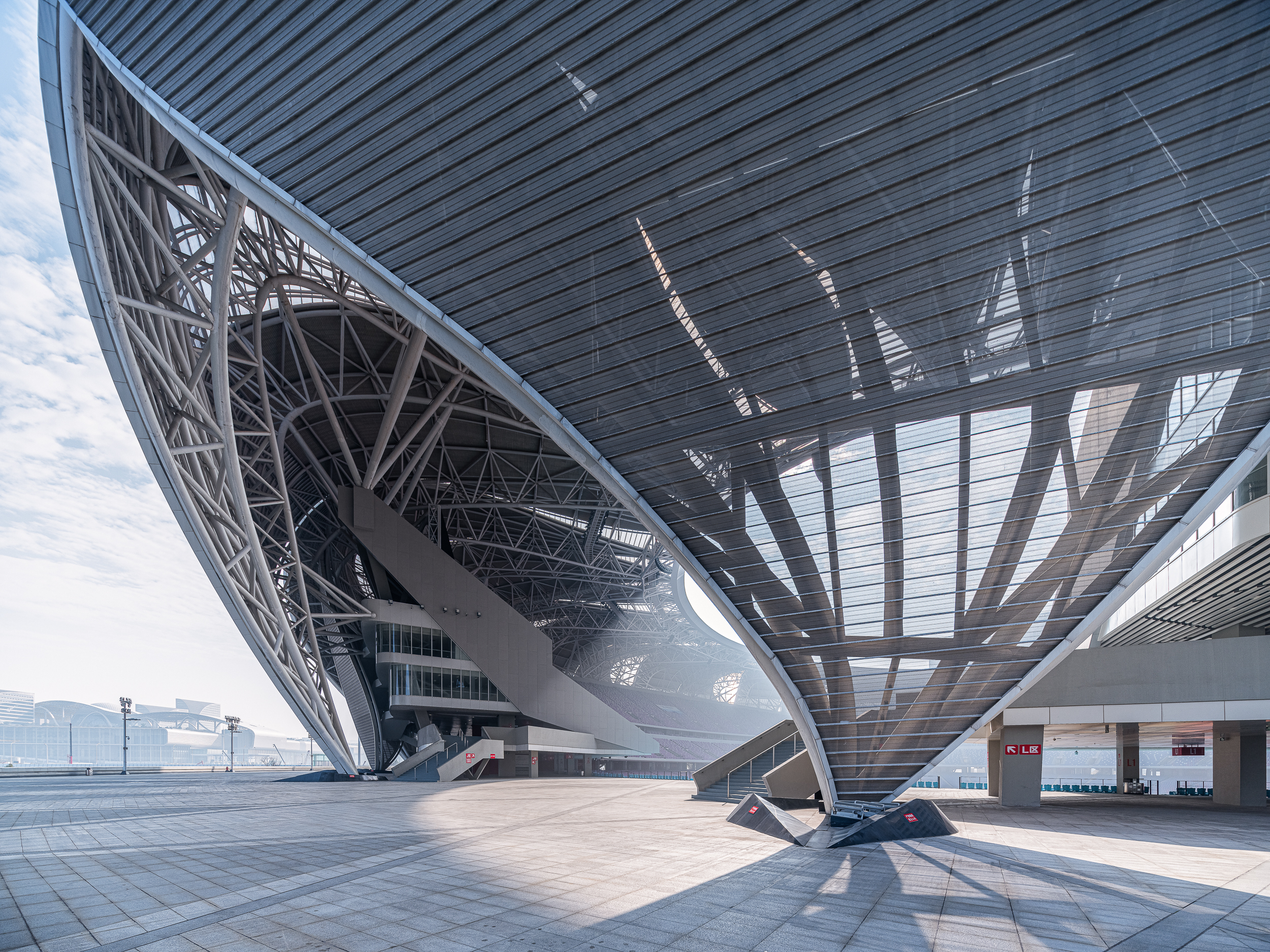 杭州奥体中心的设计引入了基于BIM技术(一种应用于工程设计、建造、管理的数据化工具)的各种软件。从建筑师构思的草图到参数化设计花瓣的外形,再到花瓣数量的对比调整 ,直至最终方案的完成,都是在造型软件的环境中完成,实现了快速、直观、精准的高度同步。
The design of Hangzhou Olympic Sports Center introduces various software based on BIM technology (a data-based tool applied to engineering design, construction and management). From the sketch conceived by the architect to the parametric design of the shape of the petals, to the comparison and adjustment of the number of petals, until the completion of the final plan, it is all completed in the environment of the modeling software, which achieves fast, intuitive and accurate high synchronization.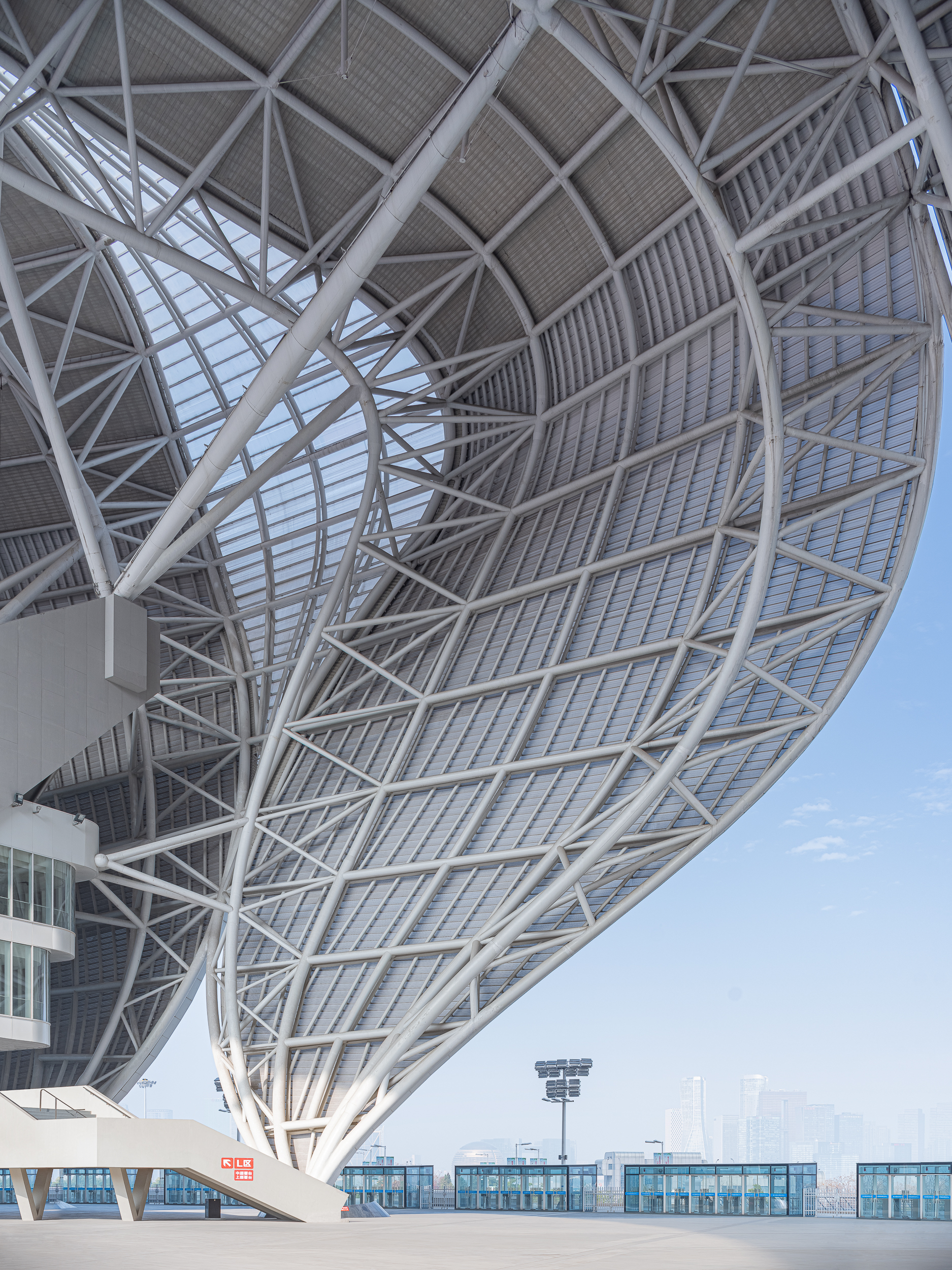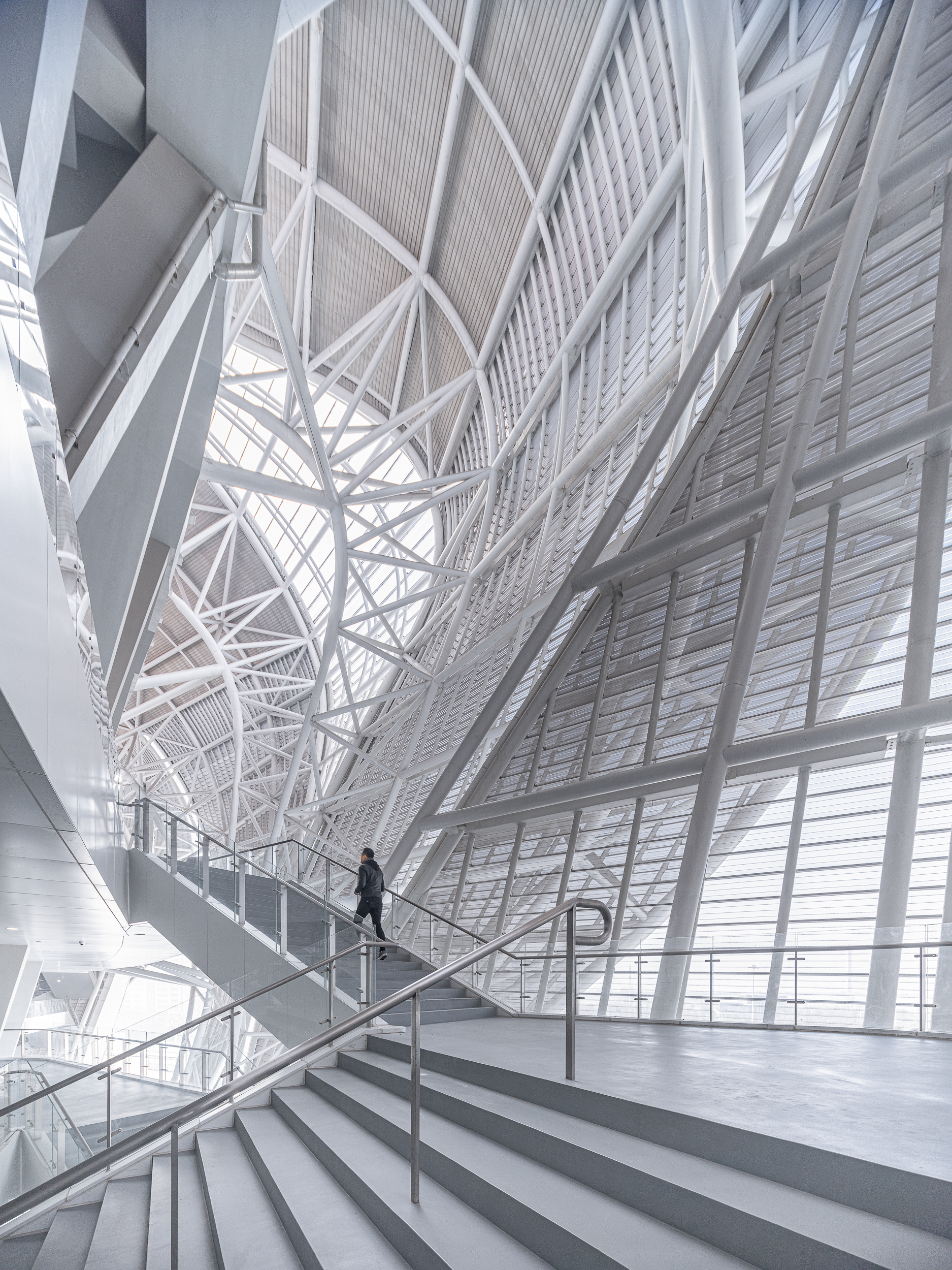 杭州奥体中心主体育场看台区上覆盖了完整的环状花瓣造型钢结构悬挑罩棚,采用了空间管桁架+弦支单层网壳组合结构体系。将复杂的外观与厚重的结构巧妙结合,达到了外观轻盈简洁,结构坚实有力的效果,淋漓尽致的展现了结构构造之美。
The stand area of the main stadium of the Hangzhou Olympic Sports Center is covered with a complete cantilevered canopy with a ring-shaped petal-shaped steel structure. Combining the complex appearance with the heavy structure ingeniously, it achieves the effect of light and concise appearance, solid and powerful structure, and vividly shows the beauty of the structure.
| 功能·创造城市新区 |
Create a New Urban Area
▼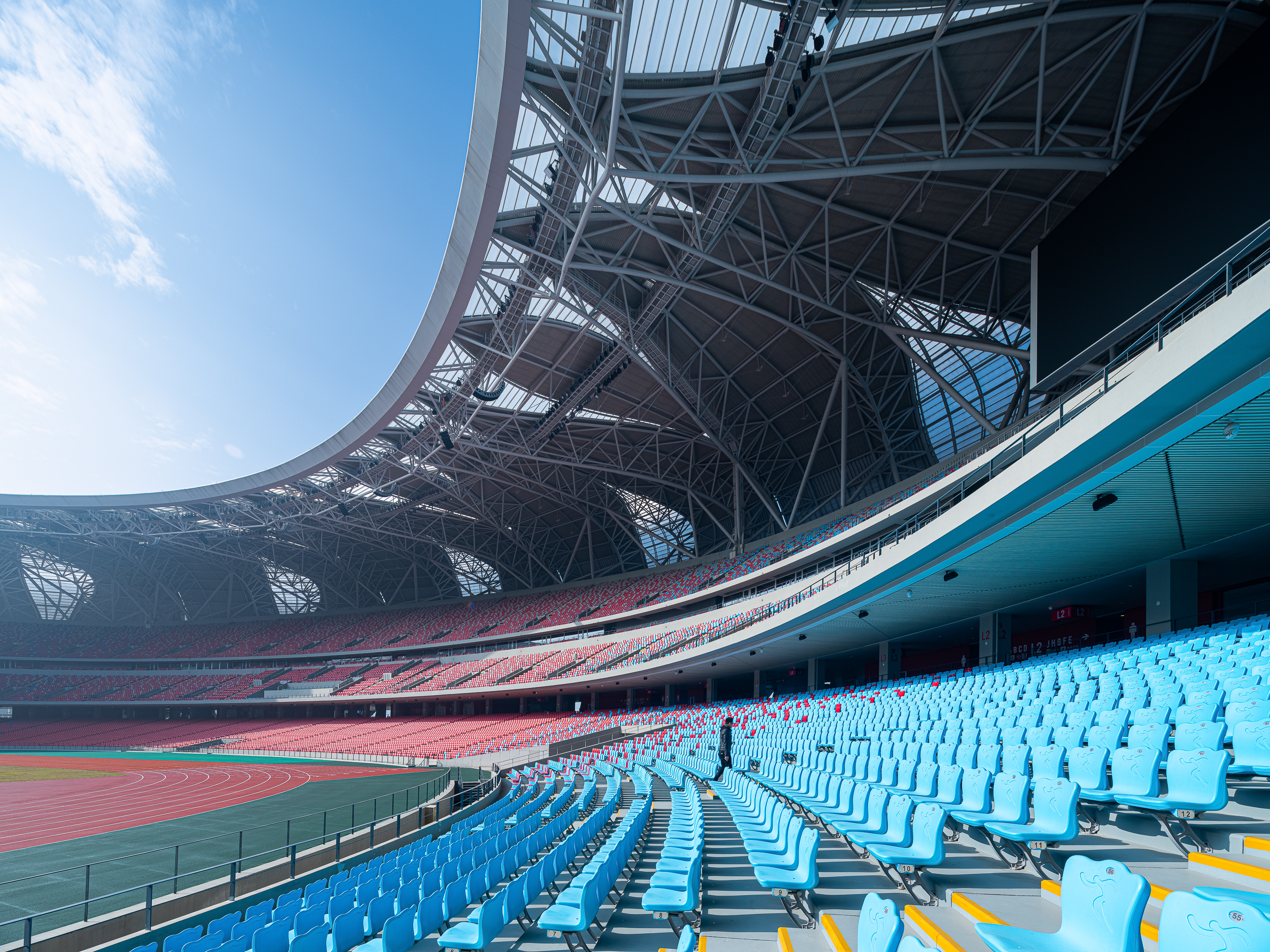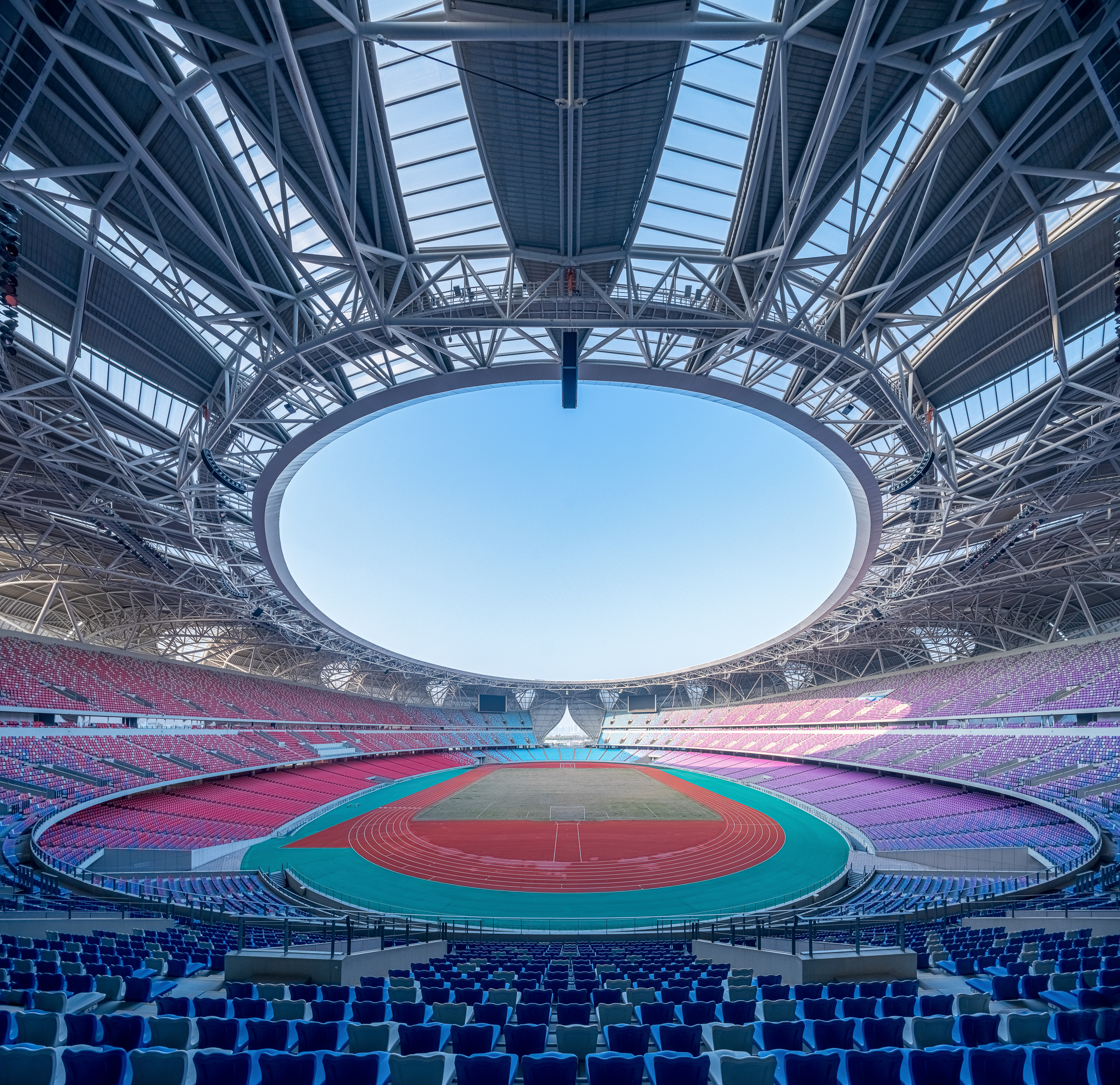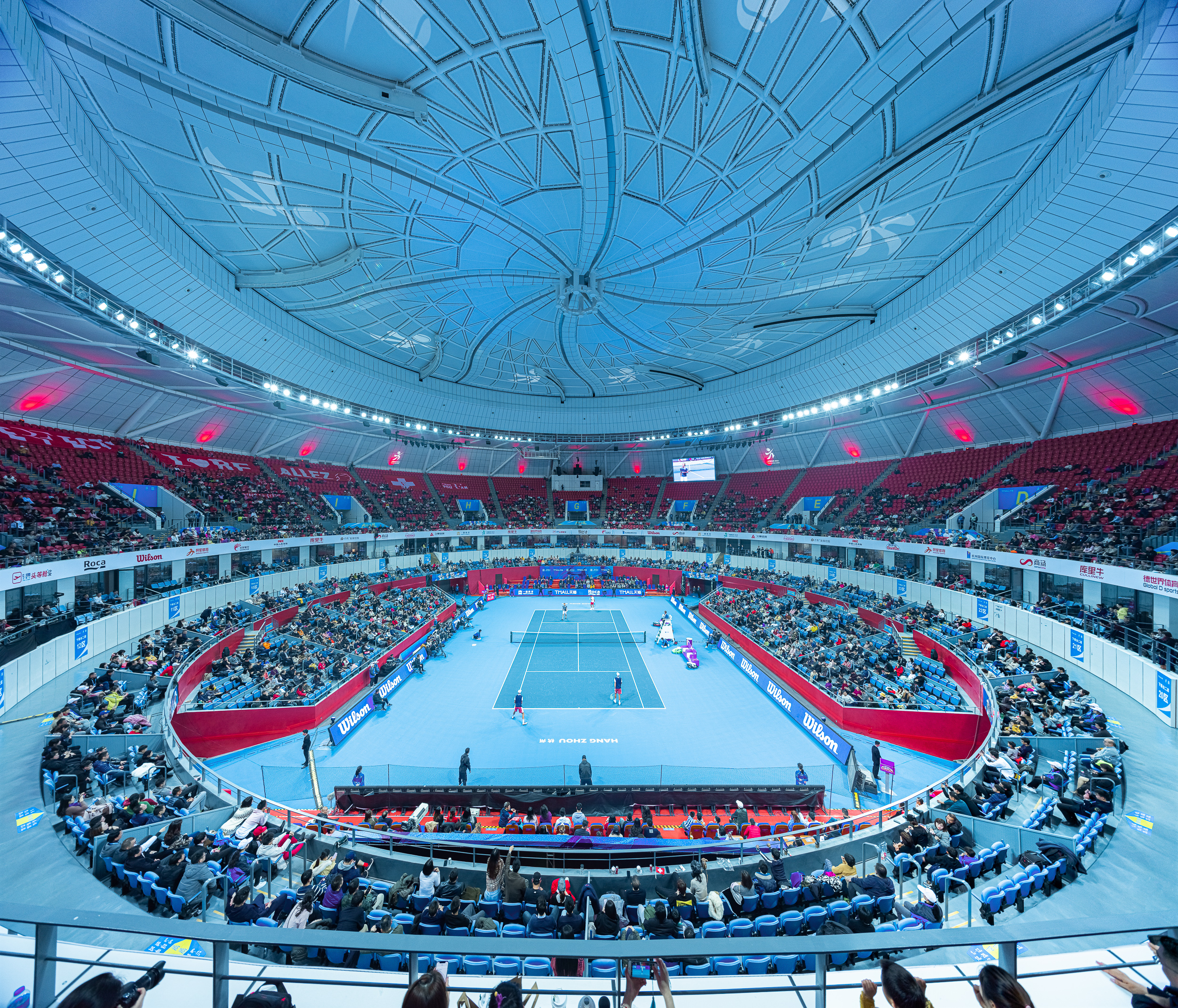 杭州奥体中心不仅将承办全国性或洲际性体育赛事的主场馆区,以及举办国内外大型会展活动的现代化大型会展中心。同时更结合两中心建设,打造具有杭城特色的"体育港",形成以体育、博览功能为主,集商务、旅游、休闲、文化、居住功能于一体的城市新区。
Hangzhou Olympic Sports Center will not only host the main venue area for national or intercontinental sports events, but also a modern large-scale convention and exhibition center for large-scale exhibitions at home and abroad. At the same time, it will combine the construction of the two centers to create a "sports port" with Hangzhou characteristics, forming a new urban area with sports and expo functions as its main functions, integrating business, tourism, leisure, culture and residential functions.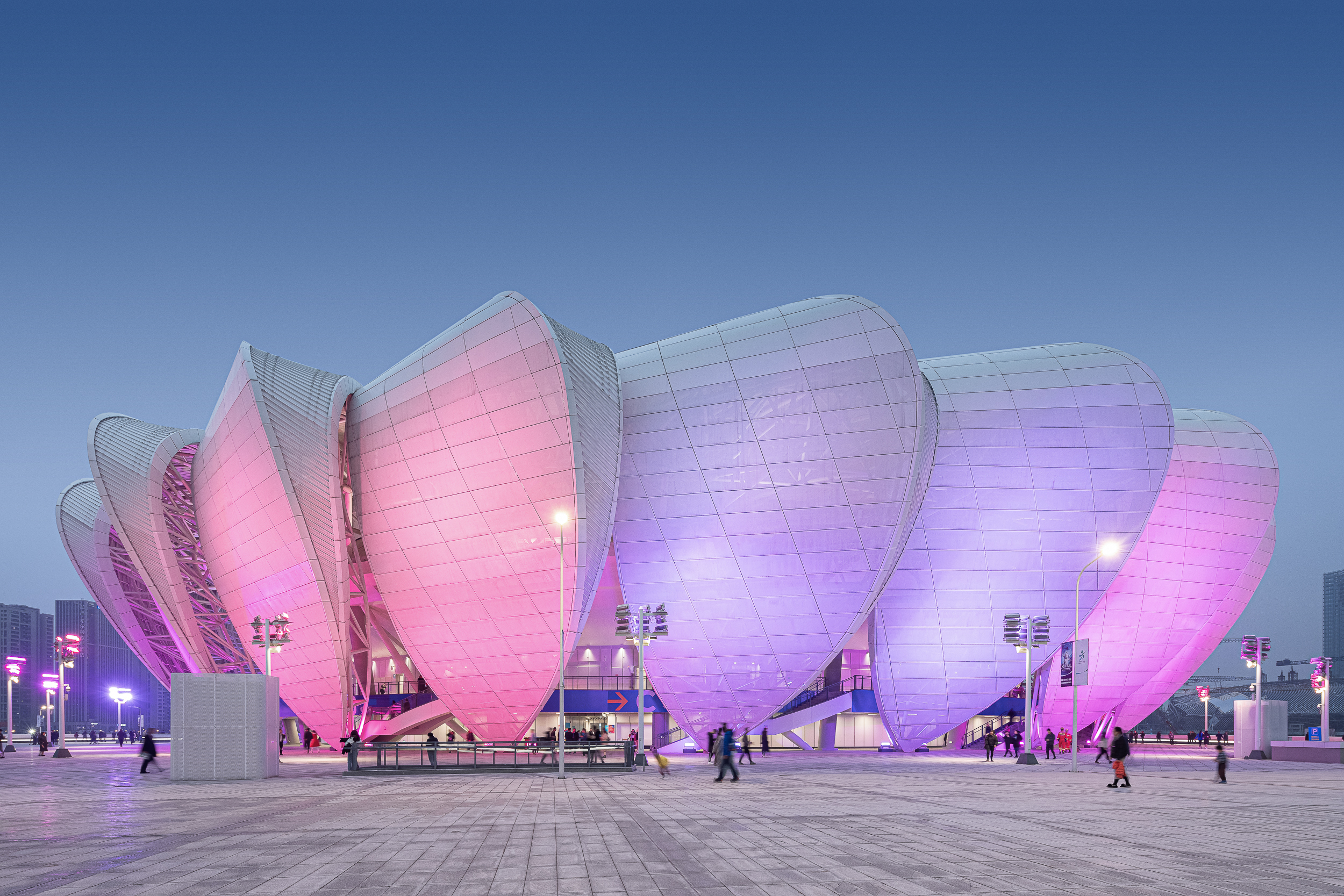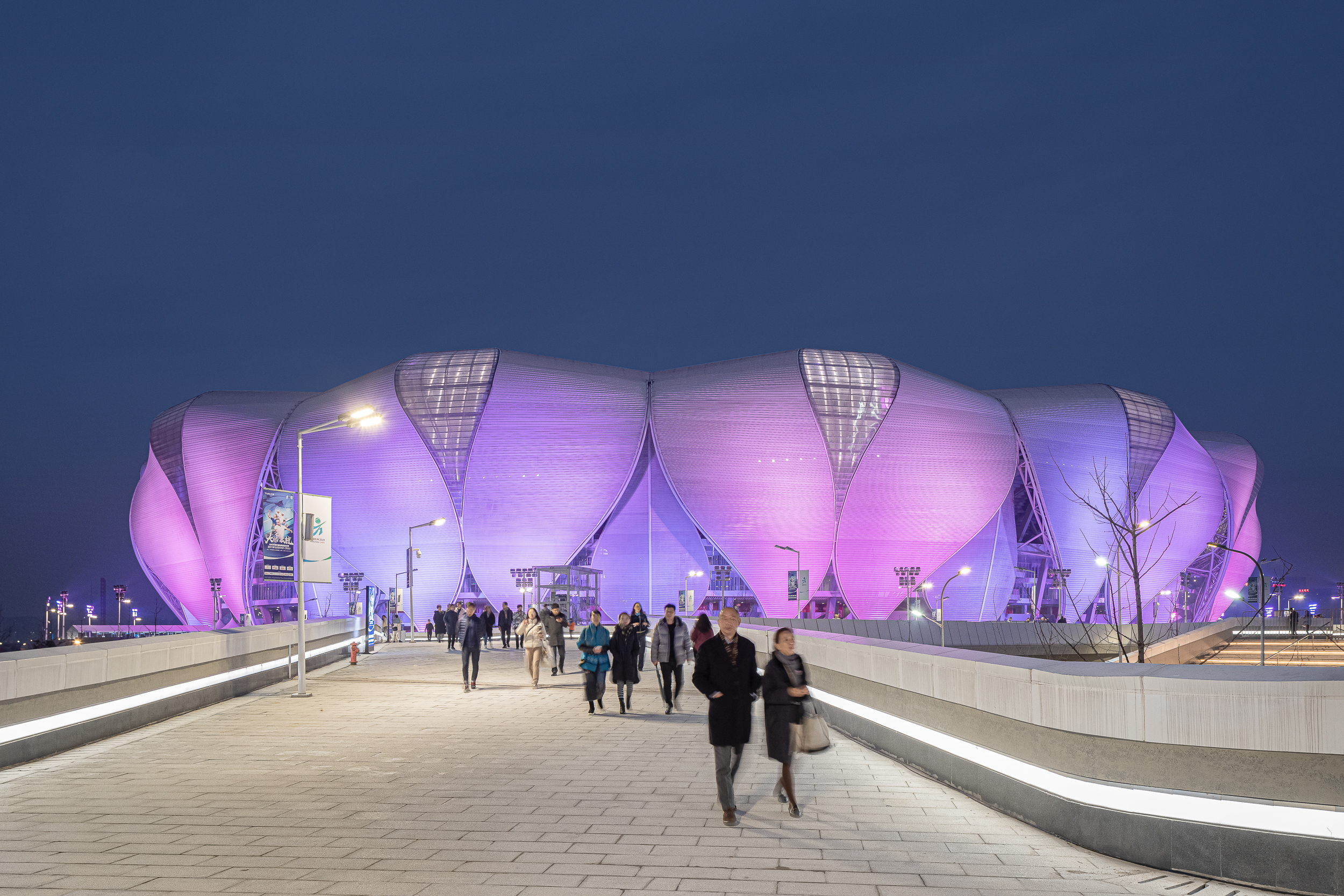 杭州奥体中心不仅将作为一个体育中心提供顶级的赛事服务,更将作为城市的"绿色核心"带动杭州"城市东扩、旅游西进、沿江开发、跨江发展"战略的实施,为共建共享与世界名城相媲美的"生活品质之城"打下坚实基础,为城市居民带来更美好的明天。
Hangzhou Olympic Sports Center will not only provide top-level event services as a sports center, but also act as the "green core" of the city to drive the implementation of Hangzhou's strategy of "city expansion to the east, tourism to the west, development along the river, and development across the river". Sharing a "city of quality of life" comparable to world-famous cities will lay a solid foundation and bring a better tomorrow to urban residents.
---