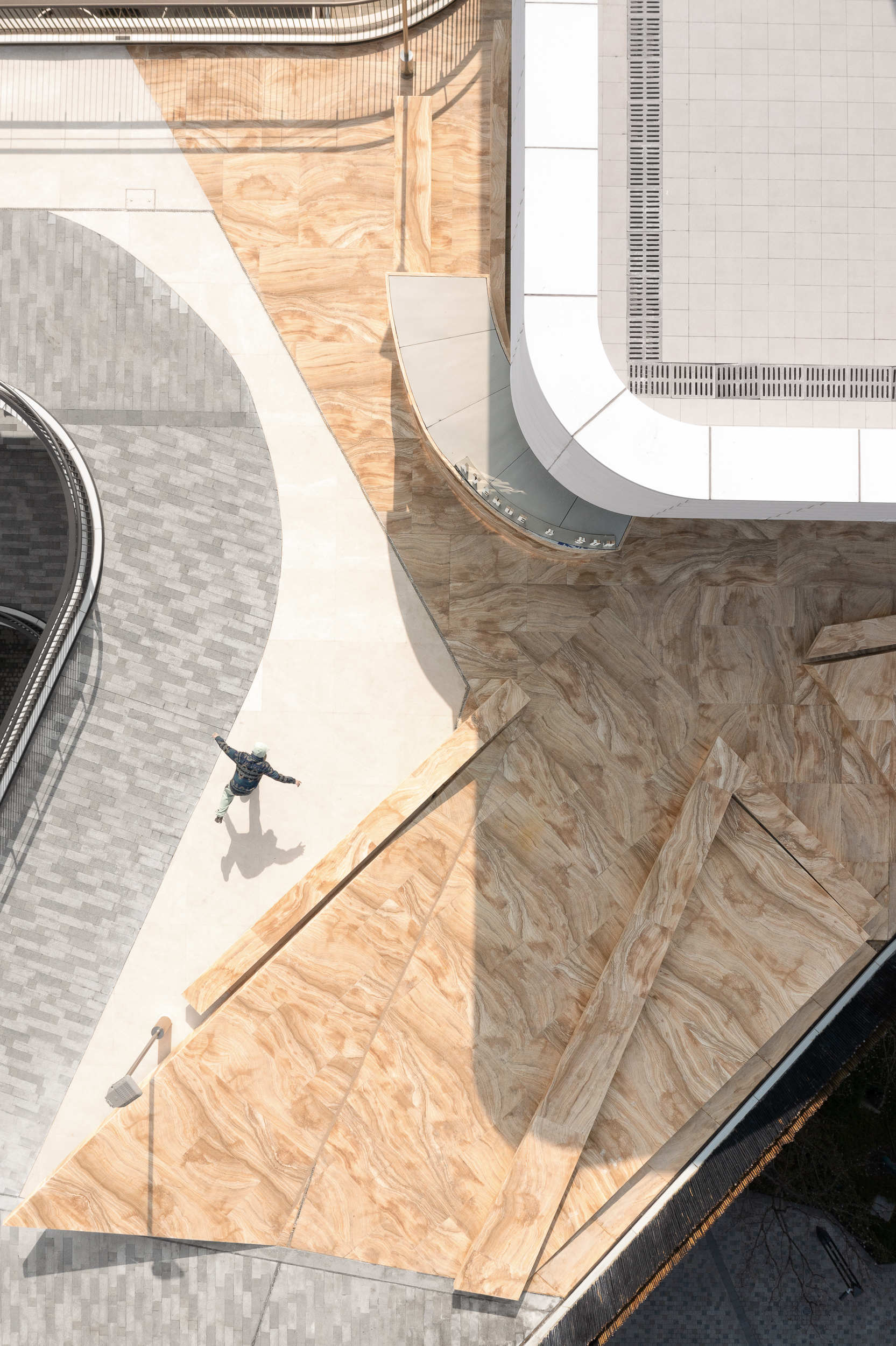 自由意志的街区,
Free will block.
日落大道下的跳跃。
Jump under Sunset Boulevard.
---
滑板更是一种生活方式,脱离烦闷的生活并挑战自己。一家门店也代表了DIY精神、友谊、自由生活以及更多。
Skateboarding is more of a way of life, getting out of a boring life and challenging yourself. A store also represents the spirit of DIY, friendship, free living and more.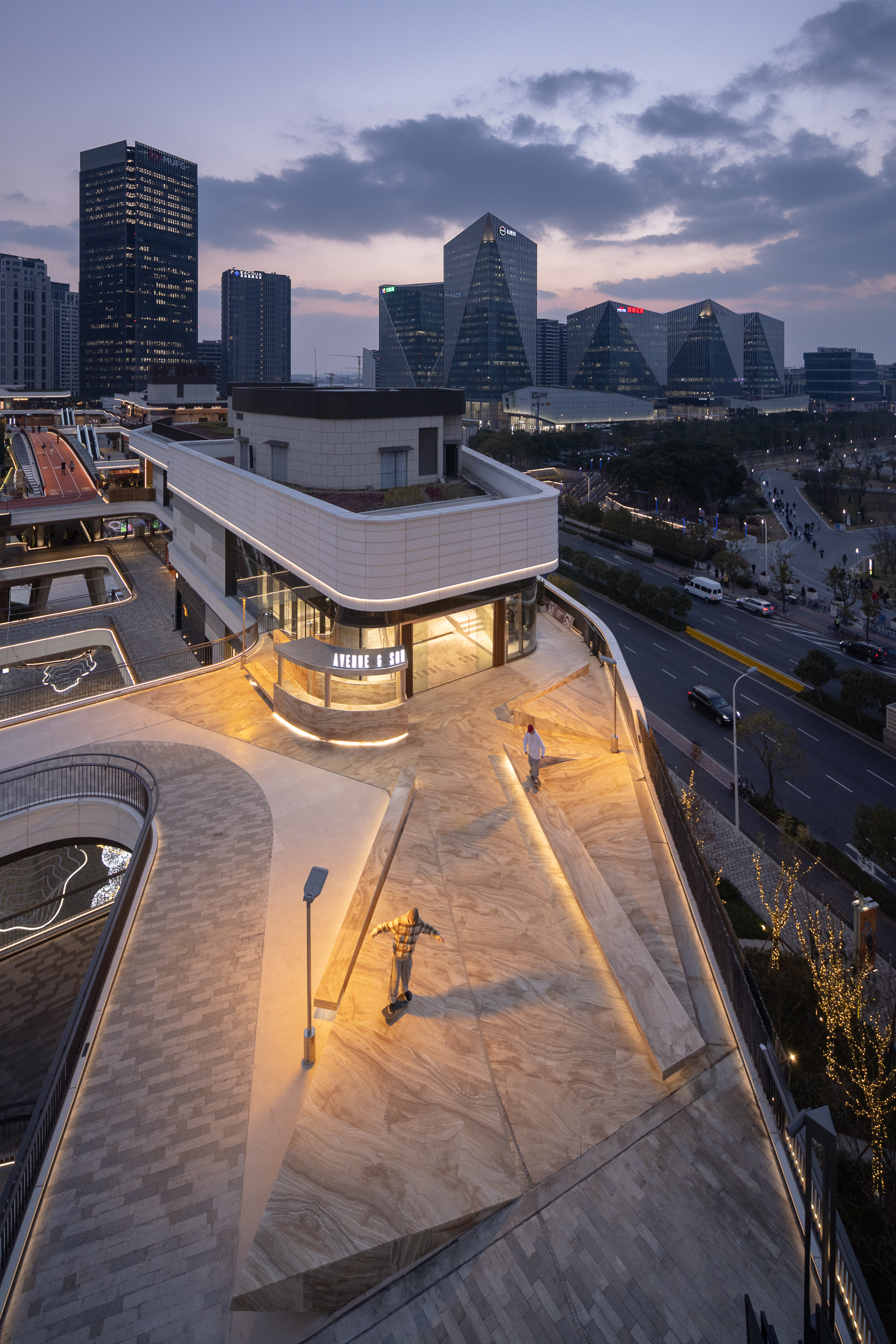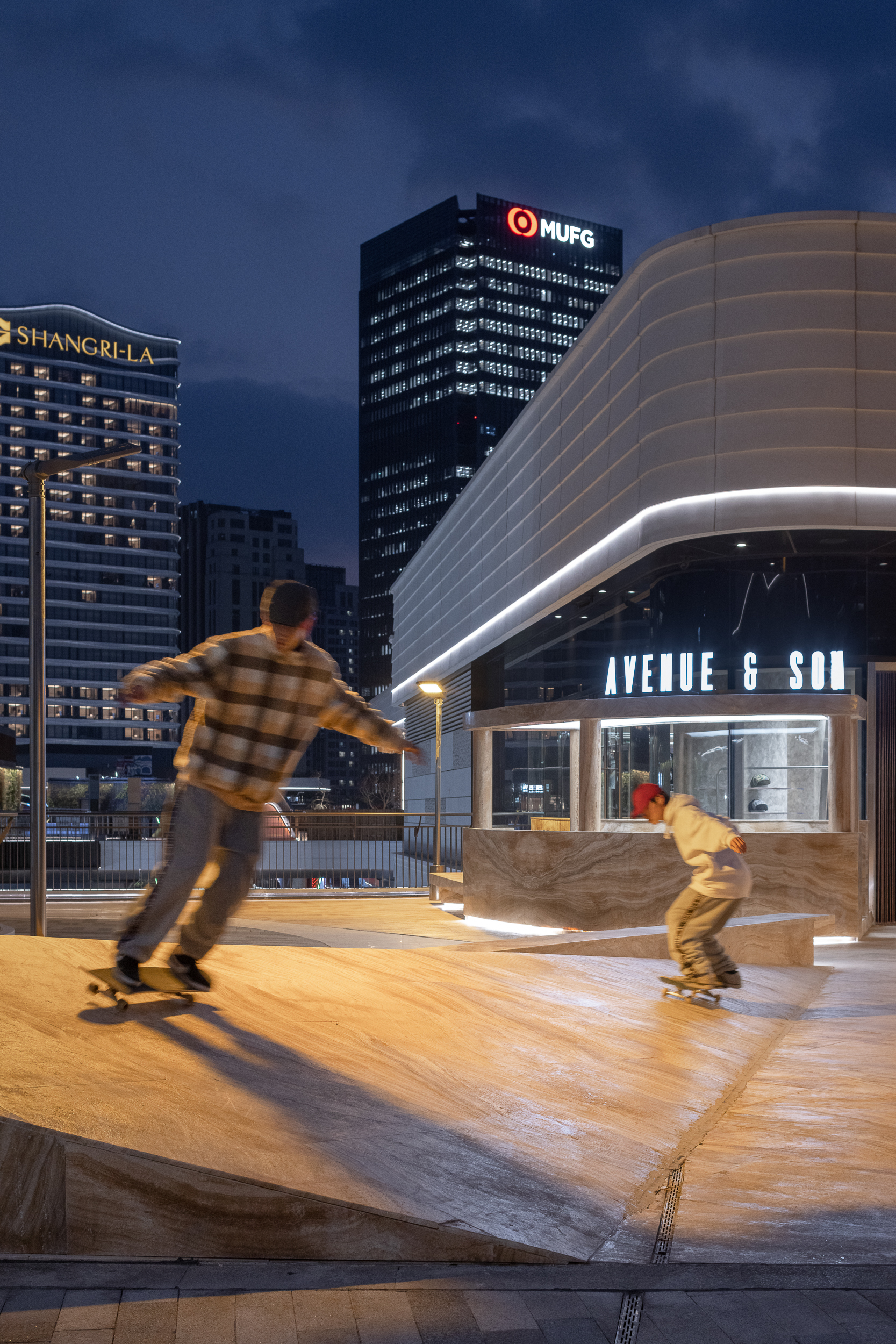 探入空间前,是一个露台滑板场,没有任何遮挡物,仿佛天然的街区大道,最大化利用独有的场地优势连接了周围的景色。这是个自由的"舞台",而它的背景是自由变化的。
Before entering the space, there is a terrace skate park without any obstructions, like a natural street avenue, which maximizes the unique site advantages to connect the surrounding scenery. This is a free "stage", and its background is free to change.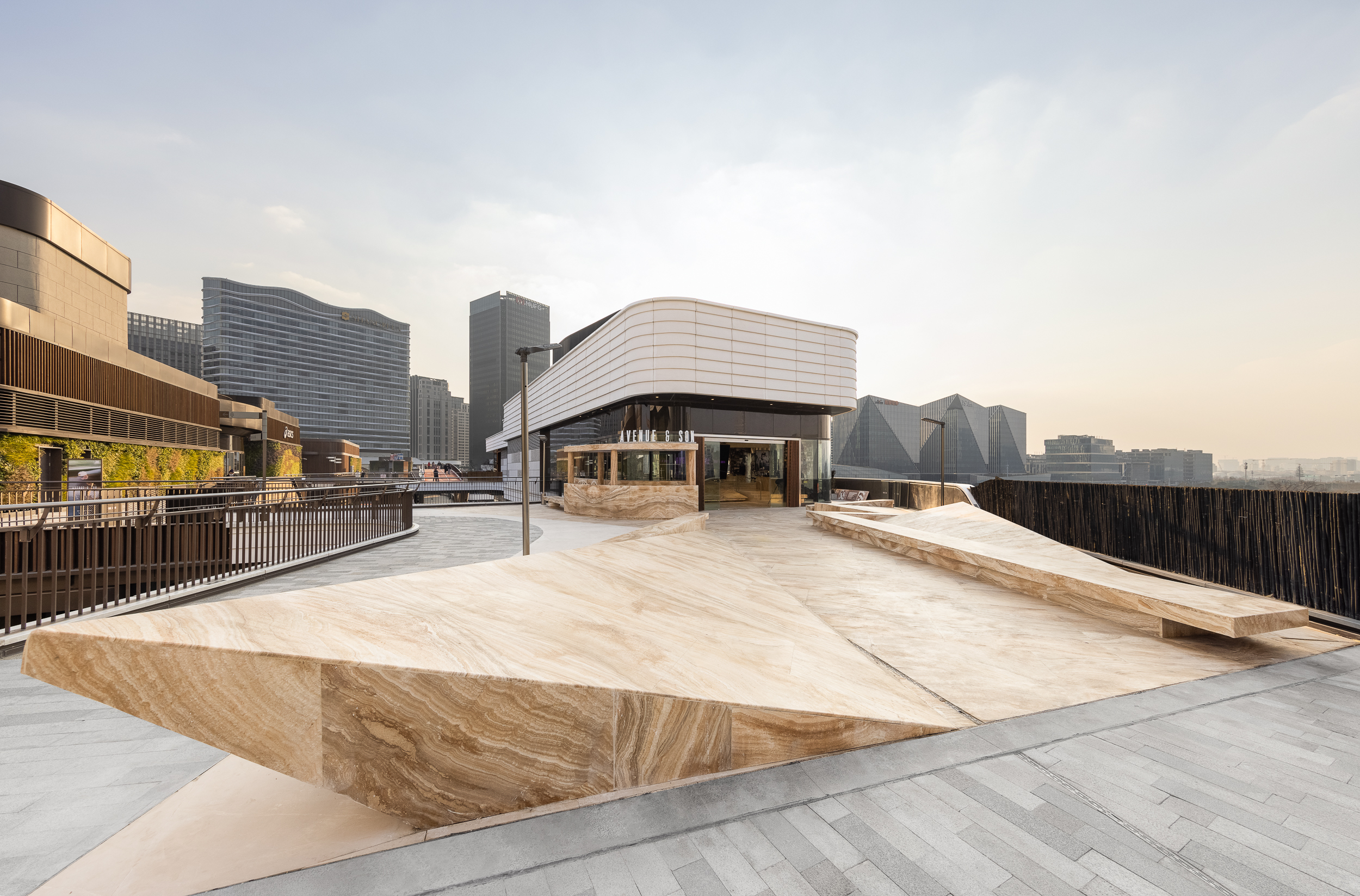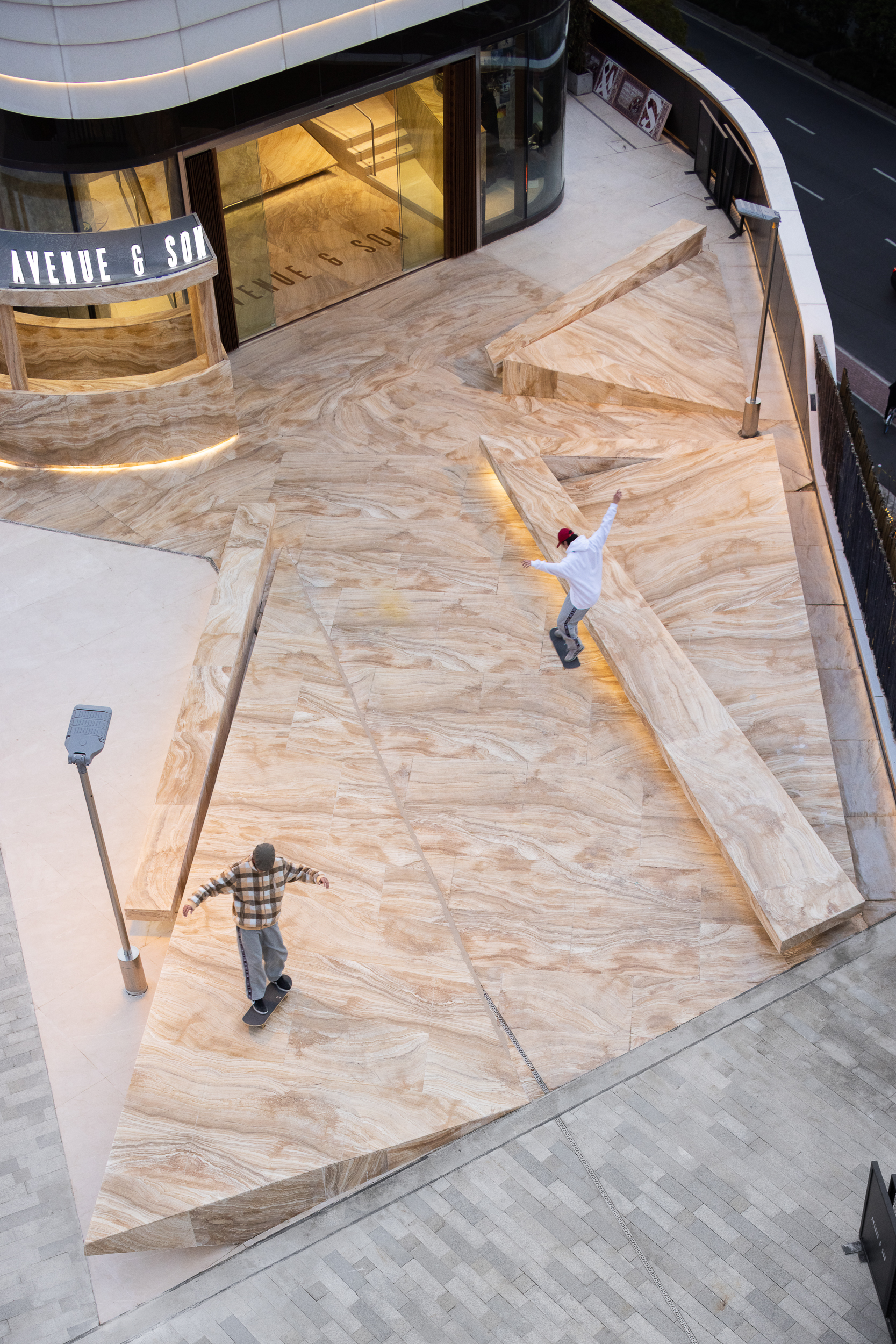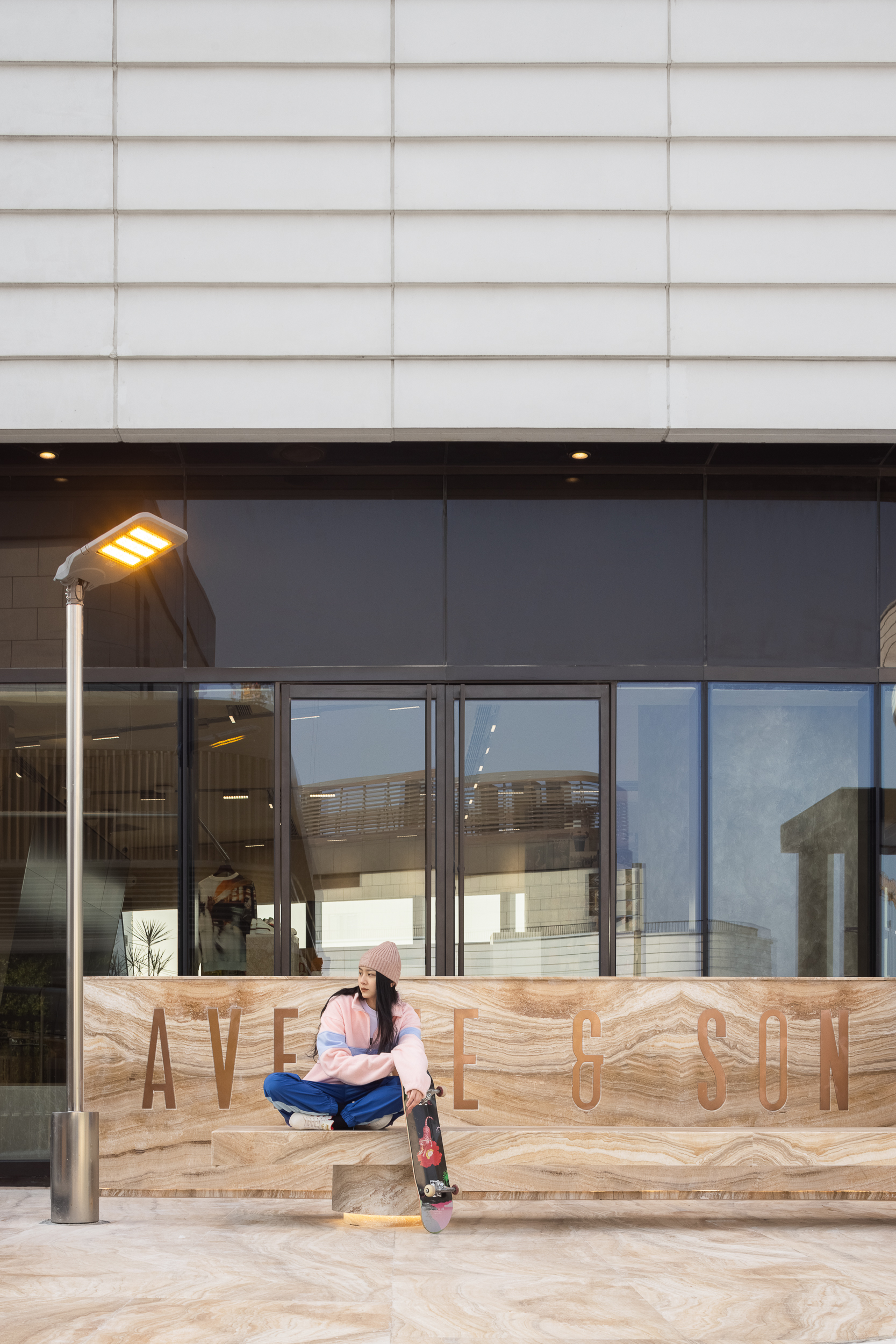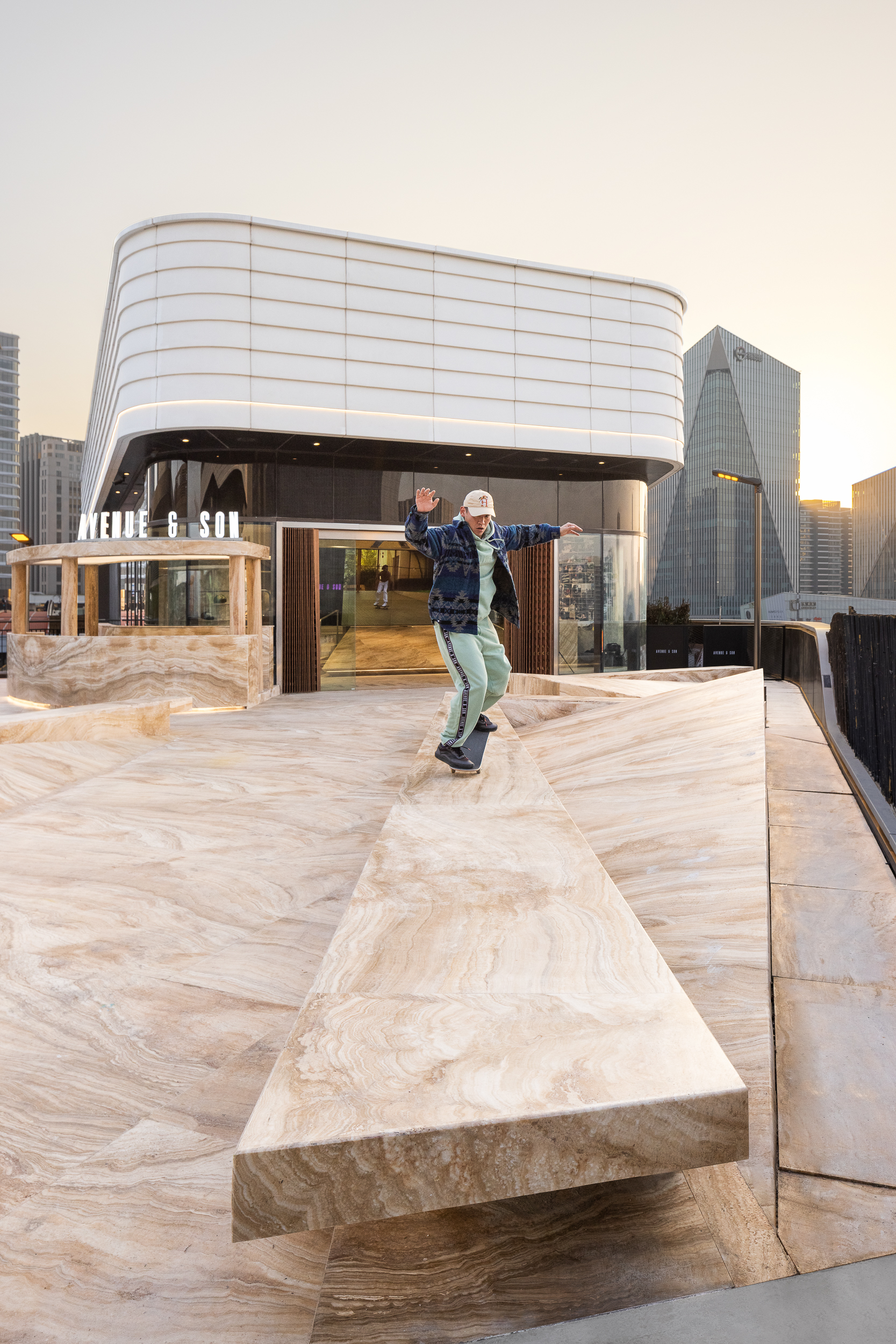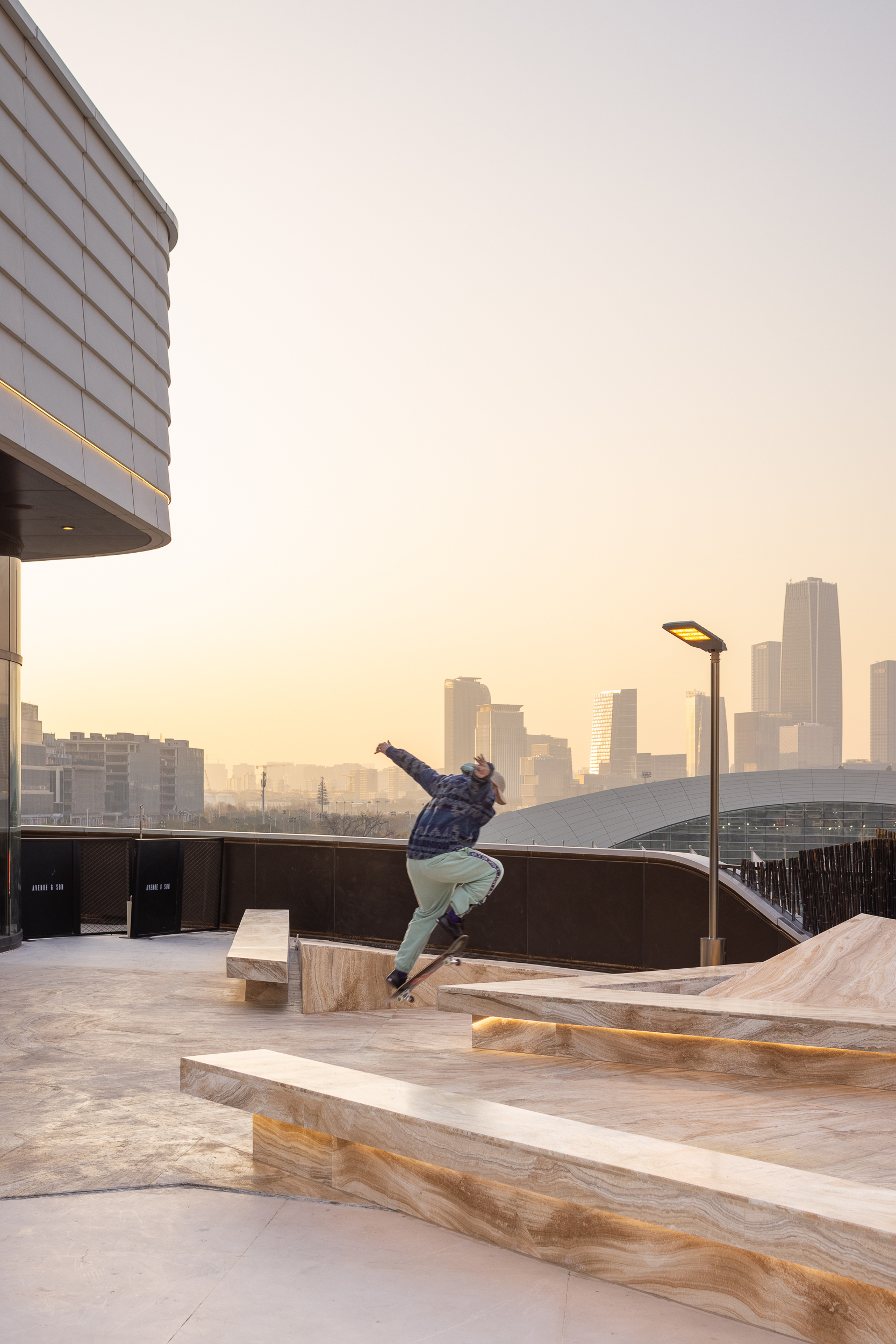 整个空间的设计仿佛是为滑板运动而生,入口处连通室内外的大面积平滑坡地成为了最具互动性的平台,它不像是一家零售店,而像是一个滑板社区,可以用于聚会社交、也可以用于比试技巧,同时也能适应未来多变的需求。
The design of the whole space seems to be born for skateboarding. The large smooth slope connecting the indoor and outdoor at the entrance has become the most interactive platform. It is not like a retail store, but like a skateboard community, which can be used for gatherings social, can also be used to test skills, but also to adapt to the changing needs of the future.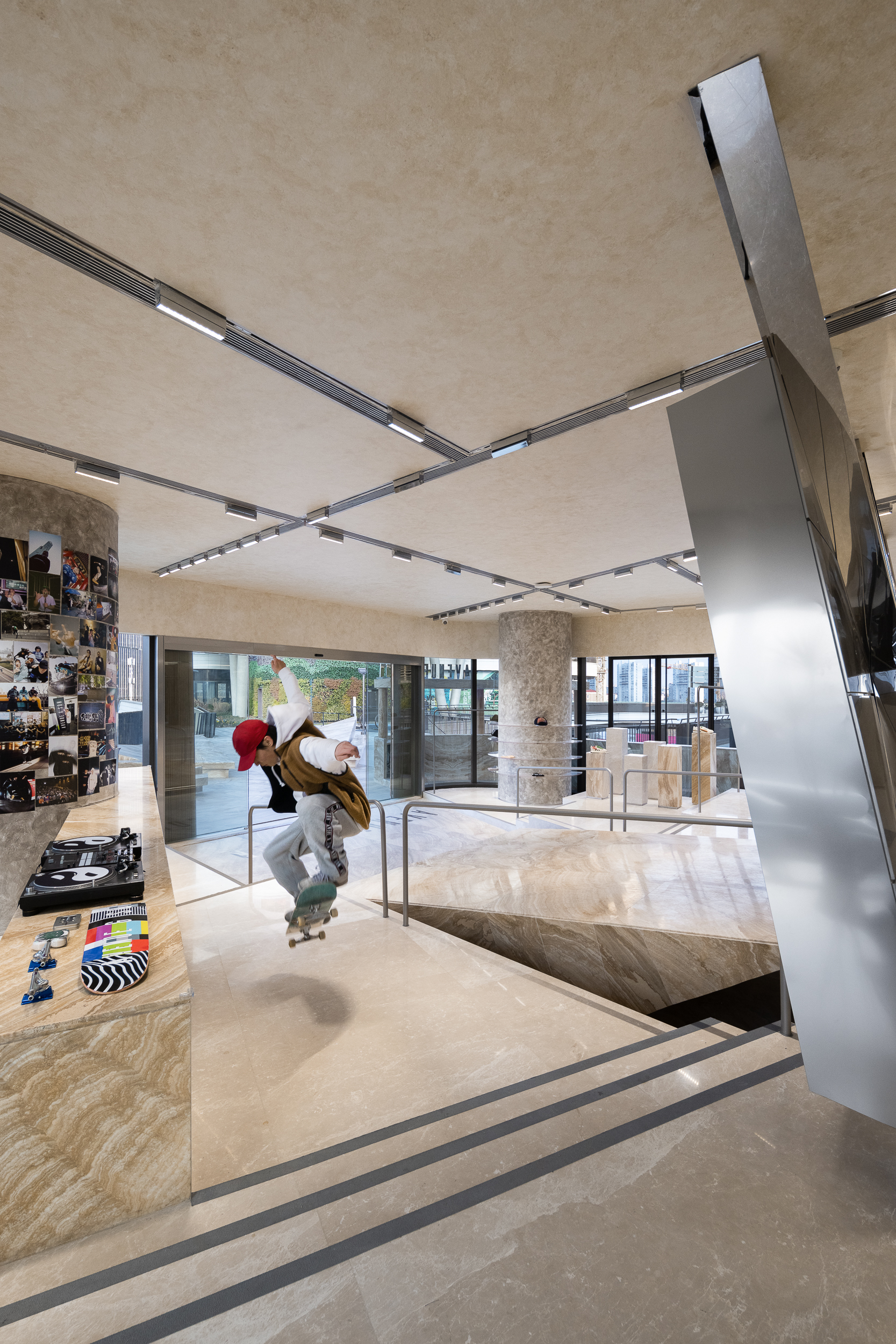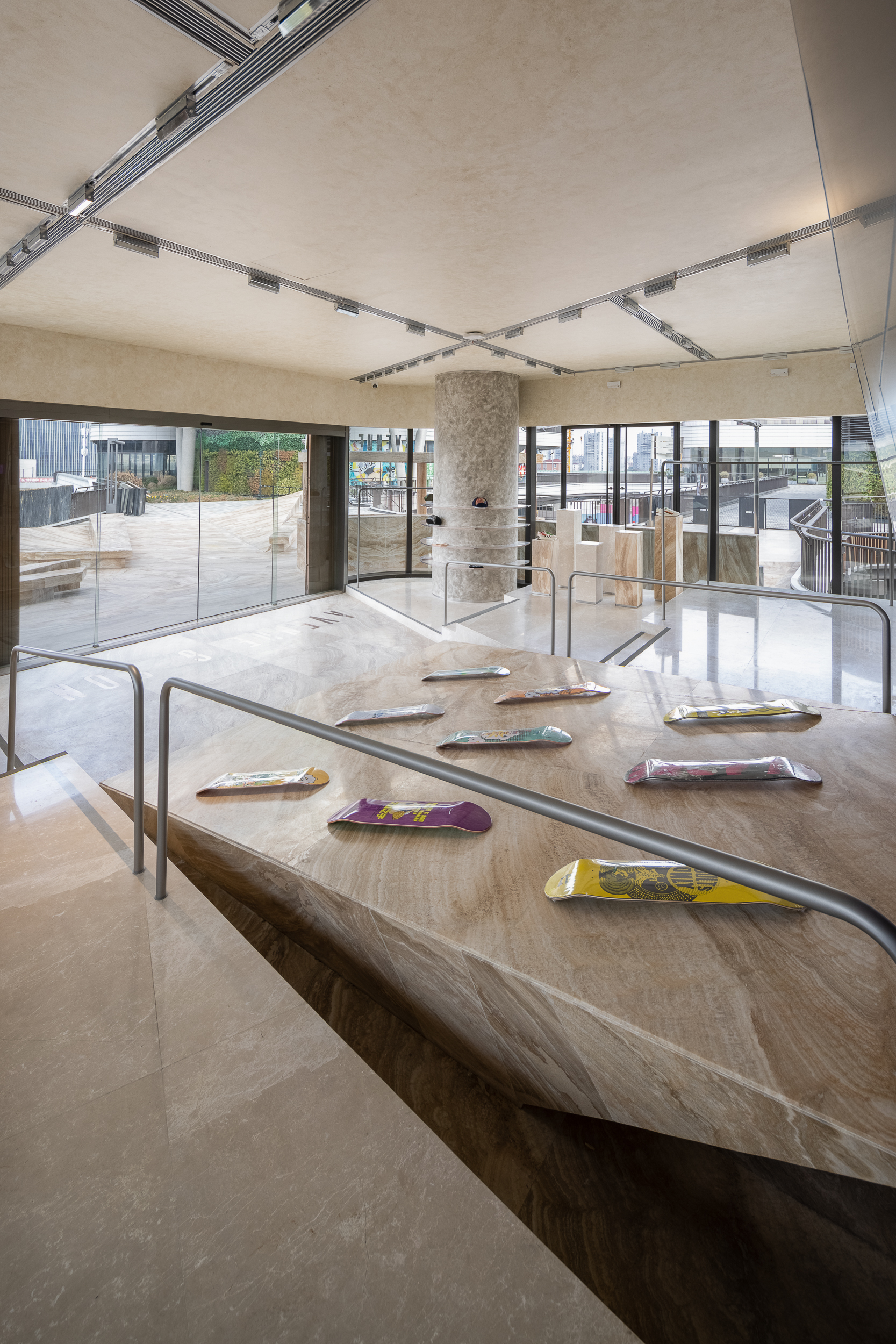 纯碎的、无尽的、有层次的地面,是人们对整个空间的第一印象。所有的一切仿佛都在律动。在这个地方,什么都拥有自由的灵魂。
The pure, endless, layered ground is people's first impression of the entire space. Everything seems to be in rhythm. In this place, everything has a free soul.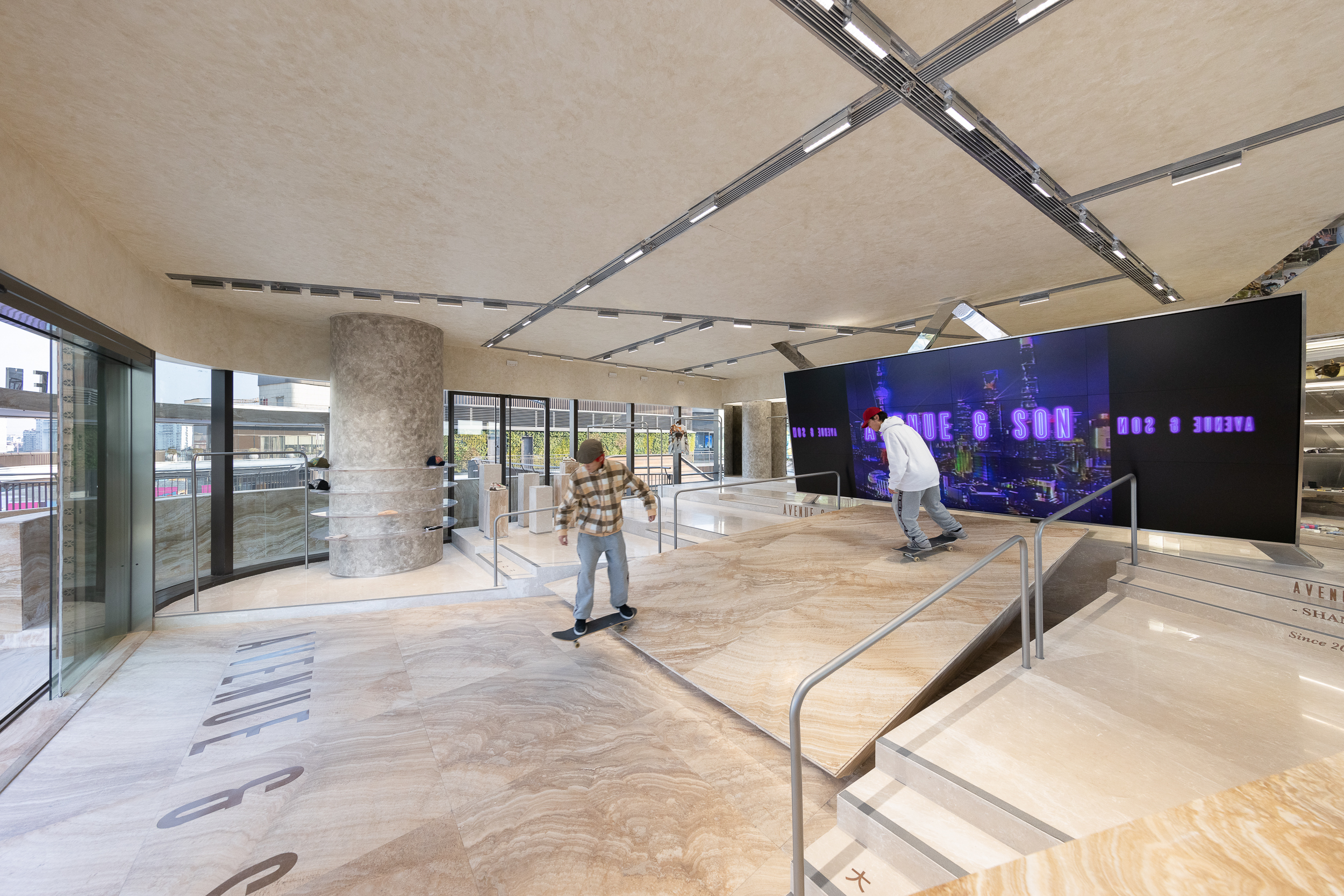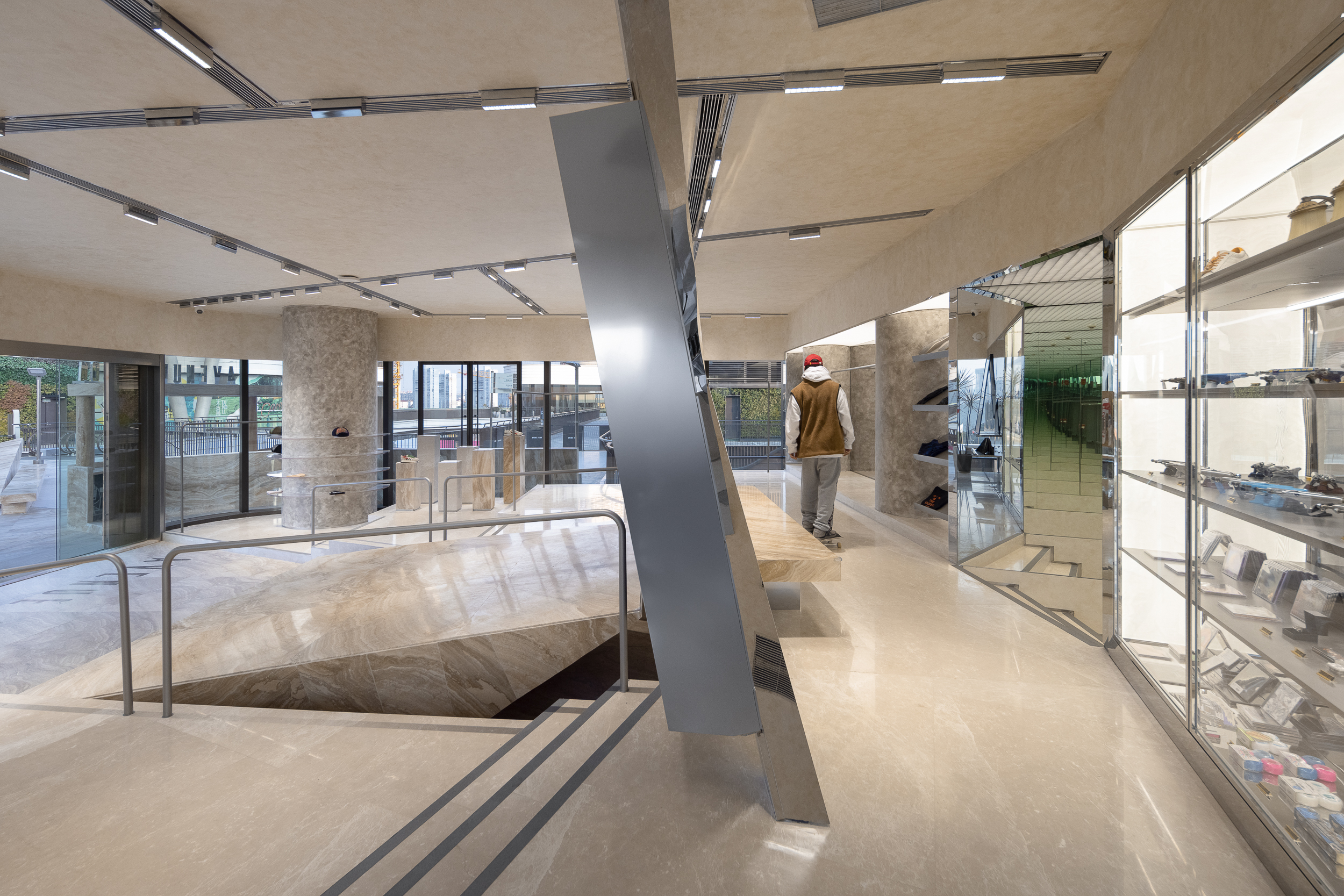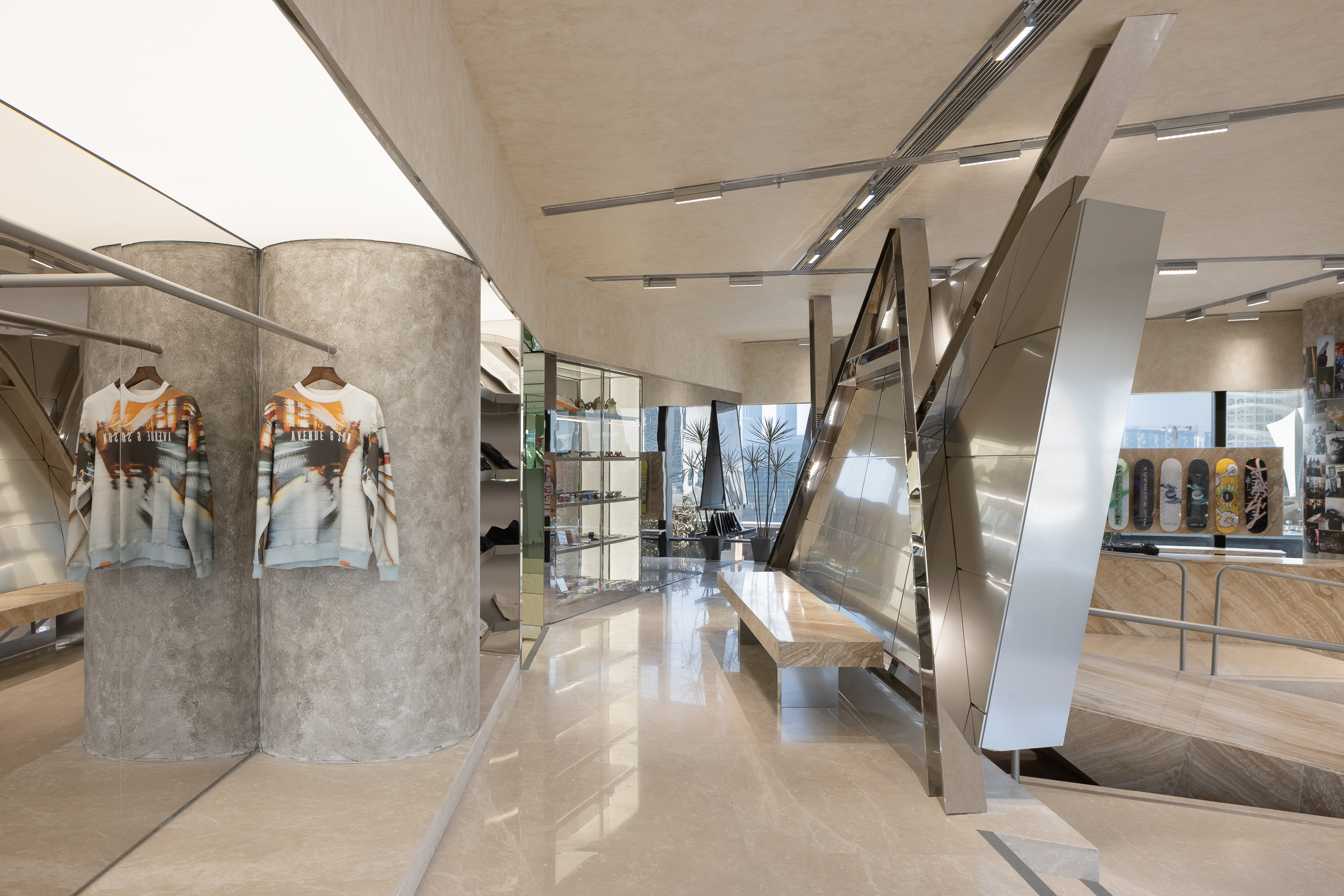 现代人潜意识中都驻扎着一颗叛逆的心。在大道之子的每个角落都充满了打破常规的可能。不再束缚于认知的边界,打破宽戒的沉闷,剩下的哪怕是残垣断壁,也是一种不畏的态度,是对疑惑的探究不止。
A rebellious heart is stationed in the subconscious of modern people. Every corner of Avenue & Son is full of possibilities to break the rules. No longer bound by the boundaries of cognition, breaking the dullness of the general precepts, even if the remaining ruins are broken, it is a fearless attitude, and it is an endless exploration of doubts.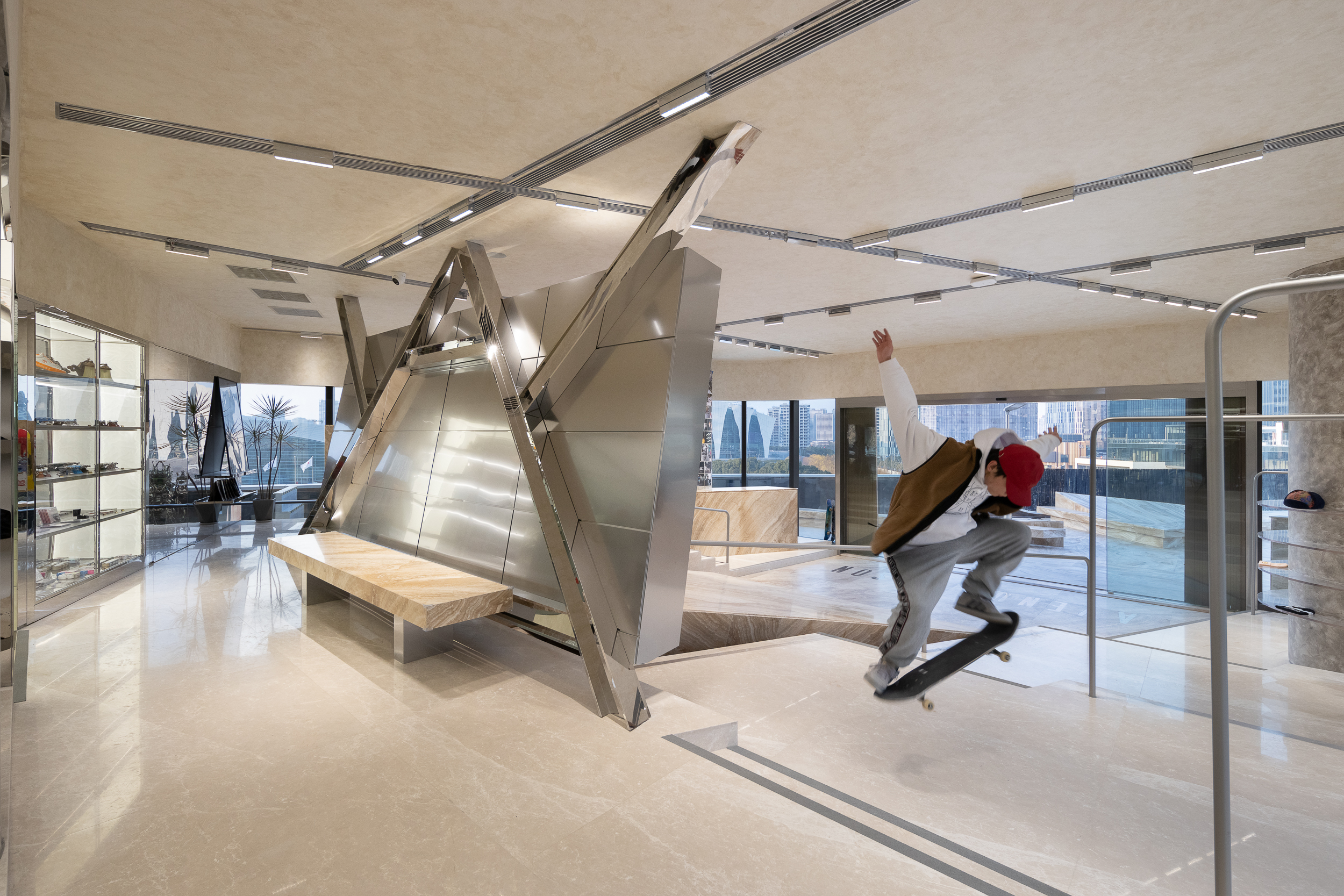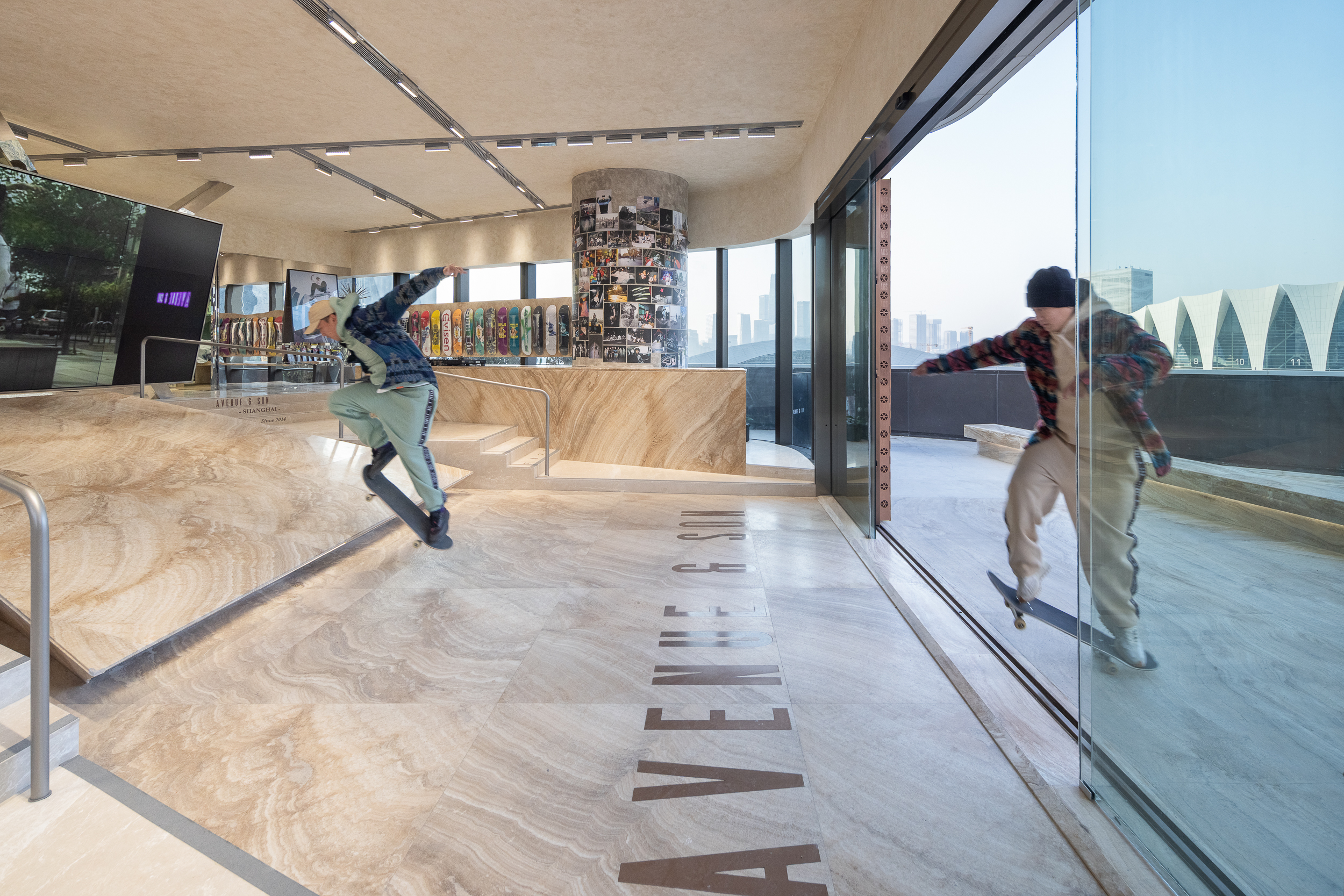 边界不是事物的终点,而是用以折叠的起点。所有的界限都是常规,等待着被超越。不局限逆反或顺从,可以随意地,向每一个方向一跃而起。
Boundaries are not the end of things, but the beginning of folding. All boundaries are routines, waiting to be surpassed. Not limited to being rebellious or submissive, you can jump up in every direction at will.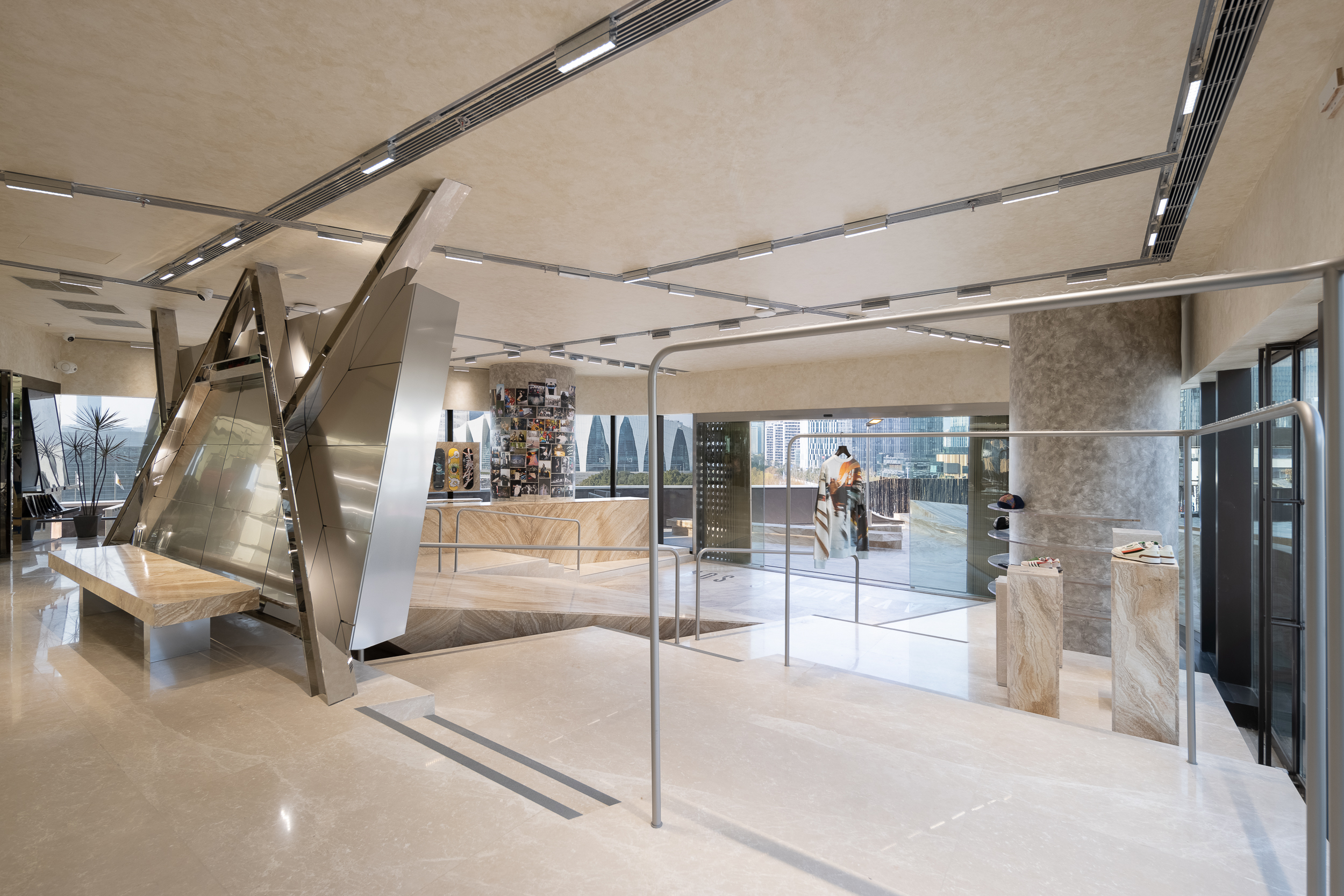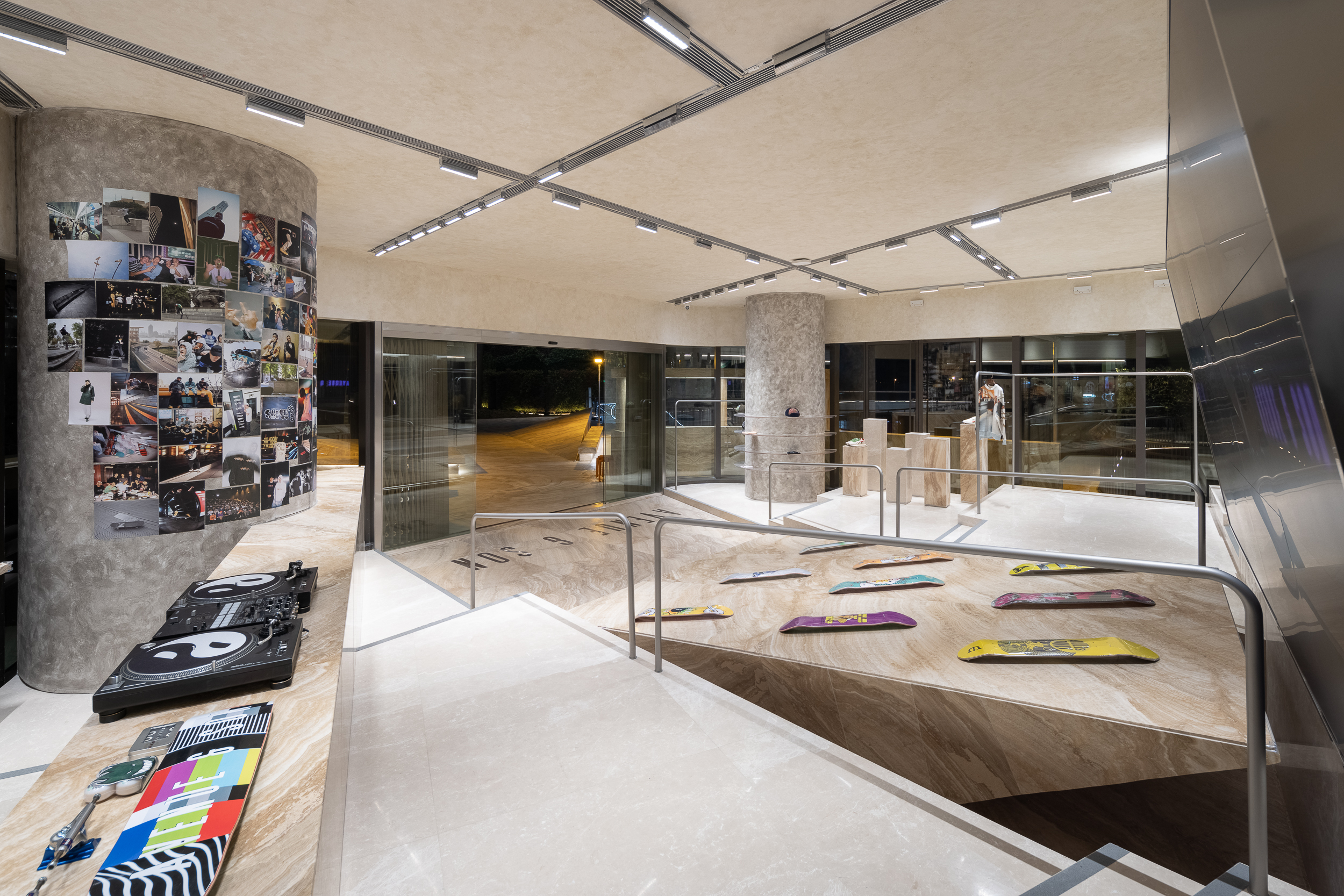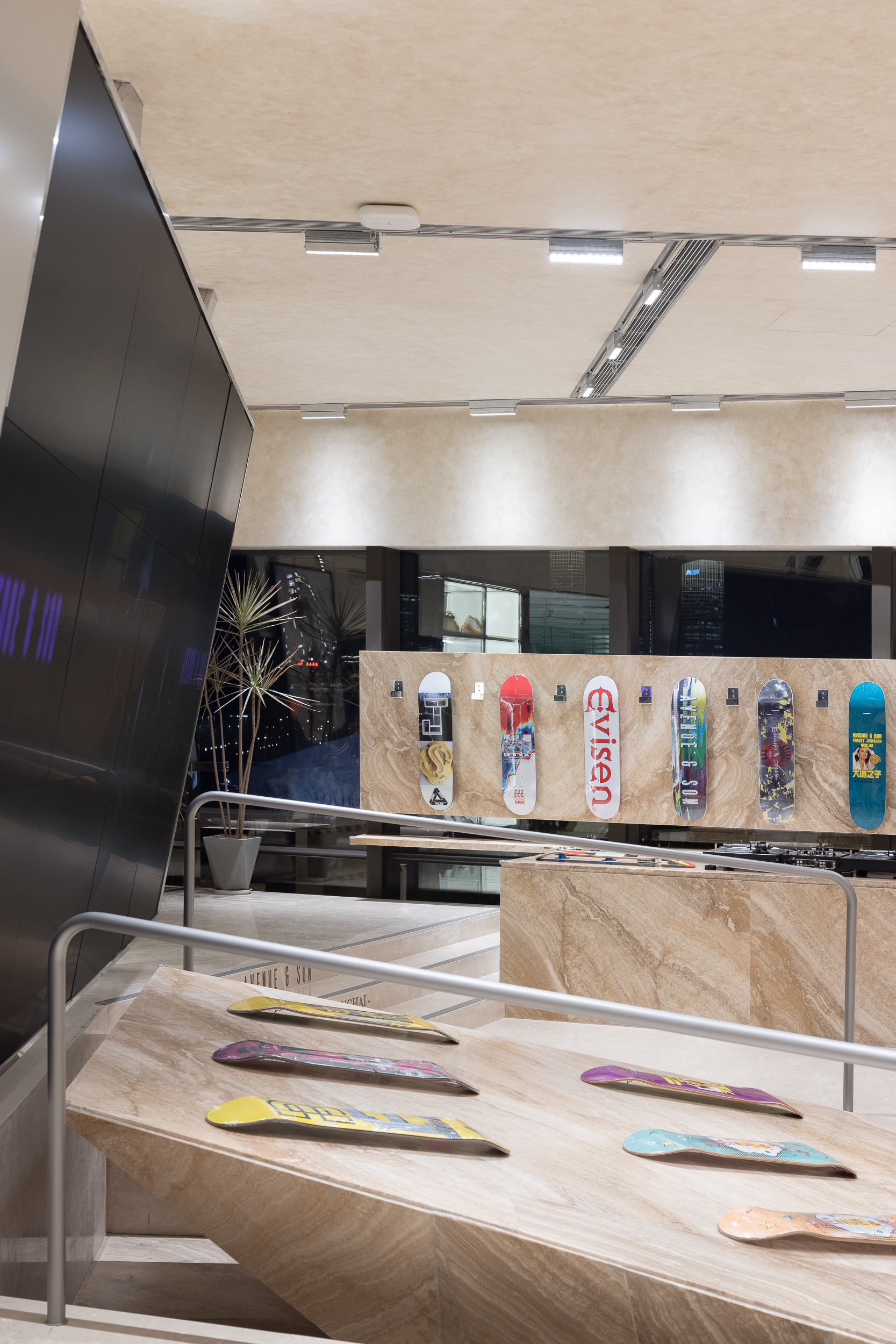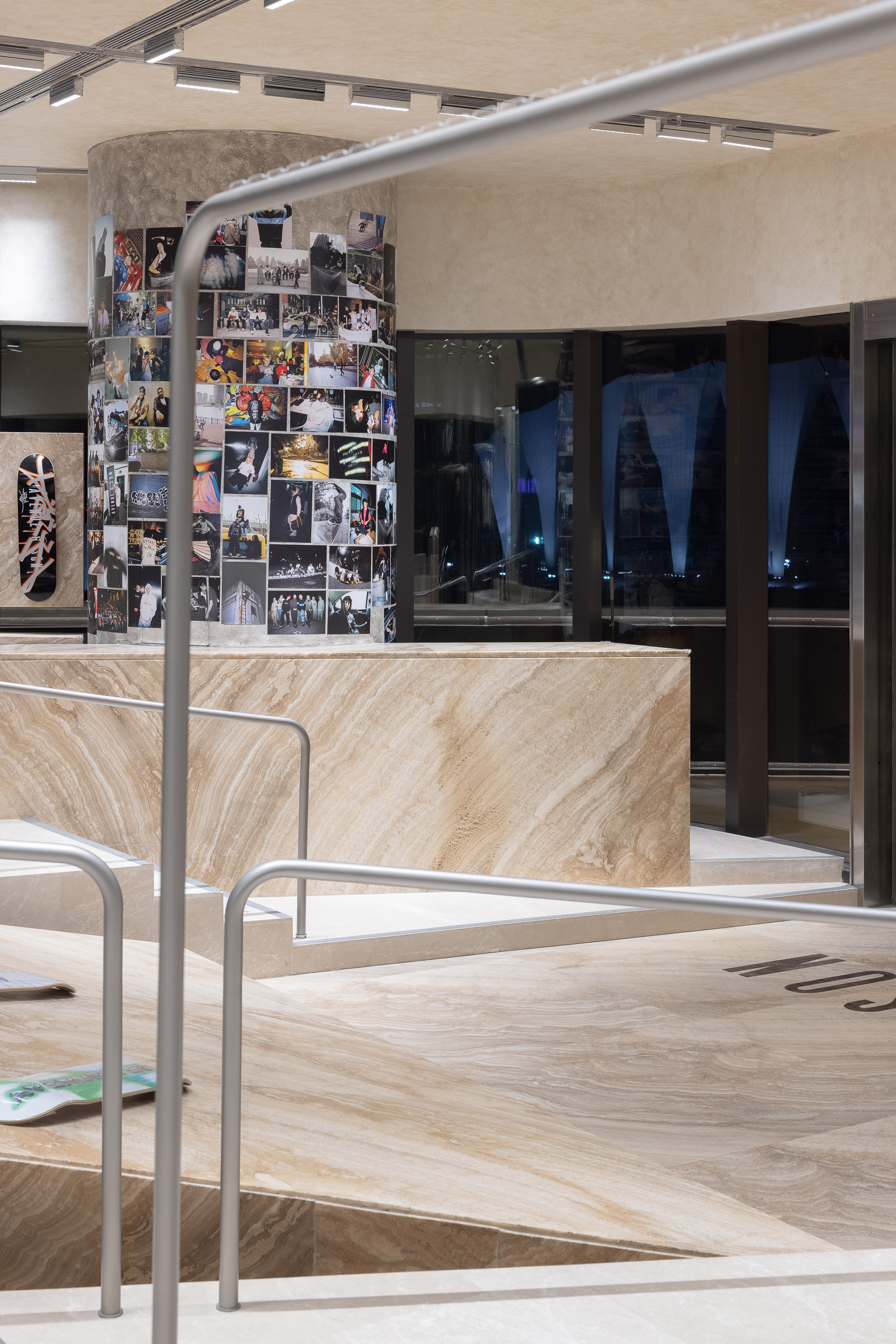 街头文化与简洁设计的结合,没有商品与空间对立的背负,每一处都是灵活的空间切换。
The combination of street culture and simple design, there is no burden of product and space opposition, and every place is a flexible space switch.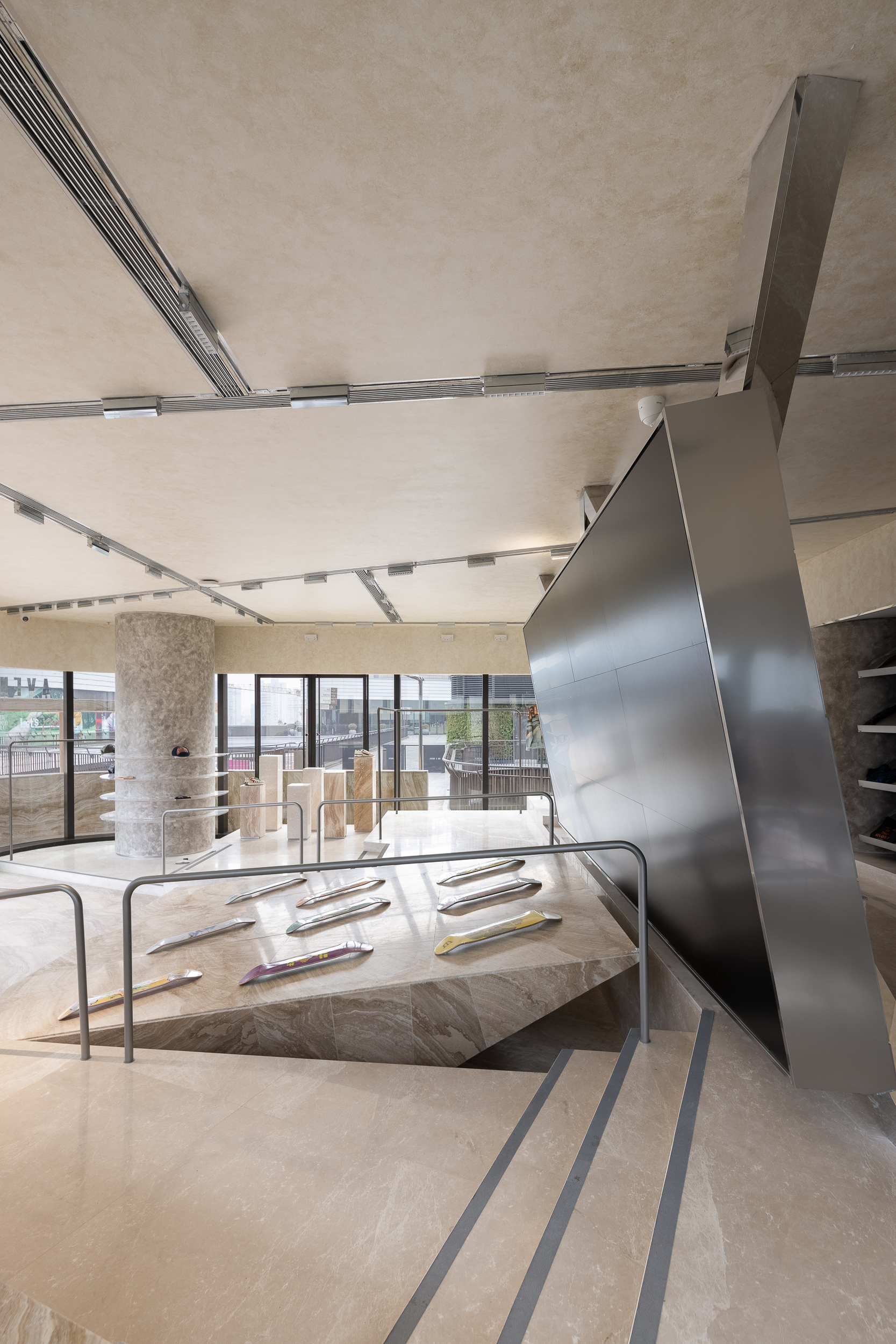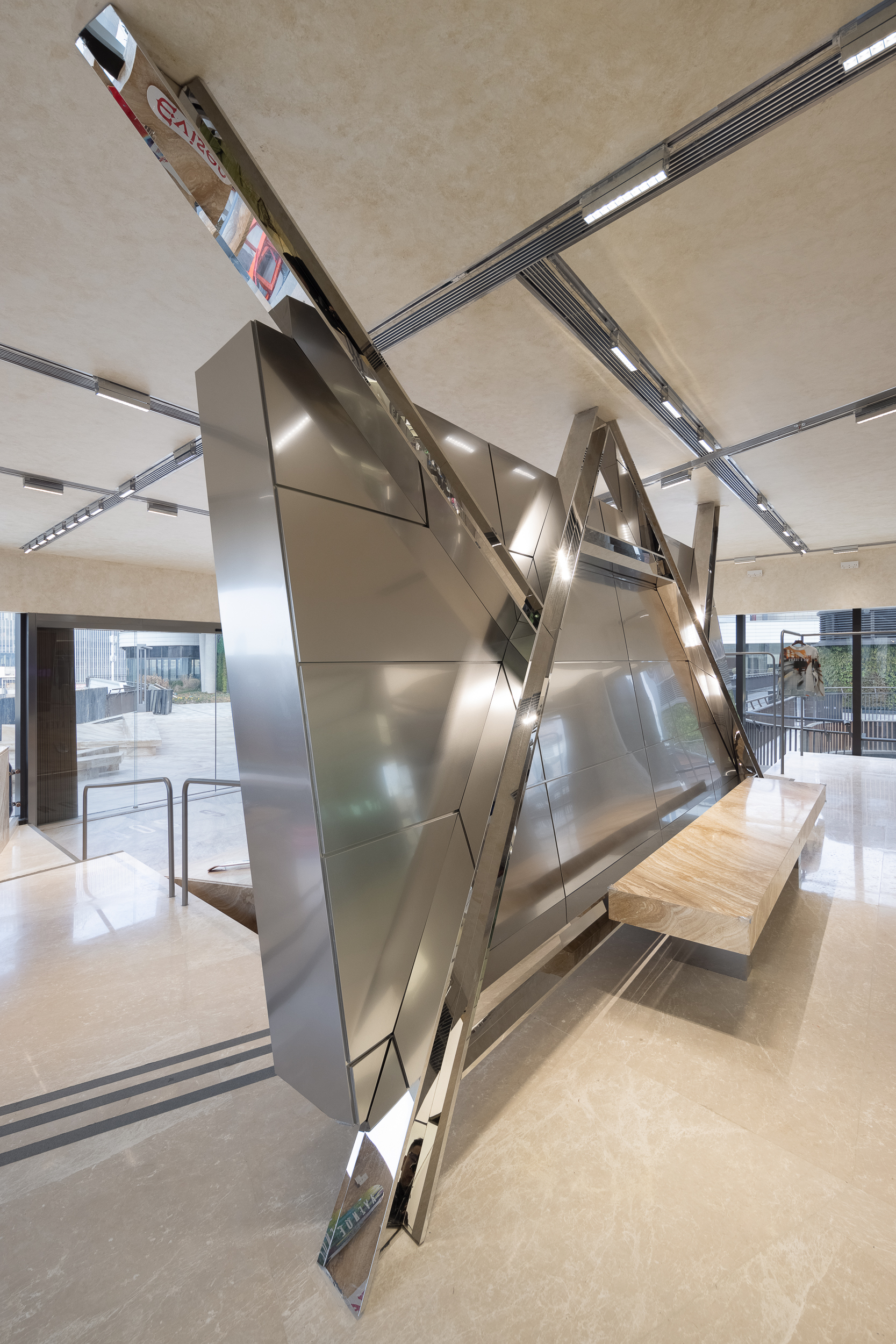 在不同材料之间几何分割的美学角度,巨大的金属构筑物与天花板上分割的灯带将空间映衬出灵动的多层次体验,带来一种呼吸张力的空间感受。
From the aesthetic point of view of geometric division between different materials, the huge metal structure and the light strips divided on the ceiling reflect the space into a flexible multi-level experience, bringing a space feeling of breathing tension.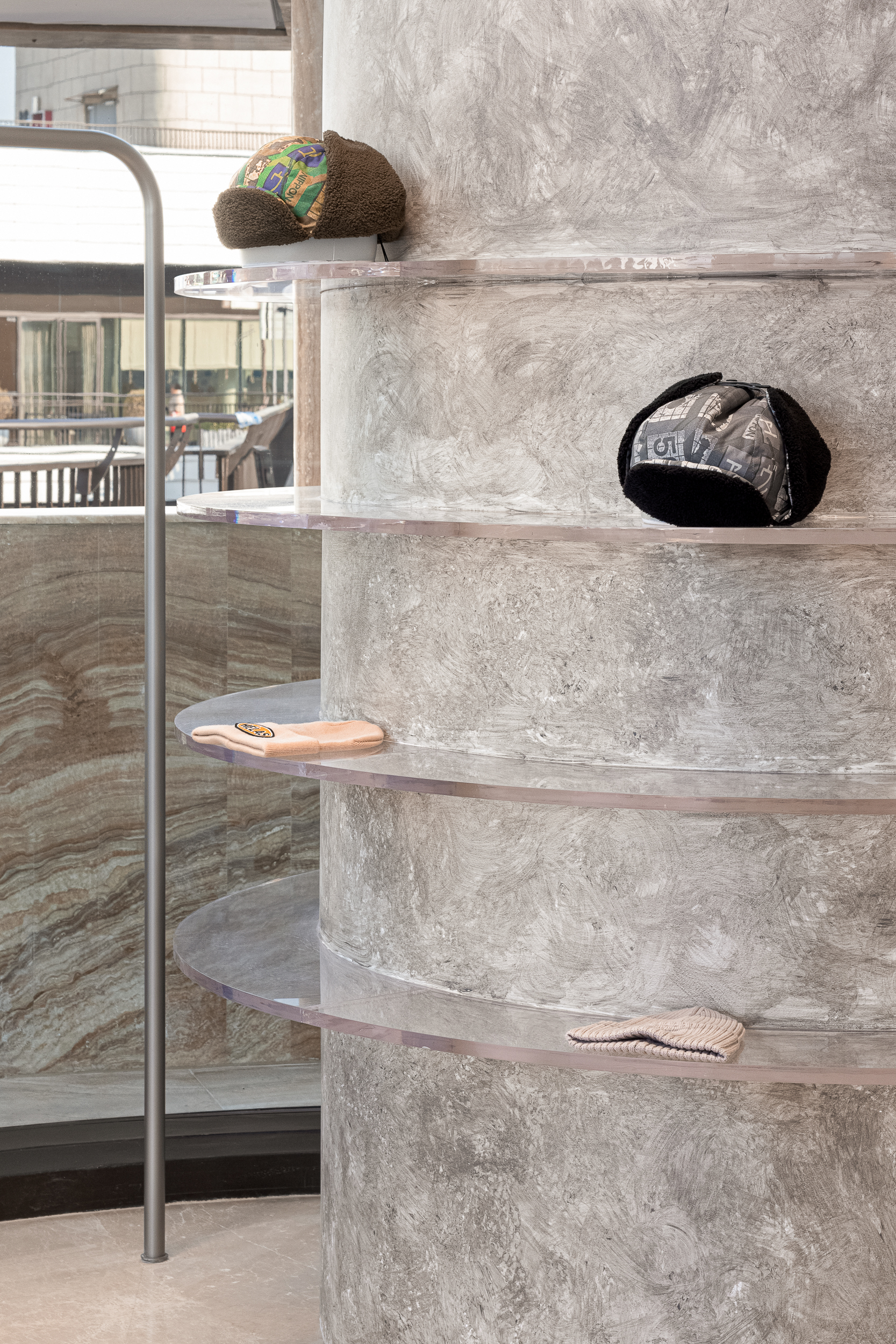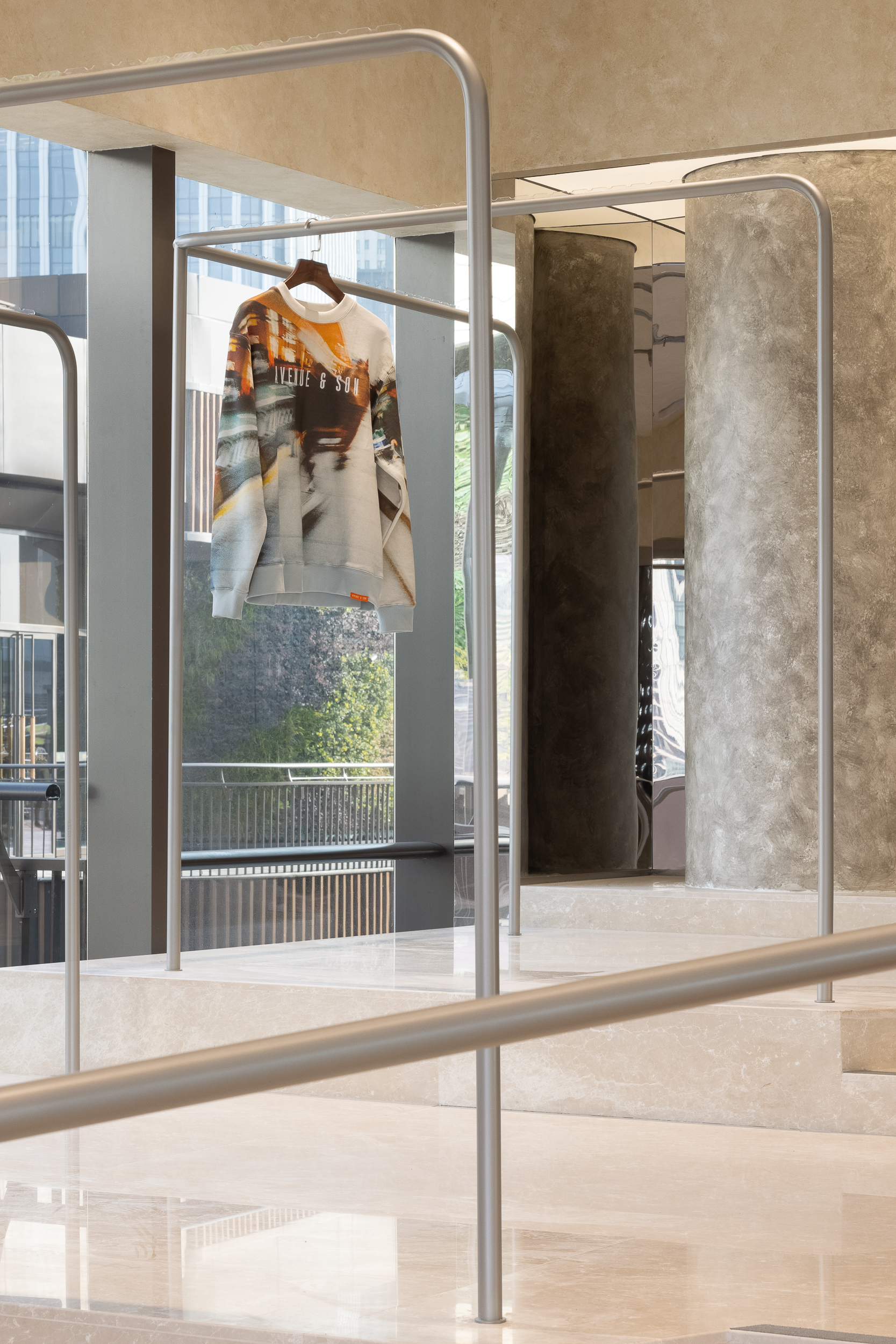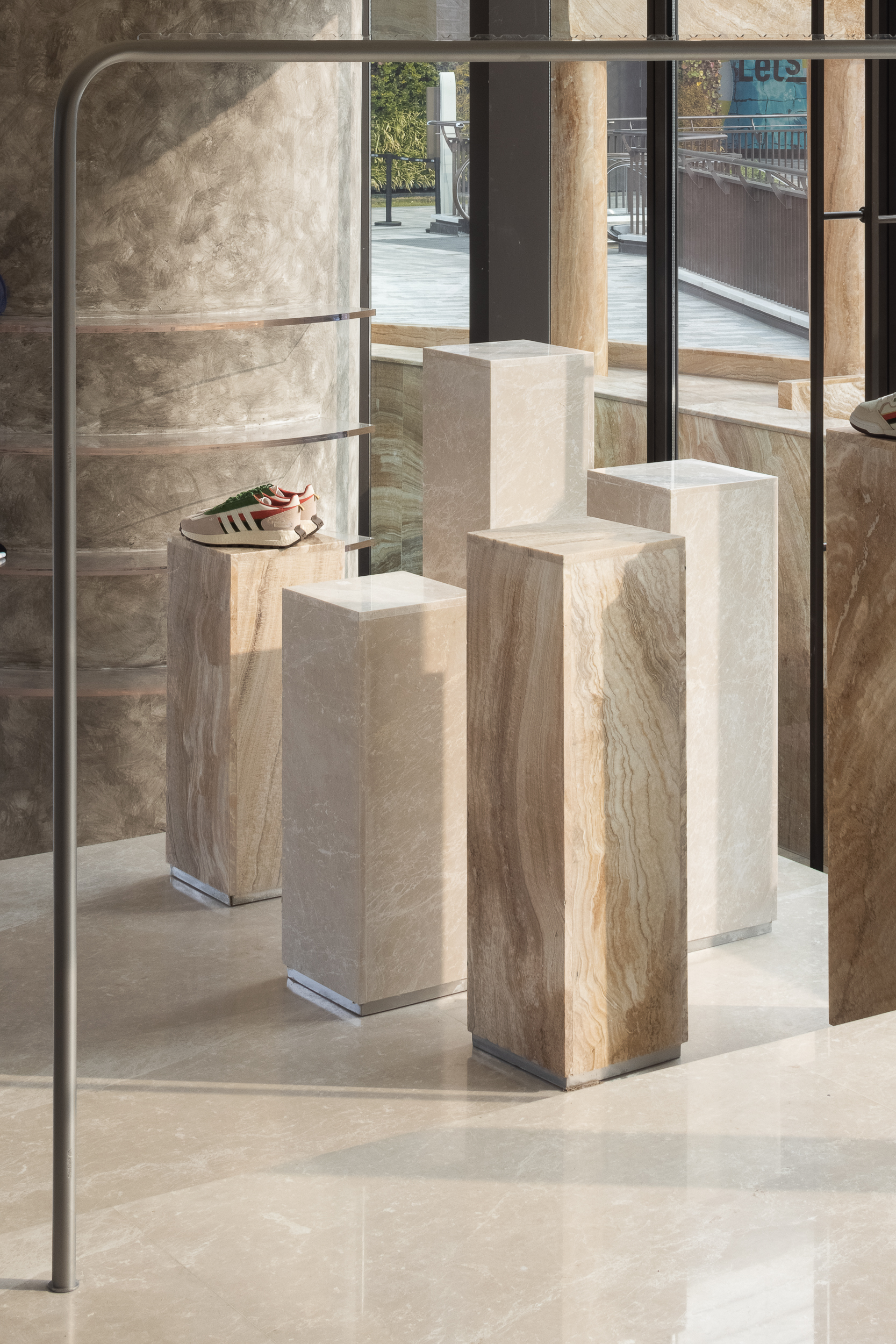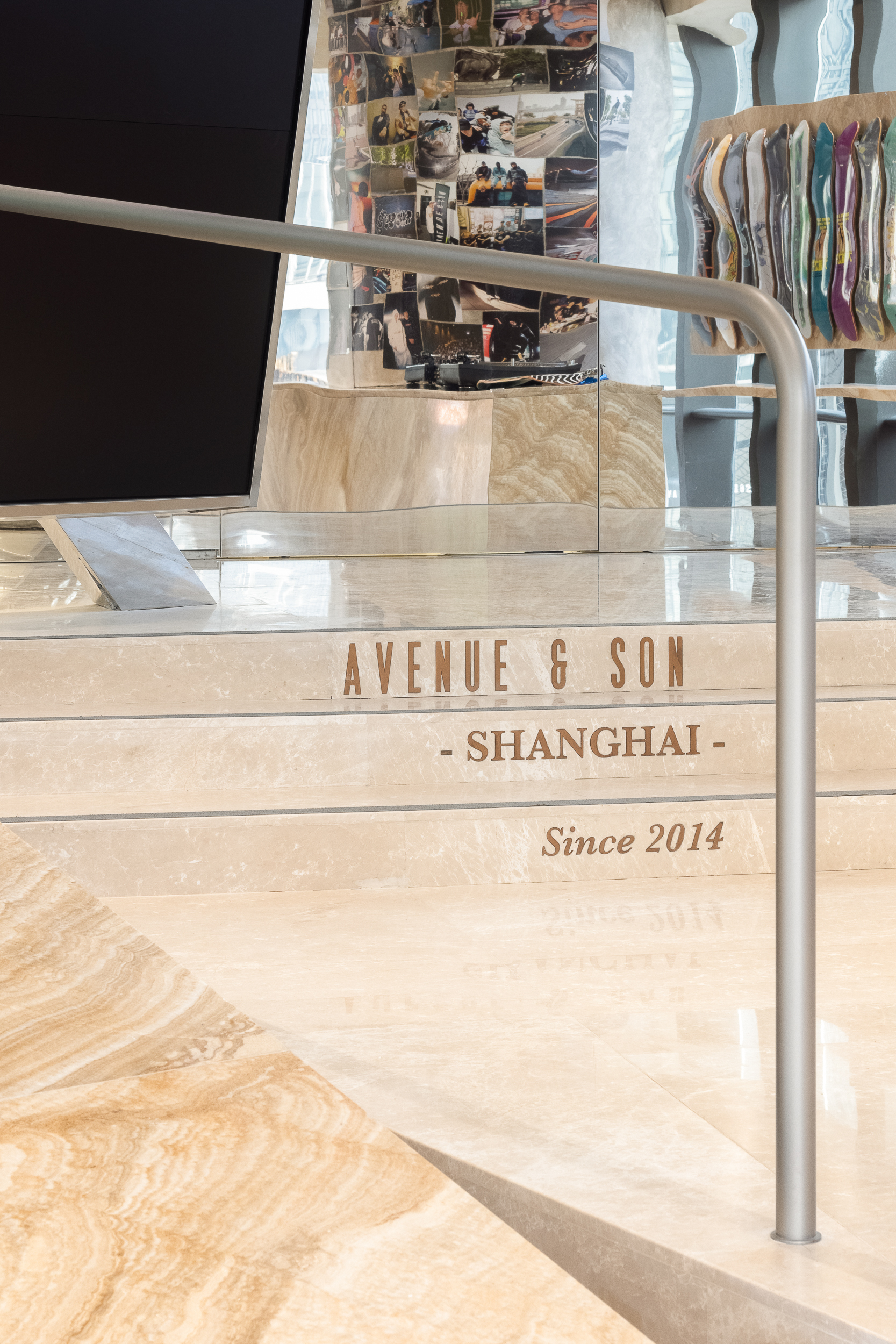 雕塑状的陈列设计,仿佛置身于街头公园,高低不同的金属栏杆,纹理大理石材料,这些元素的应用使得整个空间更好的展示了滑板自由不羁的精神。
The sculptural display design is like being in a street park, with metal railings of different heights and textured marble materials. The application of these elements makes the whole space better show the free and uninhibited spirit of skateboarding.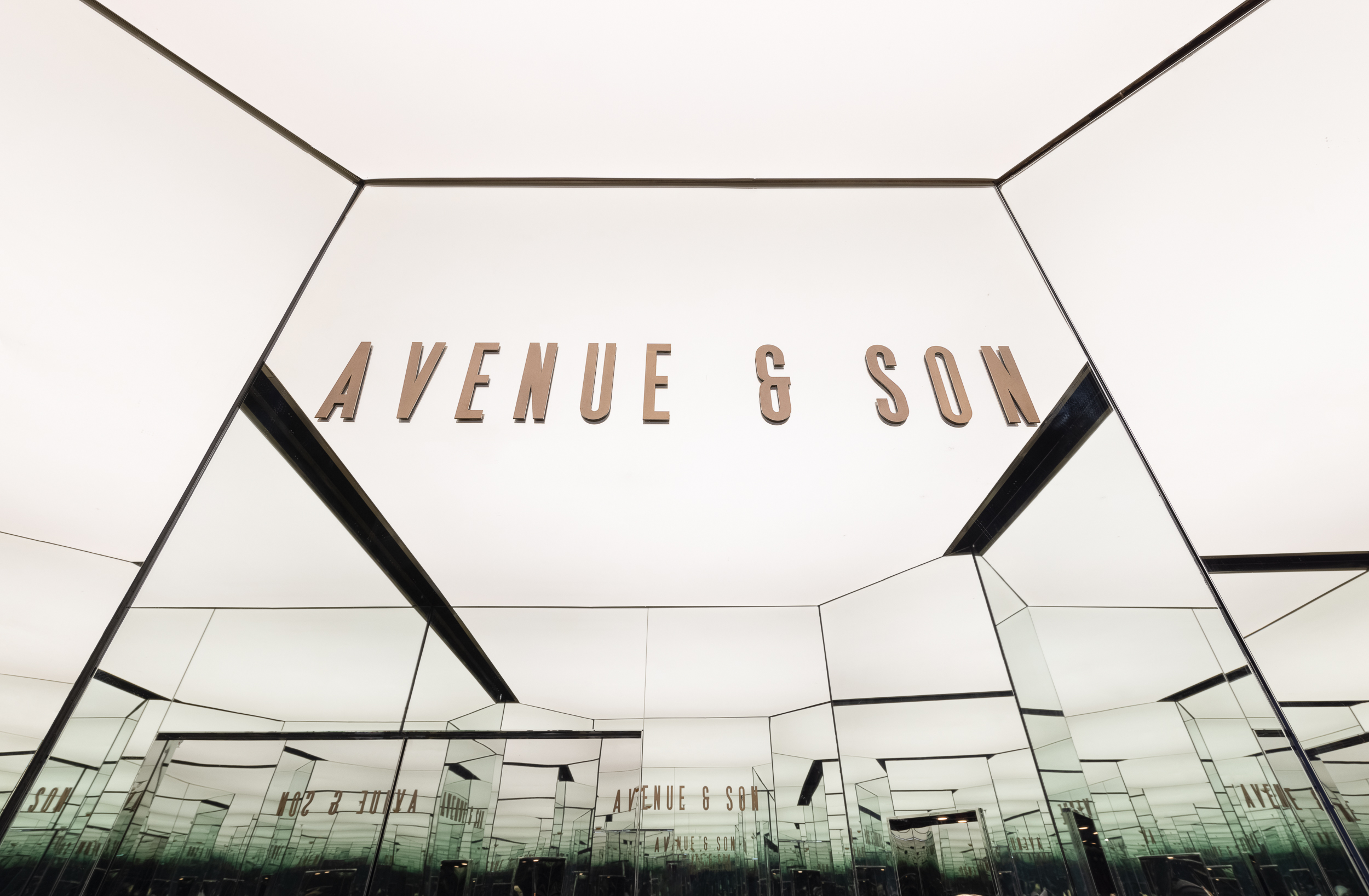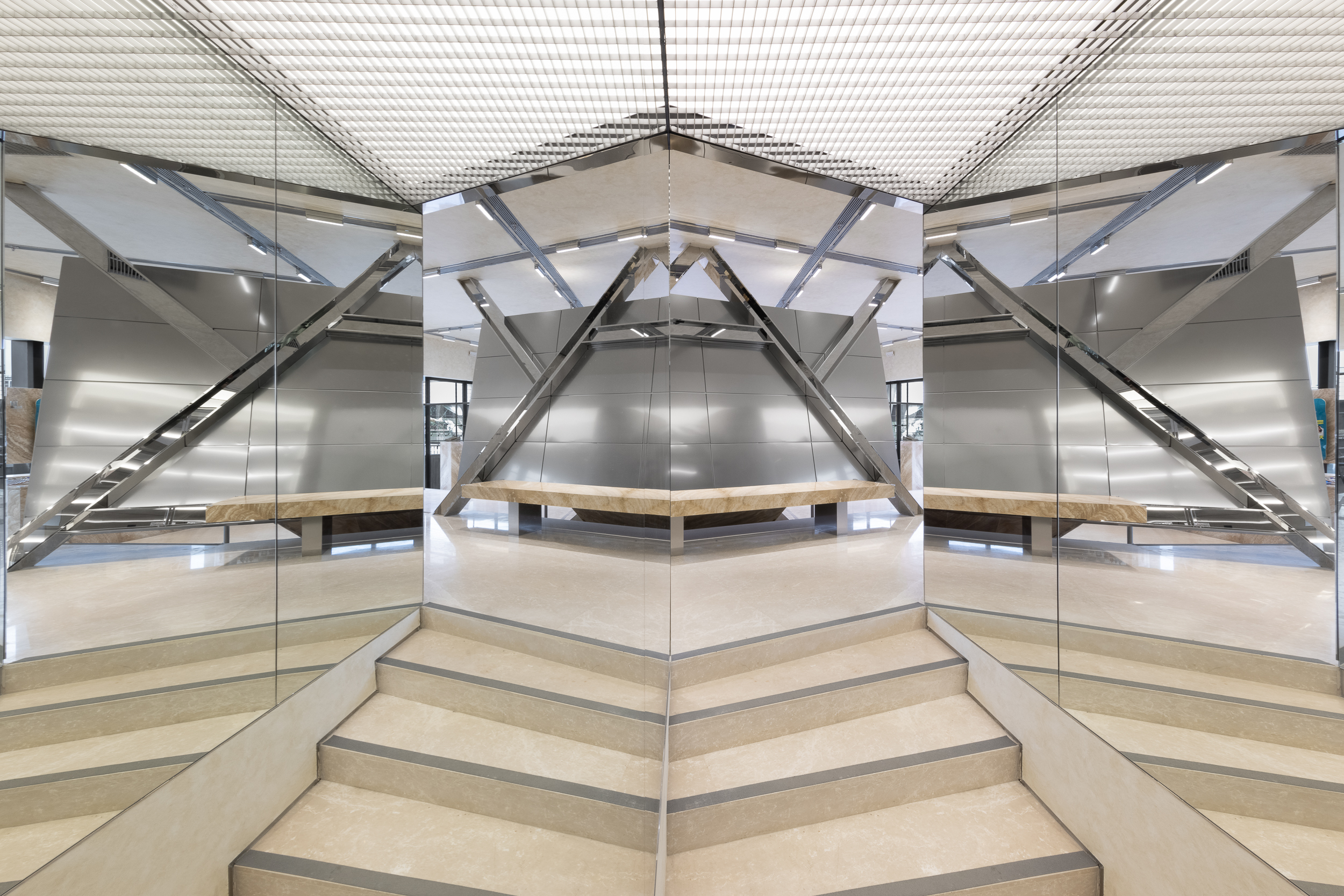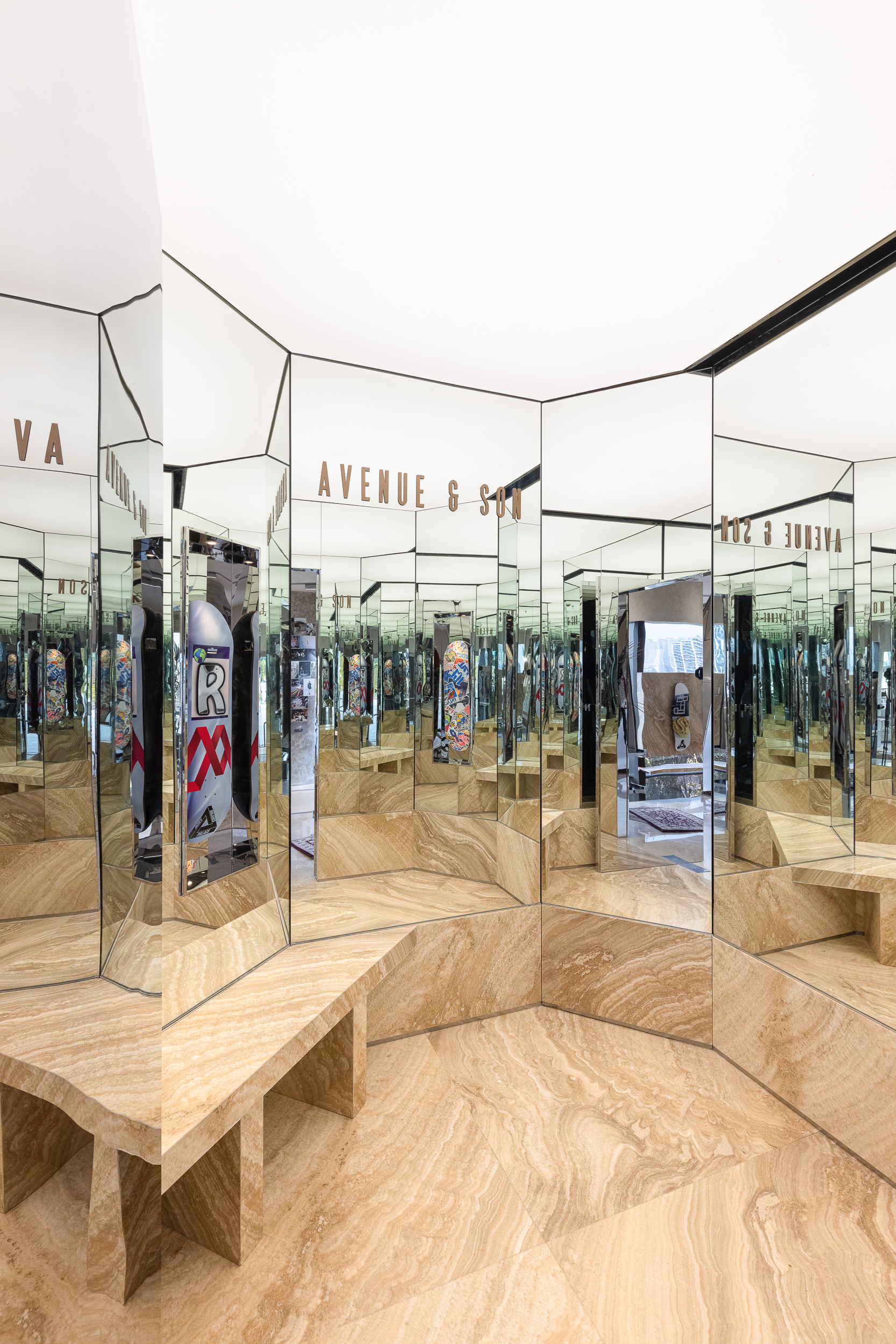 藏在纯粹世界里的纷杂空间,伴随着边界的消失感扩大,整个空间在虚实之间徘徊。镜面映射着彩色的板面,仿佛滑板才是唯一的真实,只要踏上滑板,就能一往无前。
The complex space hidden in the pure world expands with the disappearance of the boundary, and the whole space wanders between the virtual and the real. The mirror mirrors the colorful board, as if the skateboard is the only reality. As long as you step on the skateboard, you can go forward.
---