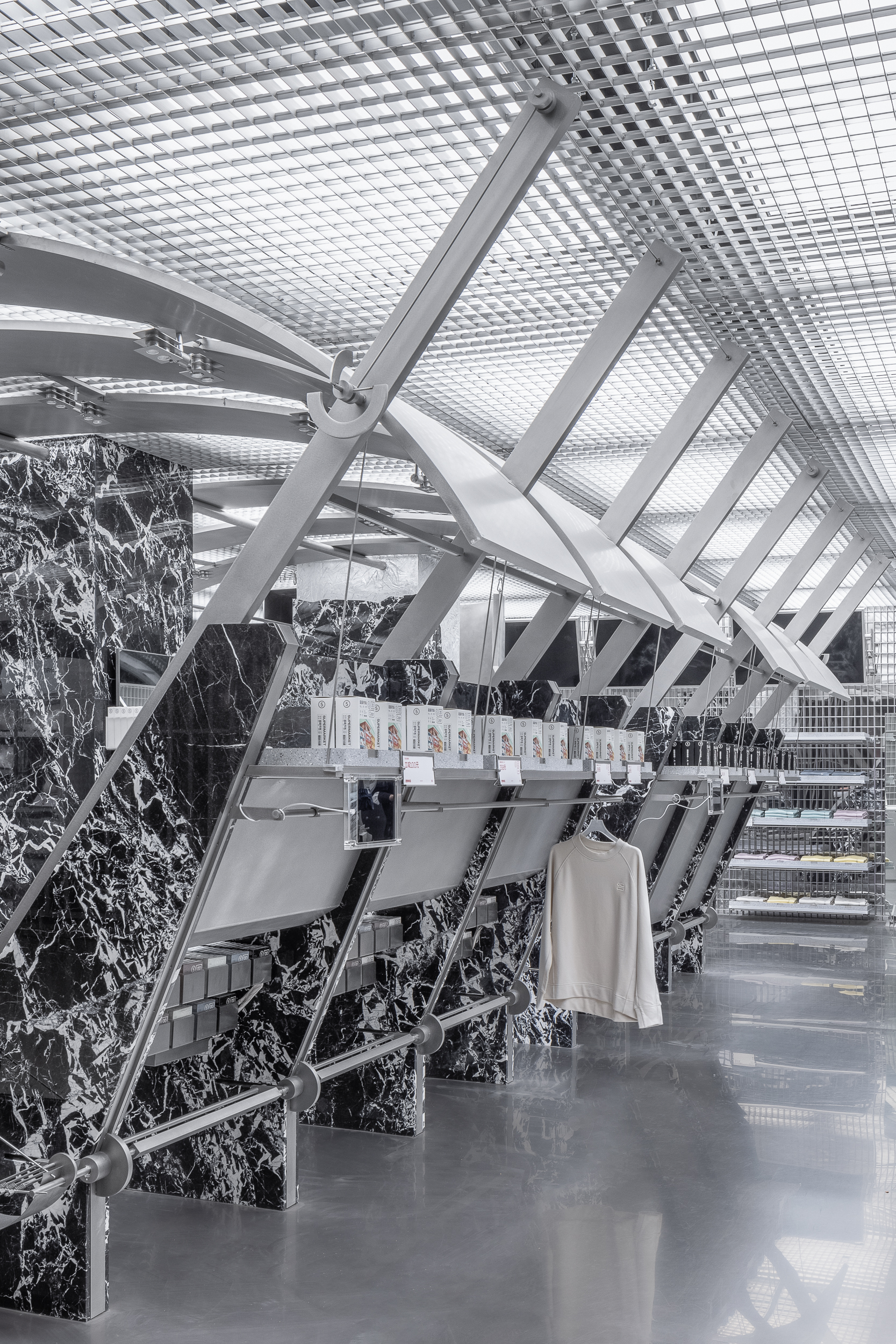 从线上着陆线下的"降临感"与"突破感"。
The "sense of arrival" and "sense of breakthrough" from online to offline.
---
美学经济时代下民族品牌快速崛起,却又陷入视觉同质化严重的局面。我们在已经习以为常的生活中,漠然地接受了各种惯性思维。蕉内就像是一个意外的闯入者,带有反叛意味的设计思考,在这样的局面中走出了另外一条创新之路。
In the era of aesthetic economy, national brands have risen rapidly, but they have fallen into a situation of serious visual homogeneity. In the life we have become accustomed to, we indifferently accept all kinds of habitual thinking. Banana in is like an accidental intruder, with rebellious design thinking, and in such a situation, it has found another way of innovation.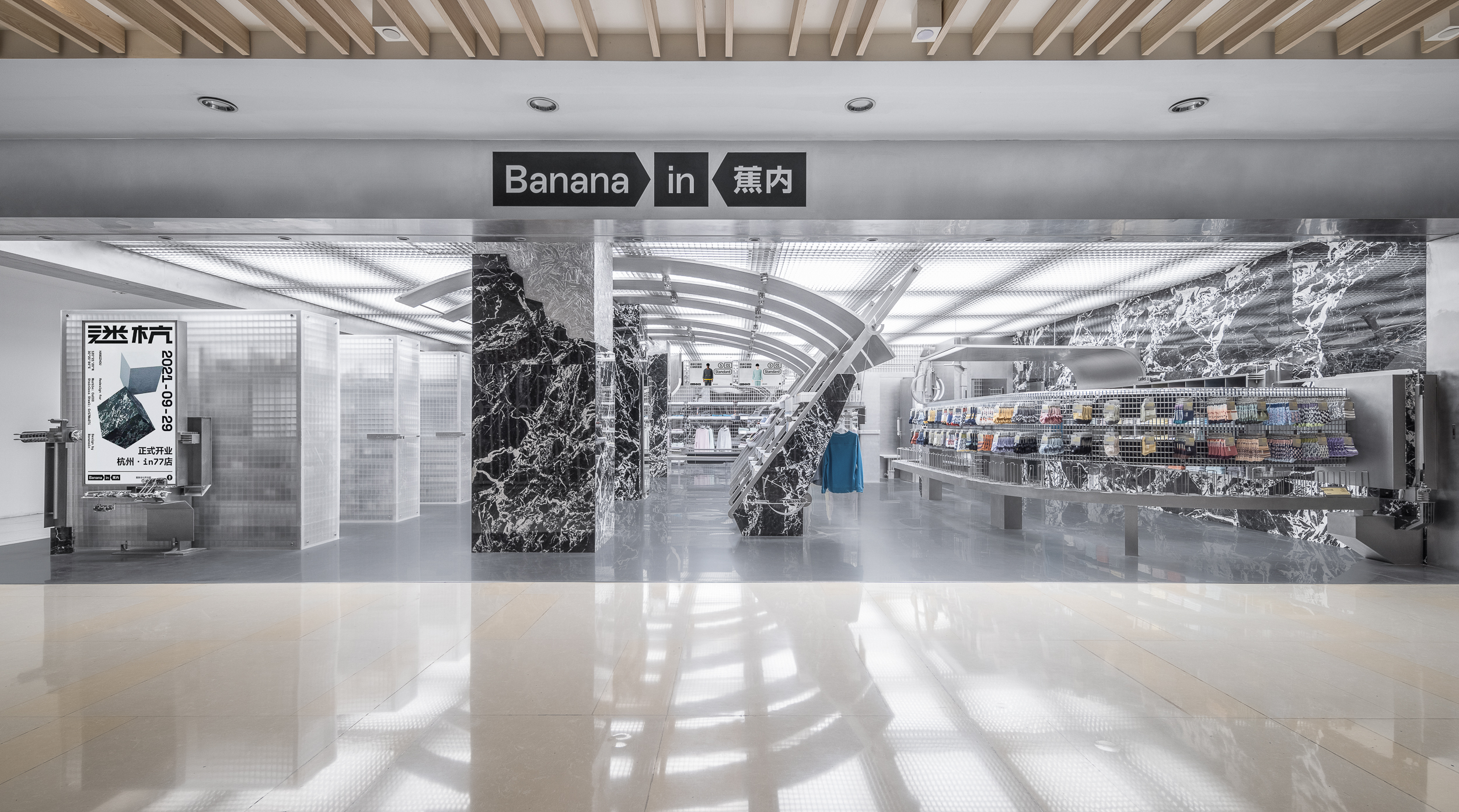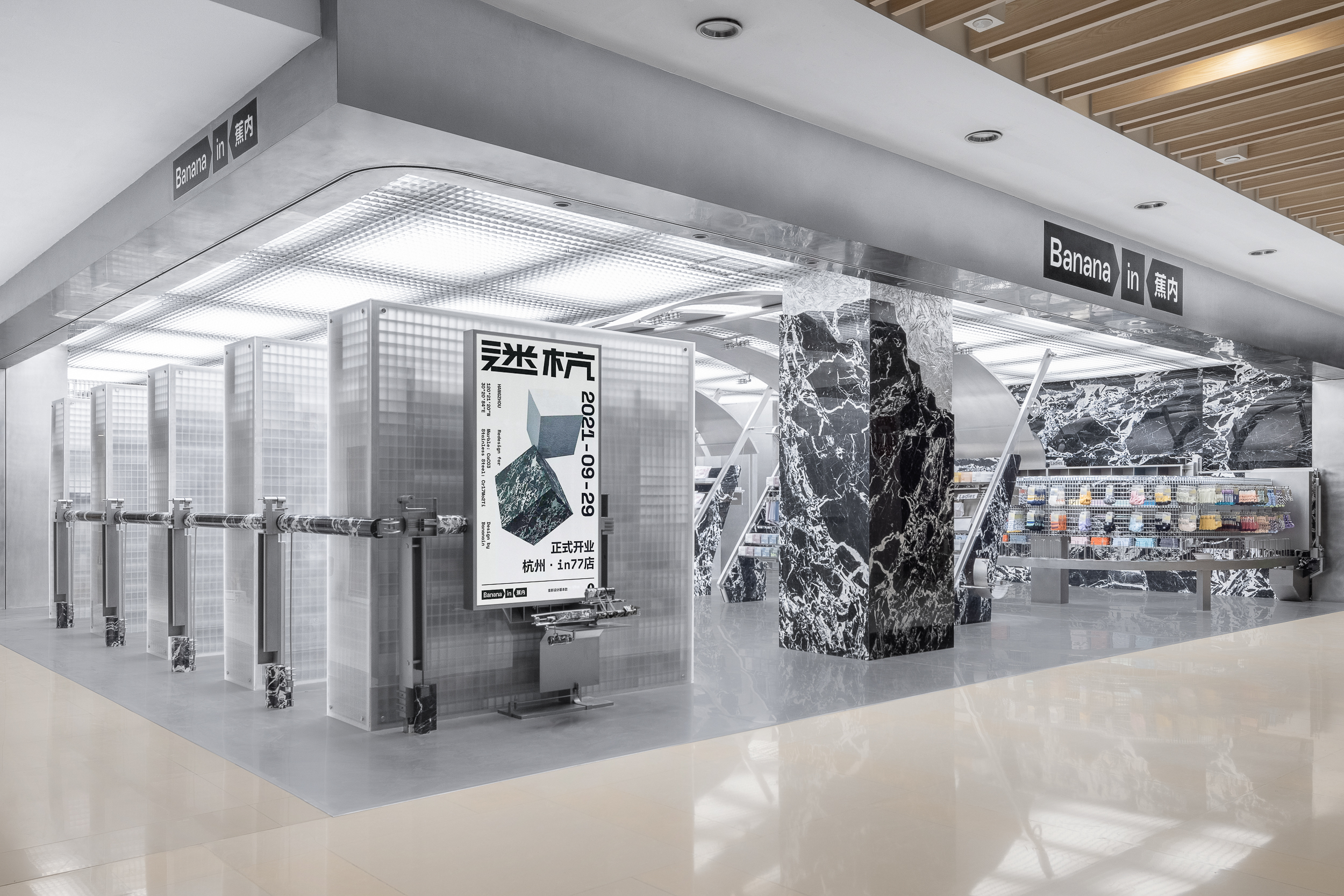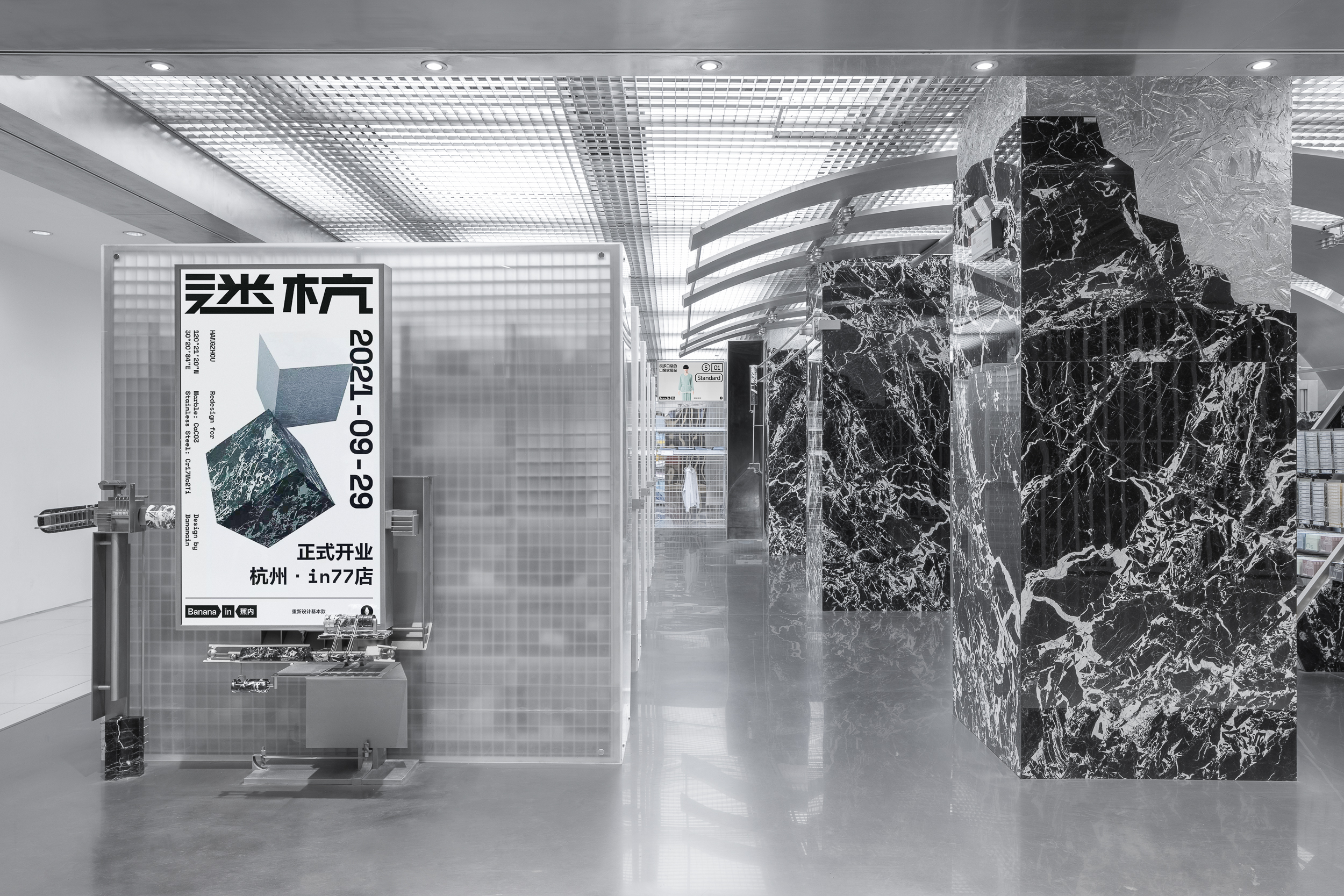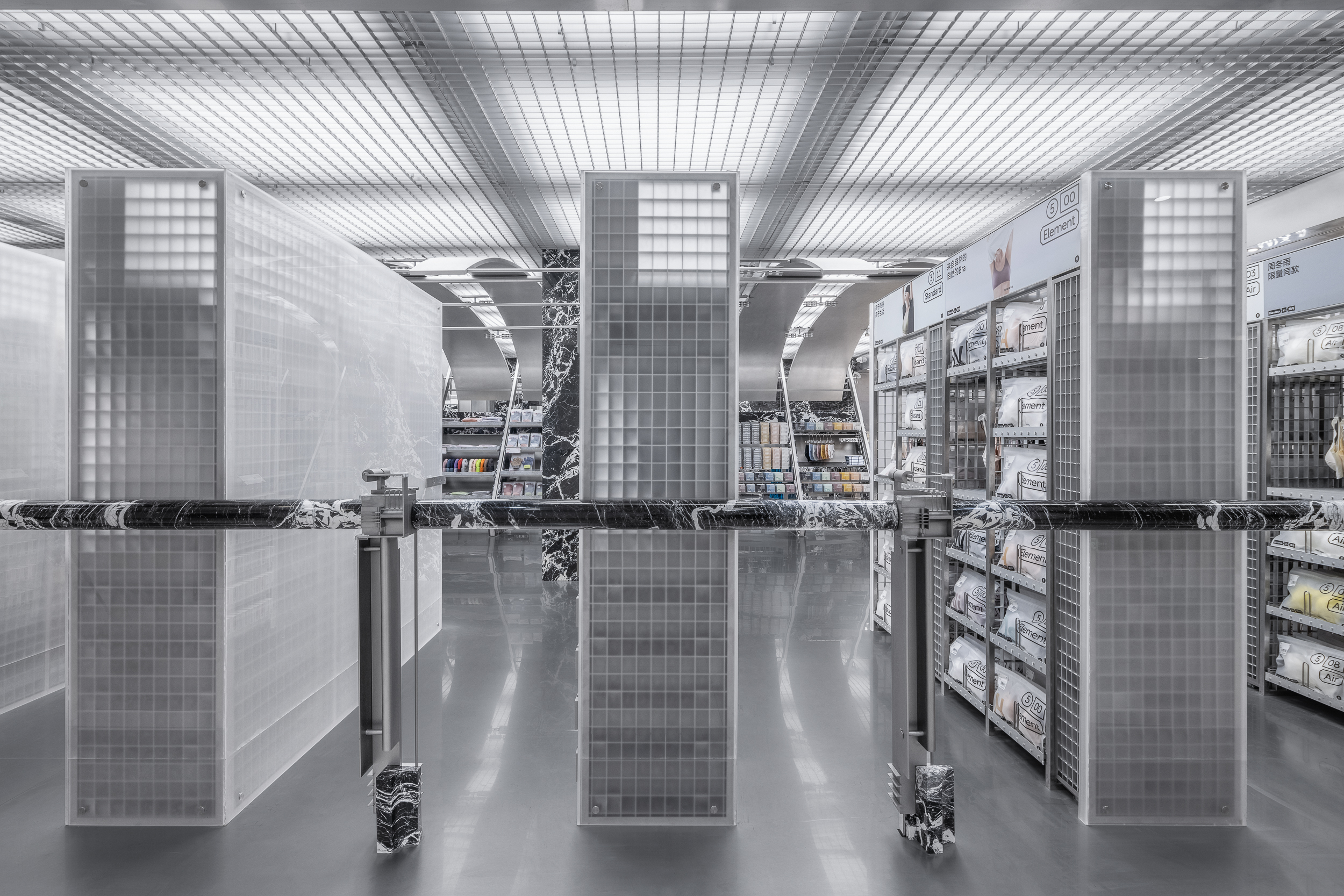 围绕黑色大理石和乱纹不锈钢、银色金属等店内特殊建筑材质的展开,借由悬浮的几何体与局部光影的变化,展现从线上着陆线下的"降临感"与"突破感"。
Around the development of special building materials in the store such as black marble, chaotic stainless steel, and silver metal, through the suspended geometry and local light and shadow changes, it shows the "sense of arrival" and "sense of breakthrough" from online to offline.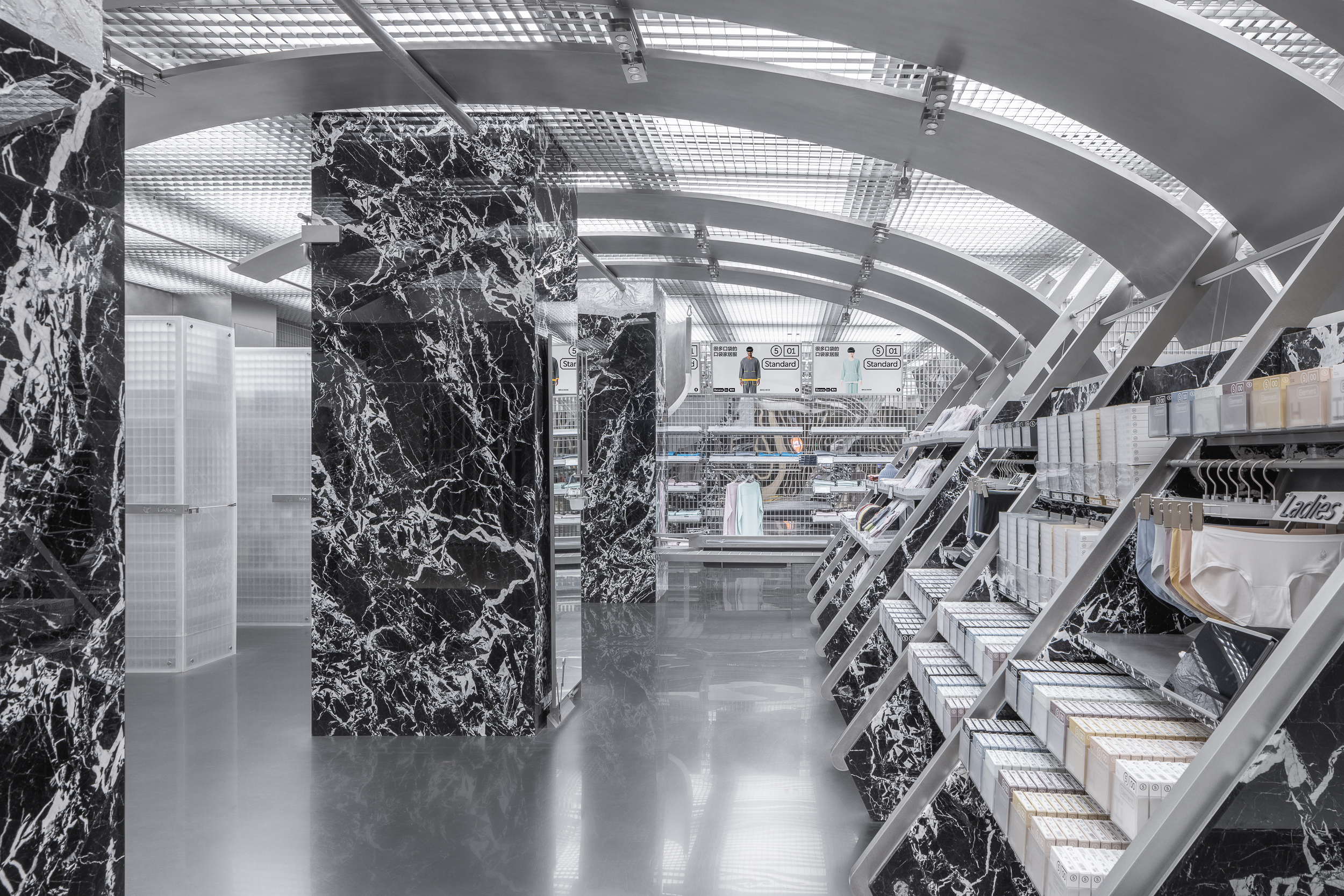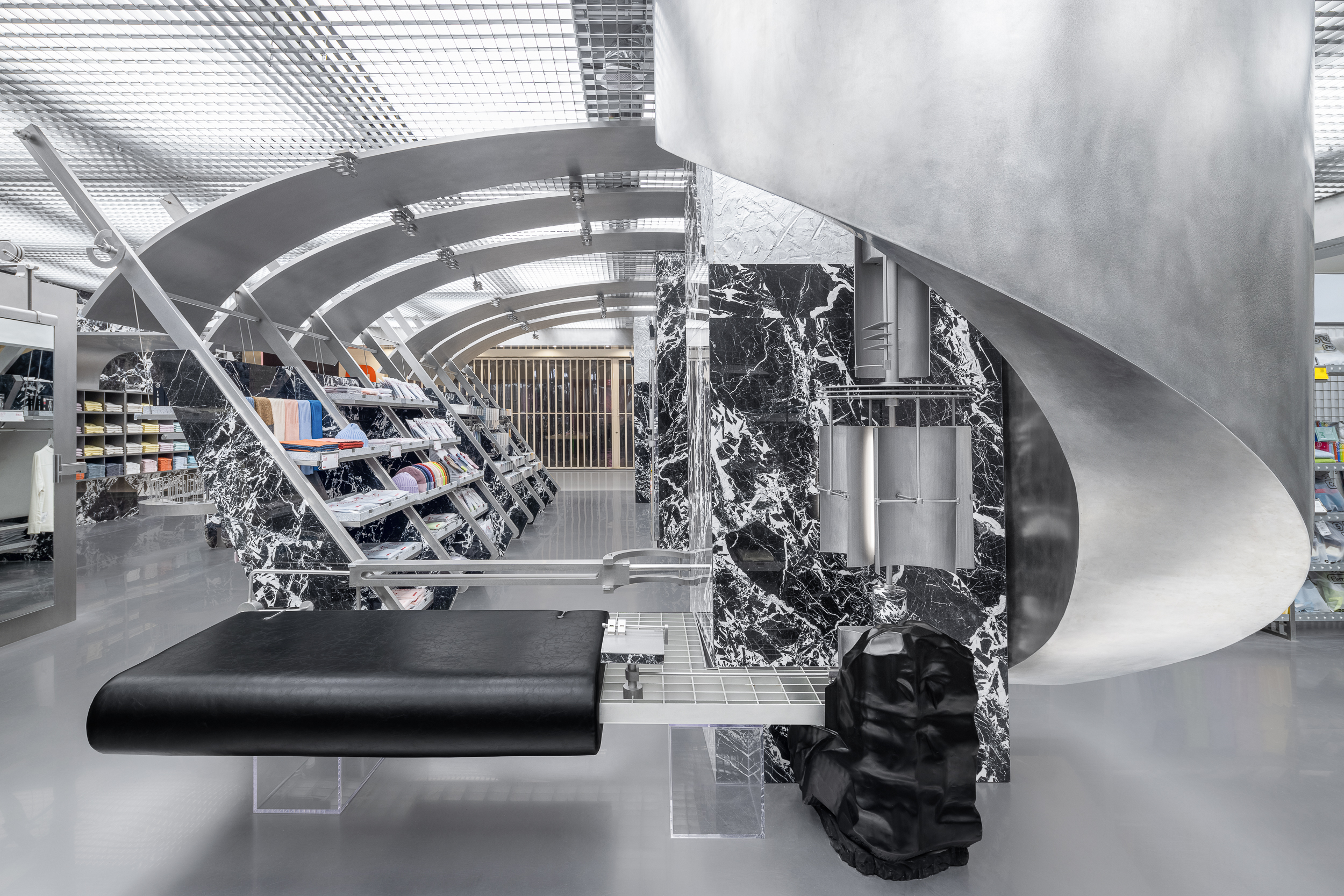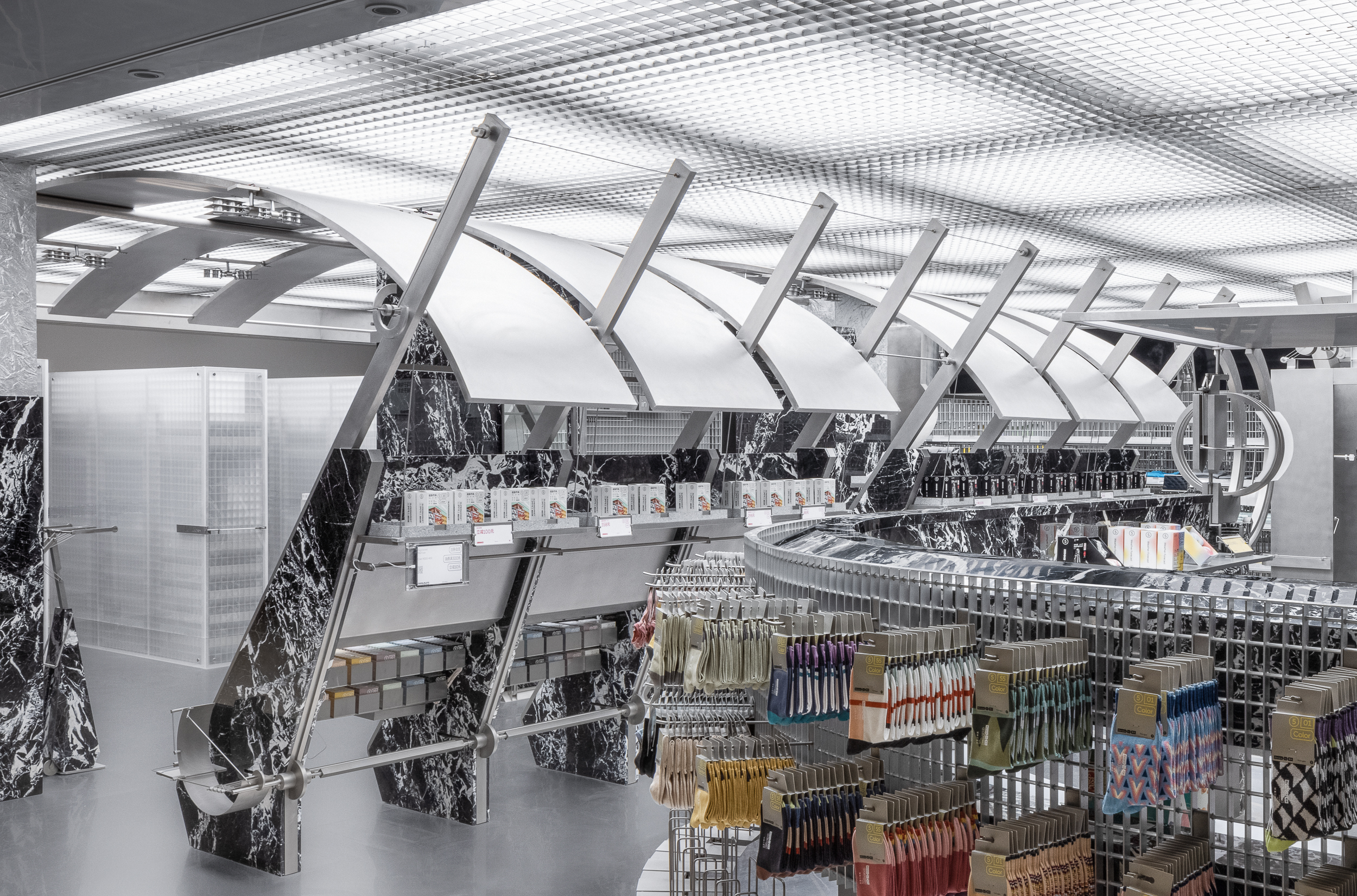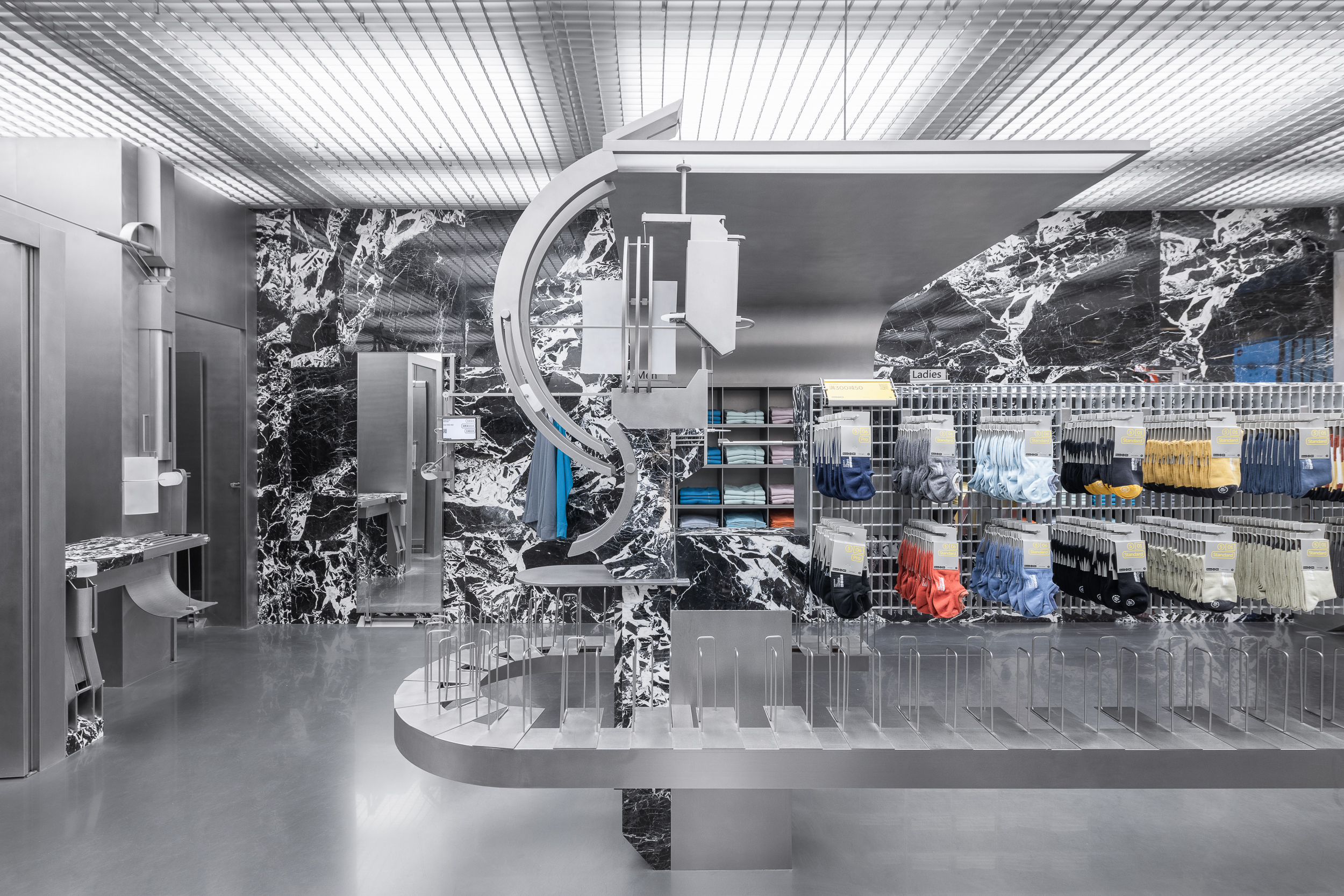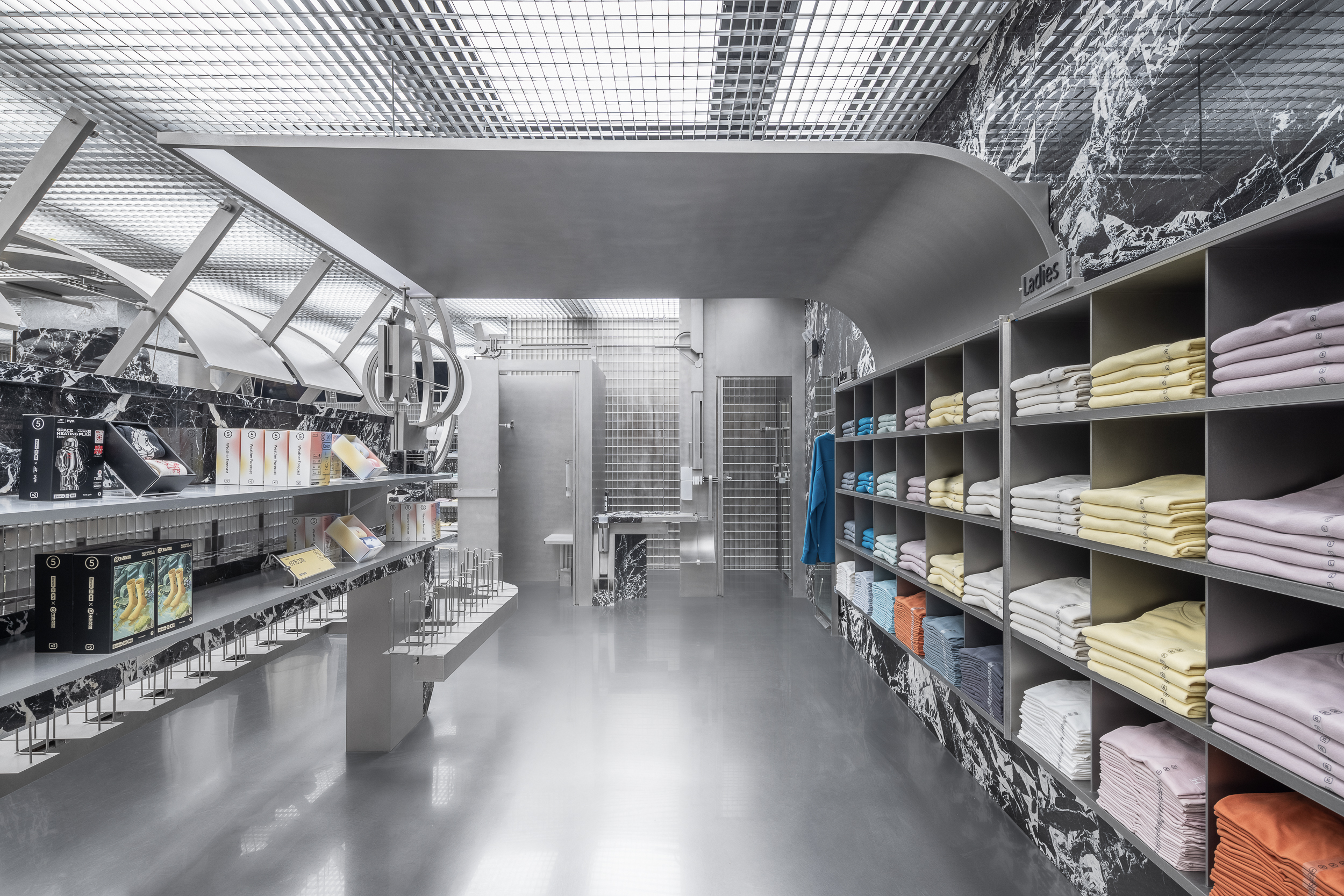 整个空间如同未来档案馆式般的陈列充斥着秩序感,产品分门别类按照区域布局,构筑标签视觉系统。在品牌空间的系统思维上做加法,视觉表现上做减法,帮助线下空间实现了美学和功能的和谐统一。
The entire space is like a future archive-like display full of sense of order, and the products are divided into categories according to the regional layout to build a label visual system. Addition in the systematic thinking of the brand space and subtraction in the visual expression help the offline space achieve the harmonious unity of aesthetics and function.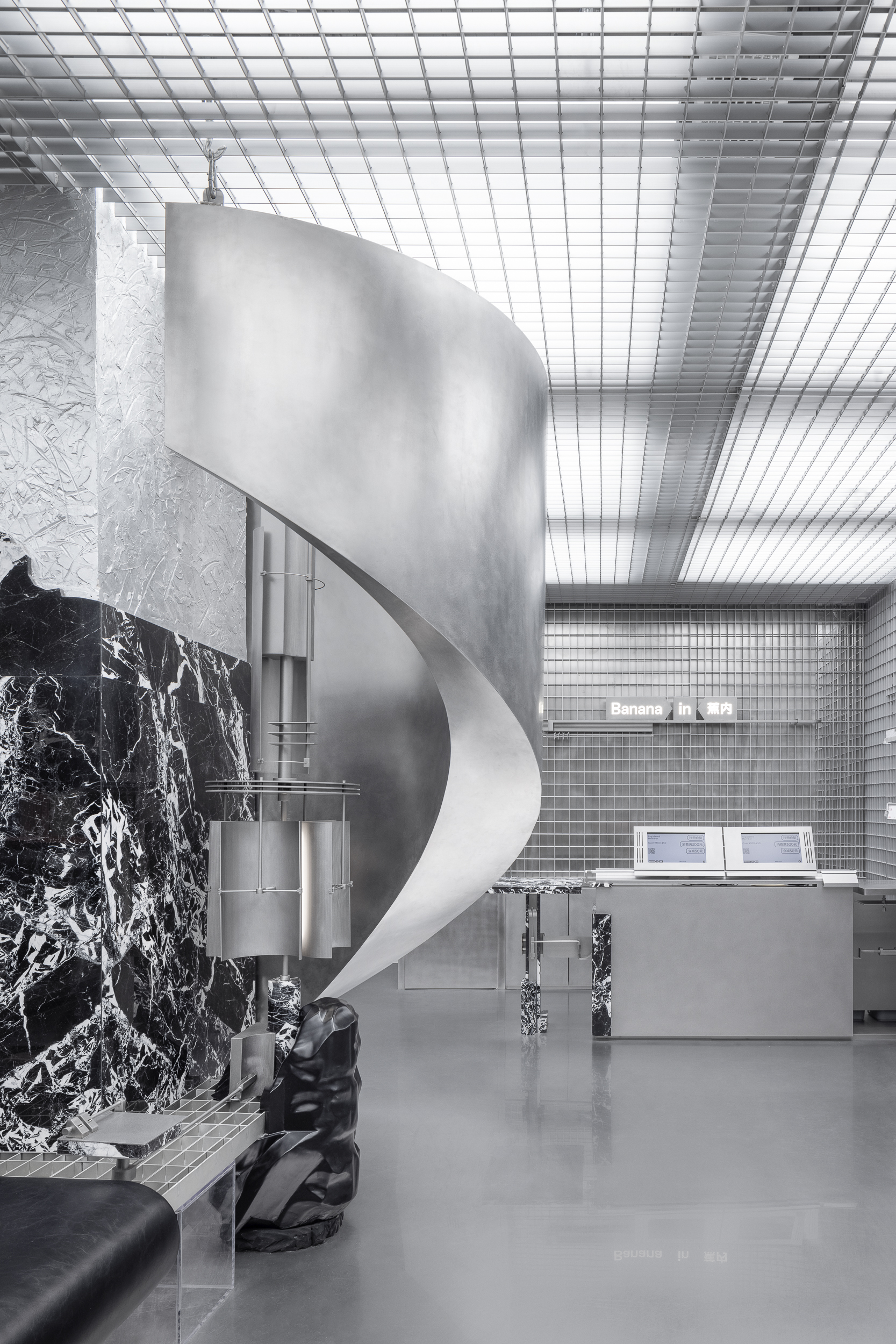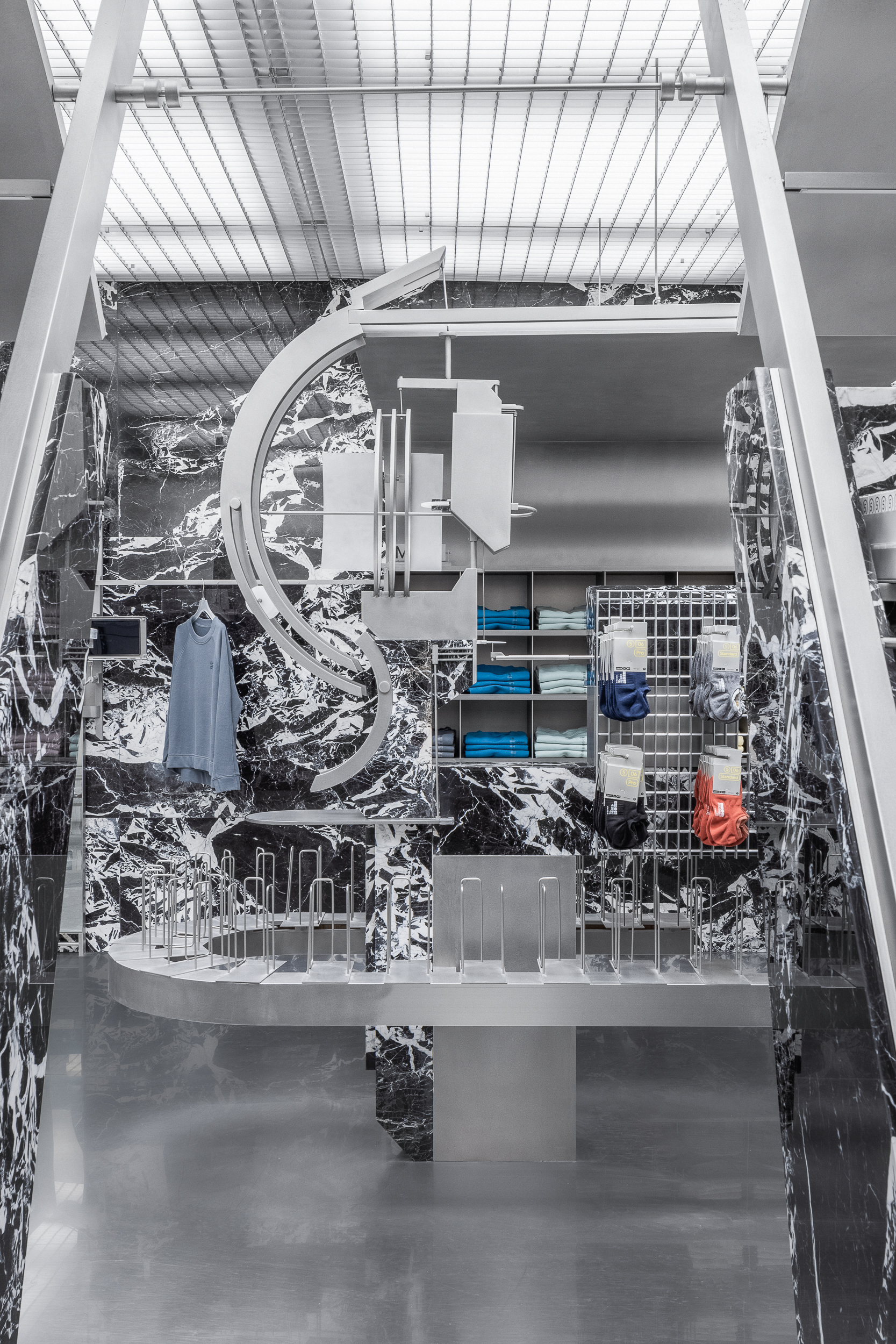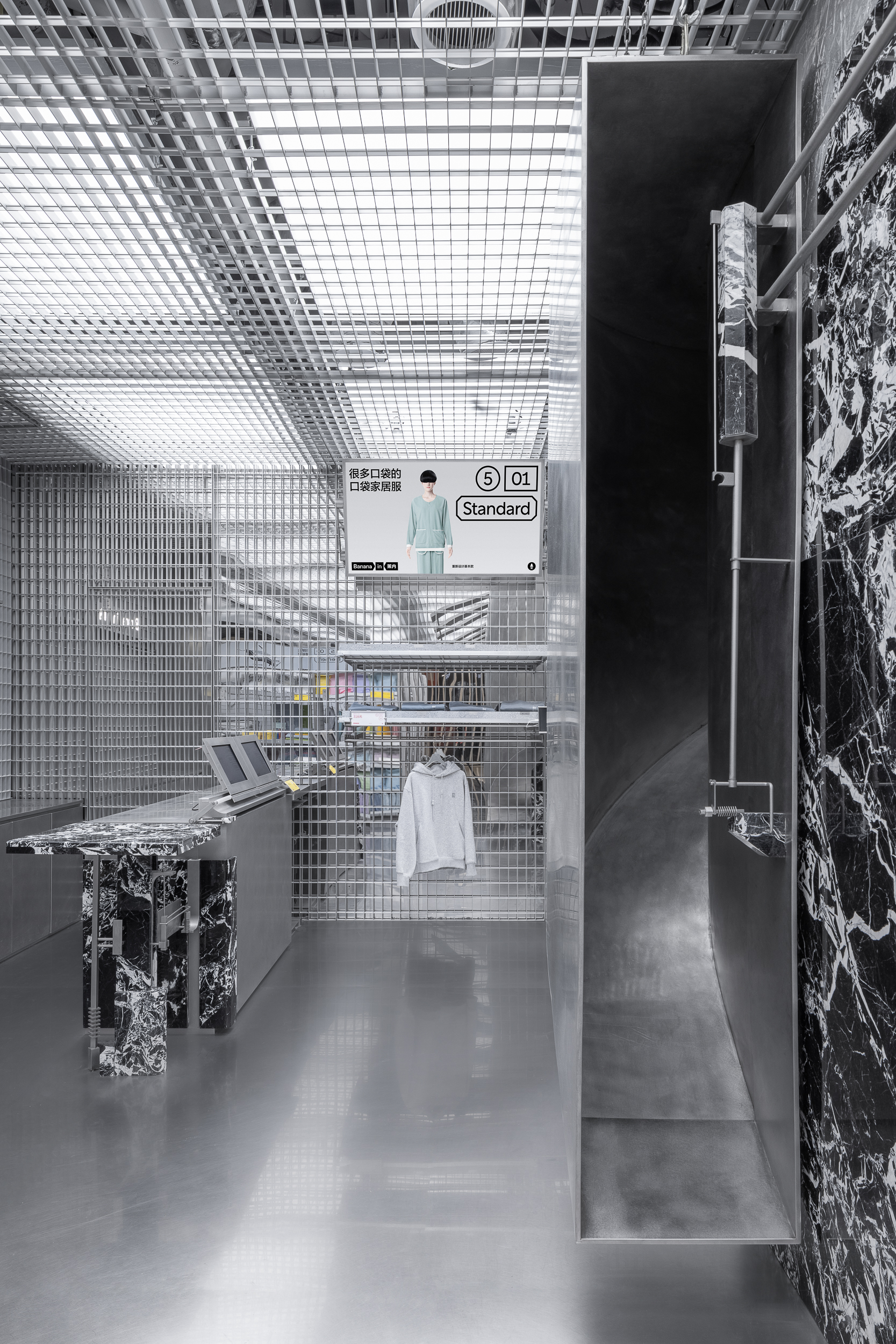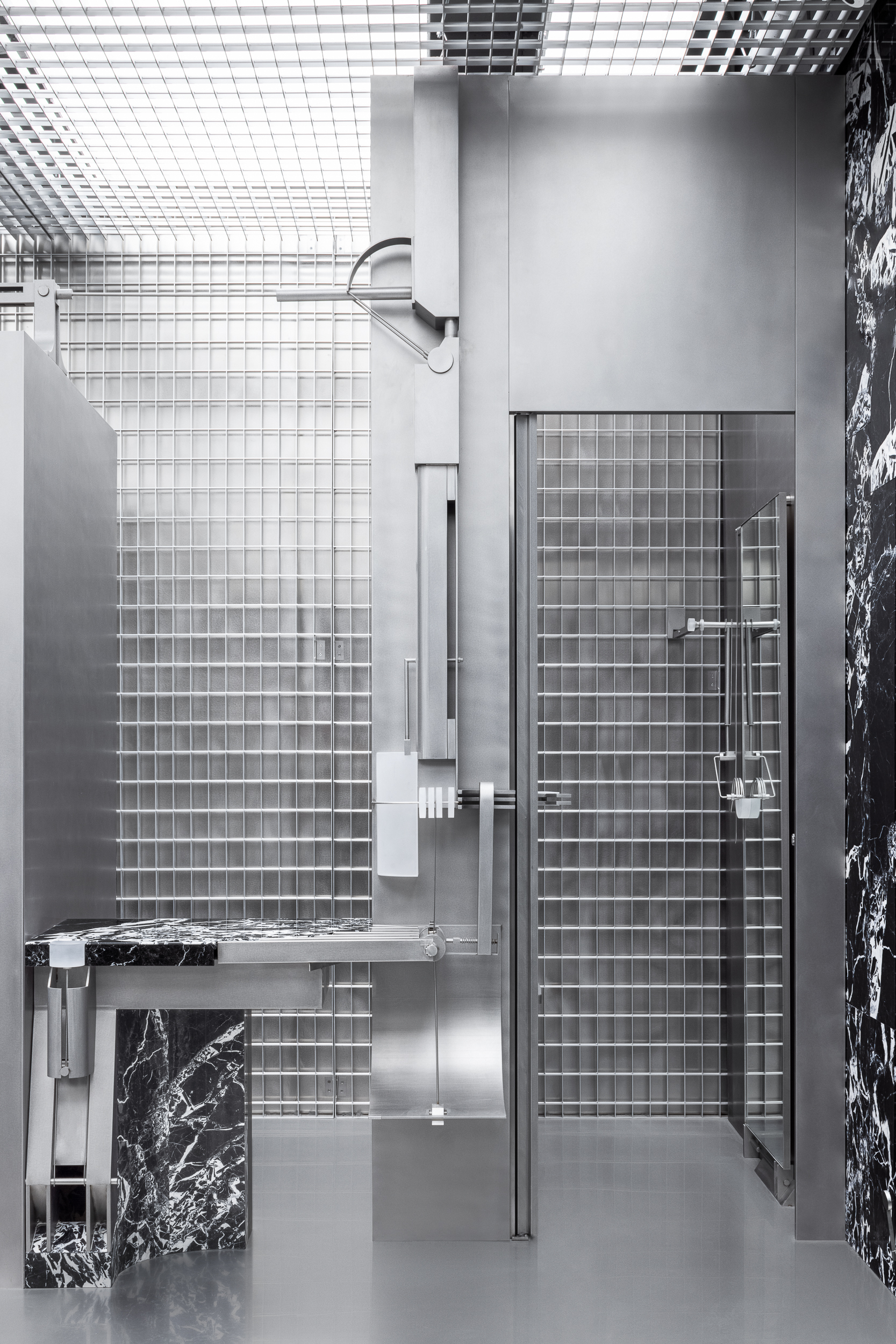 线下空间对材质的再利用颠覆了人们对日常的传统认知,重新设计了人与物的关系。赋予了很多司空见惯的场景全新的体验。
The reuse of materials in offline space subverts people's traditional cognition of daily life and redesigns the relationship between people and objects. It gives a new experience to many common scenes.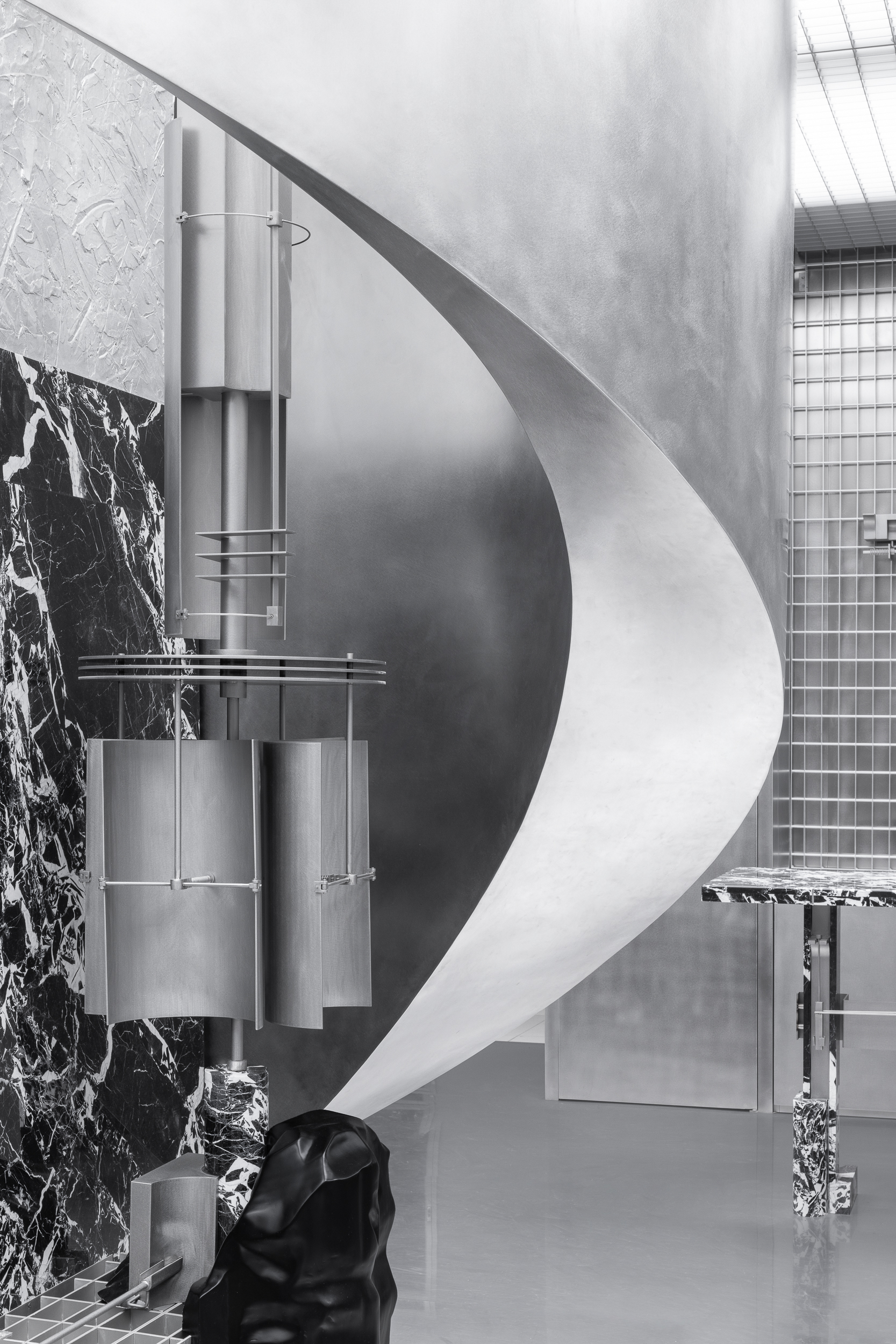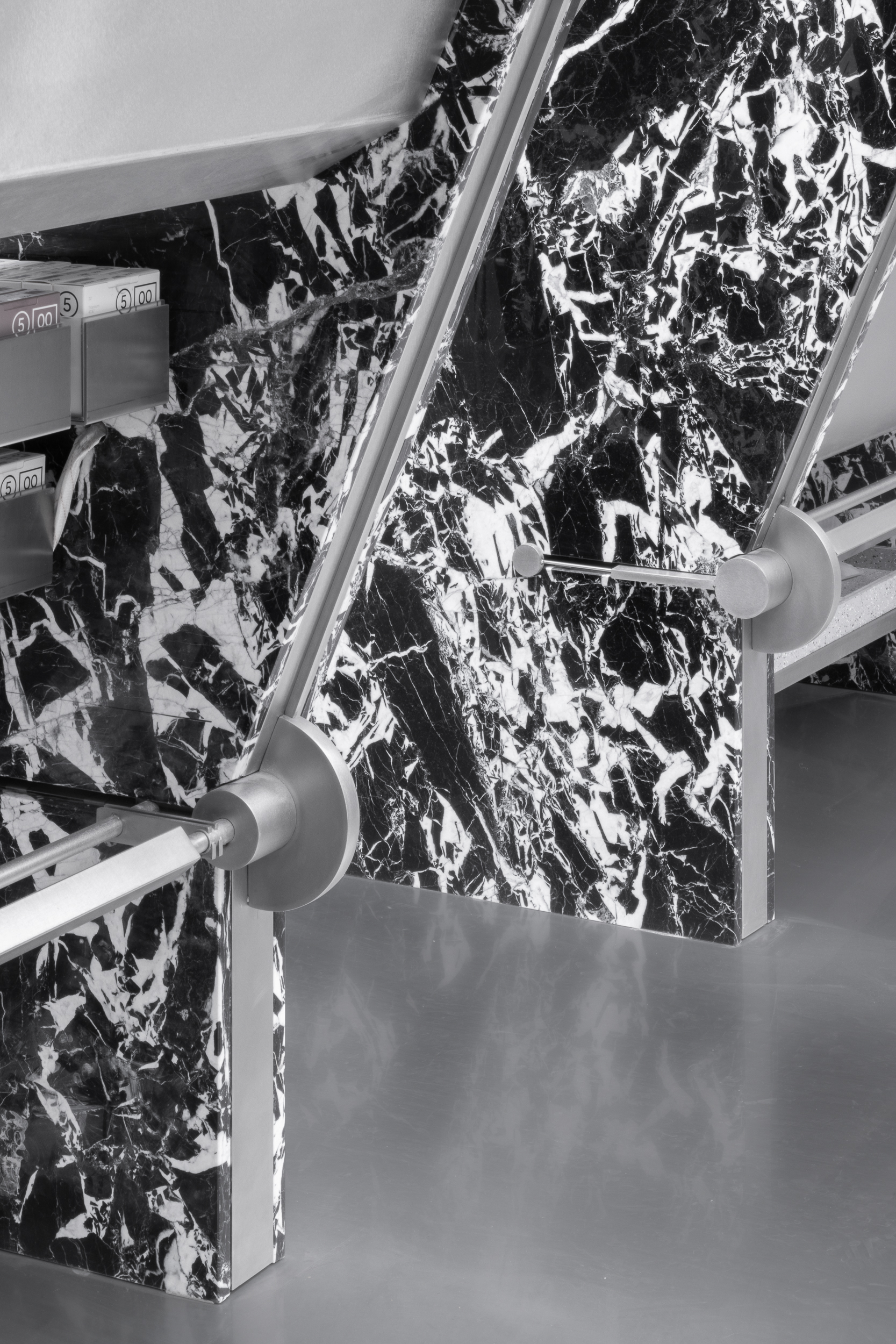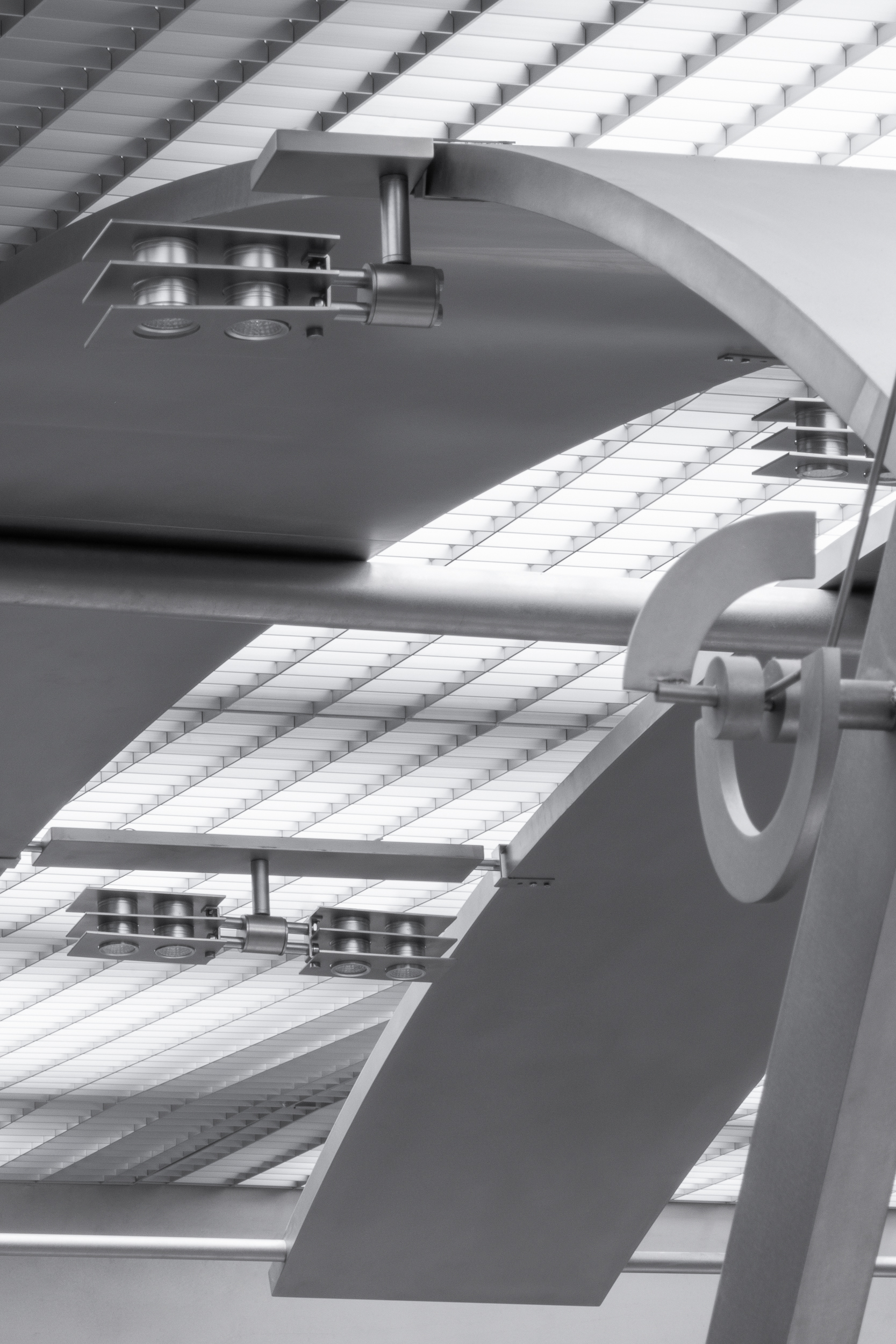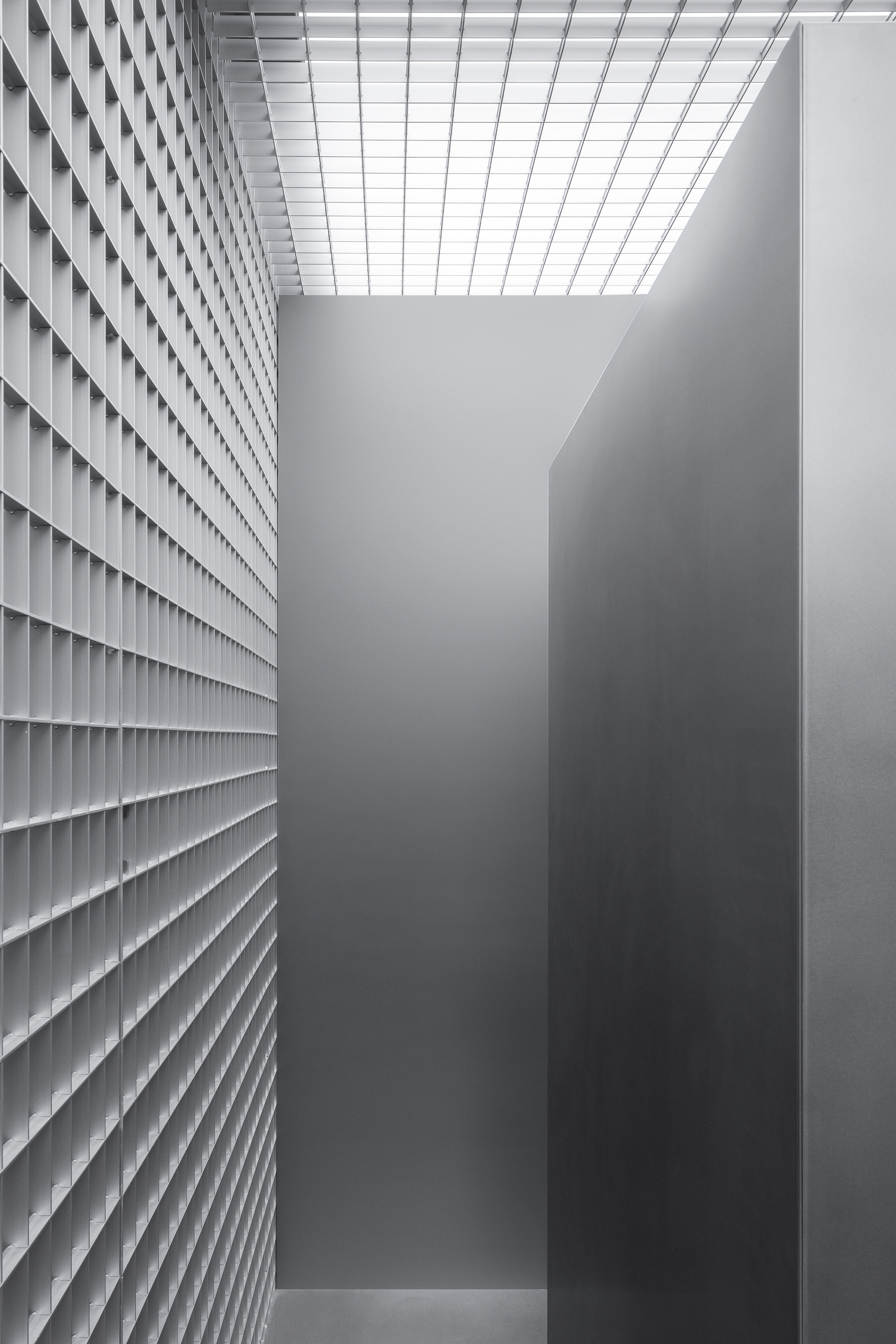 从惯性思维中挣脱,重新思考人与空间的关系,人与物的关系以及物与空间的关系,让人不由得被这种大胆又合理的创新打动。
Break free from inertial thinking and rethink the relationship between people and space, the relationship between people and things, and the relationship between things and space, people can't help but be moved by this bold and reasonable innovation.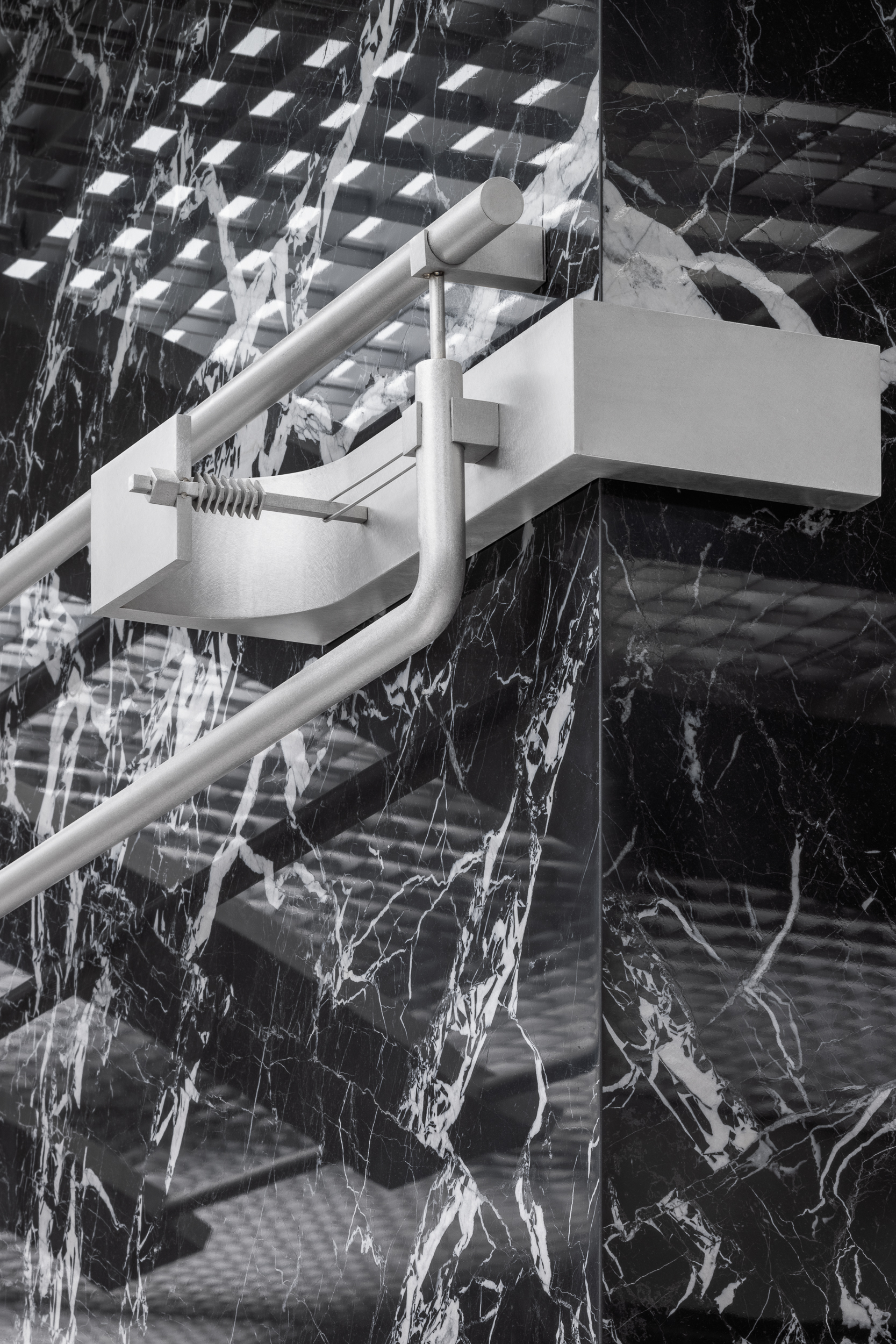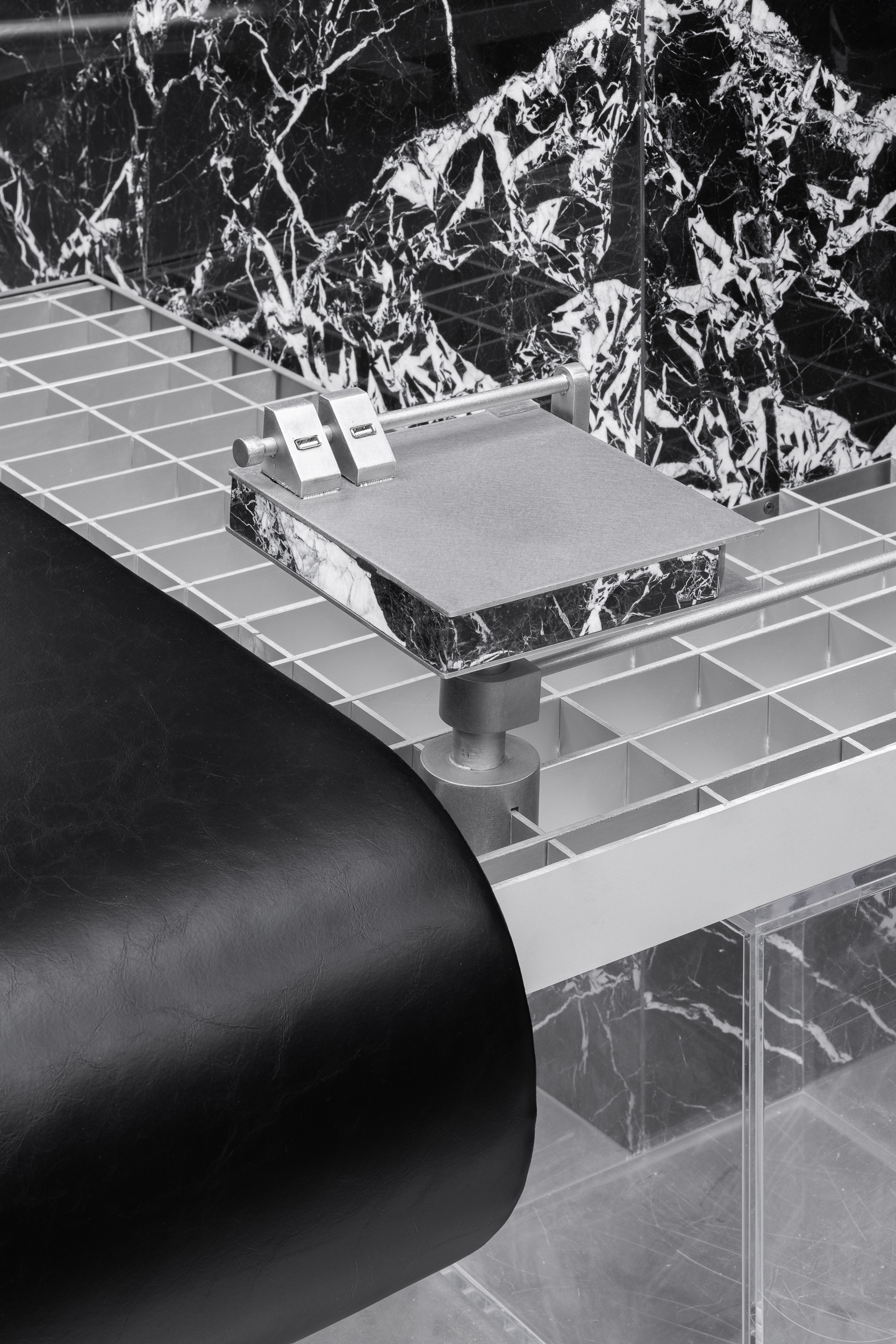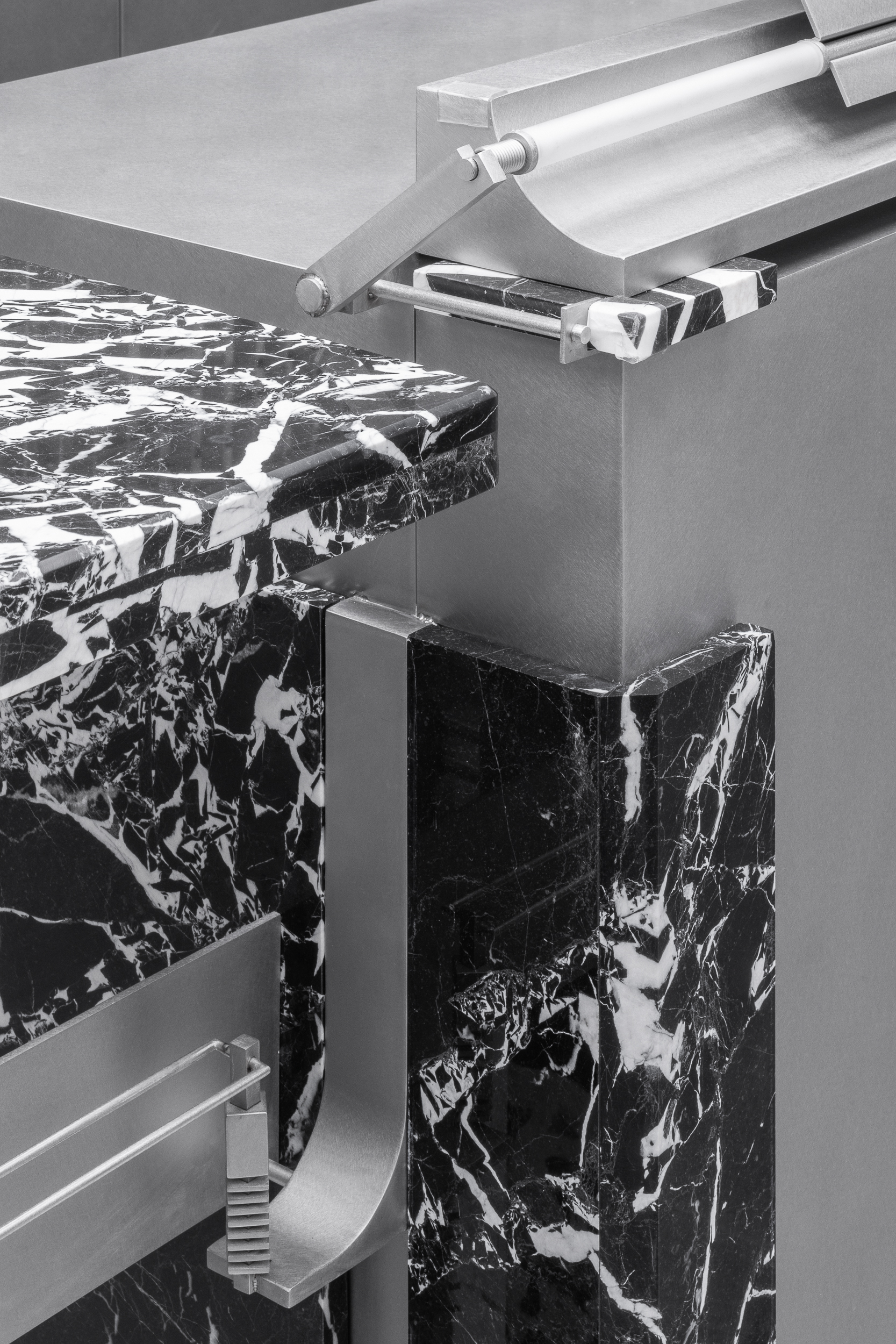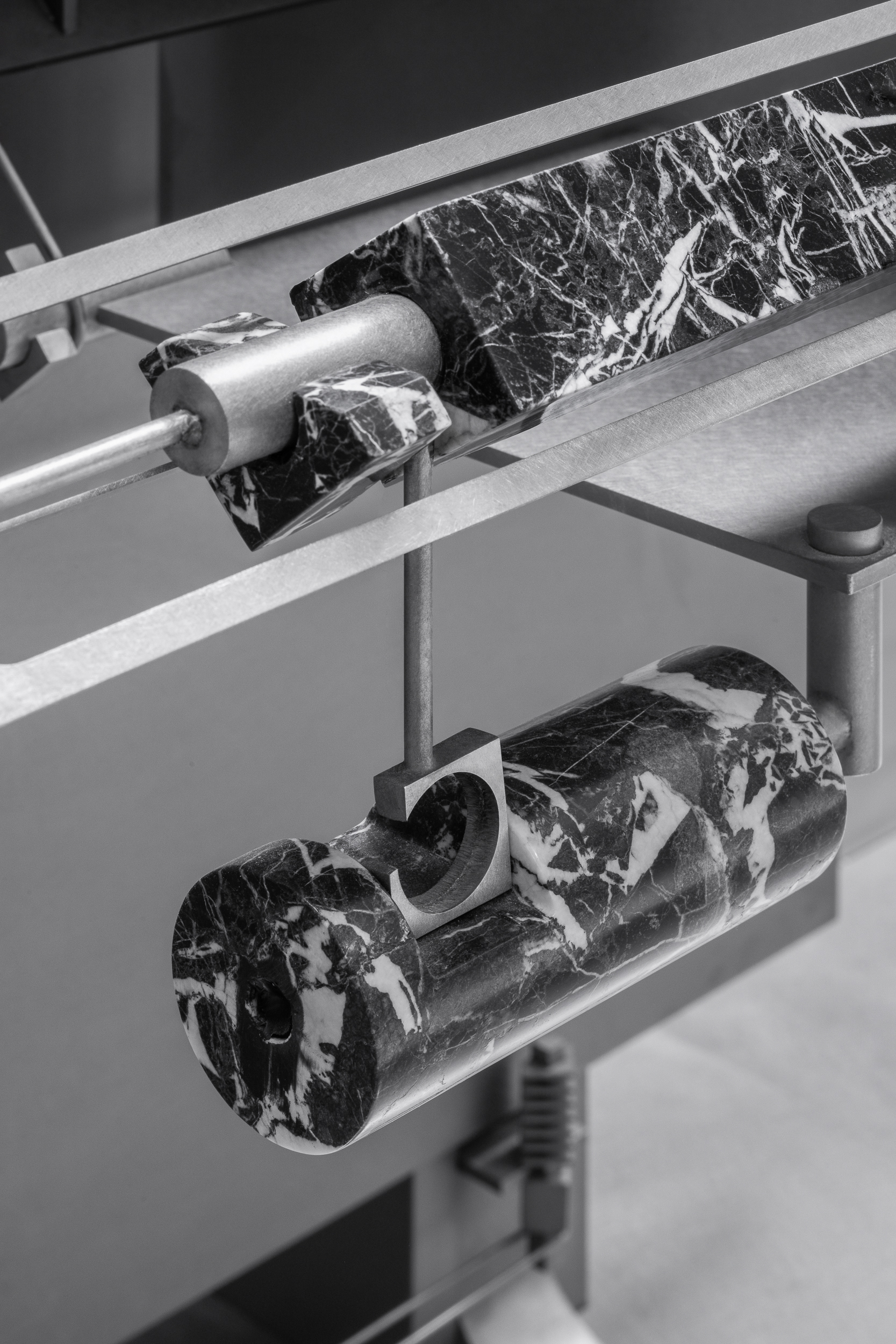 创新是提出新的问题,新的可能性,从全新的角度重新审视旧的事物,就是对生活标准的一次次重新审视,人们与衣物的关系、体感的形态、空间体验的路径,都可以被打破,被重新定义一次。
Innovation is to ask new questions, new possibilities, to re-examine old things from a new perspective, that is, to re-examine the standard of living again and again. To break, to be redefined once.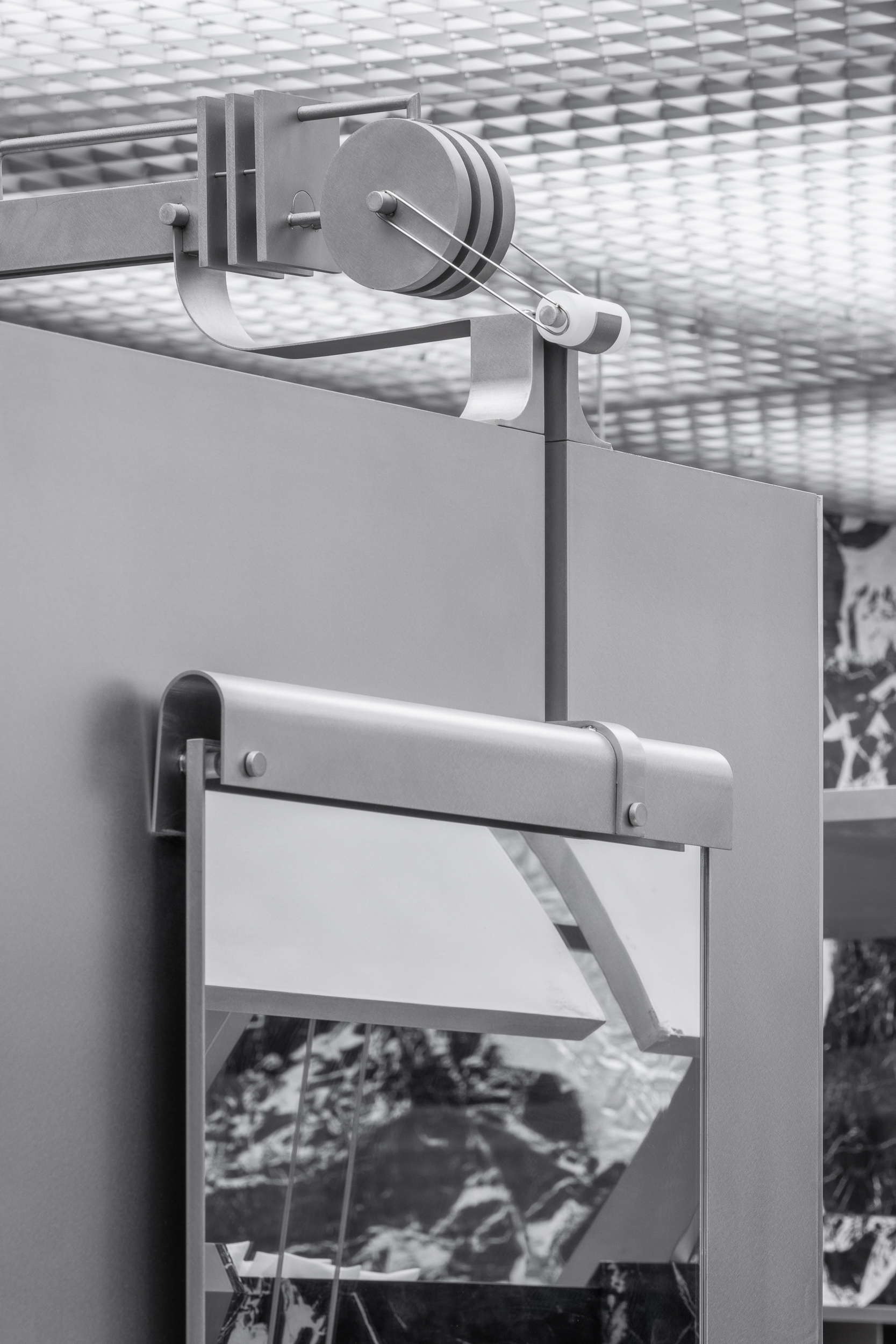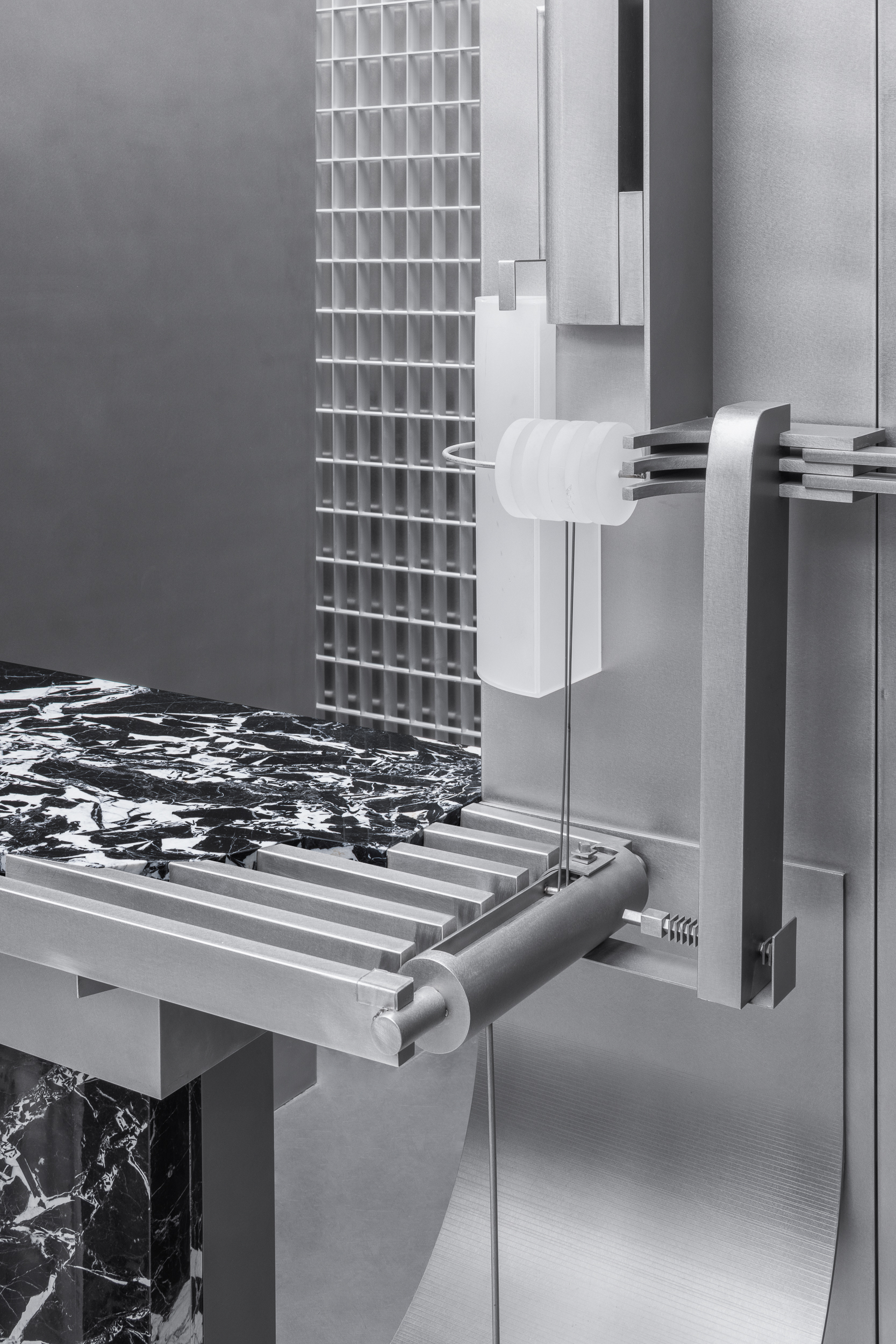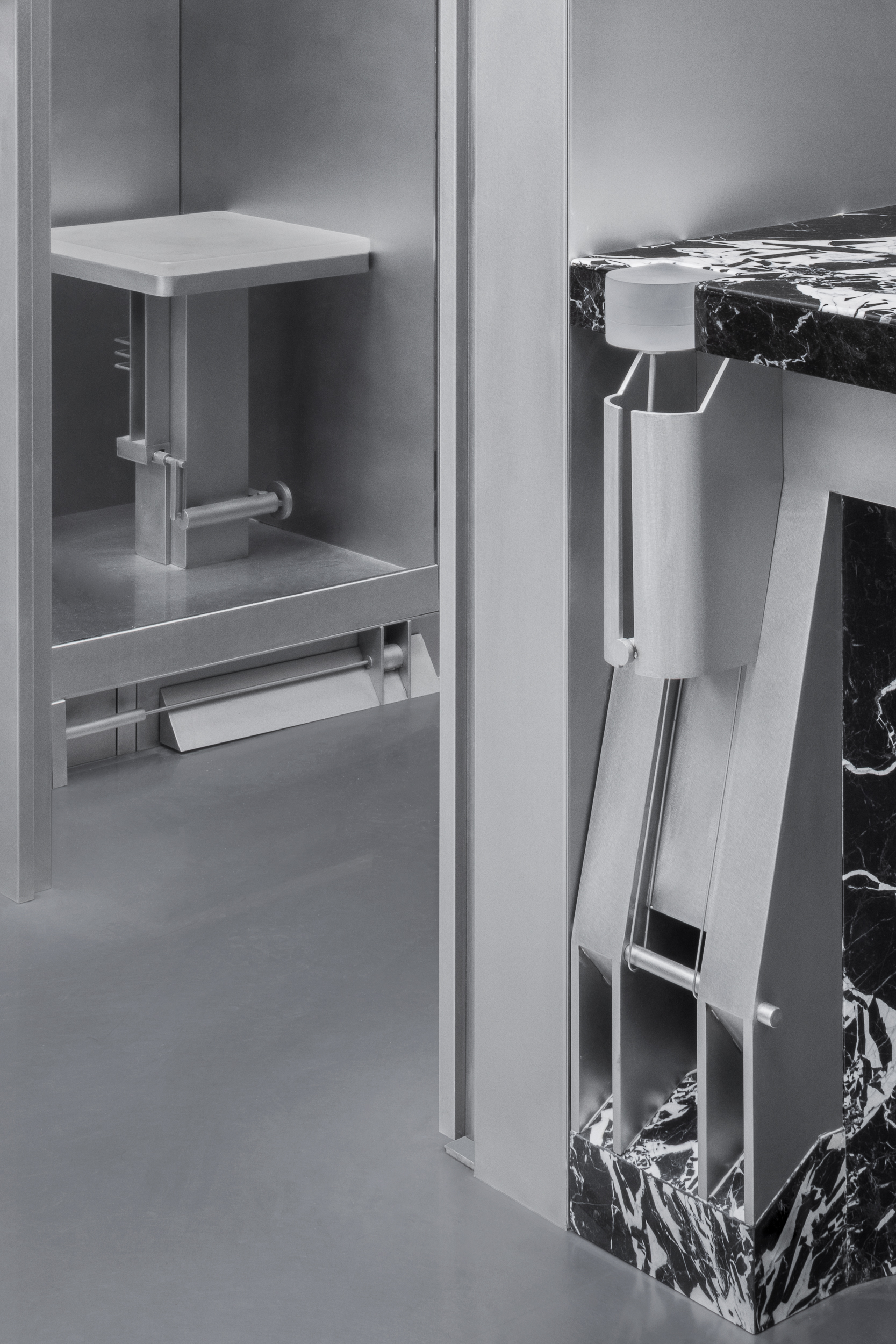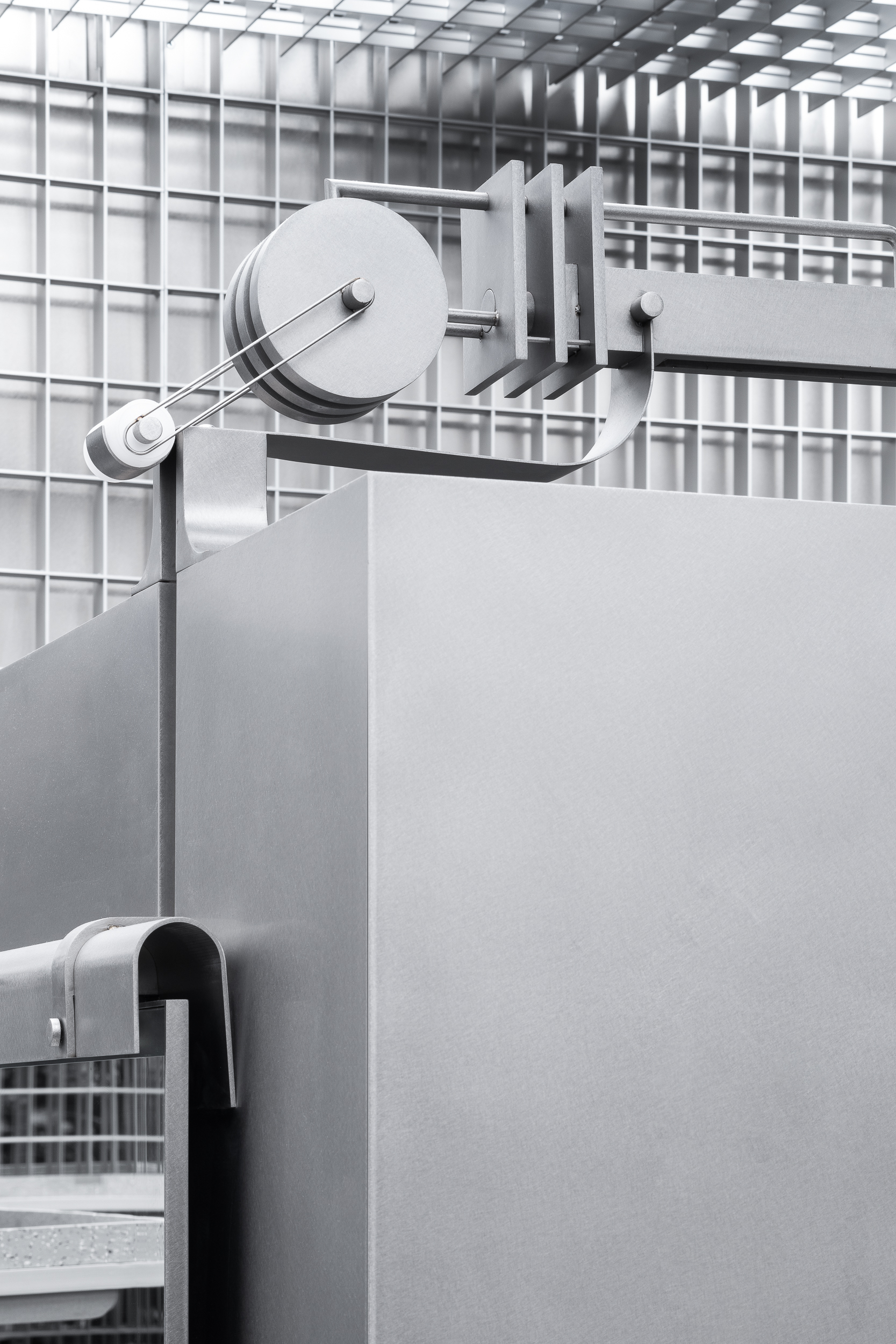 在现代科技与前瞻性美学主张的加持下,设计向技术提出挑战,而技术又启发着设计,在技术与设计不断相互刺激下,新的意义就产生了。它或许代表着未来的我们应该穿些什么、用些什么,选择什么样的生活。
Under the blessing of modern technology and forward-looking aesthetics, design challenges technology, and technology inspires design. Under the continuous stimulation of technology and design, new meanings emerge. It may represent what we should wear, use, and choose to live in the future.
---