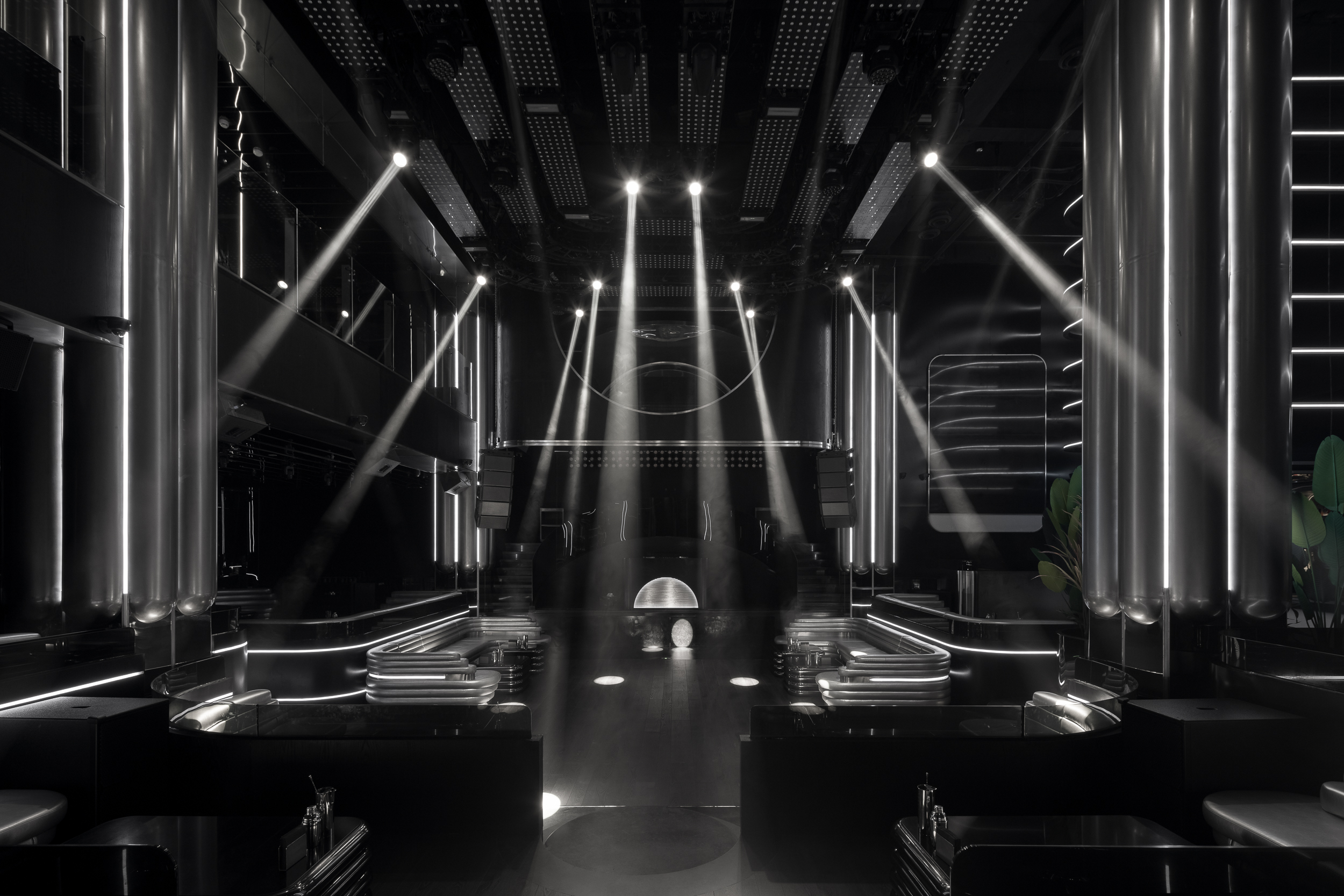 城市是一座制造孤独的机器,
A city is a machine that makes loneliness,
带上面具我们都是普通市民。
Put on a mask, we are all ordinary citizens.
---
娱乐本是大众艺术,我们得以在工作和专业之外恢复整体人的天性。但"泛娱乐化"的虚无主义却消解了价值,绑架了多元,使之沦为"愚乐"效应。
Entertainment is a mass art, and we are able to restore our whole human nature outside of work and profession. However, the nihilism of "pan-entertainment" has eliminated value, kidnapped pluralism, and reduced it to a "foolish" effect.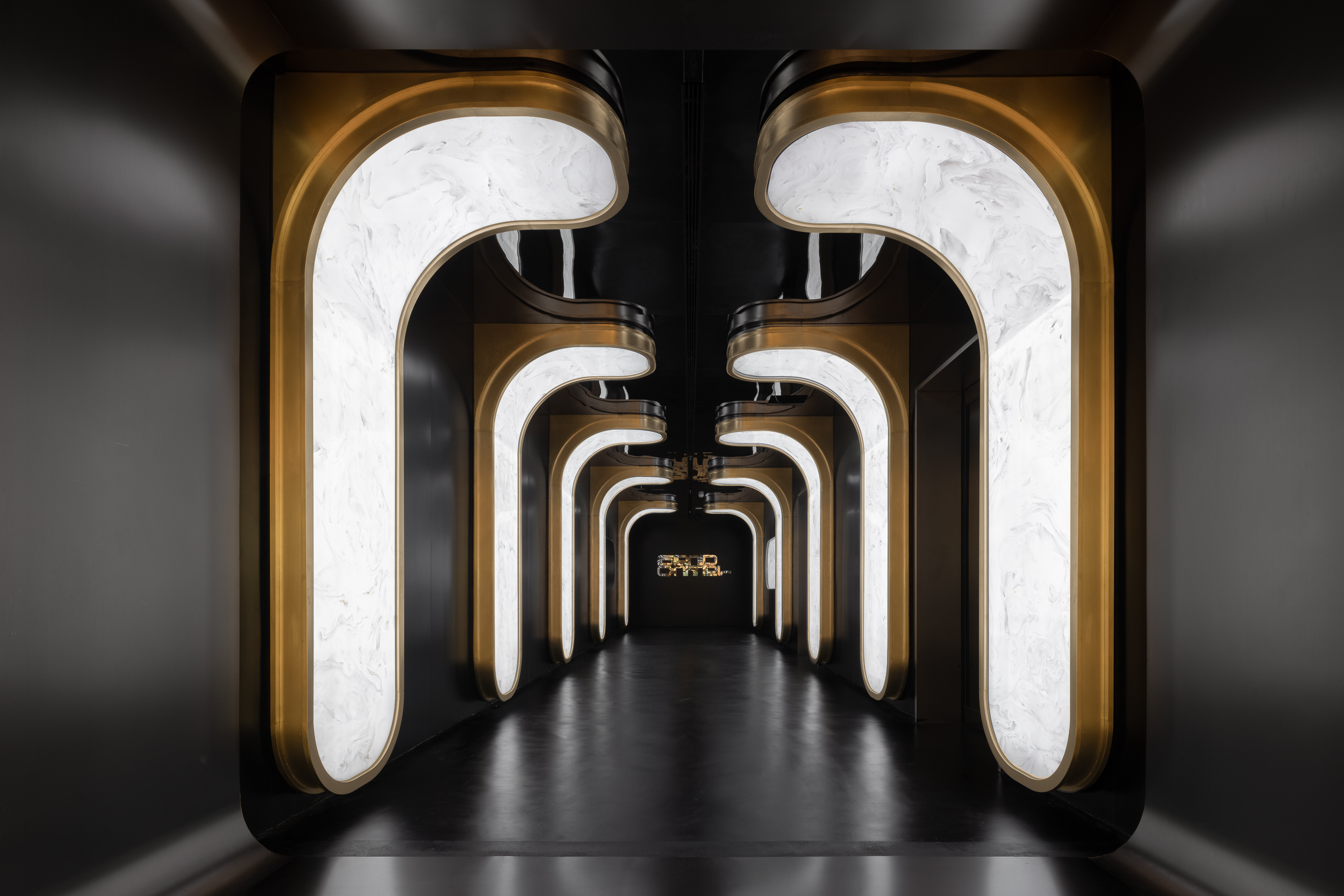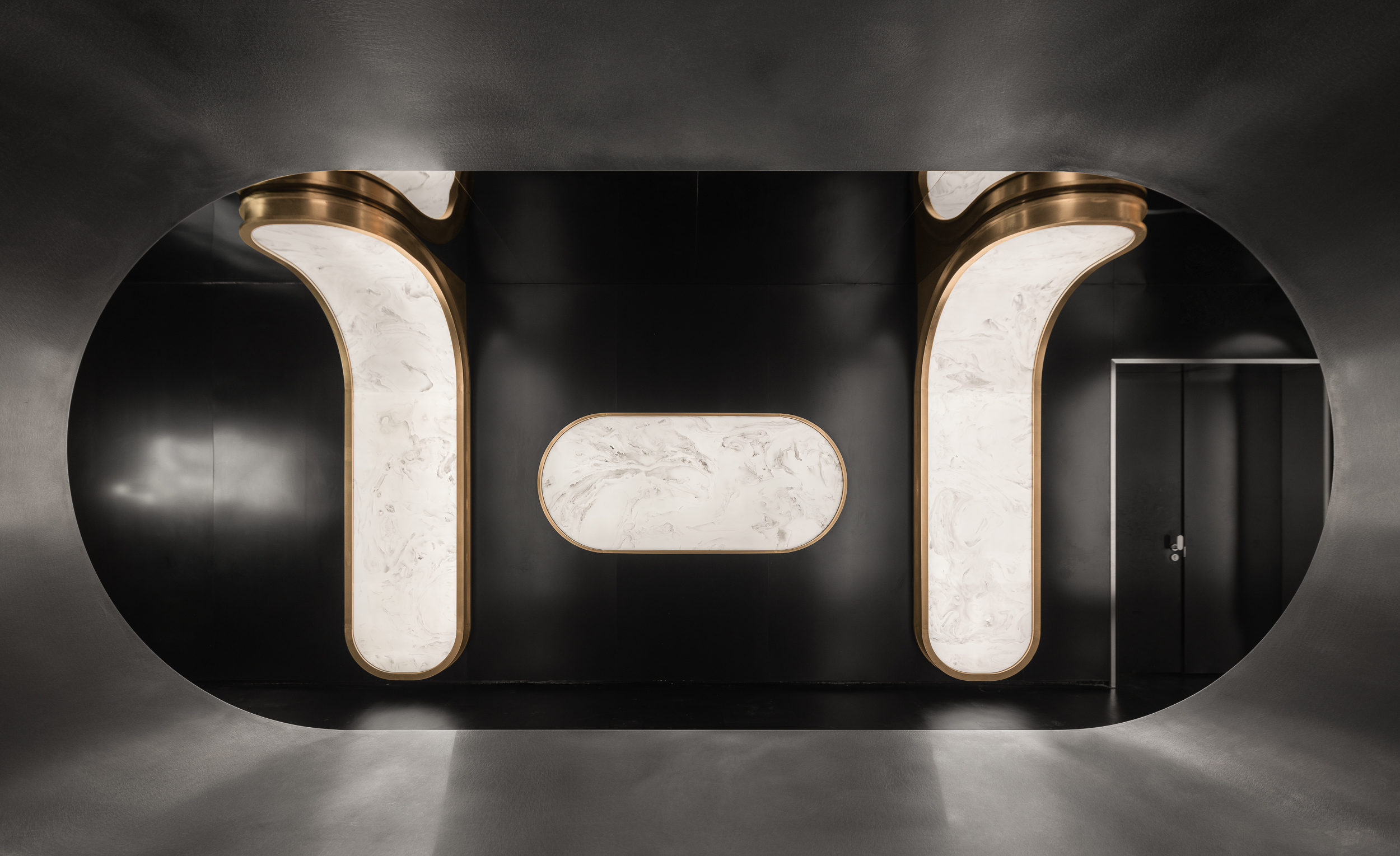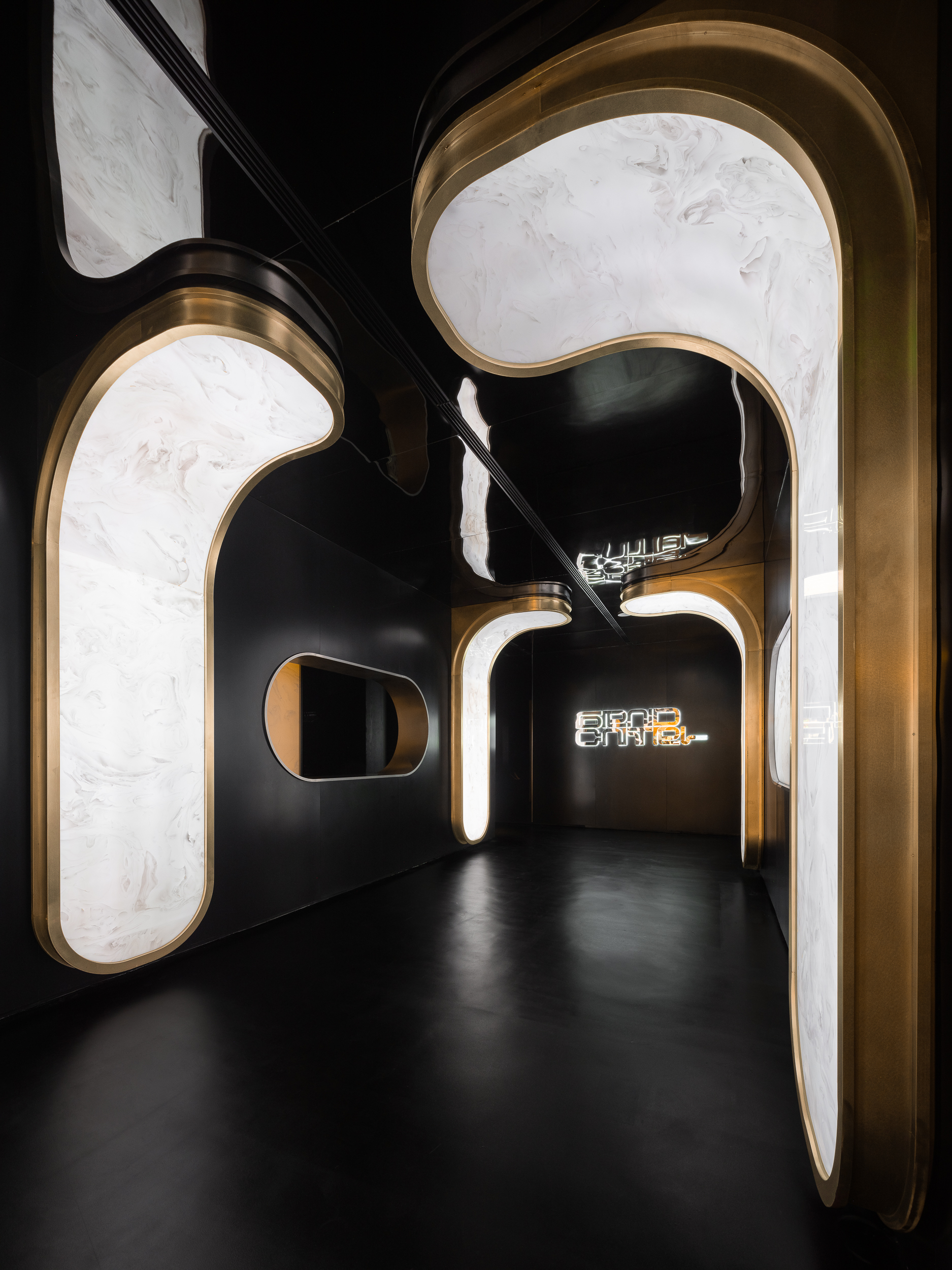 艺术并不检验已知的现实,而是追求理想的真理。先锋实验与沉浸式的设计氛围,甫一进通道入口既已敲叩着想象的大门,似遁入超现实主义的光影秘境。
Art does not test known reality, but seeks ideal truth. The avant-garde experiment and immersive design atmosphere, as soon as you enter the entrance of the passage, you have knocked on the door of imagination, as if you have escaped into the surrealistic light and shadow secret realm.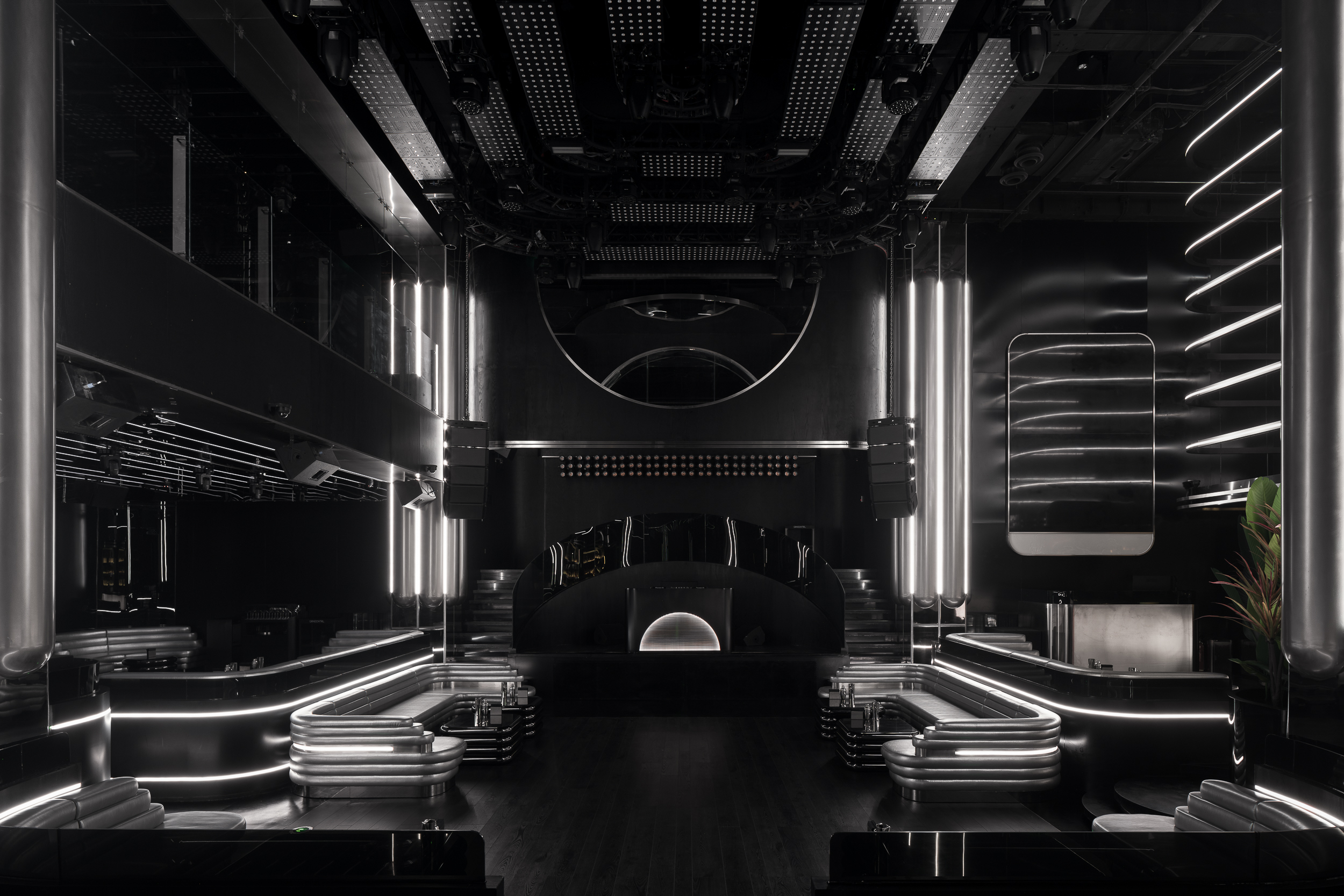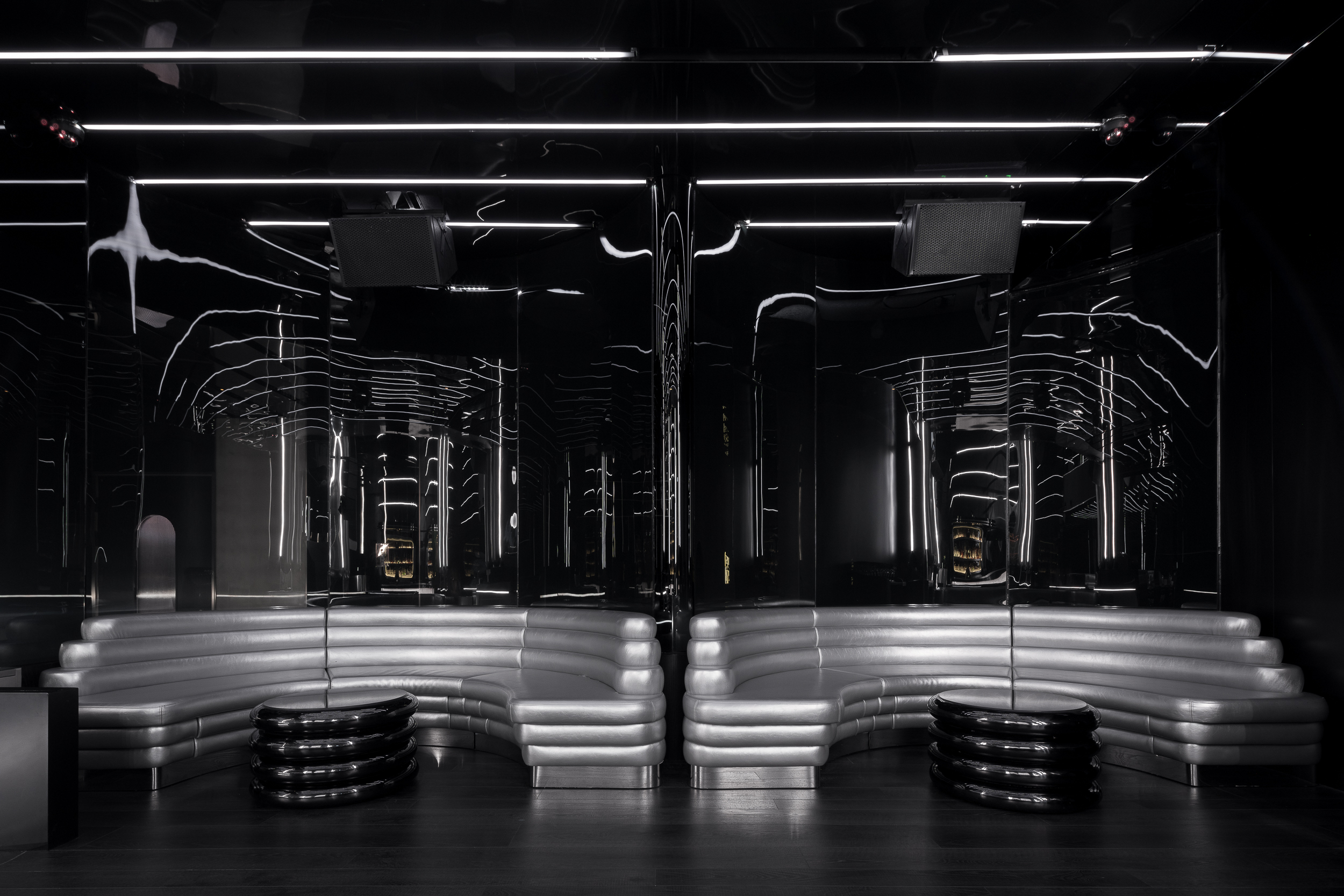 以具隐喻性的"剧场"概念,在黑暗中将参与者的吸引力引向中心区,而且几乎是强制性的。而视觉的焦点总是处于一个升高的平台上,从而更显眼、更可听,下面有层叠感的座椅装置,好增强整个空间纵向的层次感。
With the metaphorical concept of "theatre", the attraction of participants is directed towards the central area in the dark, and it is almost mandatory. The visual focus is always on a raised platform, which is more conspicuous and audible, and there is a layered seating device below to enhance the vertical layering of the entire space.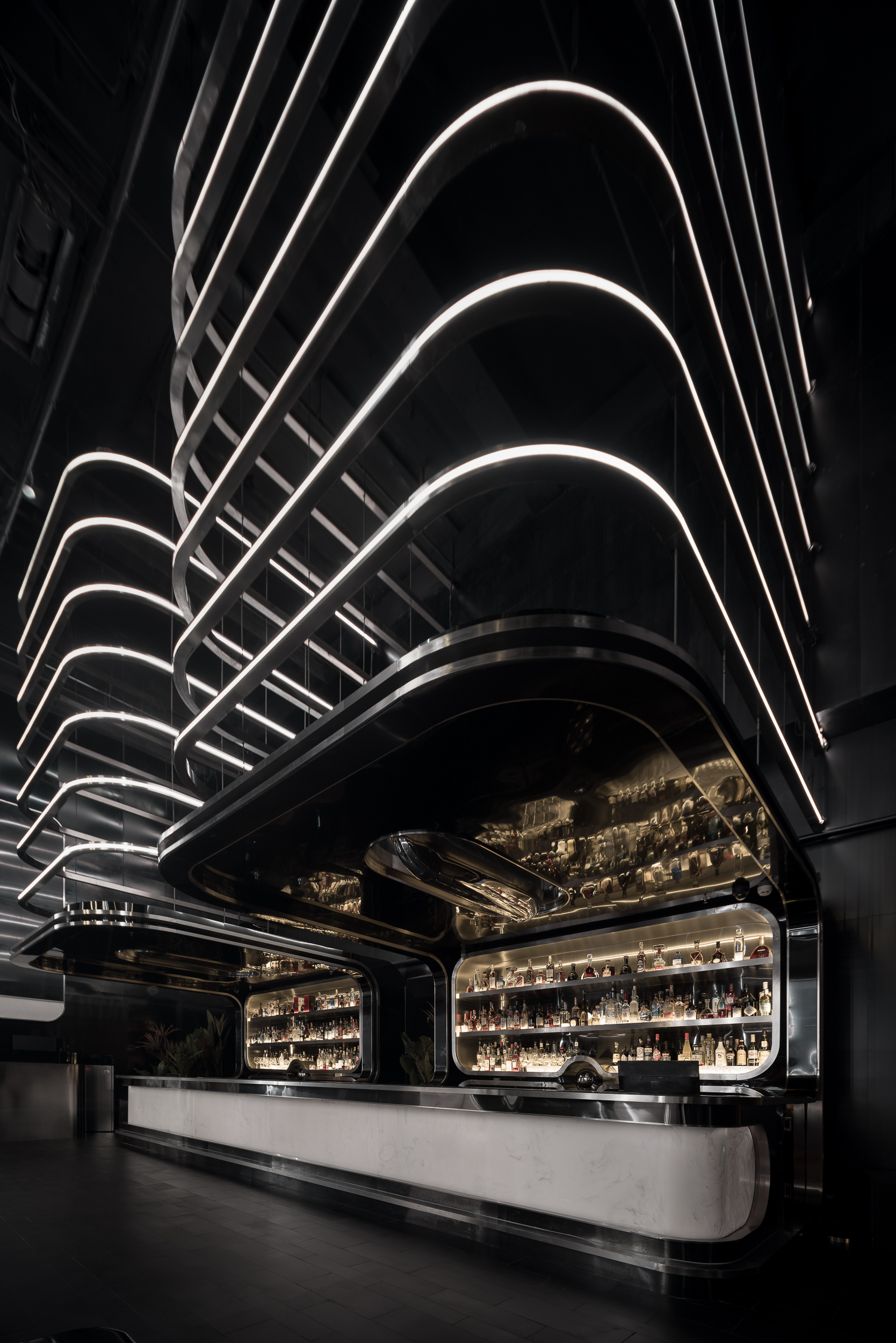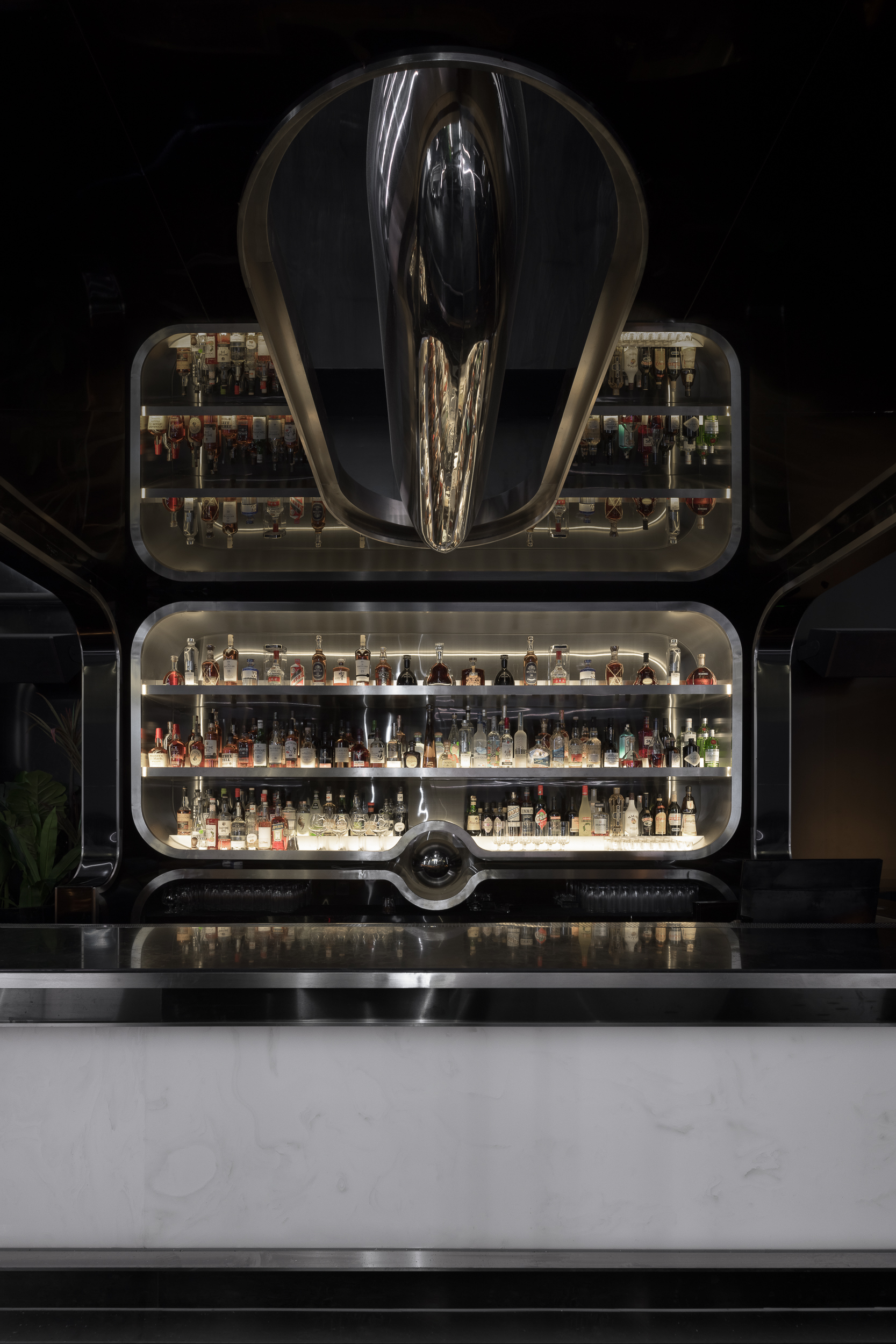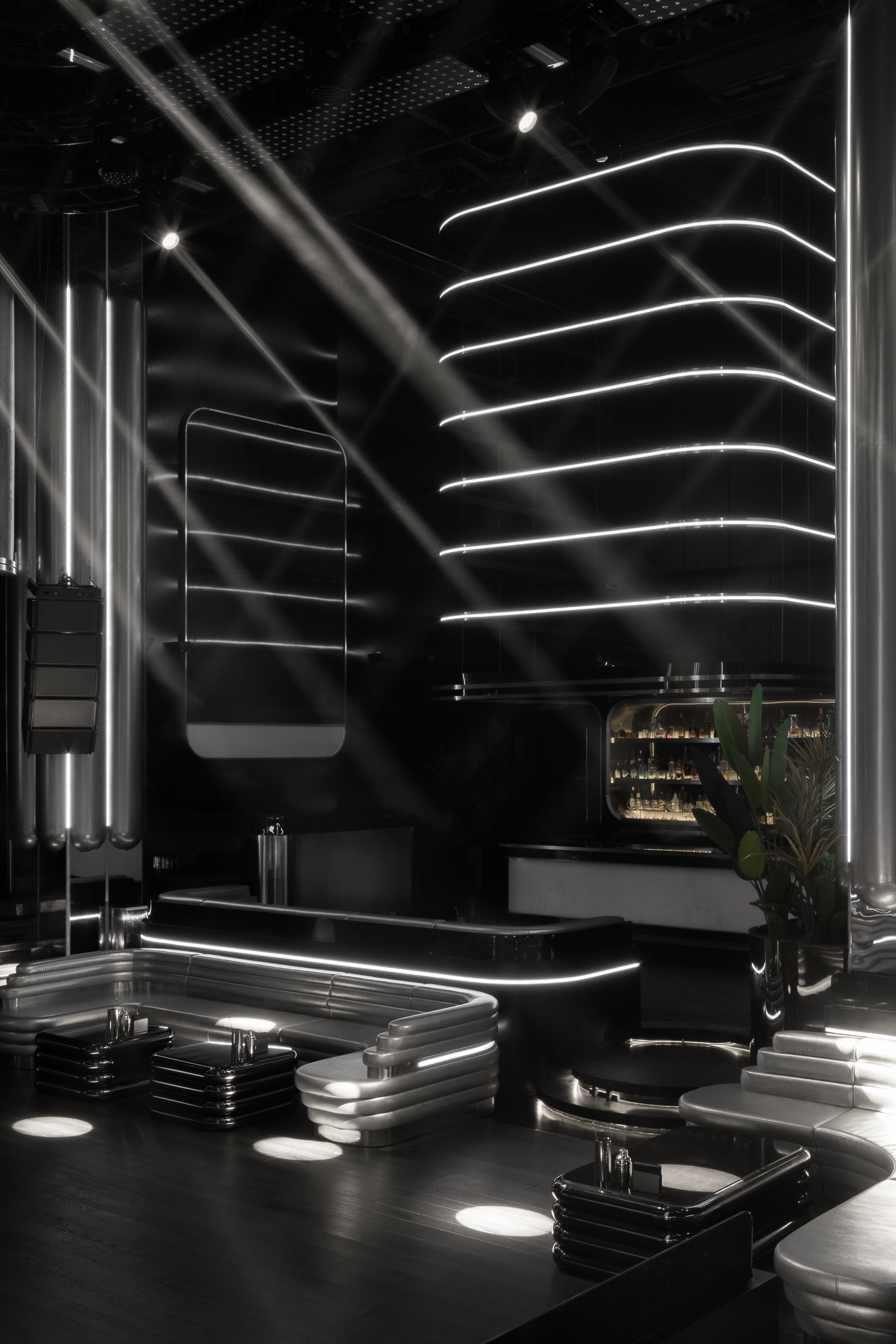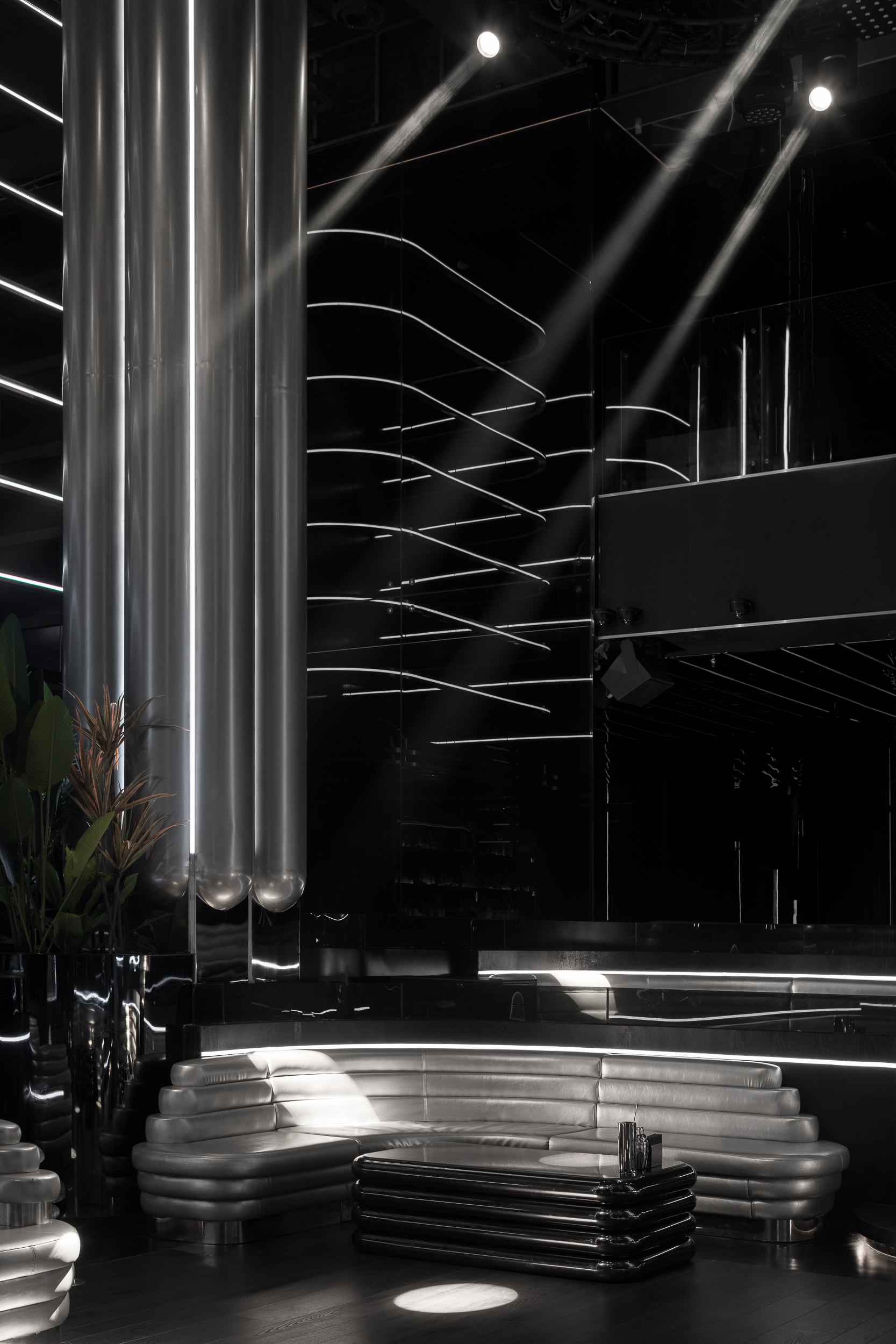 黑暗中唯一点亮的温暖光芒的区域,在灵魂的剧院中创造现实的可能性幻想,仿佛是戏剧永恒的避风港。在这里发生的一切,不论好坏,都将被其接纳并包裹,不断将它重新锻造。
The only lit area of warm light in the dark, creating a fantasy of realistic possibility in the theater of the soul, as if it were an eternal haven for theater. Everything that happens here, for better or worse, will be taken up and wrapped in it, constantly reforging it.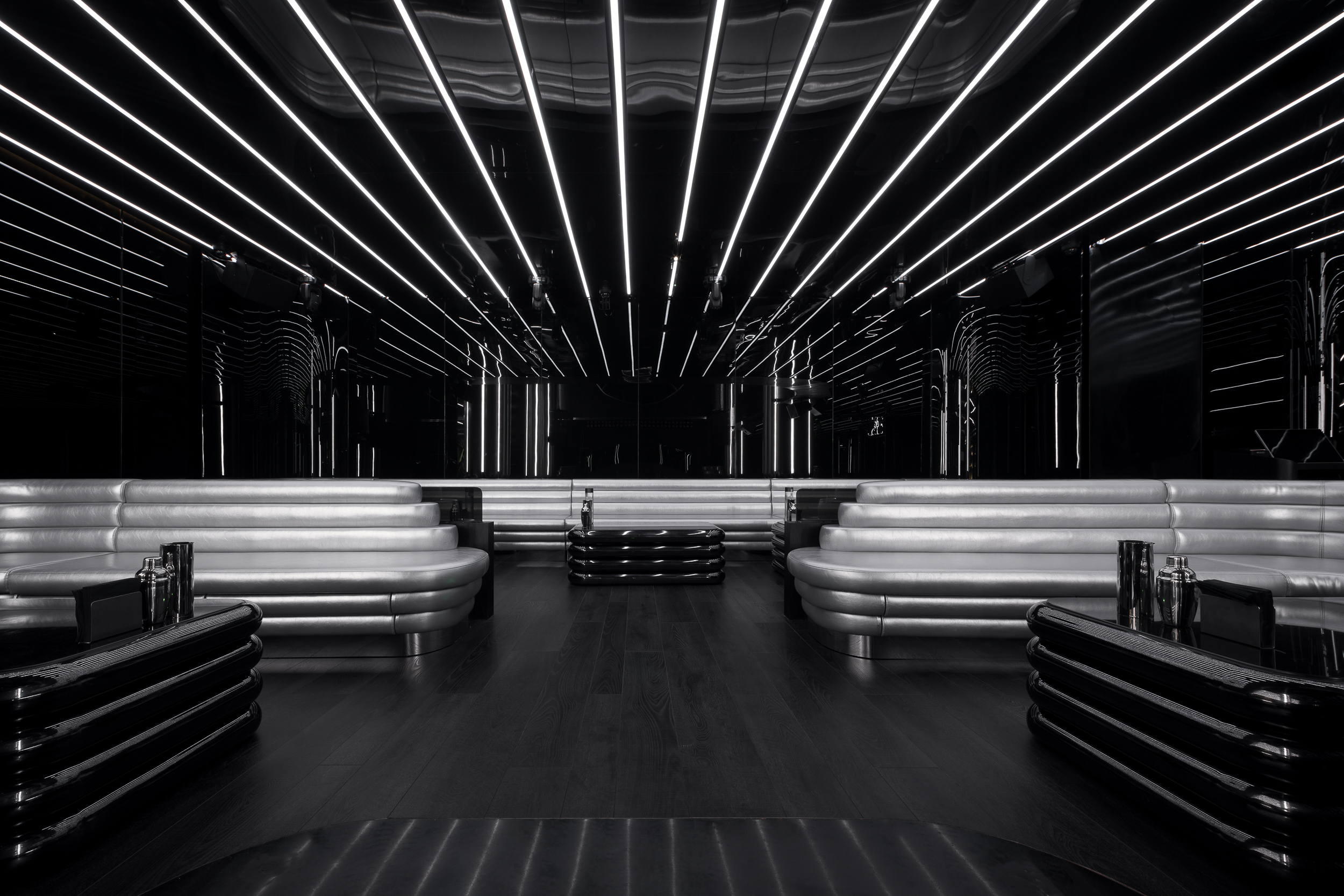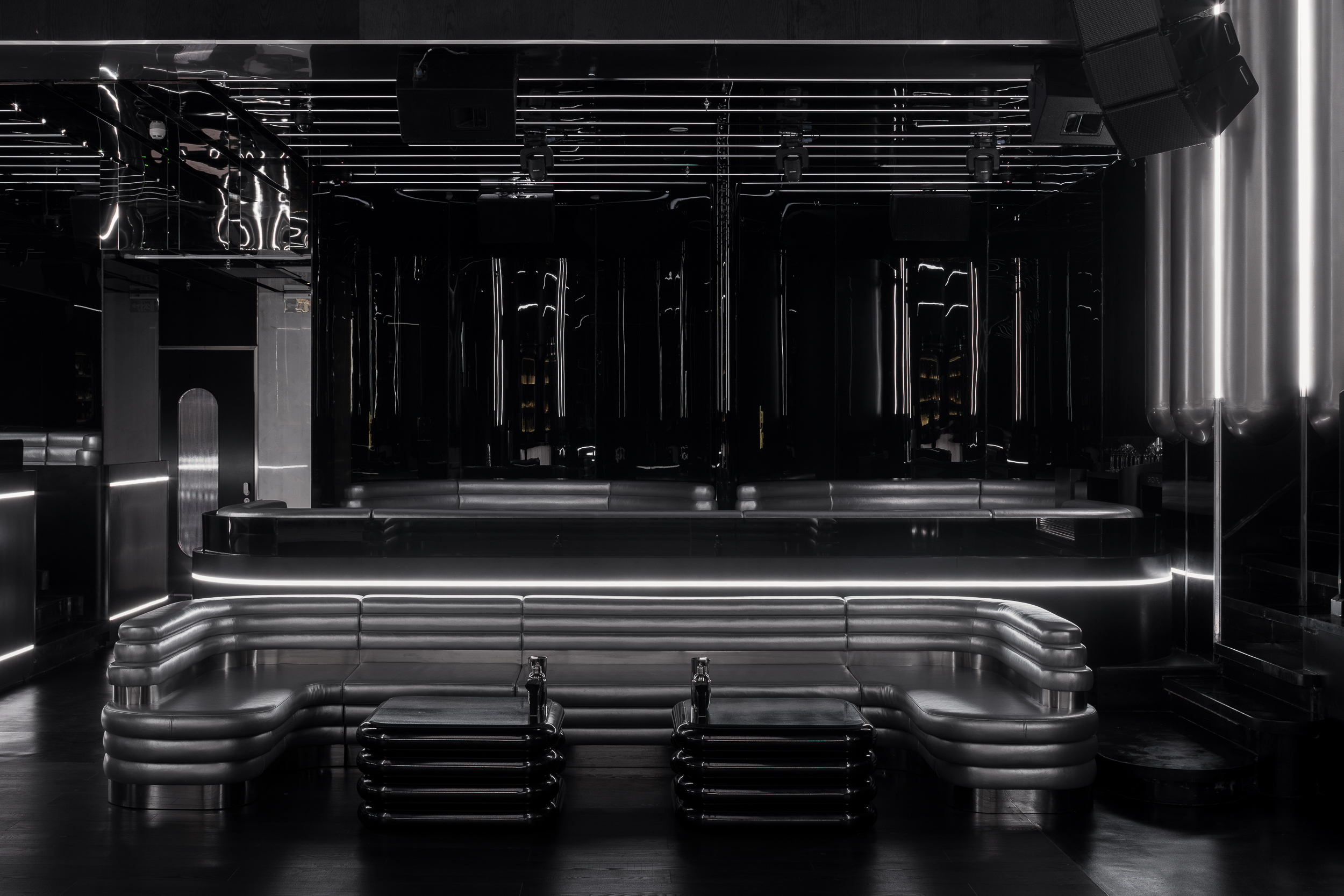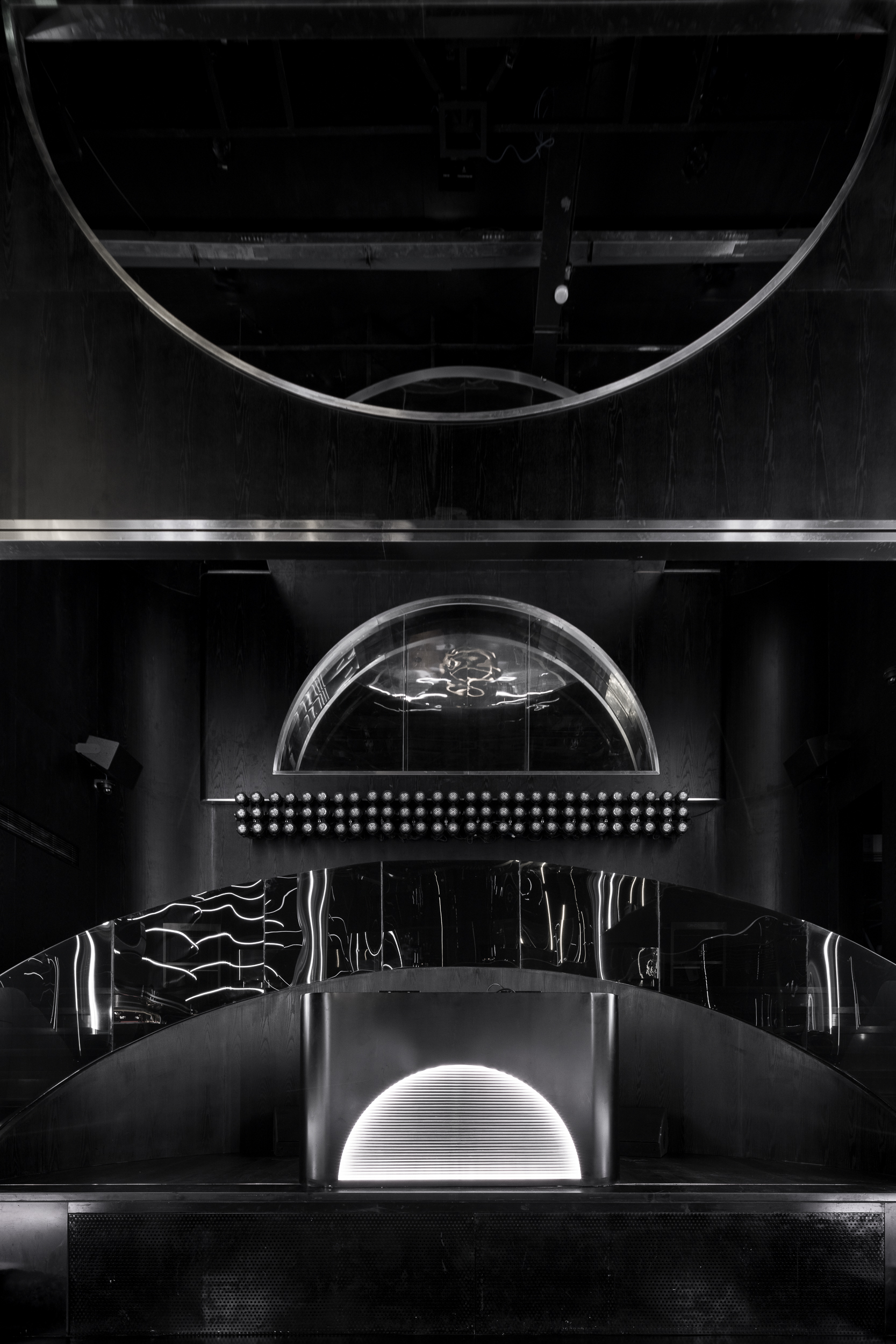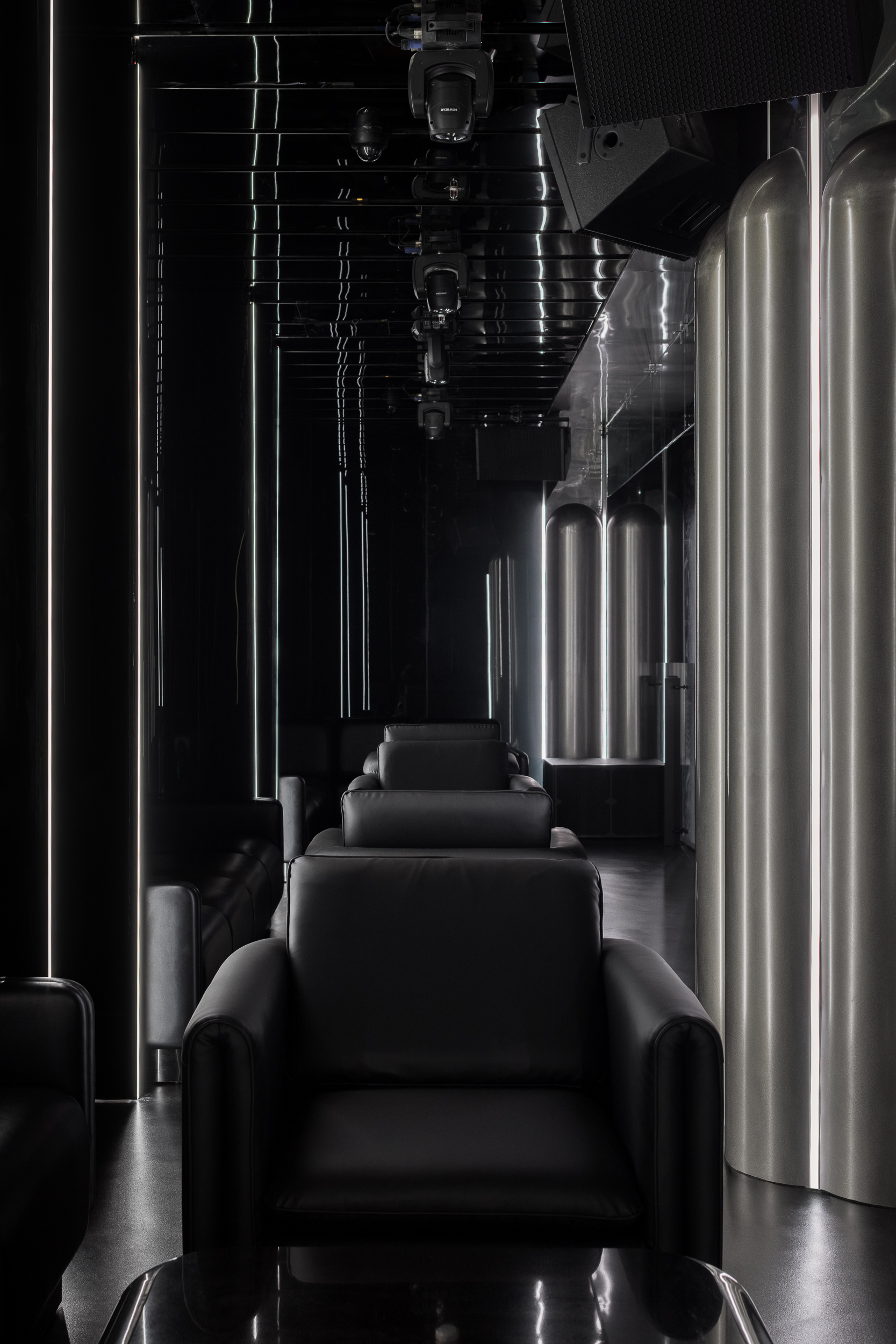 现代人潜意识中都驻扎着一个演员欲望。在GRNDCNTRL的每个角落都充满了看见与被看见的可能,人们会不自觉抛弃随意的装扮,选择"盛装出席",获取快乐的成本不应低廉。
There is an actor's desire stationed in the subconscious of modern people. Every corner of GRNDCNTRL is full of the possibility of seeing and being seen. People will not consciously abandon casual dress up and choose to "dress up to attend". The cost of obtaining happiness should not be cheap.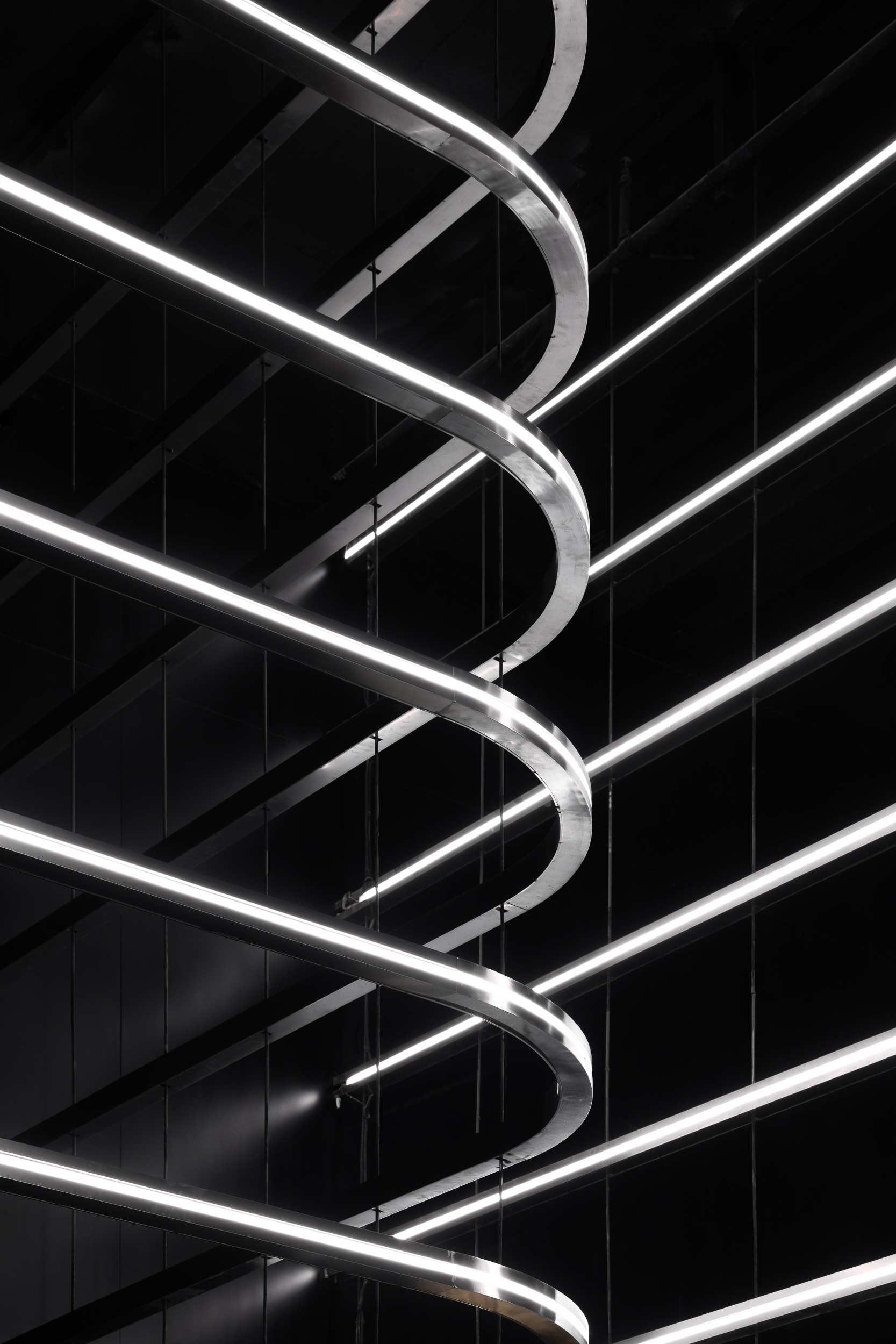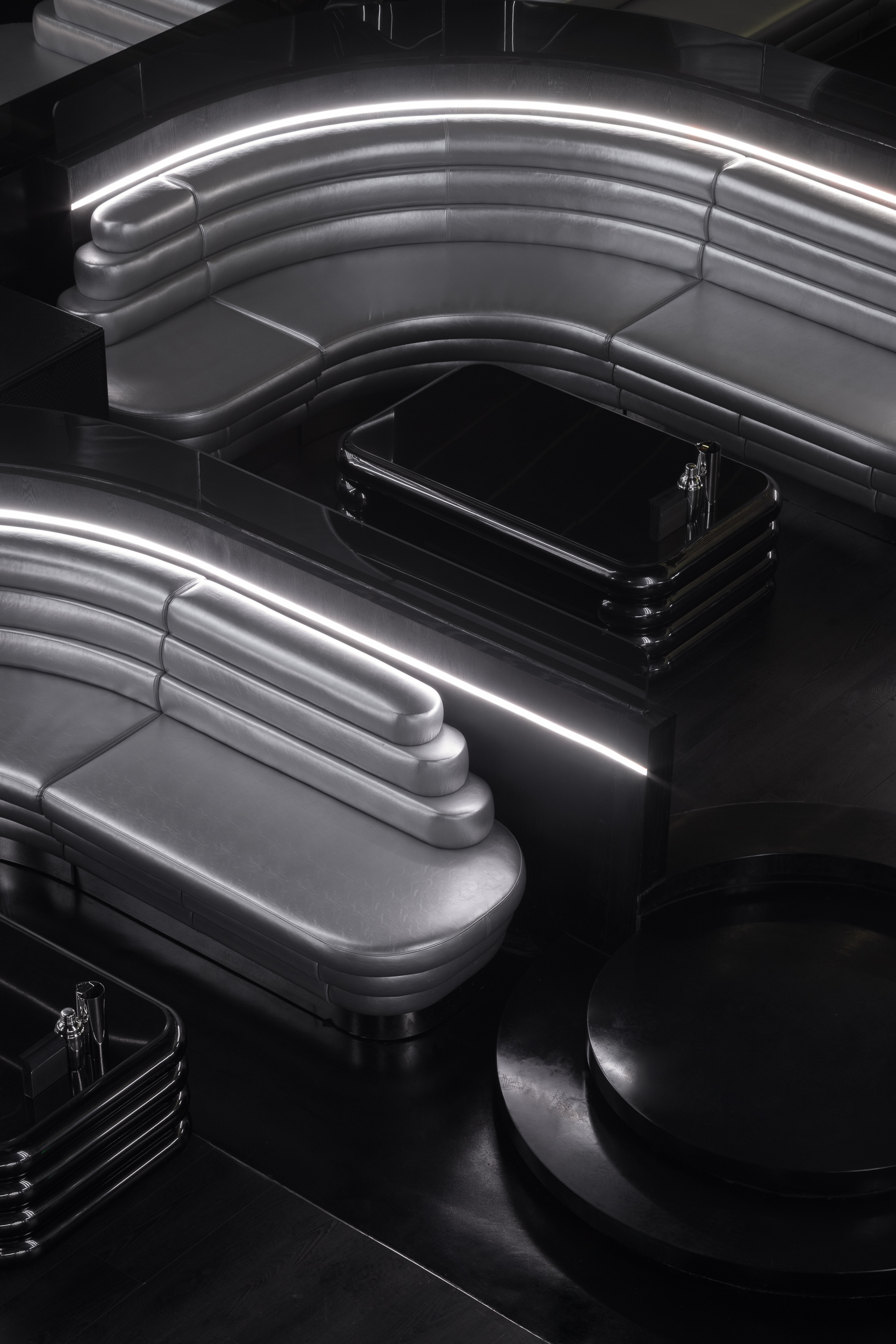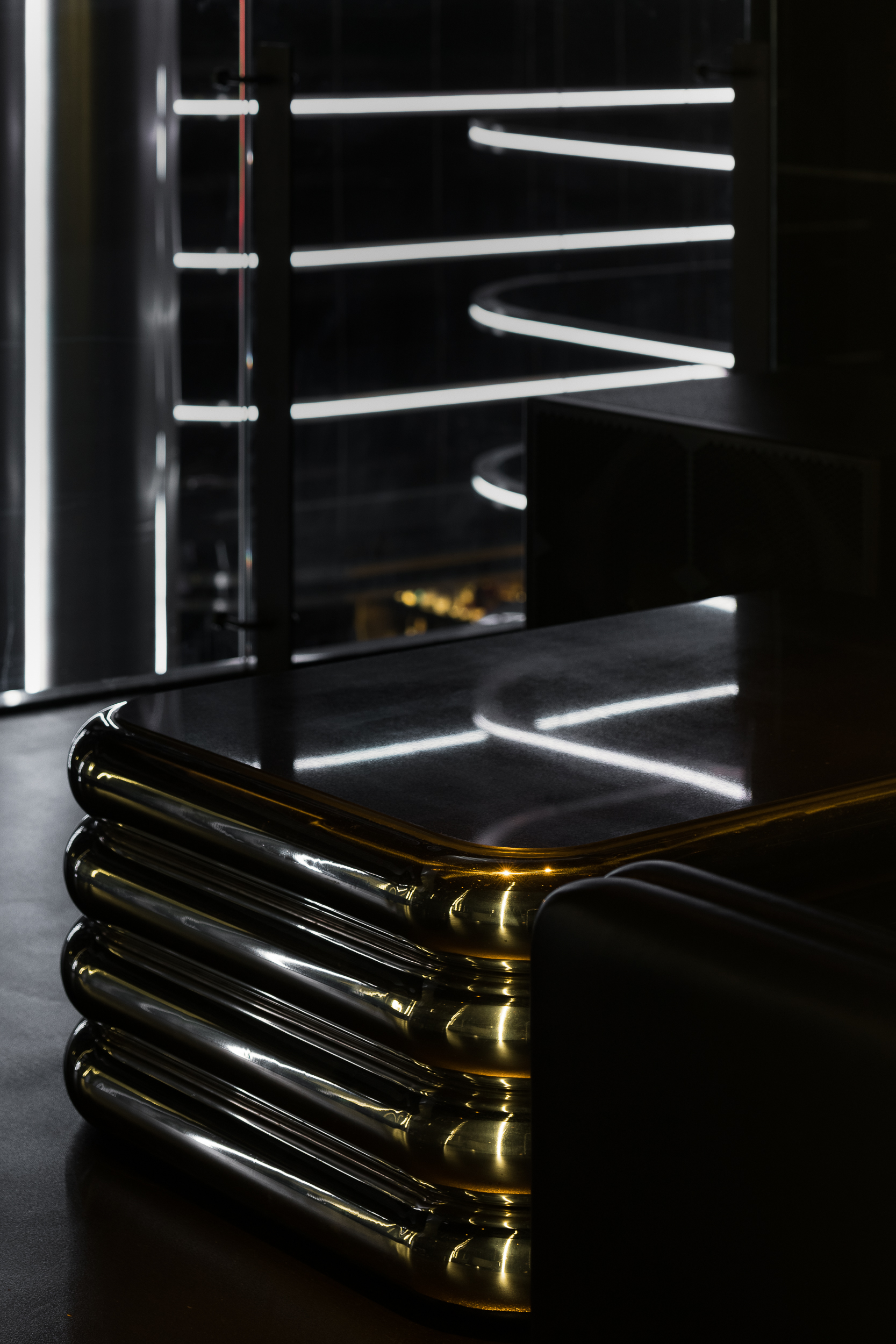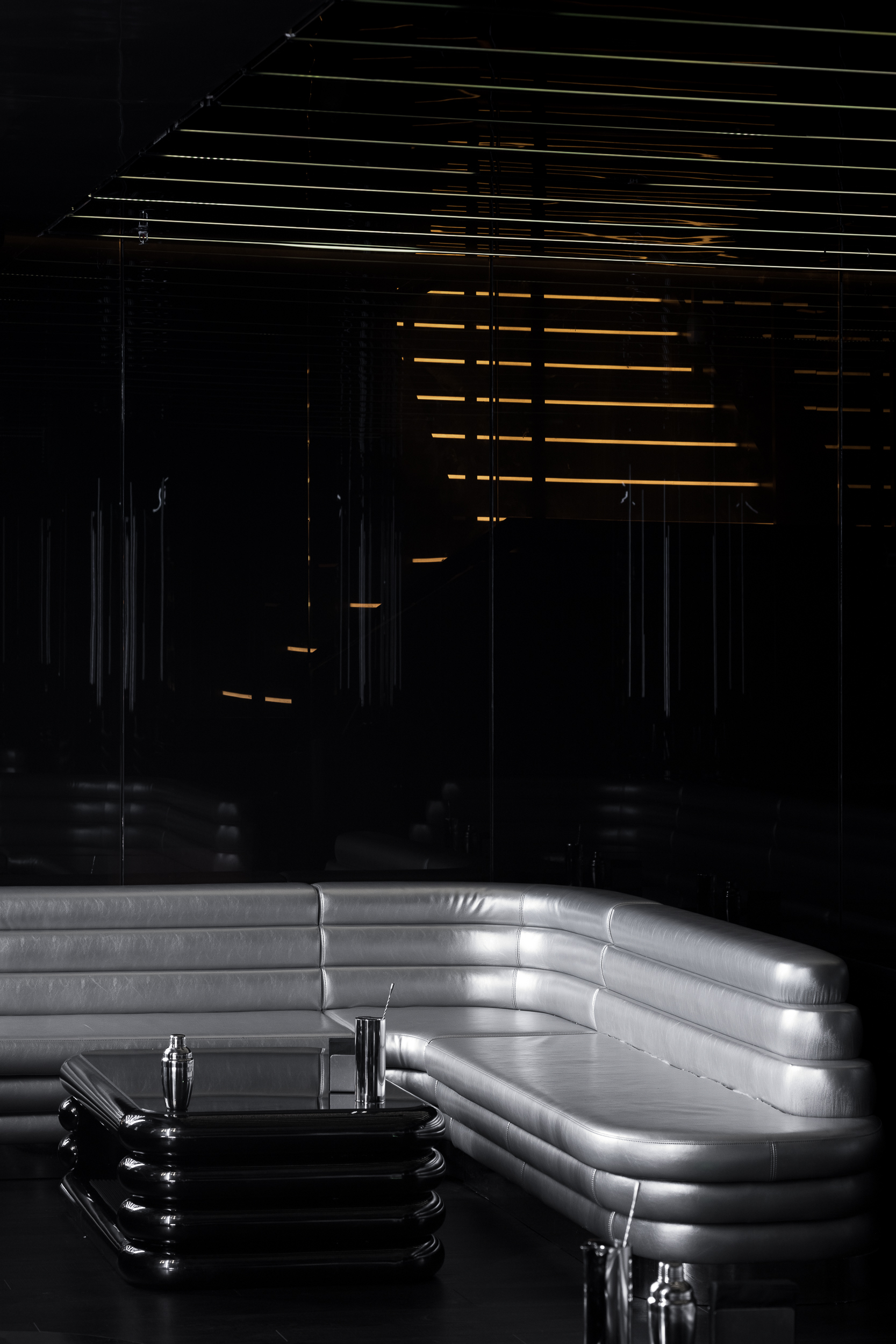 石材、镜面、烤漆、不锈钢、皮质等材料组合为鲜明的视觉传达,主色中却有有着近百种不同层次的"黑"。形态简洁而抽象的有机曲线,亦打破横平竖直的构图并重新释义经典美学。
The combination of materials such as stone, mirror, baking paint, stainless steel, and leather form a clear visual communication, but there are nearly a hundred different levels of "black" in the main color. The simple and abstract organic curves also break the horizontal and vertical composition and redefine the classic aesthetics.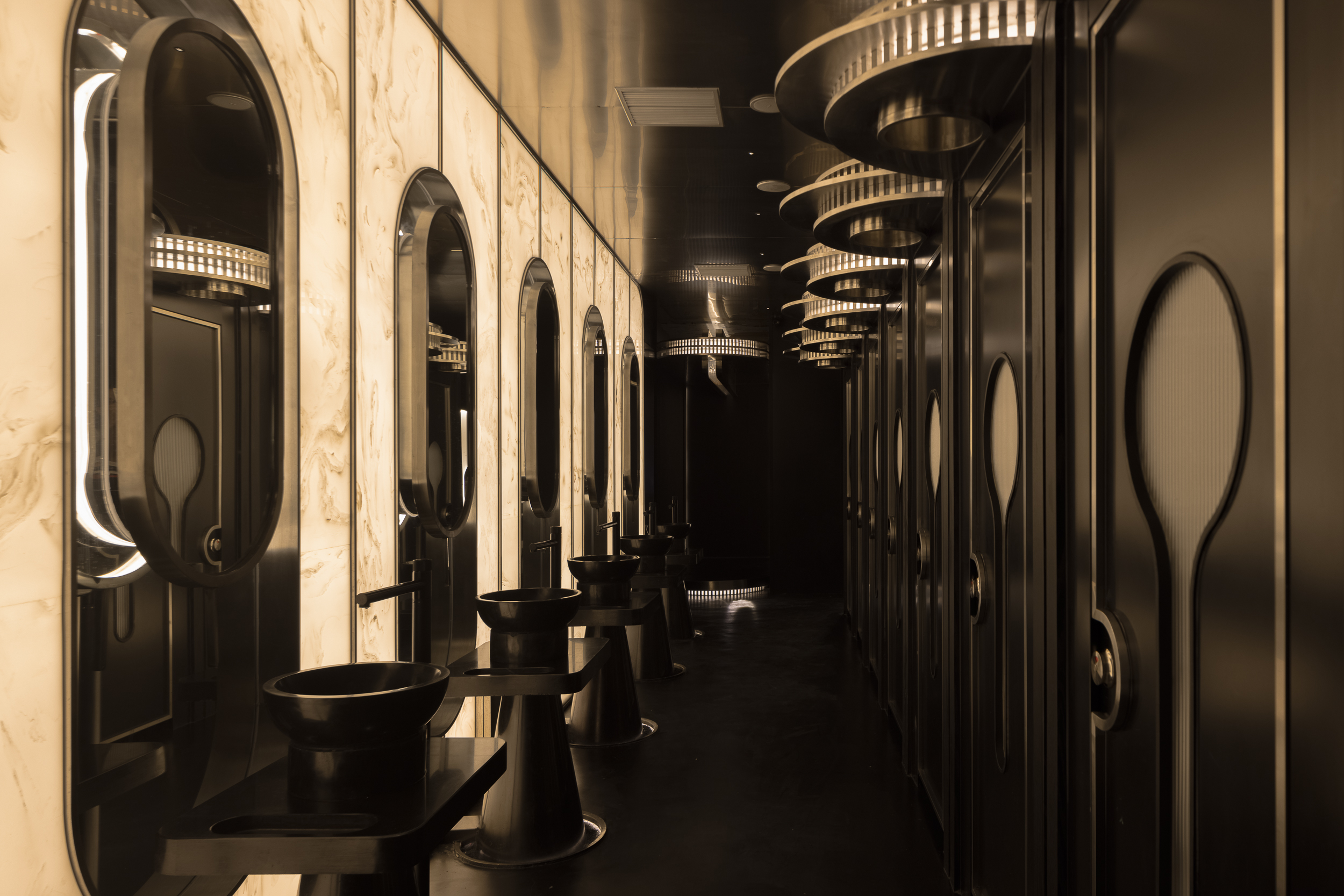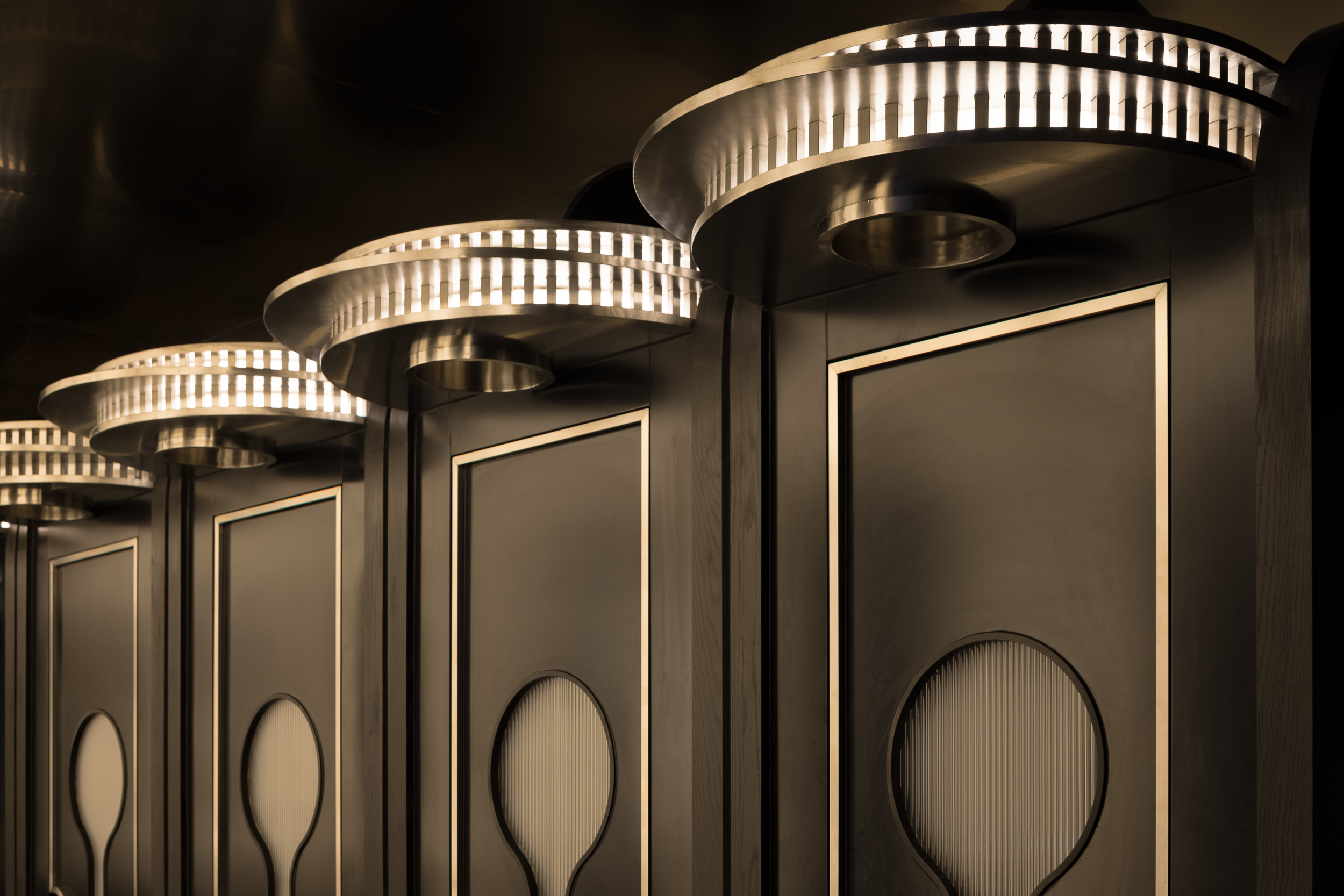 简洁设计与新材料的结合,制造透视错乱的狂欢盛宴,"剧场"概念的加入令视觉游戏更加复杂。洗手间则以逆市面潮流的复古美学,沉淀为提供身心缓冲与补给的剧场"后台"。
The combination of simple design and new materials creates a carnival feast with deranged perspective. The addition of the concept of "theatre" makes the visual game more complicated. The restroom, with retro aesthetics that goes against the market trend, is precipitated as a theater "backstage" that provides physical and mental buffers and supplies.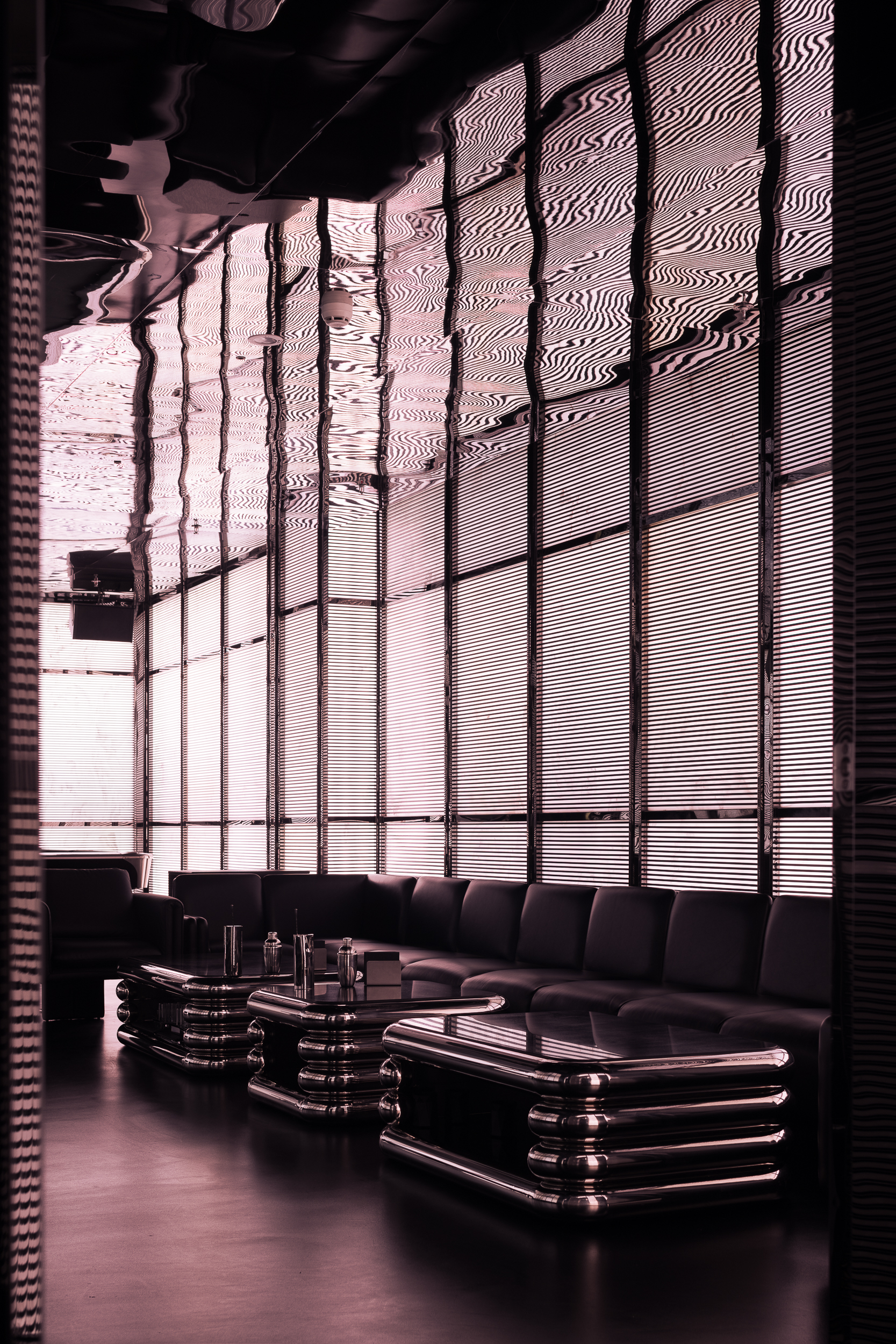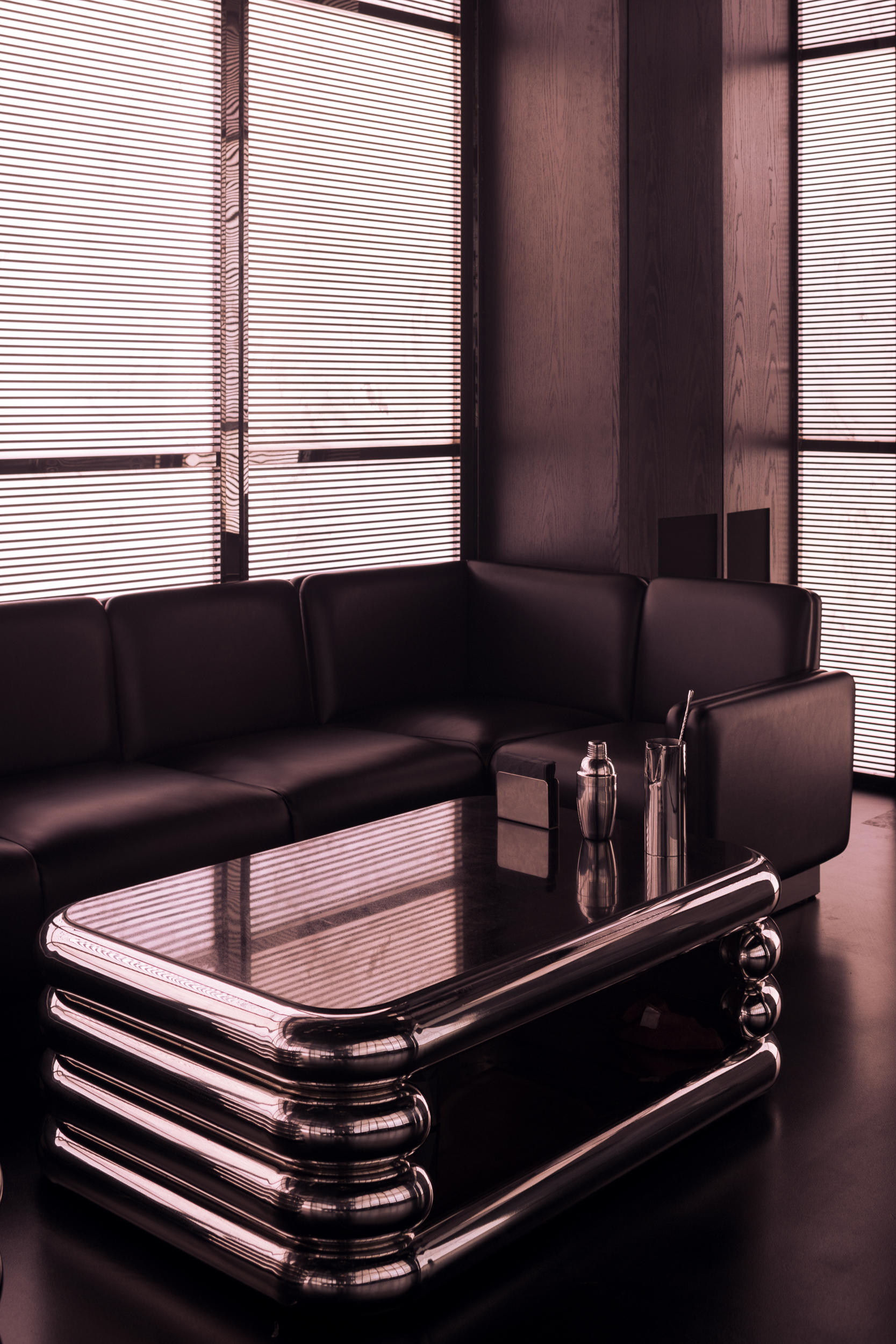 不同细部元素的运用仿佛剧场的剧目在不停的更变,而时空也随之穿梭。在黑暗之中,时间仿佛静止,又仿佛进退不定。
The use of different detailed elements seems to be constantly changing as the theater's repertoire, and time and space also travel with it. In the darkness, time seemed to stand still, and it seemed to advance and retreat.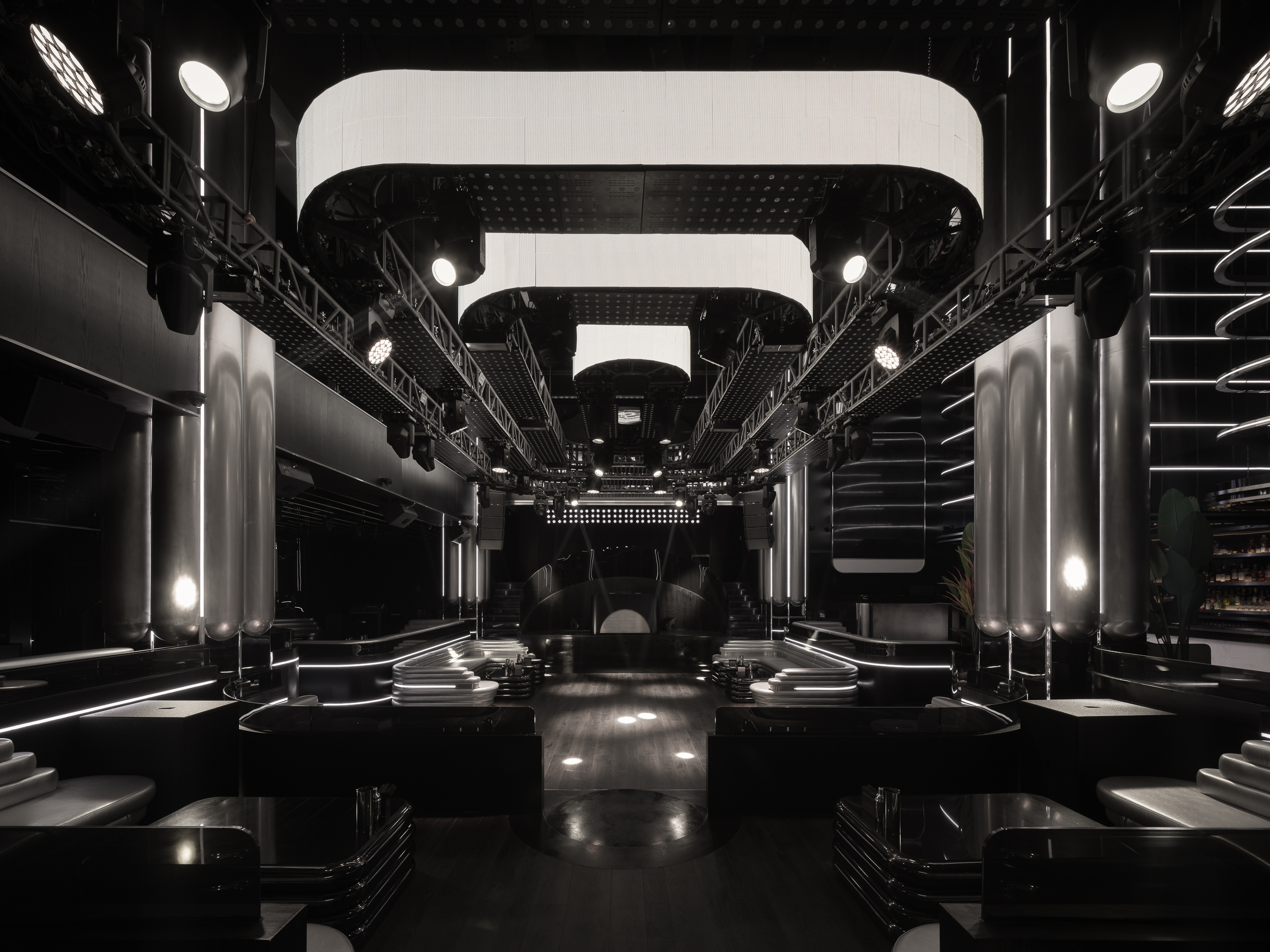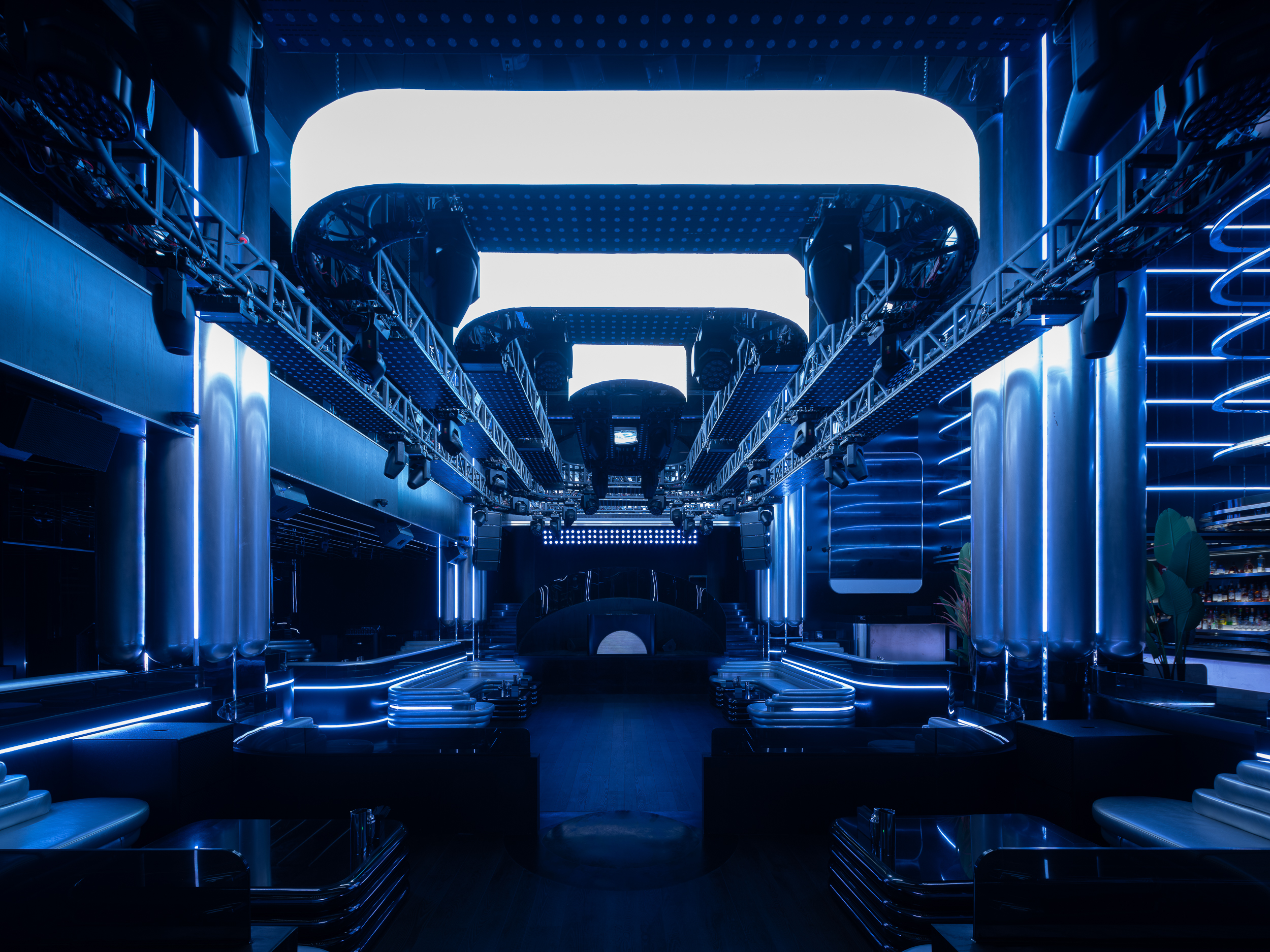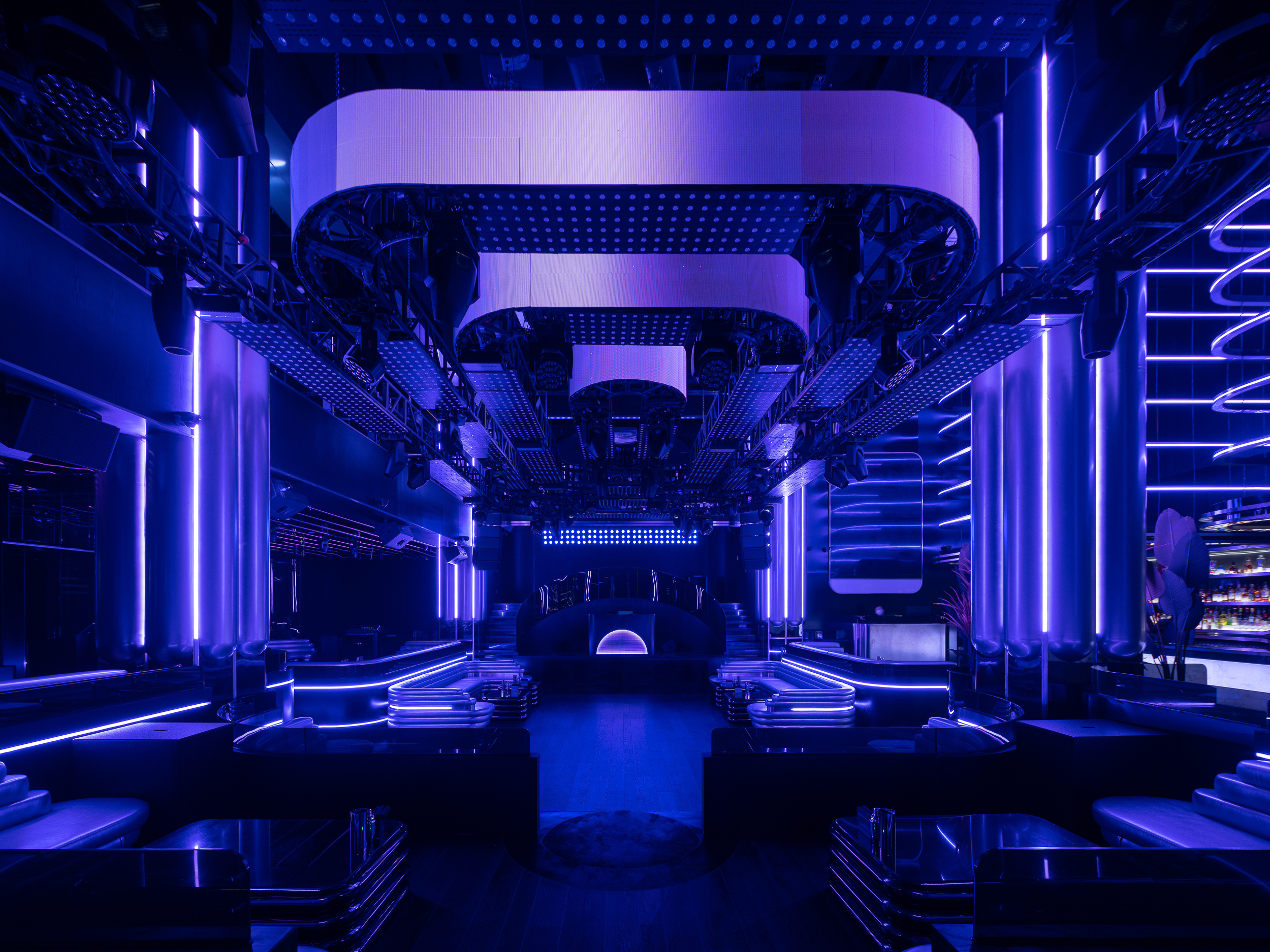 不同光色的灯光装置仿佛承载着不同的情绪,空间的意味随着色彩的变化而改变,每个人都能在其中寻求到属于自己的心灵释放。
The lighting installations of different light colors seem to carry different emotions, and the meaning of space changes with the changes of colors, and everyone can find their own spiritual release in it.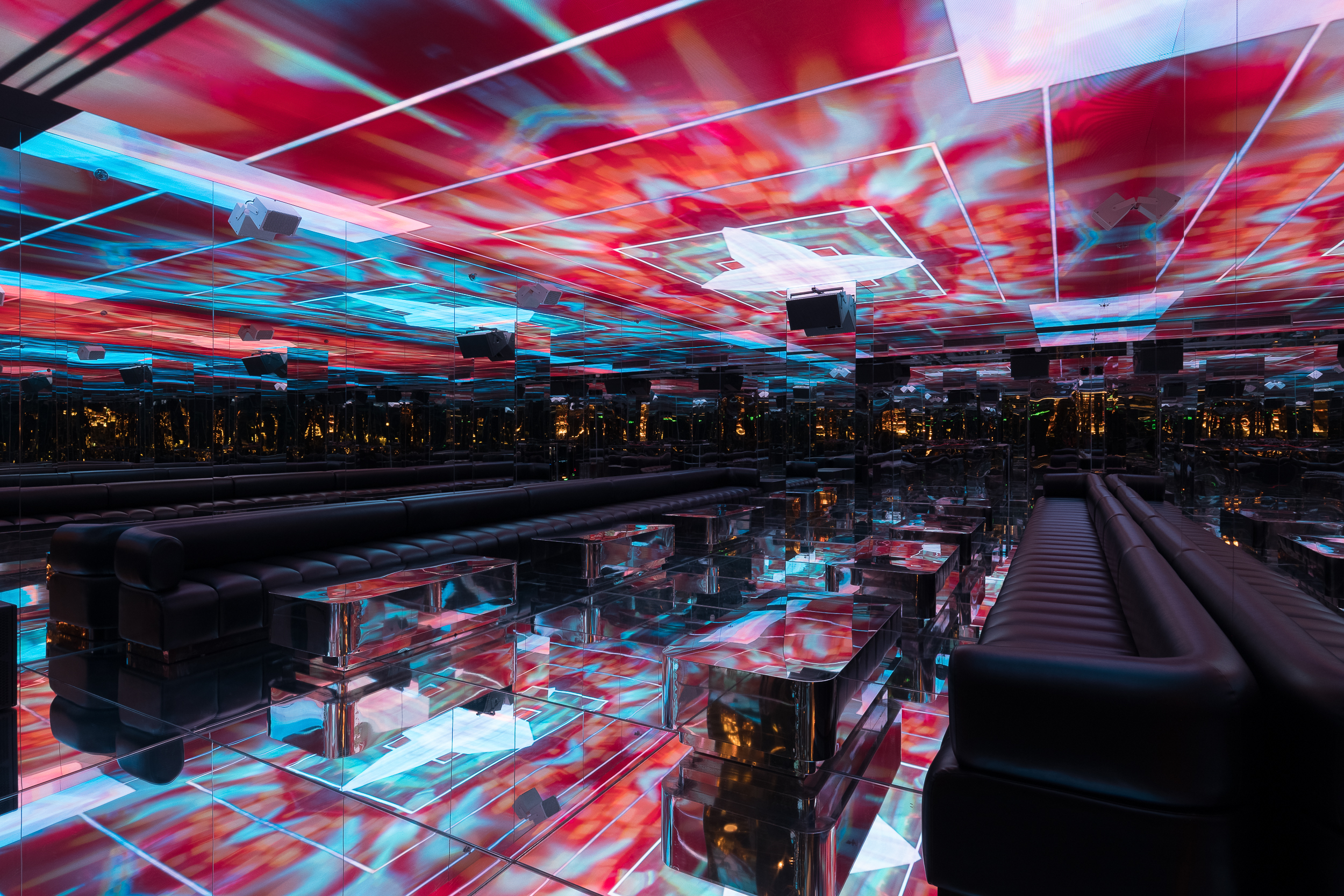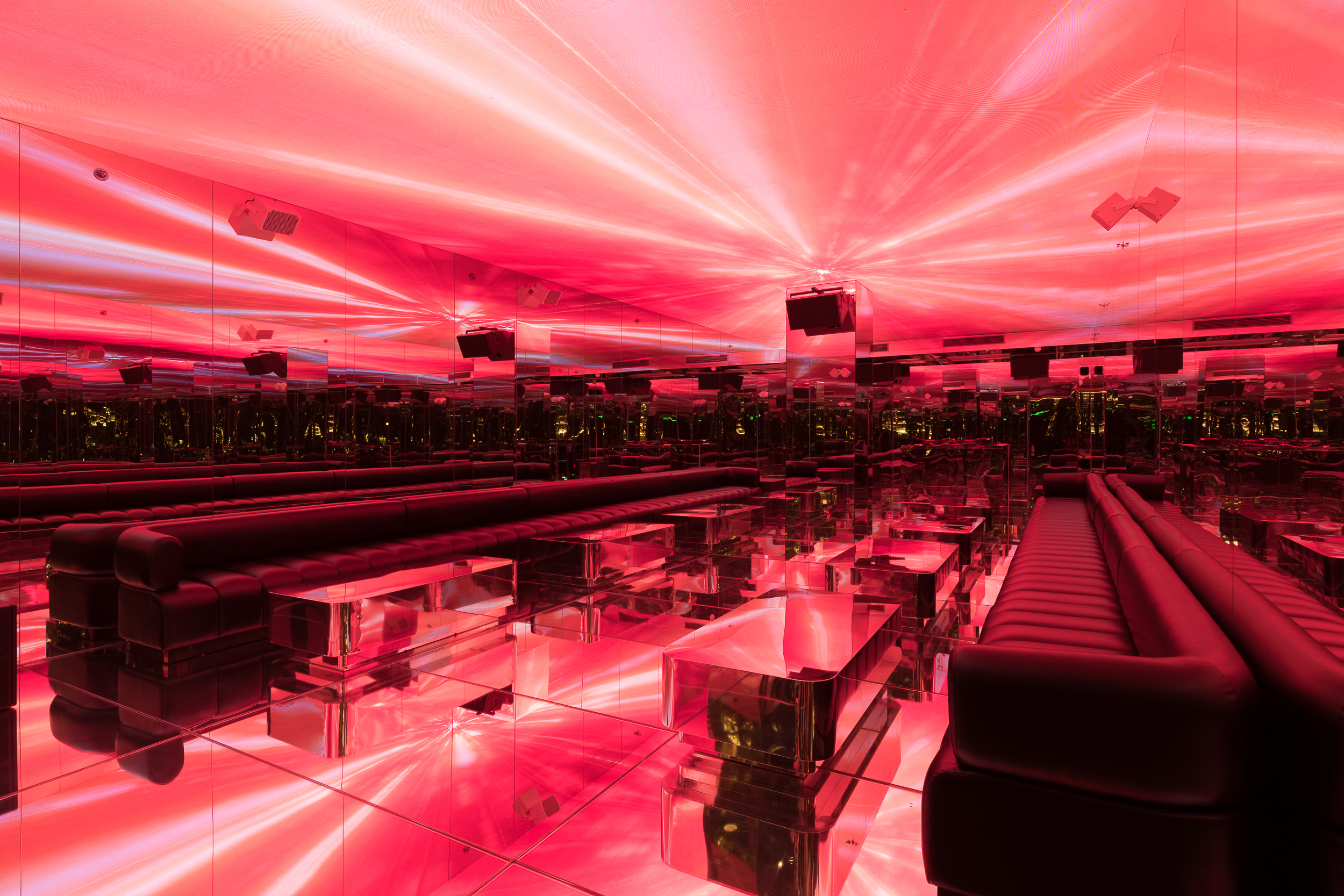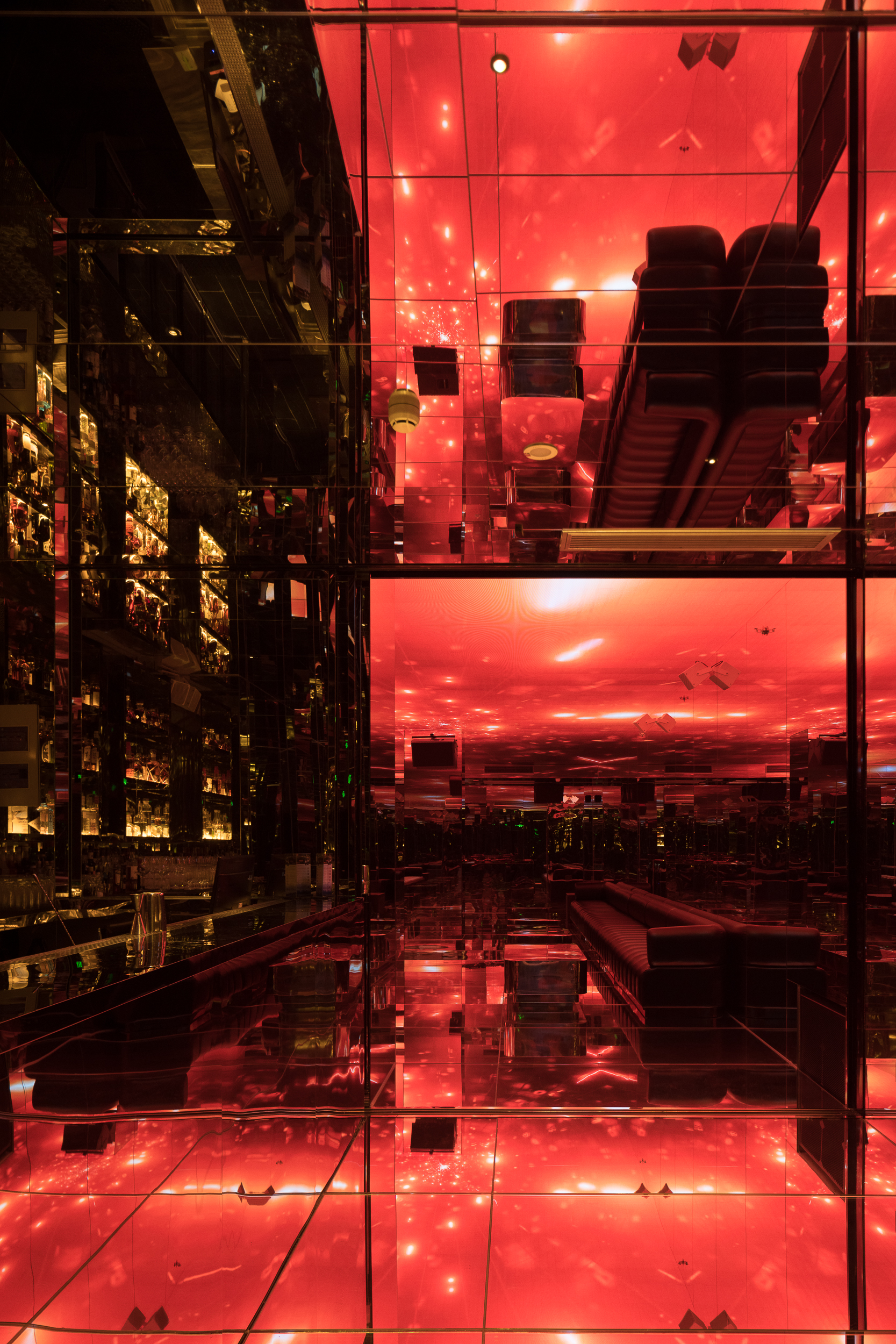 如同古剧场作为文化的载体,可以容纳精神和情绪甚至塑造人的性格。GRNDCNTRL从时代和城市背景切入空间,重塑一个戏剧化的"即兴现场",透过黑宝石般的眼睛,预想现代神经所必需的某种惊心动魄。
Just like the ancient theater as a carrier of culture, it can accommodate spirit and emotions and even shape people's character. GRNDCNTRL cuts into the space from the context of the times and the city to recreate a dramatic "improv scene" that envisions a certain kind of thriller necessary for modern nerves through black jewel-like eyes.
---