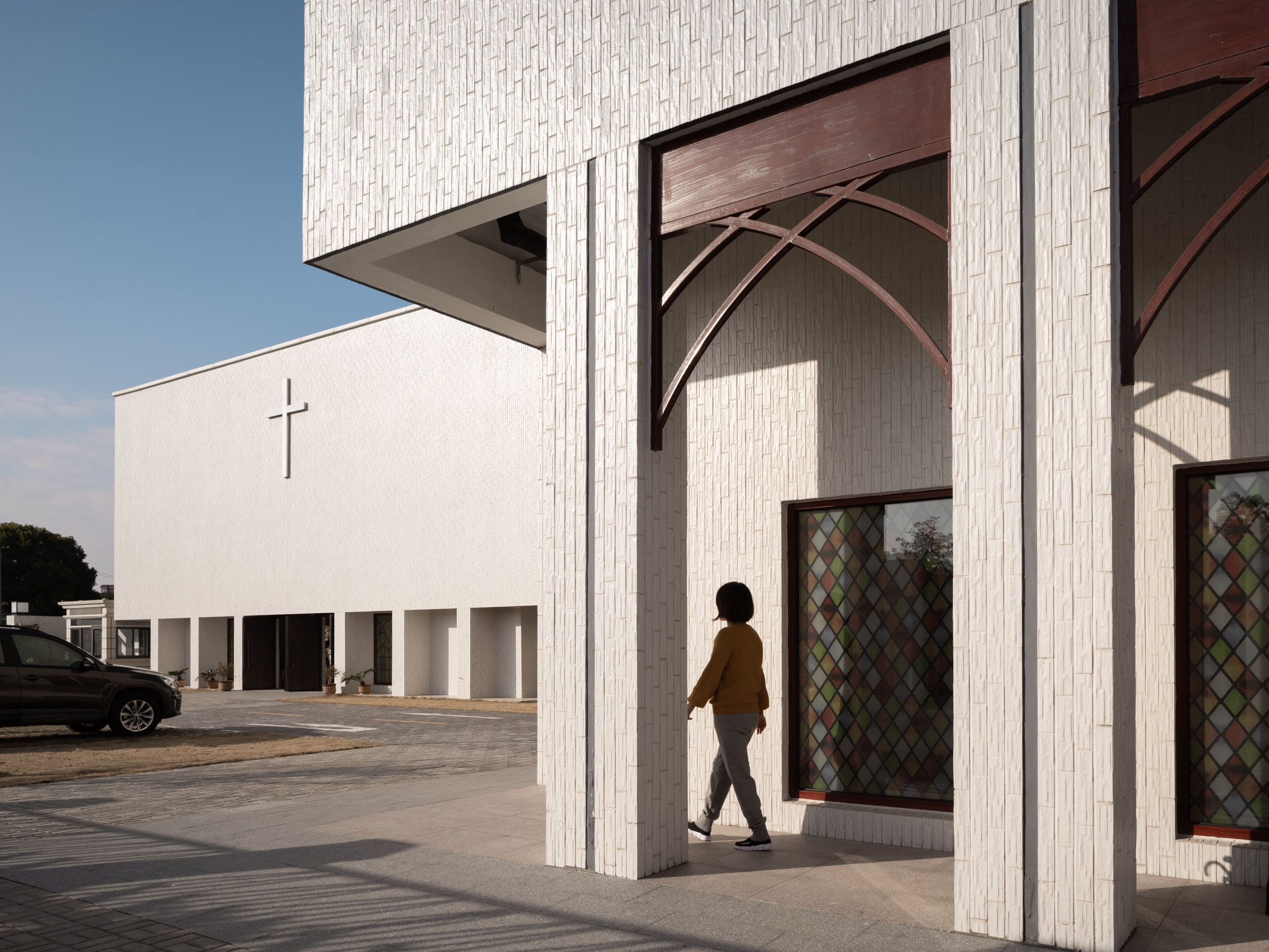 远离现代生活喧嚣的沉思之地。
A place for contemplation away from the hustle and bustle of modern life.
---
▼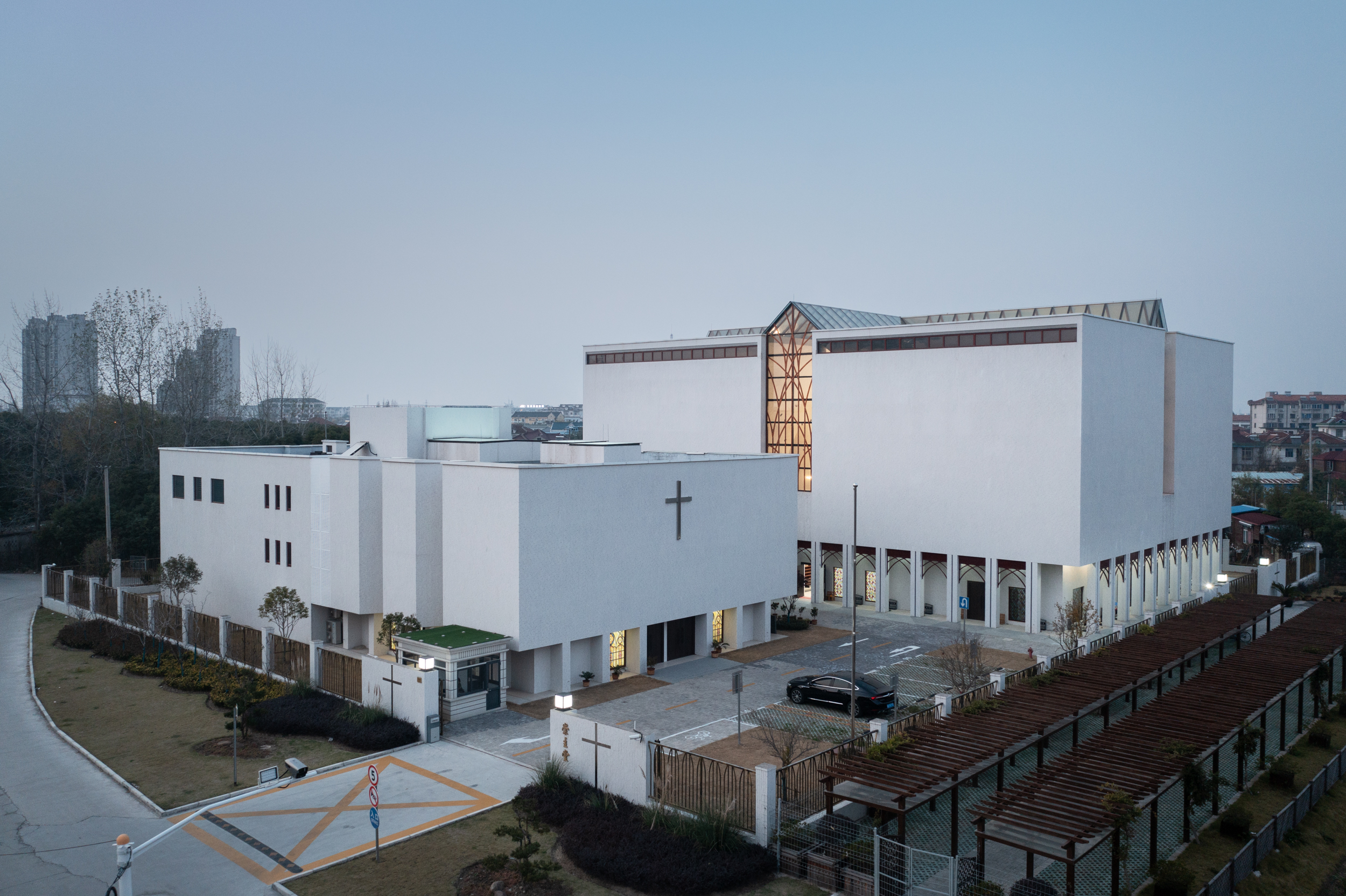 建筑设计方案由同济大学建筑设计院研究院集团有限公司设计,新堂由大礼拜堂、小礼拜堂、辅楼三部分组成,选取十字架为母题符号,强化出教堂建筑神圣的性格,并采用圣经中的完全数"七"向世人揭示基督的完全。
The architectural design plan is designed by TJAD. The new church is composed of three parts: a large chapel, a small chapel, and an auxiliary building. The cross is selected as the symbol to strengthen the sacred character of the church building, and adopts the biblical symbol the perfect number "seven" reveals the perfection of Christ to the world.
| 以现代手法构筑宗教灵魂 |
Constructing the Religious Soul with Modern Methods
▼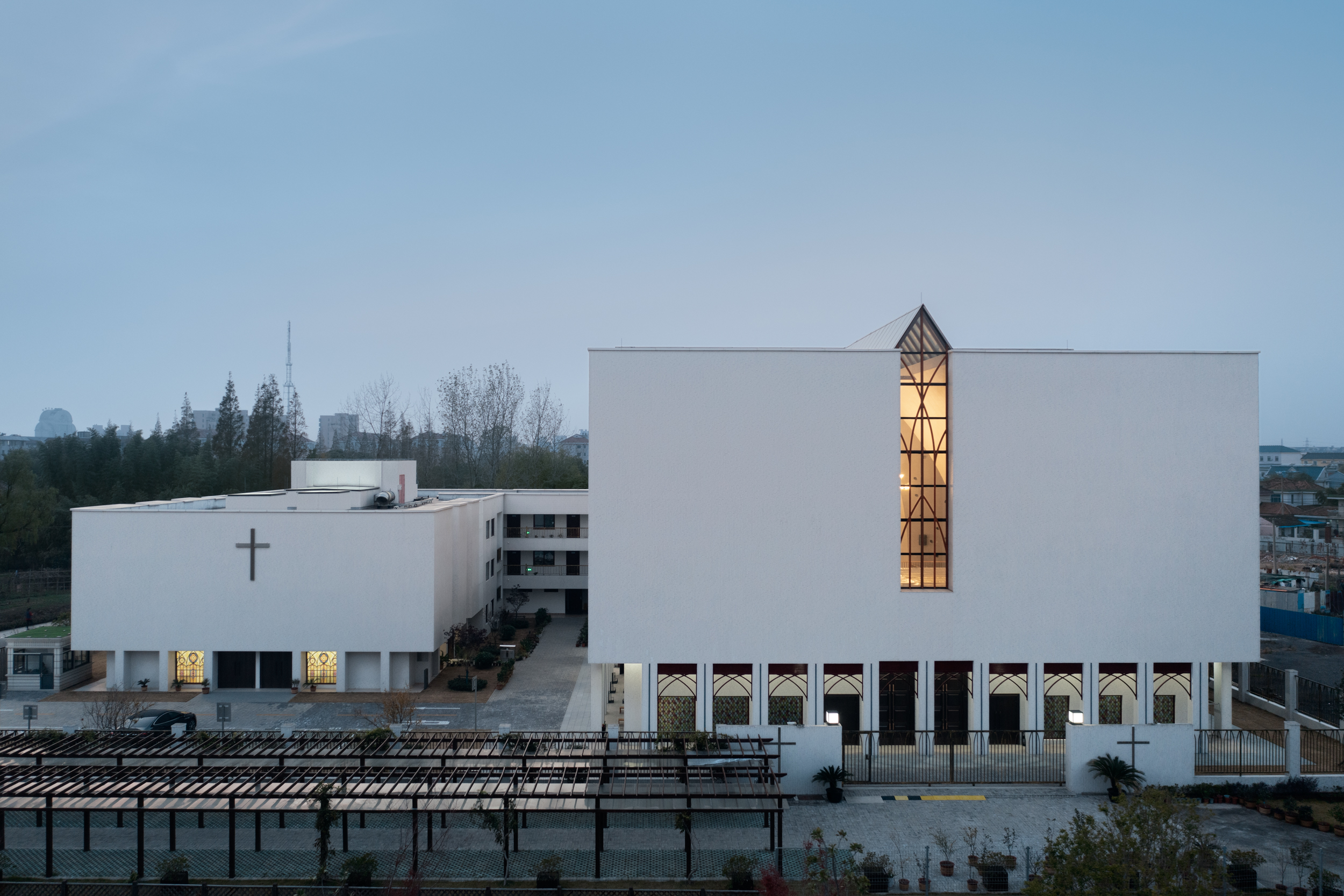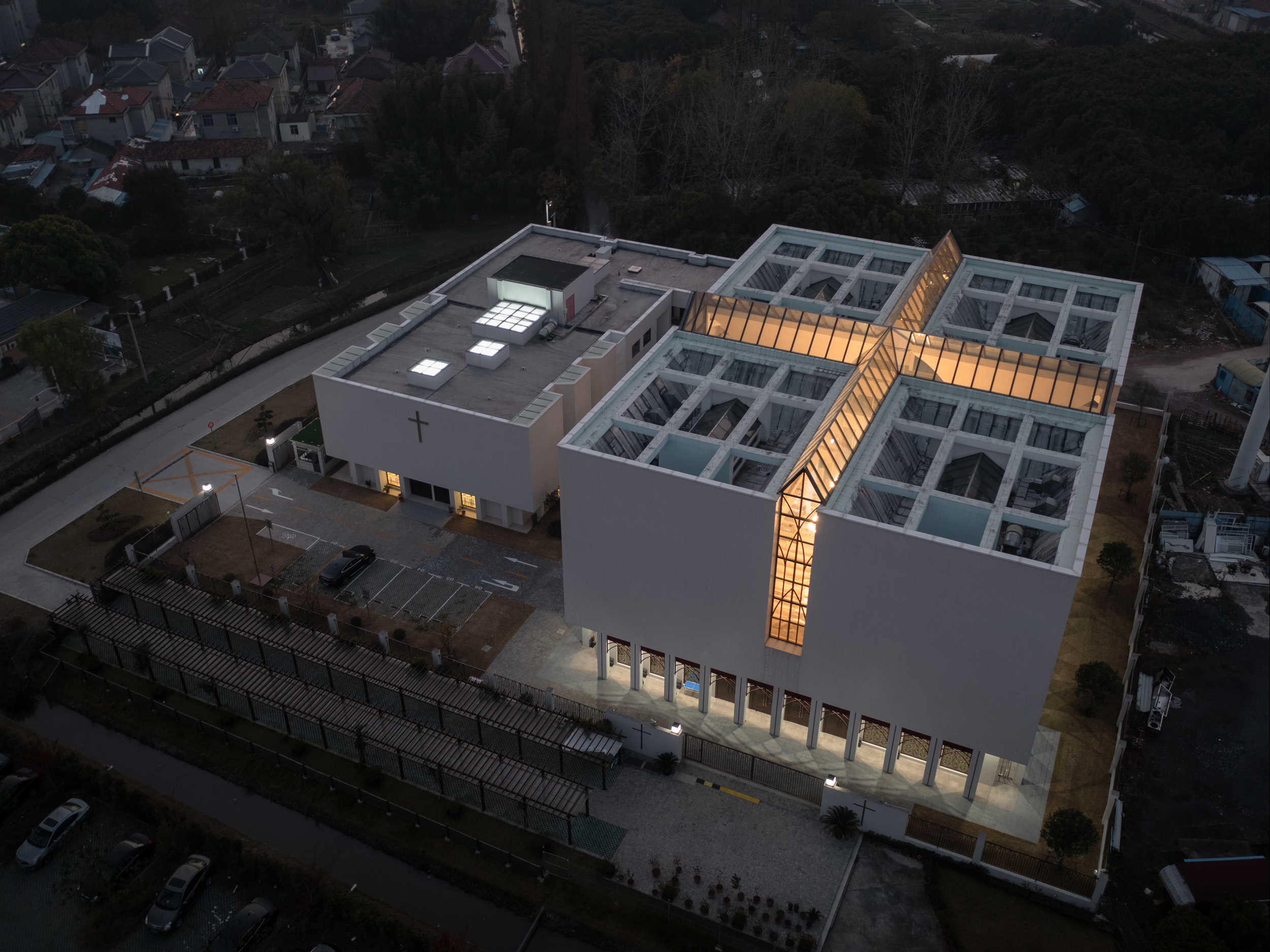 这座坐落于崇明区城桥镇湄洲路与花鸟路交界处的多功能现代化的基督教堂将会展现在我们面前,作为崇明区基督教总堂继续为崇明全区信教群众提供宗教信仰服务,在助推崇明世界级生态岛建设等方面作出新的贡献。
This multi-functional and modern Christian church located at the junction of Meizhou Road and Huaniao Road in Chengqiao Town, Chongming District will be displayed in front of us, as the center of Chongming District Christian Church. It will continue to provide religious services to the believers in Chongming District, and make new contributions to the construction of Chongming's world-class ecological island.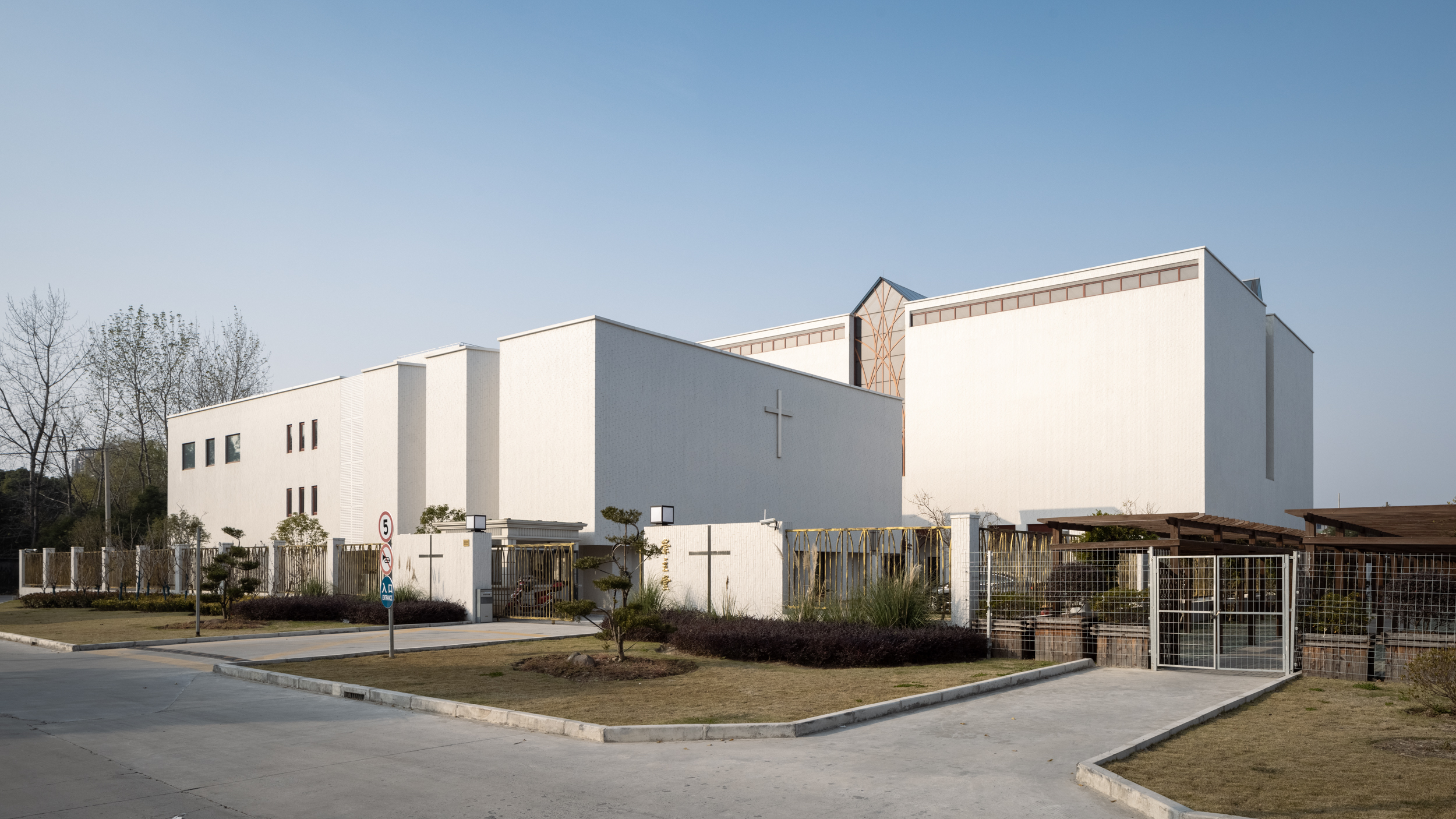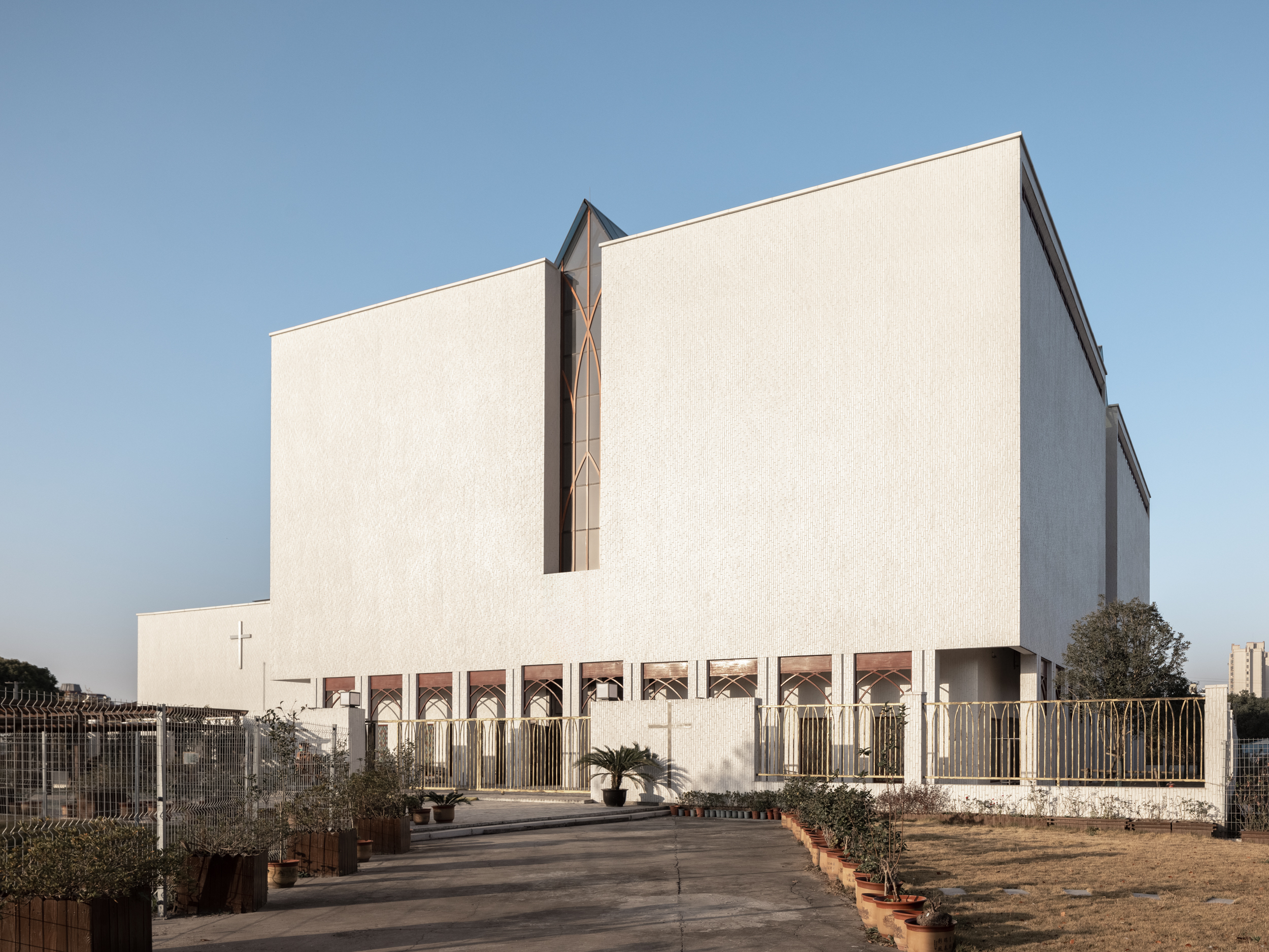 教堂建筑不能完全割离宗教建筑的特点,要保留一些宗教建筑传统的元素;要结合当地的景观,因地制宜,融入周边环境的整体规划中,在和谐中突出,而不是在对立中突出。
Church buildings cannot be completely separated from the characteristics of religious buildings, and some traditional elements of religious buildings must be preserved; they must be combined with the local landscape, adapted to local conditions, and integrated into the overall planning of the surrounding environment, so as to stand out in harmony rather than in opposition.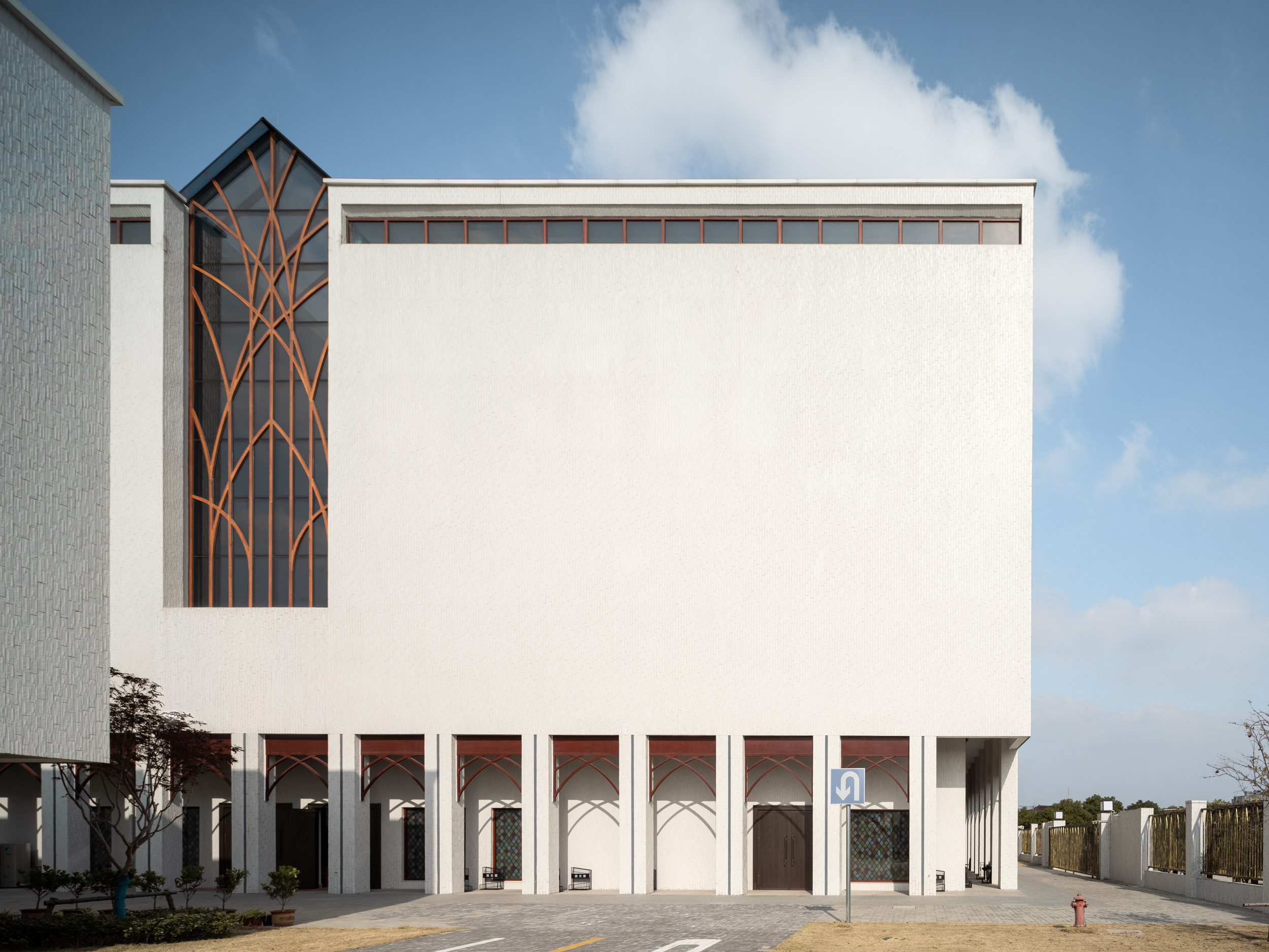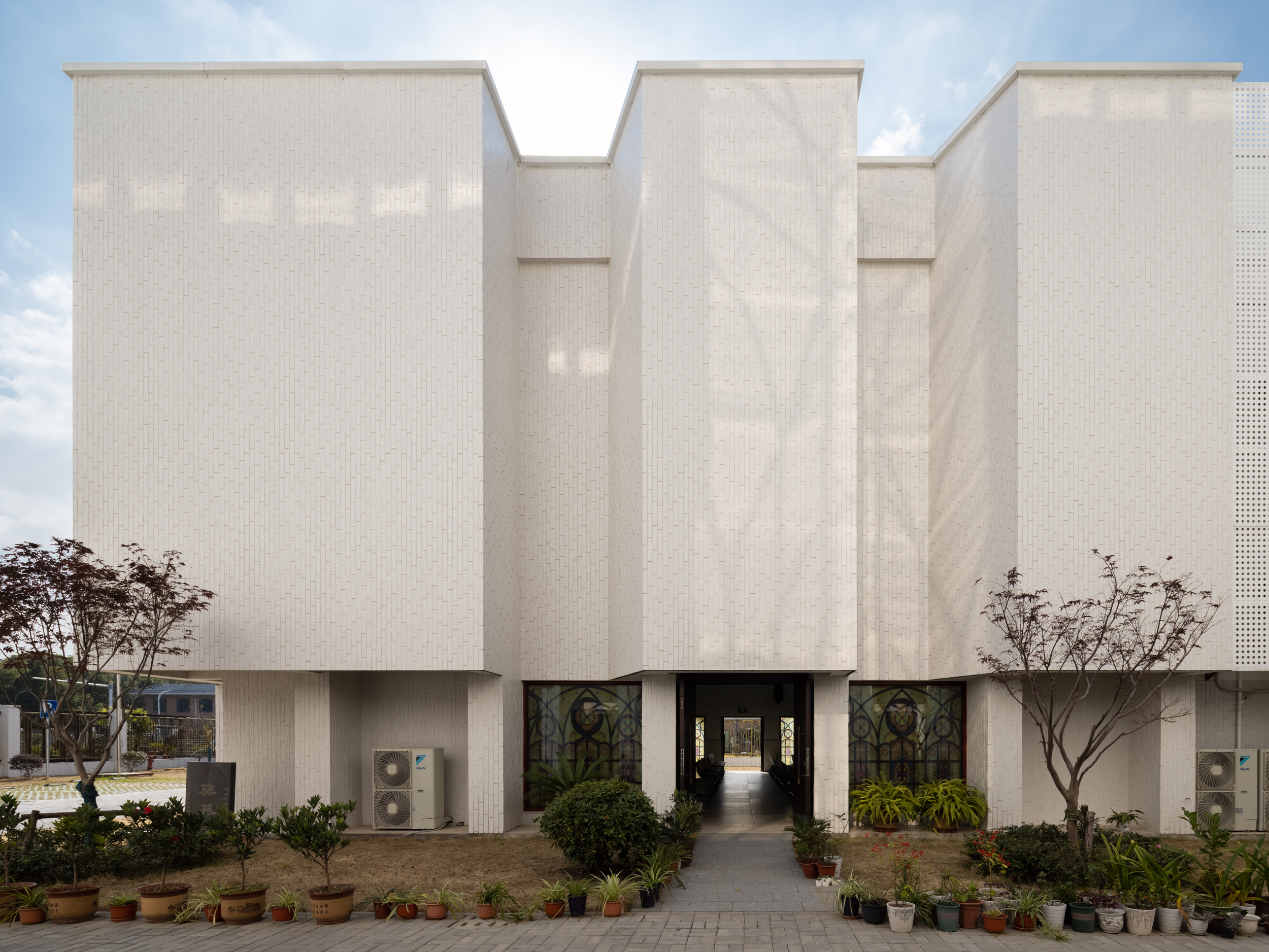 教堂的设计考虑到中西文化的交融,所以大胆采用现代的建筑语言来设计外立面,未中国大陆教堂设计立下新的诠释方式,以崭新的方法来荣耀宗教信仰。
The design of the church takes into account the blending of Chinese and Western cultures, so it boldly adopts modern architectural language to design the façade, and sets up a new interpretation method for the church design in mainland China, and uses a new method to honor religious beliefs.
| 以结构力量增添神圣性 |
Add Sanctity with Structural Power
▼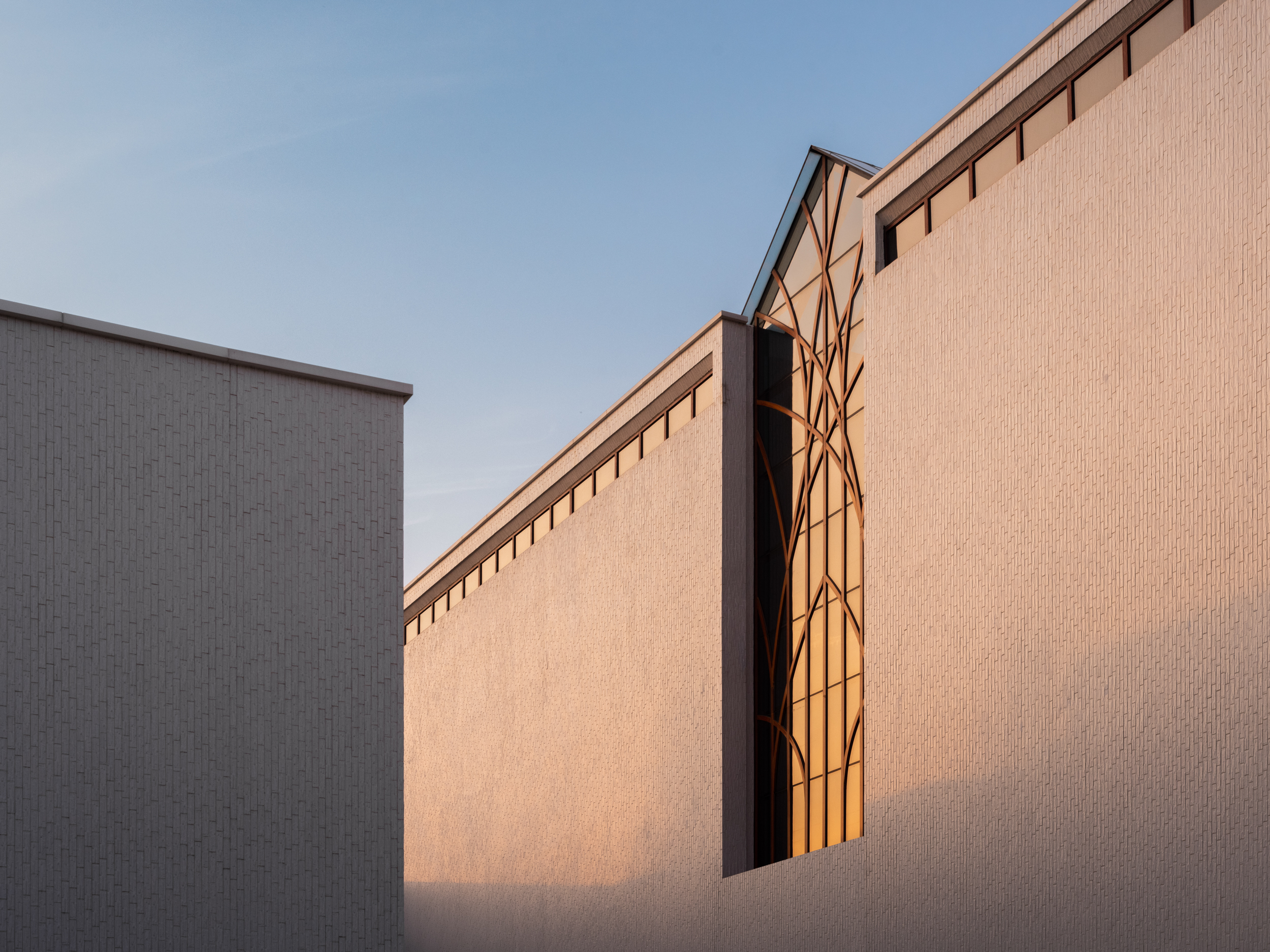 最简立面材料的使用去除了传统基督教的装饰与审美。除了顶部突出的十字架结构玻璃天窗外,教堂由纯净的白色外壳包裹,由此产生的沐浴在光下的空间更是一个更加深沉且引人深思的信仰之所。
The use of minimal facade materials removes traditional Christian decoration and aesthetics. In addition to the protruding cross-structured glass skylight at the top, the church is wrapped in a pure white shell, and the resulting space bathed in light is a more profound and thought-provoking place of faith.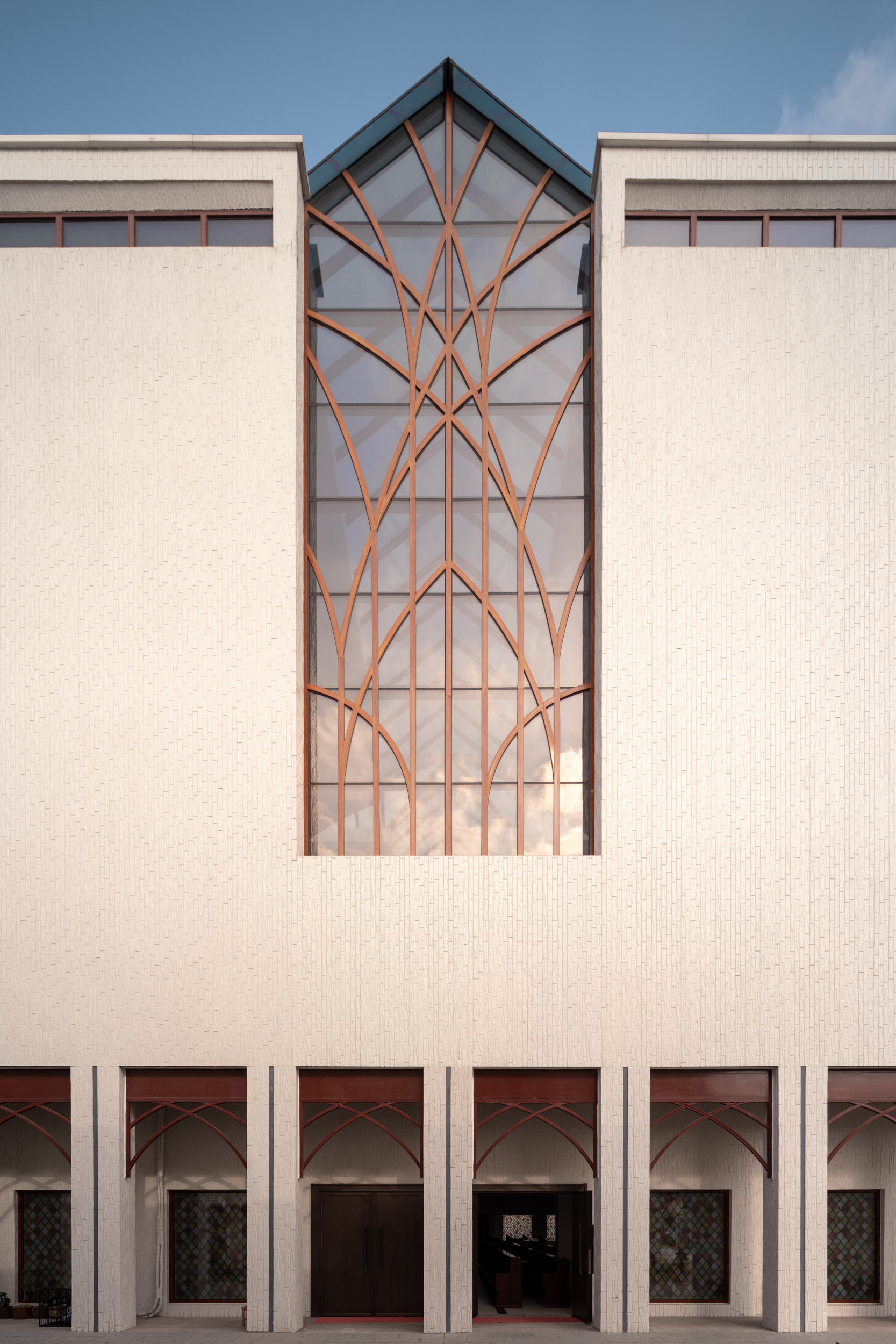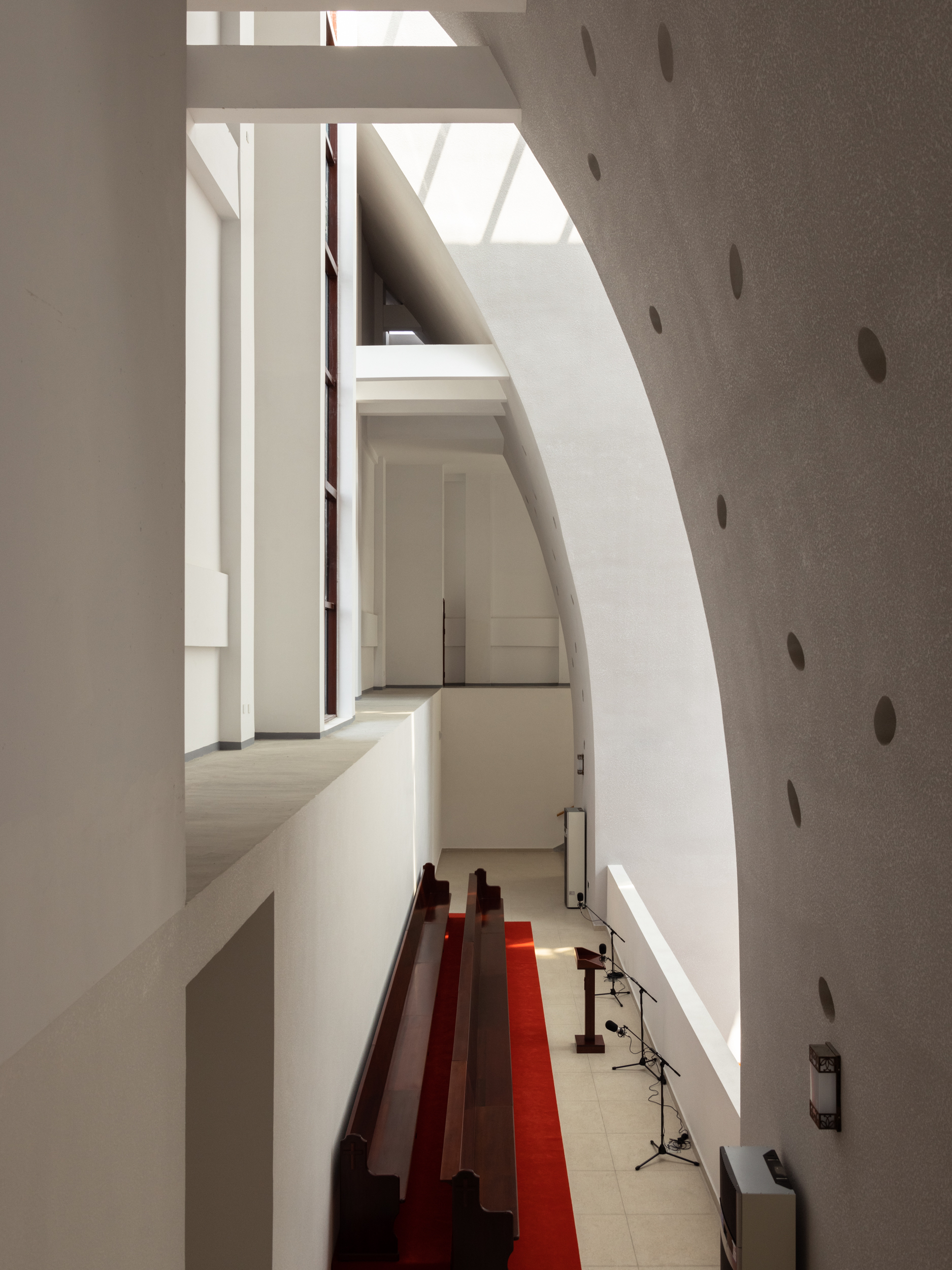 崇主堂代表着建筑的双重性,即所有的存在中二元的本质——虚实、明暗、动静。
Chongzhu Church represents the duality of architecture, that is, the duality of all existences – virtual and real, light and dark, movement and stillness.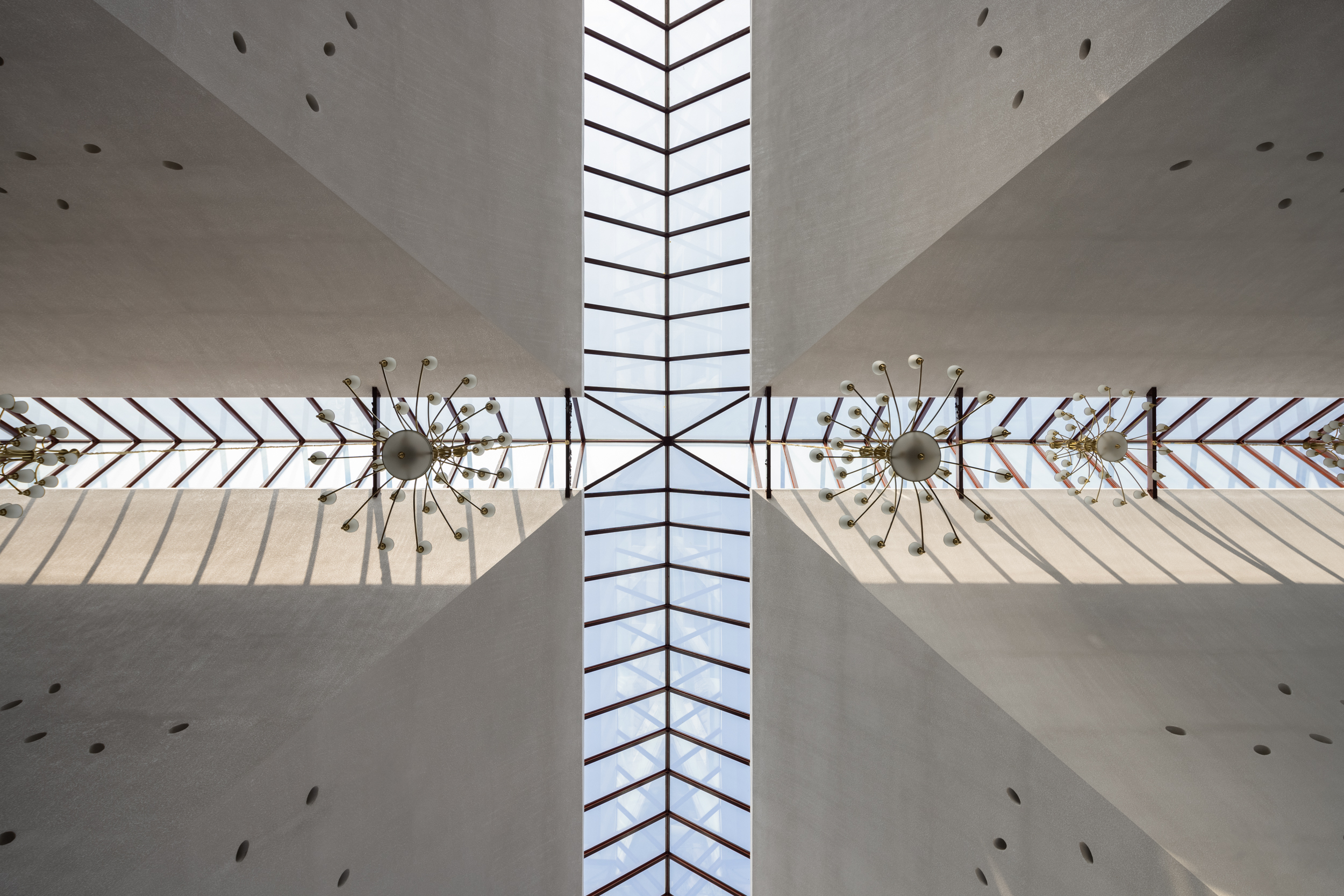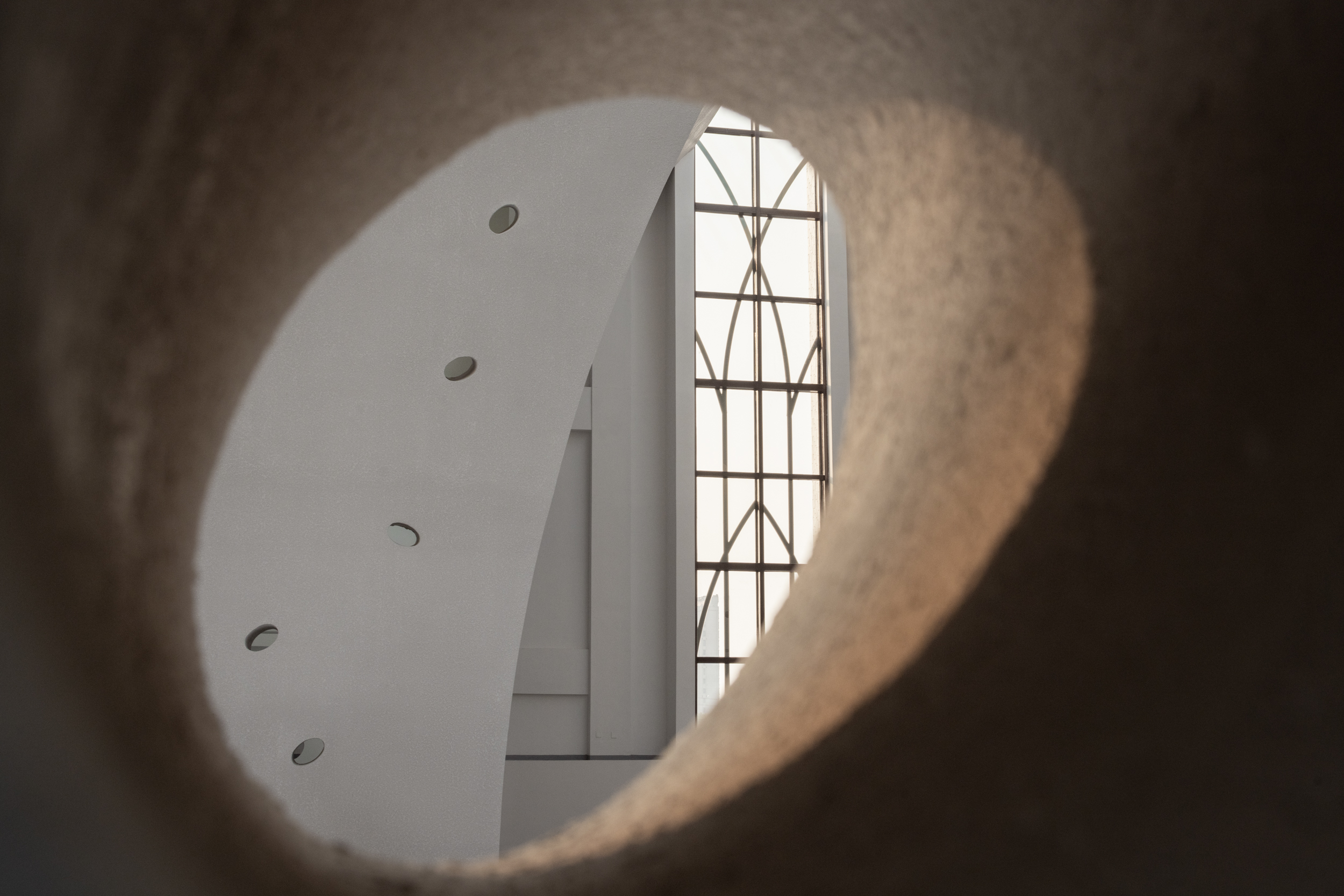 共存的差异使得教堂剥去了所有装饰,空留一个纯净朴素的空间。光与实体的交汇凸显了人们内在的精神与世俗意识。
The coexisting differences make the church stripped of all decorations, leaving a pure and unadorned space. The intersection of light and substance highlights the spiritual and mundane consciousness within people.
| 与光影共生的纯净空间 |
A Pure Space Coexisting with Light and Shadow
▼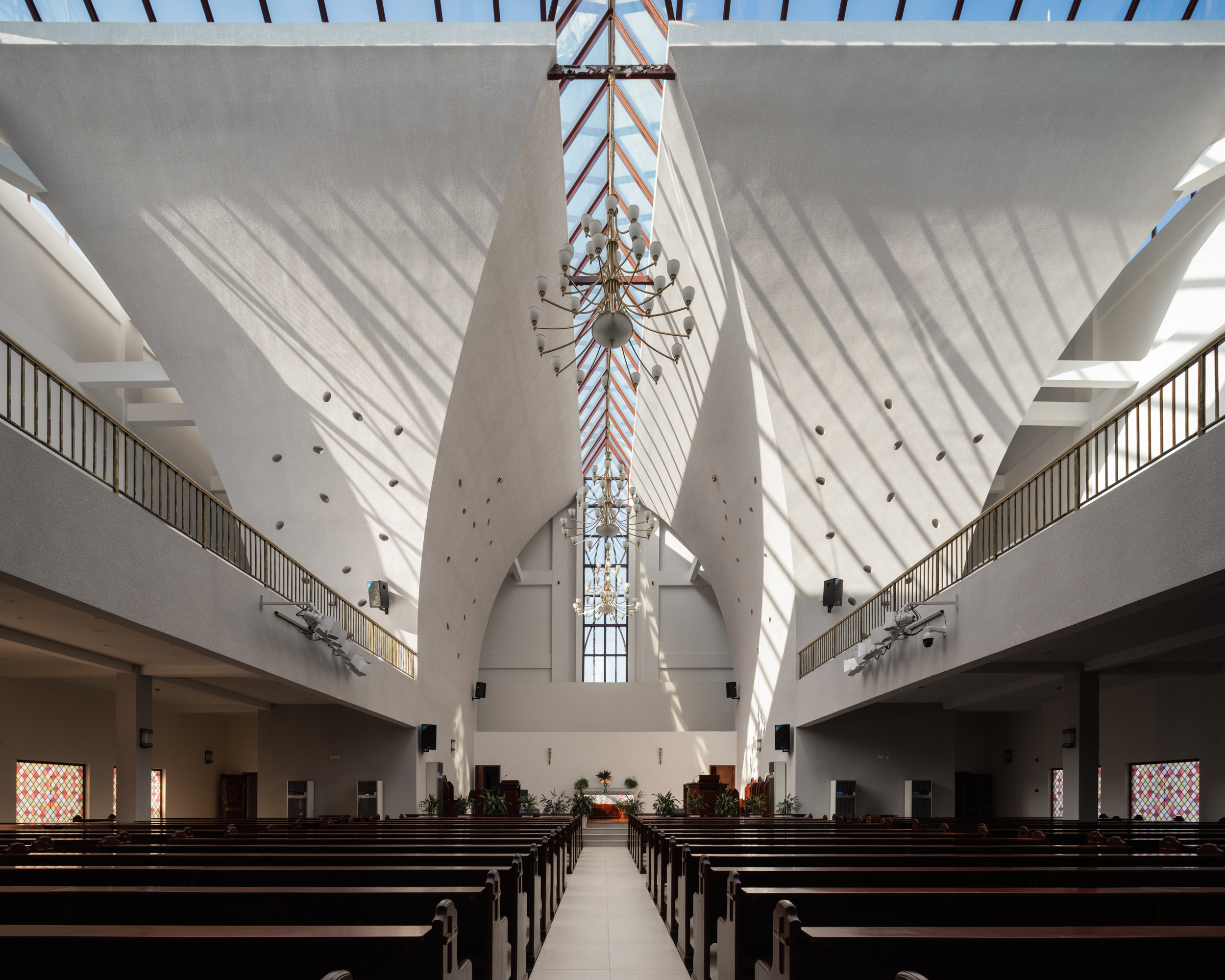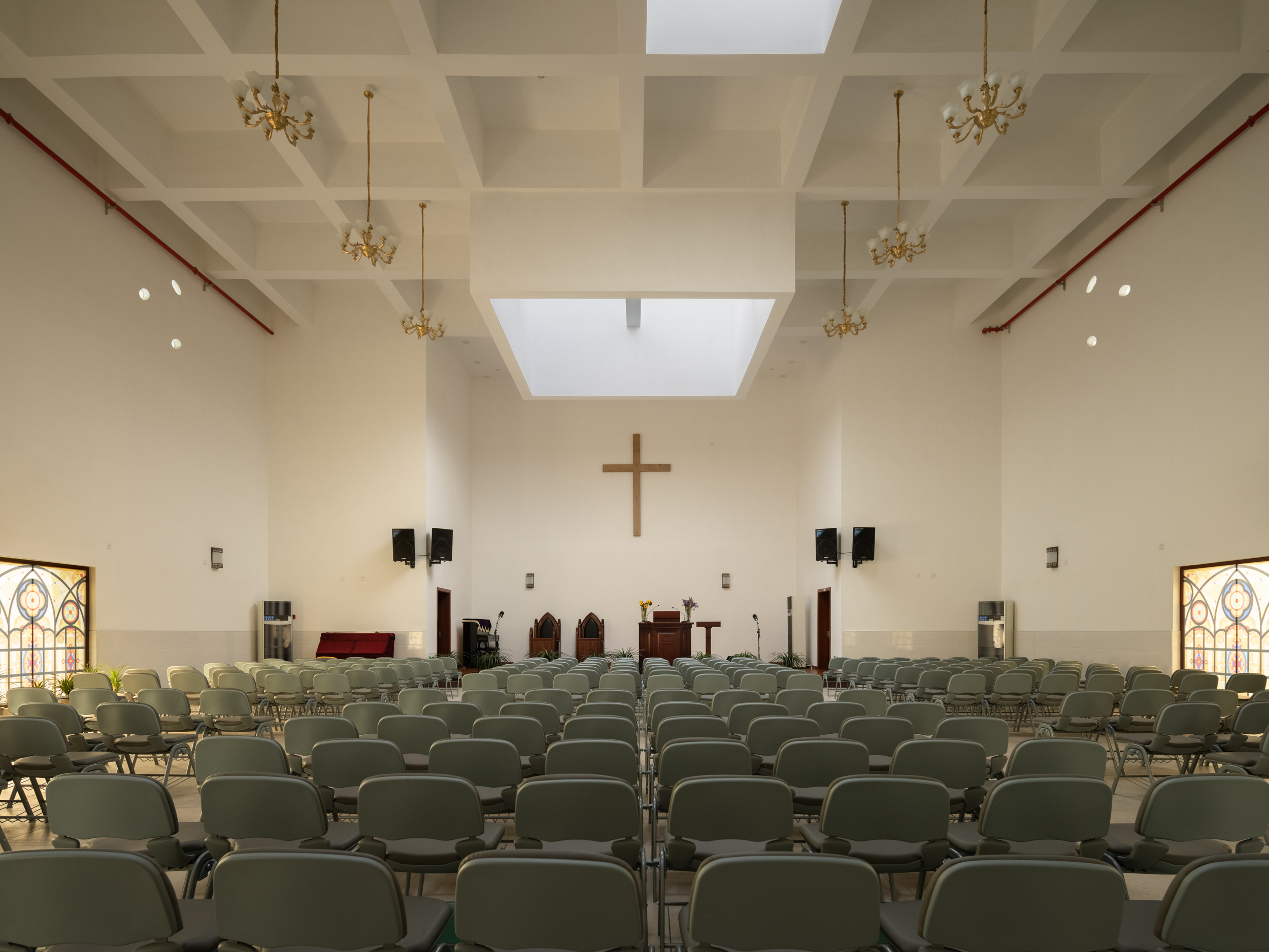 崇主堂的室内设计特别强调对"光"的运用,无论白昼与黑夜,灯光与自然光的交相辉映,给人一种心灵的震撼。
The interior design of Chongzhu Church emphasizes the use of "light". No matter day or night, lighting and natural light complement each other, giving people a kind of spiritual shock.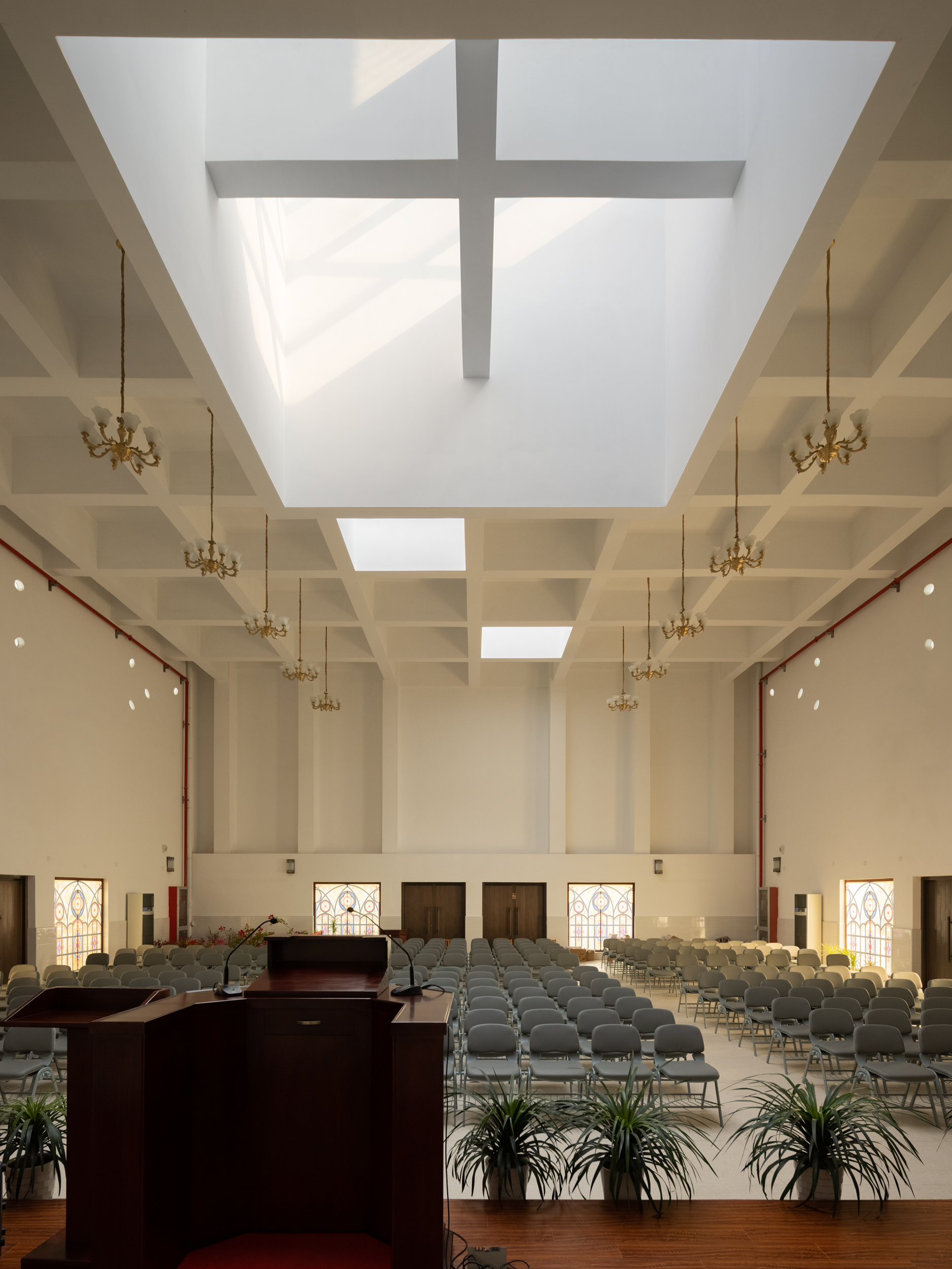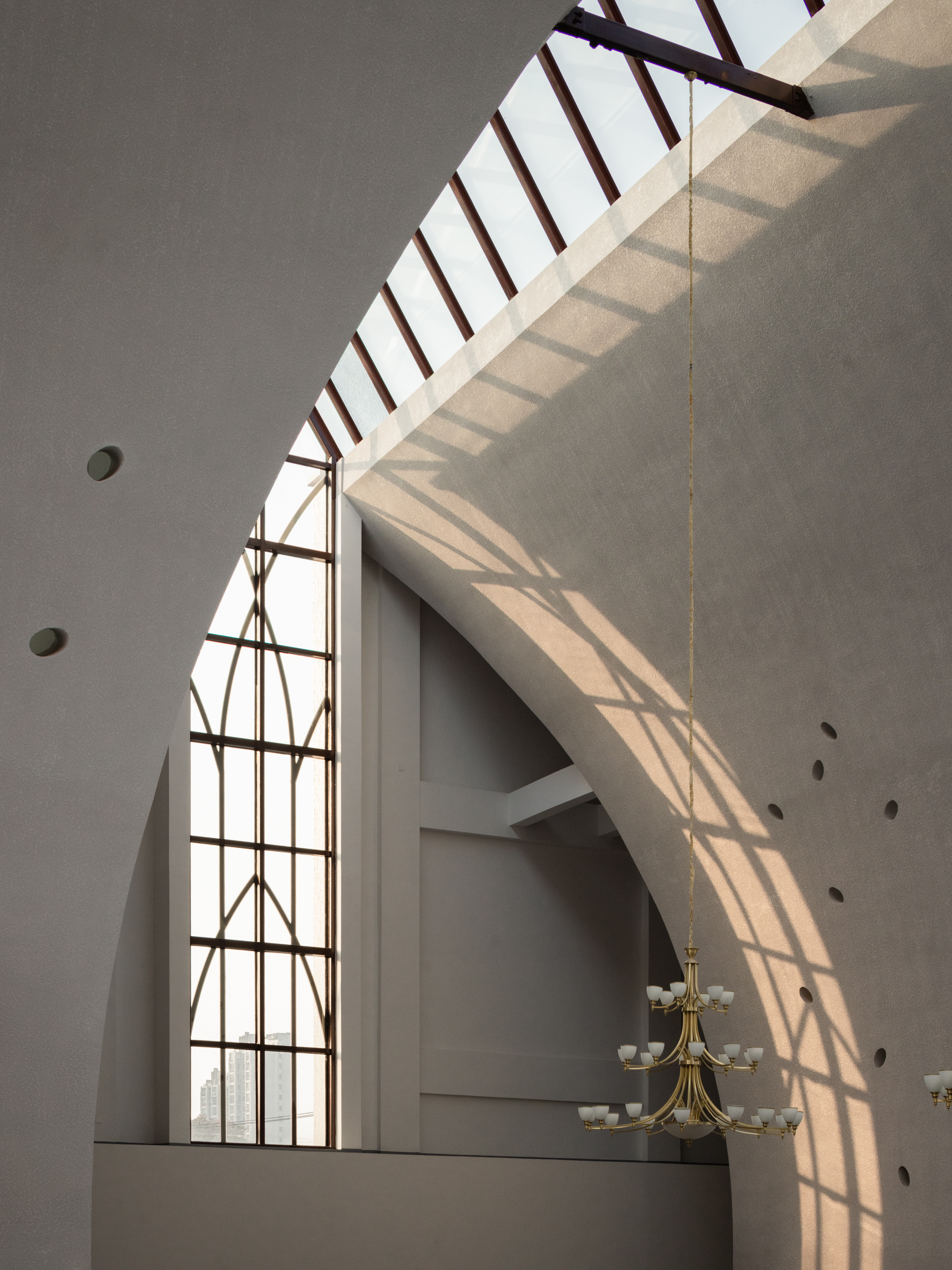 主礼拜堂和次礼拜堂分别以不同形式将十字架元素融入屋顶设计,明亮的天光从中透过,在弧形的屋顶衬托下,刚柔相济,具有很大的感染力。
The main chapel and the secondary chapel respectively incorporate the cross element into the roof design in different forms, and the bright sky light penetrates through it.
---