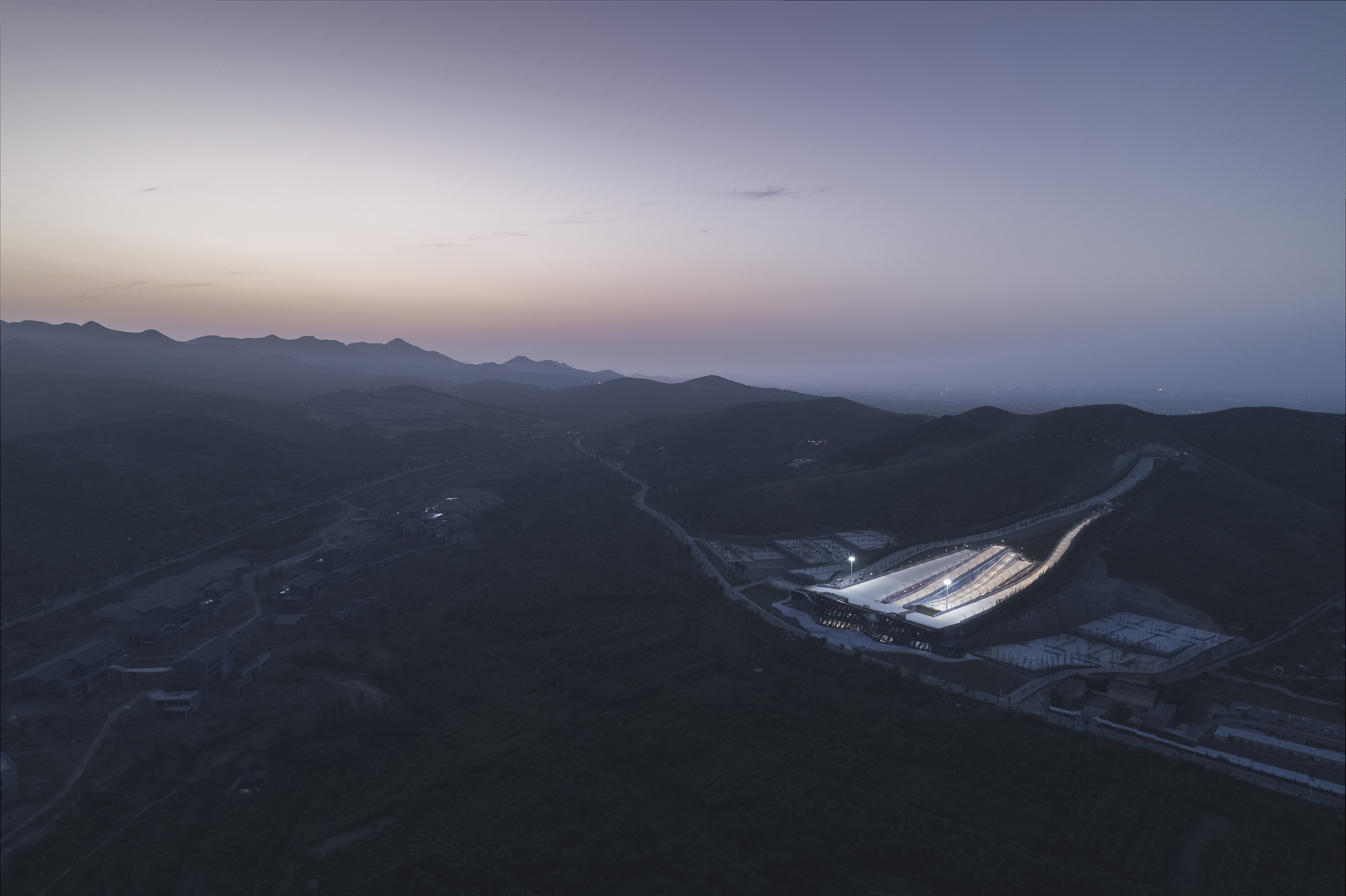 寄运动情怀于山之巍峨之间。
Send sports feelings between the towering mountains.
---
▼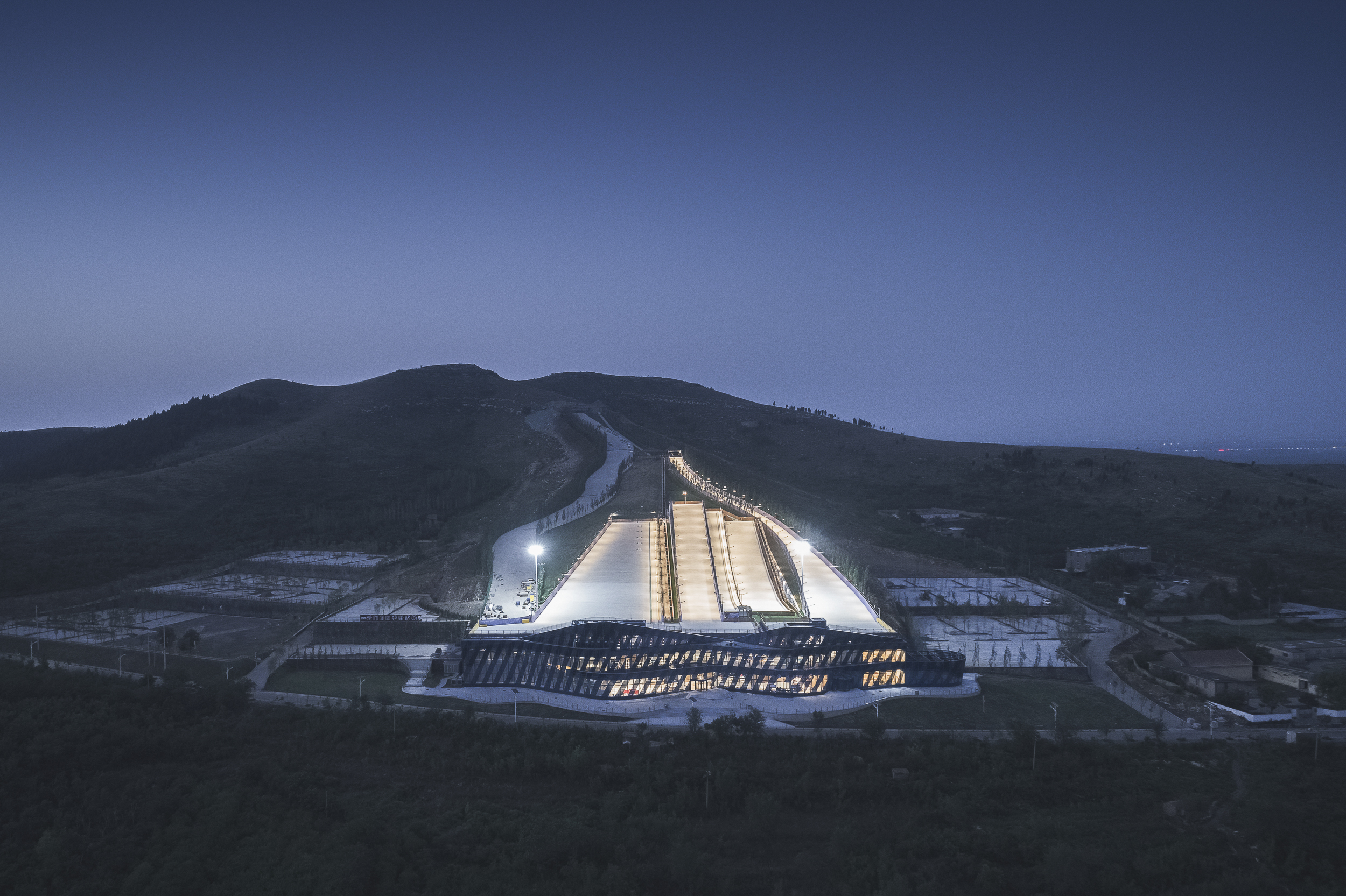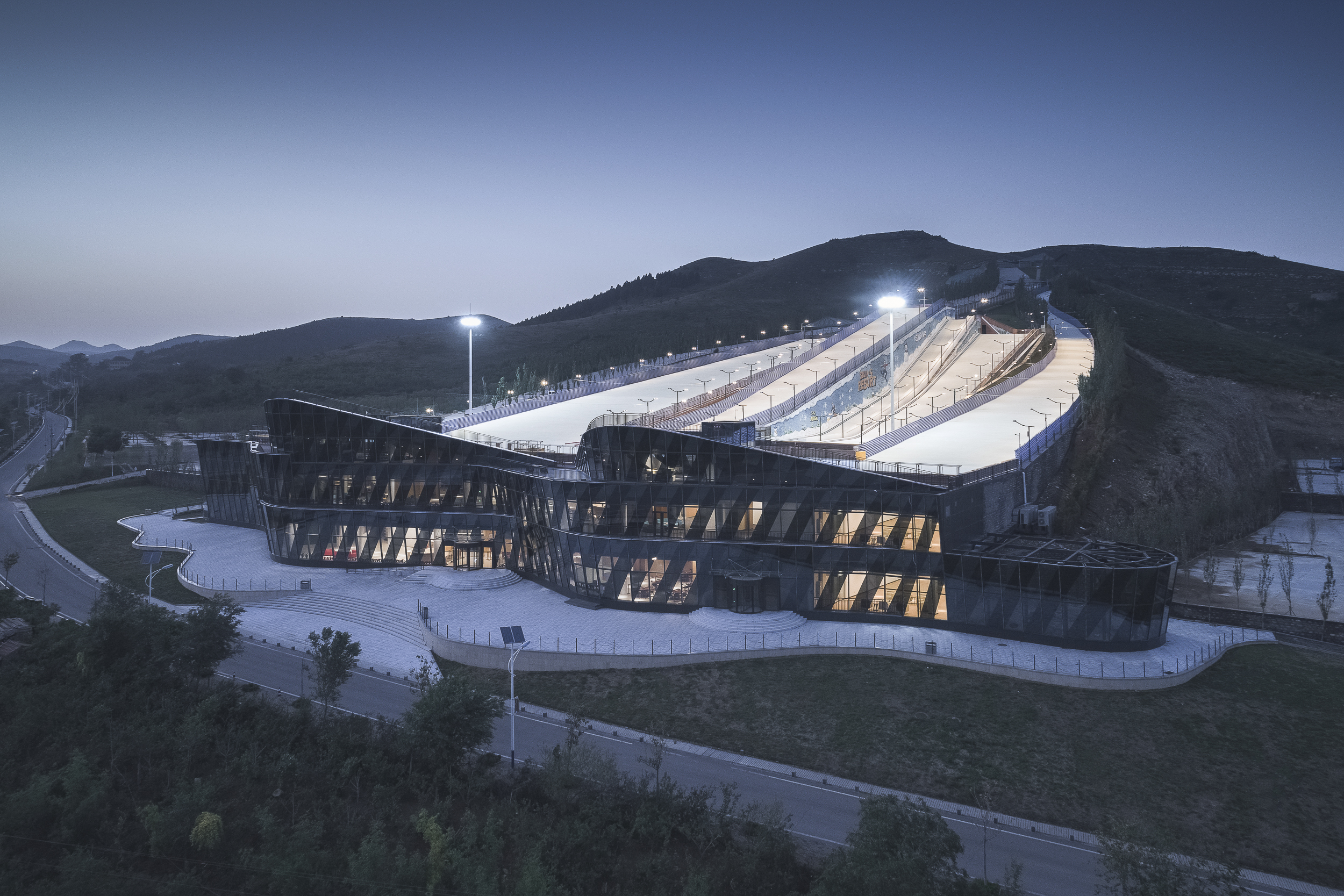 作为目前亚洲最大的旱雪滑雪场,云门山四季滑雪场项目位于齐鲁巍巍山峦之中,紧挨着国家4A级云门山景区。游客们在运动之余,也能欣赏群山巍峨的自然风光。
As the largest dry ski resort in Asia, the Yunmen Mountain Four Seasons Ski Resort project is located in the mountains of Qilu, next to the national 4A-level Yunmen Mountain Scenic Spot. In addition to exercising, tourists can also enjoy the majestic natural scenery of the mountains.
| 形态 · 隐于群山 |
Hidden in the Mountains
▼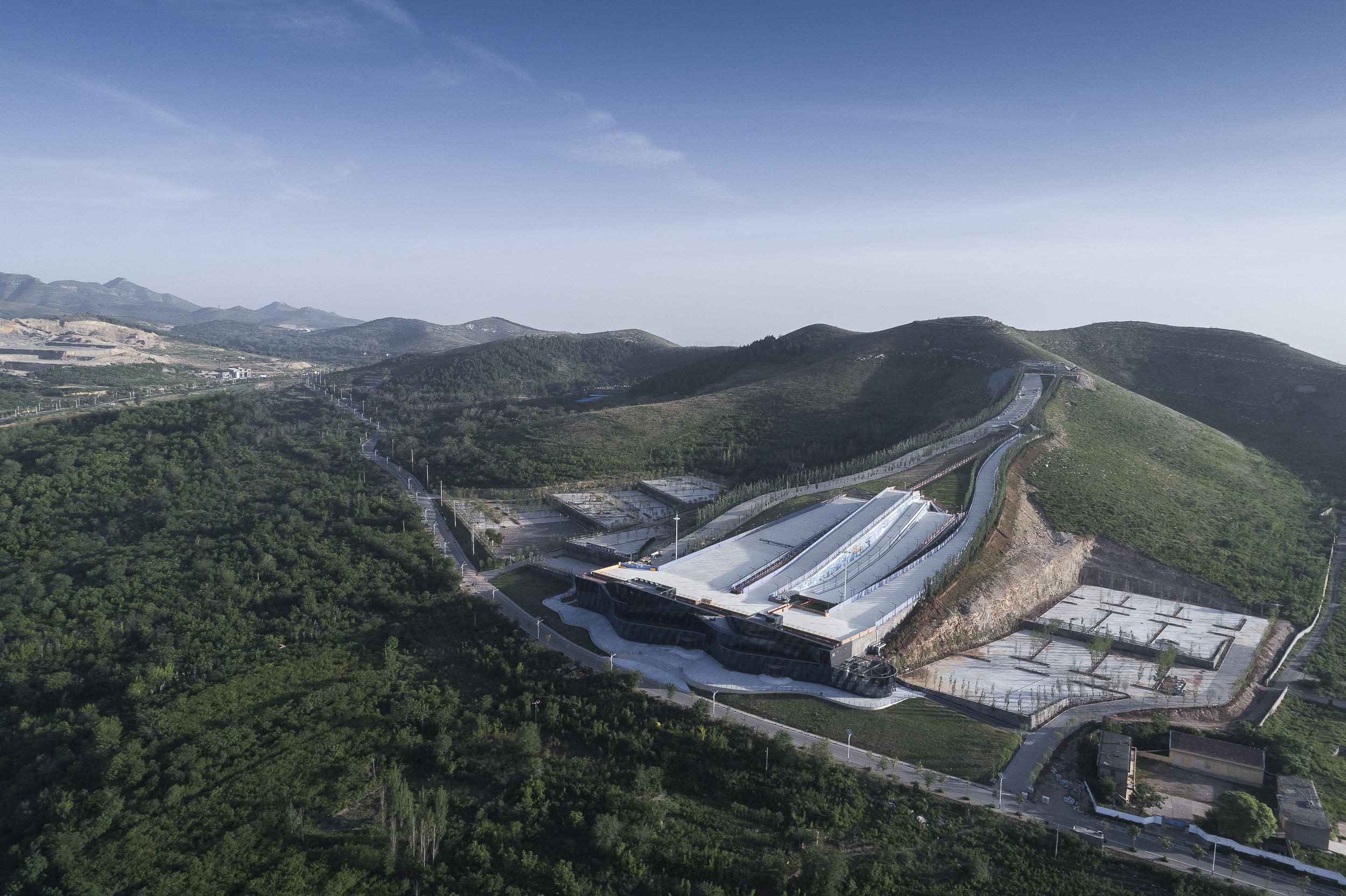 在群山之中,场地期待着一种建筑与众山峦融为一体的处理方式,而不是冒进的形态,在自然之中格格不入。
Among the mountains, the site expects a way of dealing with the integration of the building and the mountains, rather than a rash form that is out of tune with nature.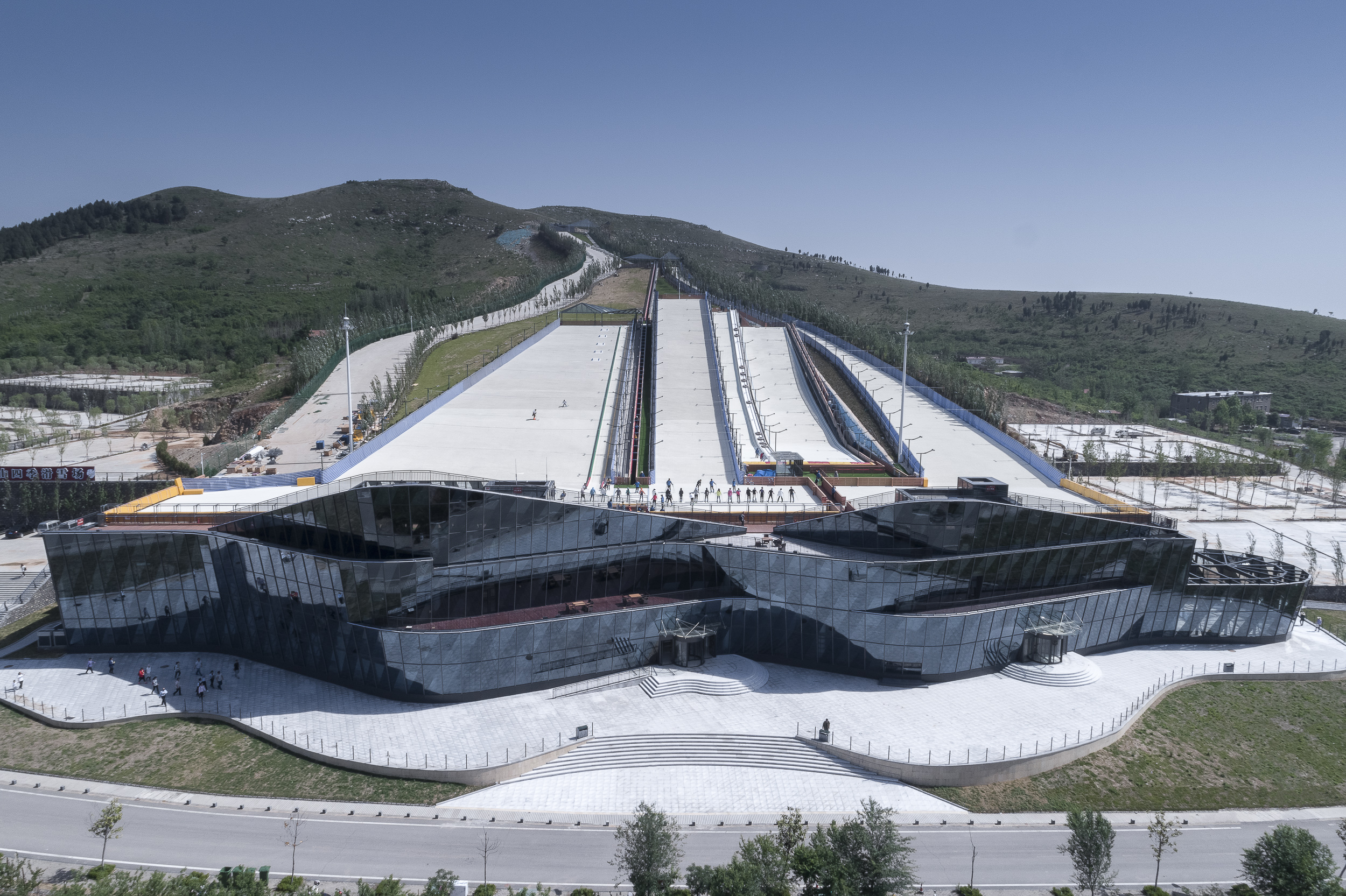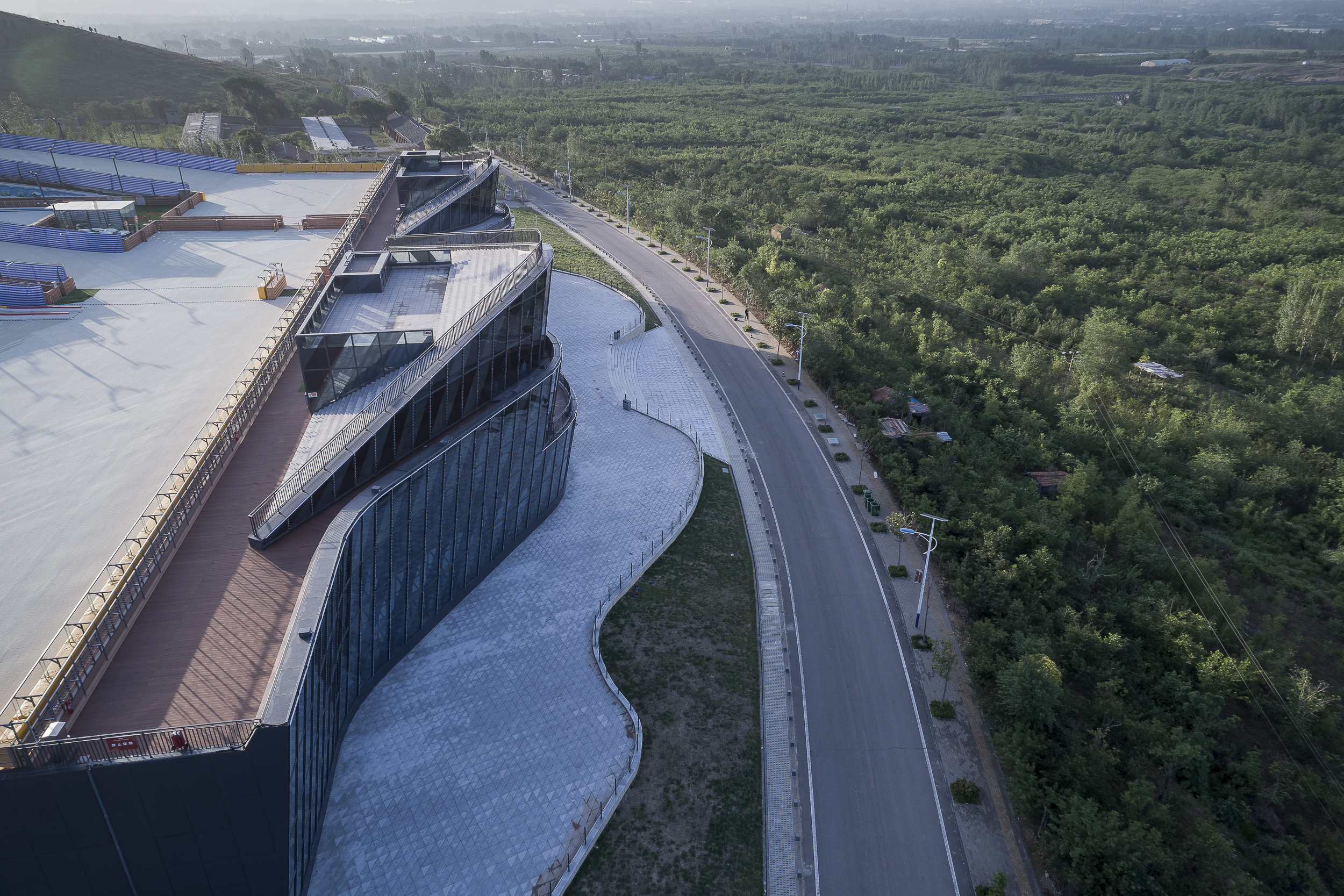 在宏观尺度上,基地位于大马山的南向山脊之上,自上向下的运动过程视线开阔,任何人工的建设都更容易被察觉,因此建筑本身应尽量予以隐藏。
On the macro scale, the base is located on the south-facing ridge of Dama Mountain. The movement from top to bottom has a wide line of sight, and any artificial construction is easier to detect. Therefore, the building itself should be hidden as much as possible.
| 界面 · 如山之澜 |
Interface Like A Mountain
▼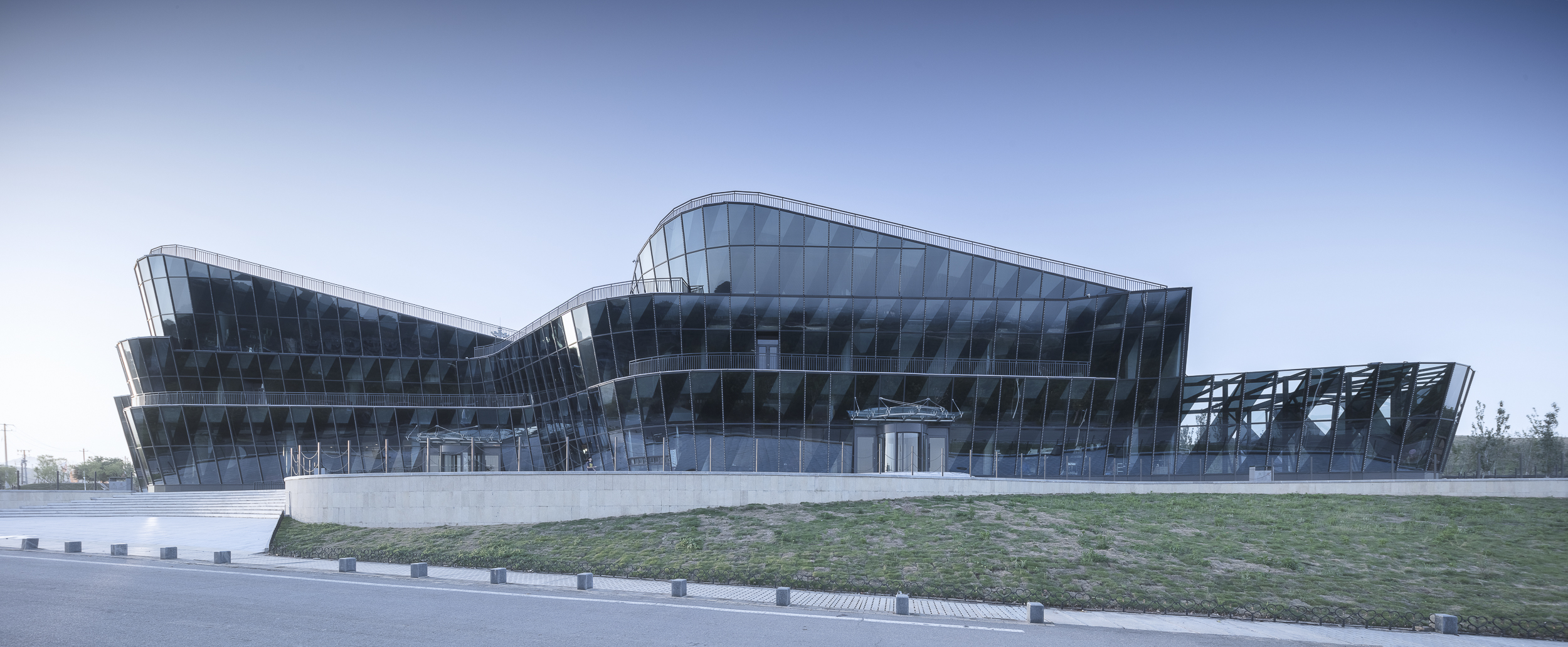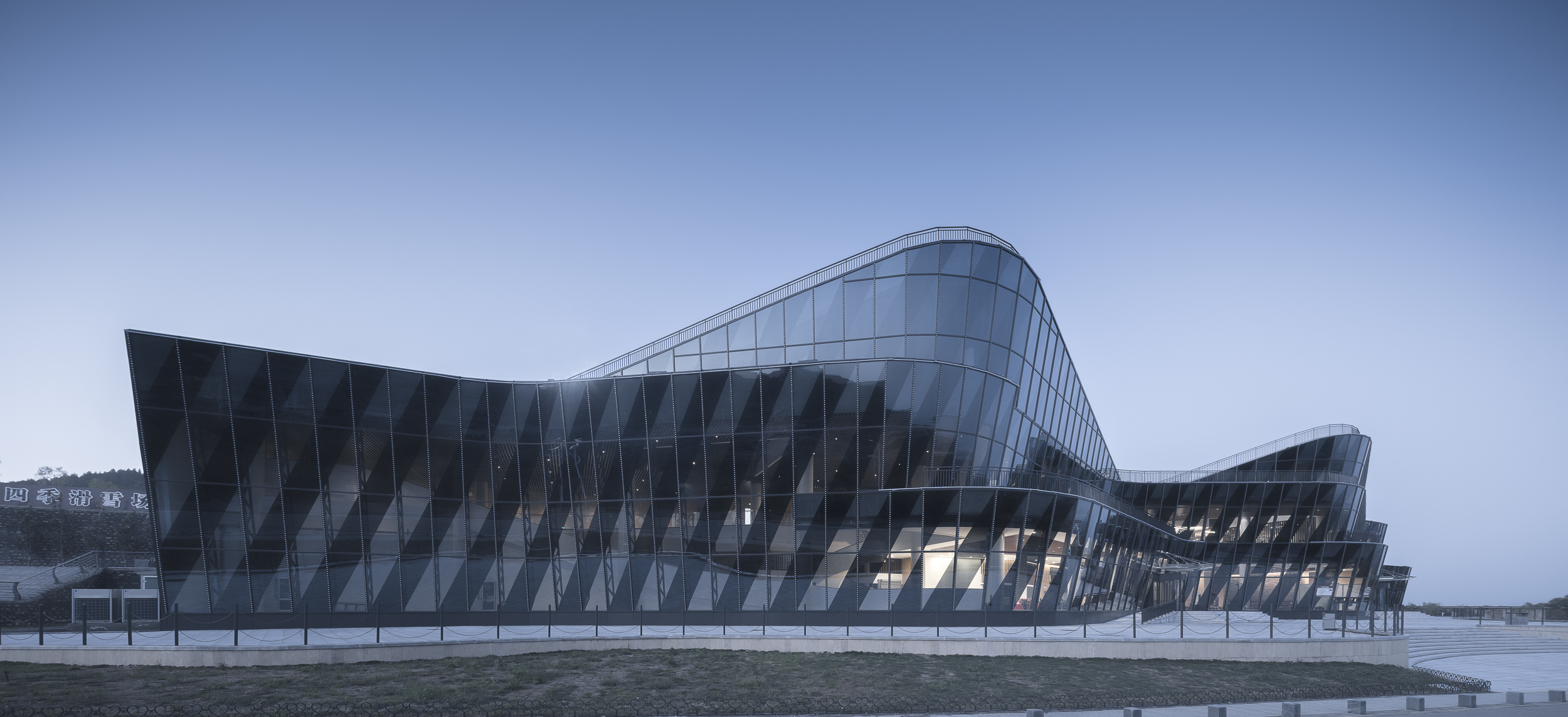 建筑体的形态顺应山体展开,像是被山风吹过起了波澜。南侧在水平展开的波峰位置分别对应室内大空间,而波谷位置则成为纳入人流的入口或水平交通空间。
The shape of the building conforms to the unfolding of the mountain, as if it was blown by the mountain wind. On the south side, the horizontally unfolded crest positions correspond to the large indoor spaces, while the trough positions become the entrances or horizontal traffic spaces that are incorporated into the flow of people.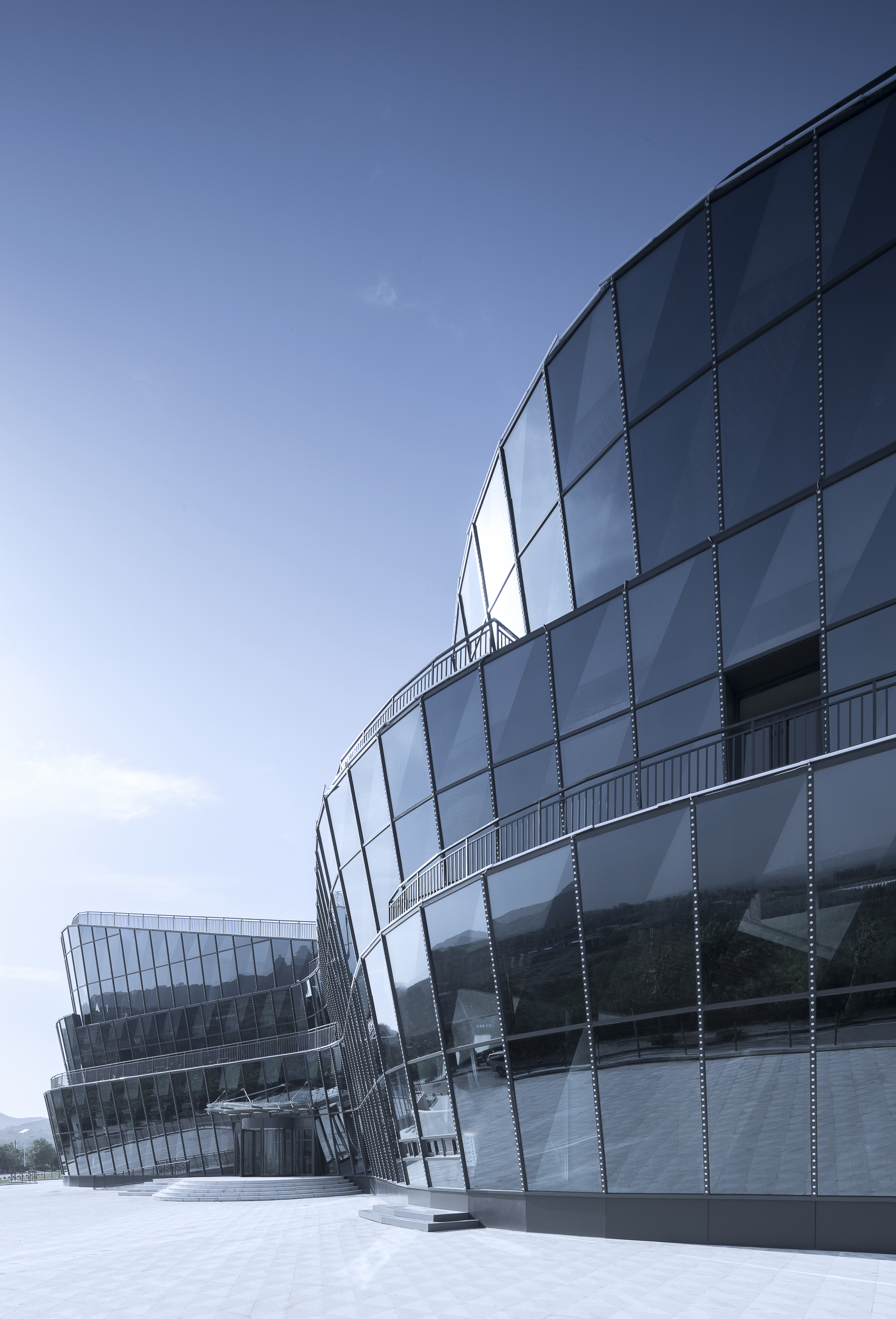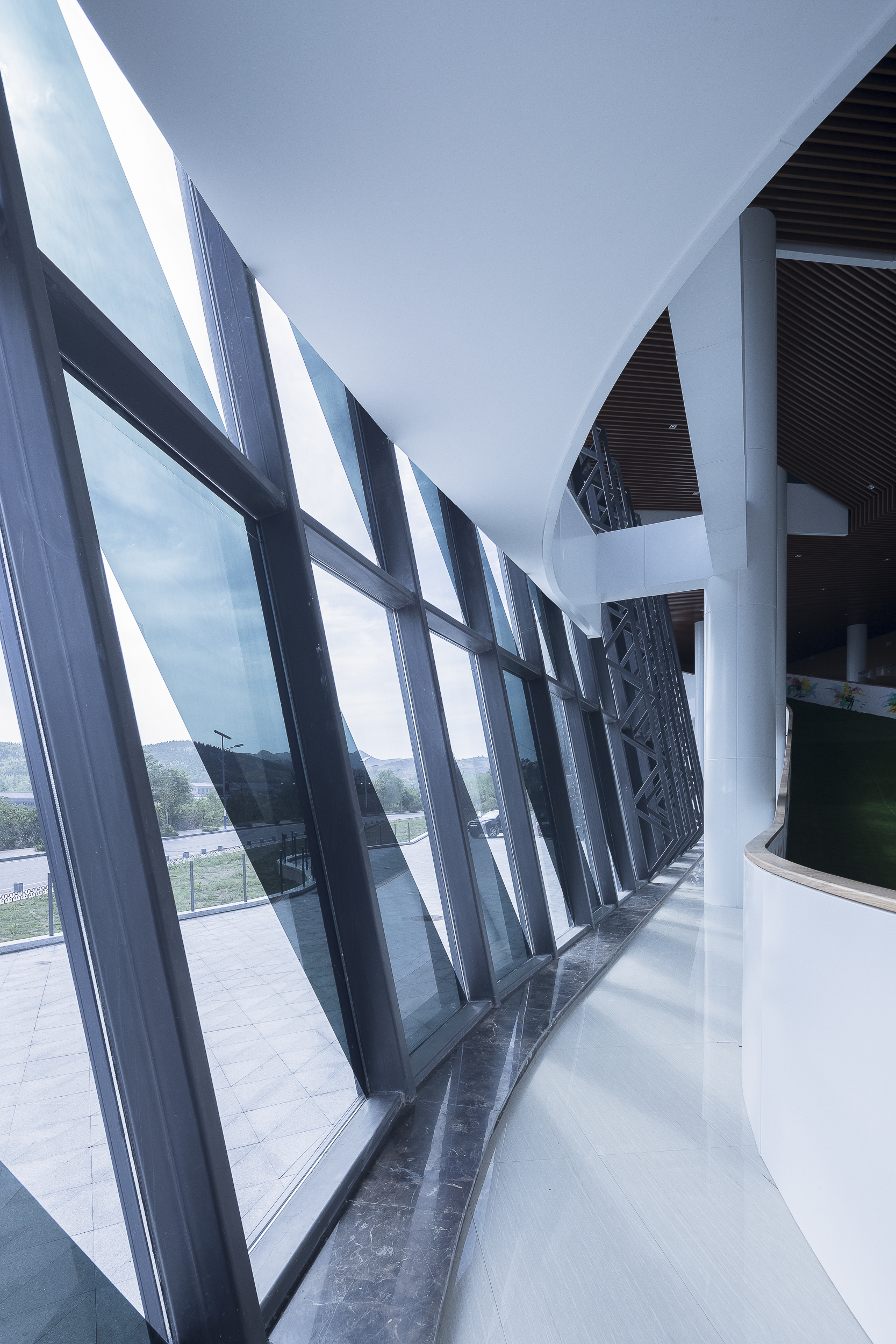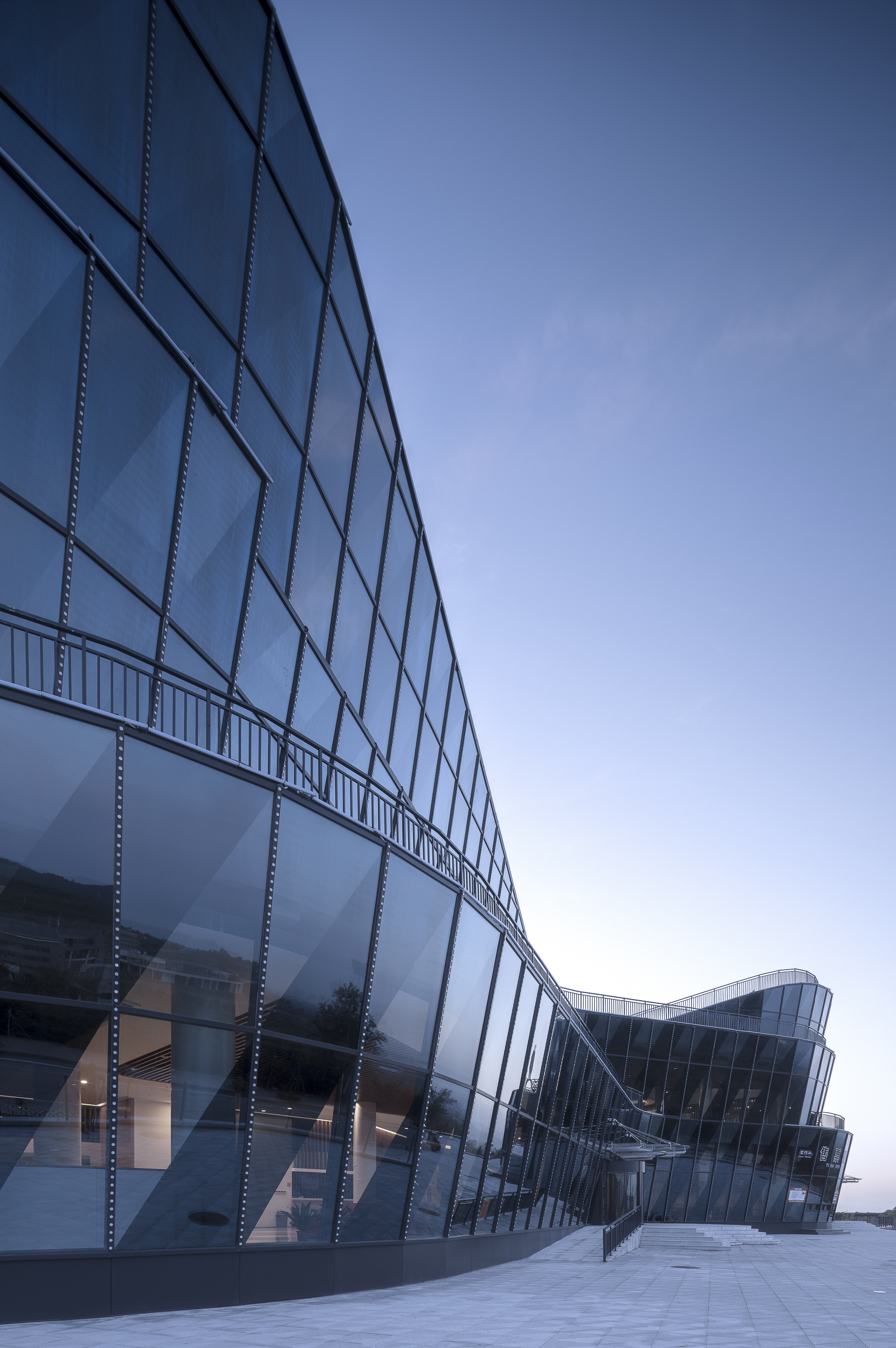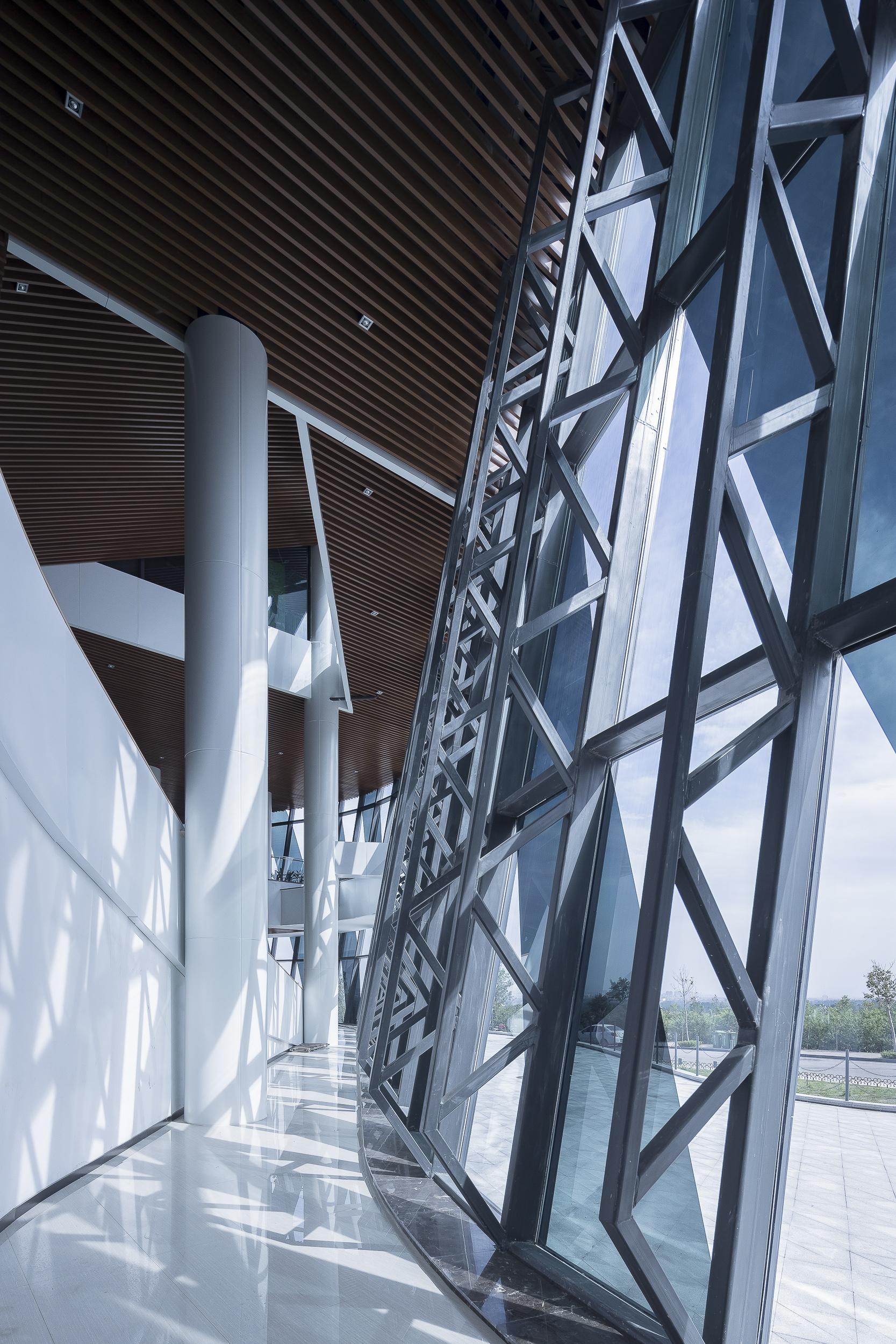 外立面褶皱的波峰对应室内大空间
The crest of the folds of the facade corresponds to the large interior space
二、三层形态的皱褶之处自然地形成了供游人休憩的露天阳台,轻薄地贴服在外倾的幕墙一侧。
The folds of the second and third floors naturally form open-air balconies for visitors to rest, which are lightly attached to the side of the sloping curtain wall.
| 功能 · 自在滑行 |
Function For Free Sliding
▼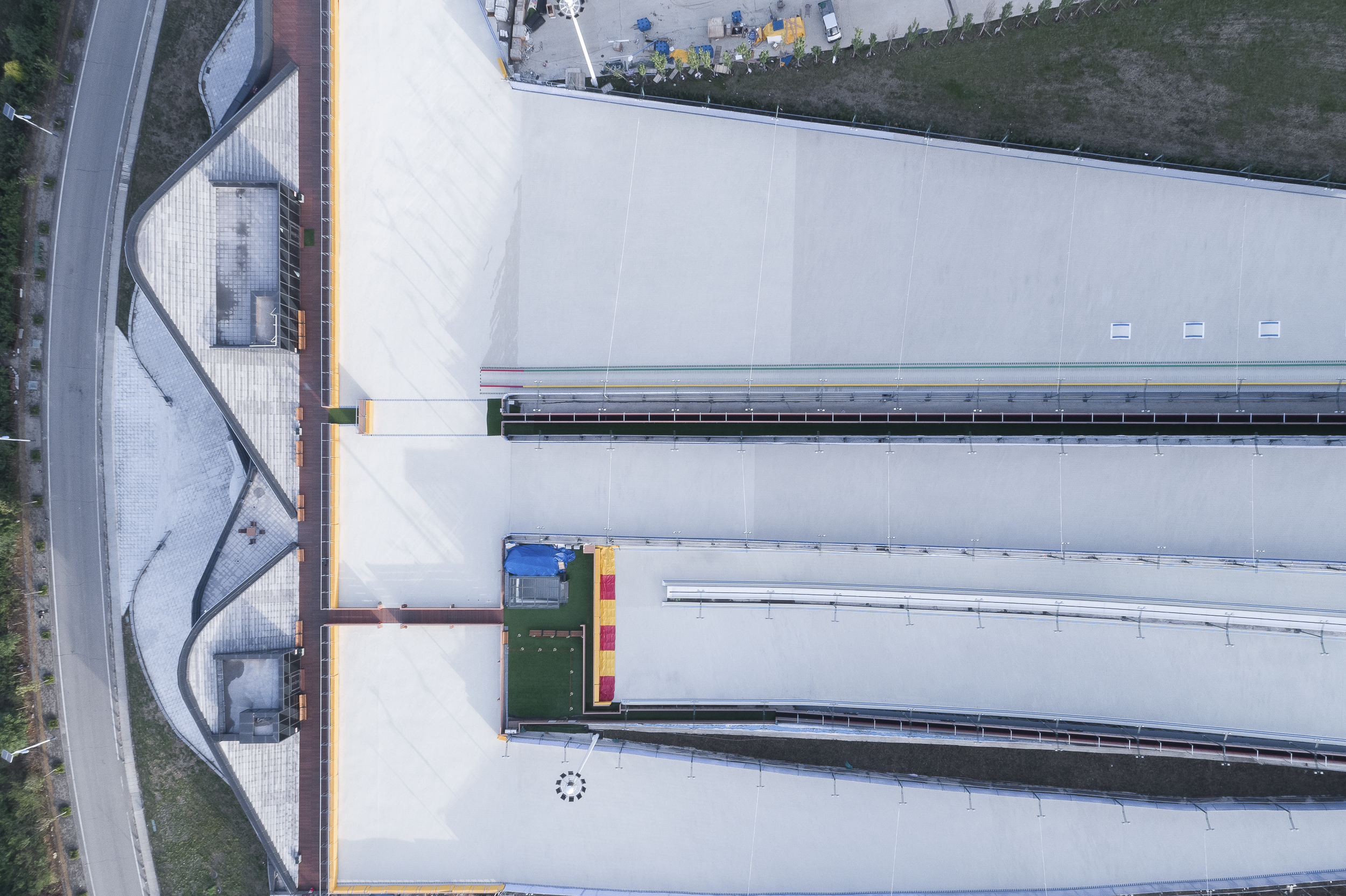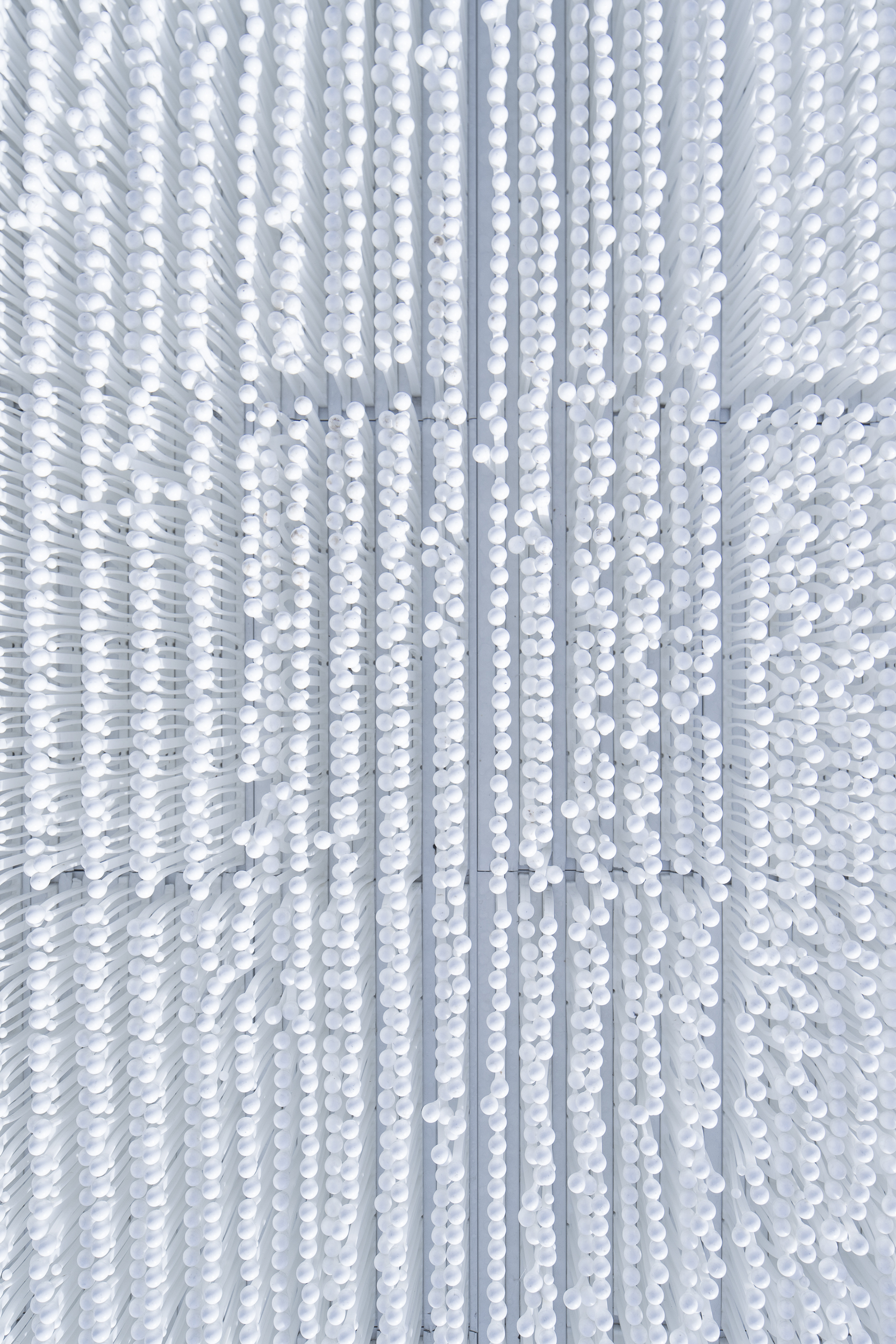 特殊的滑雪场地材质使得旱雪场可以满足一年四季人们滑雪的需求,使滑雪运动不再成为季节的限定。
The special ski field material makes the dry ski field meet the needs of people's skiing all year round, so that skiing is no longer limited by seasons.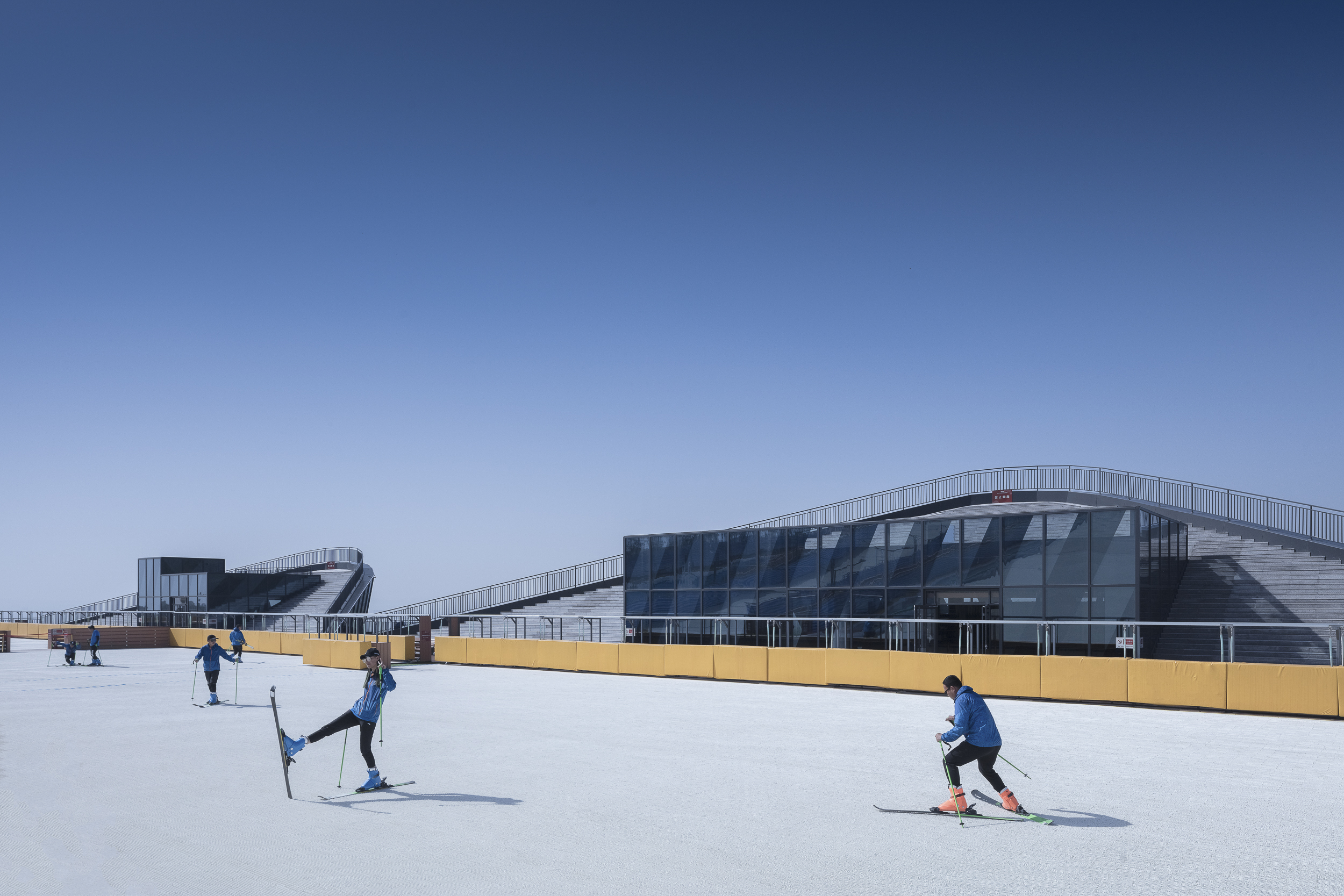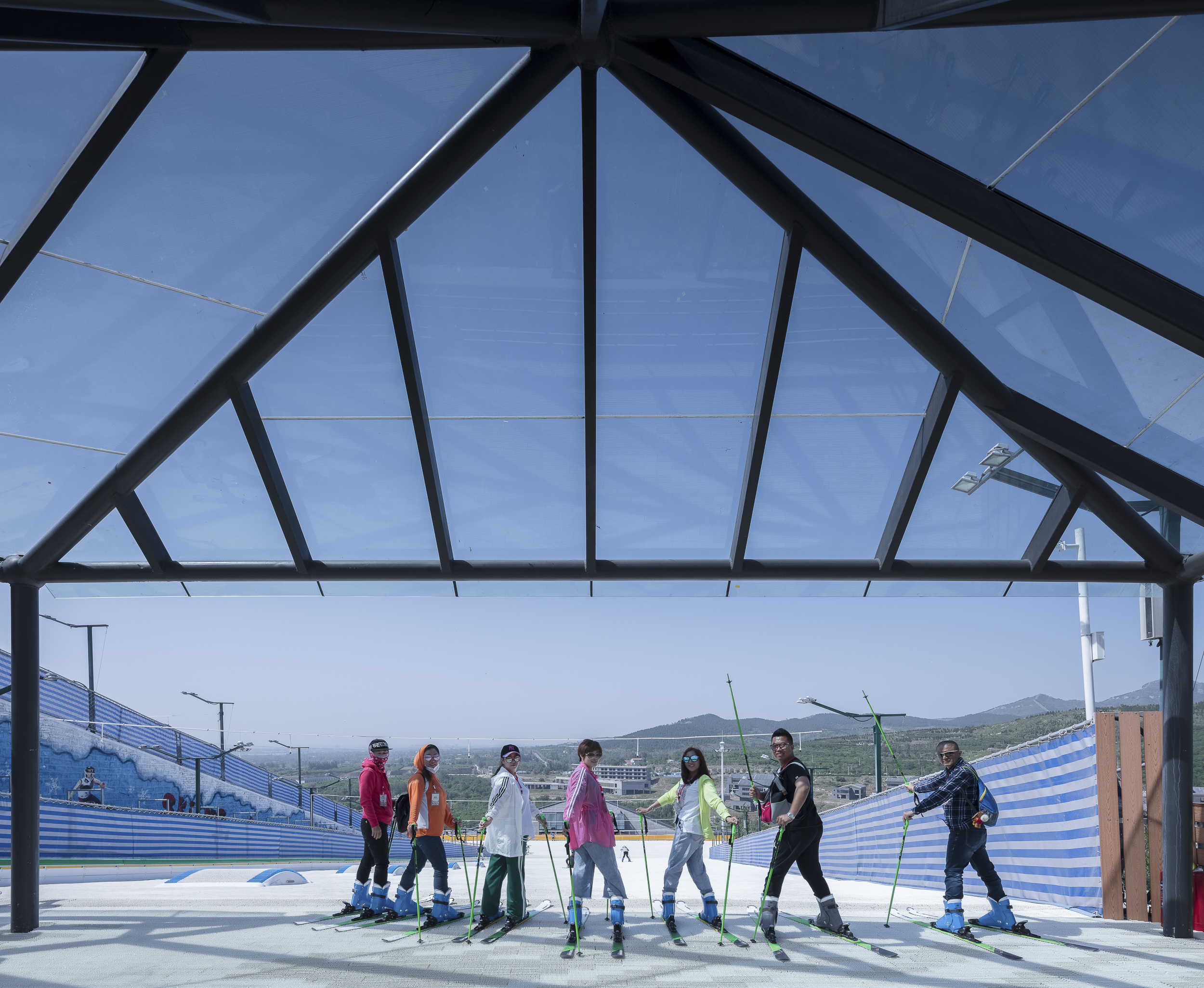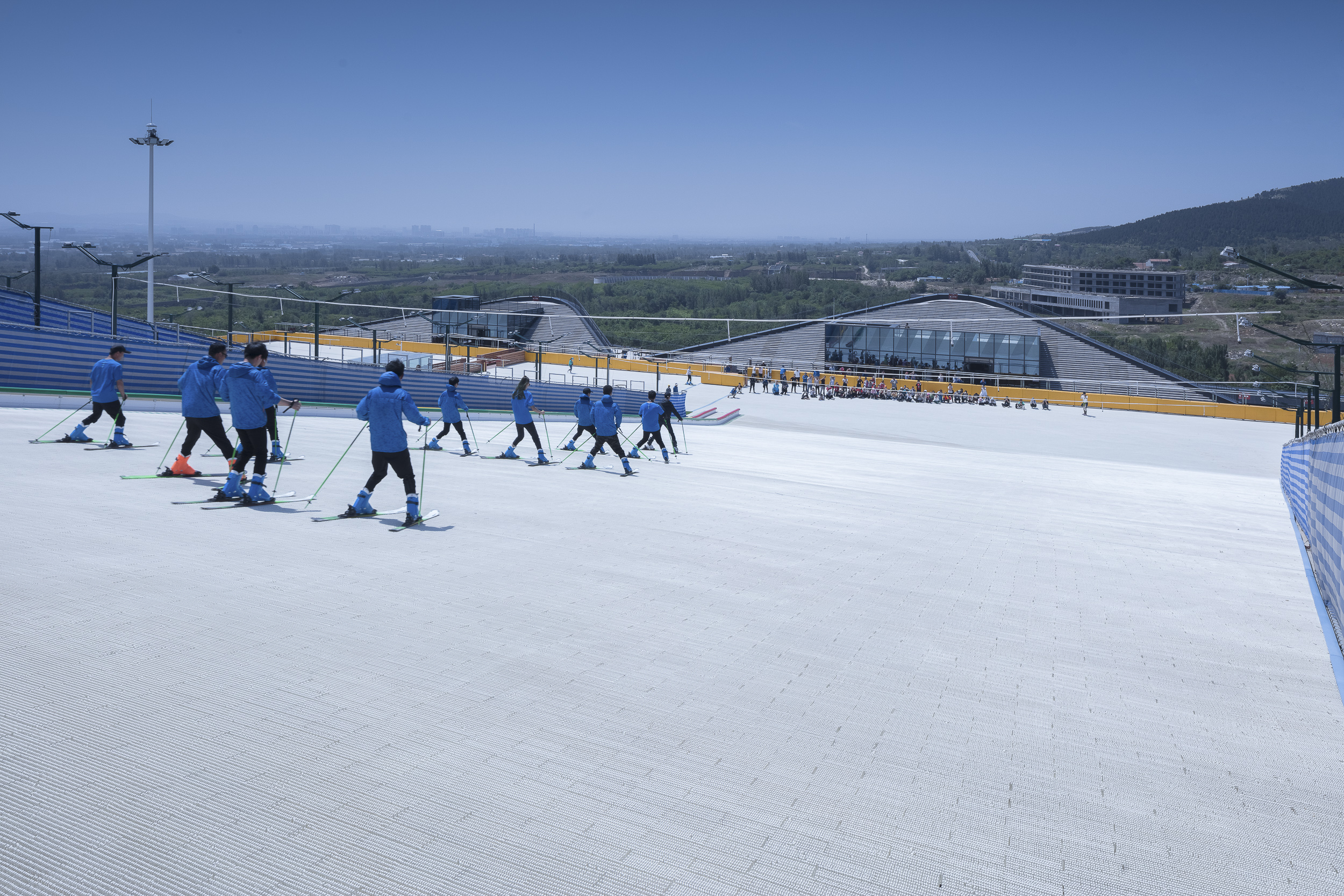 上部雪道的规划,满足了不同滑行对坡度的要求:滑板道为初级10°、中级15°,滑圈道则设6°、15°、20°三阶。
The planning of the upper ski track meets the requirements of different sliding slopes: the skateboard track is 10° for the primary level and 15° for the intermediate level, and the slide track has three levels of 6°, 15°, and 20°.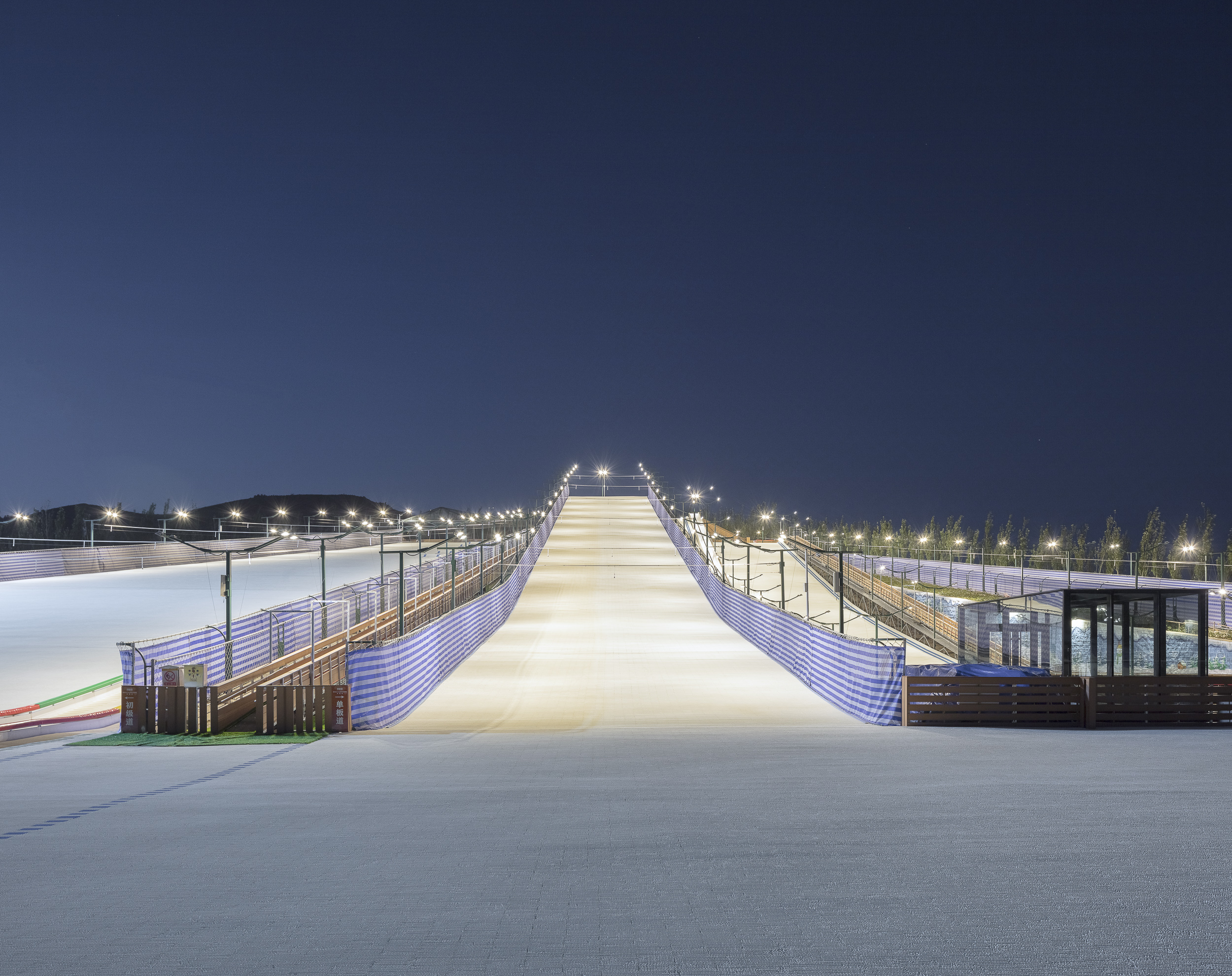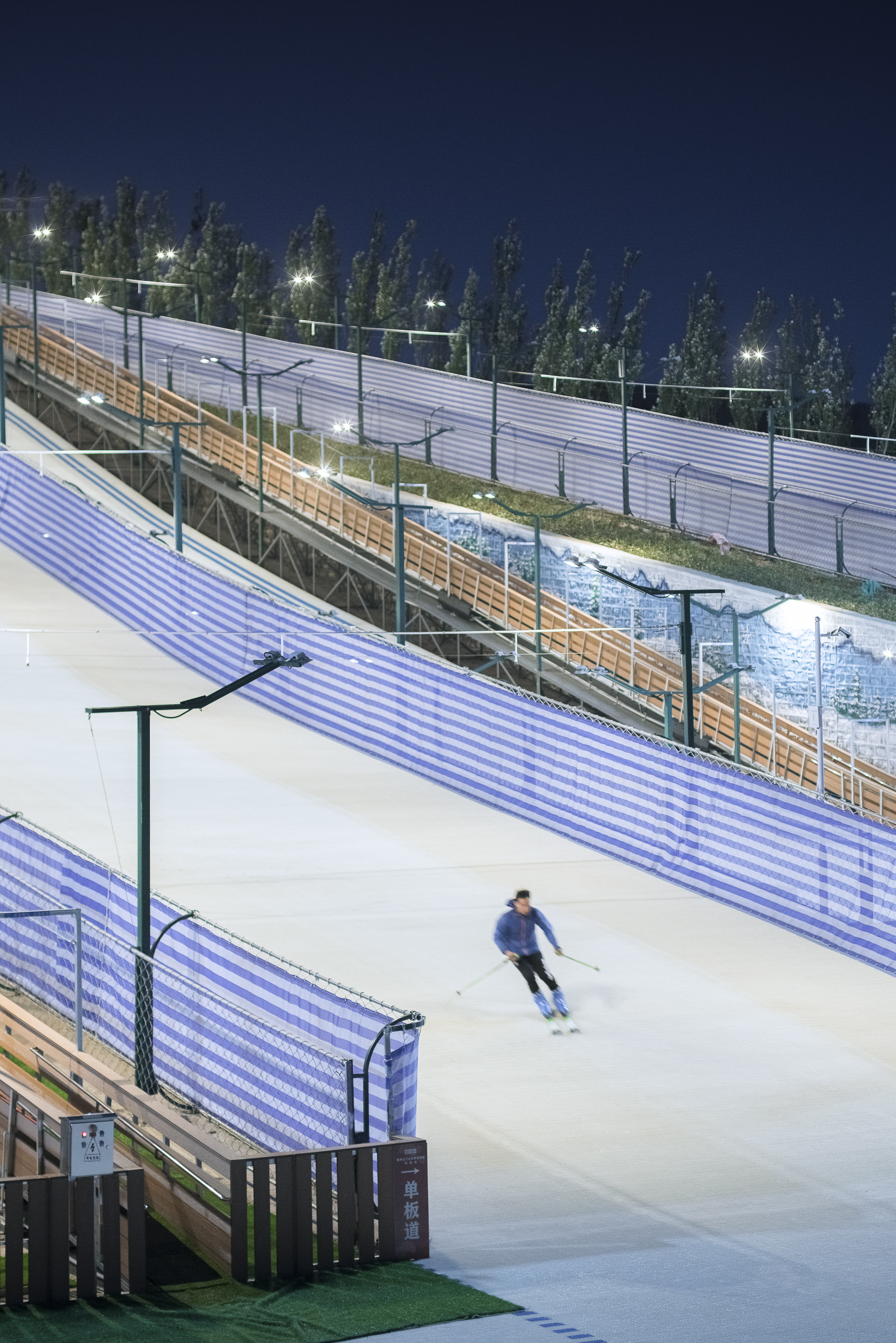 同时要利用山体的走势,让最长走势的雪道规划契合山形、融合风景的蜿蜒姿态,并将六种滑道的总宽度同服务中心进行对齐。
At the same time, it is necessary to make use of the trend of the mountain to make the planning of the longest snow track fit the shape of the mountain and integrate the winding posture of the scenery, and align the total width of the six slides with the service center.
| 内部 · 满足需求 |
Interior Design to Satisfy Needs
▼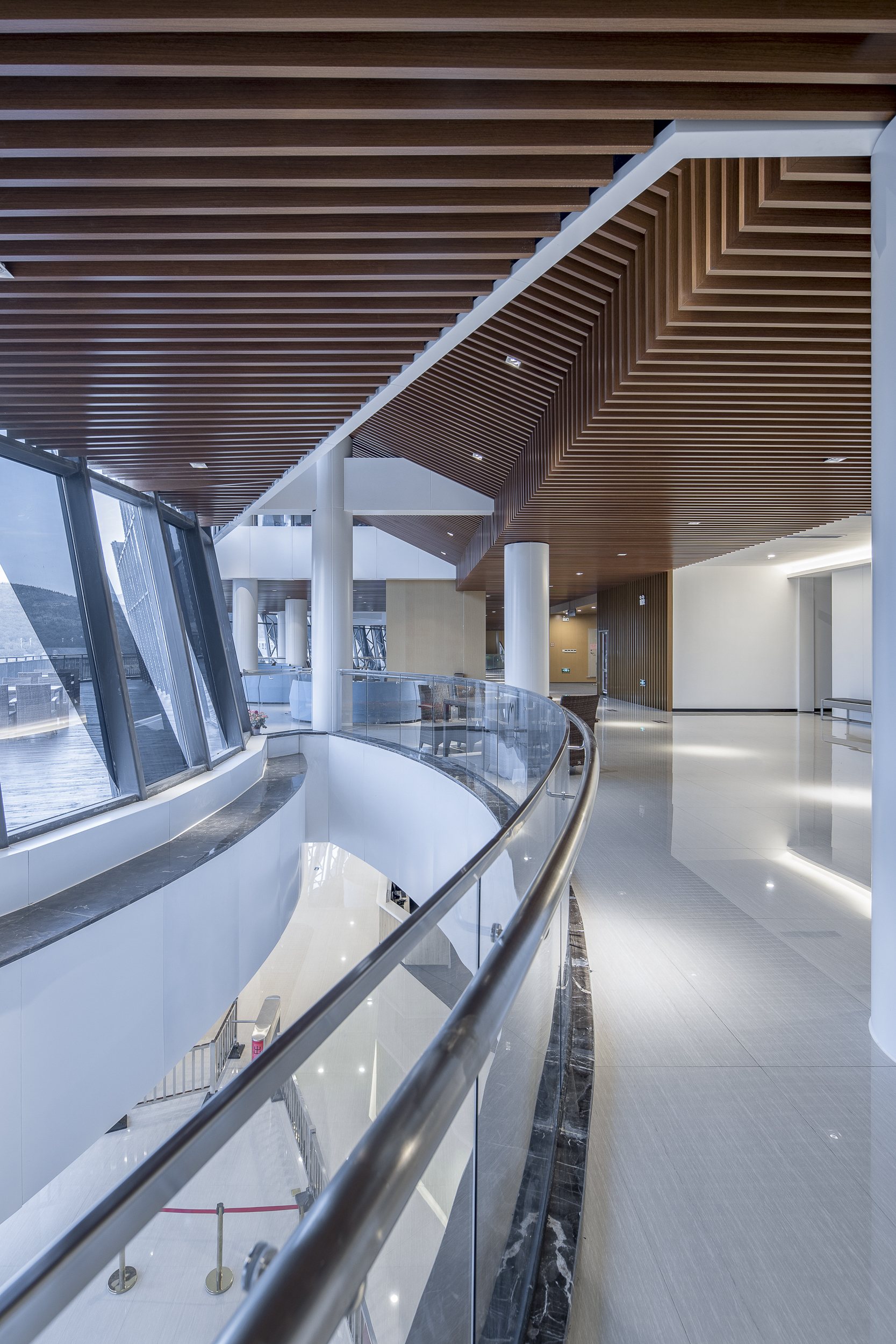 通高空间
Full Height Space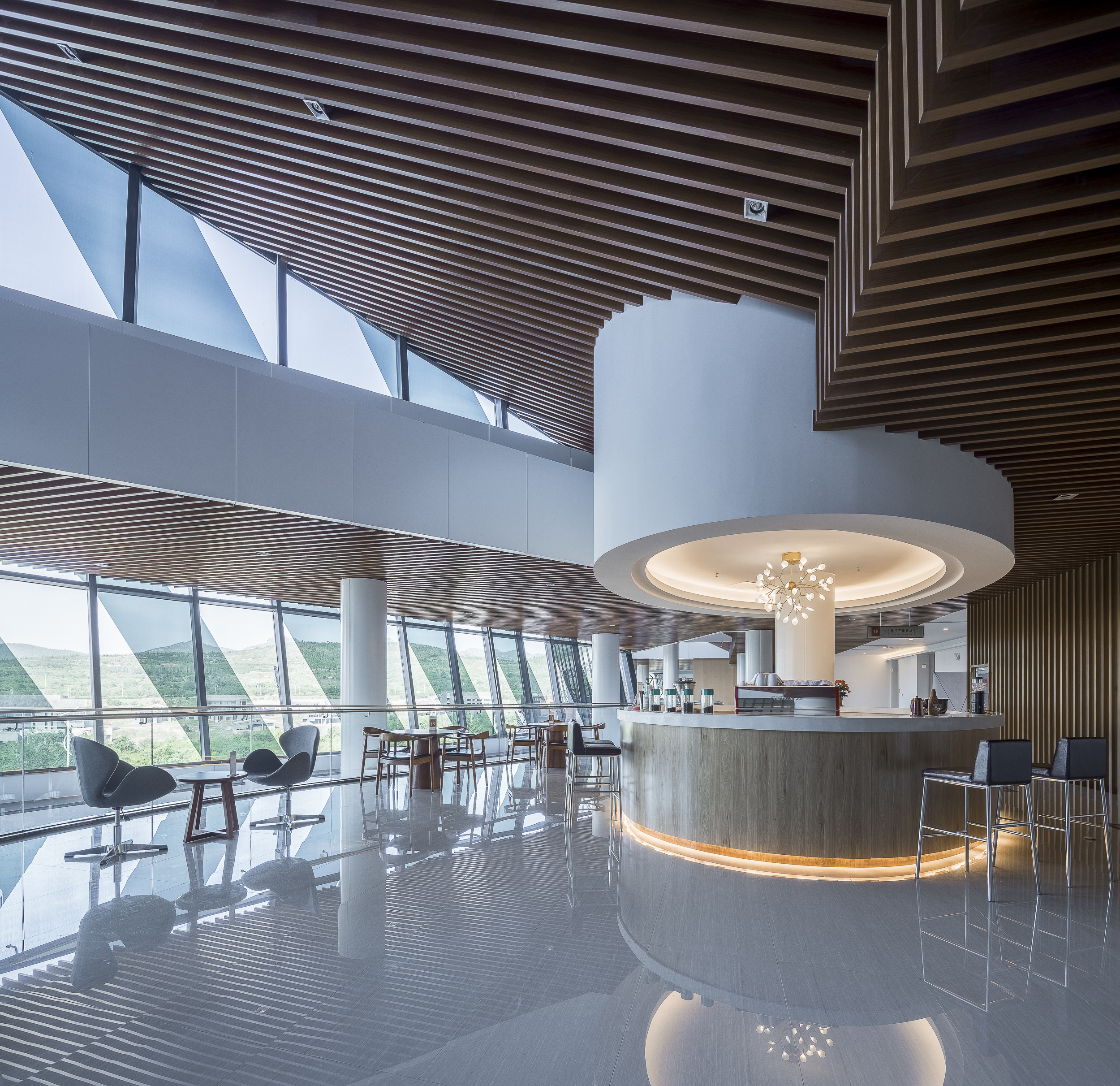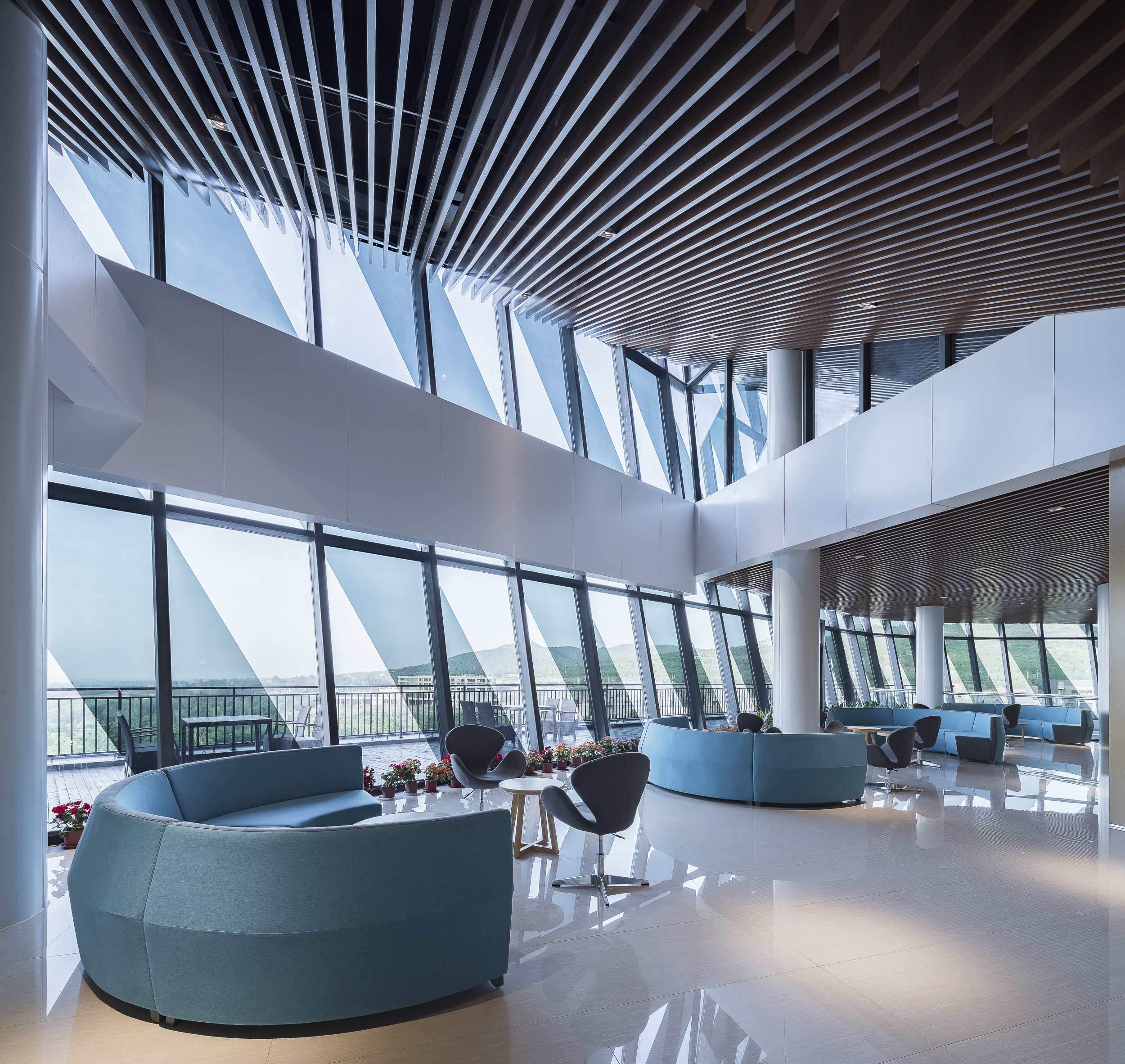 滑雪场功能完善,设备齐全,建有多功能接待大厅,内部有便利超市、雪具商店、冷饮区、咖啡厅、书吧等多种功能区,满足滑雪爱好者多方面的休闲需求。
The ski resort is fully functional and well-equipped, with a multi-functional reception hall, a convenience supermarket, a ski shop, a cold drink area, a coffee shop, a book bar and other functional areas, to meet the various leisure needs of ski lovers.
室内滑道
Indoor Slide
独特的室内滑道丰富了滑雪场的功能体验,将会为游客们带来别有意趣的运动与旅游体验。
The unique indoor slides enrich the functional experience of the ski resort, which will bring visitors an interesting sports and tourism experience.
---