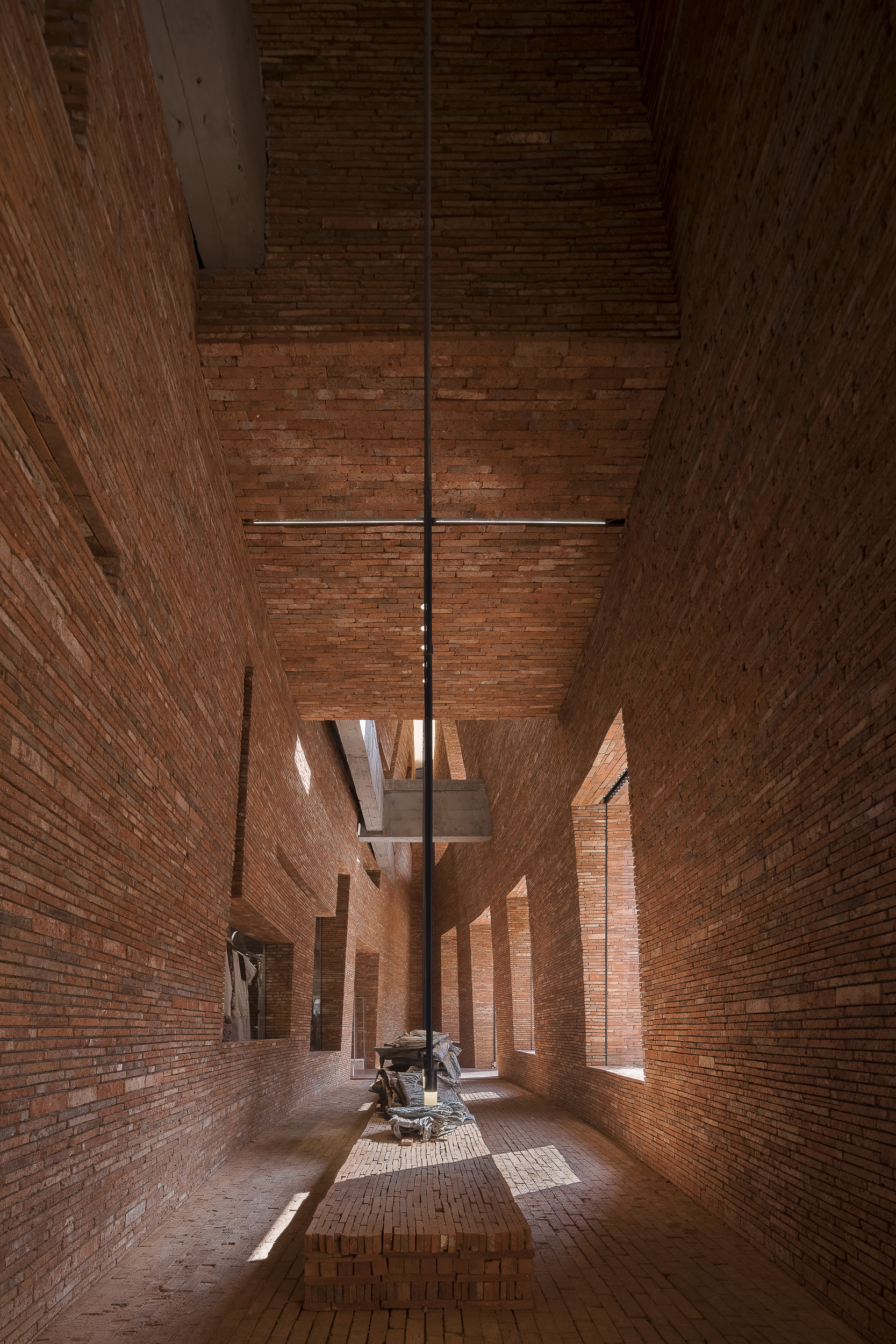 理性和情感的结合、抽象和历史的结合。
The combination of reason and emotion, the combination of abstraction and history.
抽象与间歇下的"峡谷之虚"。
The "Void of Canyon" under abstraction and intermittent.
---
在此游离的片刻,设计师希望呈现的是一个叹号及一个问号。两侧鱼腹型墙翼使得光线在此进行复杂反射,通过矩形窗洞进入峡谷的光线被弧形墙体柔化,并通过旧红砖的粗糙表皮形成投影与机理间的观感对冲。
In this moment of wandering, what the designer hopes to present is an exclamation mark and a question mark. The fish belly-shaped wall wings on both sides make the light reflected here. The light entering the canyon through the rectangular window is softened by the curved wall, and the rough skin of the old red brick forms a visual hedge between the projection and the mechanism.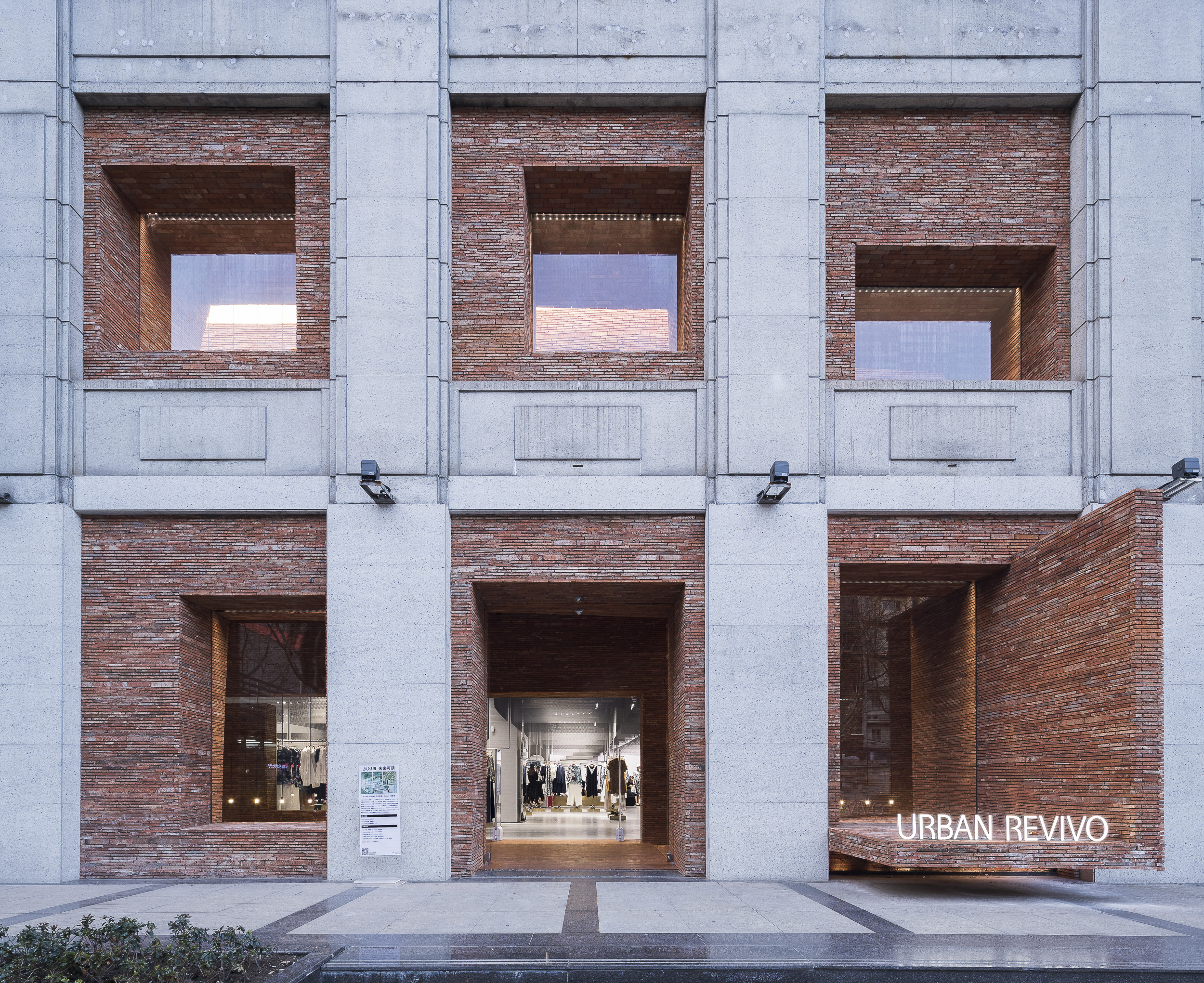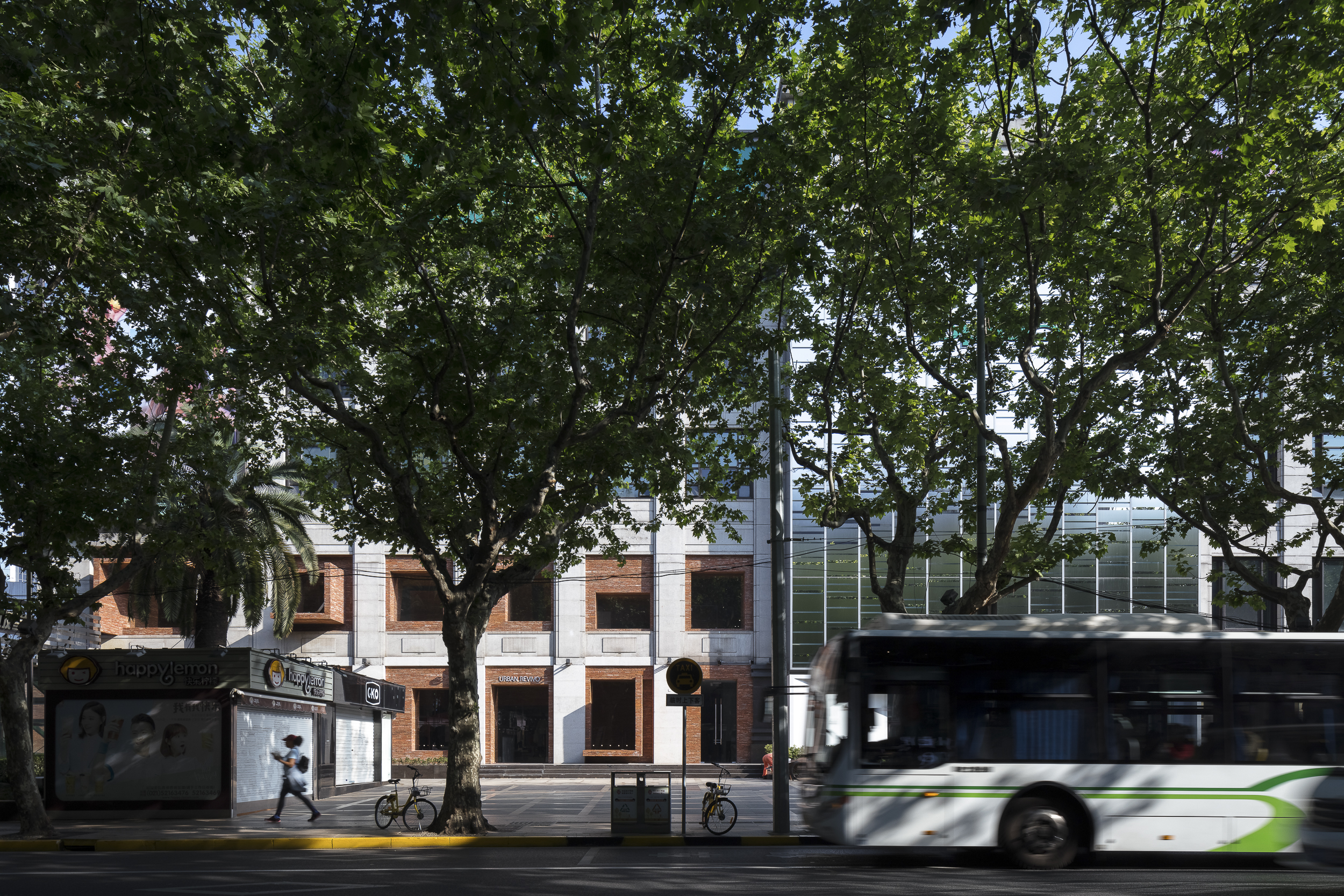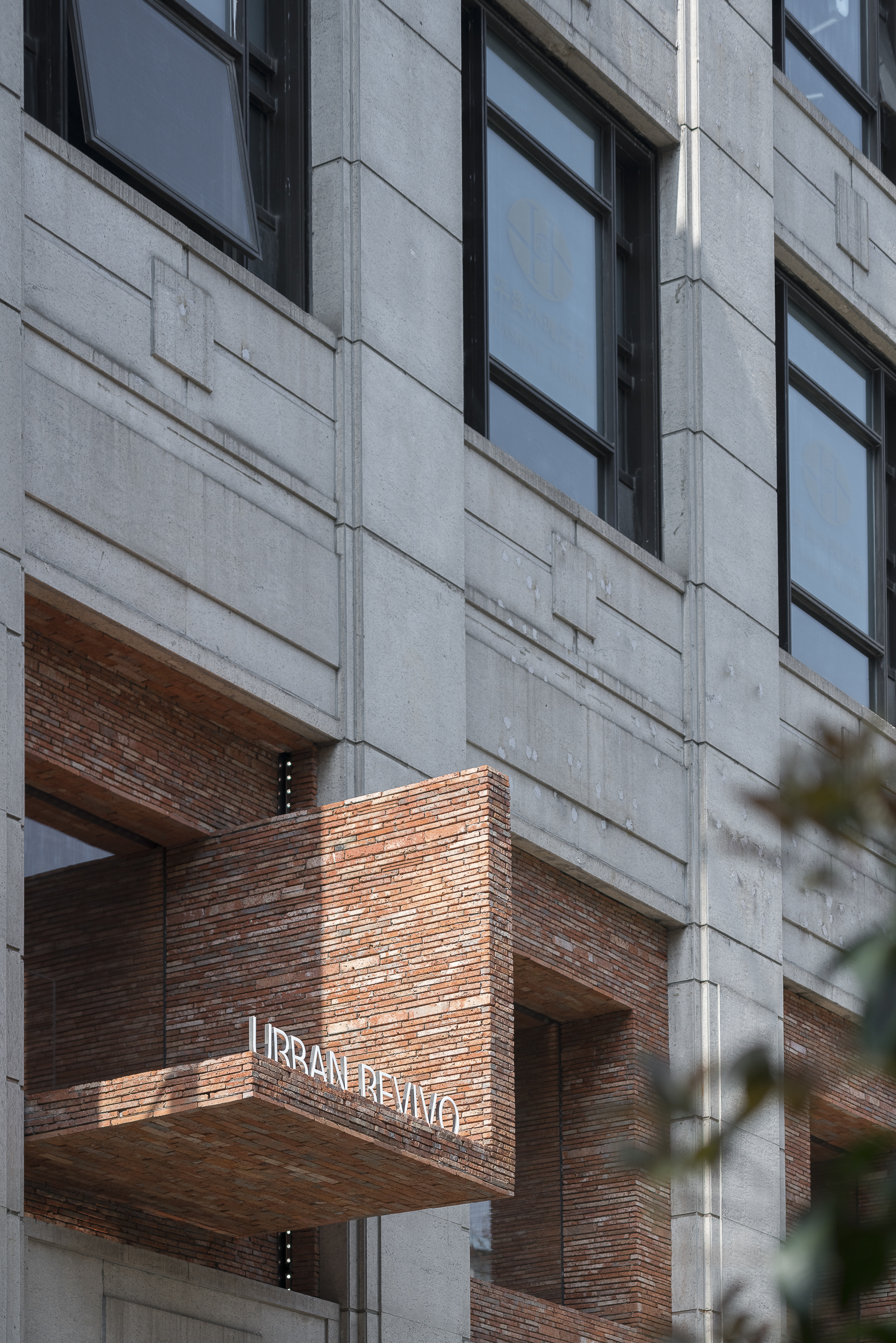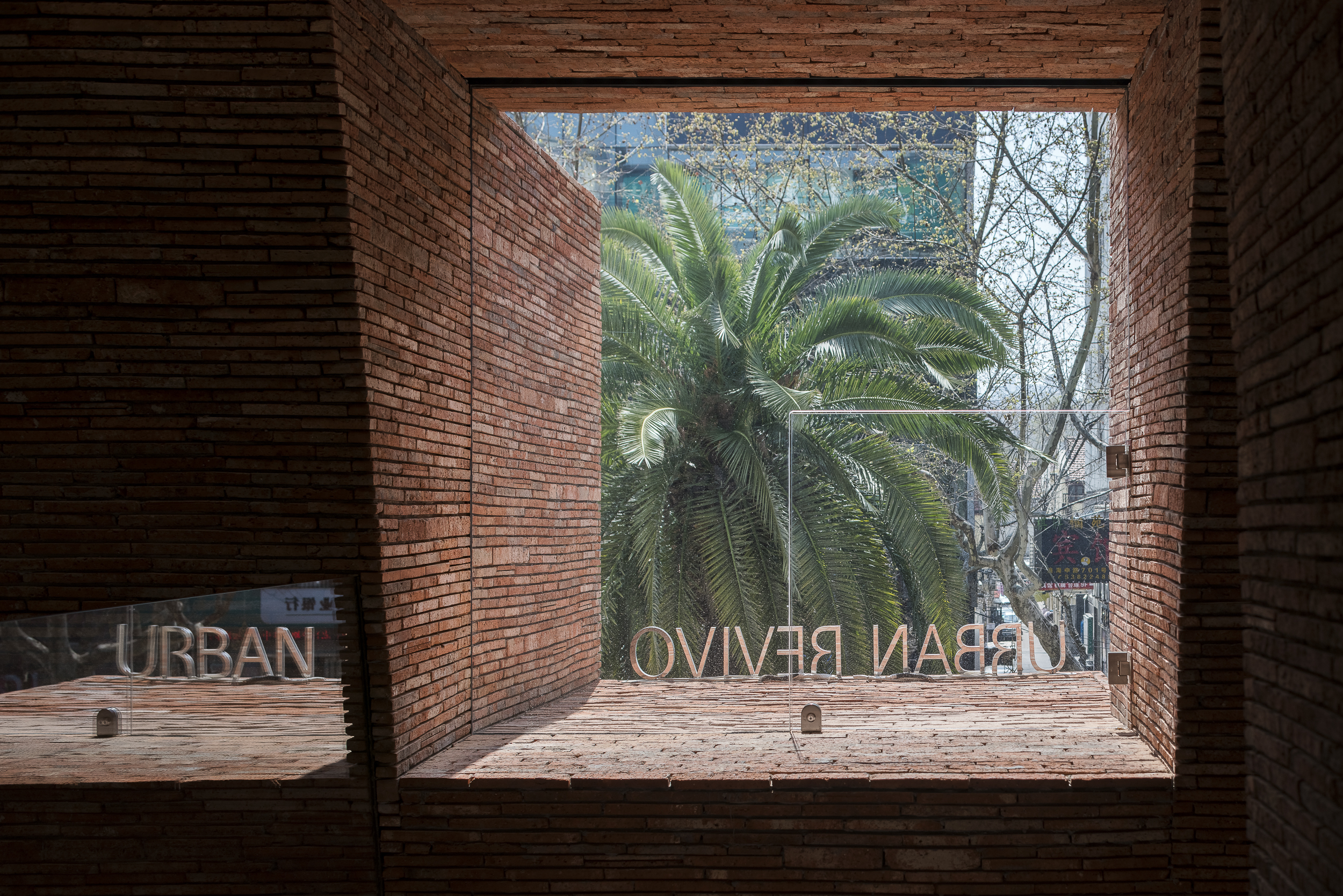 倡导回归理性秩序,通过不同形式语言对空间单体进行组合,使作品在统一中求变化,达到一种有秩序的丰富性和有条理的复杂性。设计运用具有形体意义的基本几何体作为造型的基本语汇,追求一种秩序和纪念性。
Advocating a return to rational order, combining space monomers through different forms of language, so that the work seeks changes in the unity, and achieves an orderly richness and orderly complexity. Design uses basic geometric bodies with physical meaning as the basic vocabulary of modeling, pursuing a kind of order and monumentality.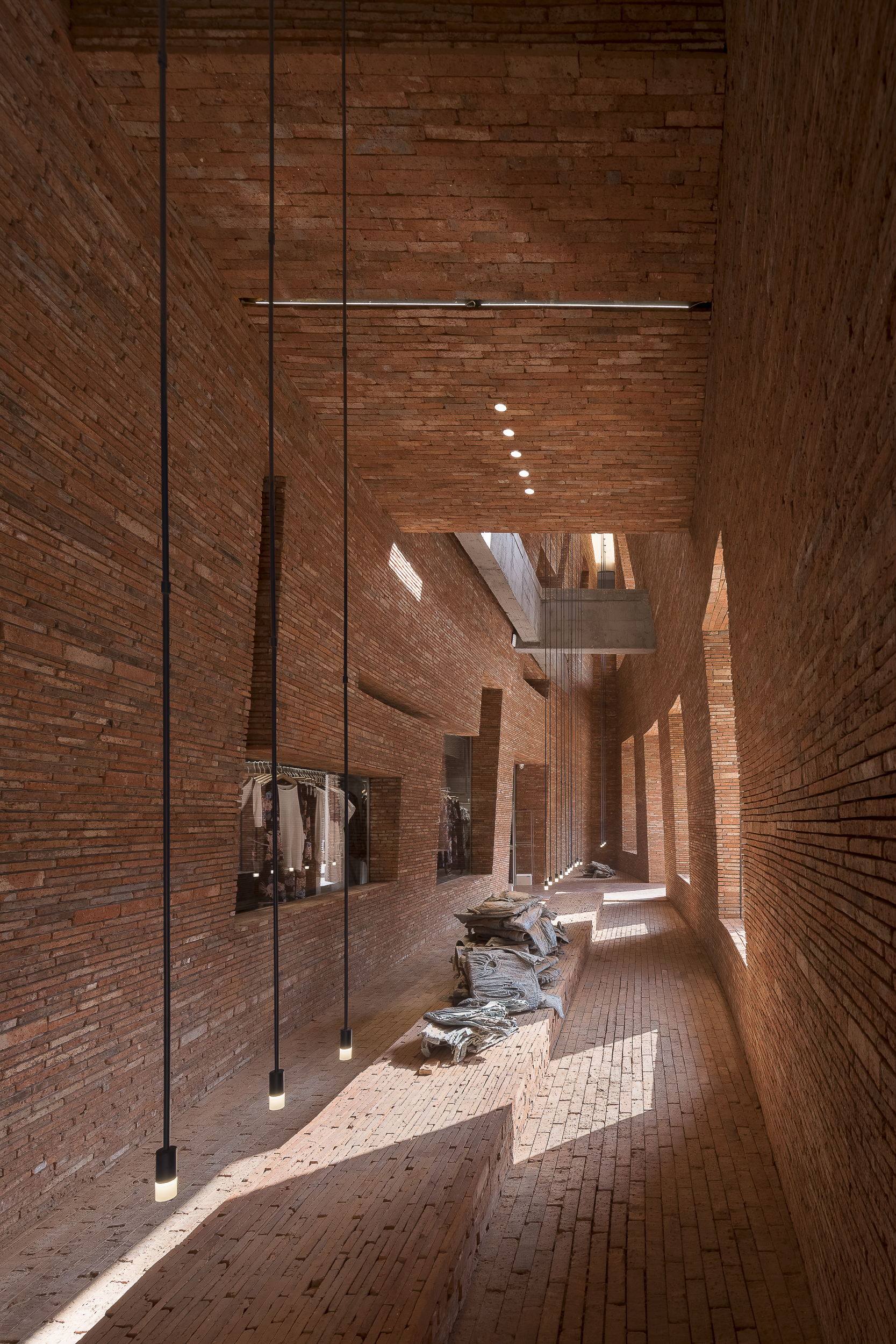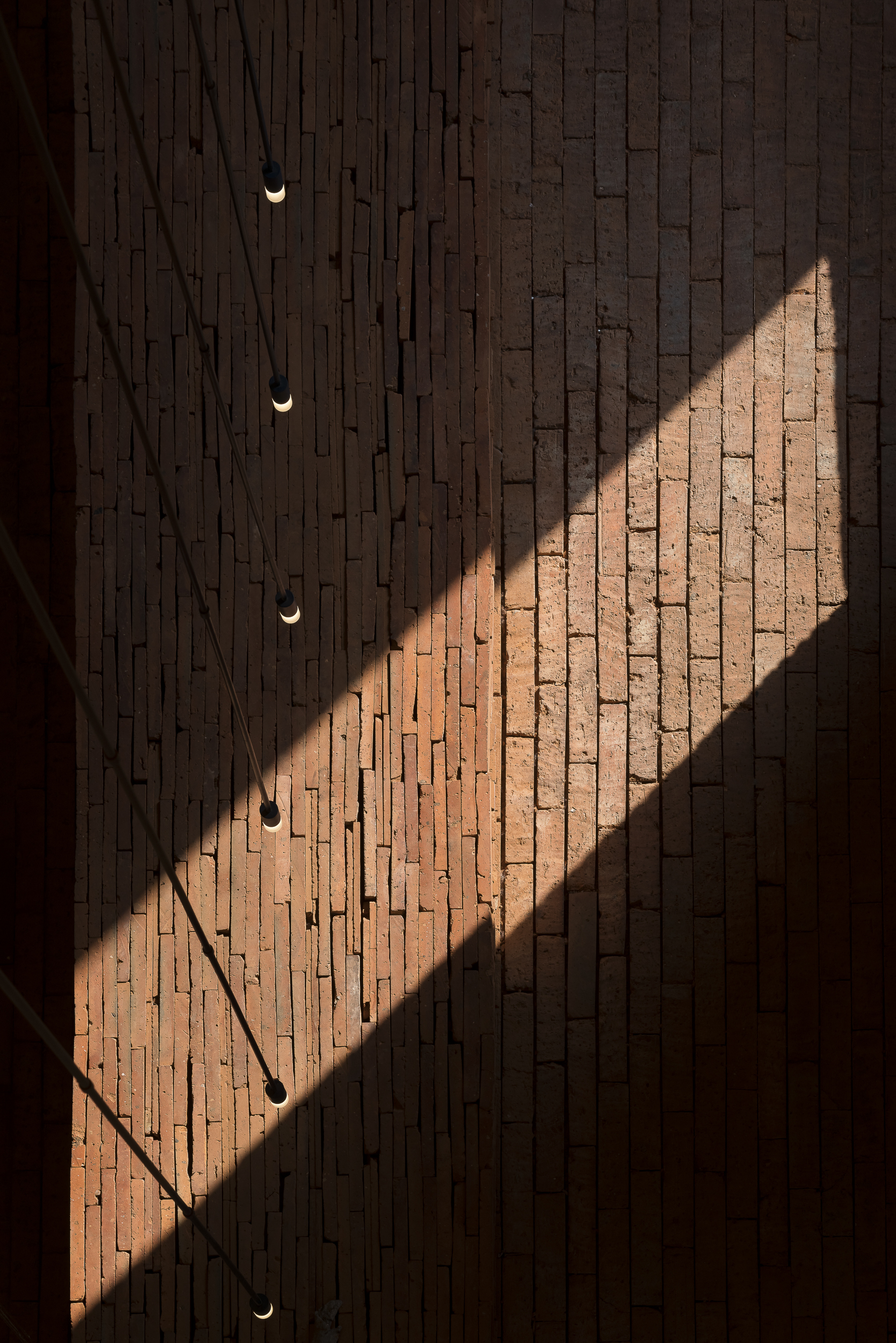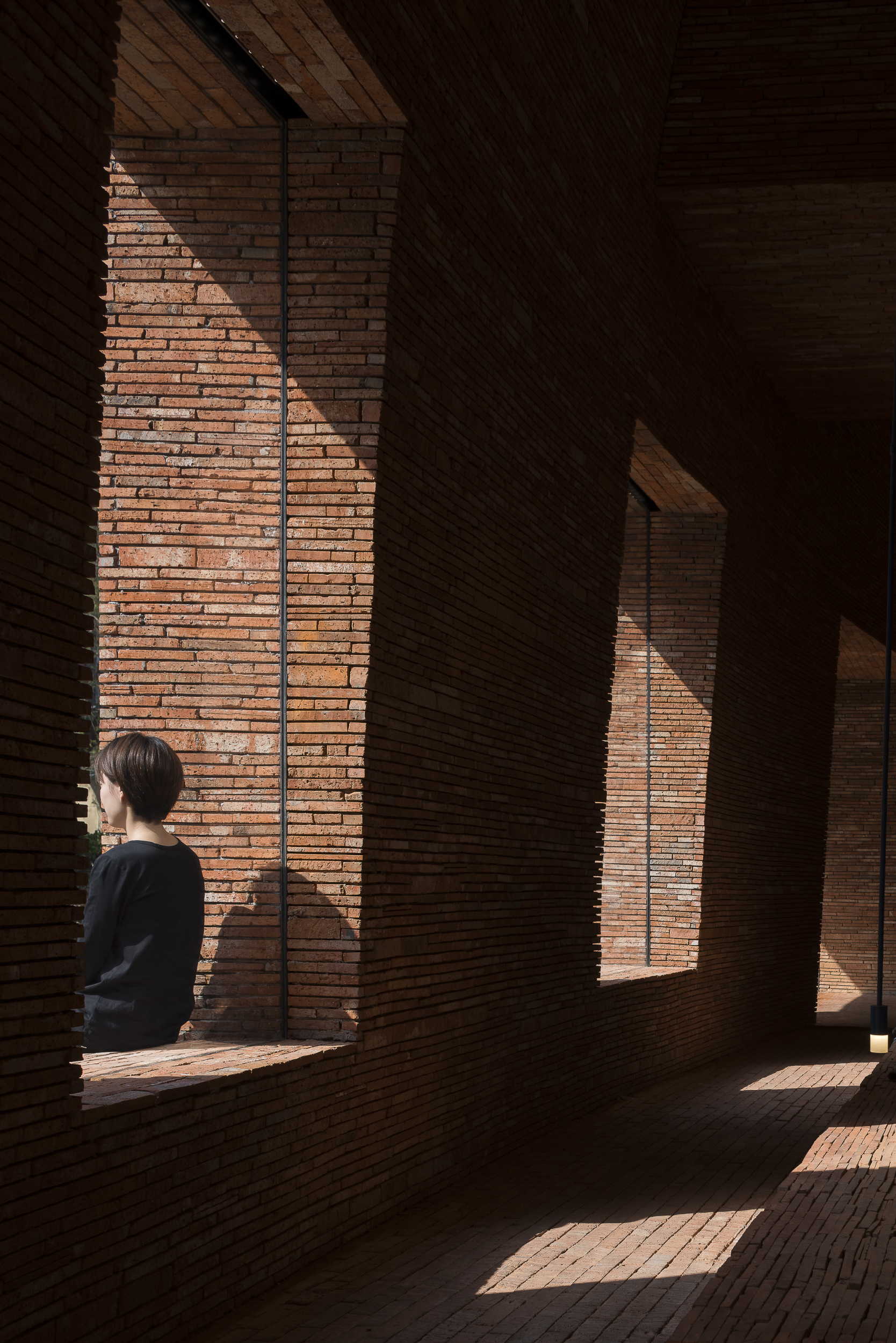 建立一个"峡谷"
Build a "canyon"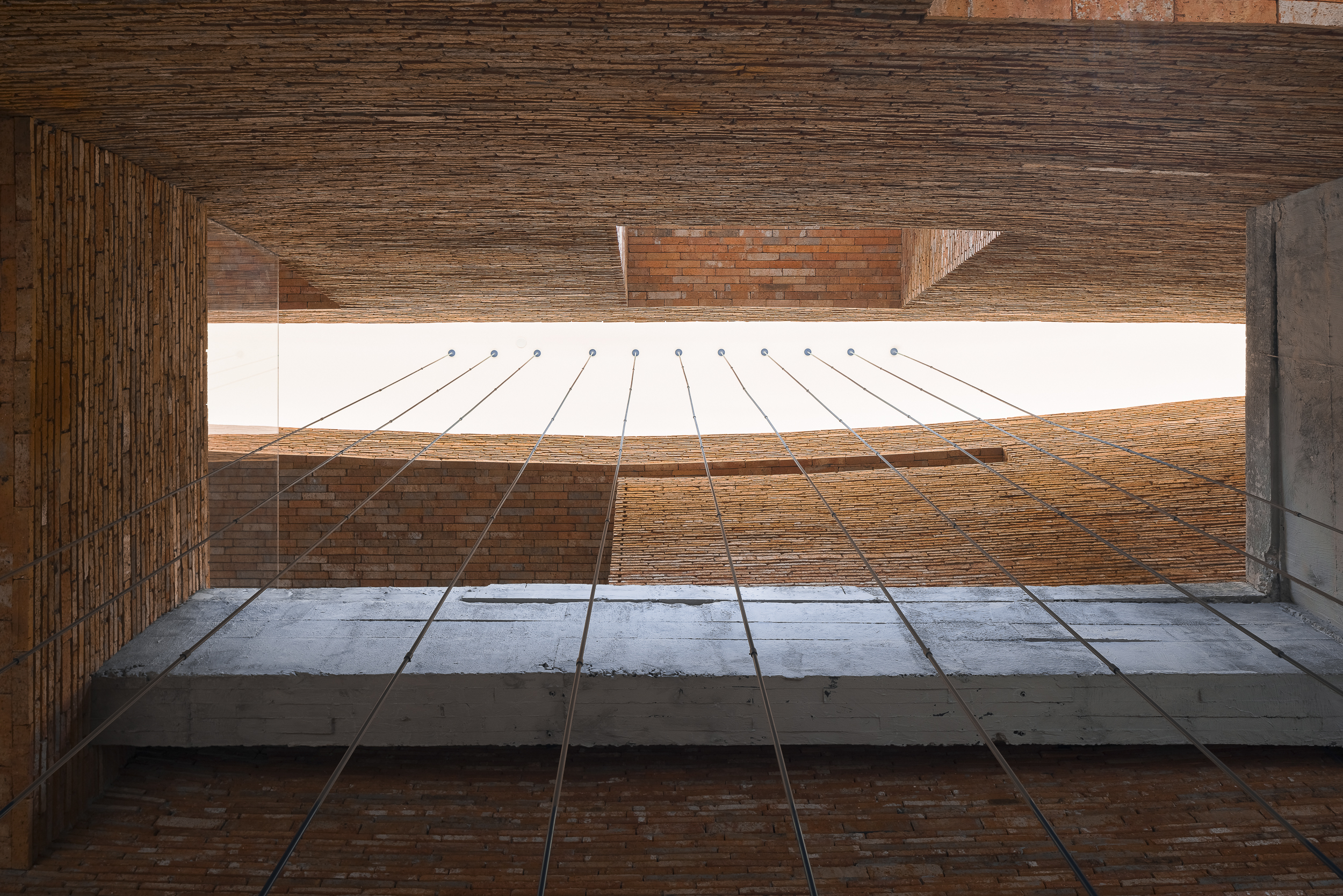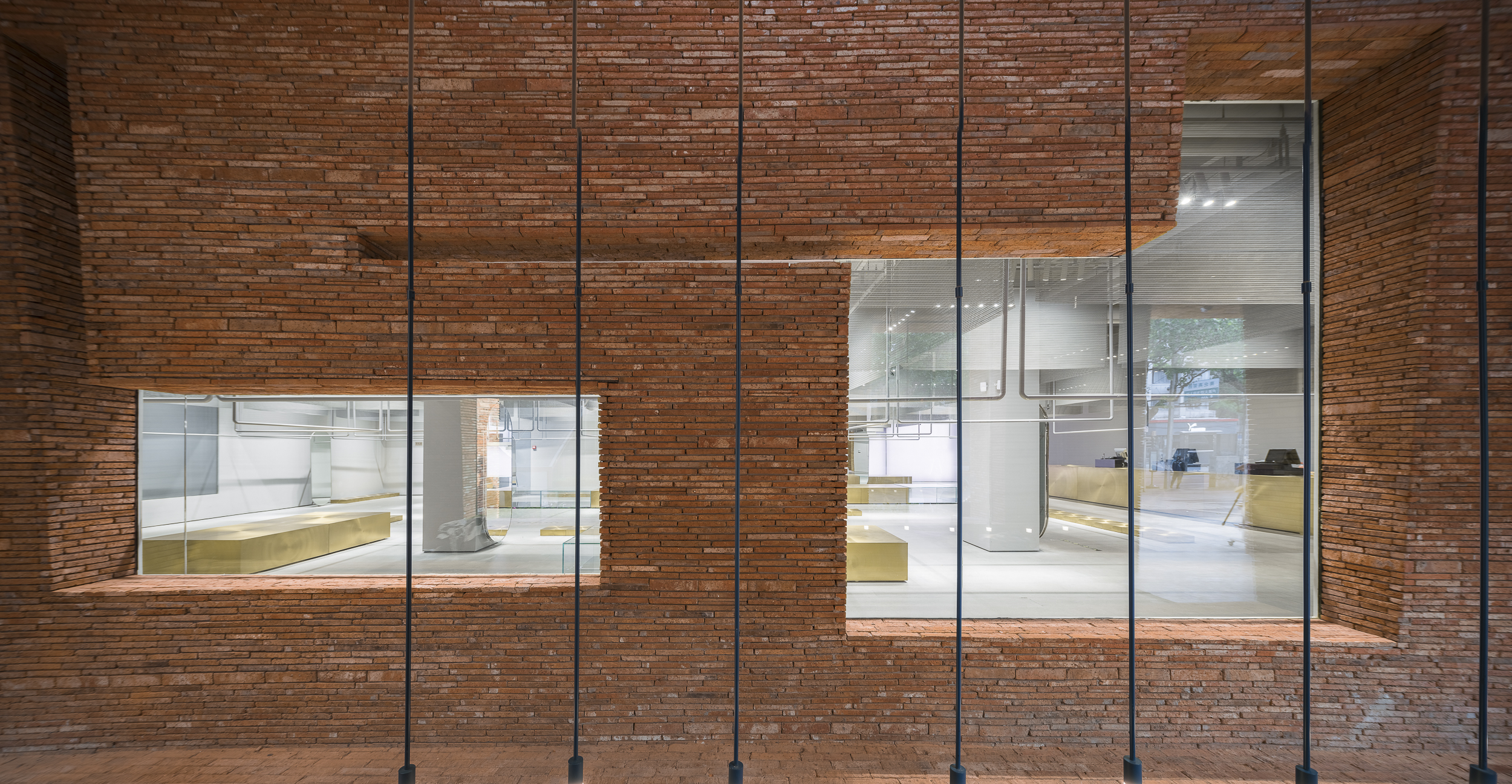 砖石空间中的秩序和纪念性
Order and monumentality in masonry space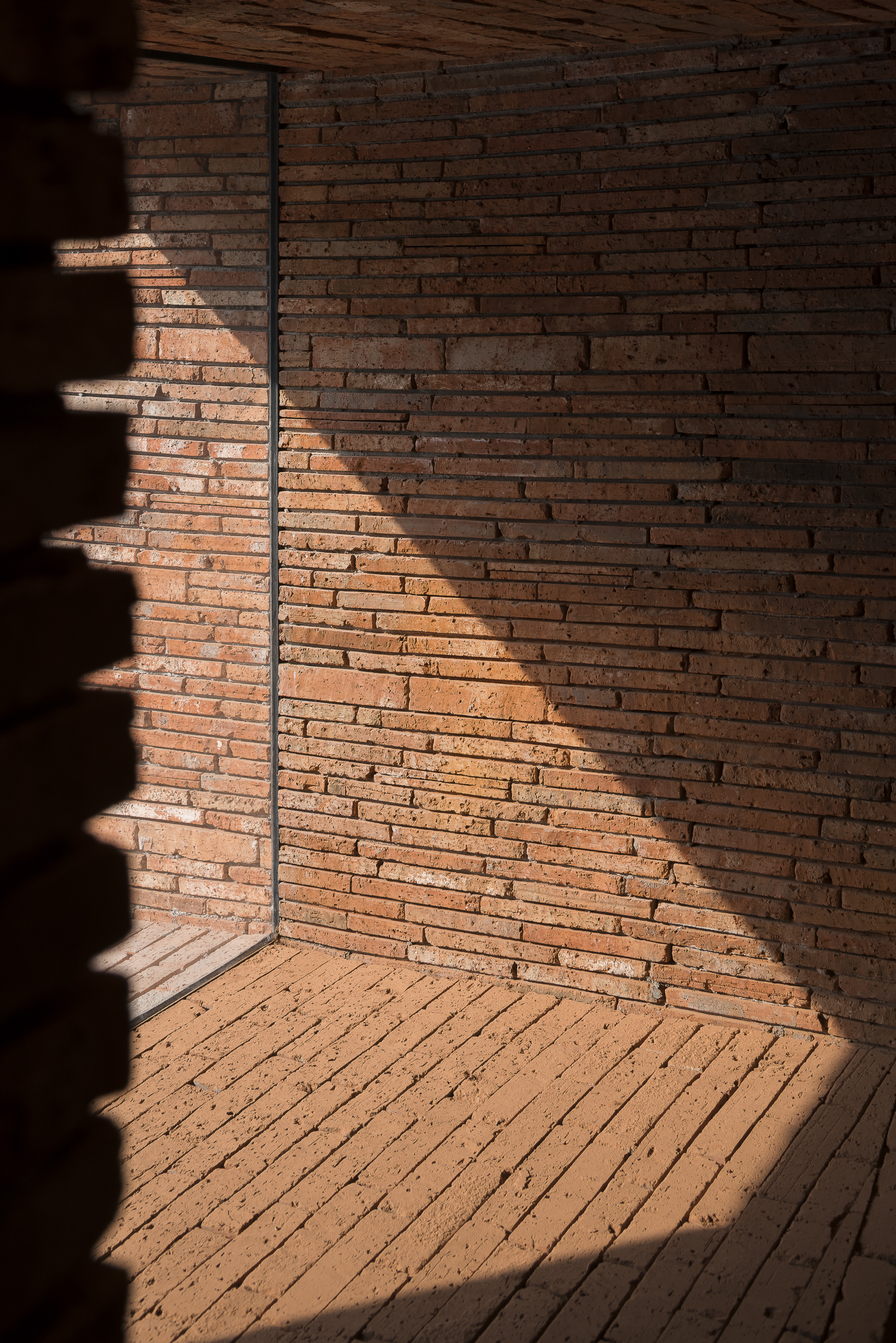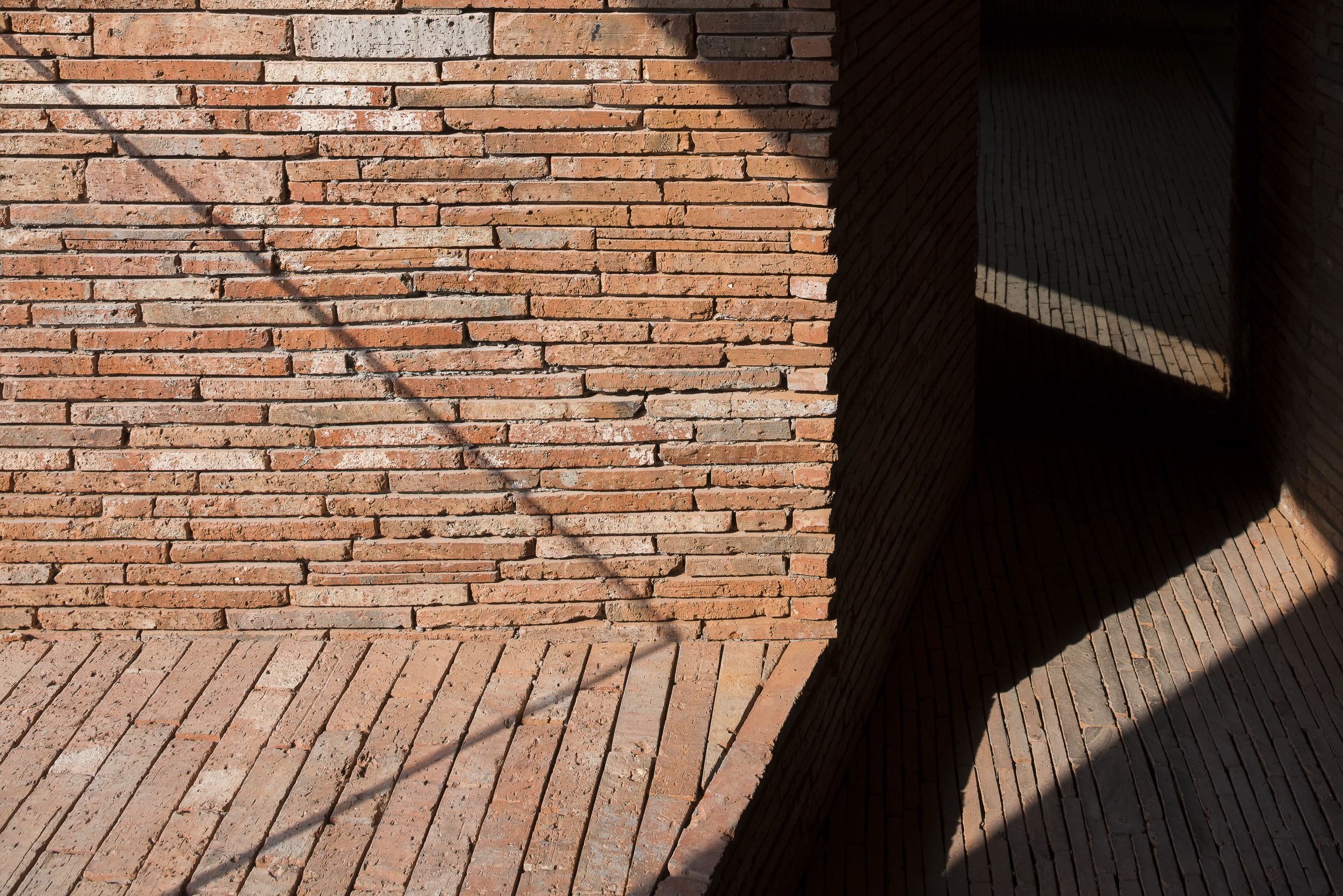 反对忽视材料及构造的纯粹抽象理论,而是热衷于使用一些比如砖石等具有地域特色的传统建筑材料,更容易与基地环境产生对话,唤起人们的历史记忆。强调建造的清晰逻辑,这是为基于历史文脉的建造造型自身的清晰可读性服务的。
Oppose the pure abstract theory that ignores materials and structures, but is keen to use some traditional building materials with regional characteristics, such as masonry, which makes it easier to have a dialogue with the base environment and evoke people's historical memory. Emphasize the clear logic of construction, which serves the clear readability of the construction model based on historical context.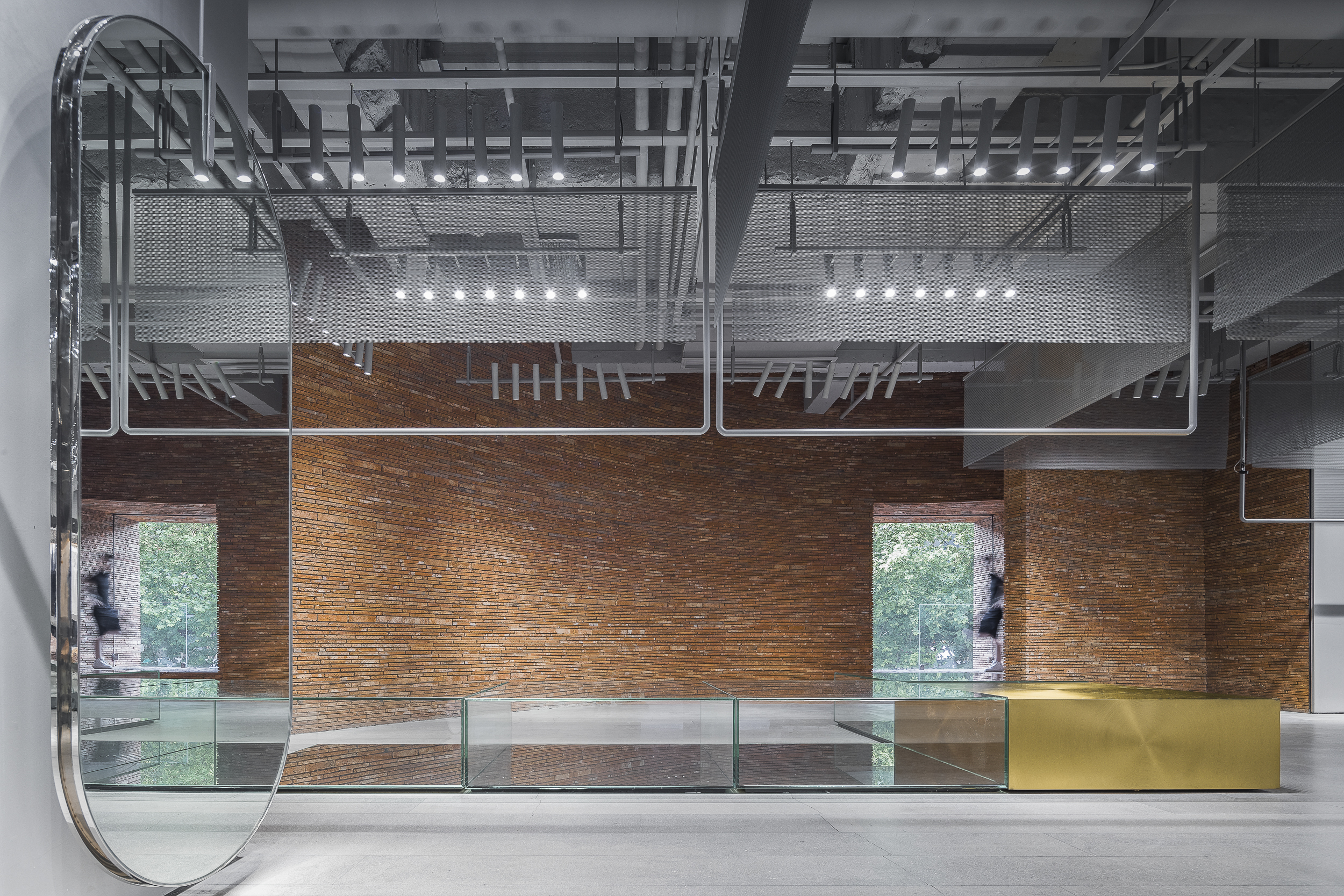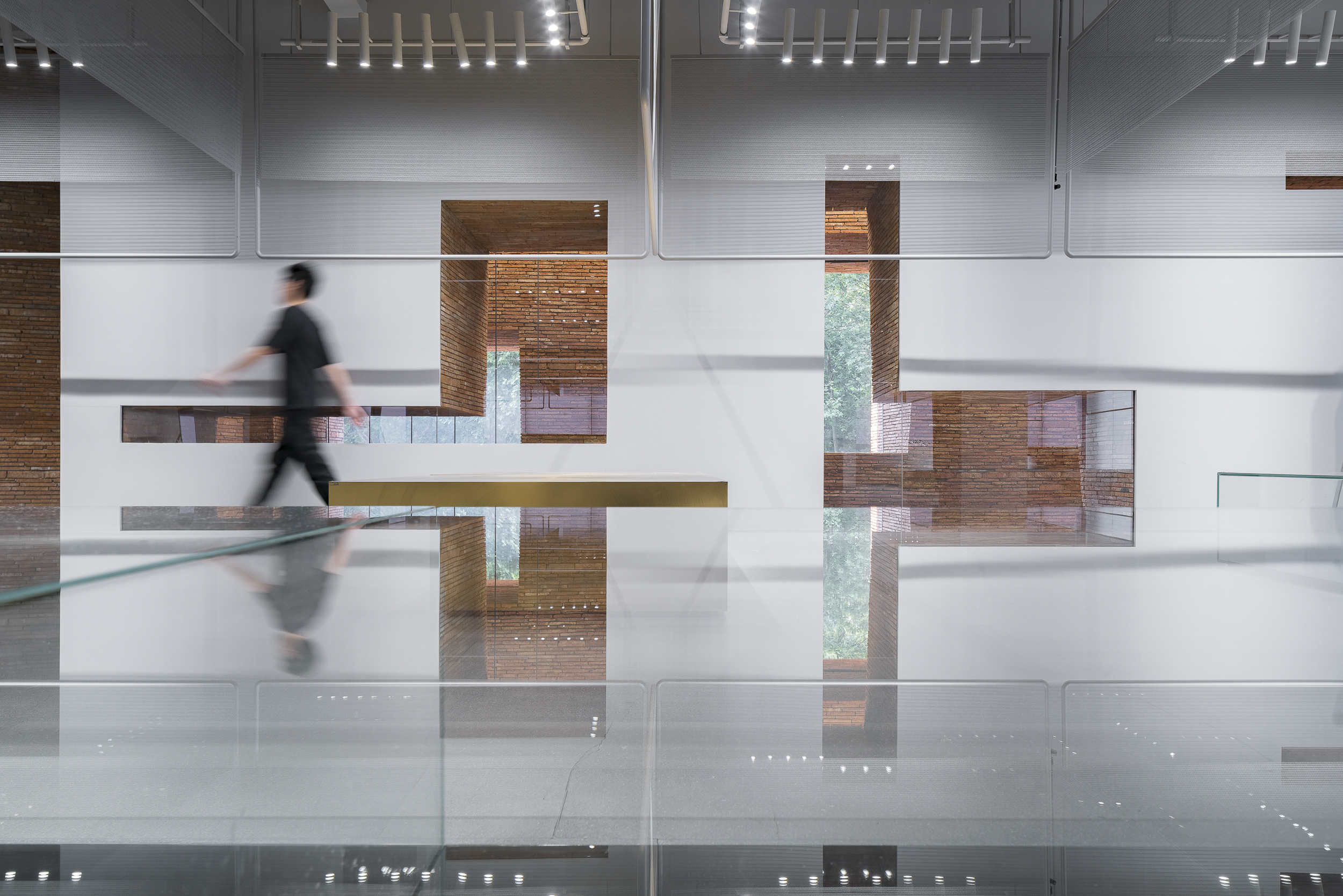 建筑内所呈现的原创艺术装置'墟'是这个项目创作中另一件值得描绘的故事。它将UR提供的产品作为基础素材,由艺术陈列设计品牌A&V担纲创作。其创作语境中废墟作为时尚题材的符号性作品吸引了无数镜头与注目。
The original art installation 'Ruins' presented in the building is another story worth describing in the creation of this project. It uses the products provided by UR as the basic material and is created by the art display design brand A&V. In his creative context, ruins as a symbolic work of fashion themes have attracted countless shots and attention.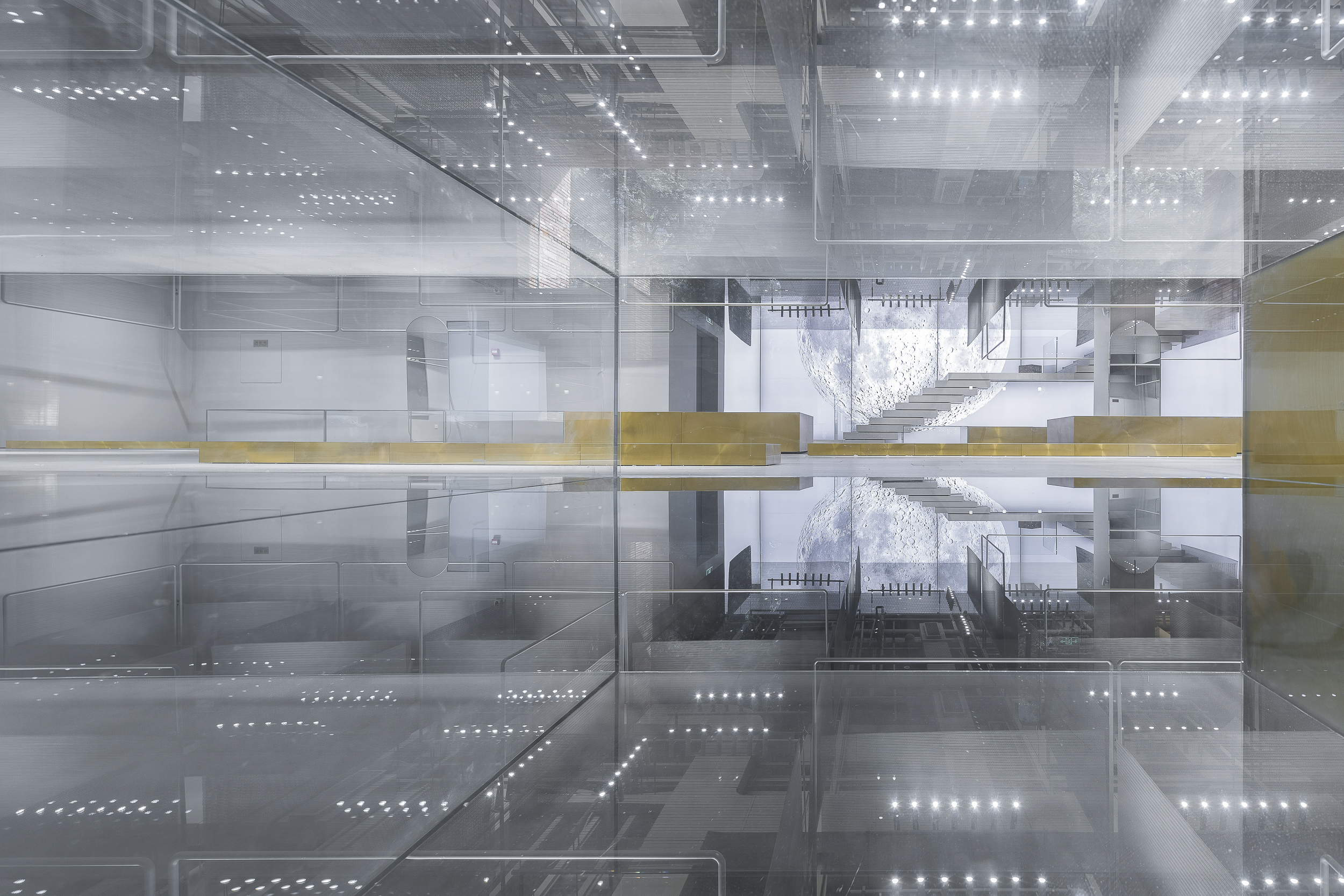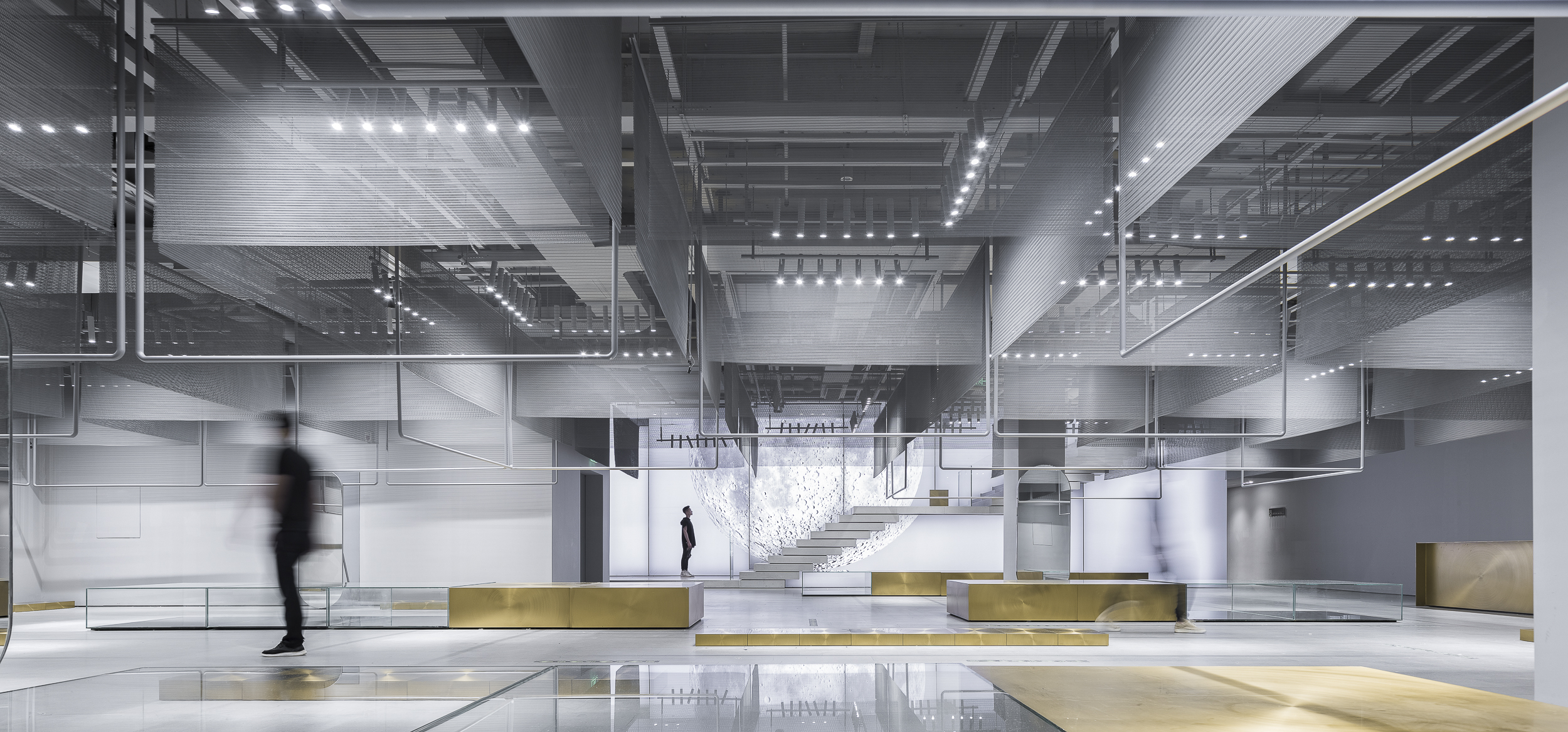 它描述的叛逆与质疑恰是设计师认为时尚的核心价值。原建外立面的矩形窗洞投射进峡谷室内侧的窗洞发生符号性变化,由传统几何到解构几何的投射是设计语境中关于时代审美符号变迁的暗喻。
The rebellion and questioning it describes are precisely the core values that designers think of fashion. The rectangular window holes on the original facade projected into the window holes on the interior side of the canyon undergo a symbolic change. The projection from traditional geometry to deconstructed geometry is a metaphor for the change of aesthetic symbols of the times in the design context.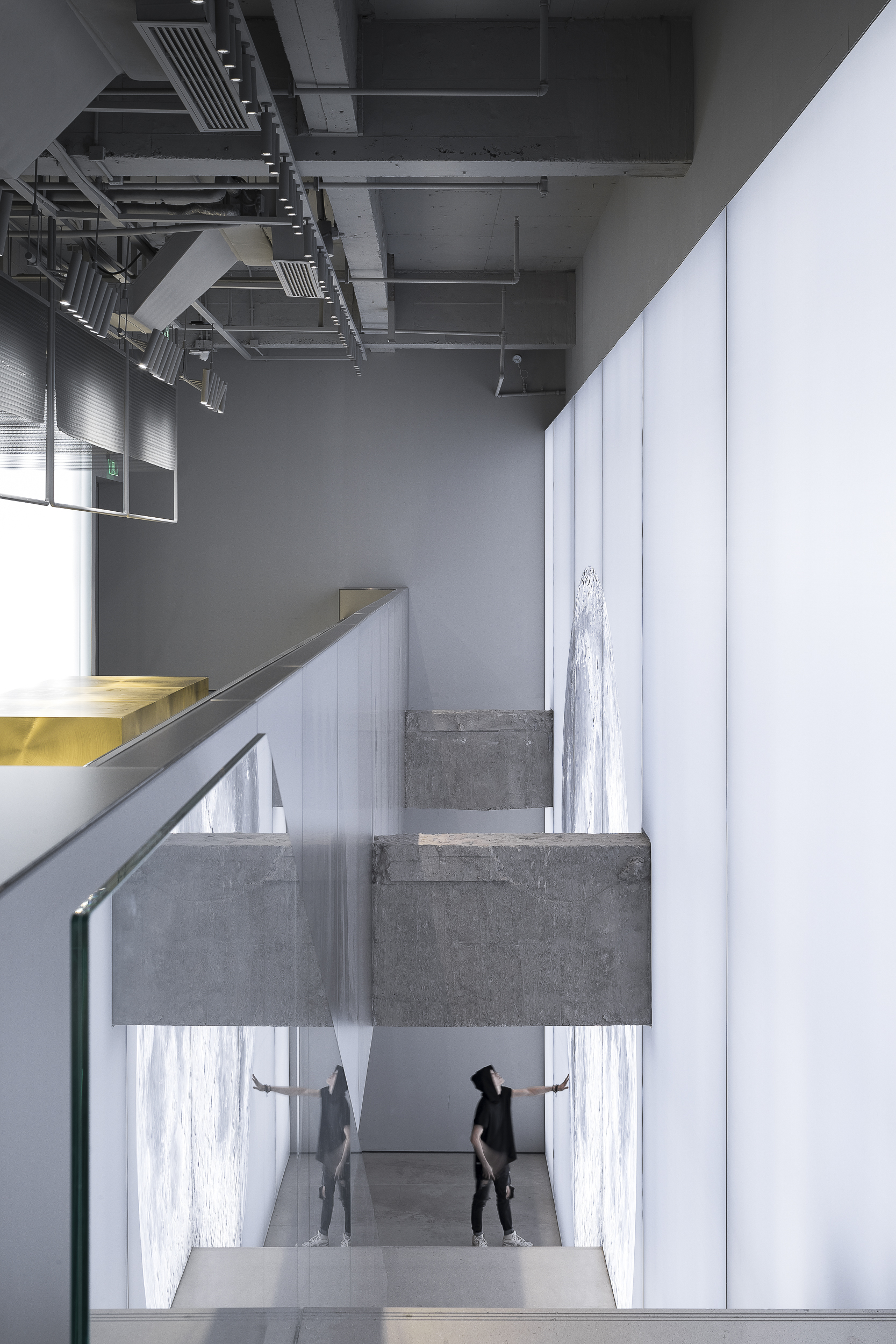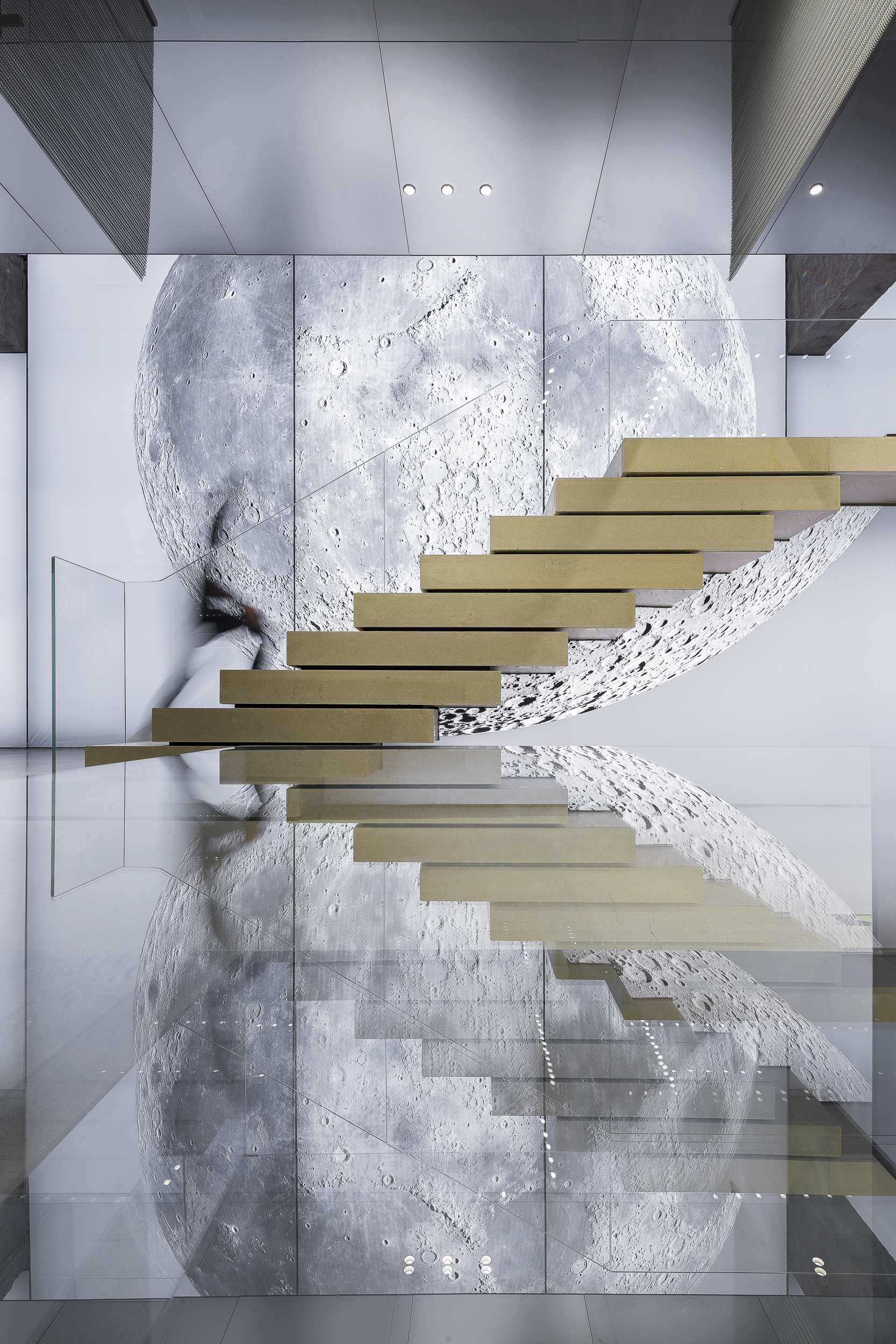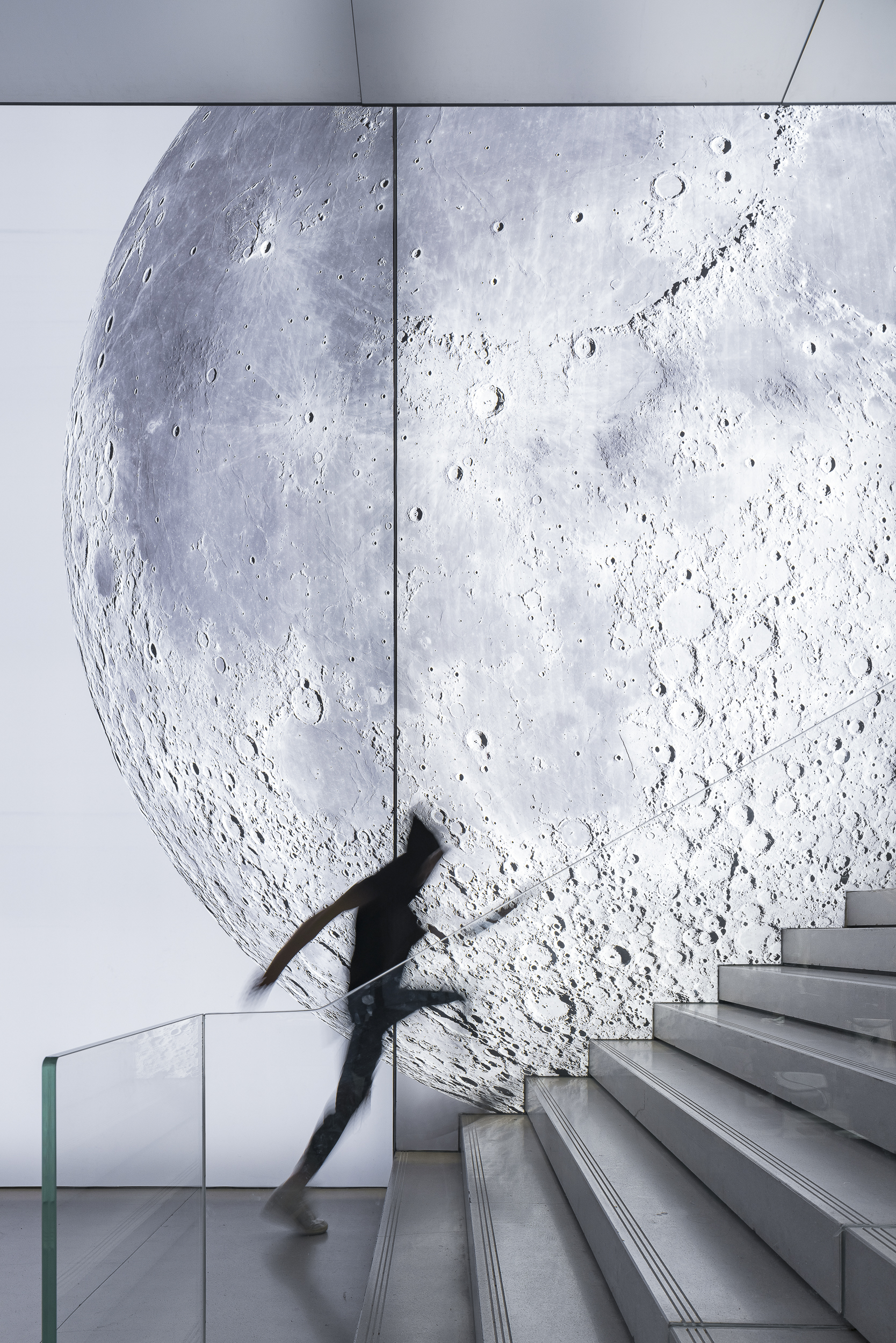 七米直径的月球位于主体店铺的正立面,即引流步梯的侧翼。如莫名昭示的少年梦境,或者出离现实的意向符号。这是继峡谷之墟后的另一记空间振奋。
The seven-meter-diameter moon is located on the front elevation of the main shop, that is, on the flanks of the drainage ladder. Such as inexplicable teenage dreams, or intentional symbols that are out of reality. This is another space of excitement after the ruins of the canyon.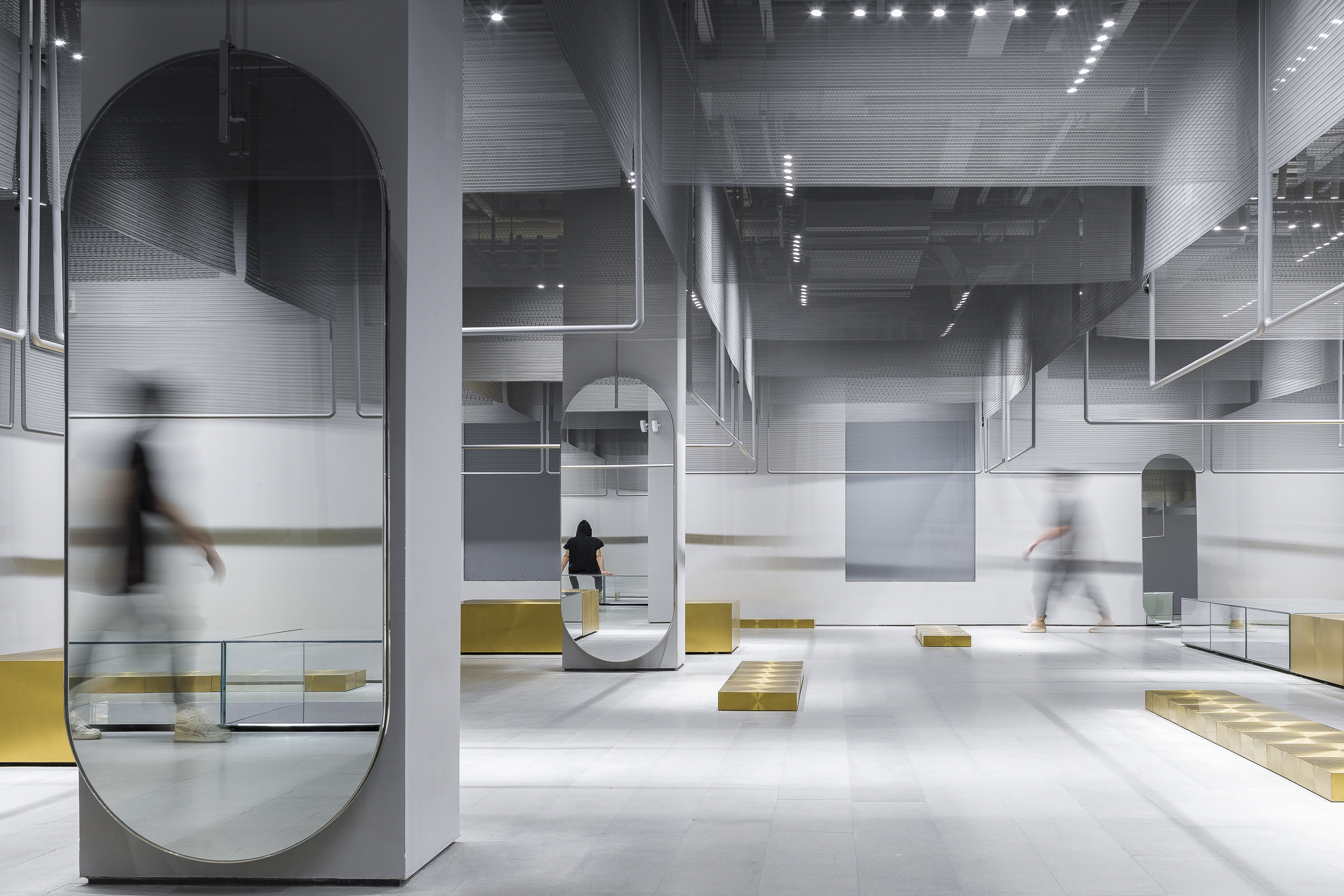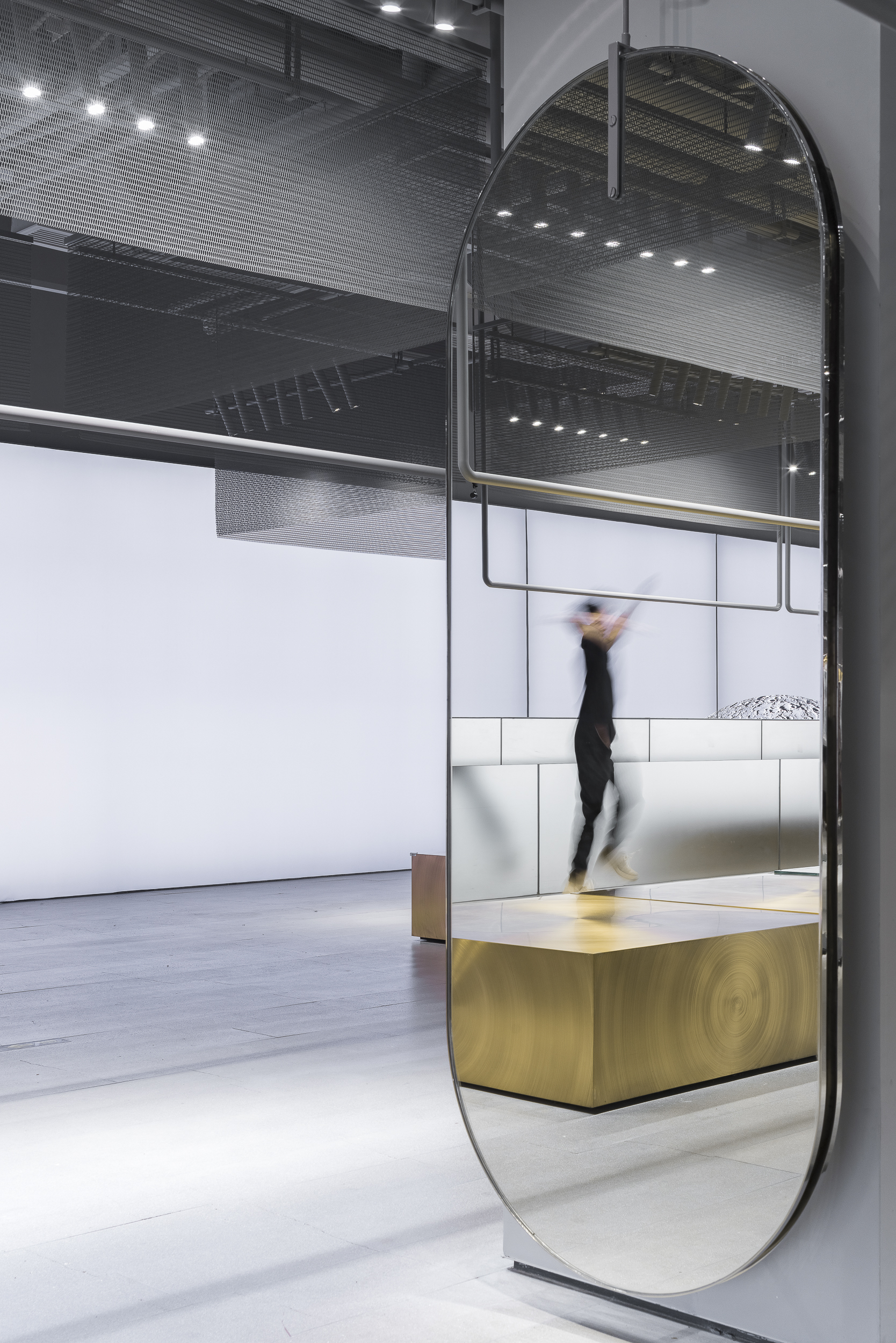 UR旗舰店的室内空间由25%灰调作为基底,形成与'峡谷'区间空间节奏上的对比同时其重点在于通过建筑柱间模数分解成的货架道具模数,并以此形成主要人流动线的组织与引导。顶部的金属帘令原建筑保持最大程度的空间高度表现力同时适当通过人行透视线对原建固定管线进行遮挡。
The interior space of the UR flagship store is based on 25% gray tones, forming a contrast with the space rhythm of the 'canyon'. At the same time, the focus is on the shelf prop modulus decomposed by the inter-column modulus of the building, which forms the main flow of people. Line organization and guidance. The metal curtain on the top allows the original building to maintain the maximum expressiveness of the space and at the same time properly shield the originally fixed pipeline through the pedestrian perspective.
---