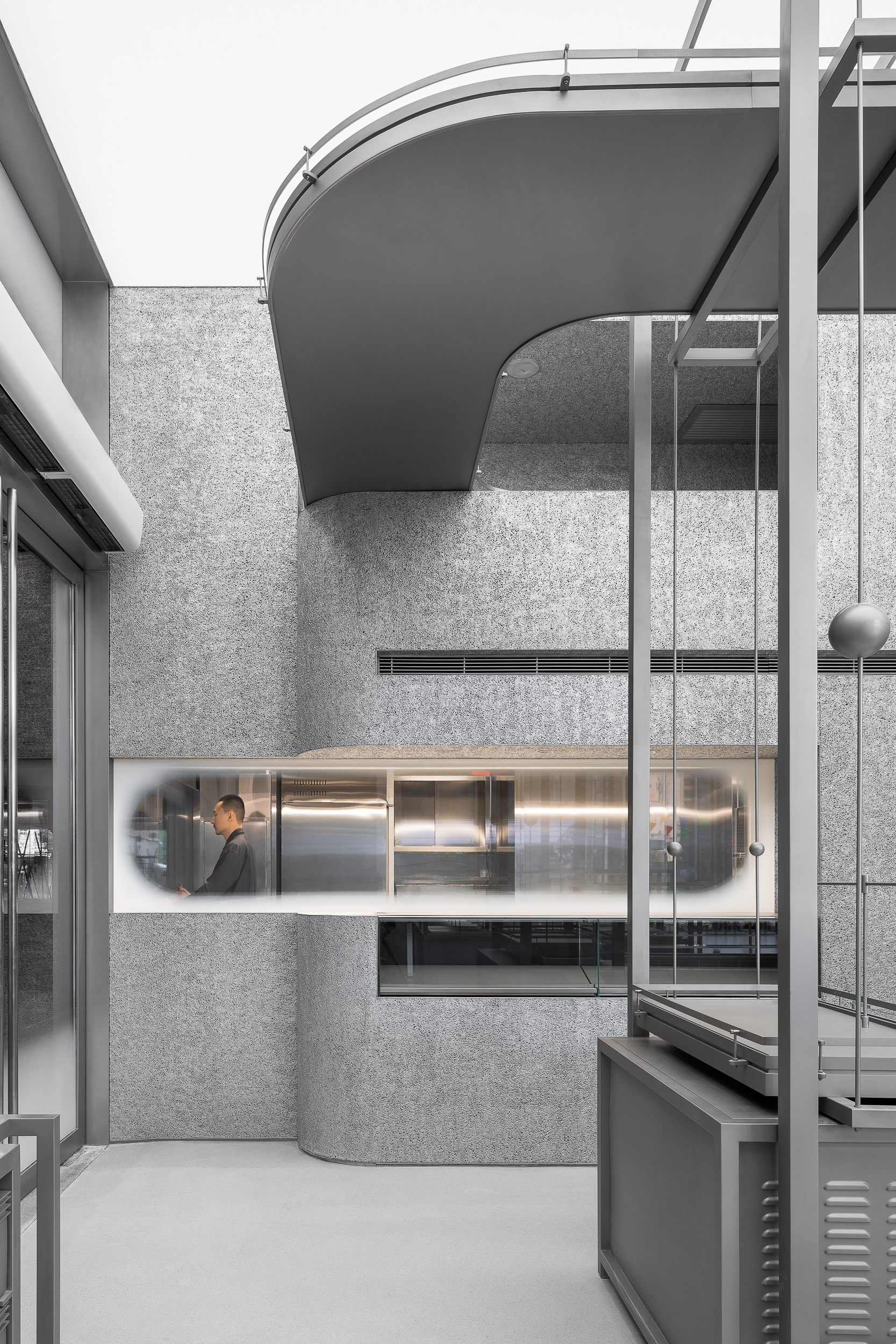 不仅仅是一种反叛行为,
Not just an act of rebellion,
更是释放形体和体量的无限可能。
It is the infinite possibility of releasing form and volume.
---
媒介在商业的历史进程中发挥着重要的传播作用,它本身蕴含着时代的属性,它的进步改变着人们接收信息的方式,进而推动人类思考和行为的进化。
The media plays an important role in the historical process of commerce. It itself contains the attributes of the times. Its progress changes the way people receive information and promotes the evolution of human thinking and behavior.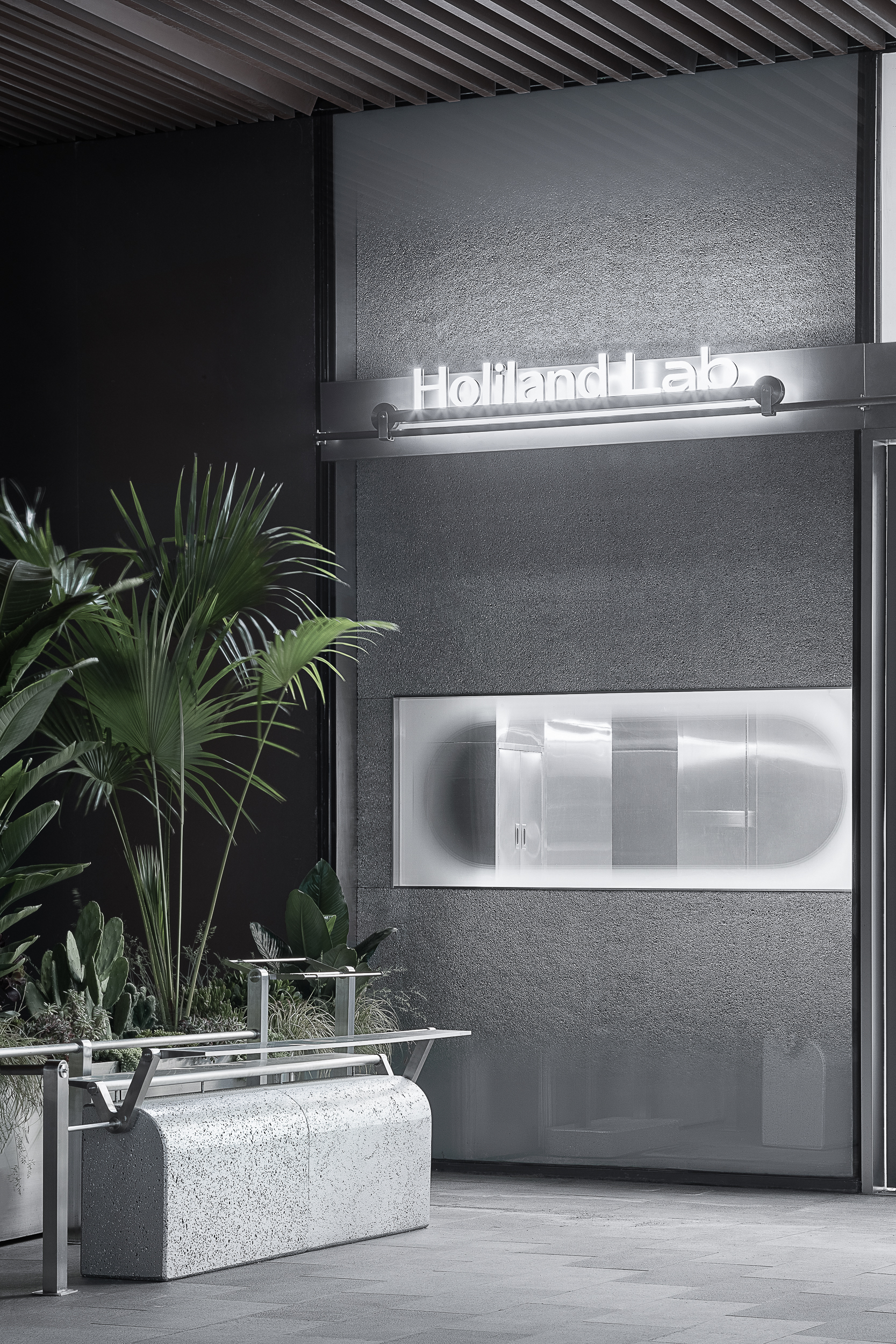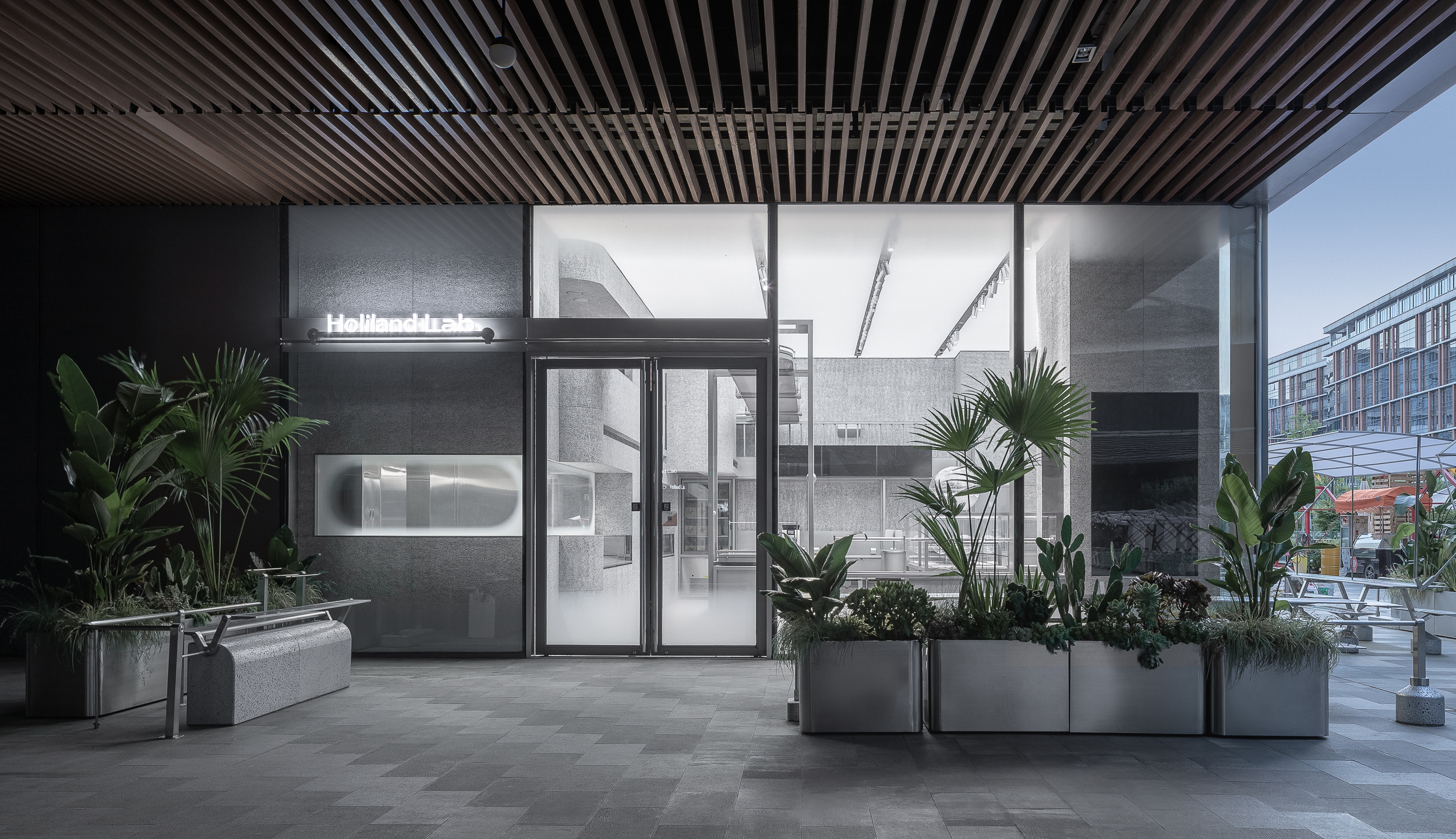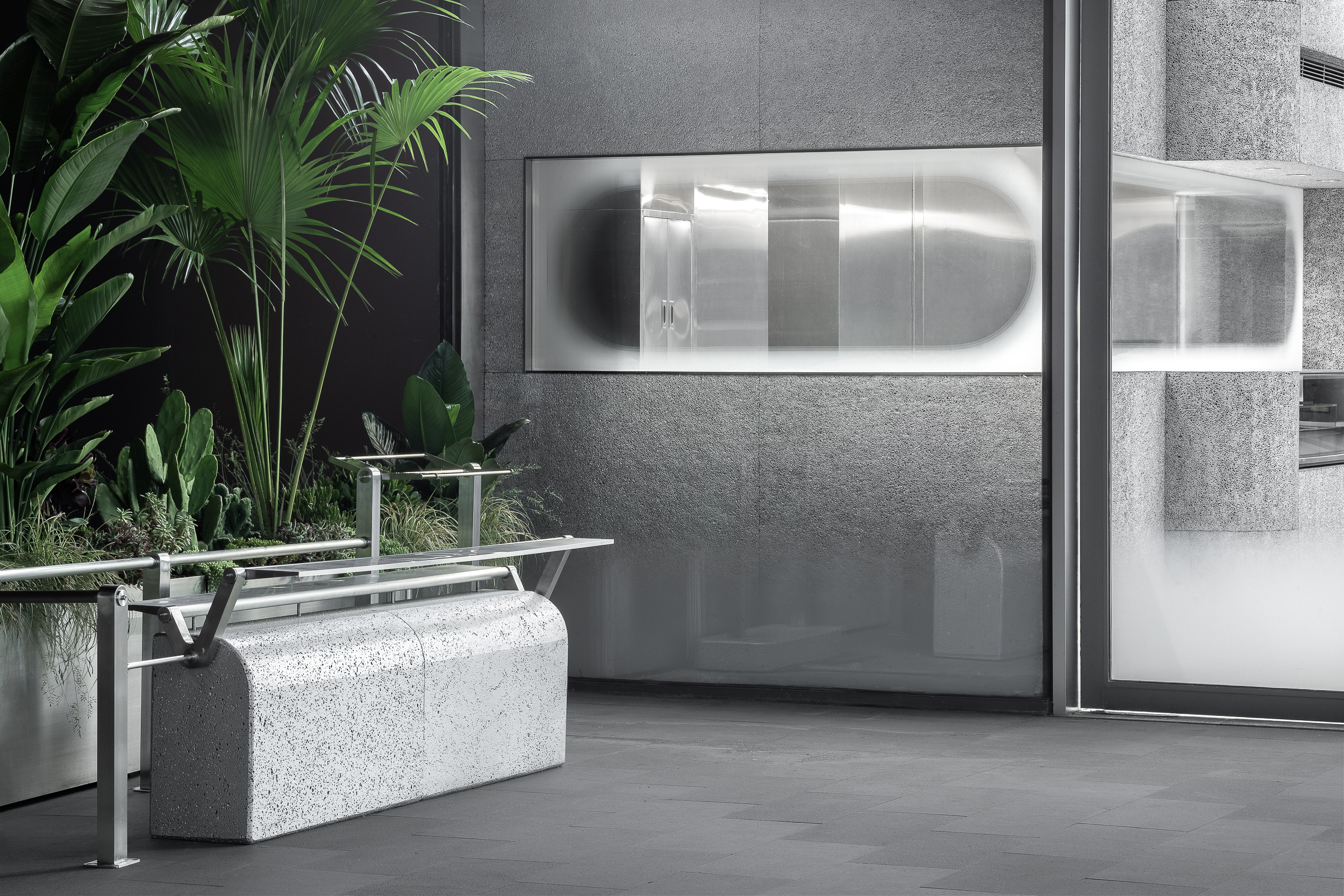 无论是过去、现在或未来,人们始终保持着对食物更多维度的探索,从而推动着食品生产技术的不断迭代和创新,而食品工业的发展,也为人们的食味和生活带来了无限可能。这种共生的关系成为这一处空间概念的灵感来源,设计师试图从后工业时代的复杂性中摄取素材,创造出具有机械美学的趣味空间。
Whether it is the past, present or future, people always keep exploring more dimensions of food, thus promoting the continuous iteration and innovation of food production technology. The development of the food industry has also brought infinite possibilities for people's tastes and life. This symbiotic relationship became the source of inspiration for the concept of this space. The designer tried to take in materials from the complexity of the post-industrial era to create an interesting space with mechanical aesthetics.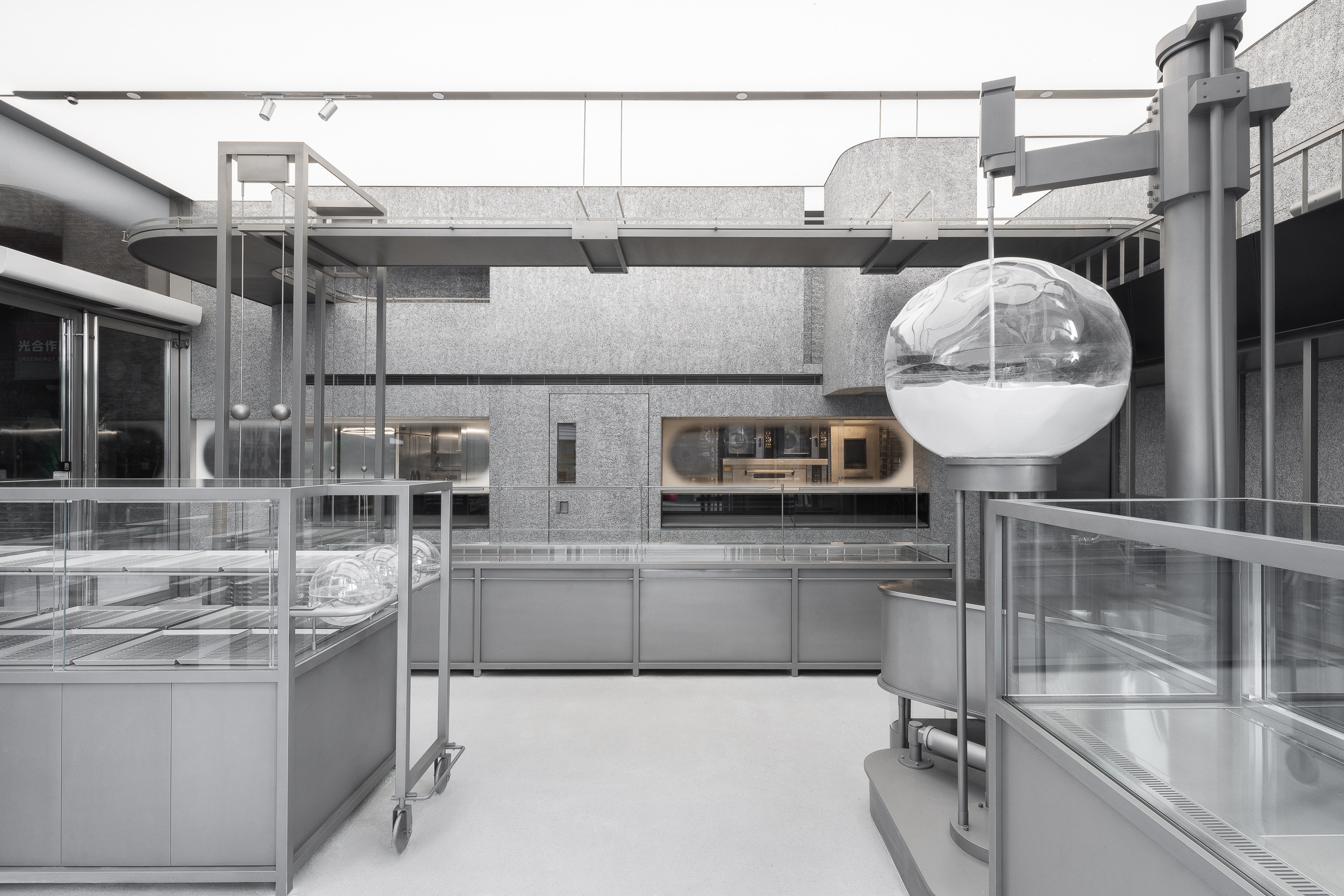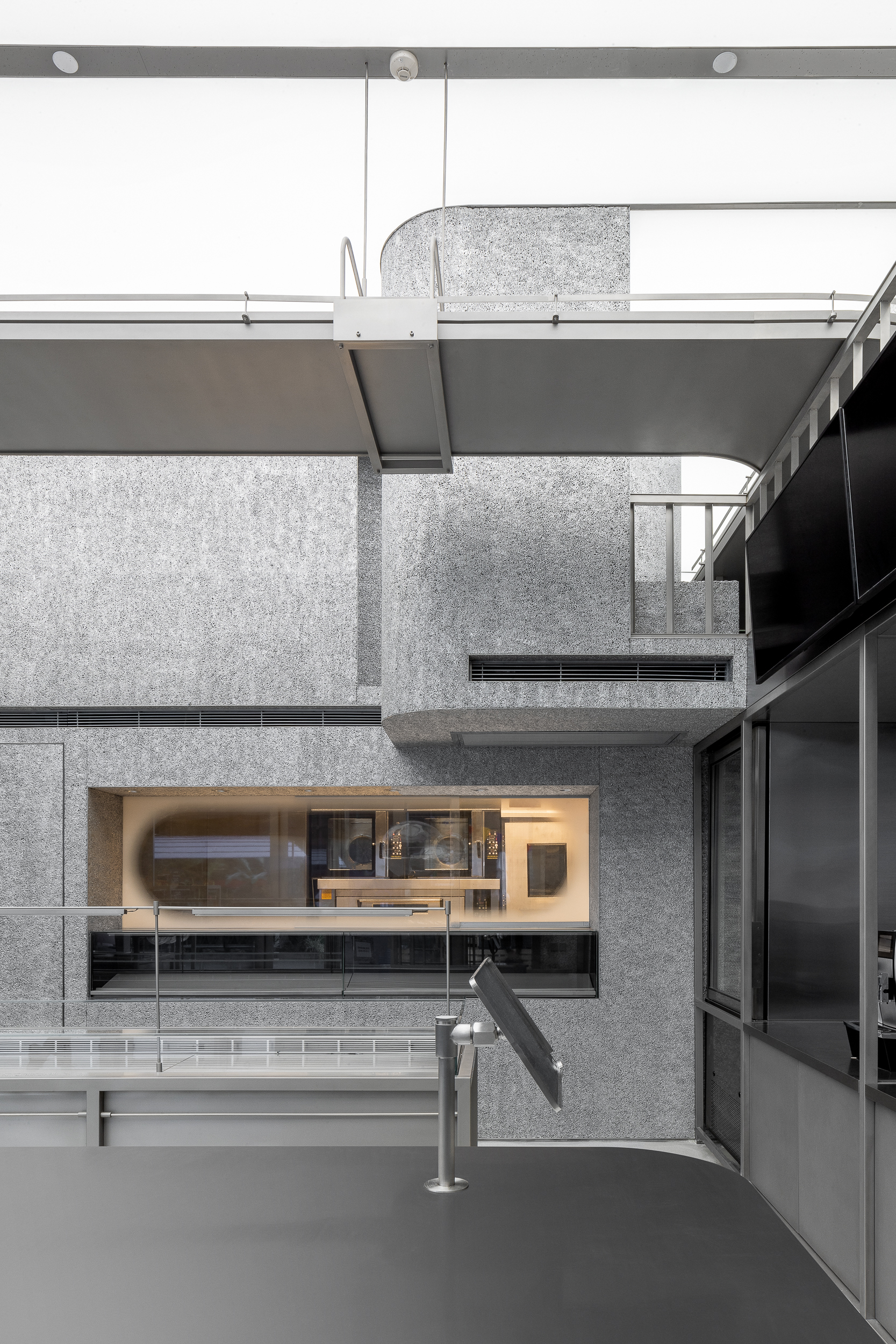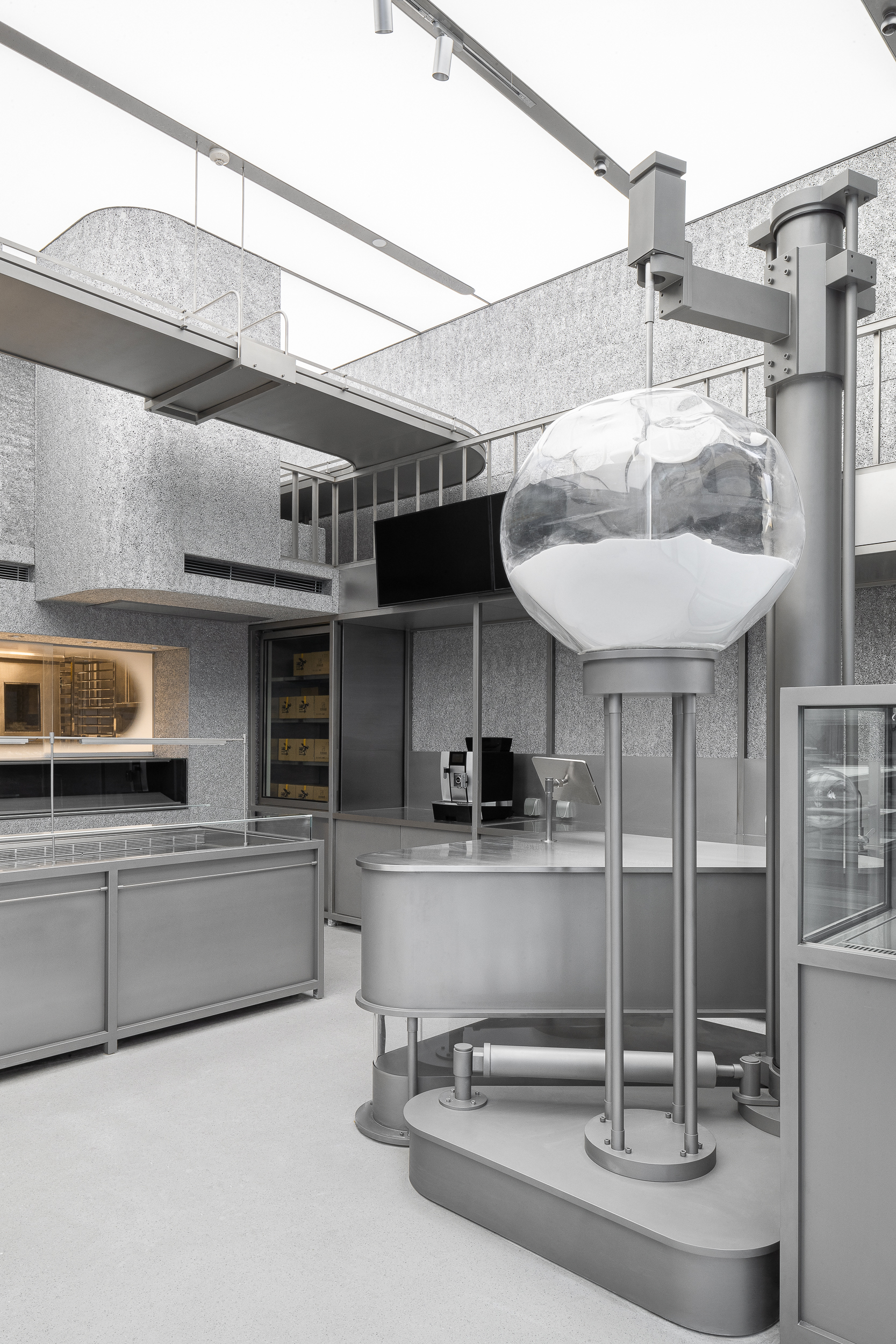 我们将场景想象成一个"系统化"的生产车间,在这里陈列的产品更像是精确、可控的工业制品。机械组件暗示着标准化与自动化技术的进步,通过艺术的表达将挑高的传送带以及循环搅动的面粉容器作为可陈列、展示的场景单元,让人们仿佛置身于一个"实验场",感受机械化时代背景下的复杂性。
We imagine the scene as a "systematic" production workshop, where the products displayed here are more like precise and controllable industrial products. Mechanical components imply the progress of standardization and automation technology. Through artistic expression, the high-rise conveyor belt and the circularly stirred flour container are used as display scene units, making people feel like they are in an "experimental field", and feel the complexity under the background of the mechanized era.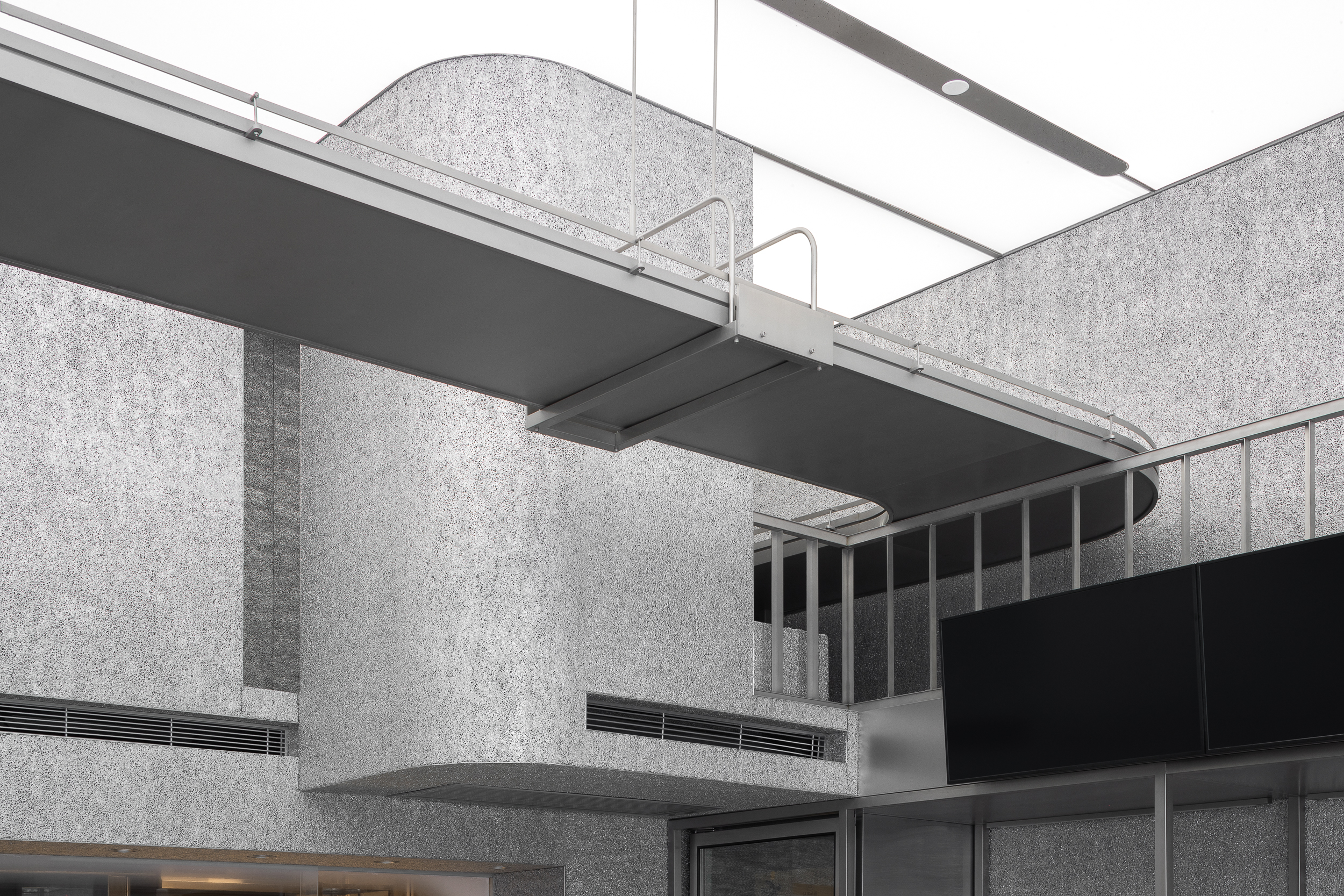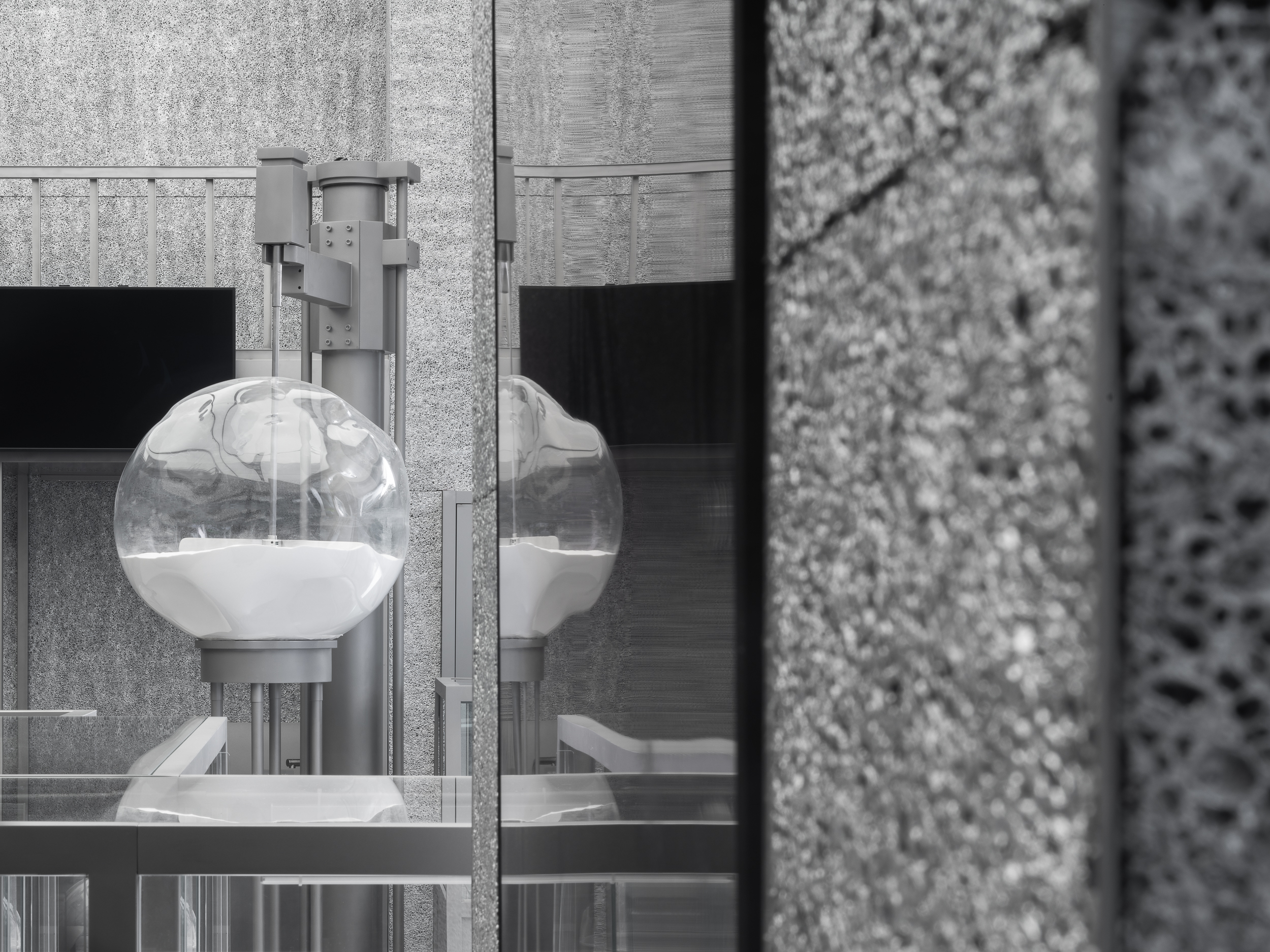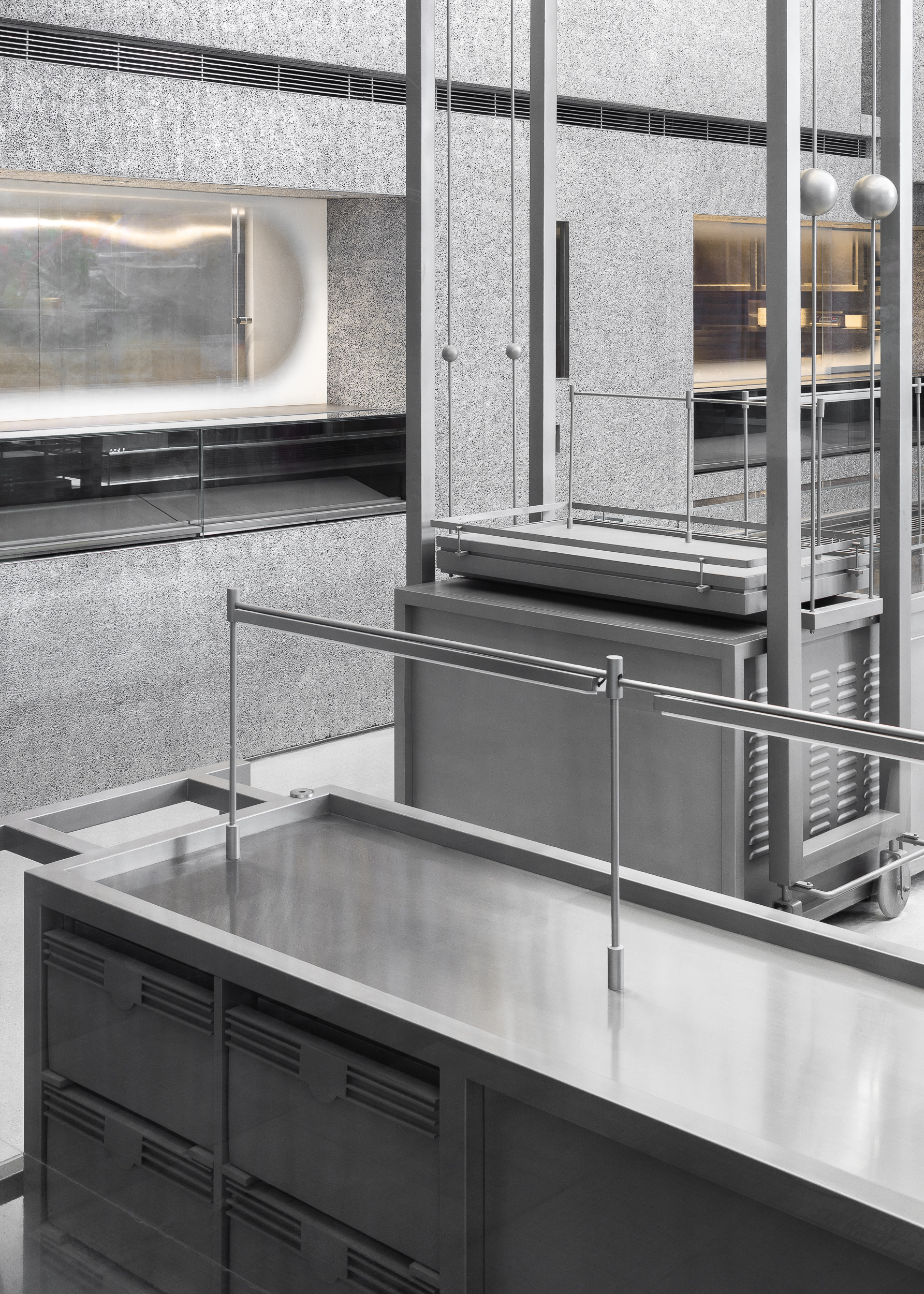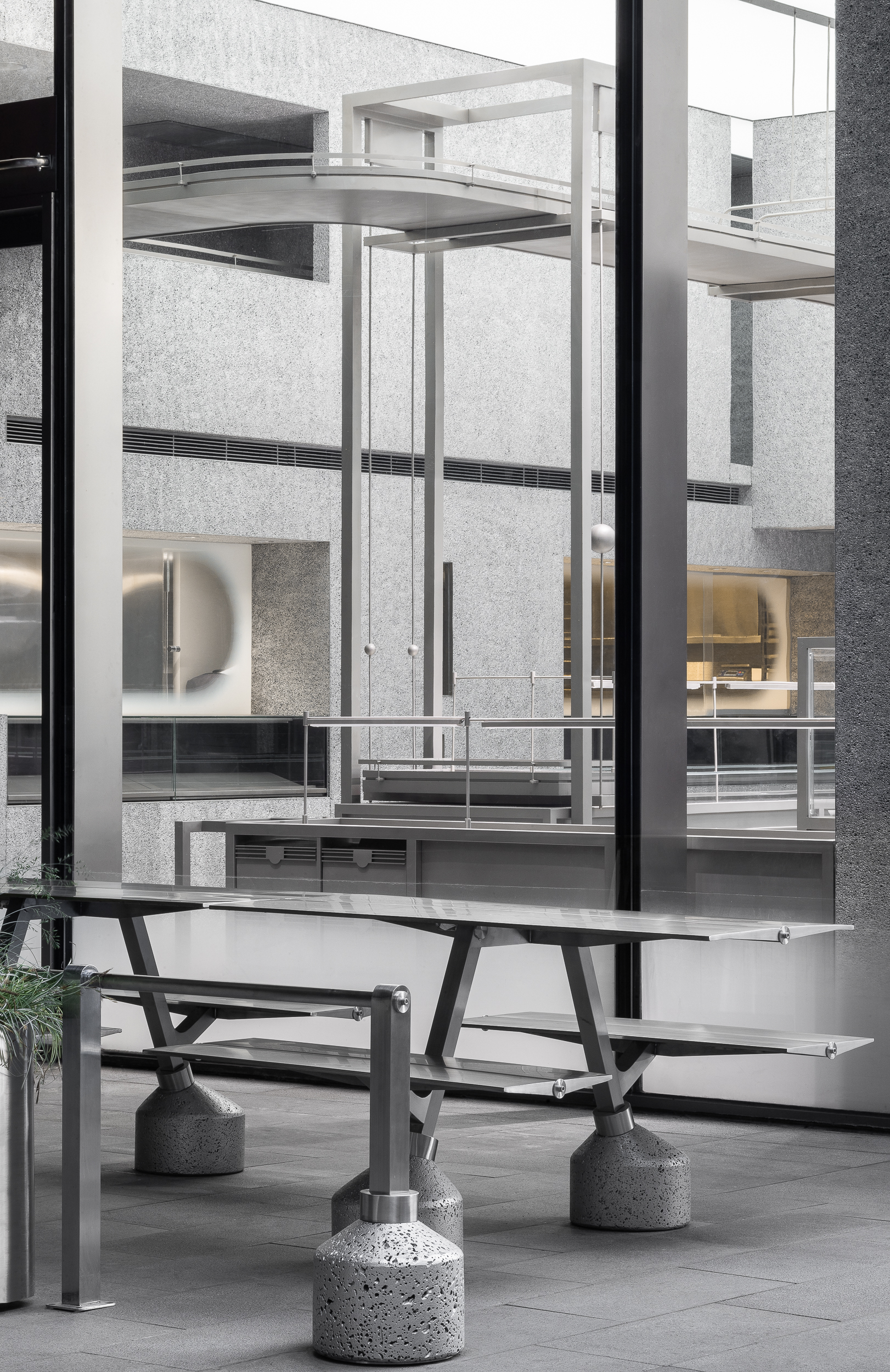 不同材质的拼接、覆盖、延伸都能让人们以最直观的方式感受空间的叙事性。泡沫铝、不锈钢等灰调材料在发光膜的均匀照射下表现出纯净的质感,通过对材料低饱和度的控制,确保机械装置作为叙事性主体存在于场景中。
The splicing, covering and extension of different materials can make people feel the narrative of the space in the most intuitive way. Gray-tone materials such as foamed aluminum and stainless steel show a pure texture under the uniform illumination of the luminescent film. The low saturation of the material is controlled to ensure that the mechanical device exists as a narrative subject in the scene.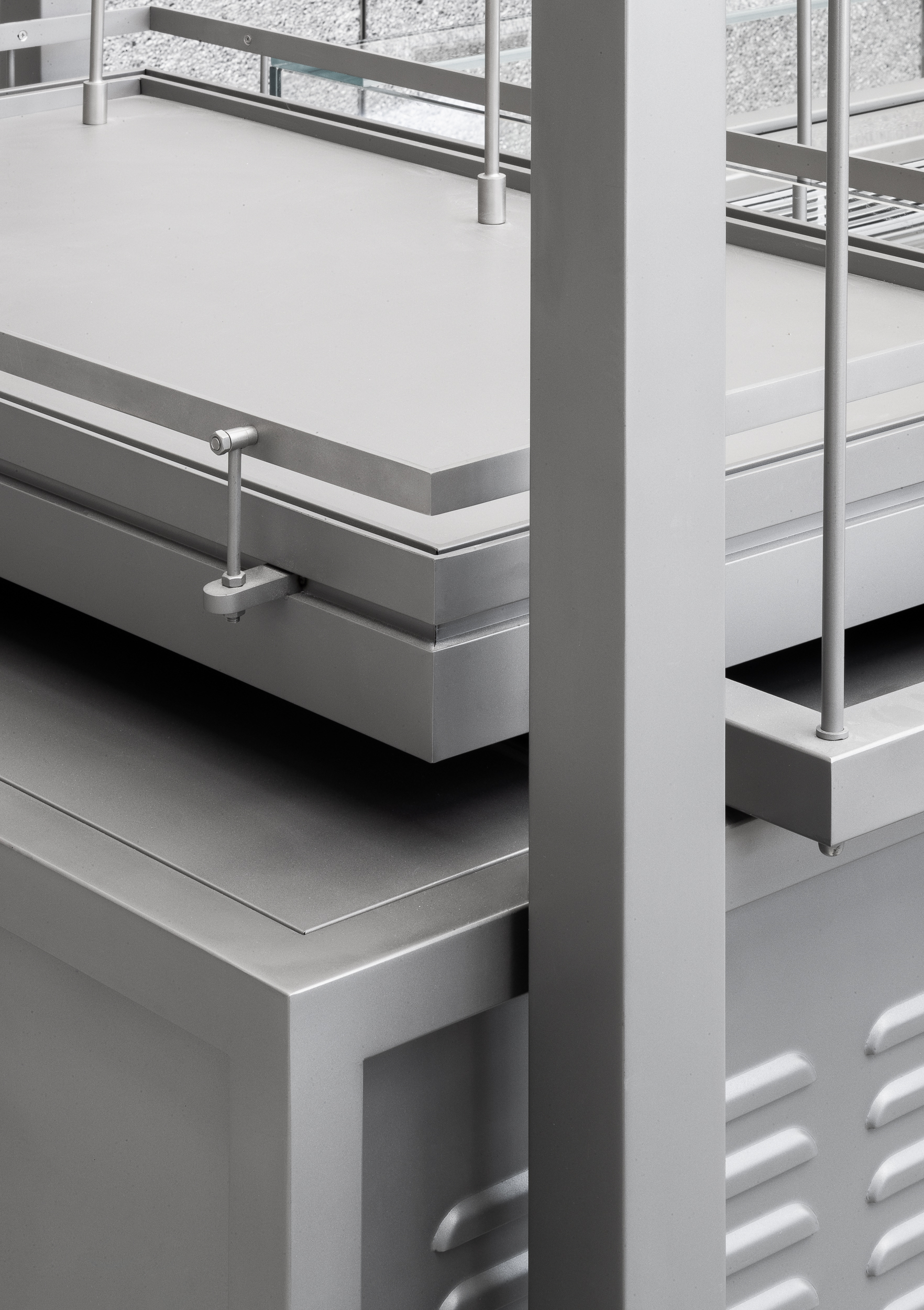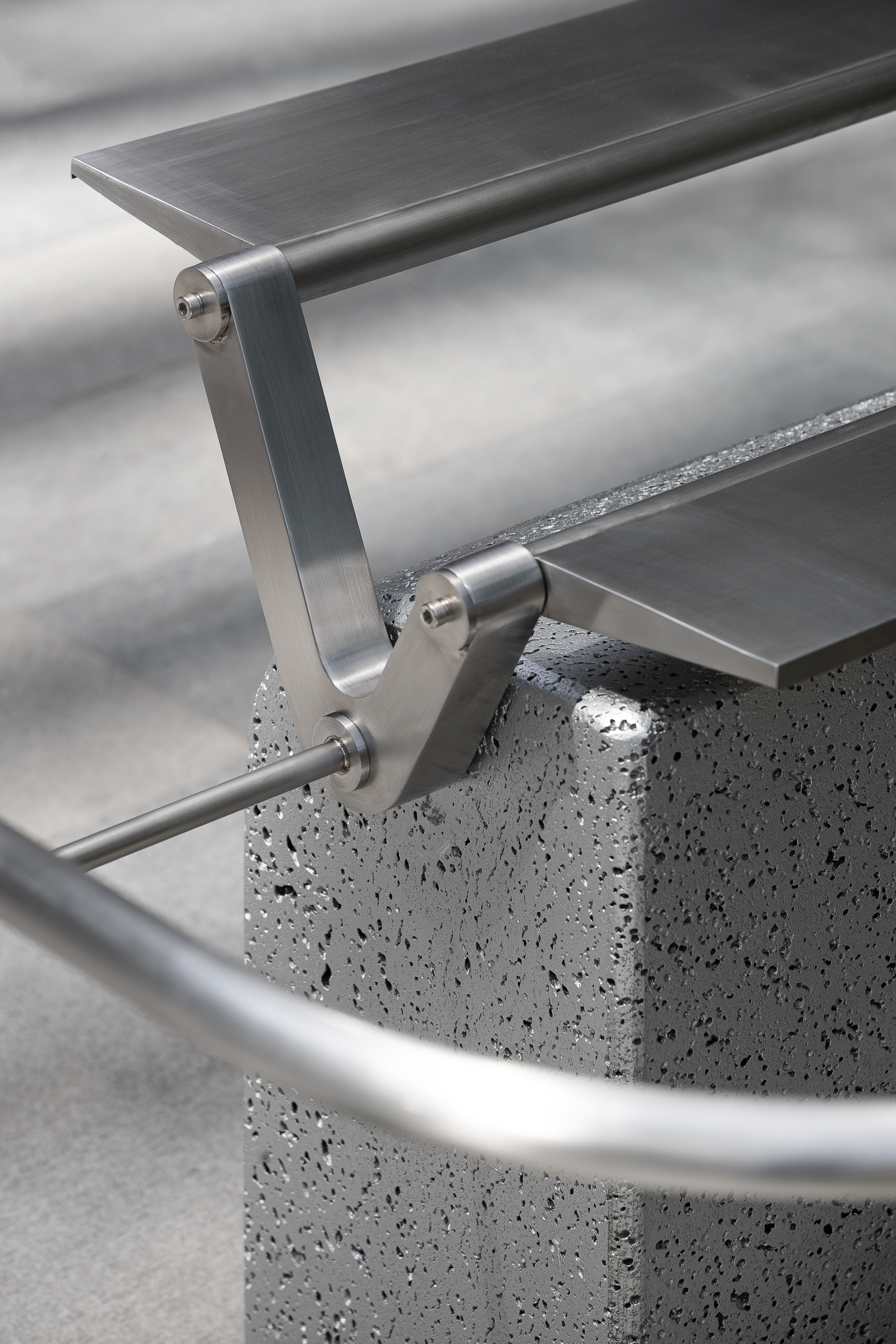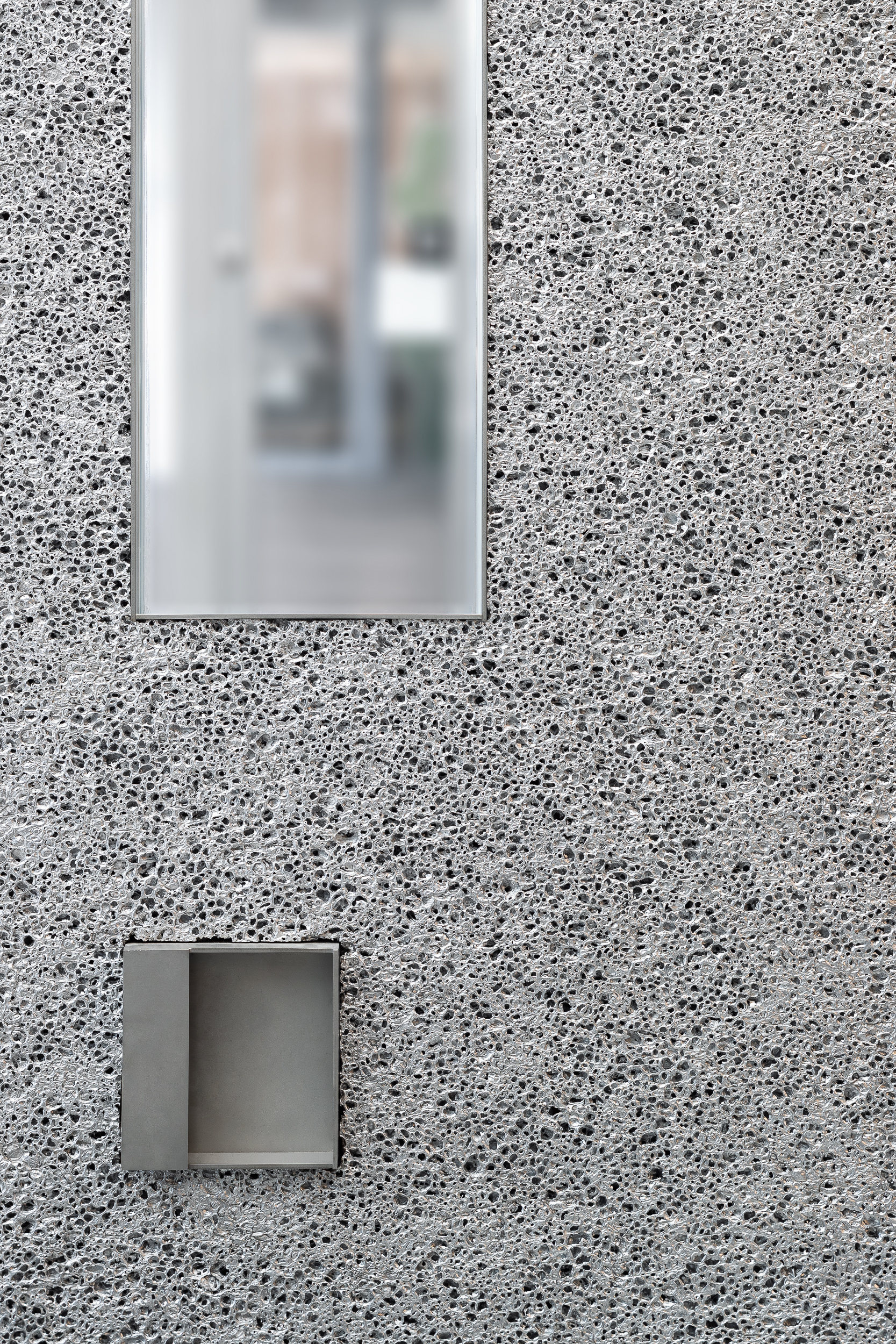 将空间构成中必定会出现的点、线、面元素从完整的事物中抽离出来再重新拼凑,将其独立性与特殊性相结合,这种分离性的处理不仅仅停留在破碎材料的层面,也可以是对室内色彩表达、灯光照明、形态结构等进行结构上的破碎和分离,突破人们对空间的抽象性的认识。"乱"中仍有特点,"乱"中仍在探求内在实质。让使用者获得冲击性的视觉体验,让空间艺术的特殊性和偶然性得到展现。
The points, lines, and surfaces that must appear in the spatial composition are extracted from the complete thing and then re-assembled, combining their independence and particularity. This separation treatment does not stop at the level of broken materials. It can also be the structural fragmentation and separation of indoor color expression, lighting, form and structure, etc., to break through people's understanding of the abstraction of space. "Chaos" still has its characteristics, and "chaos" is still exploring its inner essence. Let users get an impactful visual experience, and show the particularity and contingency of space art.
---