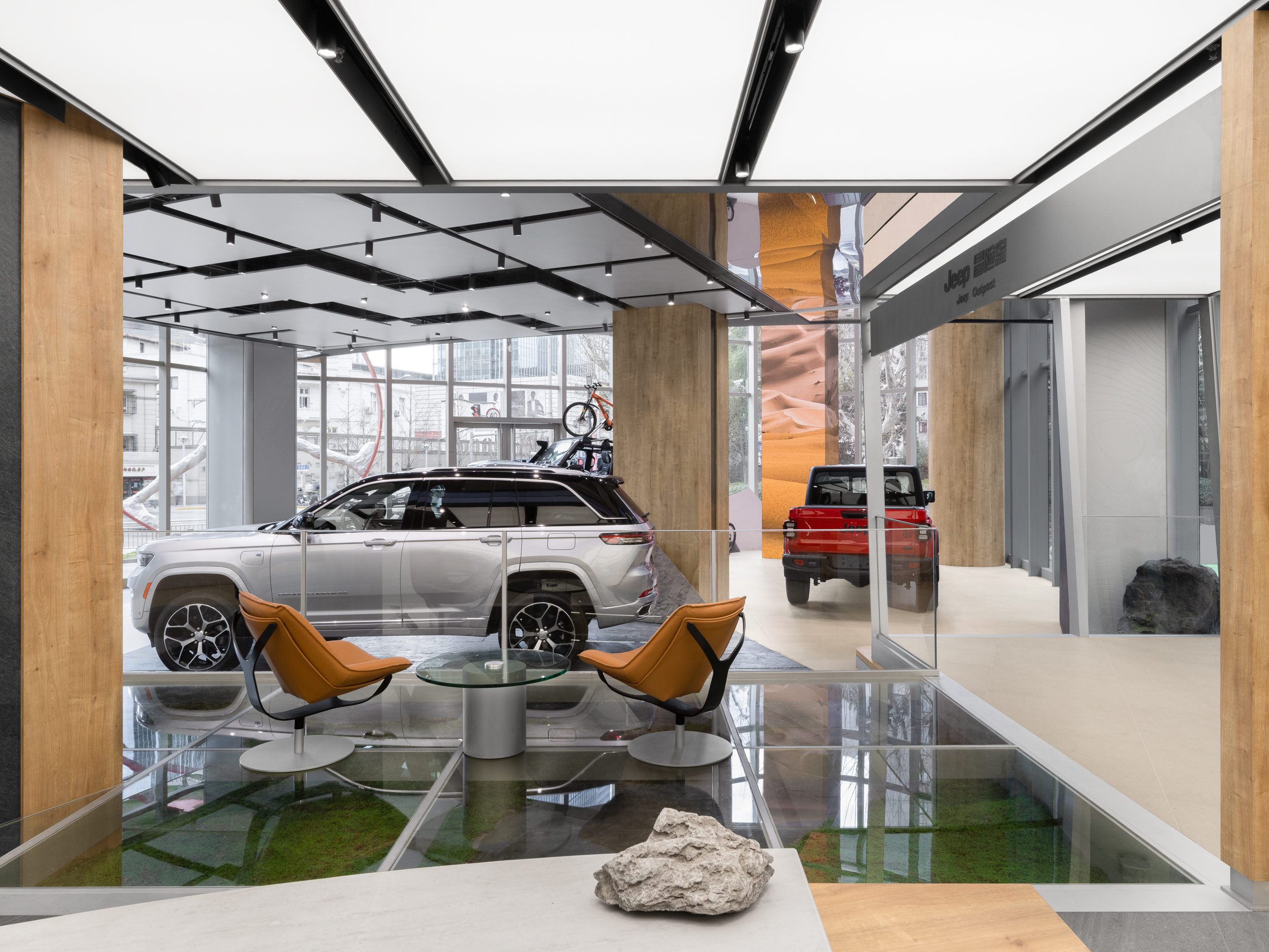 一场人与车的特殊结缘,
A special relationship between man and car.
流动的空间串联起一幕幕诗意场景。
The flowing space connects scenes of poetic scenes in series.
---
人类可以自由穿行在未来与过去,自然与原点皆为现实,而汽车就是连接的"时空隧道"。
Human beings can travel freely in the future and the past, nature and the origin are both realities, and cars are the "space-time tunnel" connecting them.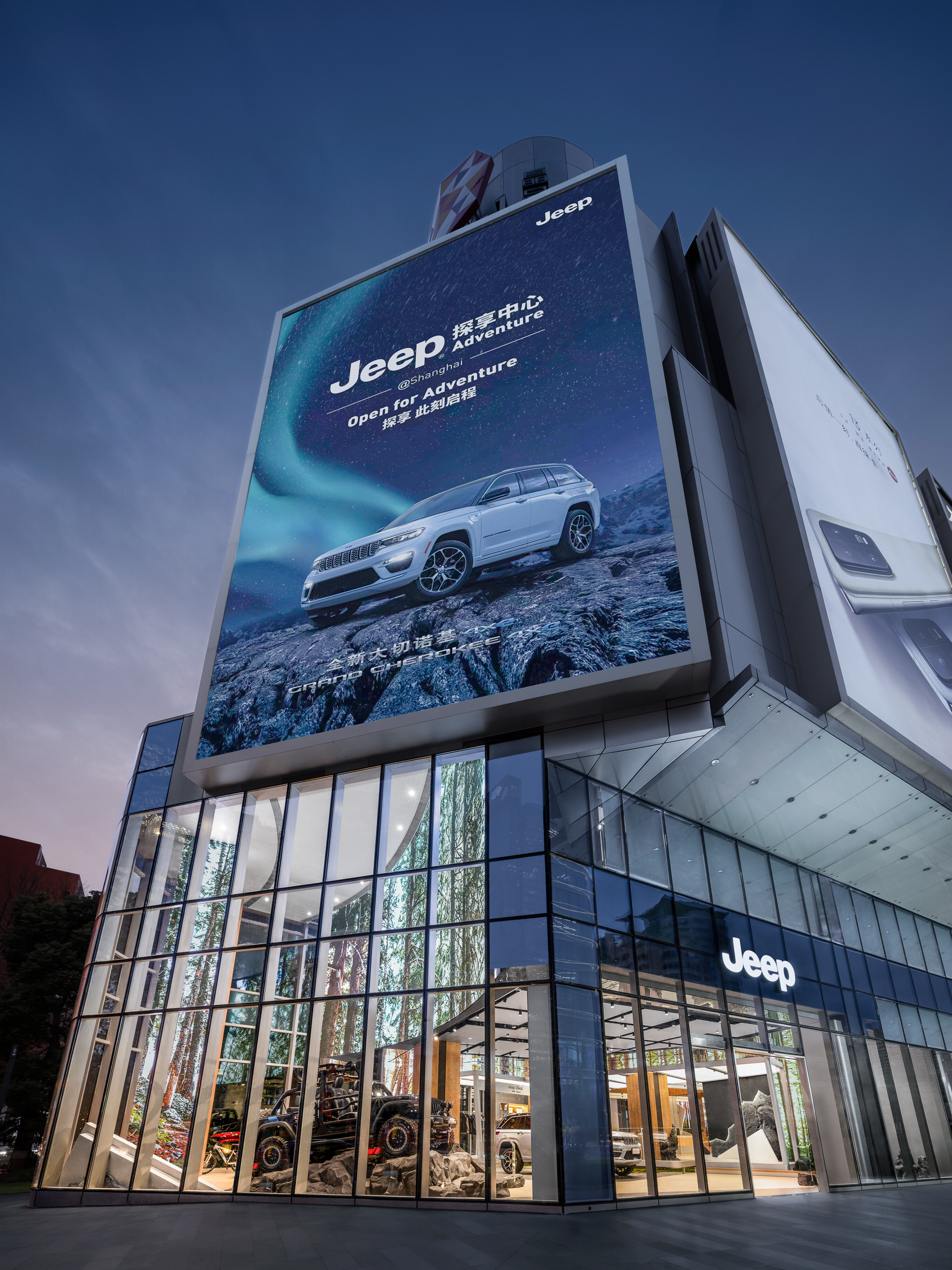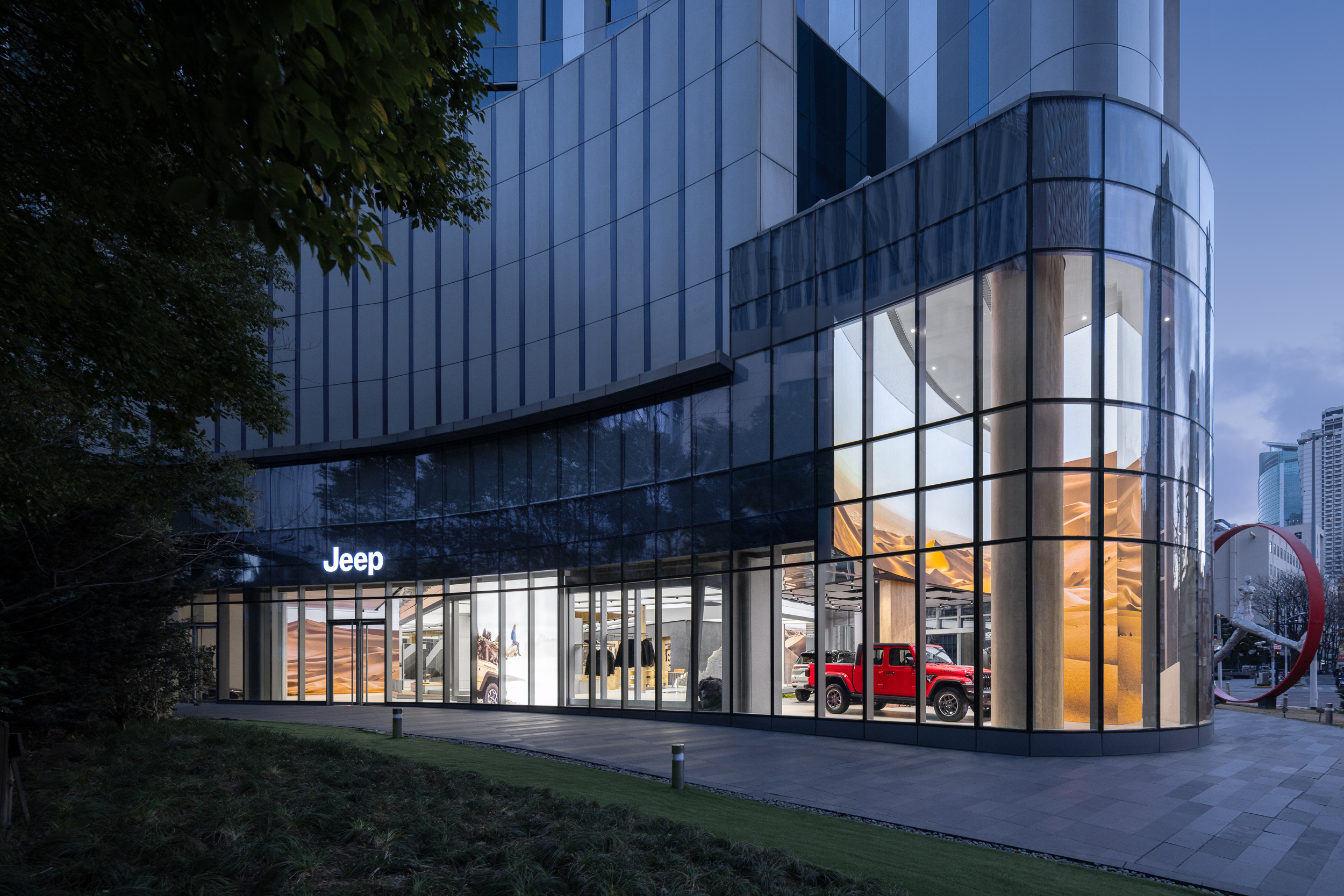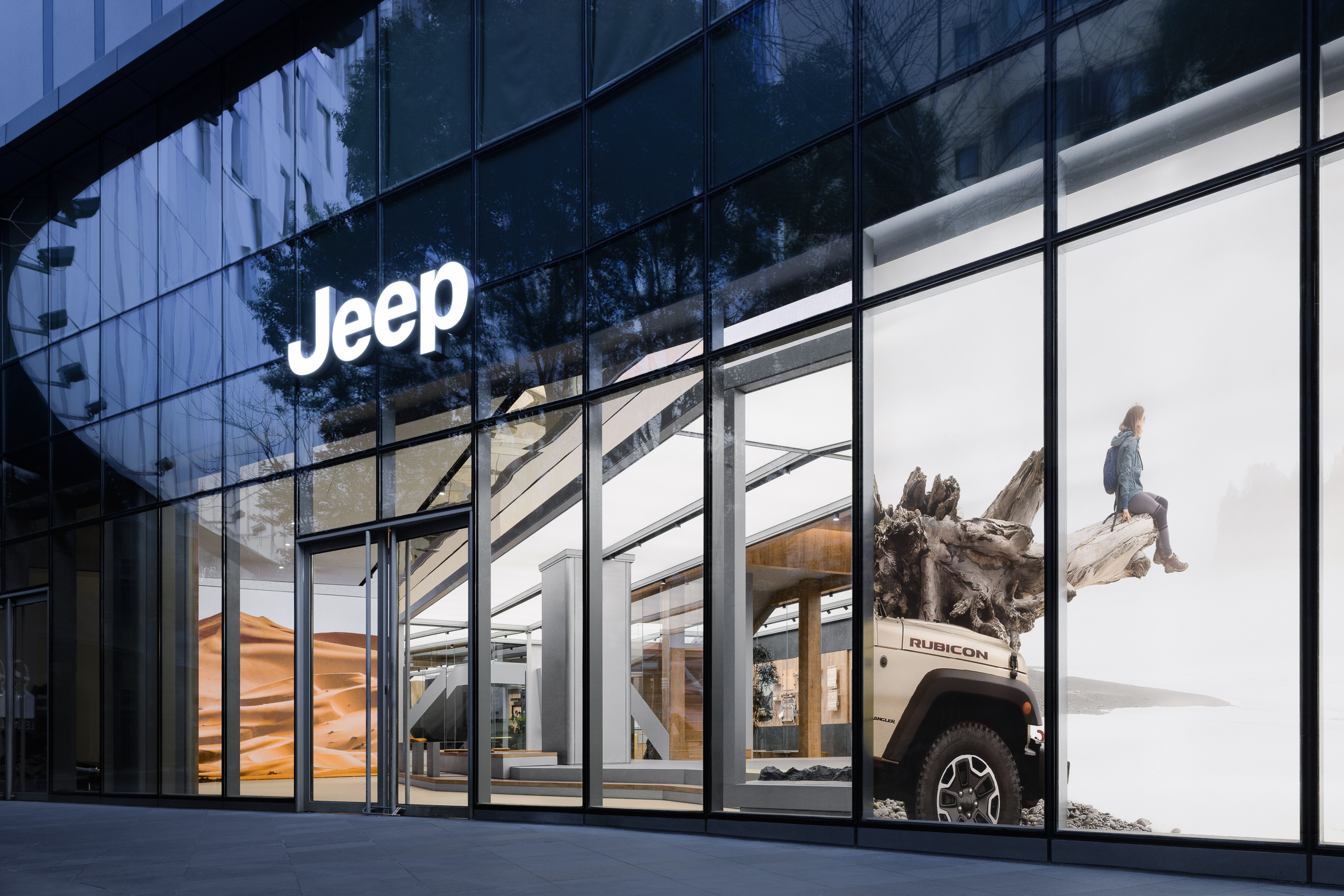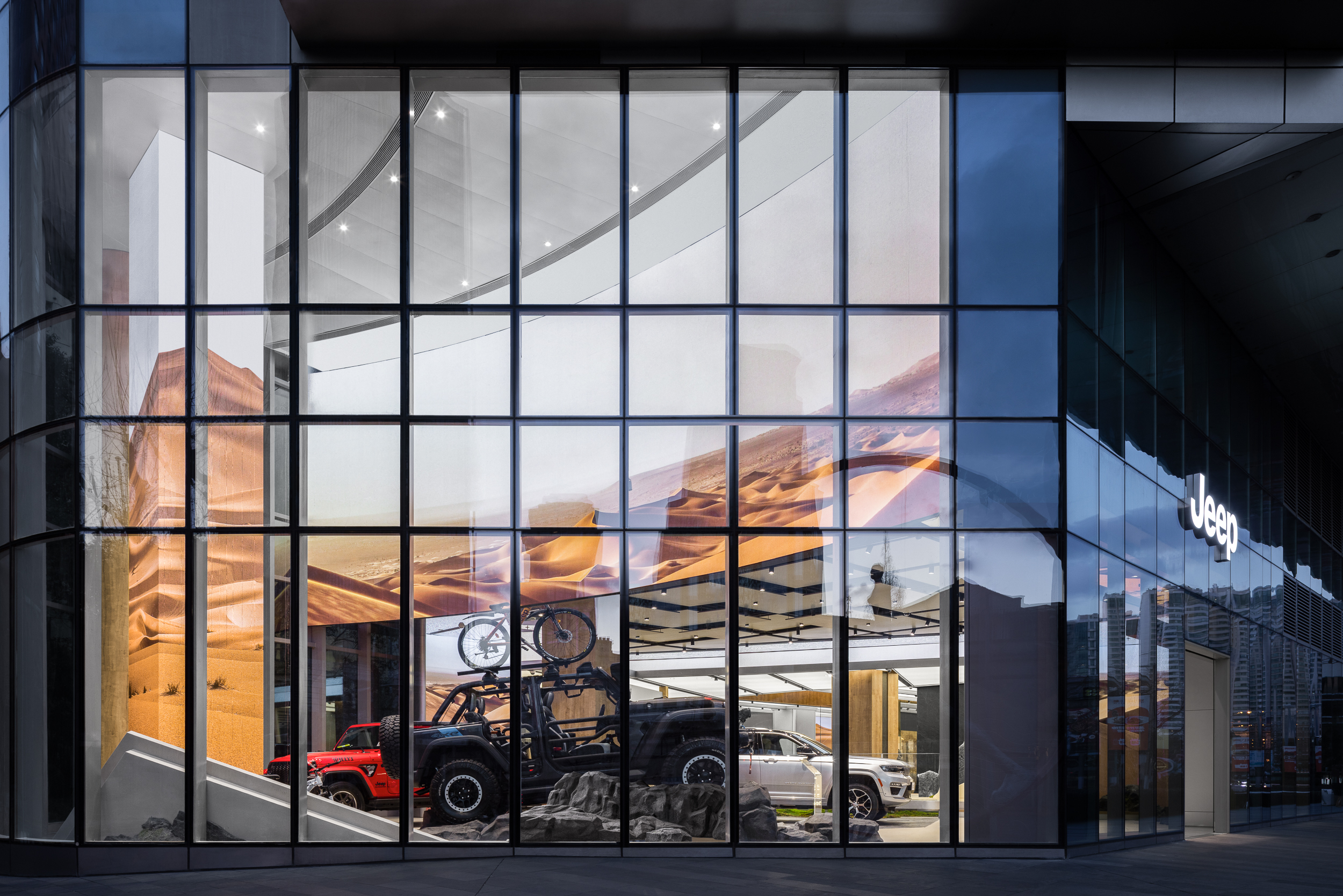 悬于顶部的天际线将现实与未来折叠,而那些视线所不及之处被定义为探险者们的终点。外立面大面积玻璃材质的运用与自由探索的理念不谋而合,与城市交融,体现了无边界的设计概念。
The skyline hanging from the ceiling folds the reality and the future. Those places beyond sight are defined as the end of the explorers. The use of a large area of glass material on the facade coincides with the concept of free exploration, blending with the city, and embodying the design concept of no boundaries.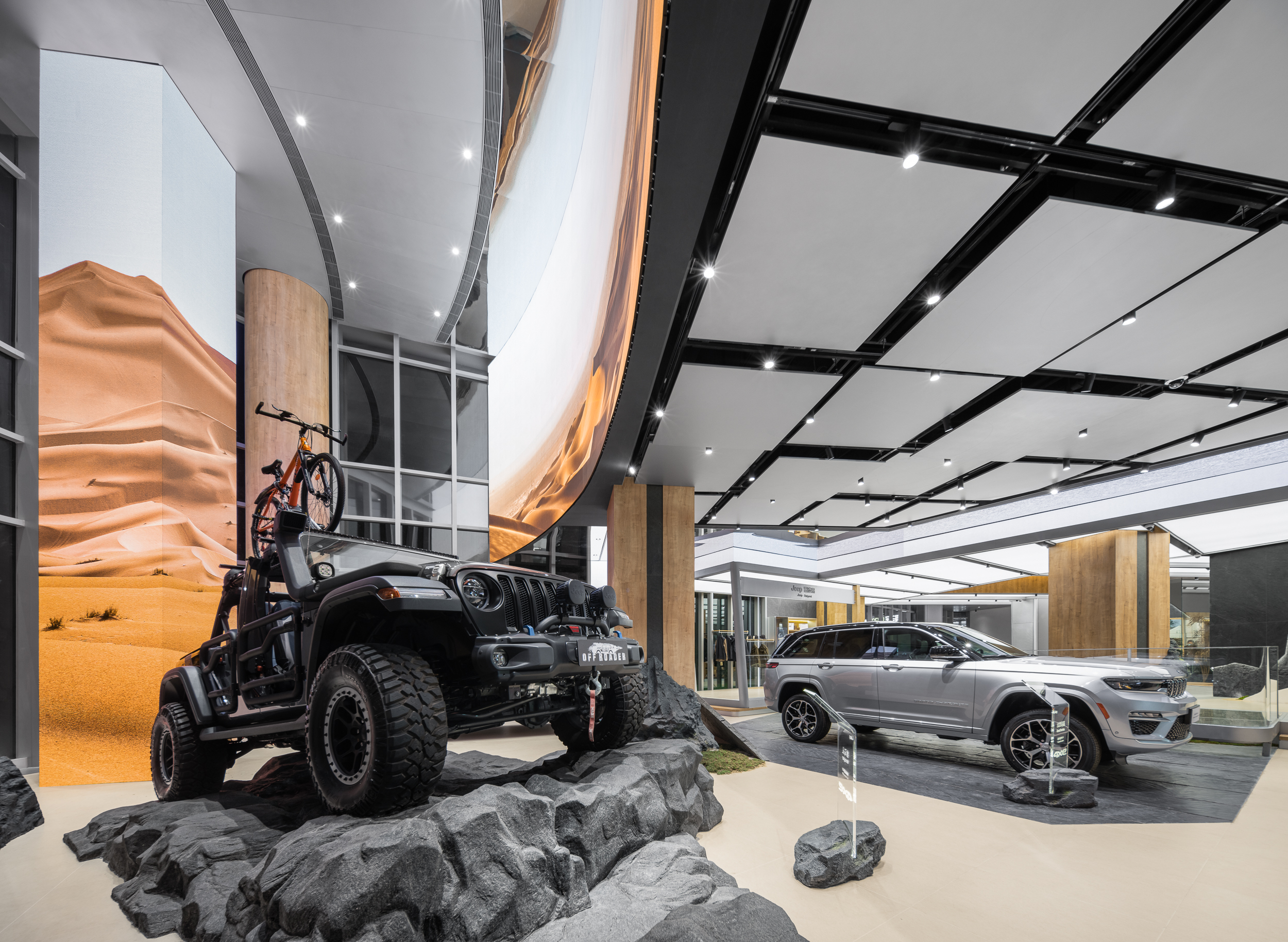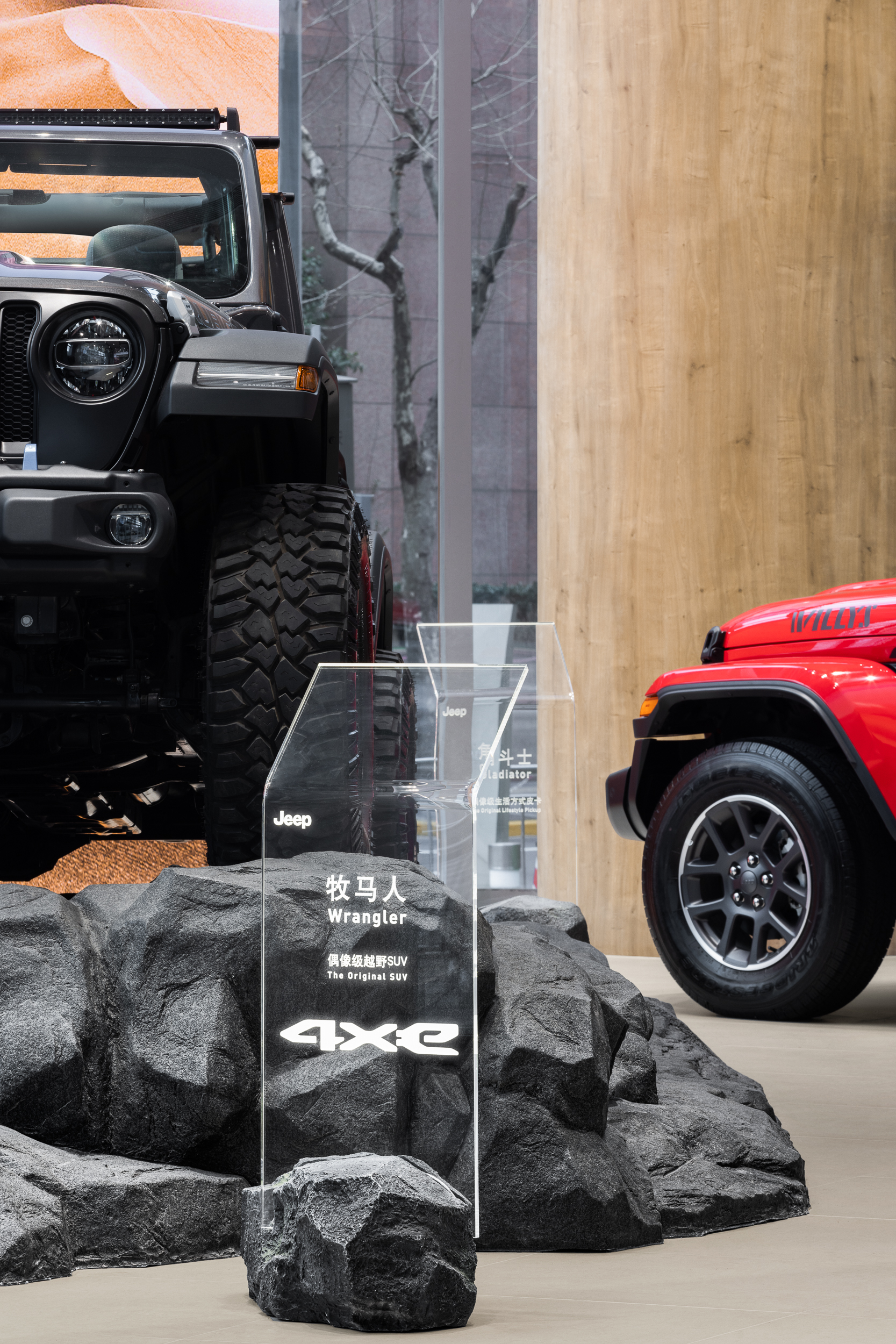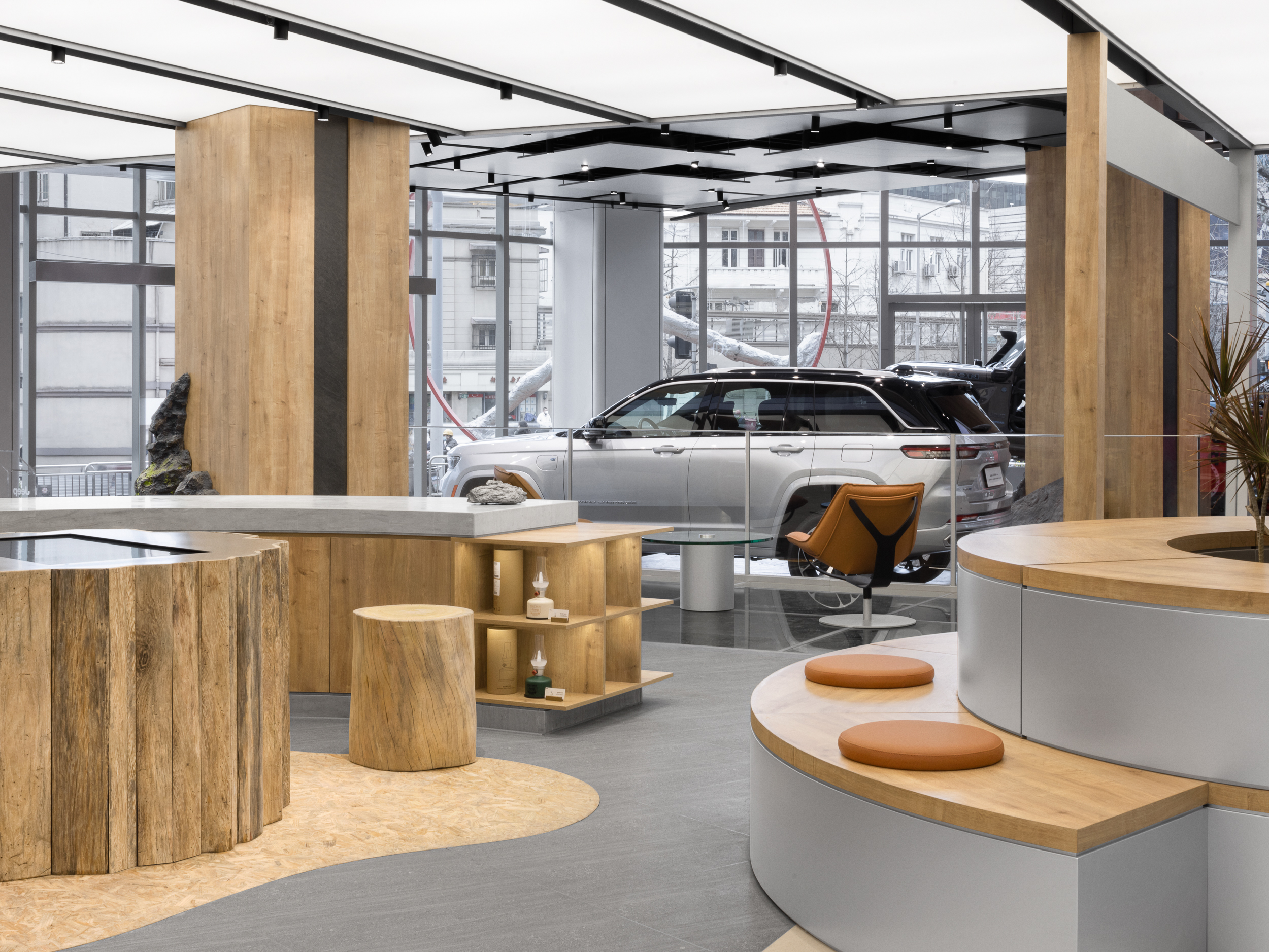 以"探索与享受"的新空间理念,创造了交付环节的新体验。在深切洞察用户与汽车、与品牌联结的每个触点后,将情感、精神属性置入功能性空间。
With the new space concept of "exploration and enjoyment", a new experience in the delivery link has been created. After a deep insight into every touchpoint connecting users with cars and brands, emotional and spiritual attributes are placed in the functional space.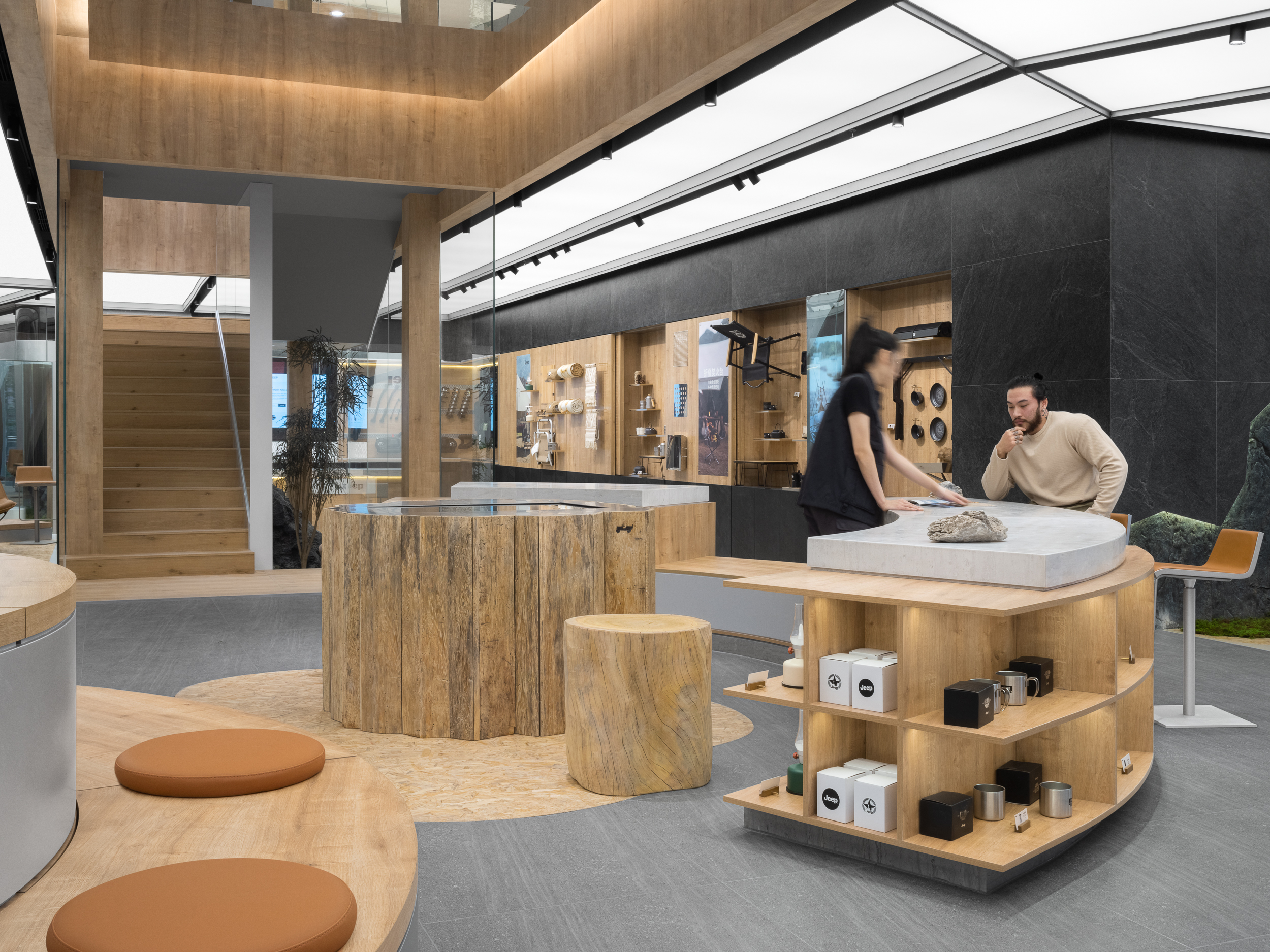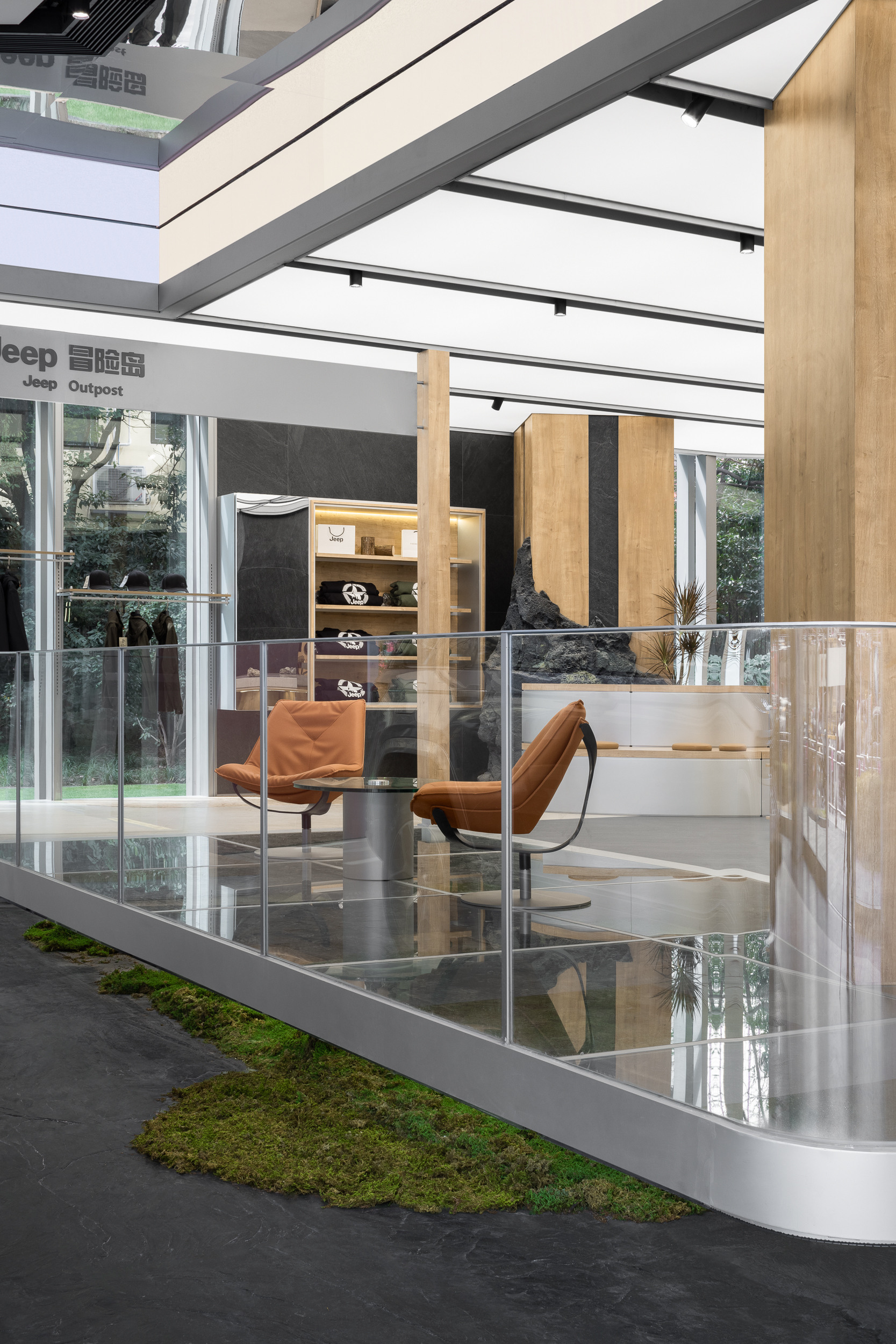 为了避免形式上的同质化和周围环境带来的视觉干扰,整个空间的设计通过更加通透、简约的元素语言,回归野性,开拓梦想和现实的边界,赋予品牌独特新颖的形象。
In order to avoid the homogenization of form and the visual interference brought by the surrounding environment, the design of the entire space returns to wildness through a more transparent and simple element language, opens up the boundary between dreams and reality, and endows the brand with a unique and novel image.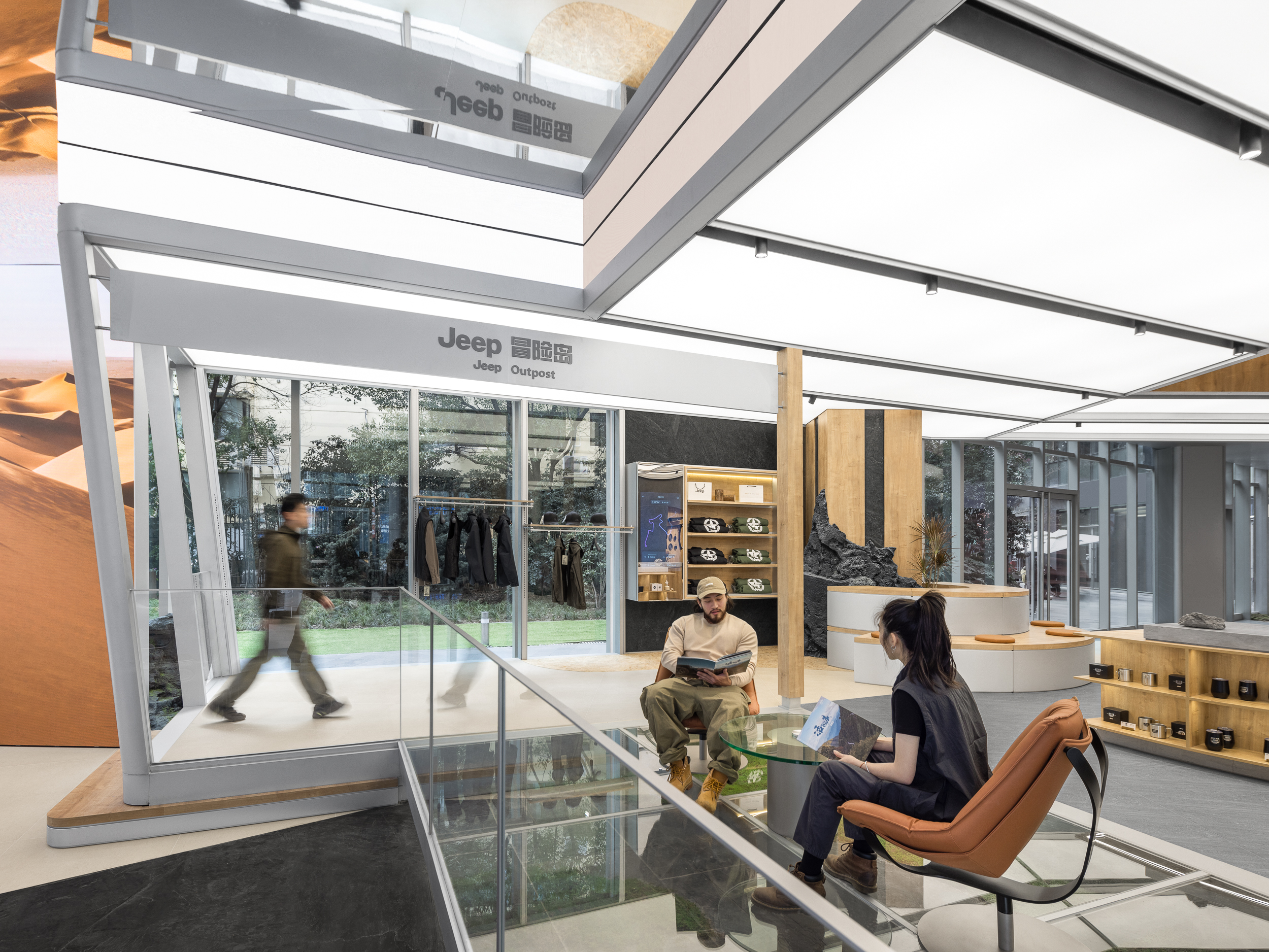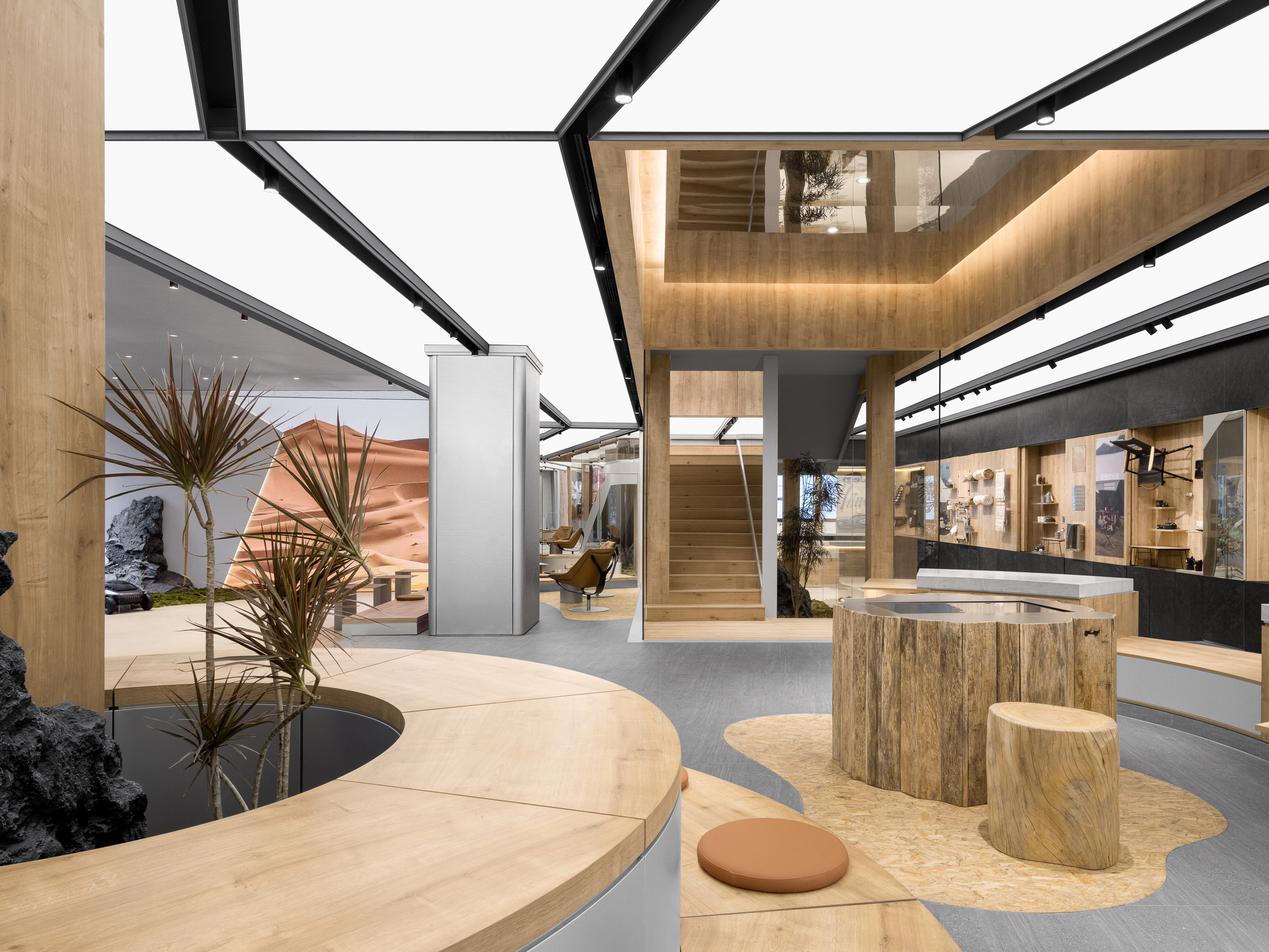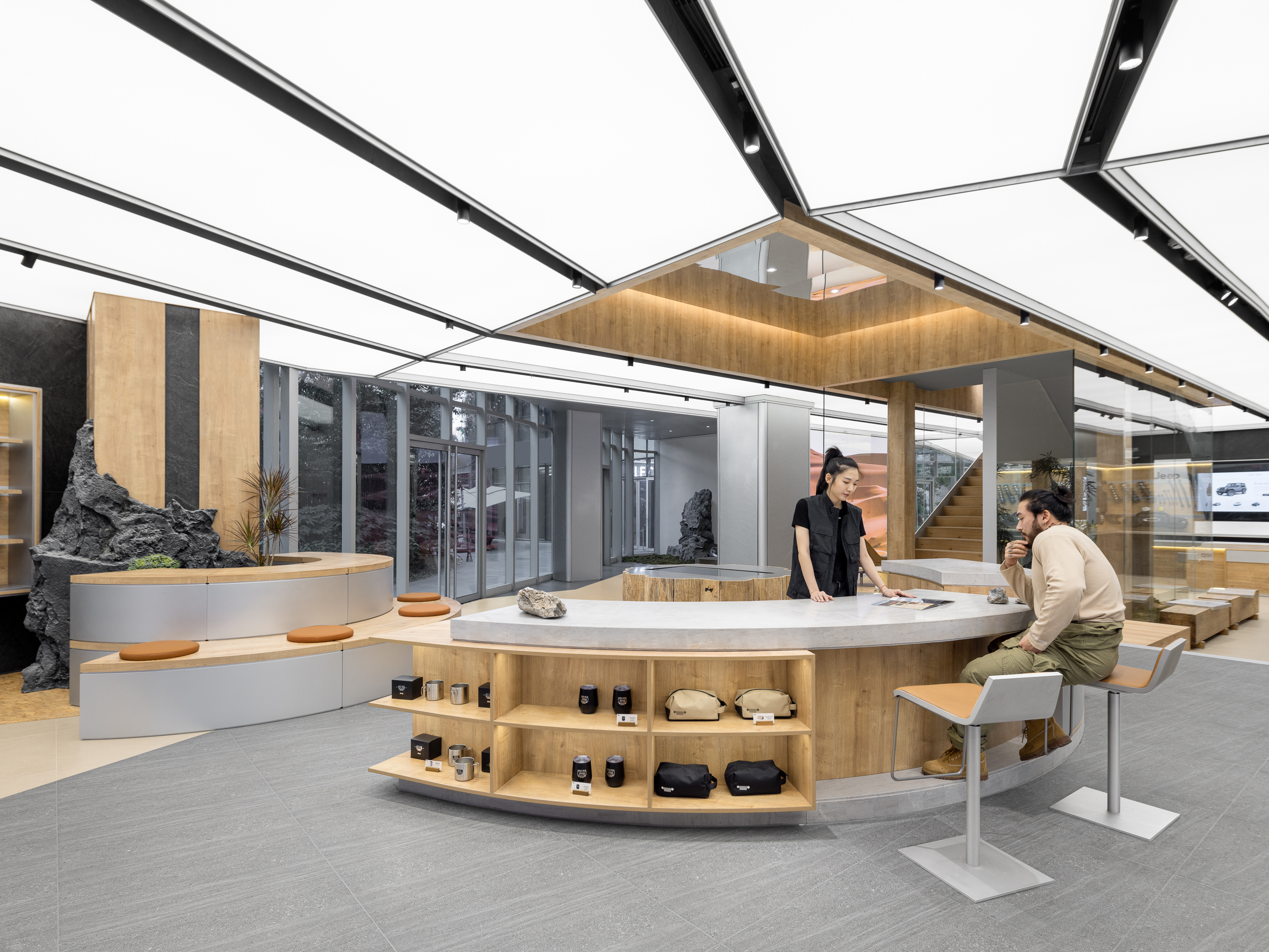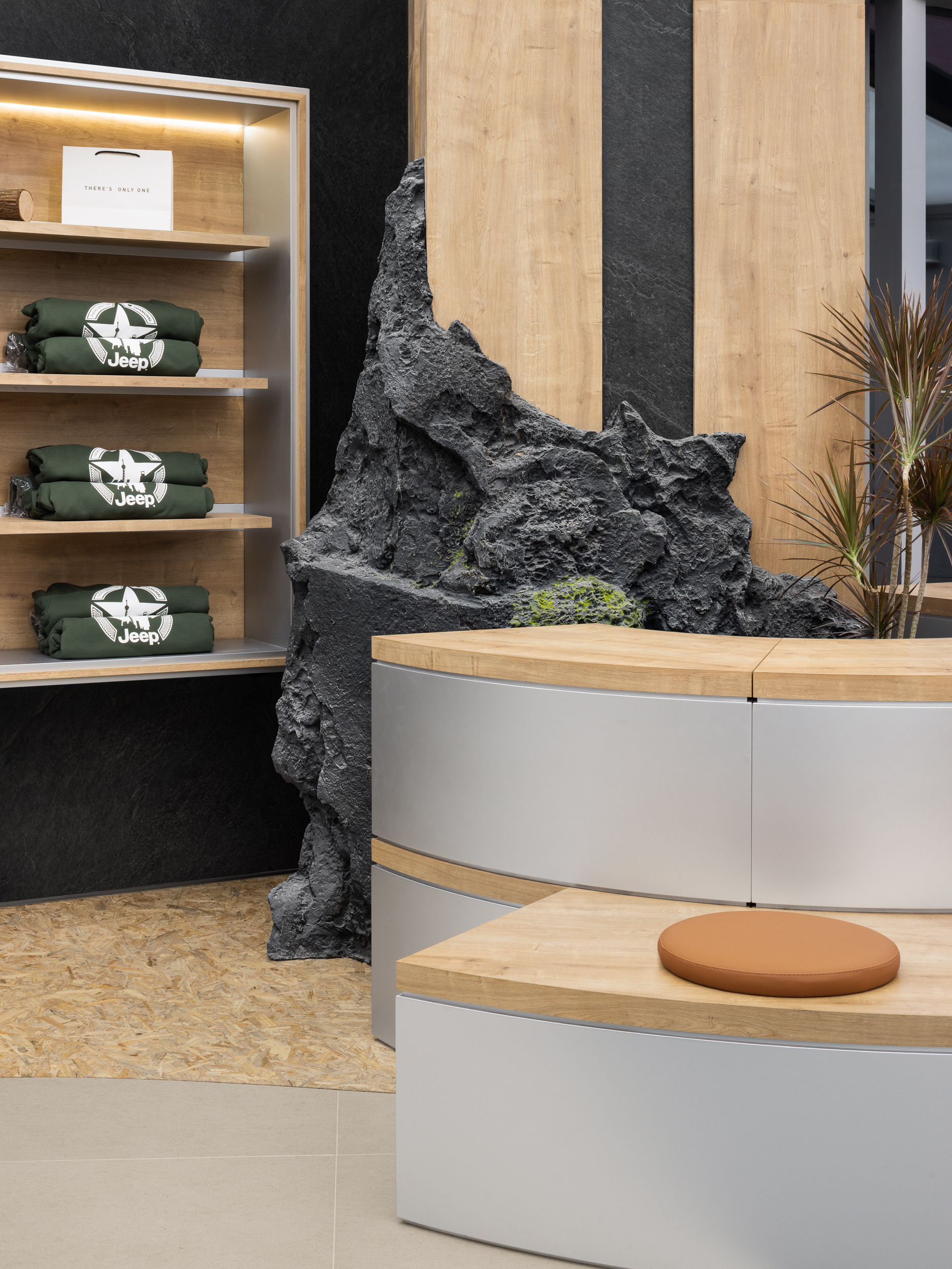 巅峰时刻的期待感、仪式感、纪念性,成为每个用户心中独有的生命记忆。整个空间开启了全新的旅程,呈现出包容、开放、探索、自由的基调。自然与机械的对比建立起富含精神内核视觉连接。
The sense of anticipation, ritual, and commemoration at the peak moment has become a unique life memory in the hearts of every user. The whole space has opened a new journey, showing the tone of inclusiveness, openness, exploration and freedom. The contrast between nature and machinery establishes a visual connection rich in the spiritual core.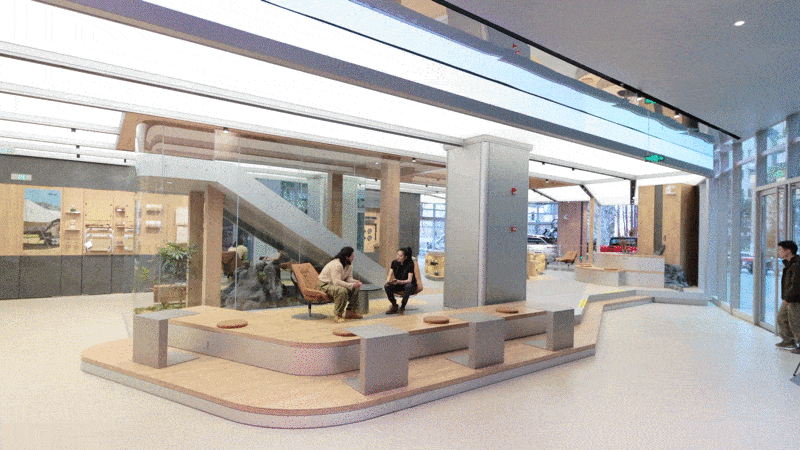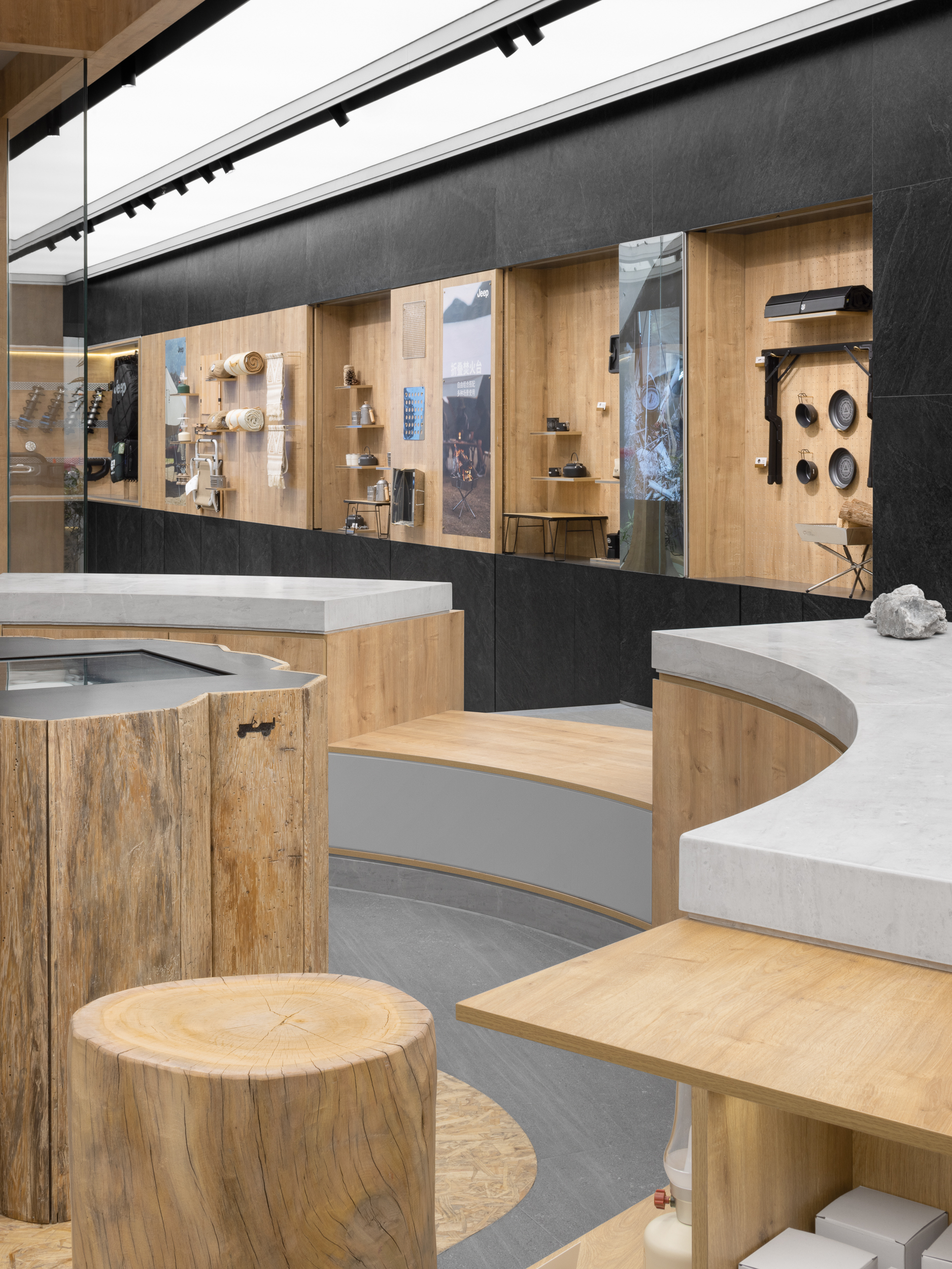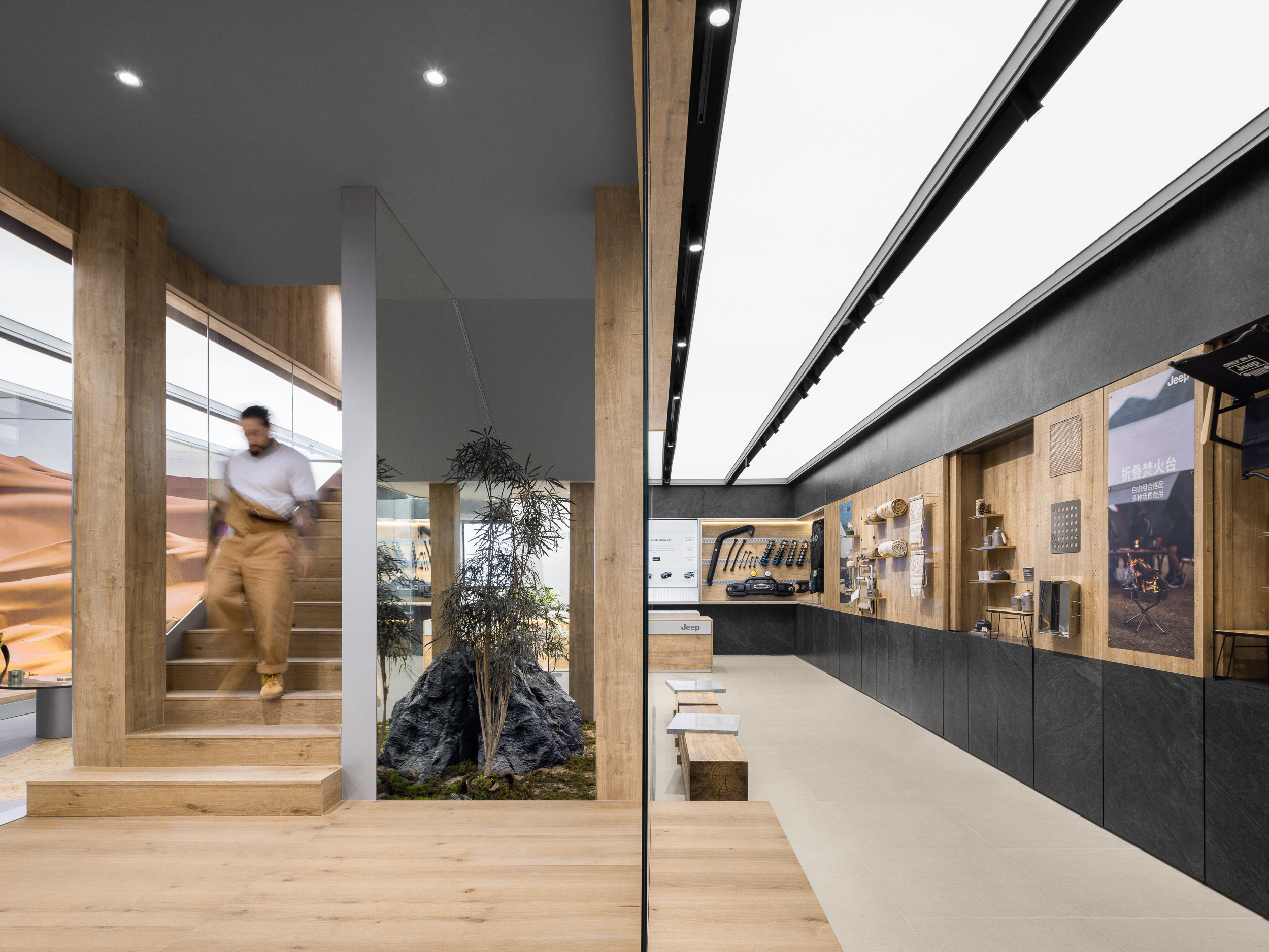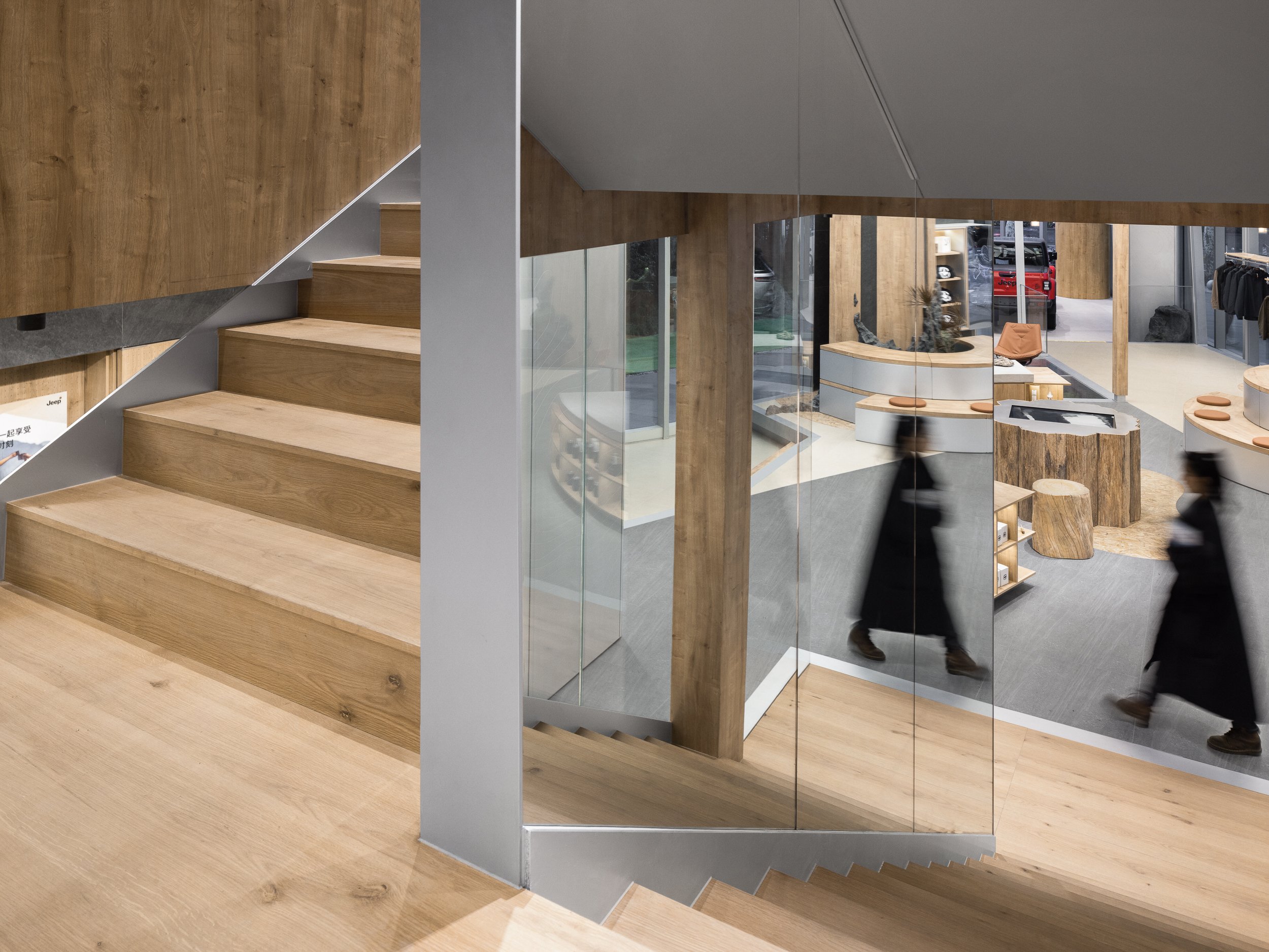 大面积纯木色的运用营造出放松的氛围,天花板明亮平和的灯带引领着访客的目光,传递着空间动线的行进,以及功能体验的递进关系。
The use of a large area of pure wood color creates a relaxing atmosphere, and the bright and peaceful light strips on the ceiling lead the eyes of visitors, conveying the progress of the space moving line and the progressive relationship of functional experience.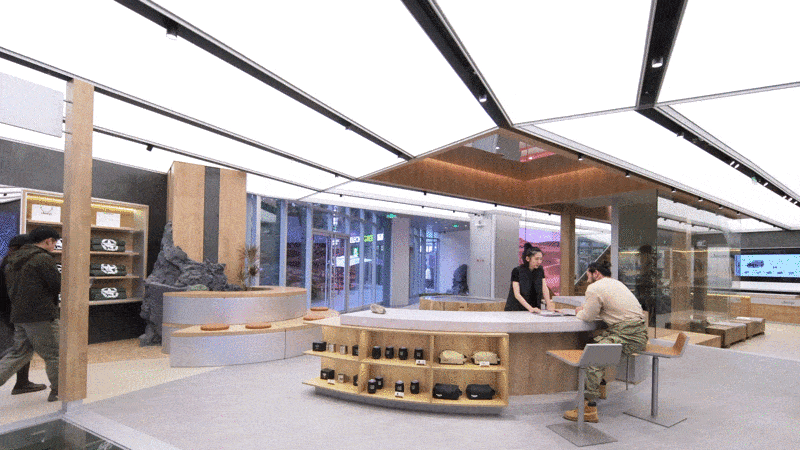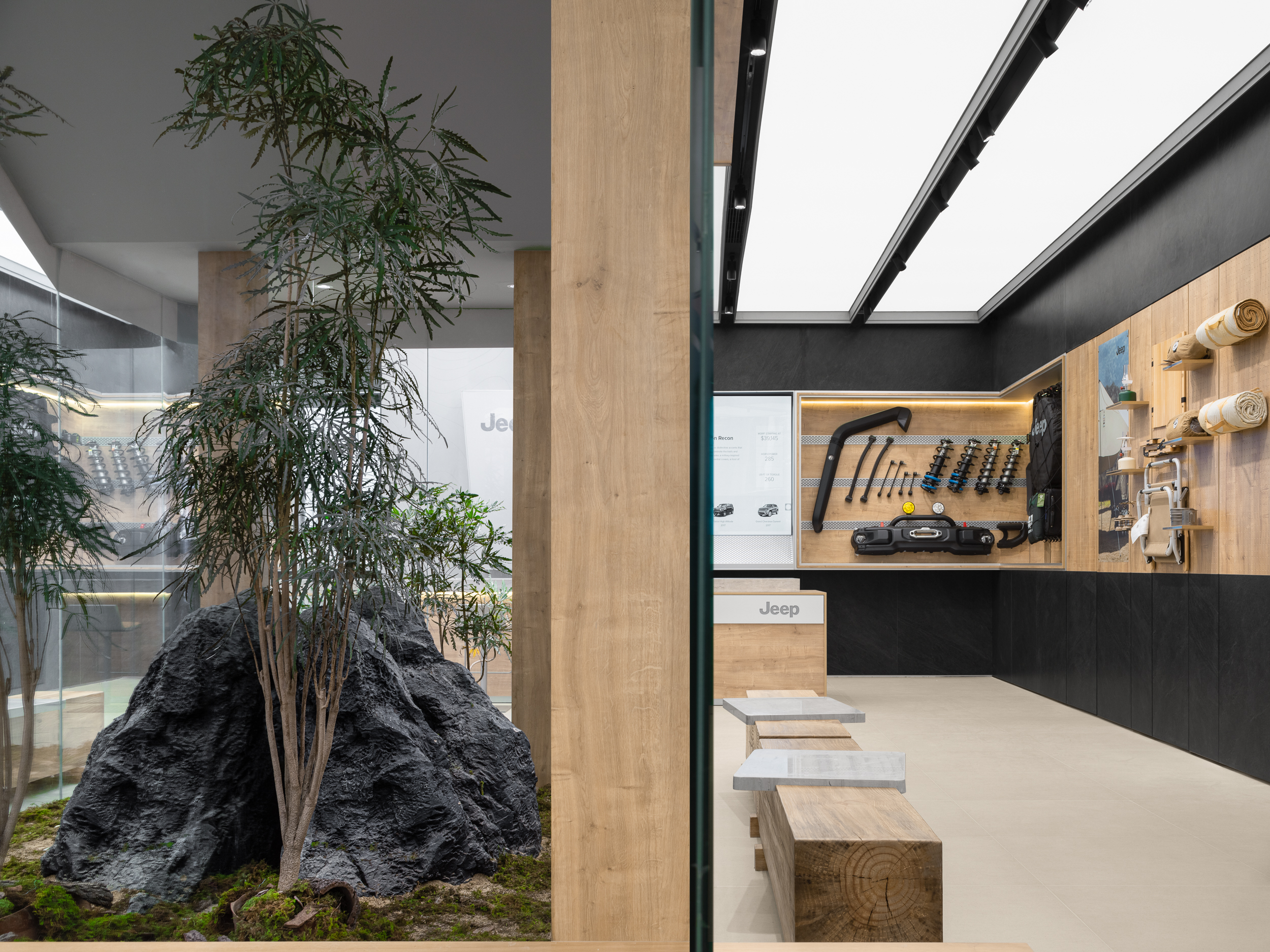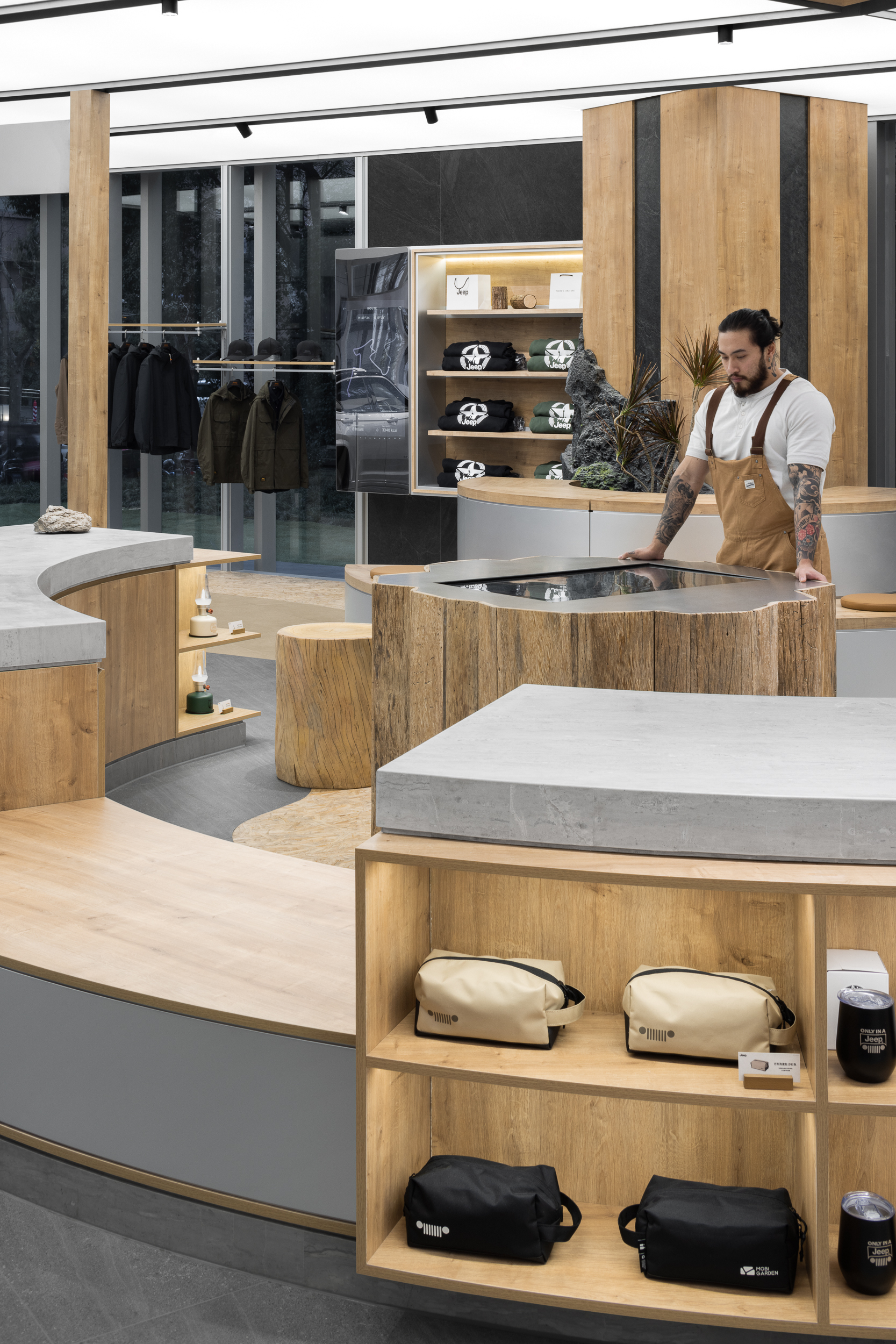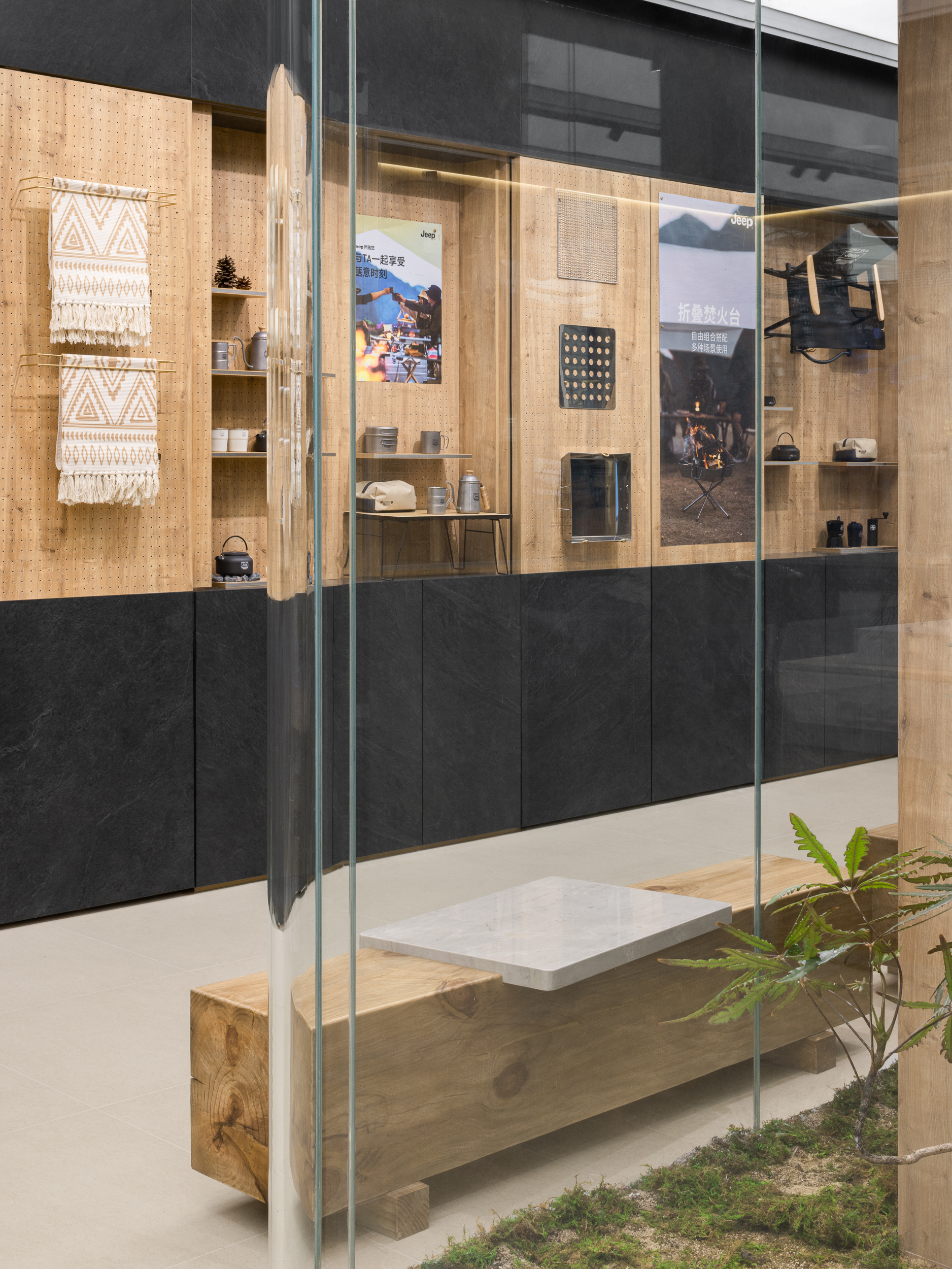 开放灵活的桌椅陈列营造了人们轻松交谈的氛围,脱离城市喧嚣,与自然亲近。墙面展示着品牌的多元化周边产品,将品牌理念融入日常,成为引领户外生活的探索者。
The open and flexible display of tables and chairs creates an atmosphere for people to chat easily, get away from the hustle and bustle of the city, and get close to nature. The wall displays the brand's diversified peripheral products, integrating the brand concept into daily life, and becoming an explorer leading outdoor life.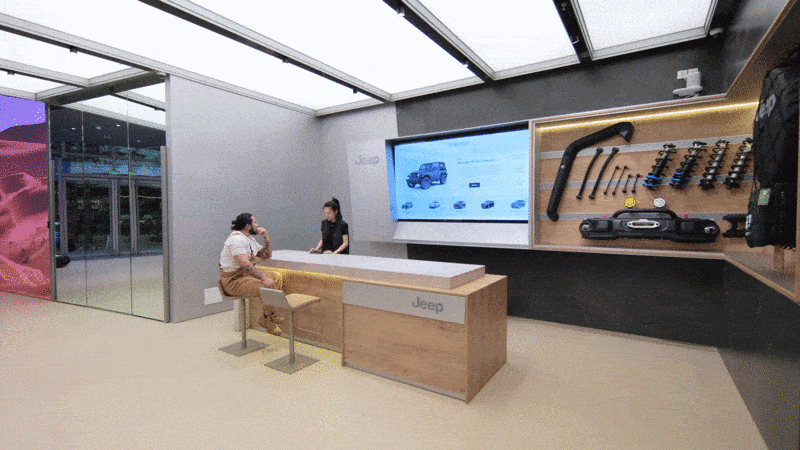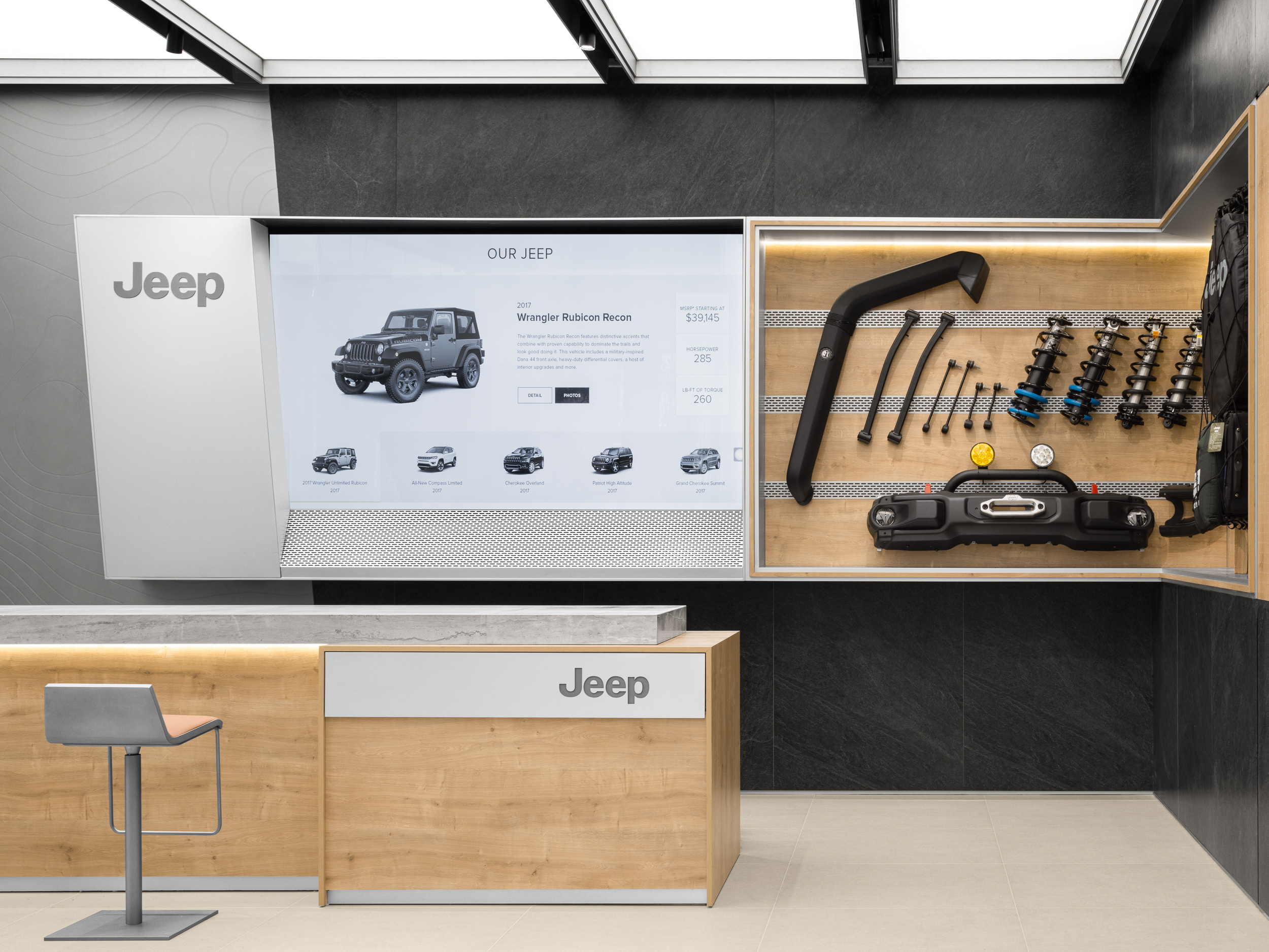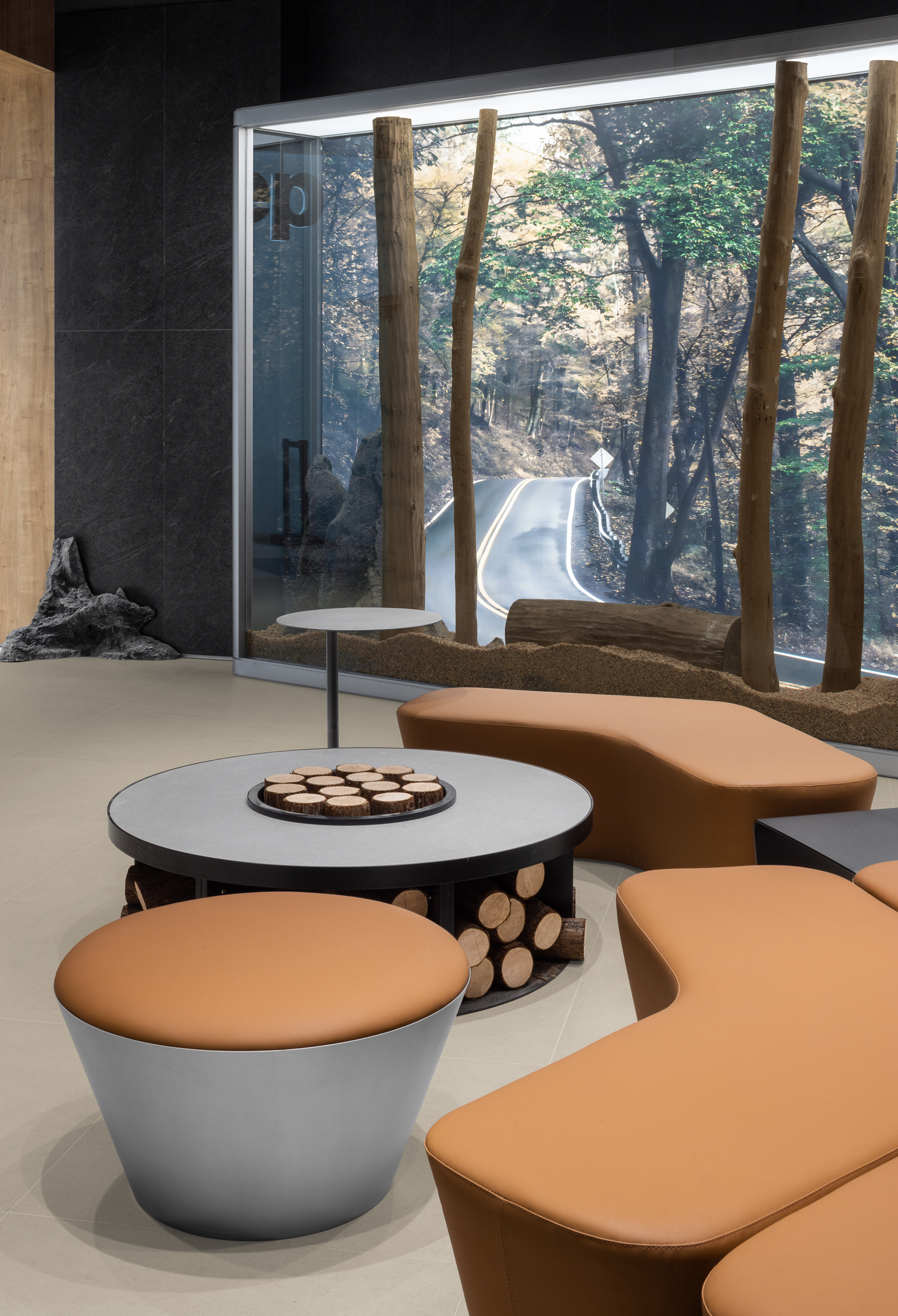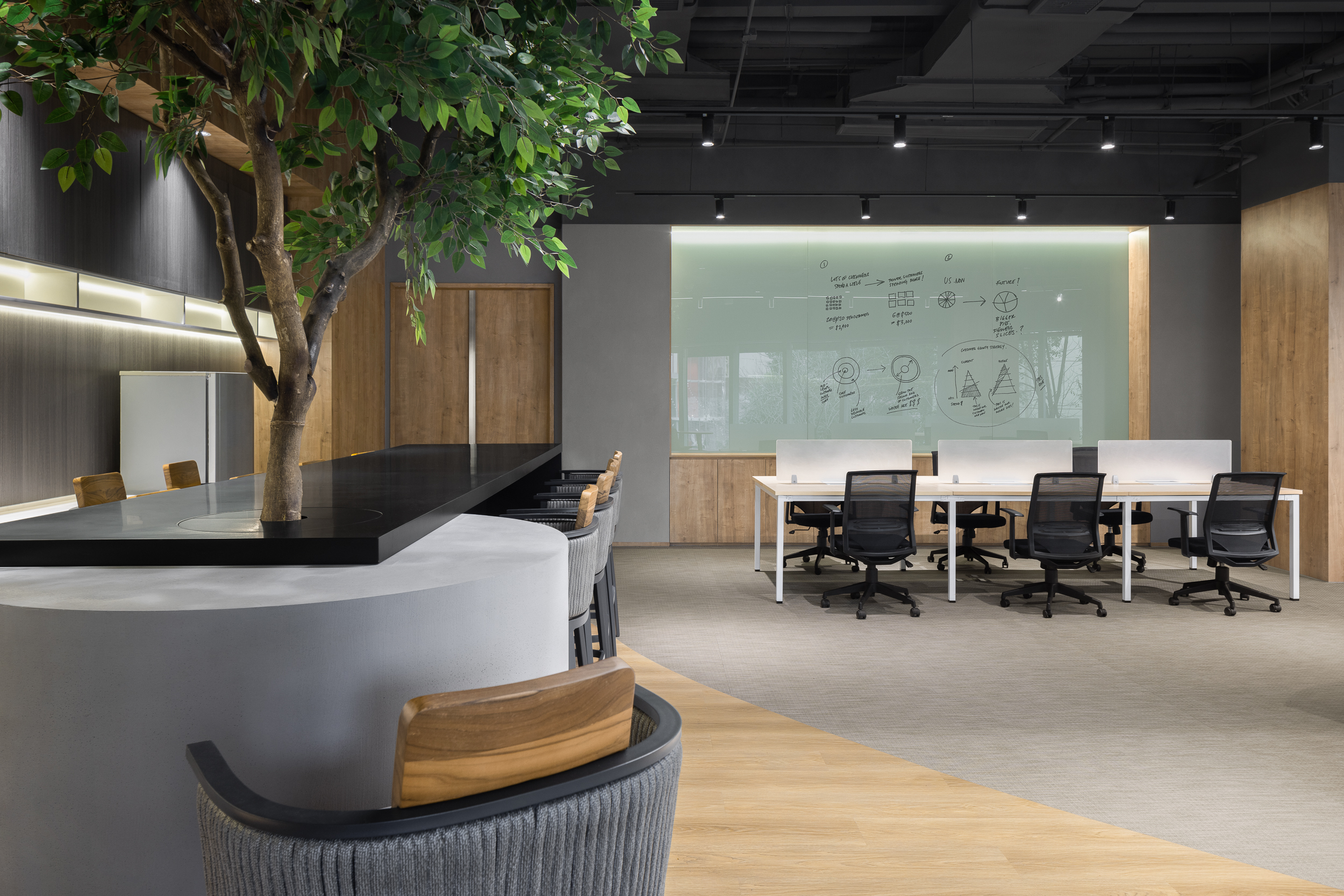 设计洞悉人们的生活方式和精神诉求,创造出有价值、可持续的新空间。这些"出乎意料"的生活样本,通过不同的场景体验设置来叙述空间故事。人与空间的价值不断重构,承载新兴的生活方式、植根内心的情感链接和可持续发展的未来方向。
The design understands people's lifestyle and spiritual demands, and creates a valuable and sustainable new space. These "unexpected" life samples narrate spatial stories through different scene experience settings. The value of people and space is constantly reconstructed, carrying emerging lifestyles, emotional links rooted in the heart, and the future direction of sustainable development.
---