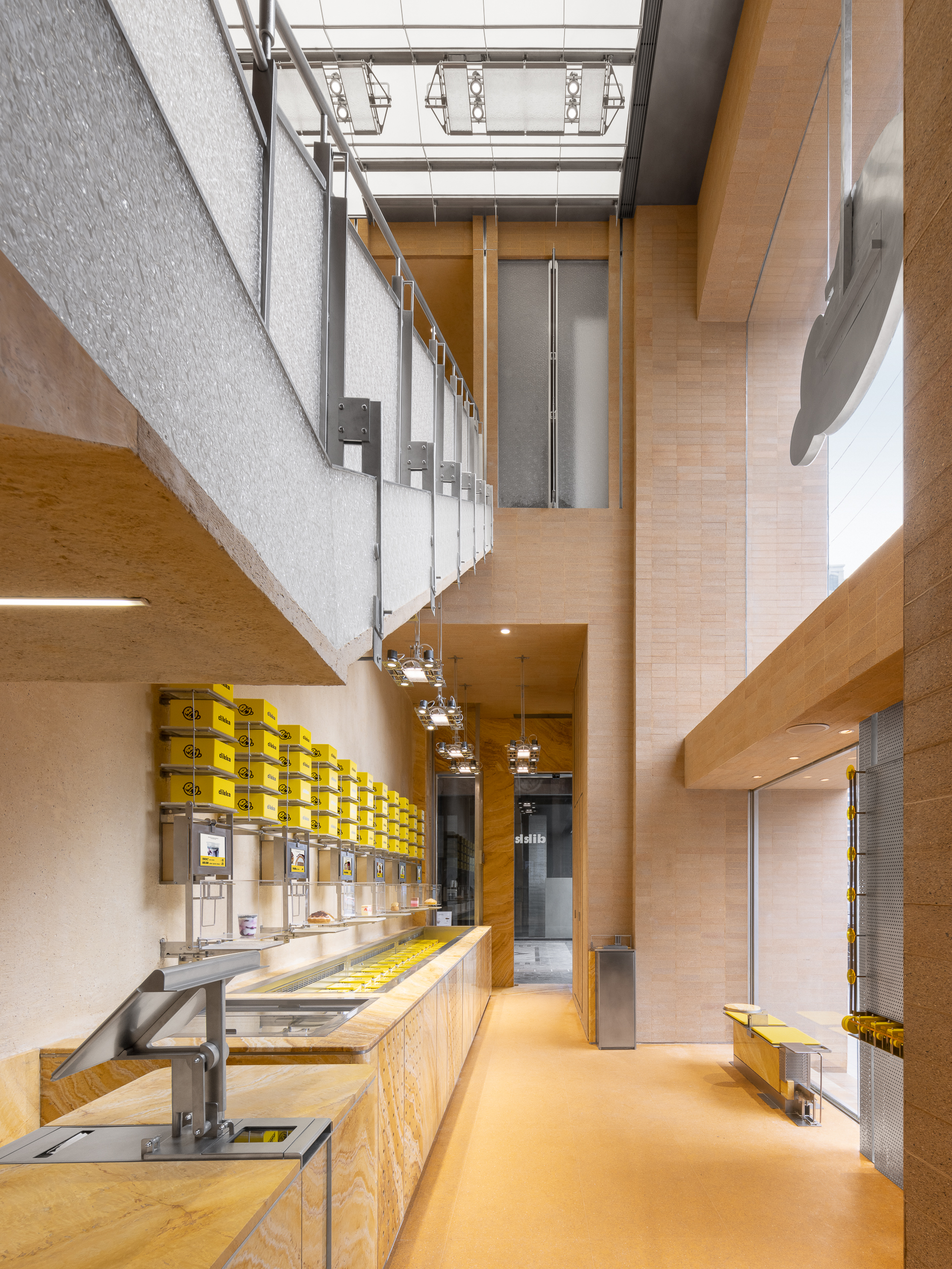 基于光线带来的感受,
Based on the feeling brought by the light,
叠加空间中瞬间的失重与跳脱。
The momentary weightlessness and escape in the superimposed space.
---
在人流涌动的多层次空间与甜品店产生的自然碰撞,在对冲中感受活泼与轻松。
In the natural collision between the multi-level space with surging crowds and the dessert shop, you can feel lively and relaxed in the hedging.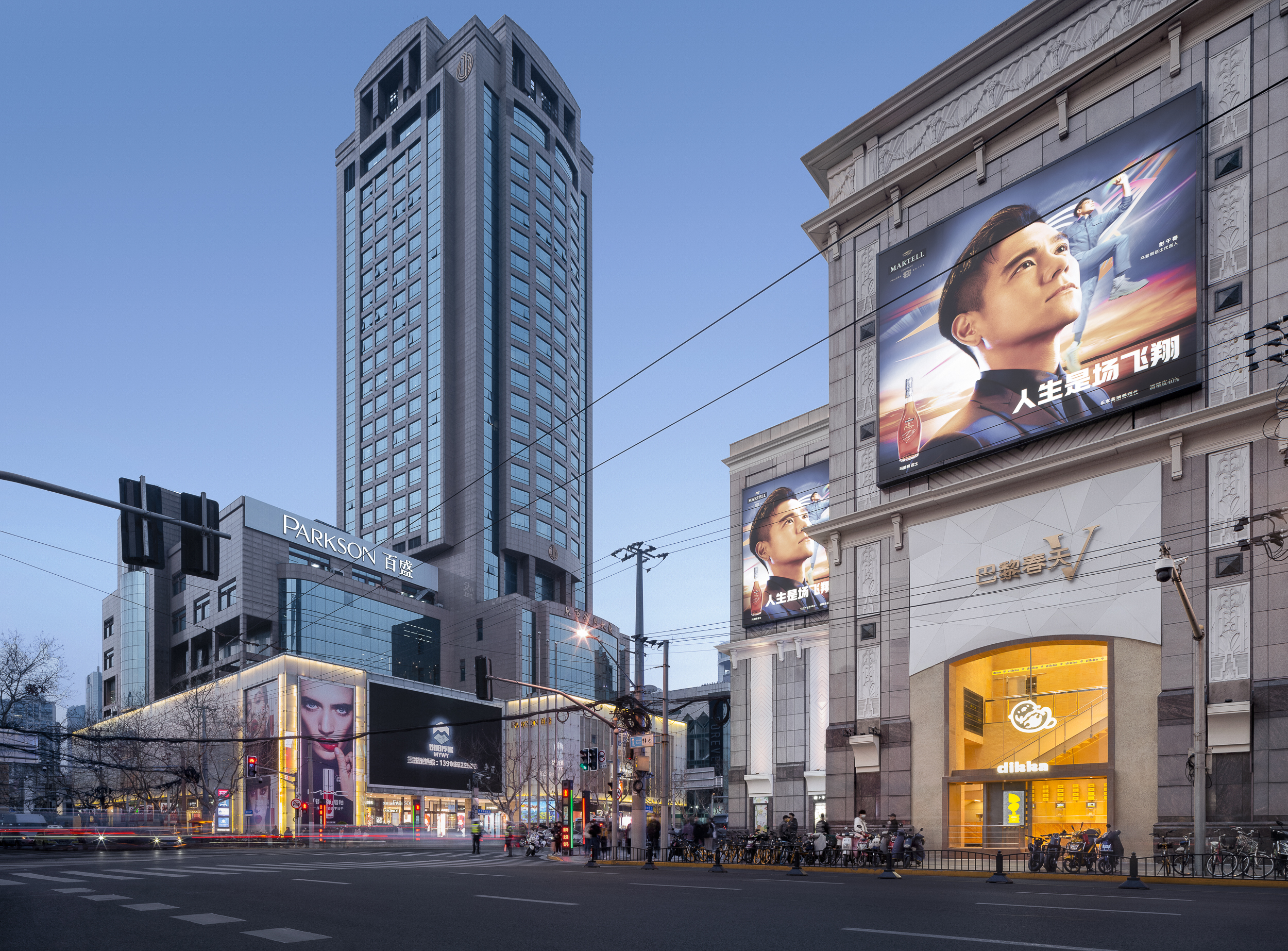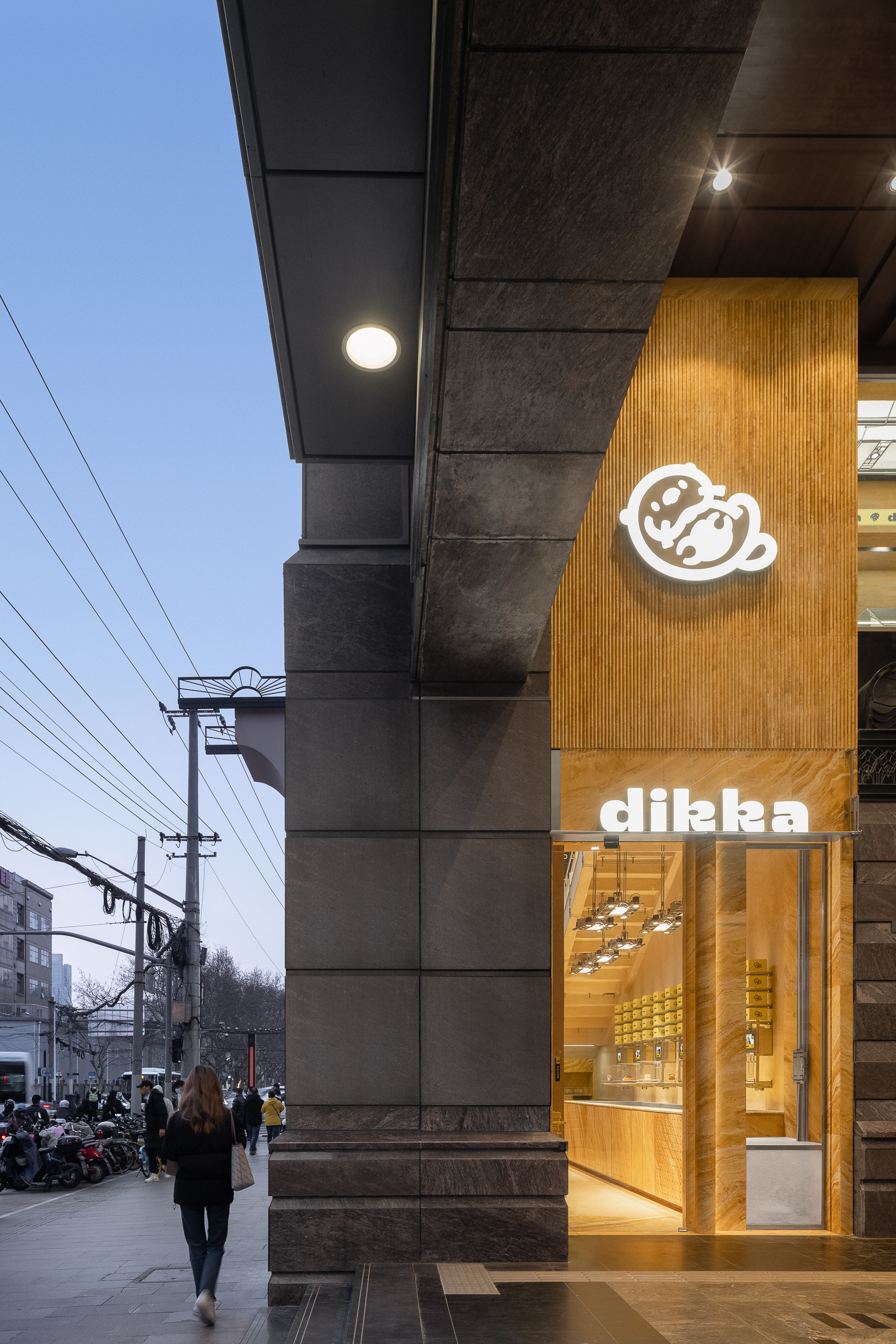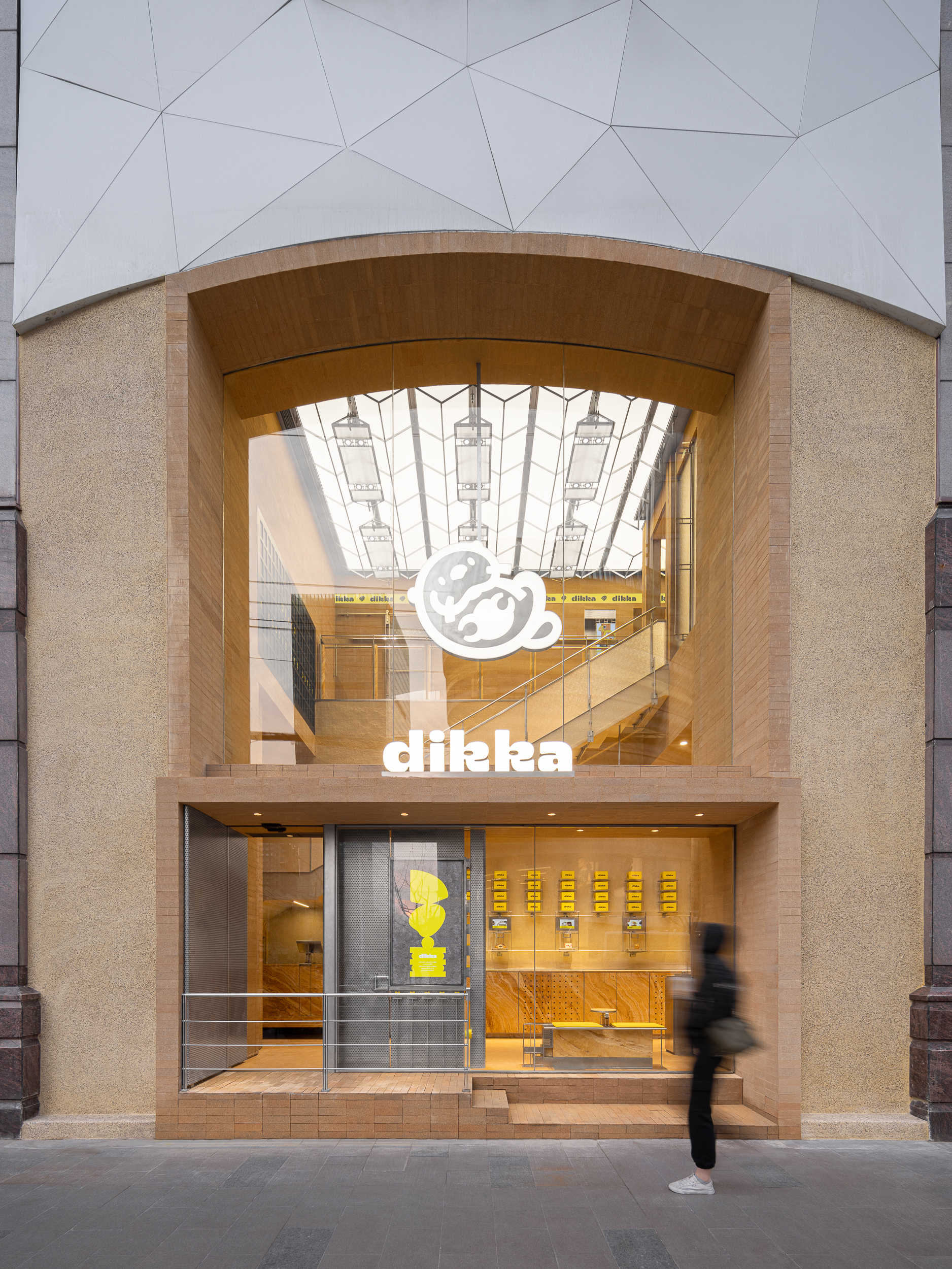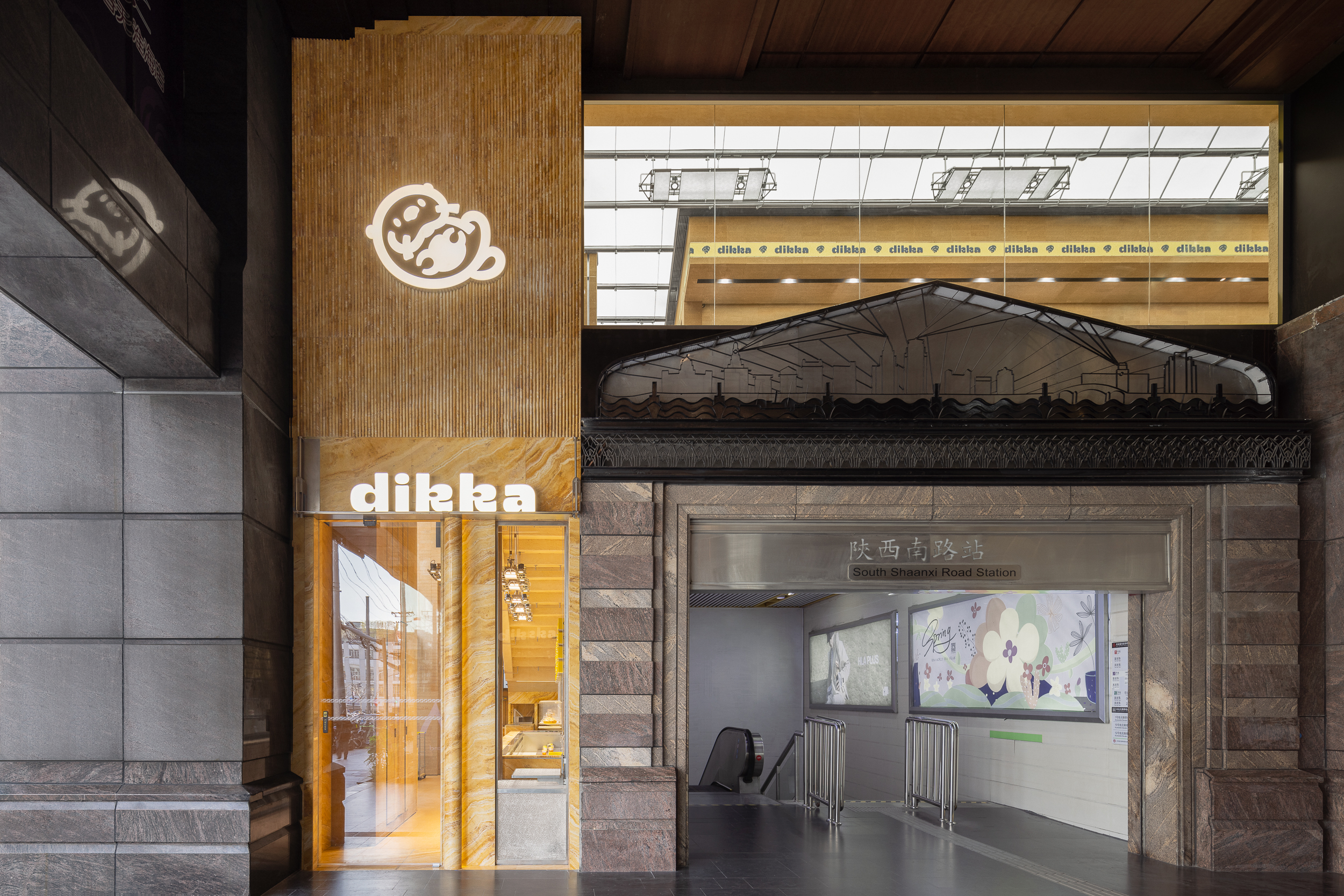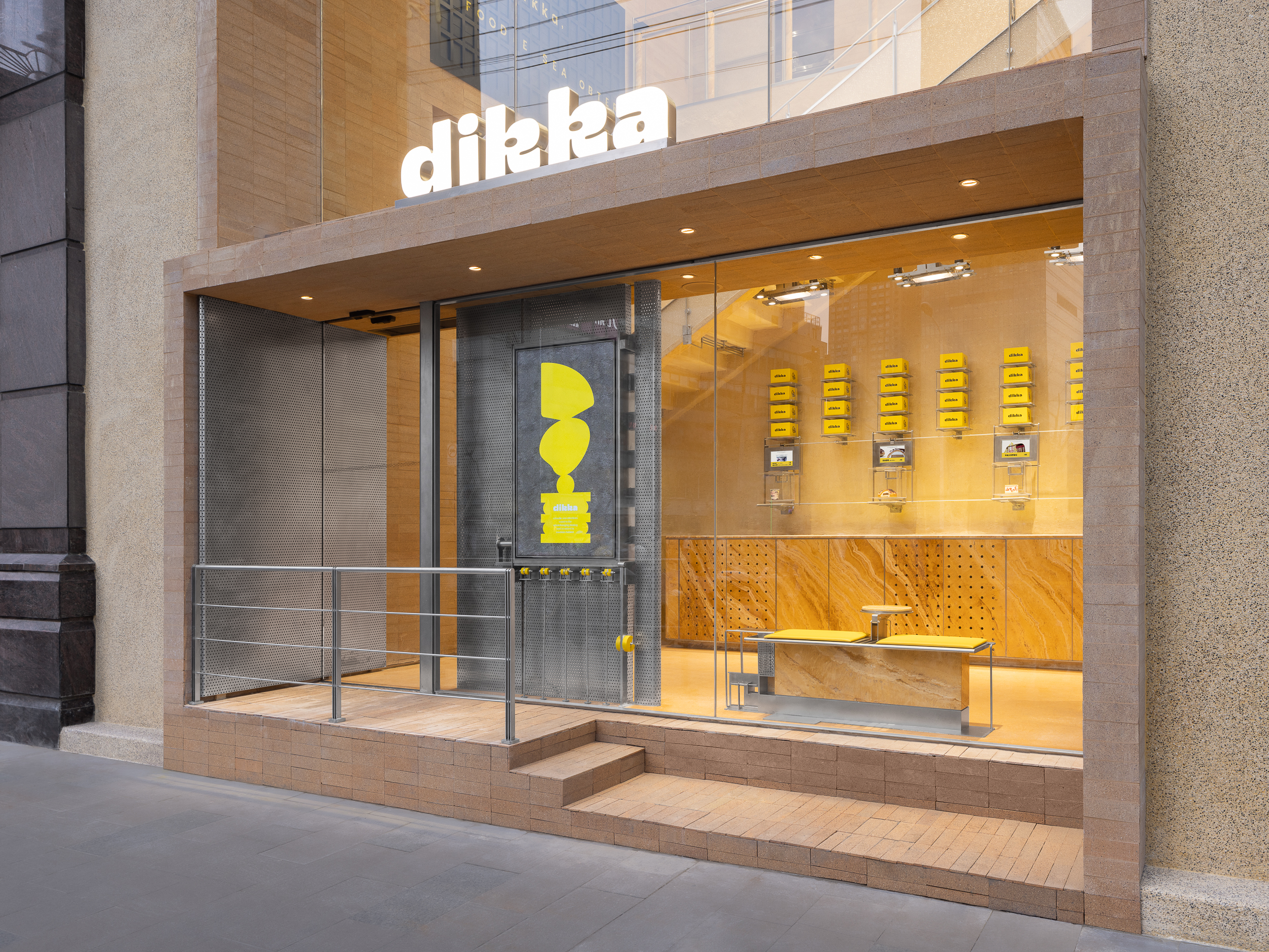 在关于传统的零售空间丰富化的思考中,用非常规的手法、材质去模拟一个更趣味性的工作流程。为了赋予空间的装置以更多的可能,去发现和感知"功能"这个载体在空间中不同的表达,于是在这里有了装置、灯具、椅子的各种形态。
In thinking about the enrichment of traditional retail space, we use unconventional techniques and materials to simulate a more interesting workflow. In order to give more possibilities to the installations in the space, to discover and perceive the different expressions of the carrier of "function" in the space, there are various forms of installations, lamps, and chairs here.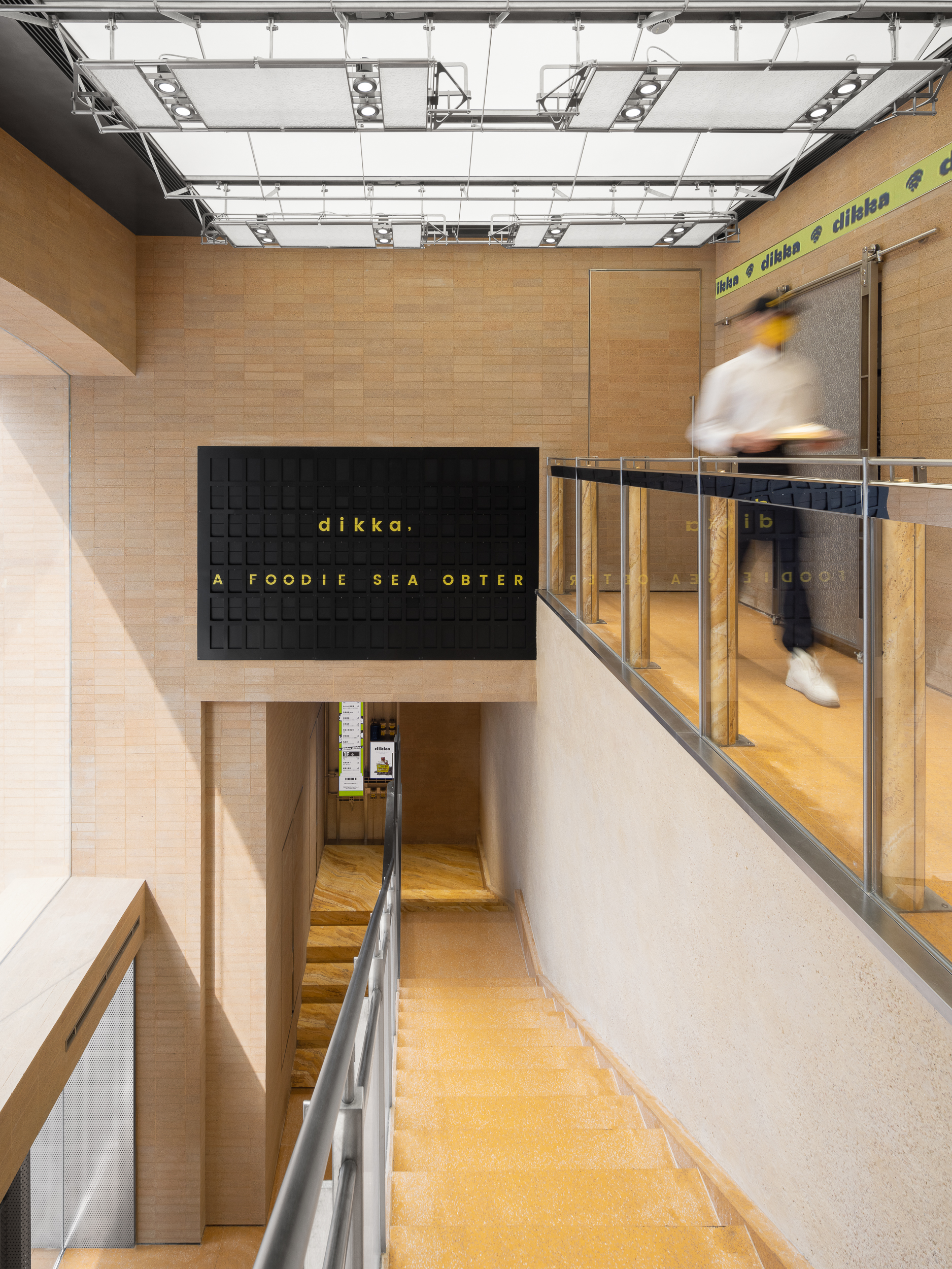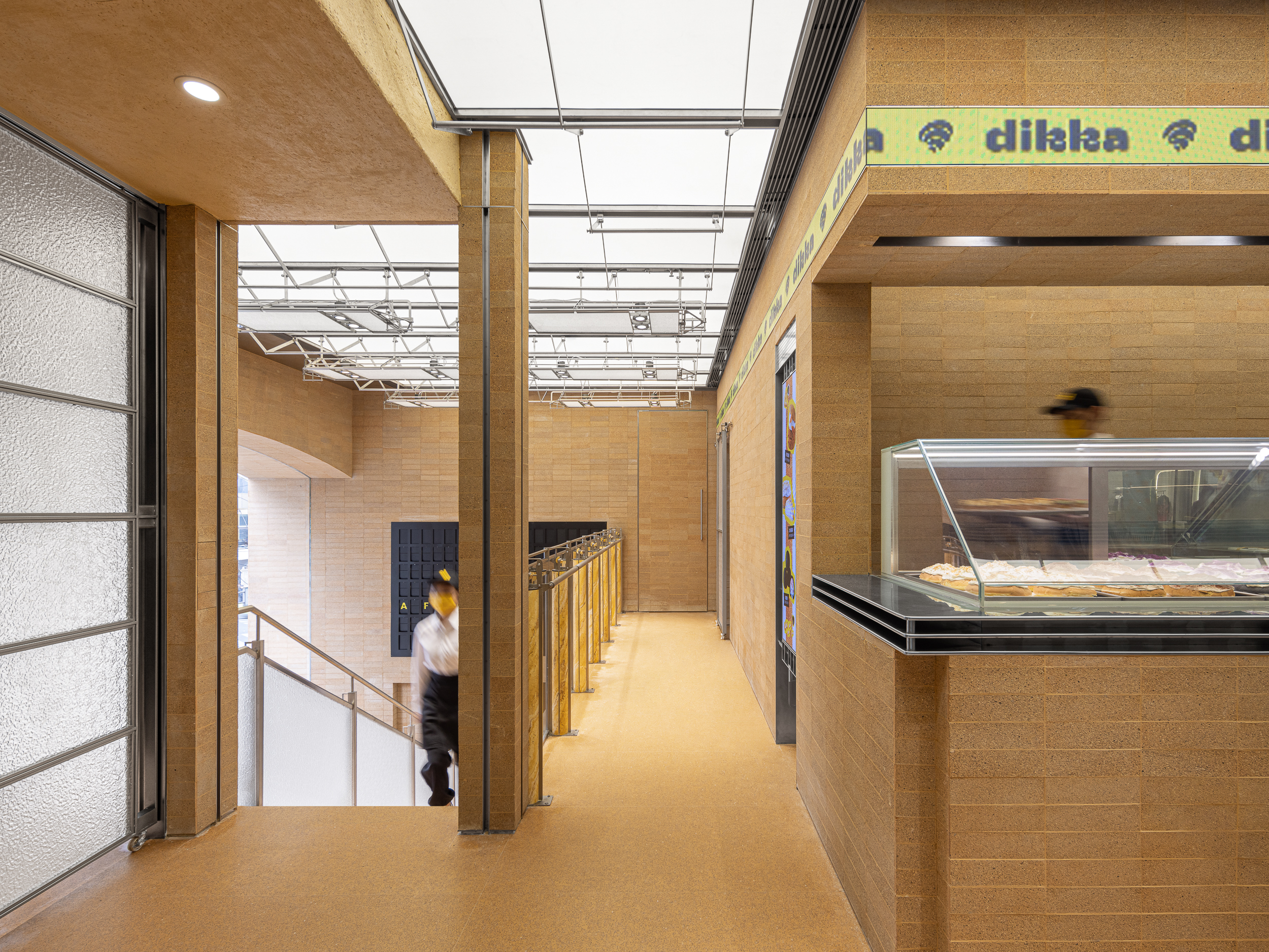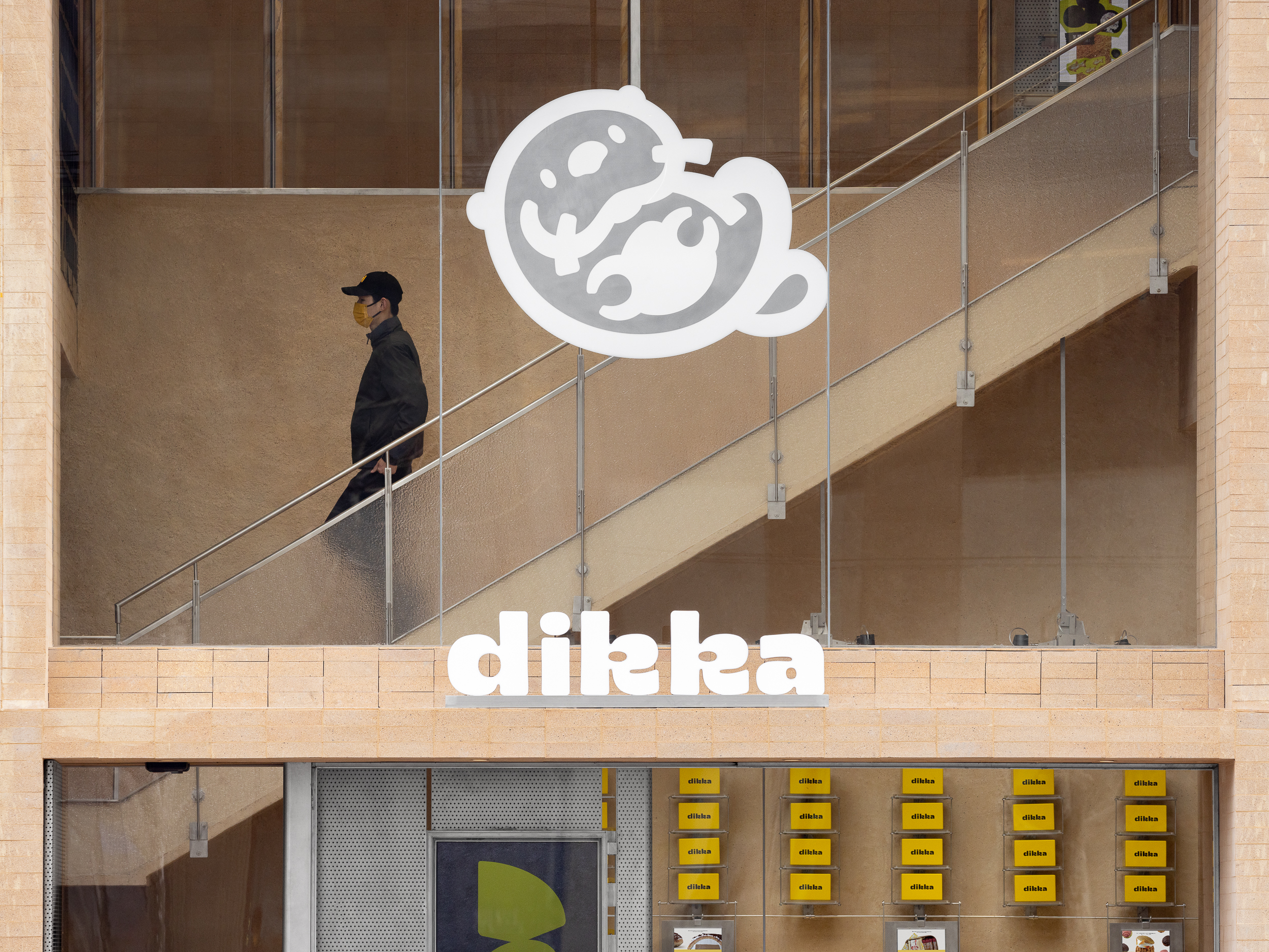 不把空间作为一种消极静止地存在,空间在水平和垂直方向都采用装置来打破僵局,透明半透明材料的运用,象征性地分隔,追求最大限度的交融和连续,实现通透、无阻隔性的互动型空间体验。
The space is not regarded as a negative and static existence, and the space uses devices in the horizontal and vertical directions to break the deadlock. The use of transparent and translucent materials symbolically separates the space, pursues the maximum integration and continuity, and achieves transparency and no barriers. Sexual interactive space experience.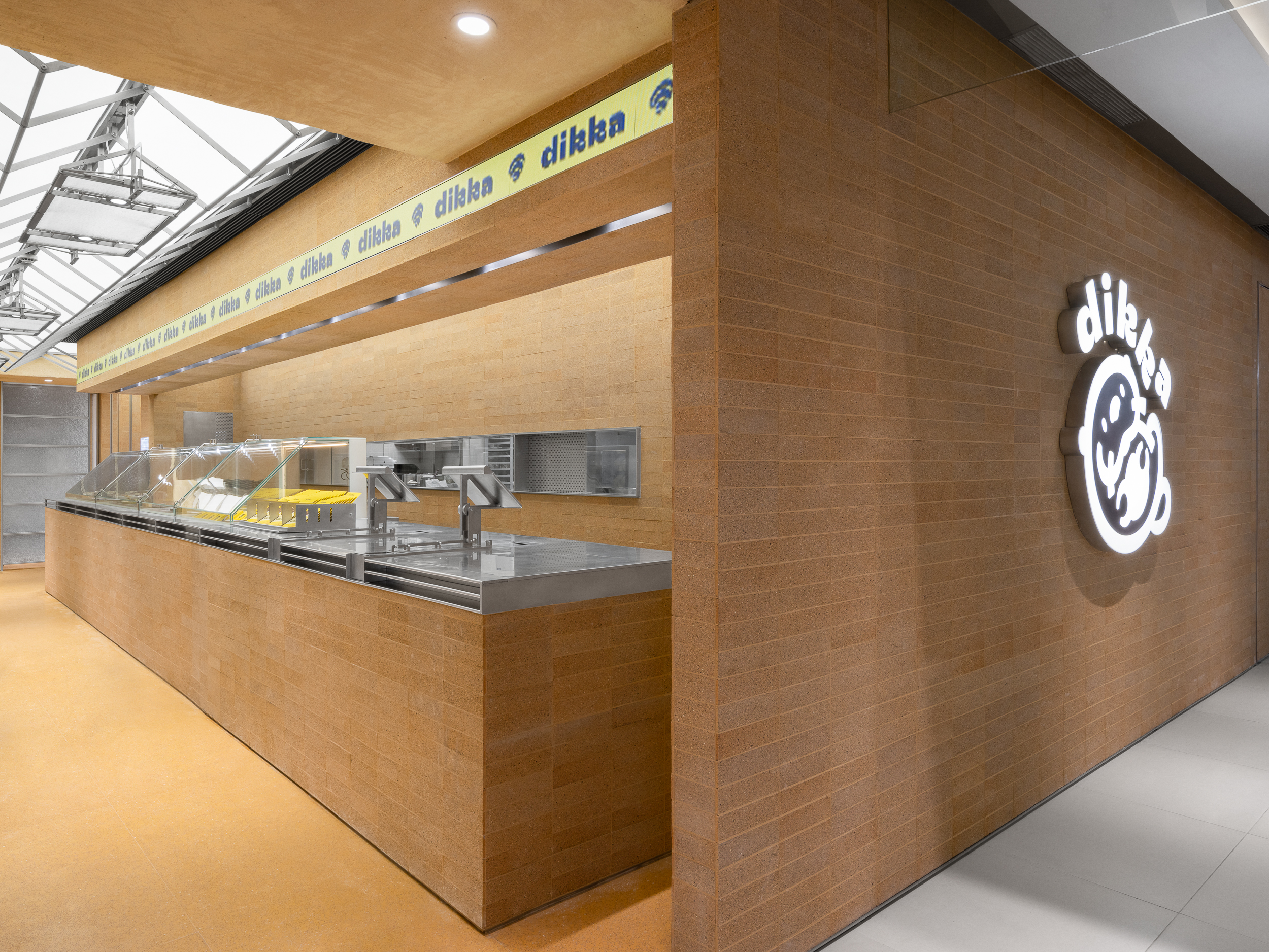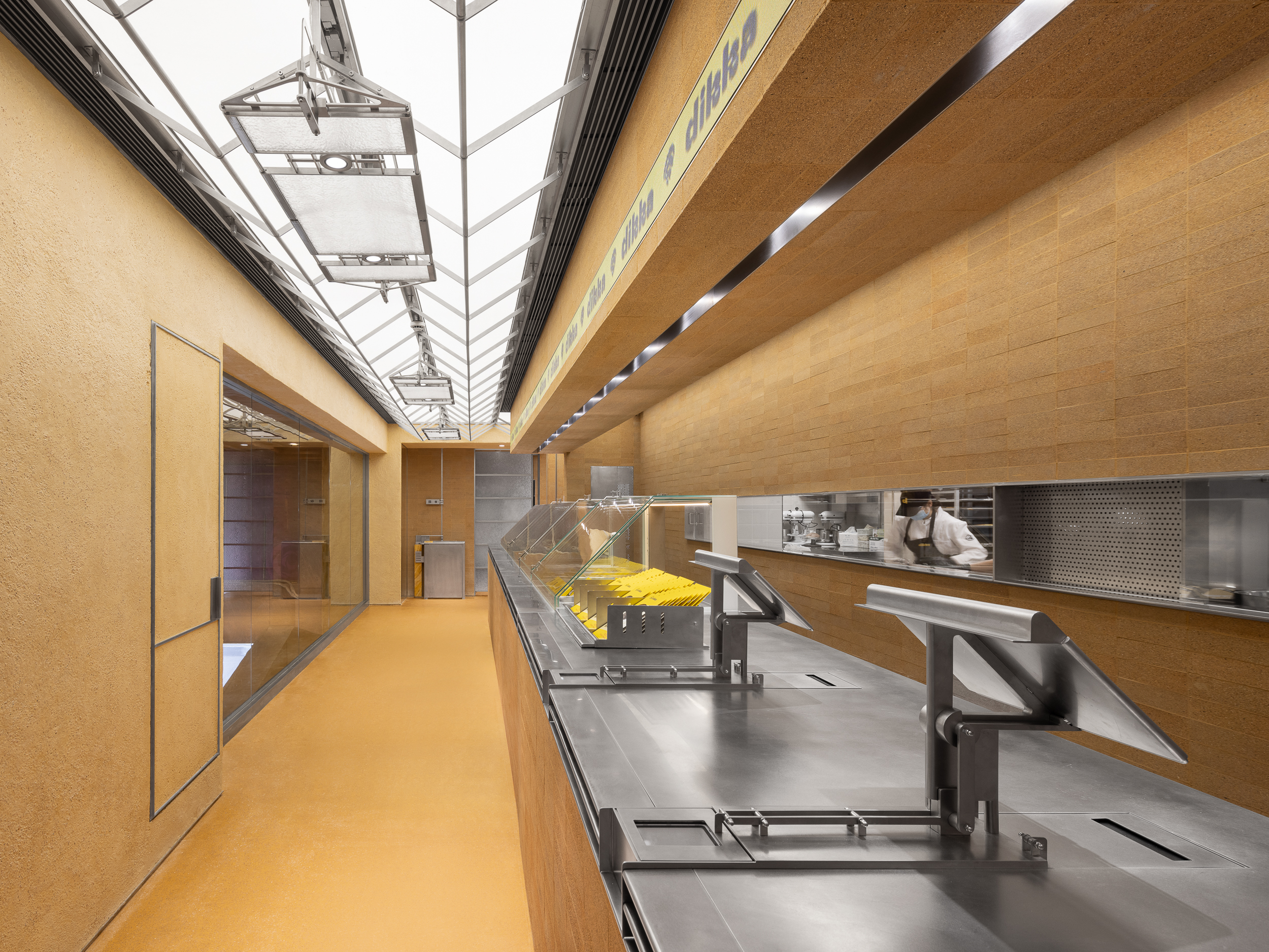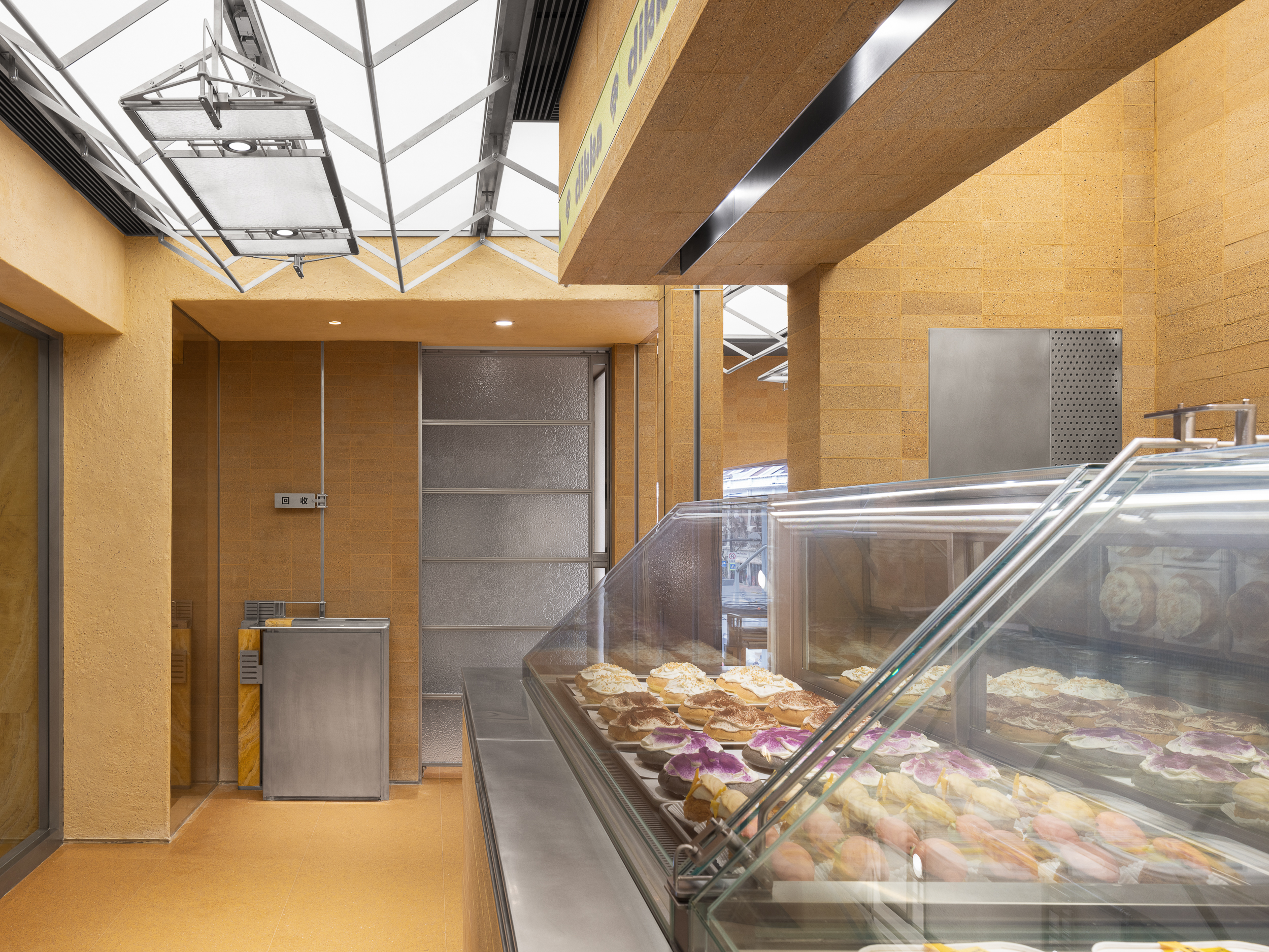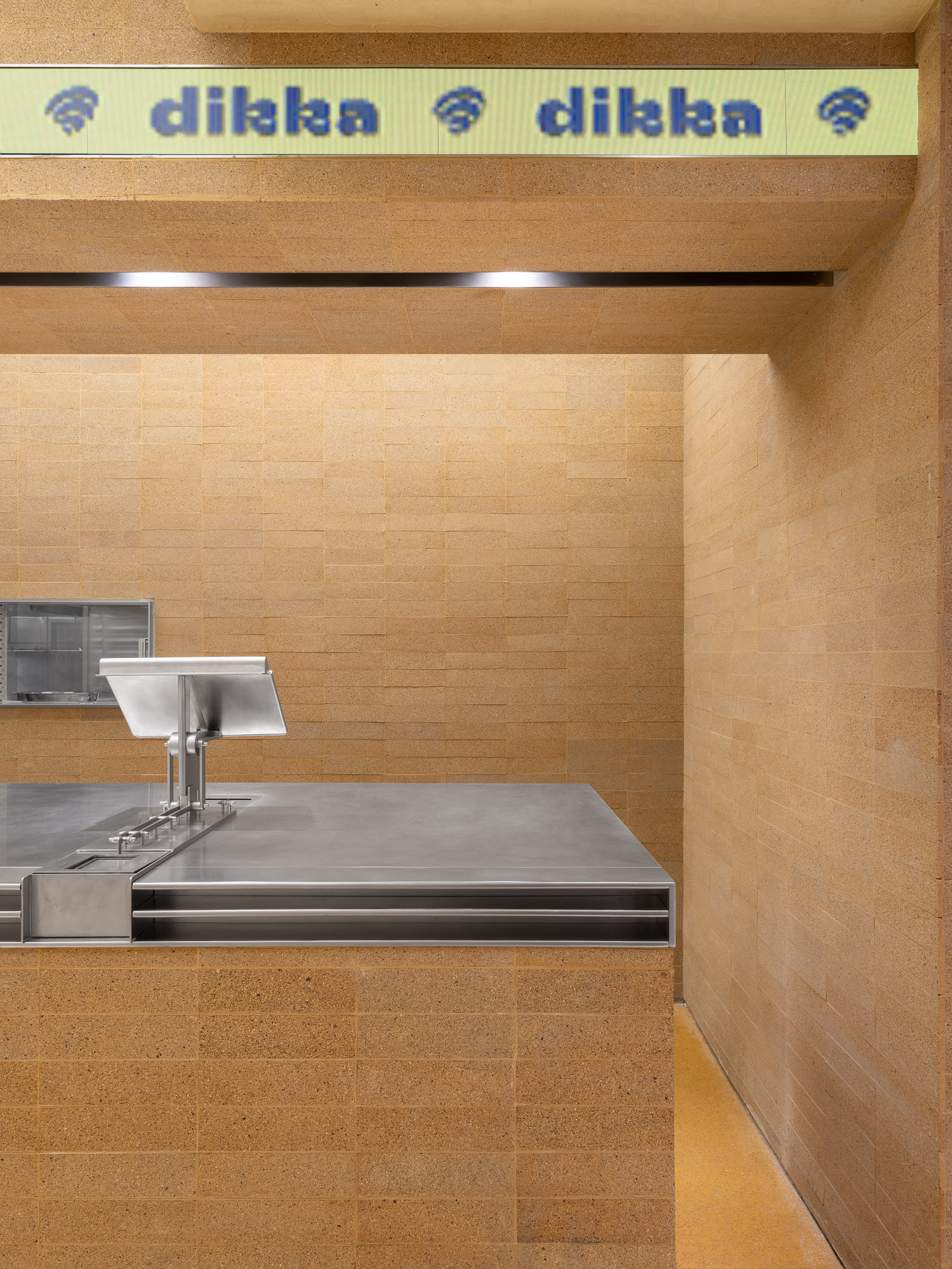 公共性与包容性彰显于光线与建筑尺度之间。从二楼切出的一个巨大的自然采光空间,犹如一个滤光器,建立了一种接近丰富且理性的状态,营造出松弛且饱满的状态。
Publicity and inclusiveness are manifested between light and architectural scale. A huge natural lighting space cut out from the second floor is like a light filter, establishing a state close to abundance and rationality, creating a state of relaxation and fullness.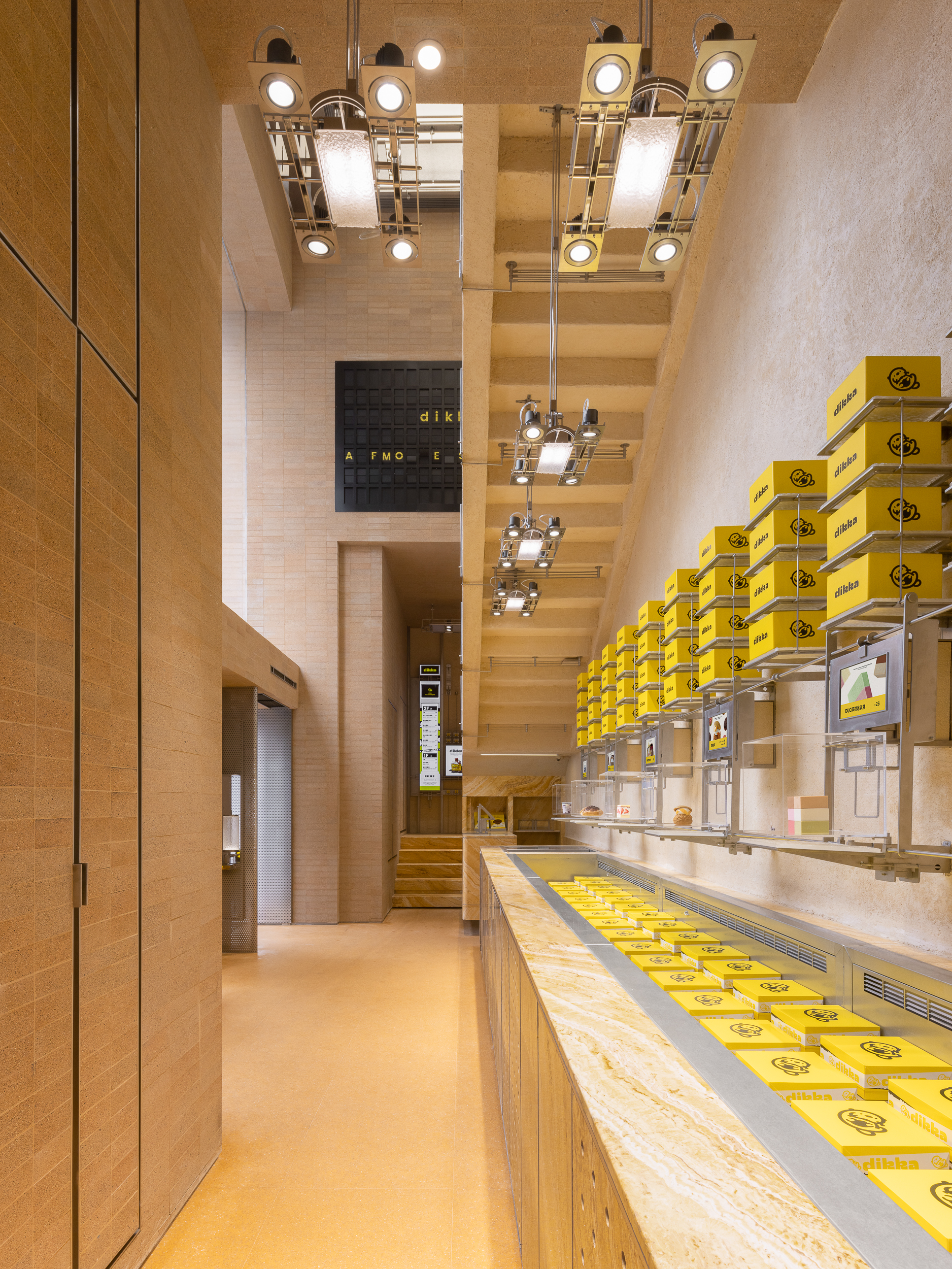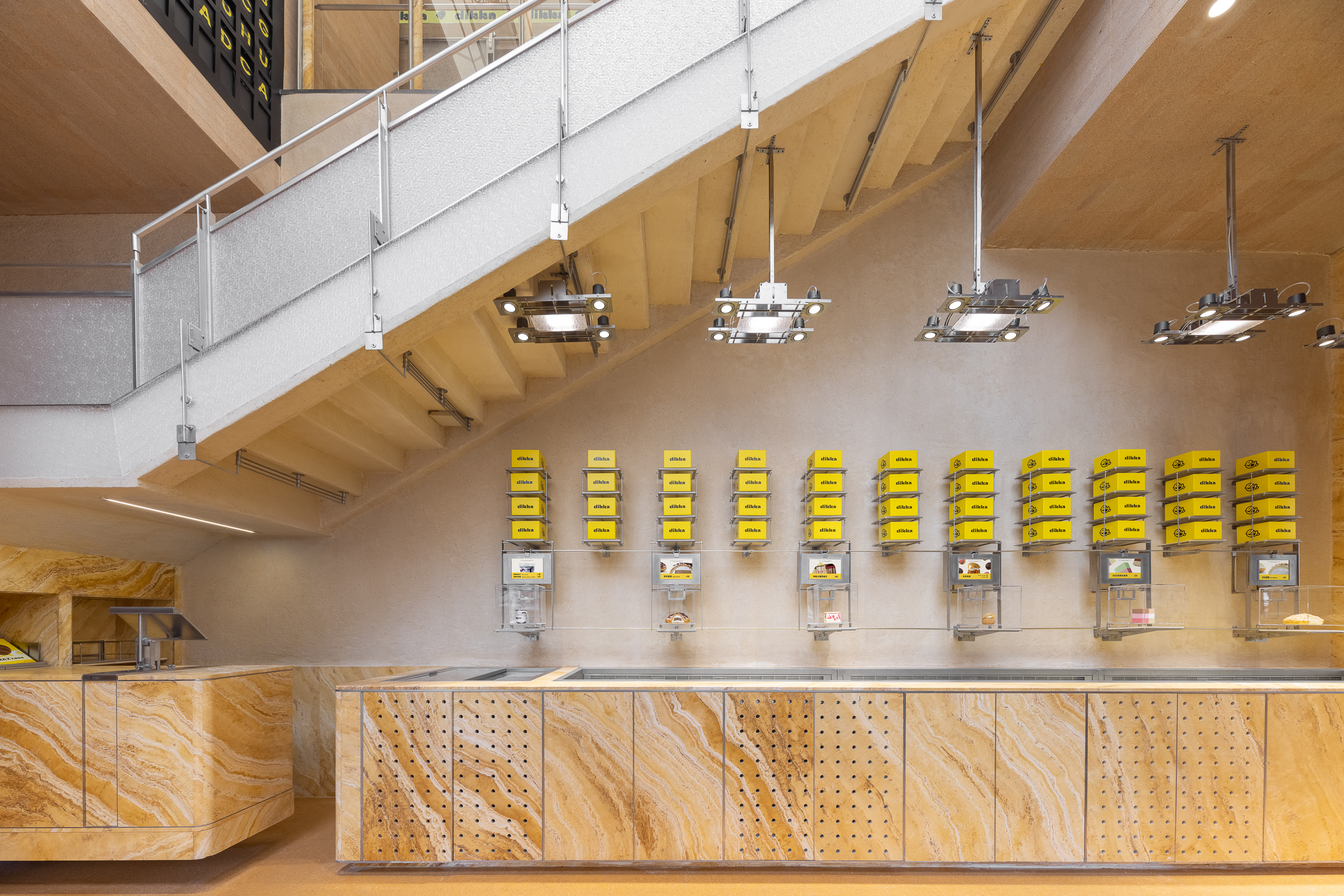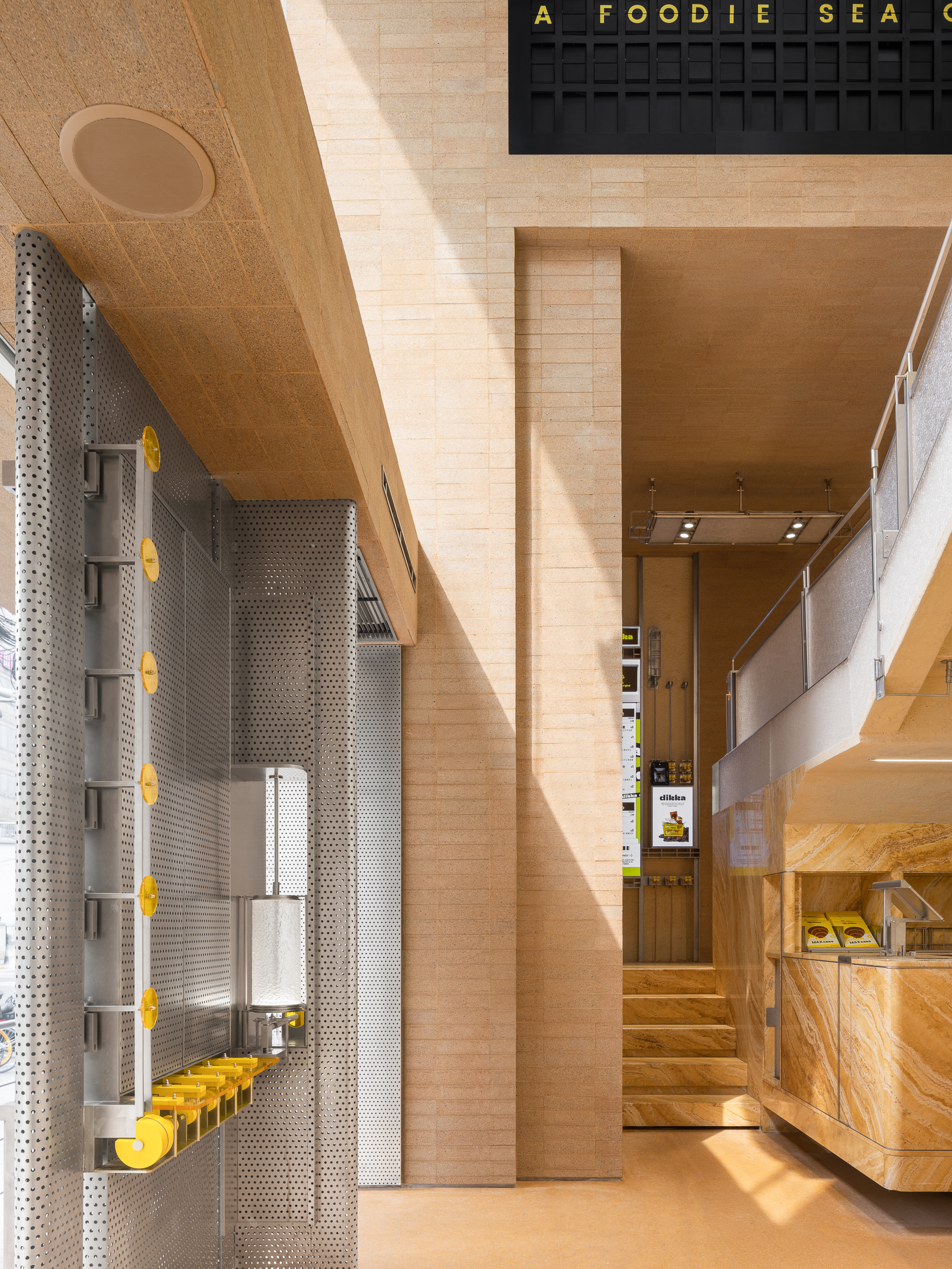 "有机"的材料携带着自然的属性。入口空间被暖黄色的砖墙所充斥,隔绝了外部的喧闹,把日常状态下的售卖空间的比例放大,以形成记忆点和装置感。
"Organic" materials carry natural attributes. The entrance space is filled with warm yellow brick walls, which isolates the noise from the outside, and enlarges the proportion of the sales space in the daily state to form a memory point and a sense of installation.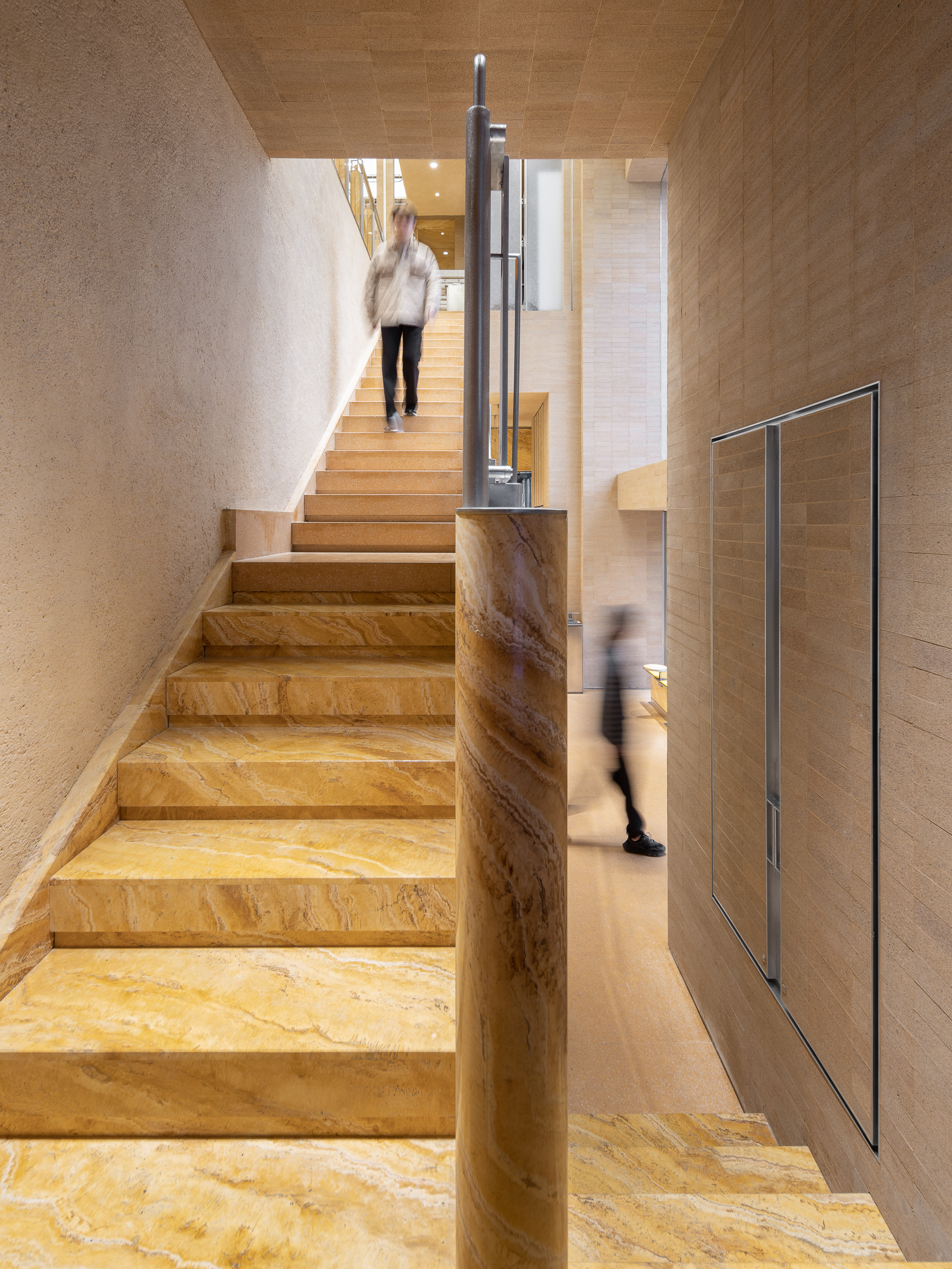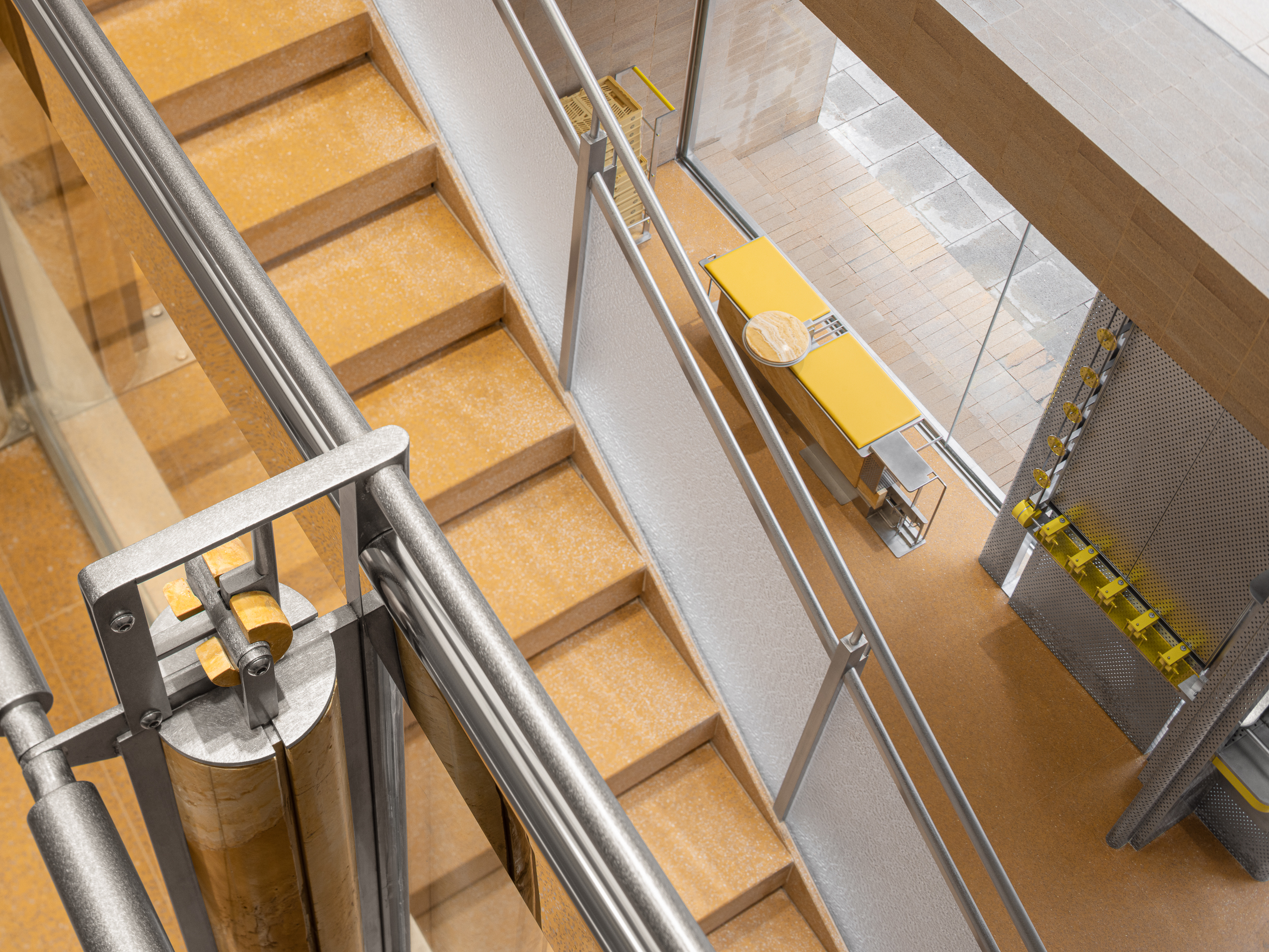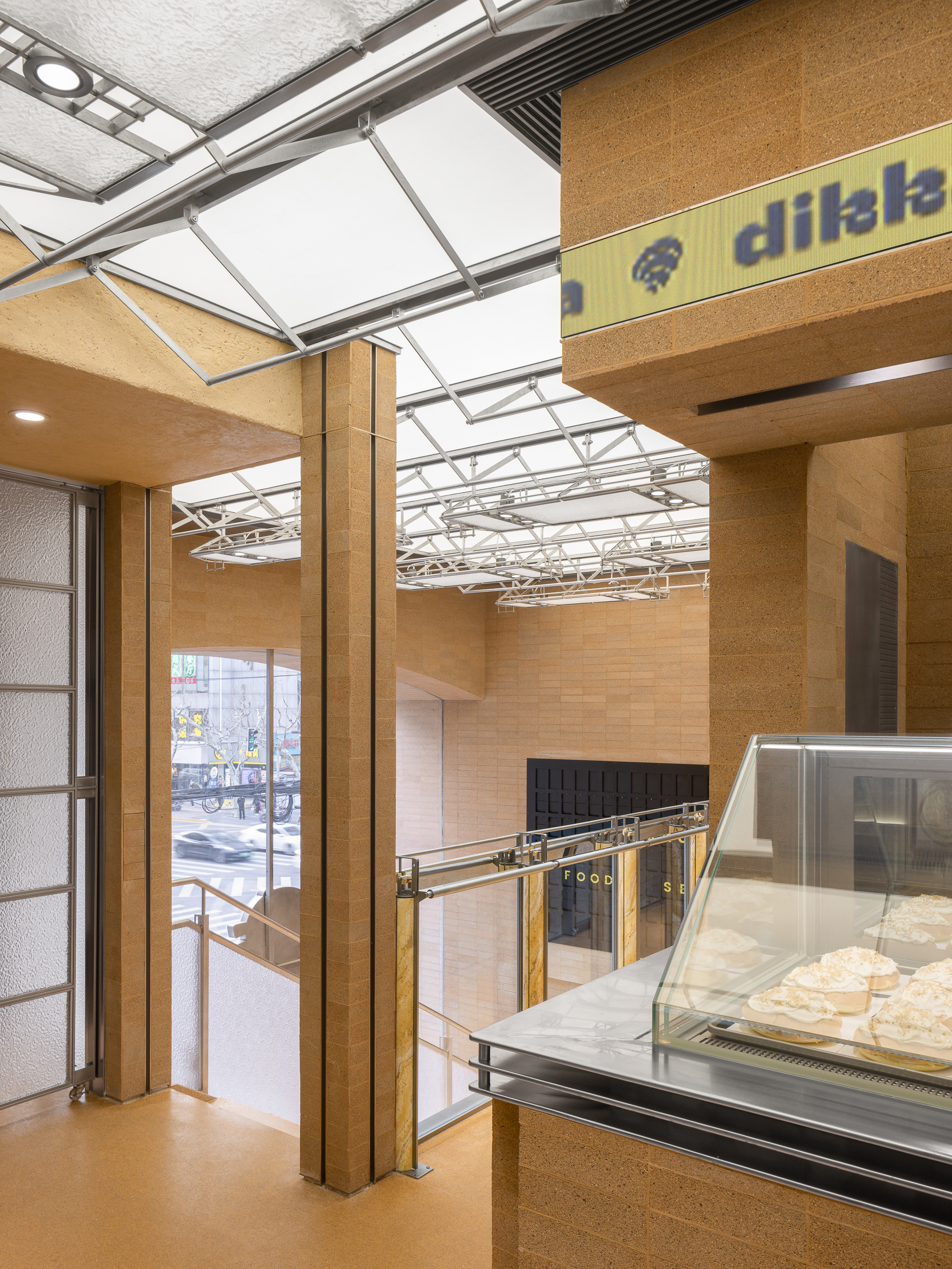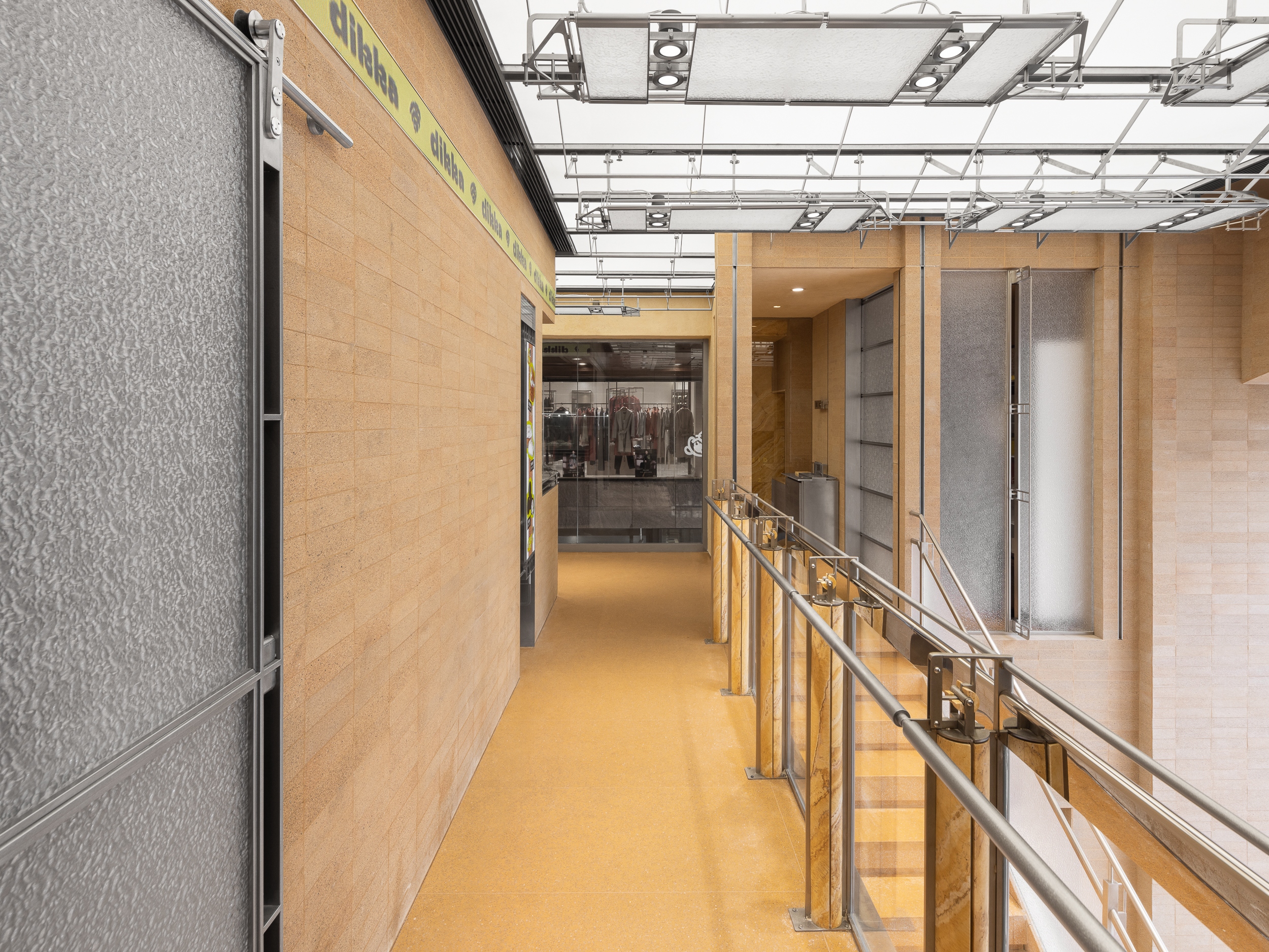 象征着自然的墙体镶嵌着浅银色的金属材质的功能区域,脱离常规,漂浮在香甜的气息之中。通过现代简洁的建筑手法和材料语言,展示出简洁与自然的空间,为穿梭于空间中的客人建立更加舒适的感受。
The walls that symbolize nature are inlaid with functional areas made of light silver metal, breaking away from the routine and floating in a sweet atmosphere. Through modern and simple architectural techniques and material language, it shows a simple and natural space, and creates a more comfortable feeling for guests who travel through the space.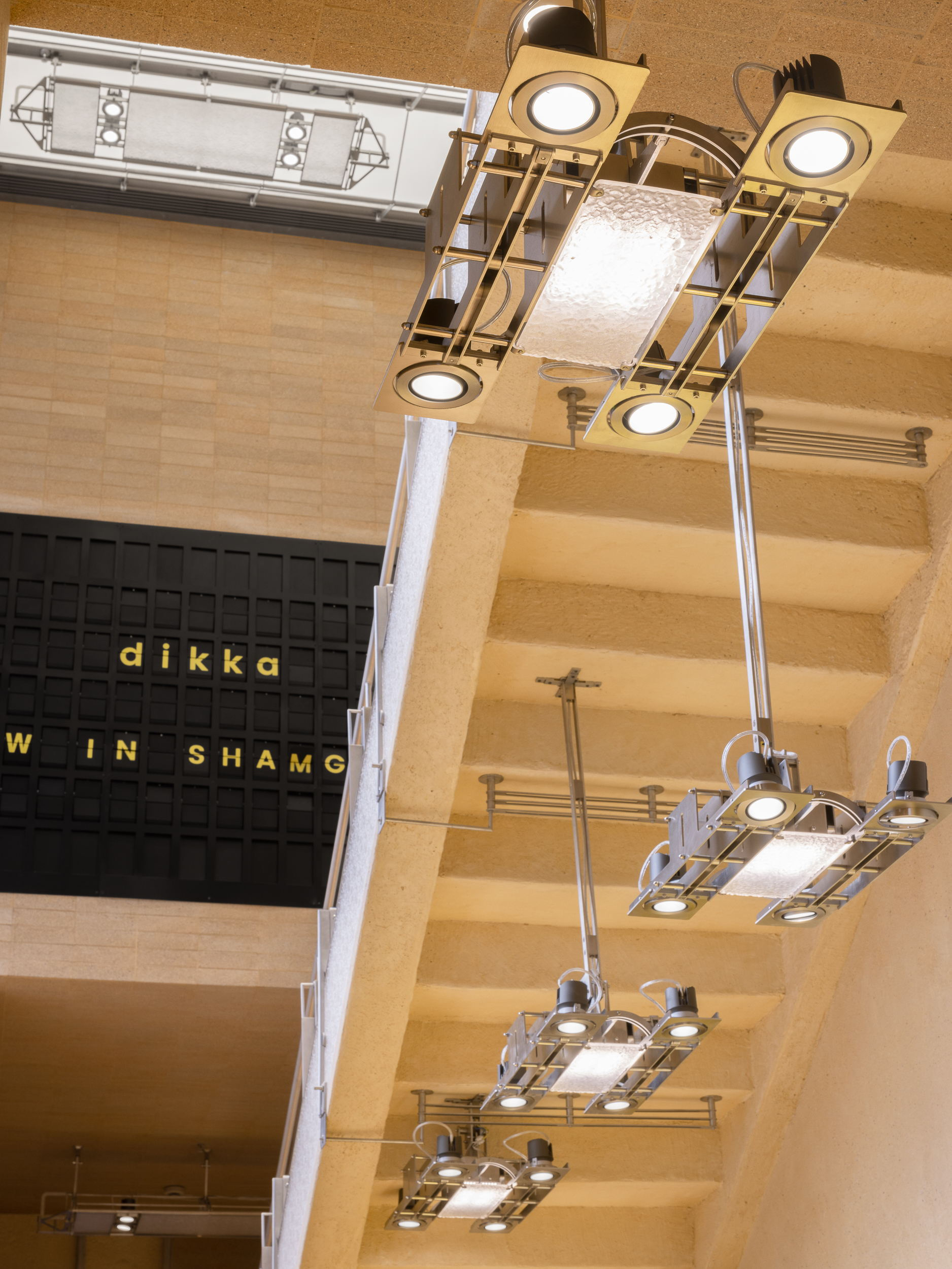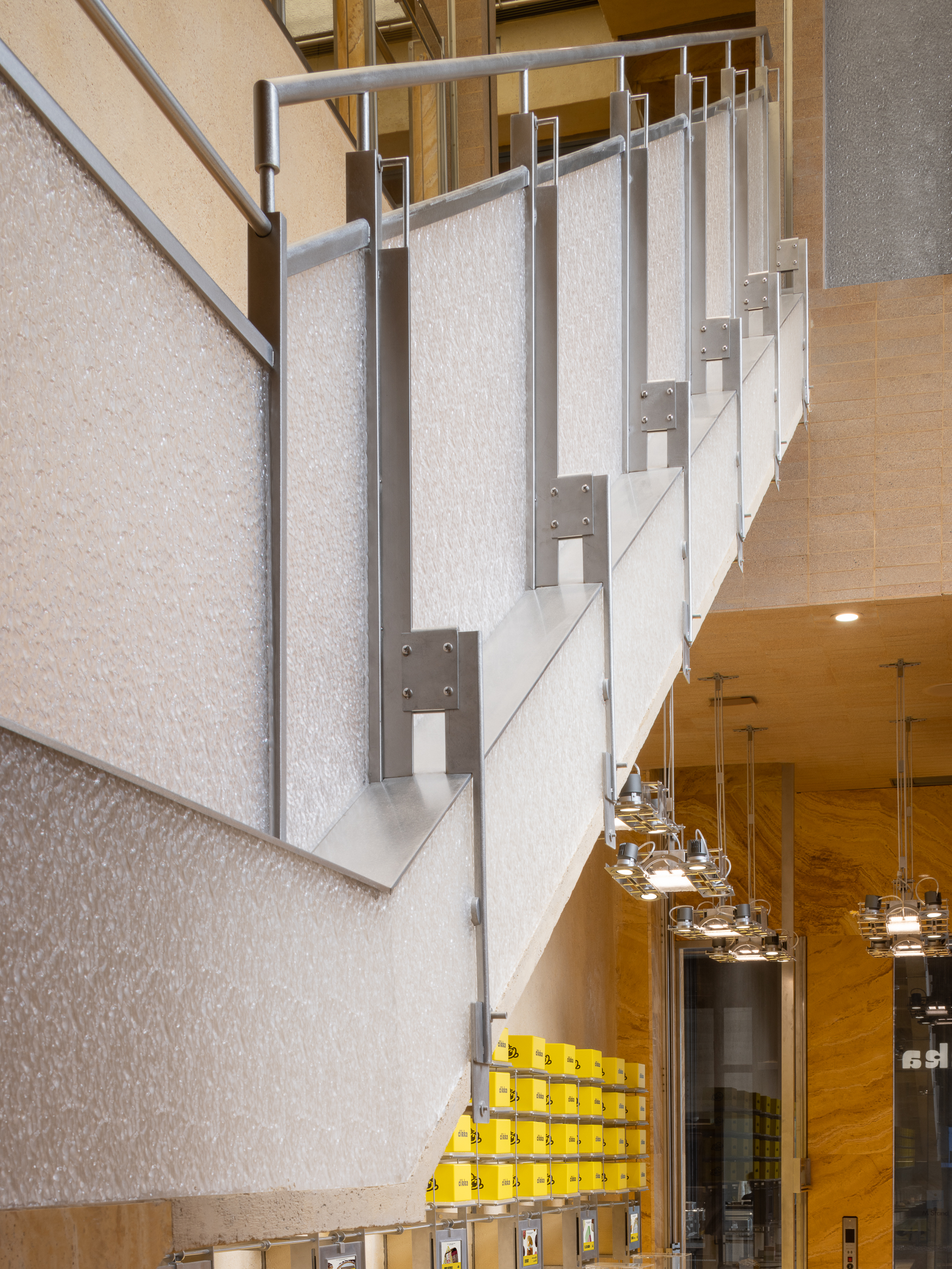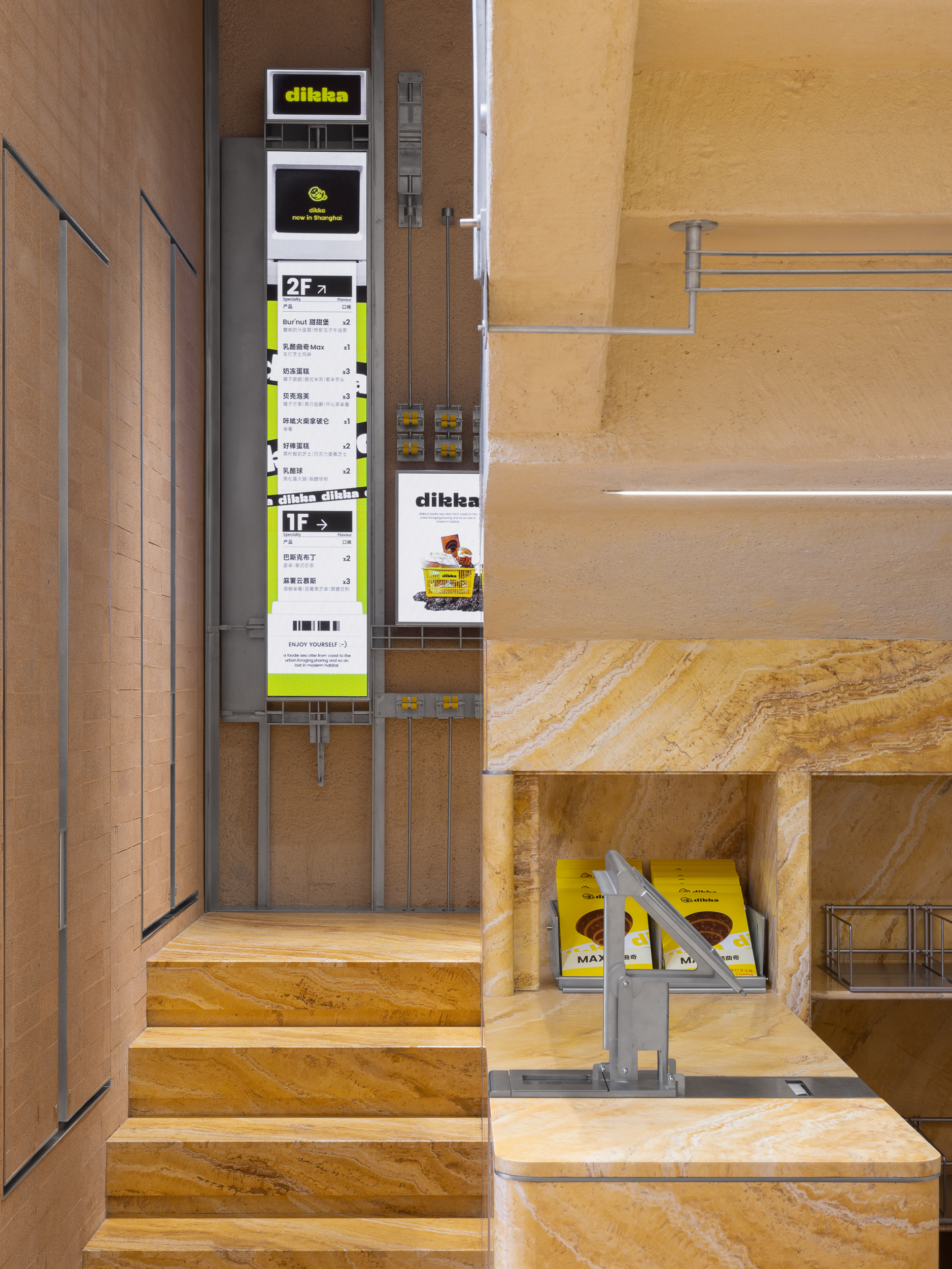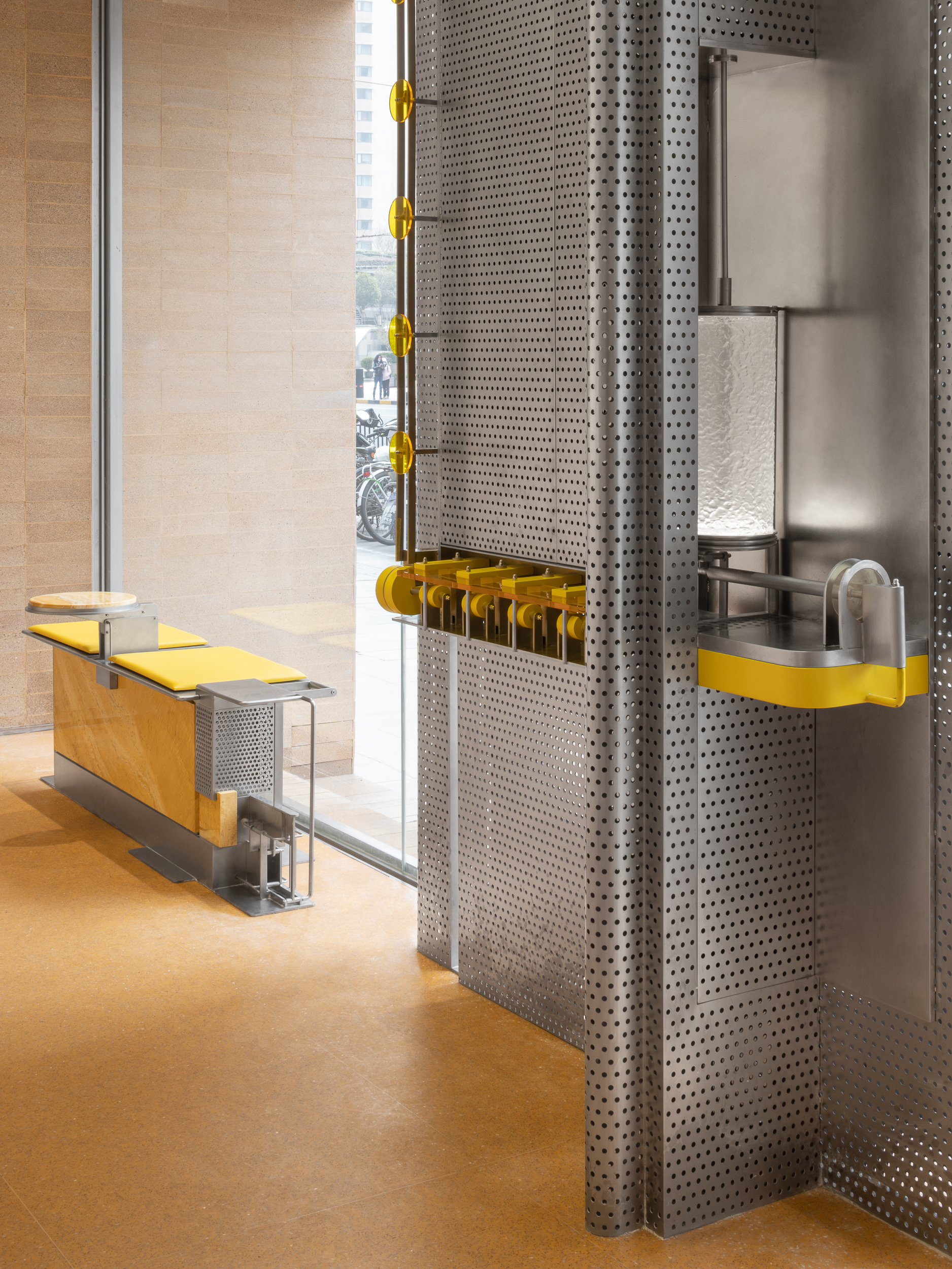 踏入空间犹如走入秘境中的小集市。空间布局克制地趋向非再现、抽象、内在的凝练结构。无论是材质、线条,亦或是直线的并排与转承;其互组构建的"面",进而创造"体"的三维存在,循着空间逻辑形成交集,各自围合又彼此关联。
Stepping into the space is like walking into a small market in a secret place. The spatial layout tends to be non-representative, abstract, and internally condensed with restraint. Whether it is materials, lines, or the juxtaposition and inheritance of straight lines; the "surfaces" constructed by their mutual combination, and then create the three-dimensional existence of "body", forming intersections according to the logic of space, each enclosed and related to each other.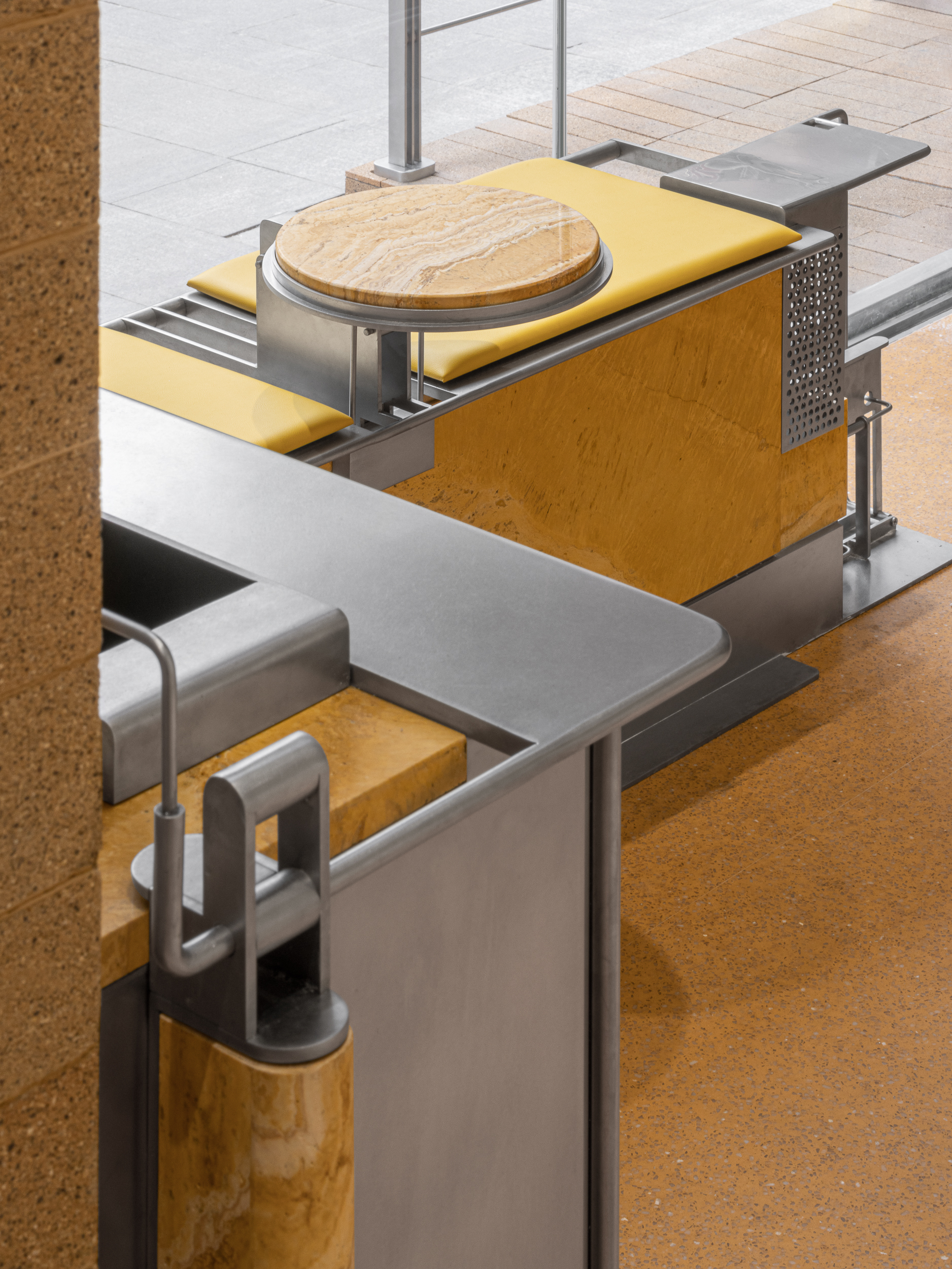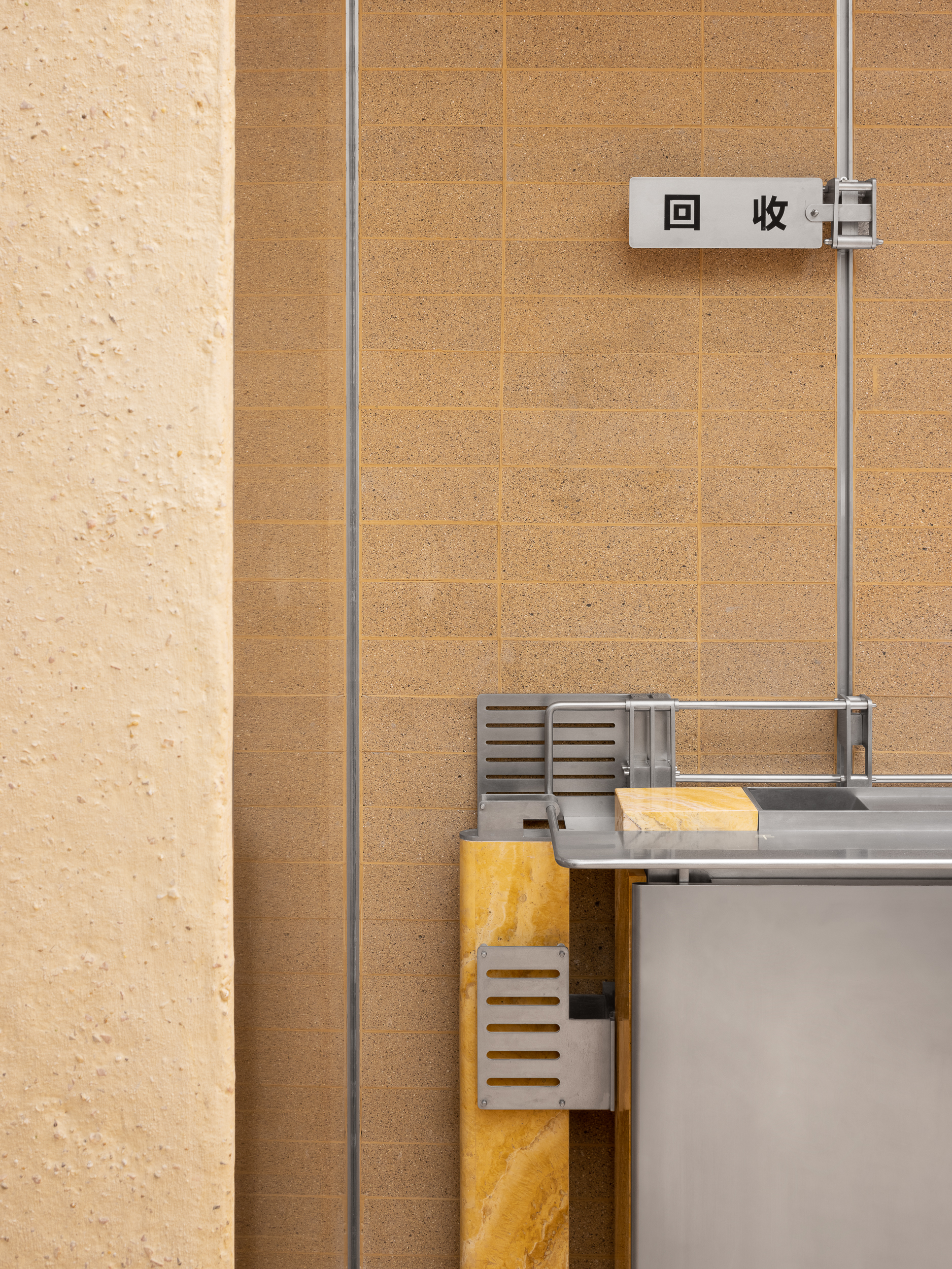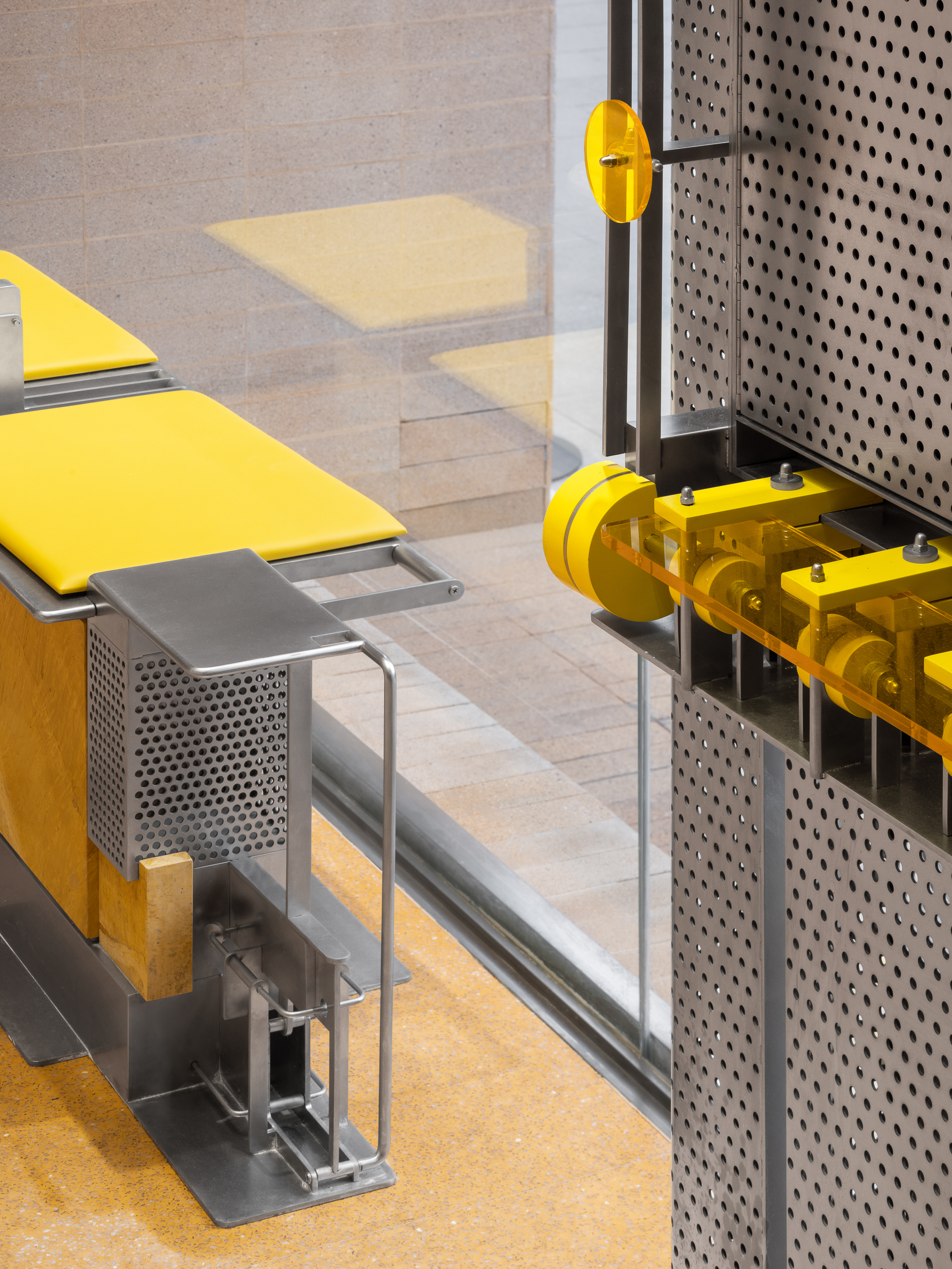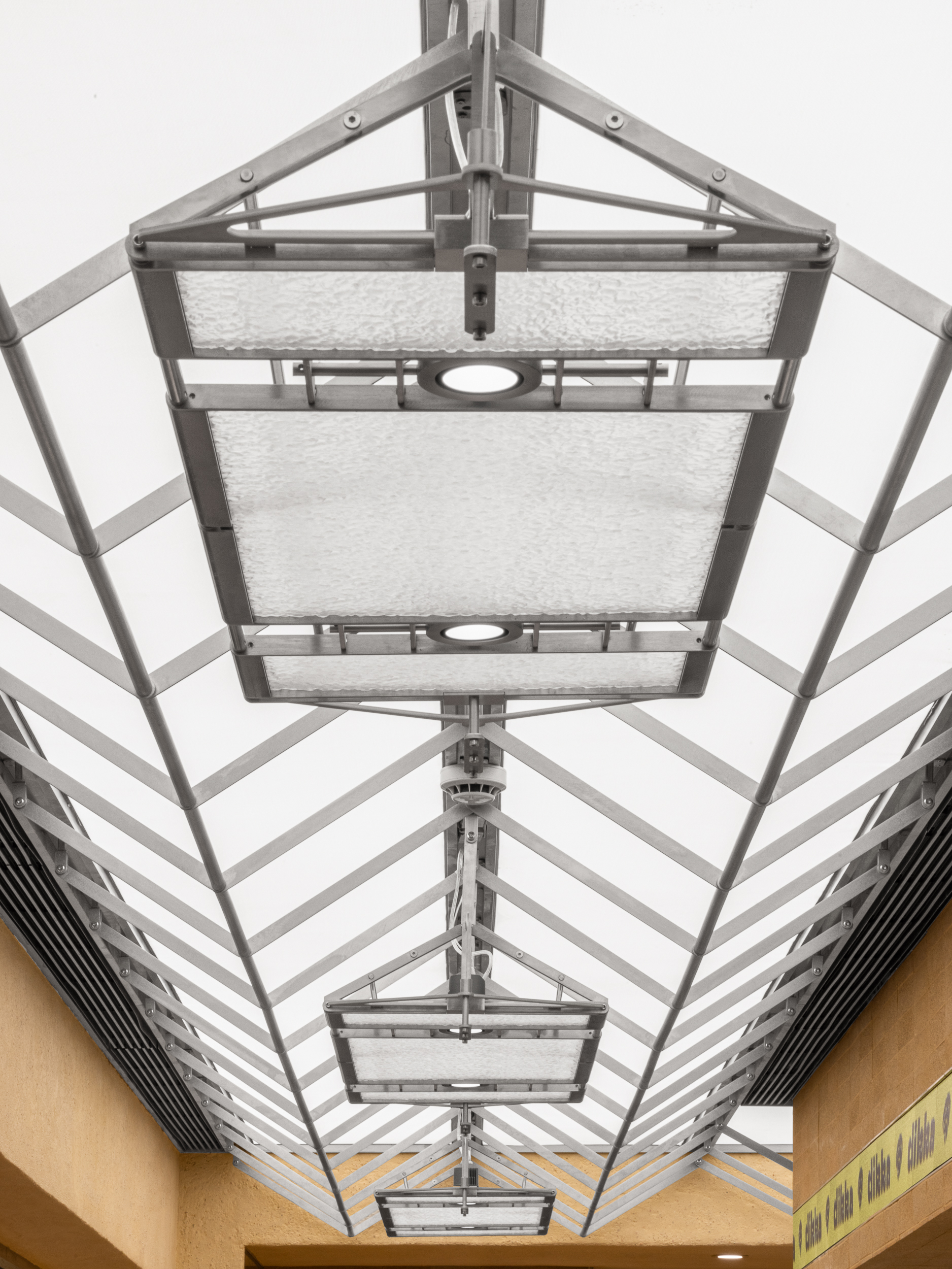 形态各异的椅子临窗而立,成为街道的点缀。所有的家具都被再次创造为崭新的自我,在规整之中带着调皮的意味,形成一个连接室内秘境和具体功能的奇特序列。
Chairs of various shapes stand near the windows, becoming the decoration of the street. All the furniture has been re-created as a brand new self, with a naughty meaning in the regularity, forming a peculiar sequence connecting the interior secrets and specific functions.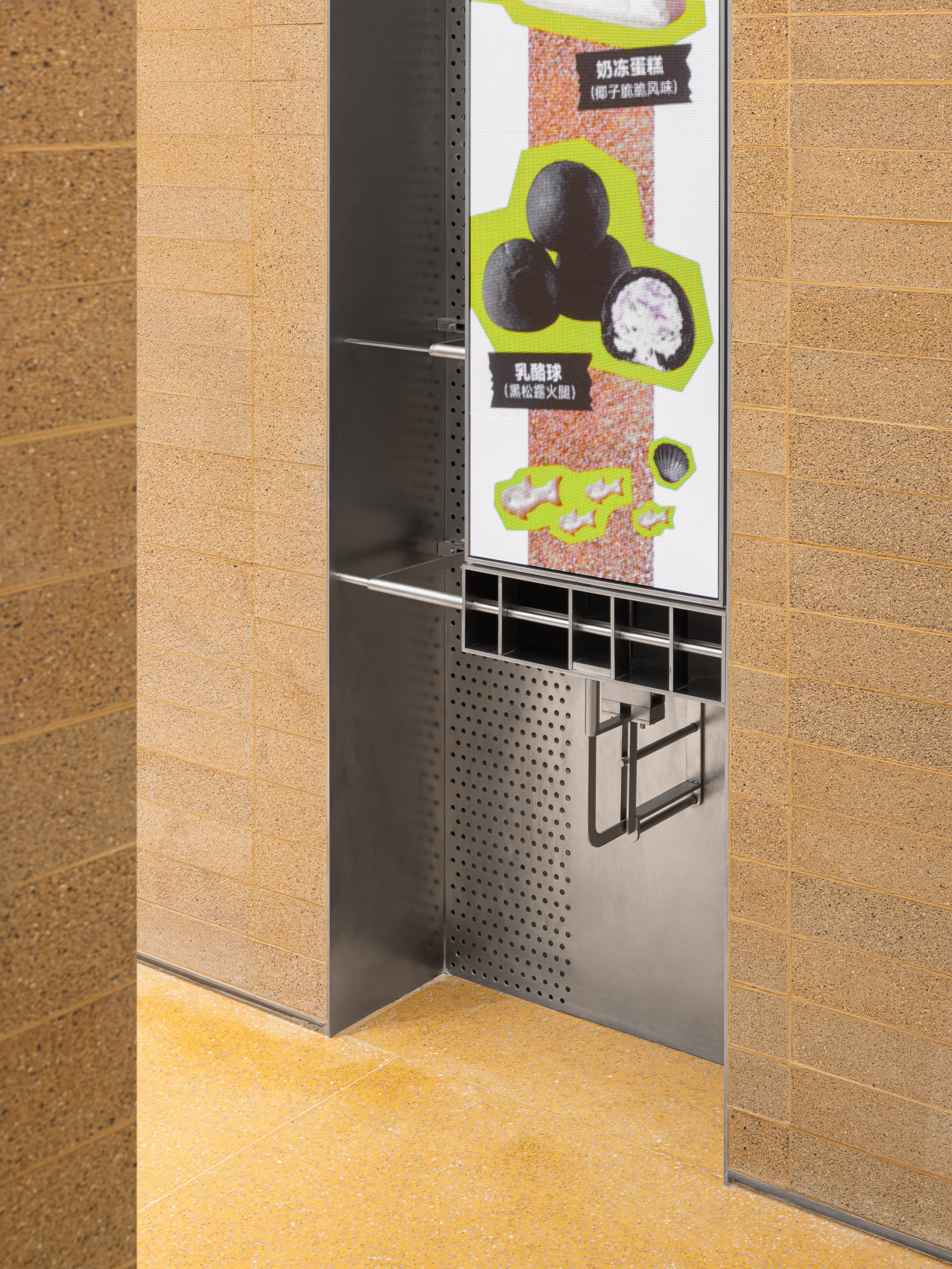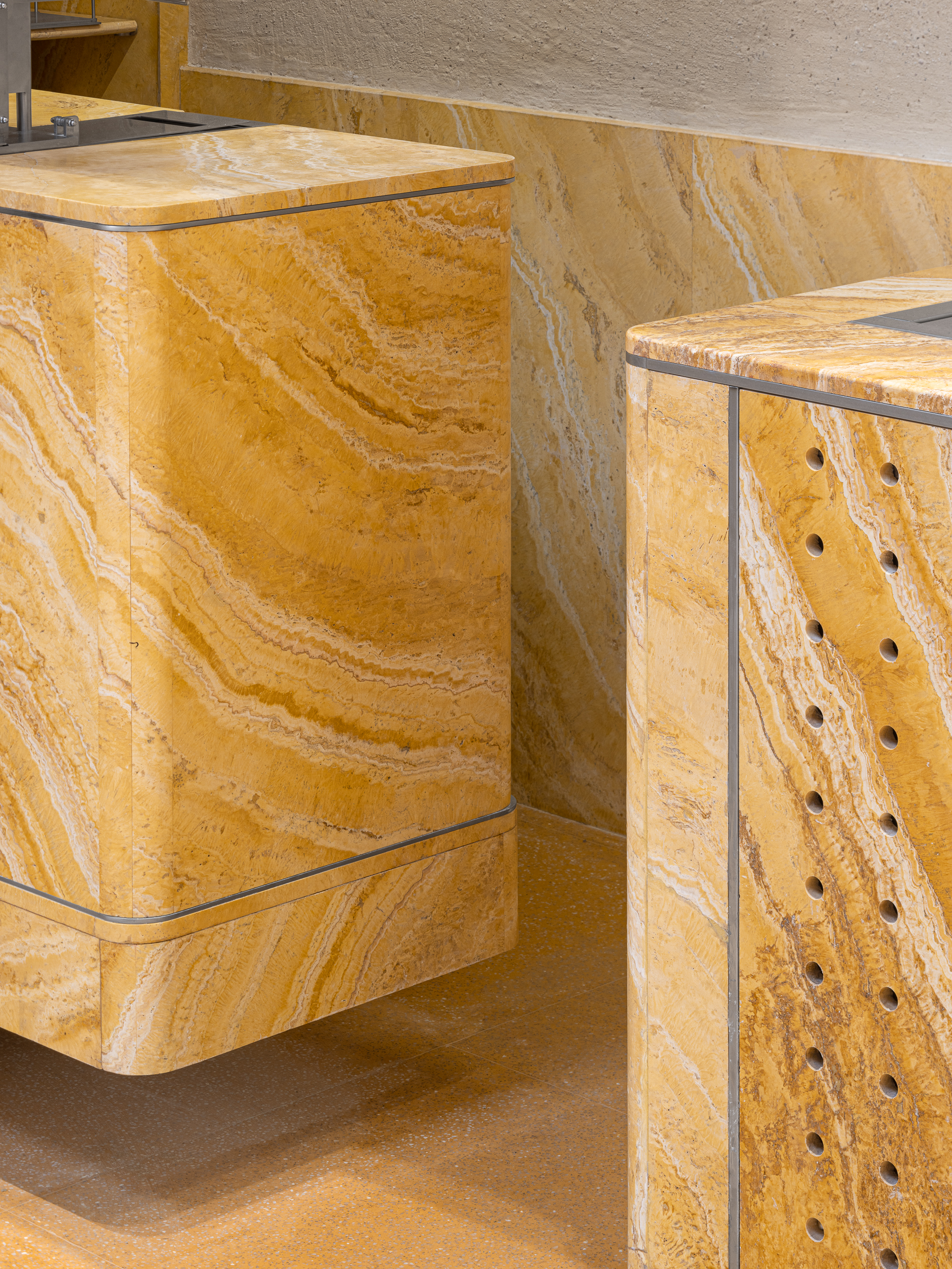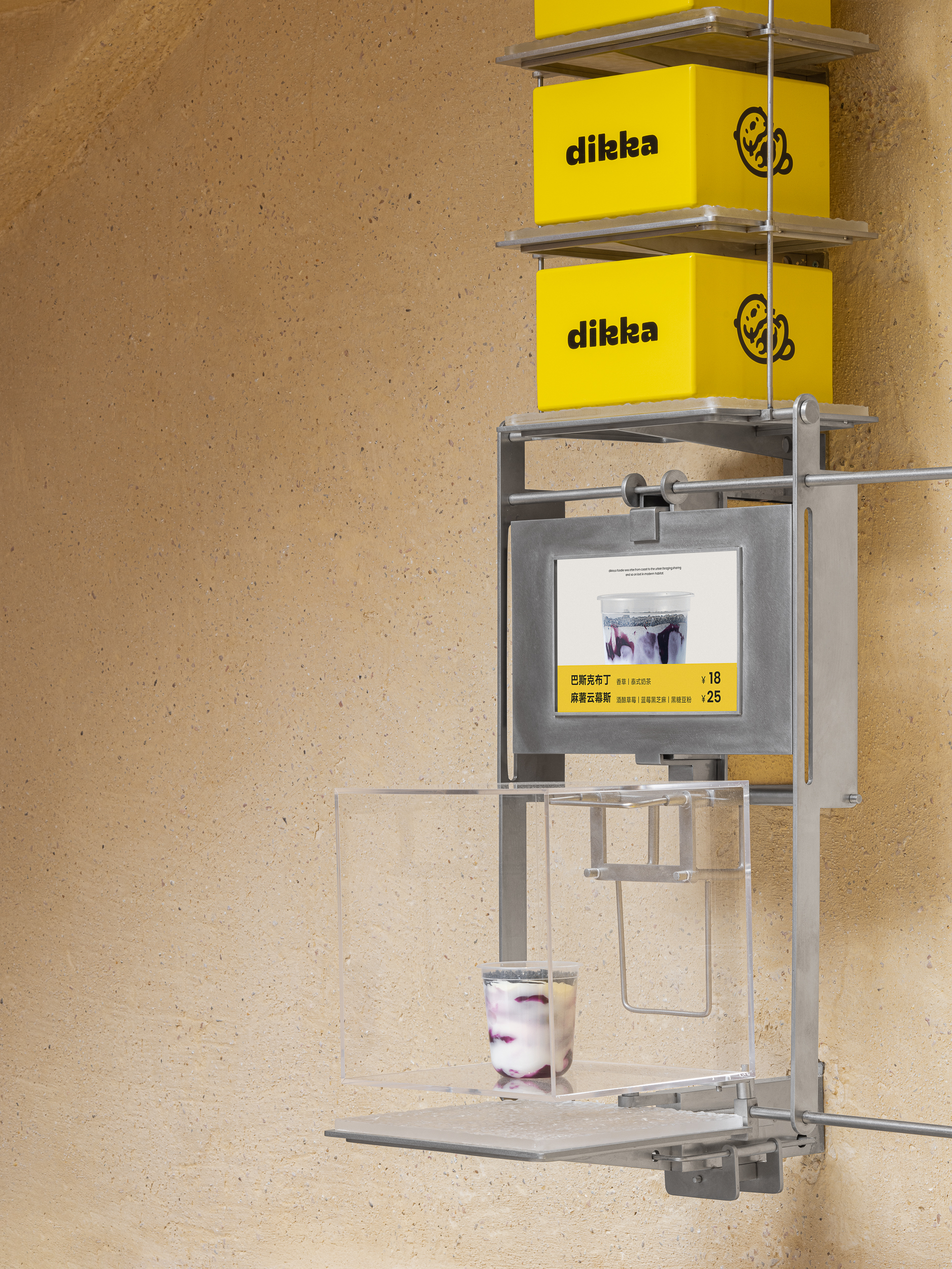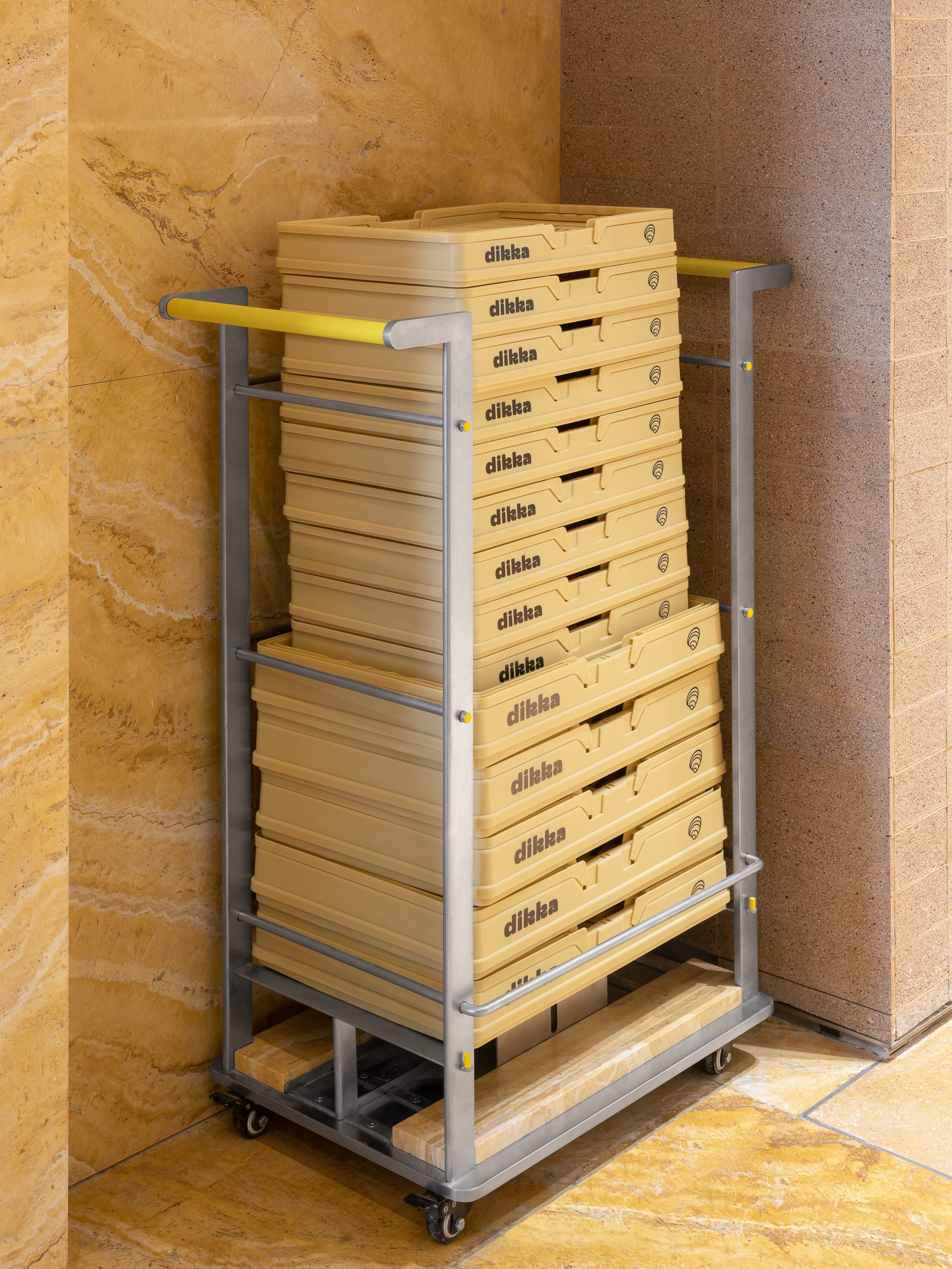 为了增强空间的流动感,一些功能性的设计更多的借助了流畅的、动态的、有方向引导性的形式。零售空间中功能与物品相互穿插,场景之间的转换与渗透。更本质的流动性则指建筑空间内部动线的通达,贯穿及节奏。
In order to enhance the sense of flow of the space, some functional designs make more use of smooth, dynamic and directional forms. In the retail space, functions and items are interspersed with each other, and the transformation and penetration between scenes. The more essential fluidity refers to the accessibility, penetration and rhythm of the internal moving lines of the architectural space.
---