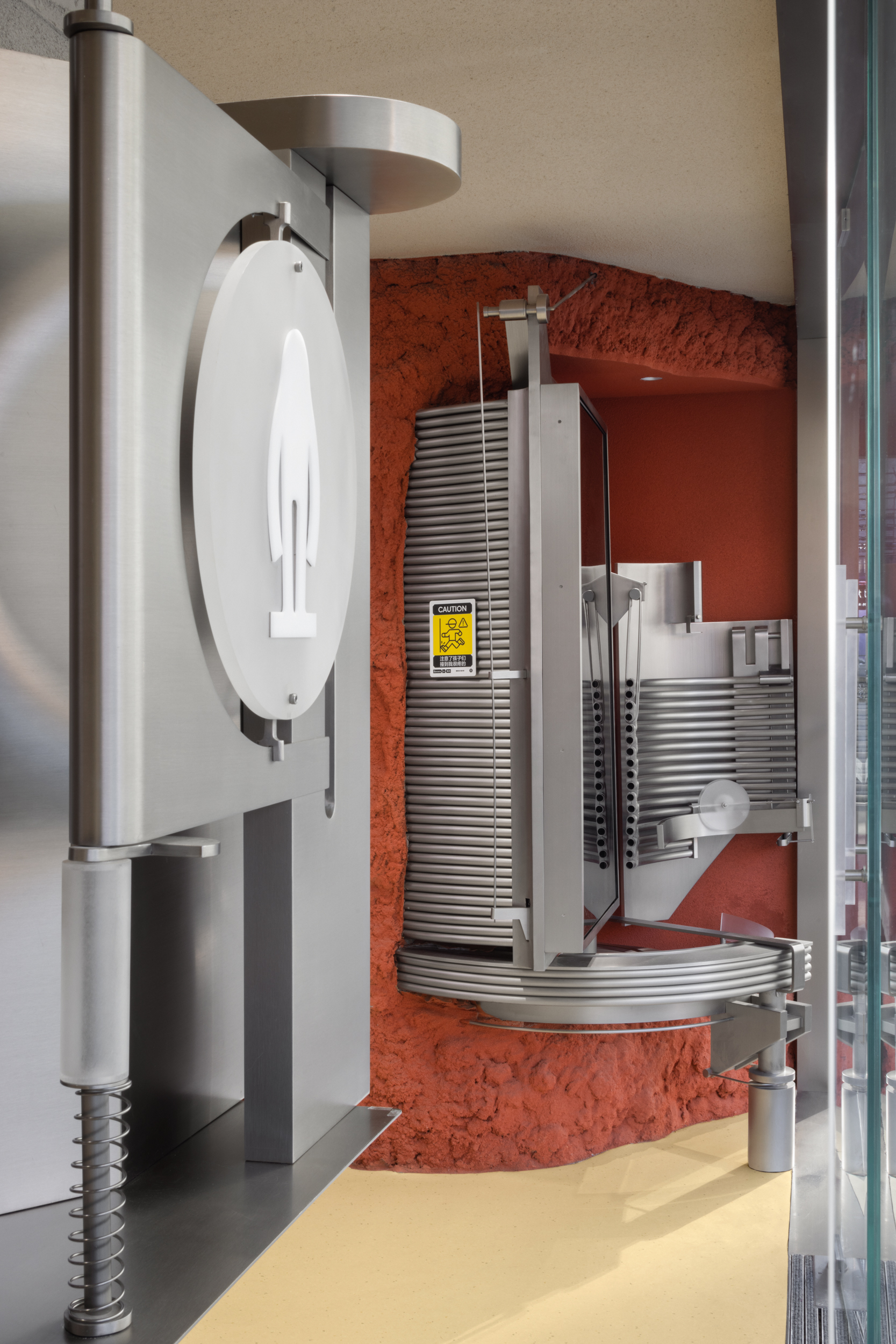 无数生活意向在此被拆解重构,
Countless life intentions are dismantled and reconstructed here,
成为兼具空间功能形态与美感的一环。
It becomes a part that has both spatial function and aesthetic feeling.
---
在这个科技与美感并存的空间,每个人都能自在随心的挑选生活中的基本款。
In this space where technology and beauty coexist, everyone can freely choose the basic models in life.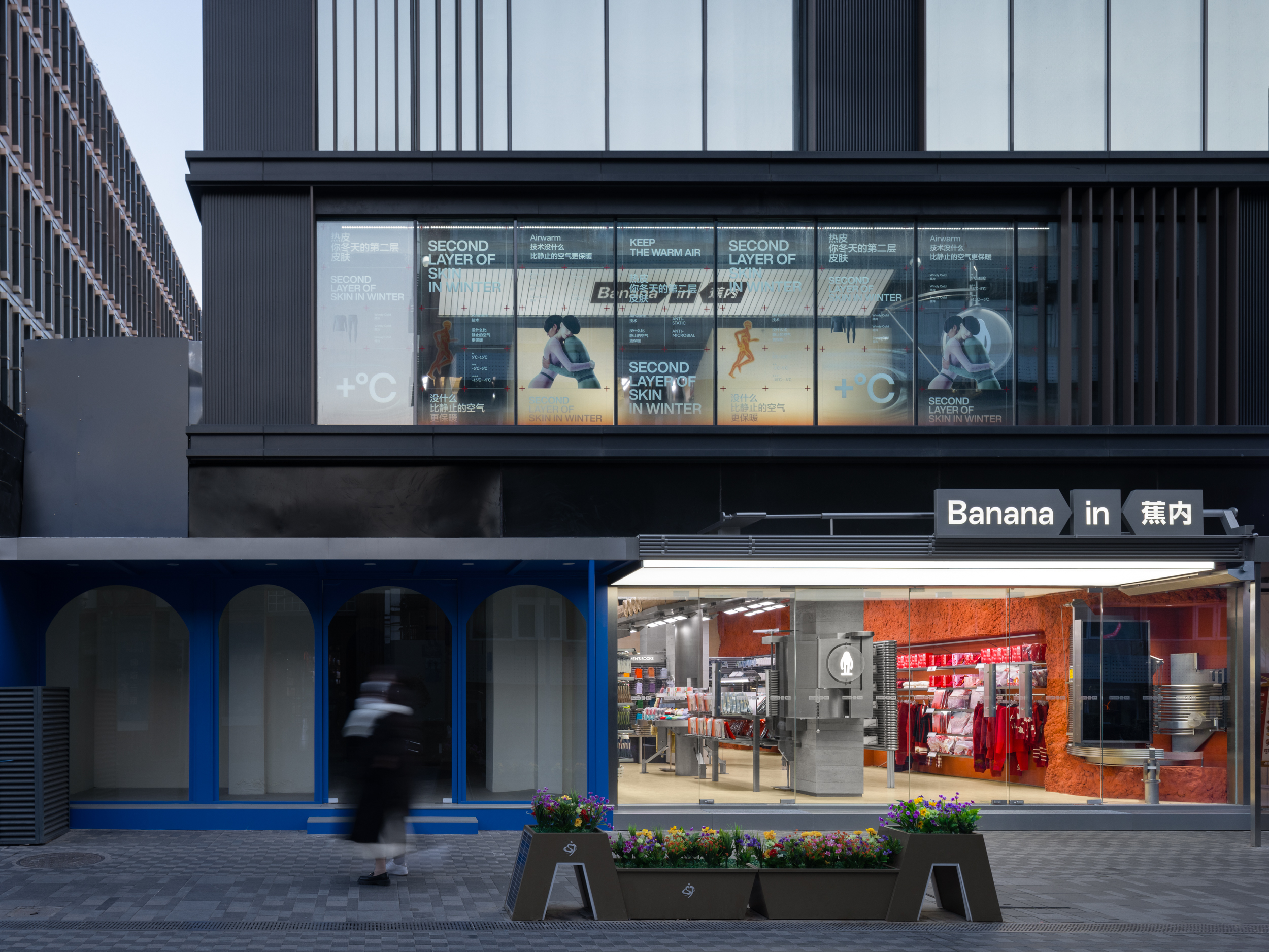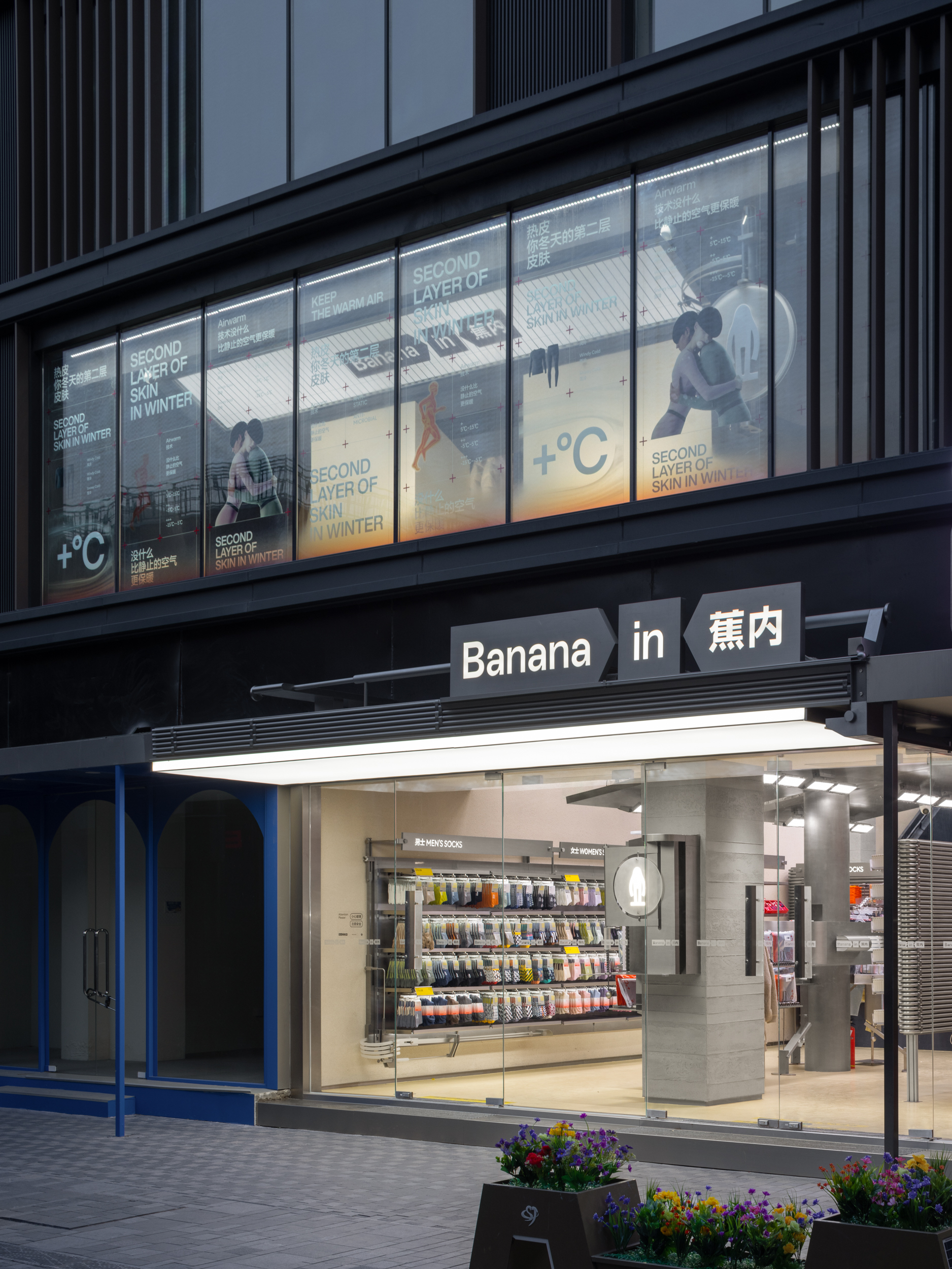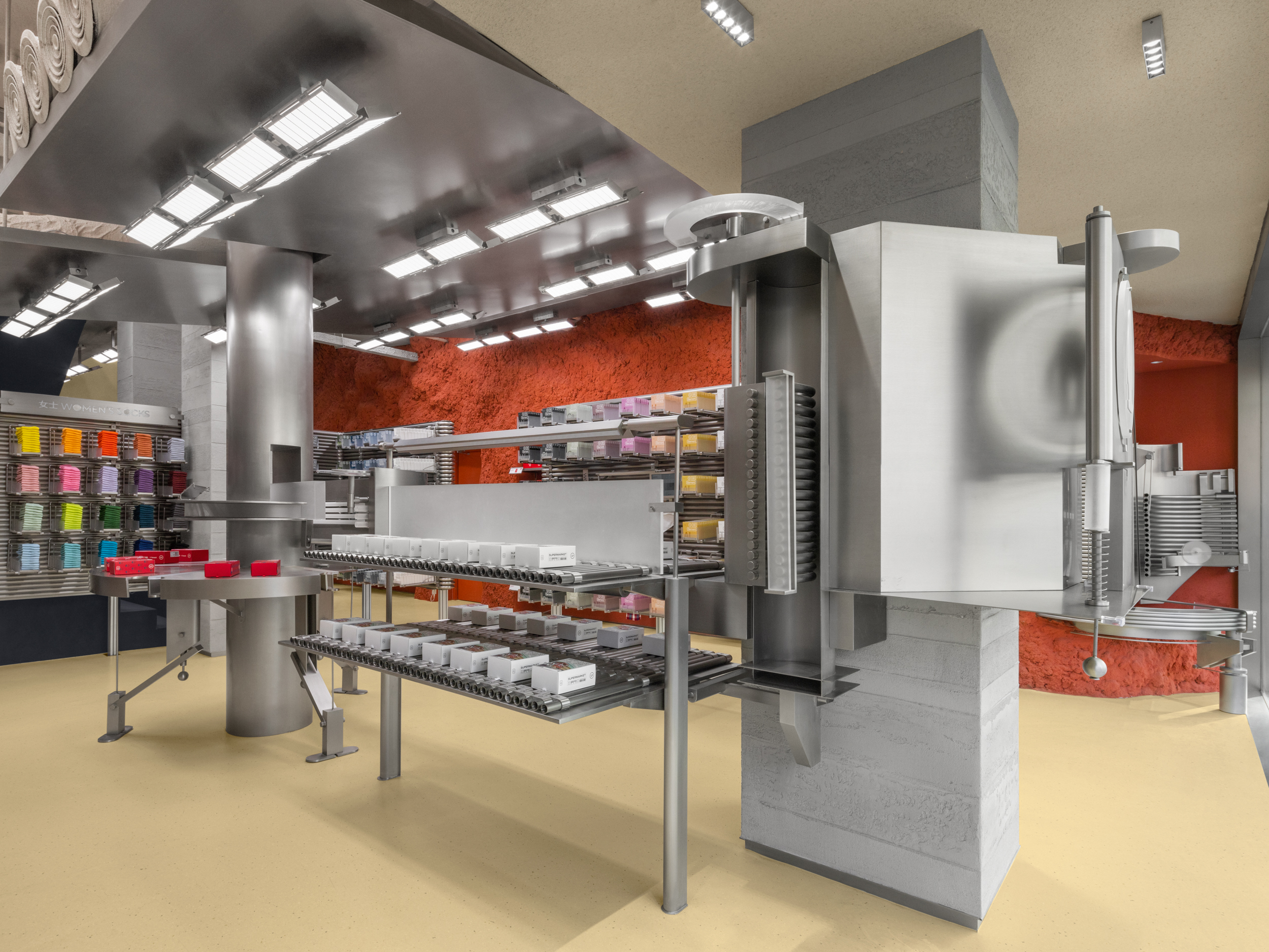 当人们的生活方式发生了变化,对"日常新意"的诉求变得更强烈,随之而来的,空间的内容本身也一定会发生改变。线下对公共属性的表达,对精神属性的关注,都有了更迫切和直观的需求。所有的空间都是基于人的行为发生的。
When people's lifestyles change, the appeal for "everyday innovation" becomes stronger, and consequently, the content of the space itself will also change. There is a more urgent and intuitive demand for offline expression of public attributes and attention to spiritual attributes. All spaces are based on human behavior.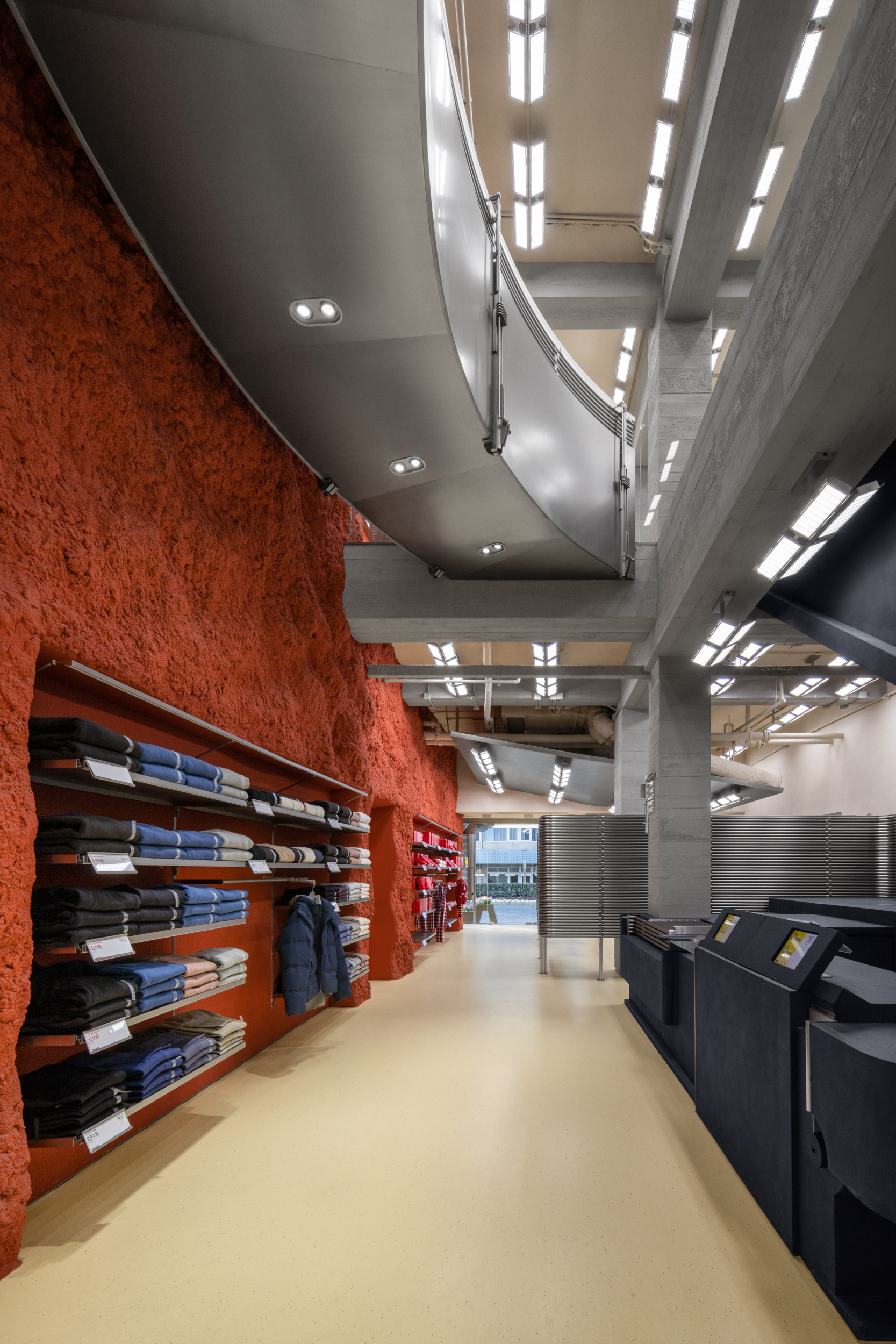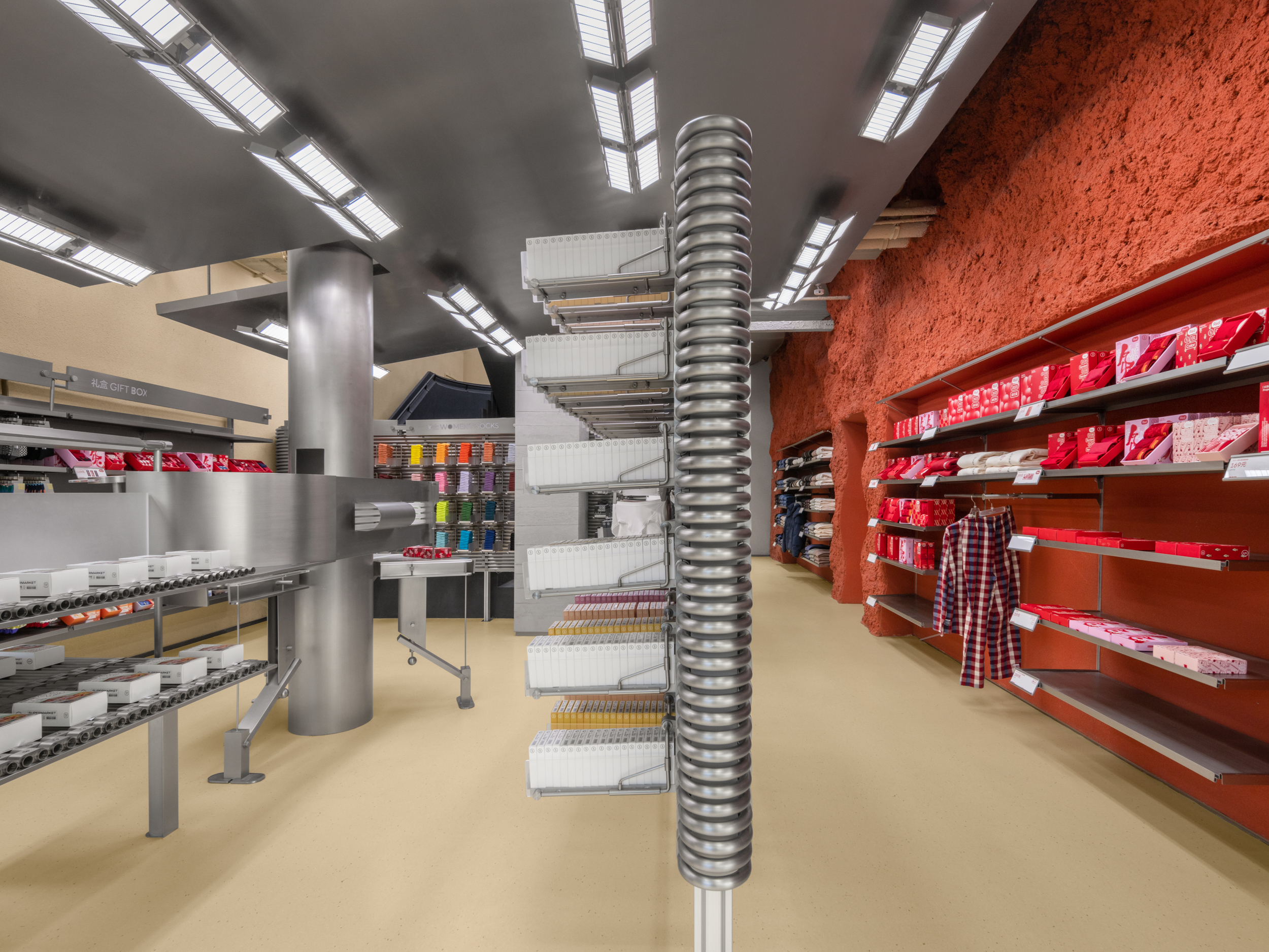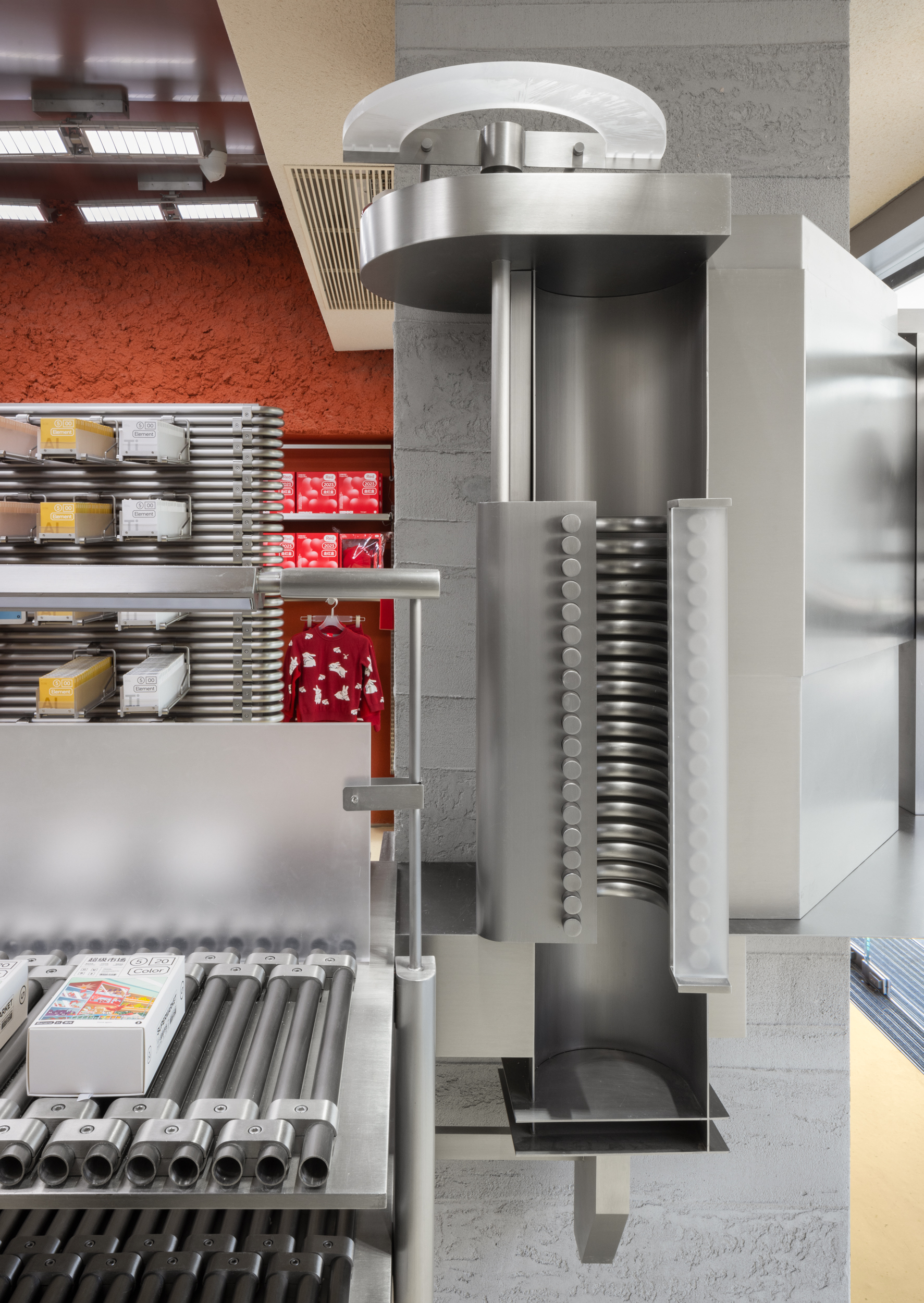 面临着人们的生活水平与精神诉求不断提高,而带来的空间升级问题。蕉内更像是一个敏锐的观察者,随时以脱离产品本身的视角,随时处在对社会、对人群生活的观察和临摹中,并在这之中,不断整理和改变自己的思路,加速了这个过程。
Facing the continuous improvement of people's living standards and spiritual demands, the problem of space upgrading is brought about. Banana in is more like a keen observer, always observing and imitating society and people's life from the perspective of being separated from the product itself, and in this process, constantly sorting out and changing its thinking, accelerating this process.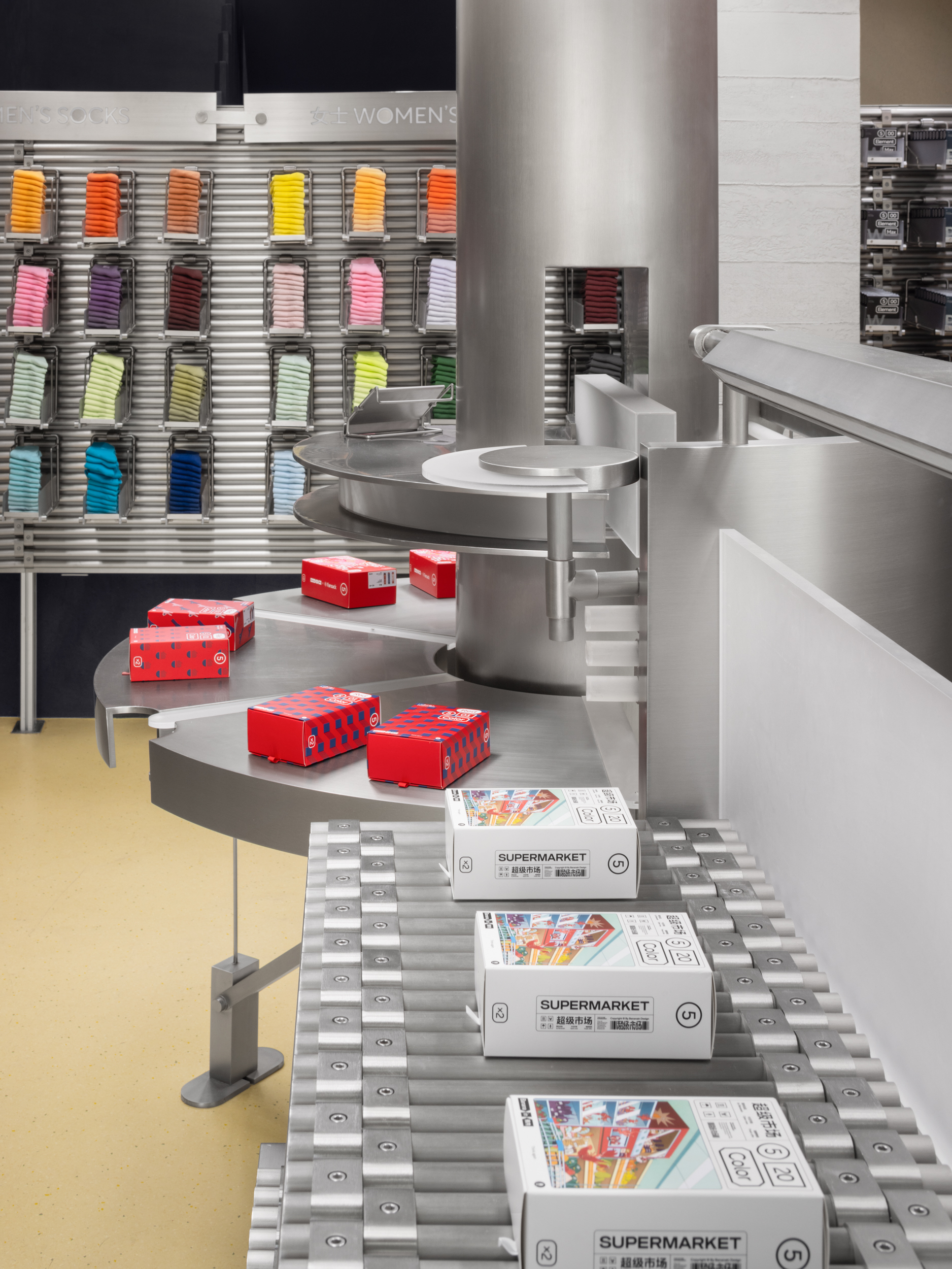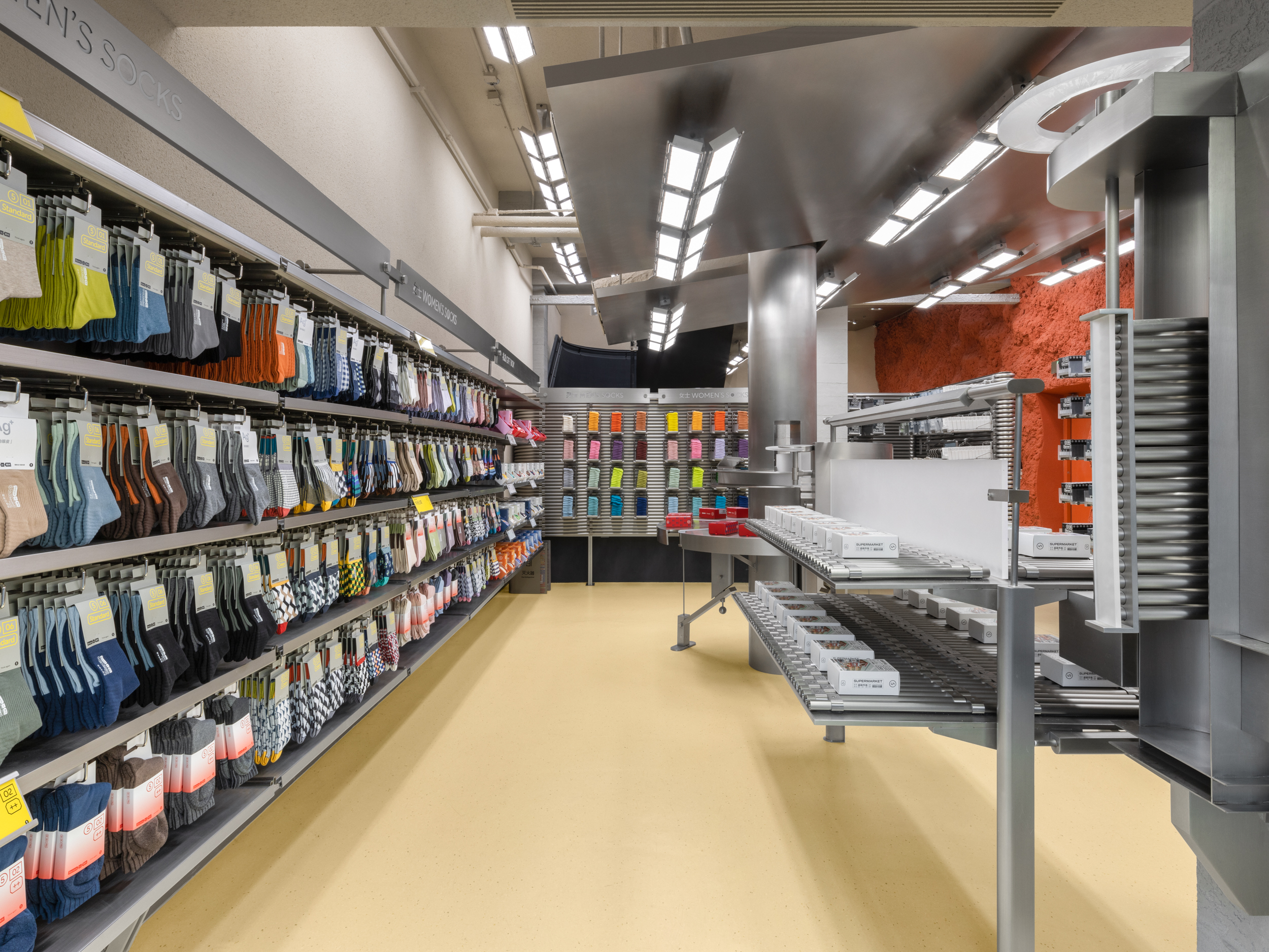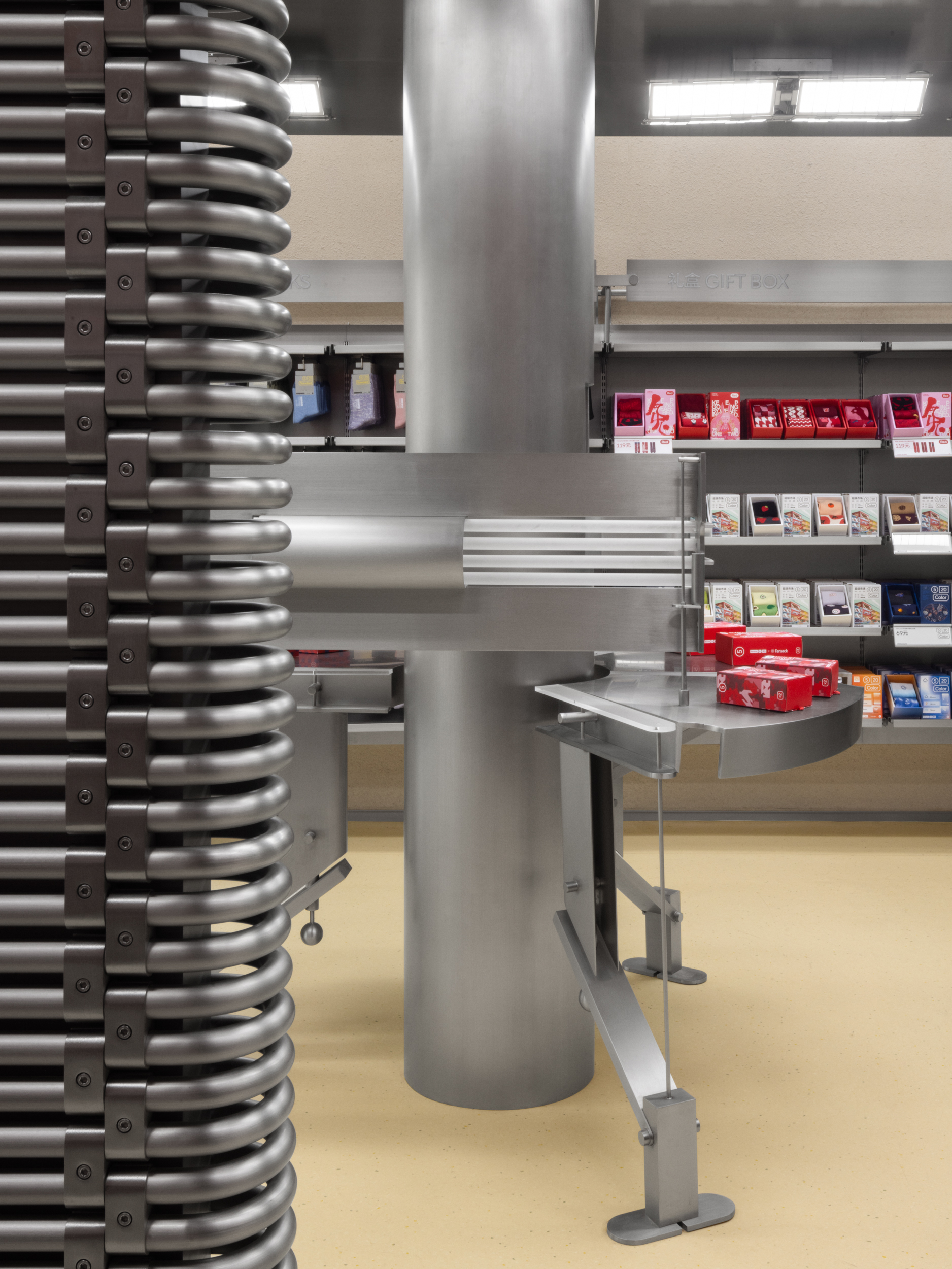 富有金属光泽的冷感工业风与红色的火山石墙面,增强了空间本身独特的辨识性,和人们进入的感知度,本质上是属于一种情感上的寄托,希望冰冷的物理空间体,能真正与人们的精神、情感产生关联。
The cool industrial style with metallic luster and the red volcanic stone wall enhance the unique recognition of the space itself and the perception of people entering it. It is essentially an emotional sustenance, hoping that the cold physical space body can really connect with people's spirit and emotion.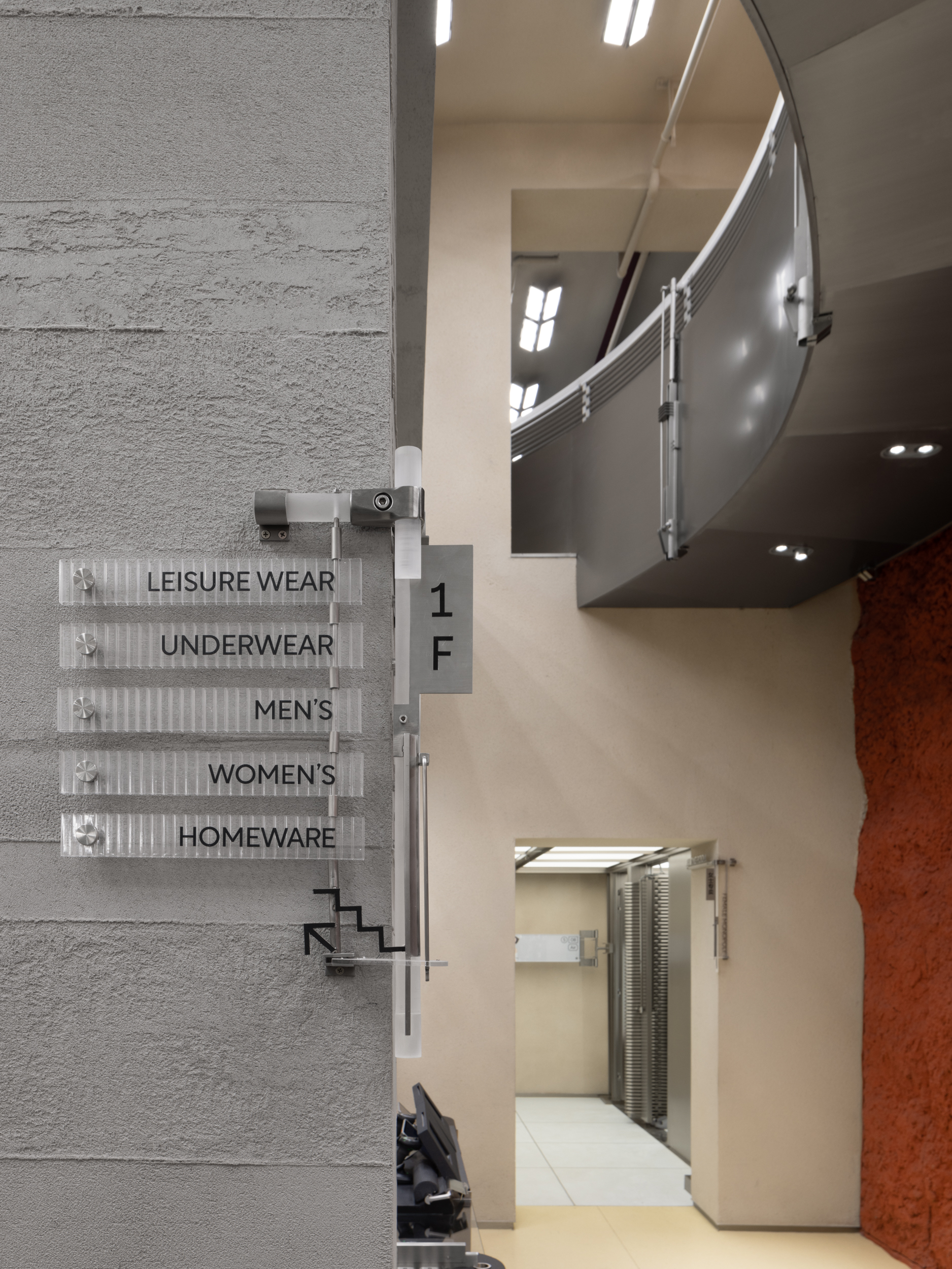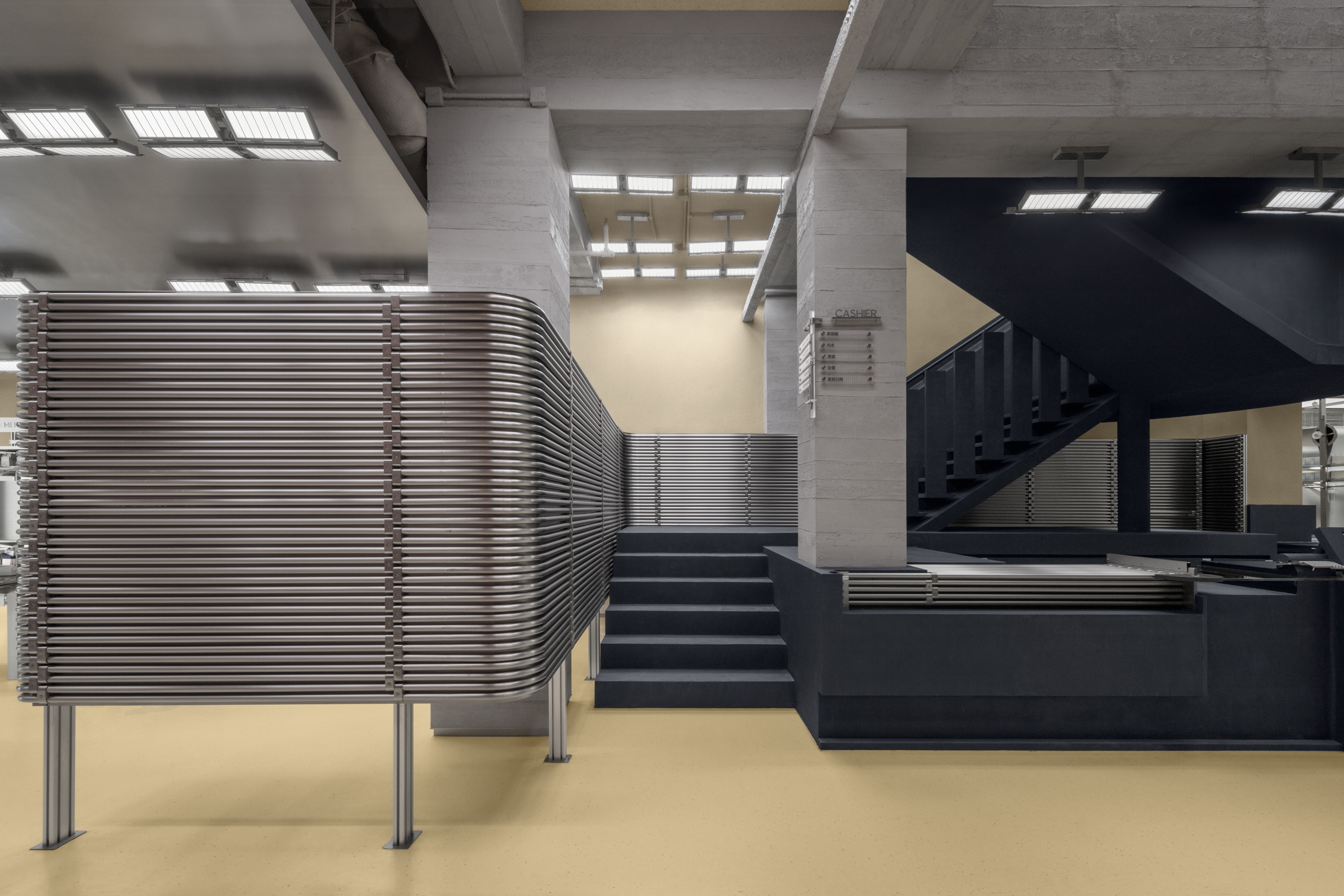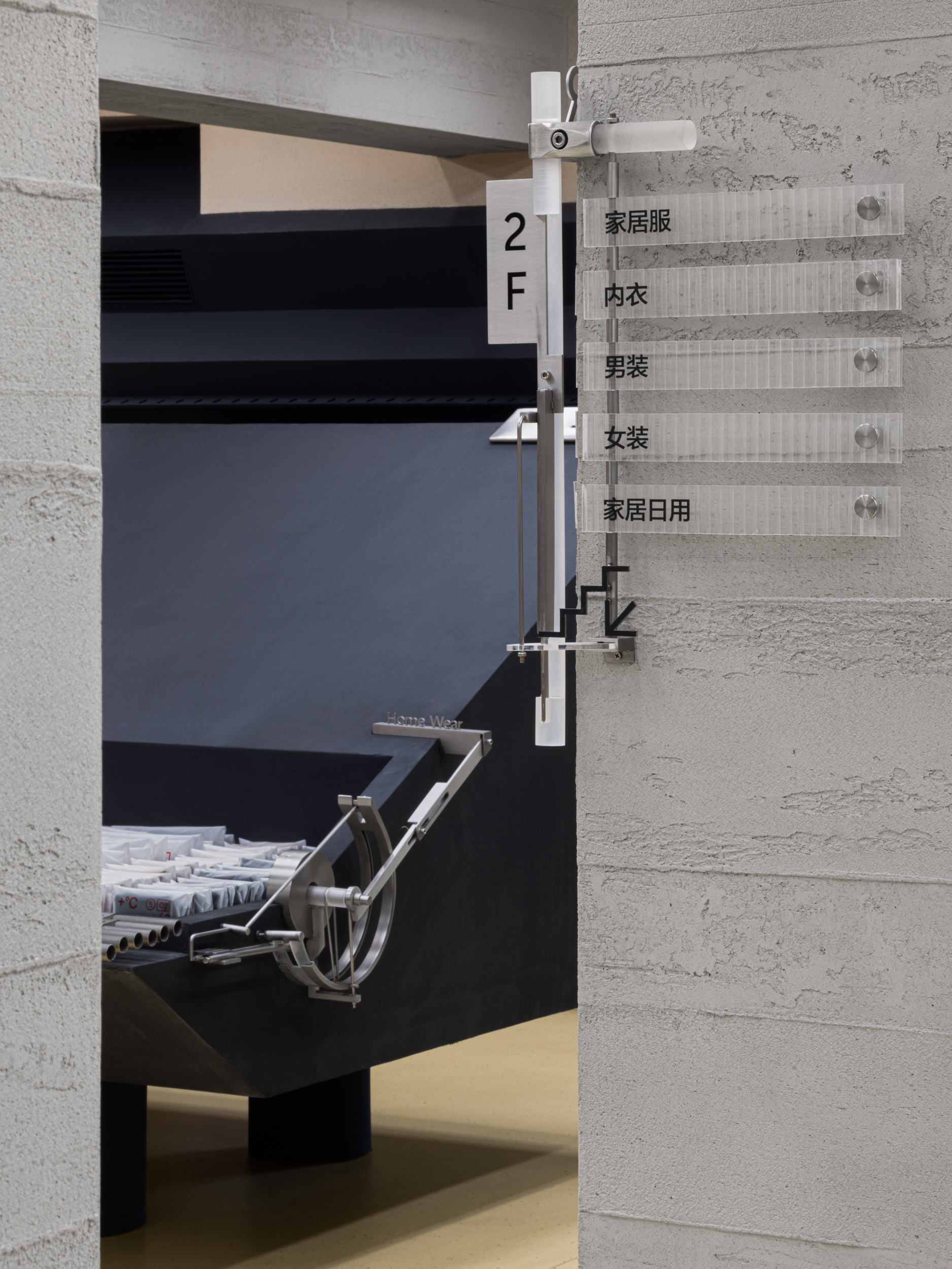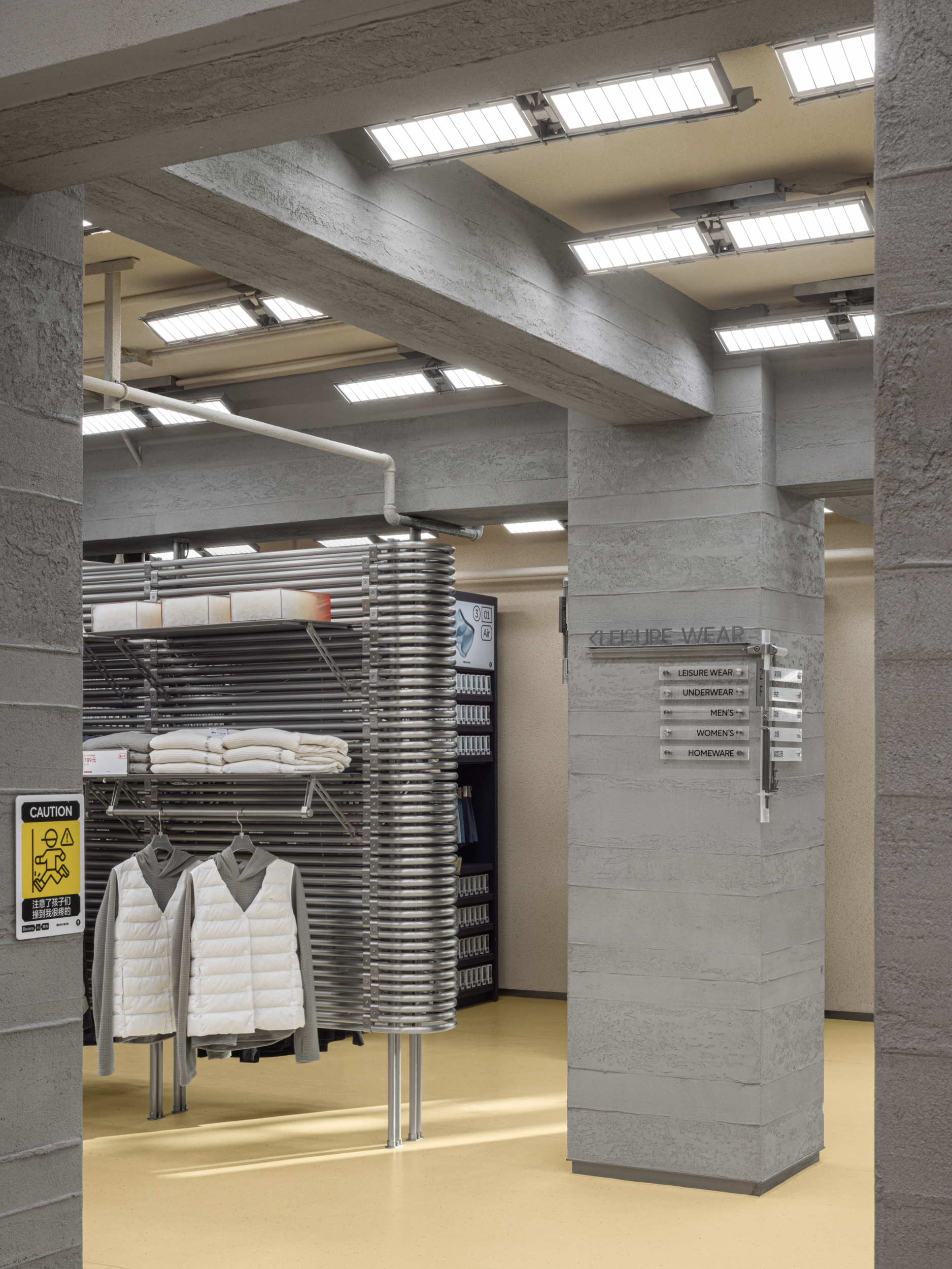 伴随着精巧绝伦的装置组建,使空间更加多变并富有互助性。流线几何与空间层次叠加,片区之间衔接自然,公共与私密区域划分与产品功能的契合,开阔灵动的设计与品牌调性完美结合。
Accompanied by exquisite installations, the space is more varied and mutually supportive. The geometry and the spatial hierarchy are superimposed. Function areas are connected naturally and the division of public and private areas corresponds with the product functions. Open and flexible design is perfectly combined with the brand tonality.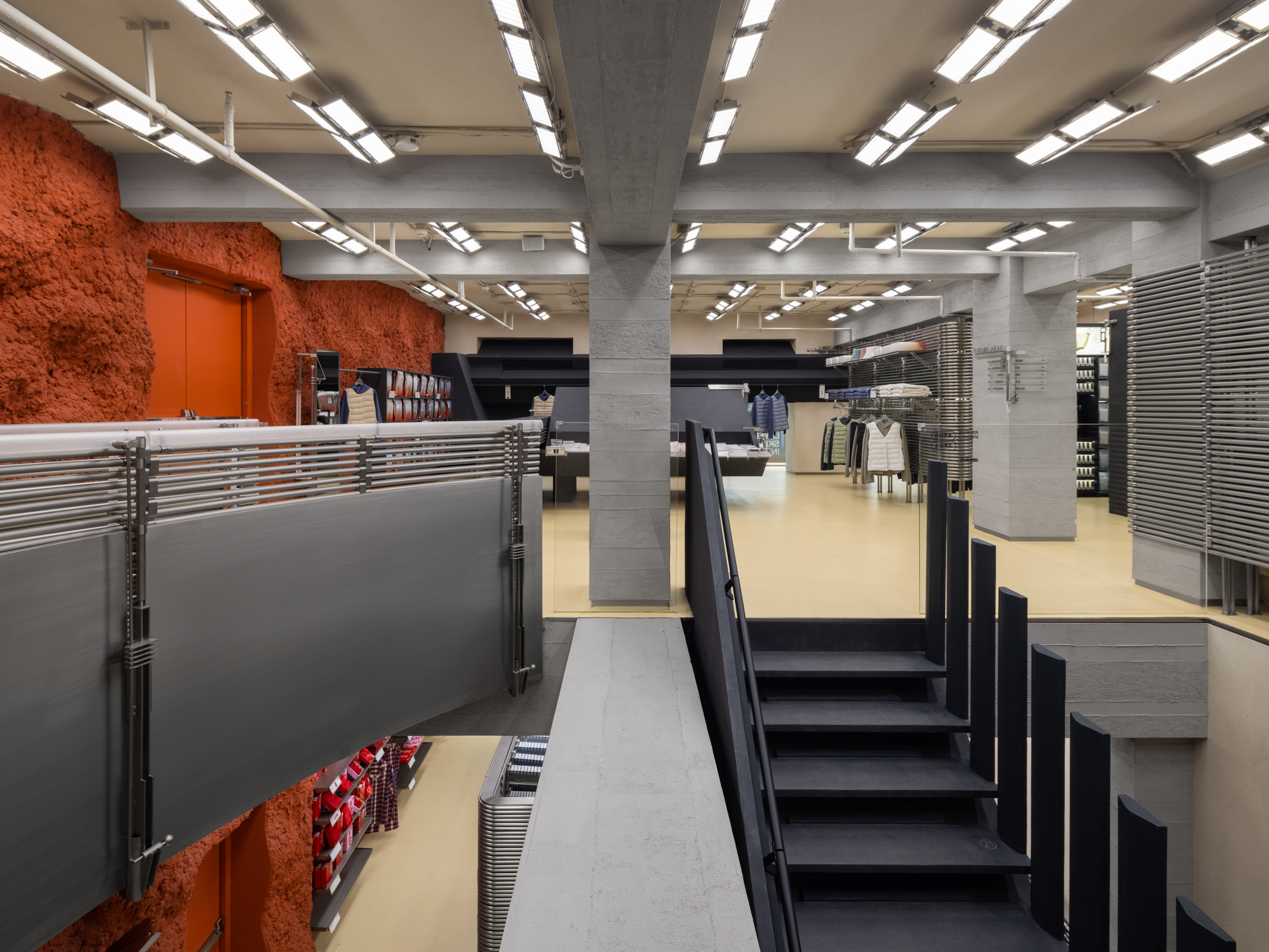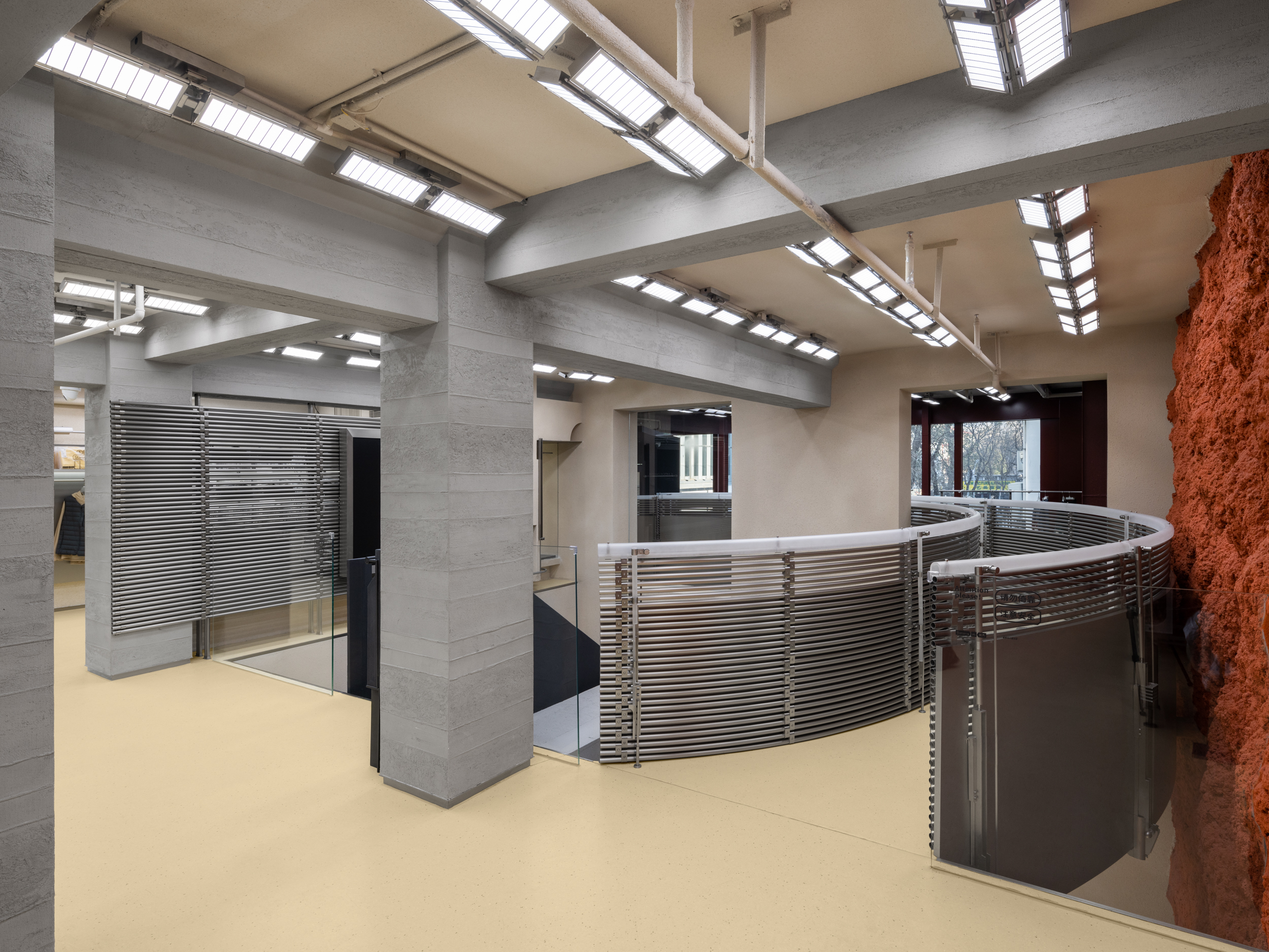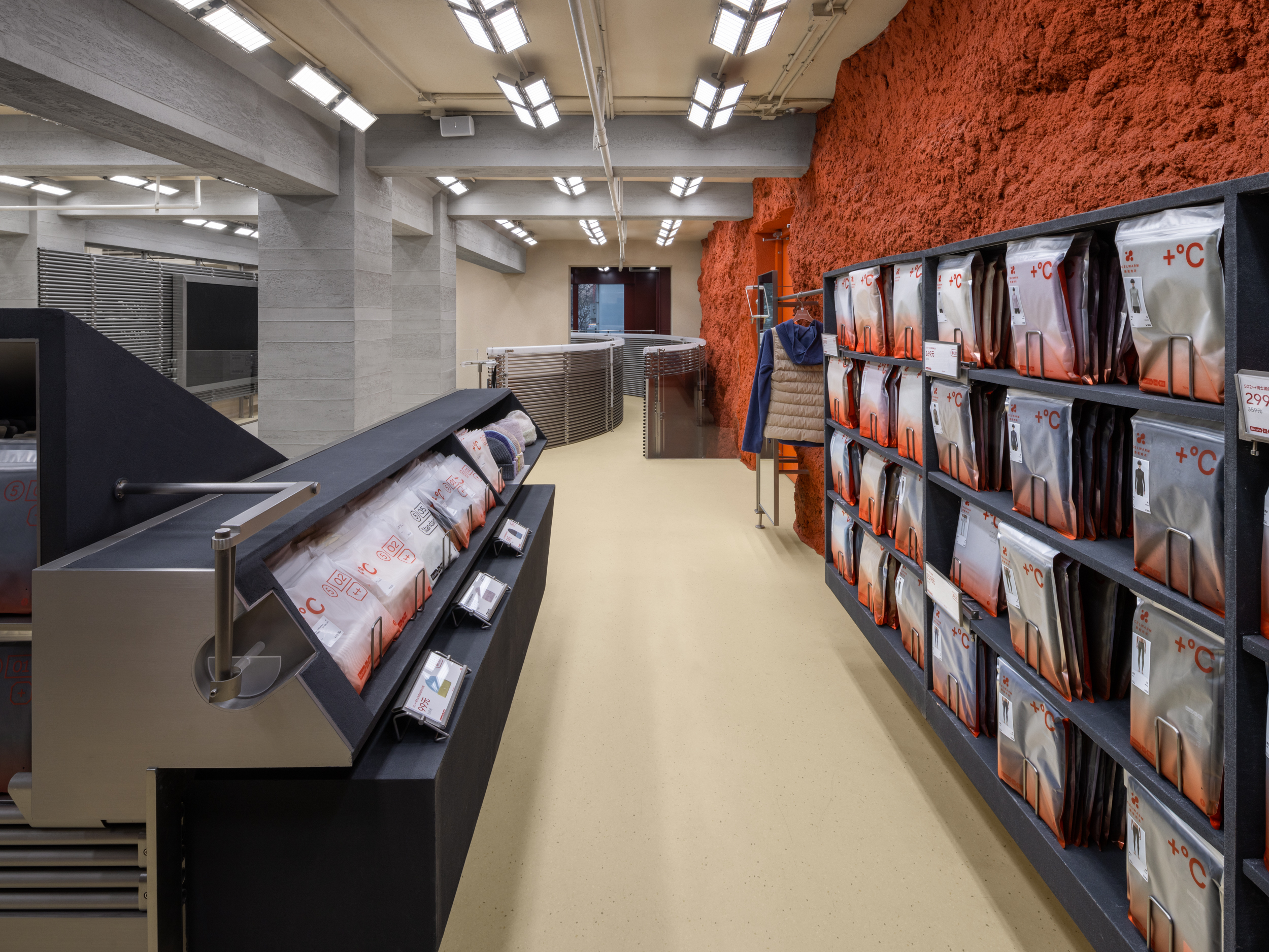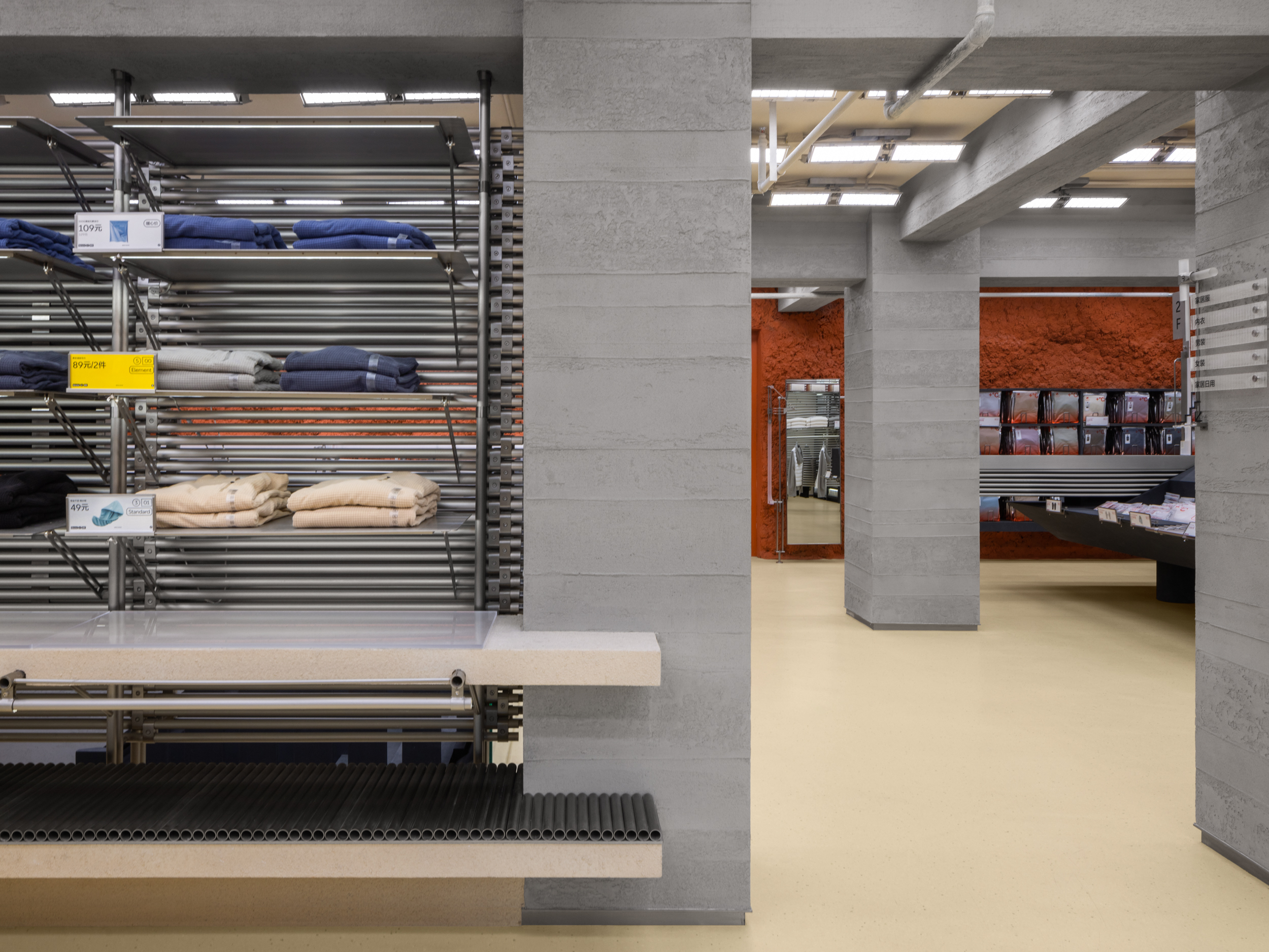 人与空间的关系、空间本身的尺寸、比例等等,这是与数据有关的科学问题;而关于精神的、情感的维度,空间如何与人们的真实生活产生"质"的关联,则是更为感性的问题。这两者并不能壁垒分明的去谈,而更像是一种互相牵扯的关系。
The relationship between people and space, the size and proportion of space itself, etc., are scientific issues related to data. As for the spiritual and emotional dimensions, how the space has a "qualitative" relationship with people's real life is a more perceptual issue. The two cannot be discussed with a clear barrier, but more like a relationship involving each other.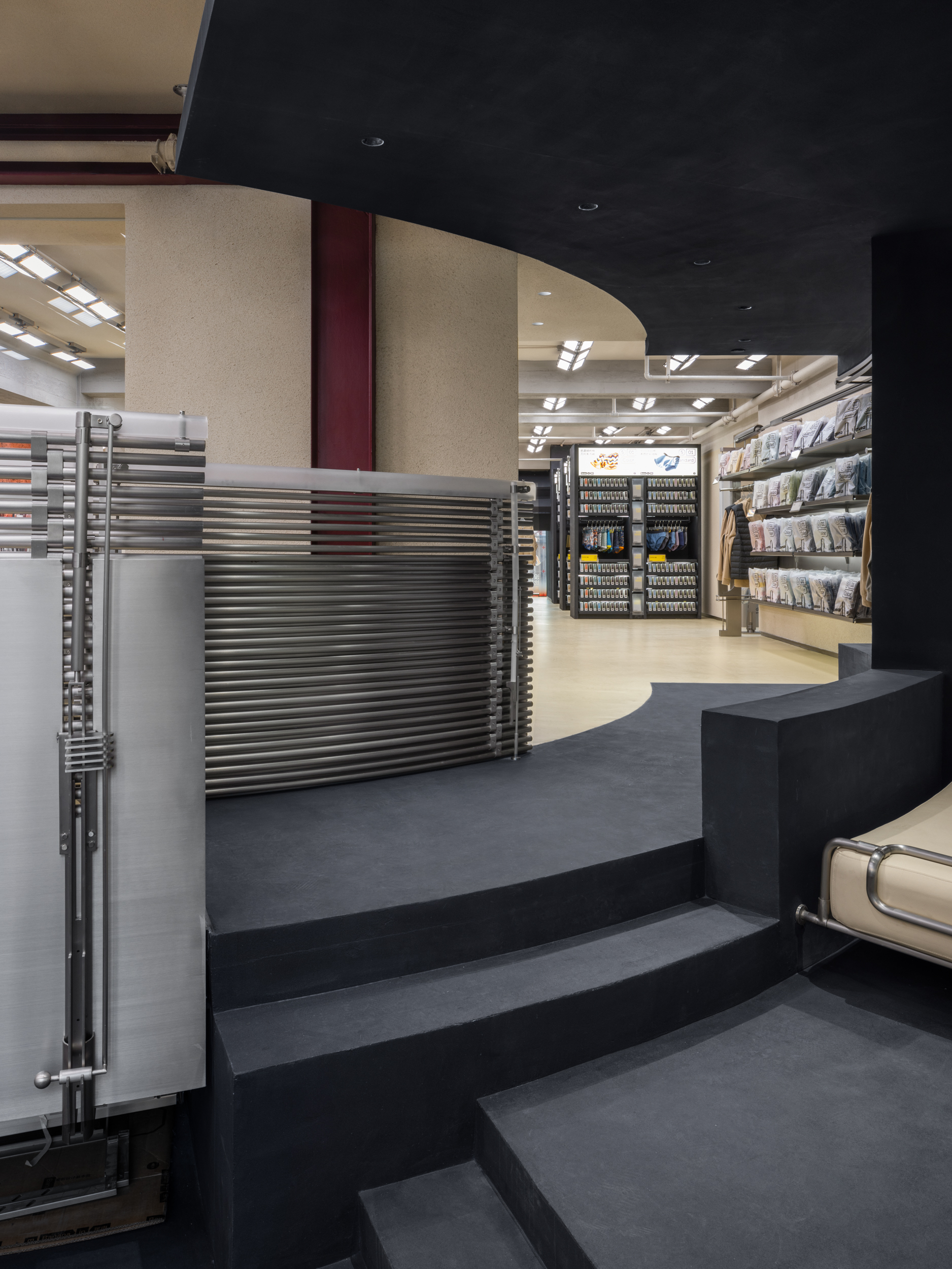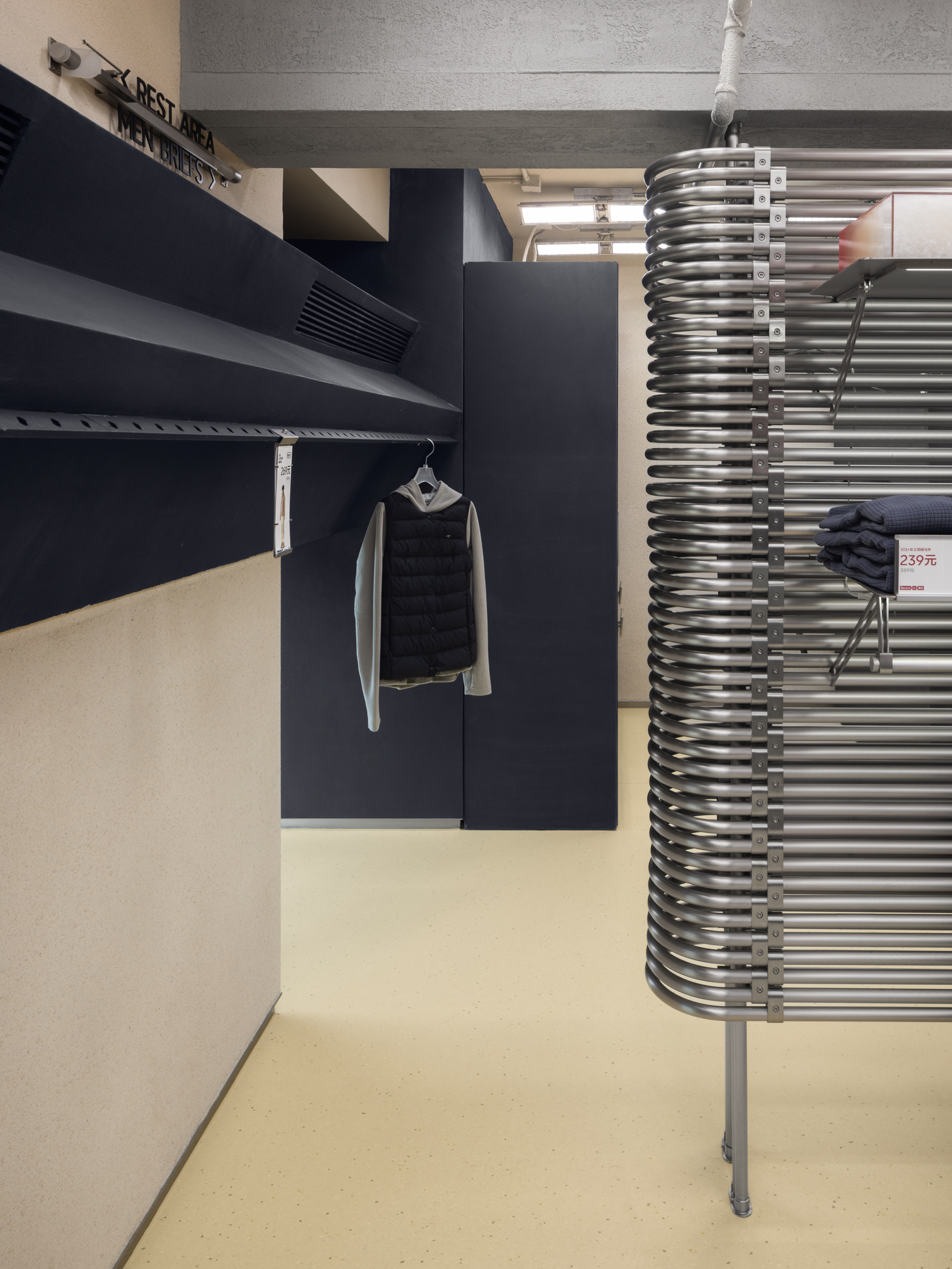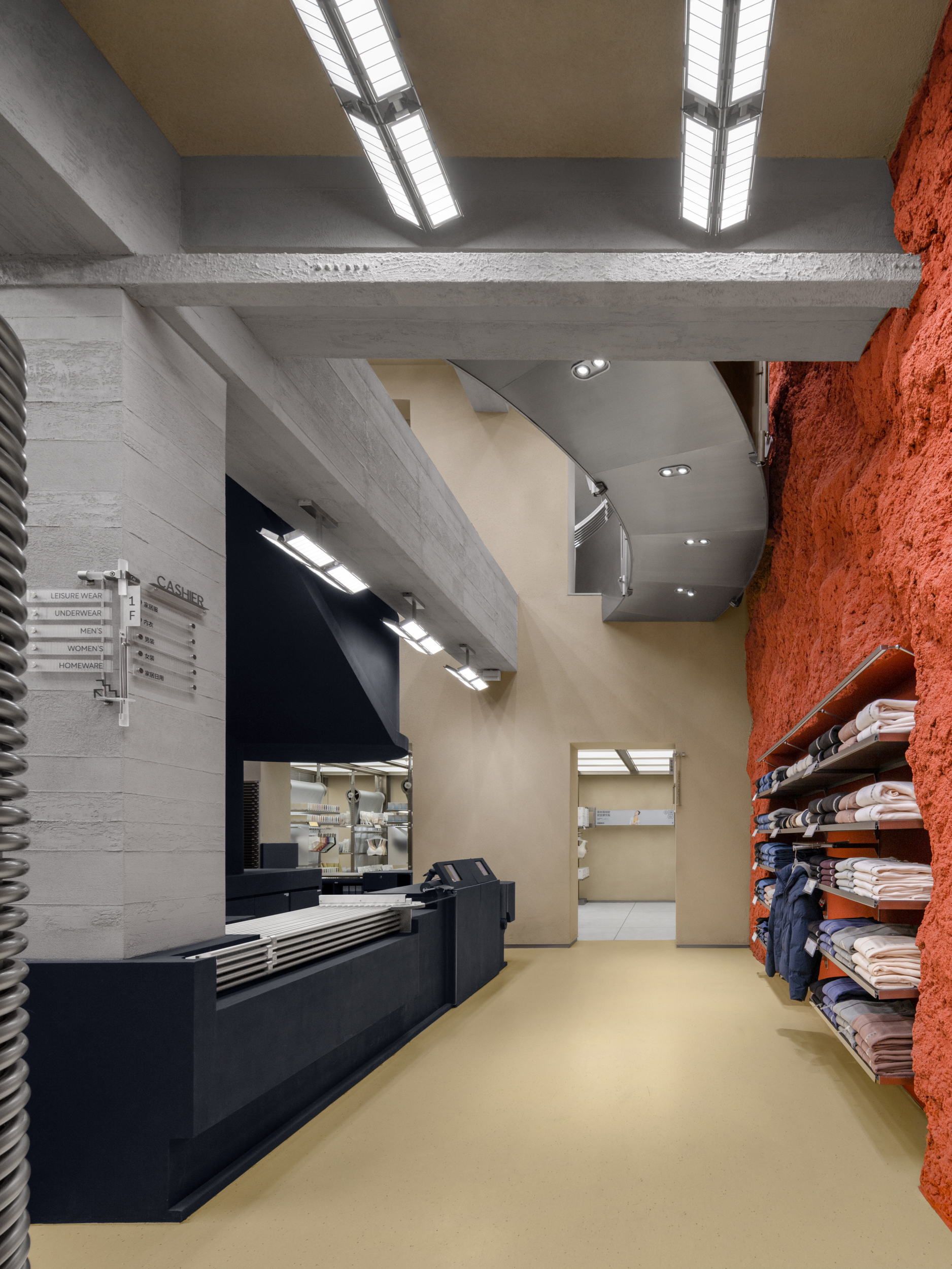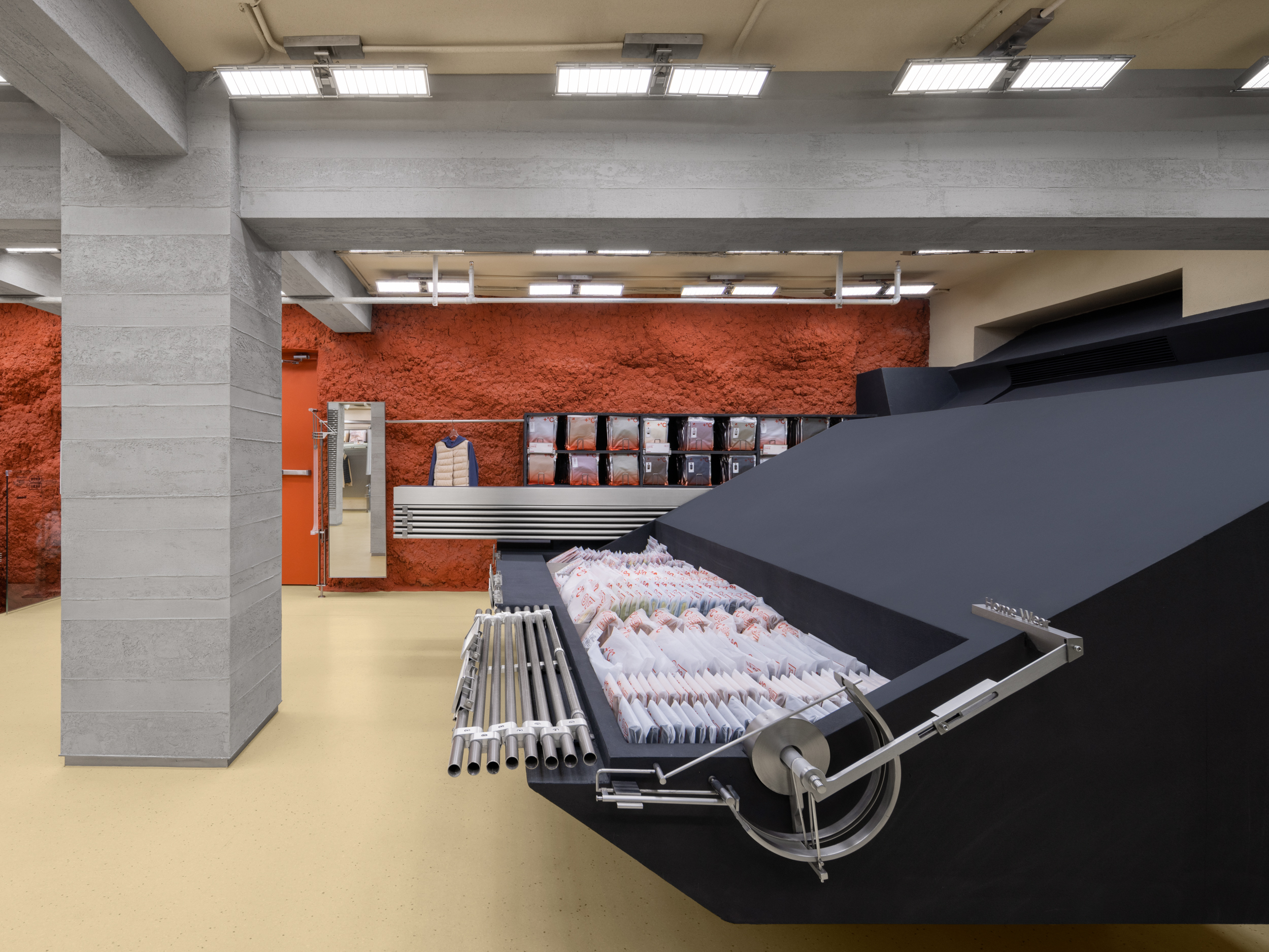 穿梭其间,感受材质自带的天然张力的同时,可以看到属于品牌的前沿产品,或林立悬挂,或以倚靠装置体块的方式有秩序的陈列。空间结构与装置结合,纵深延展,以材质区分表达空间区域,实现动静相融。
Walking through the space, feeling the natural tension of the material, people can see the cutting-edge products belonging to the brand, either hanging in a row, or displayed in an orderly manner by leaning on the installation. The space structure is combined with the installation, and the material is used to distinguish and express the function area, so as to realize the integration of movement and stillness.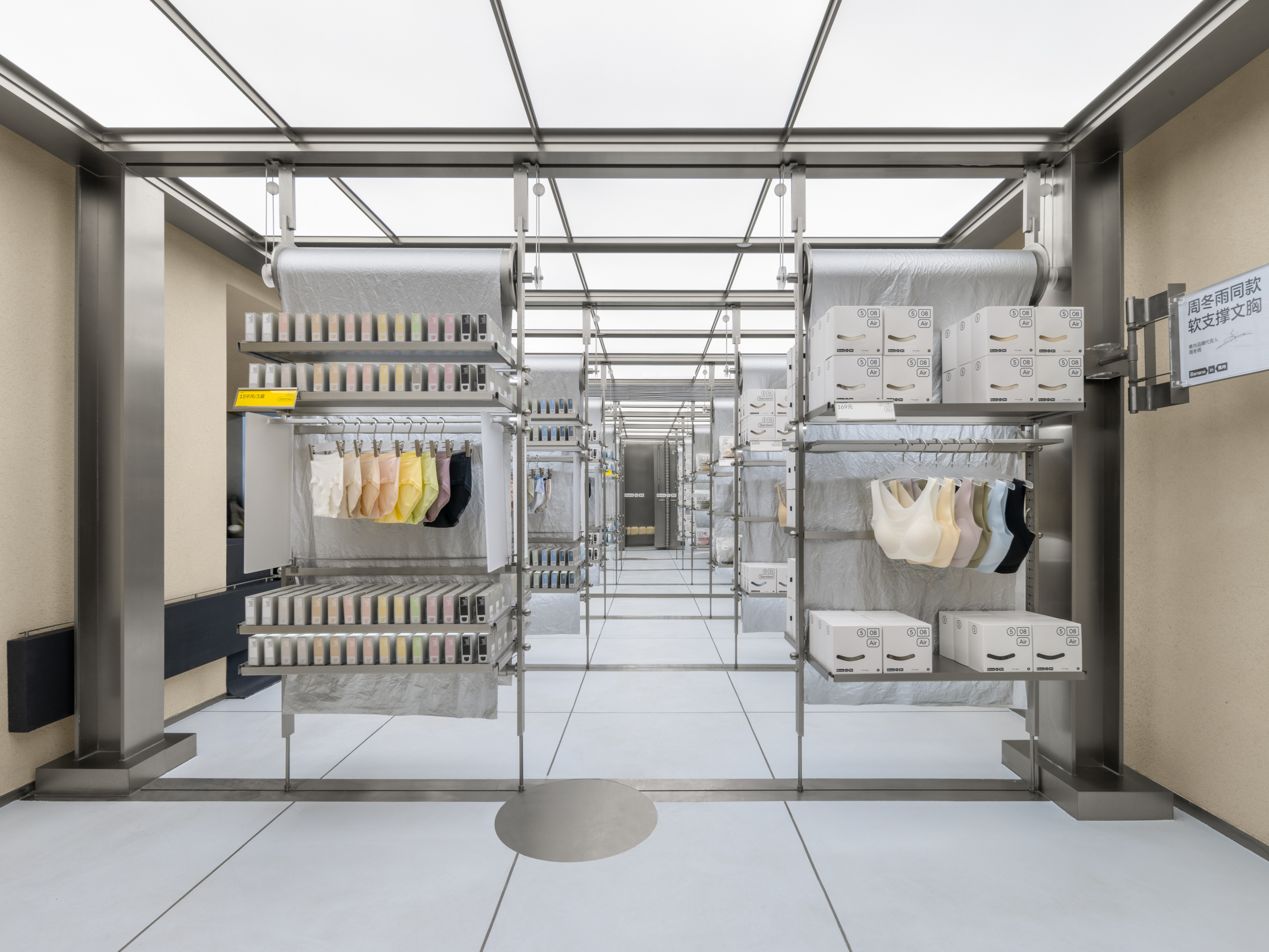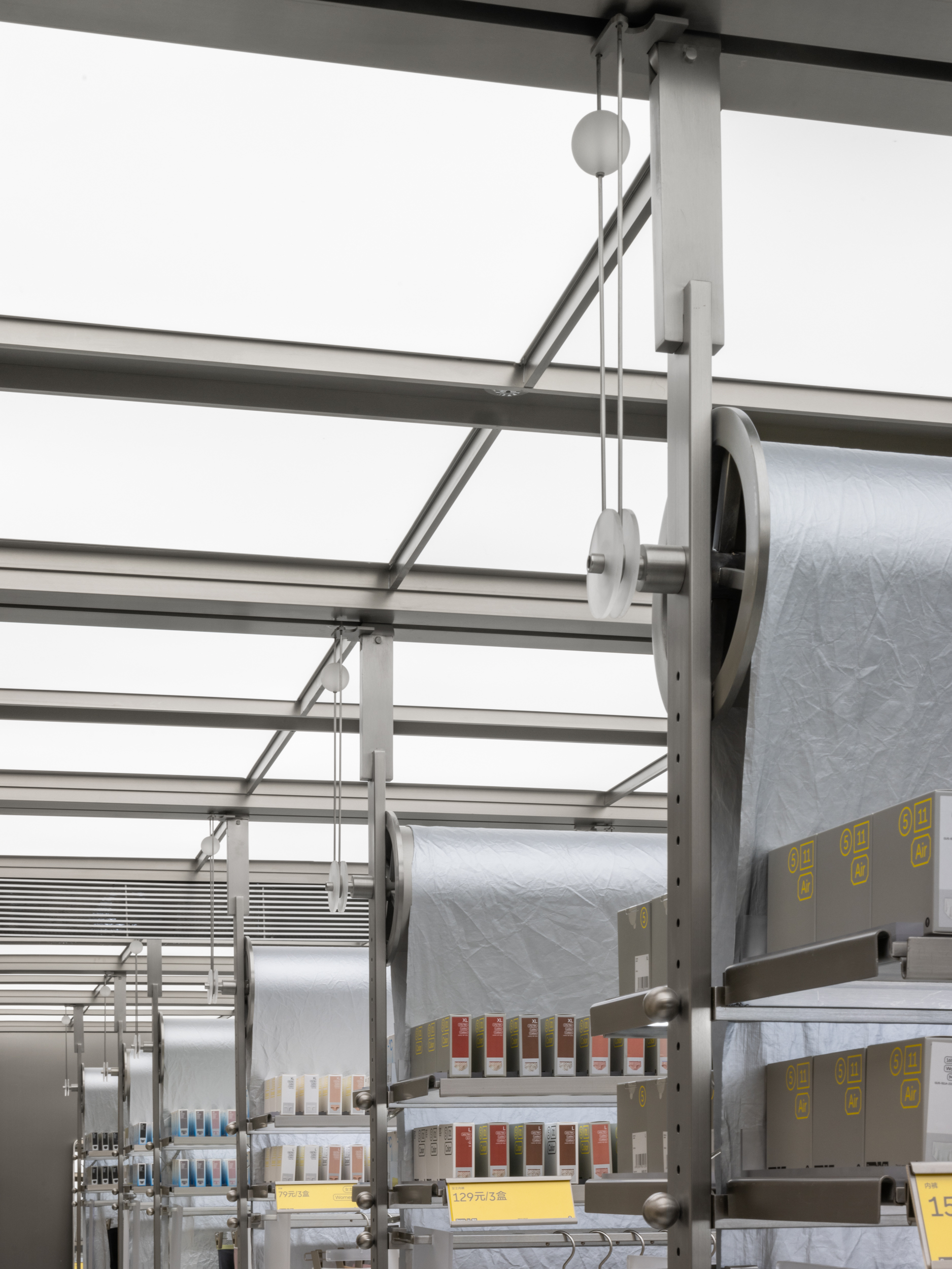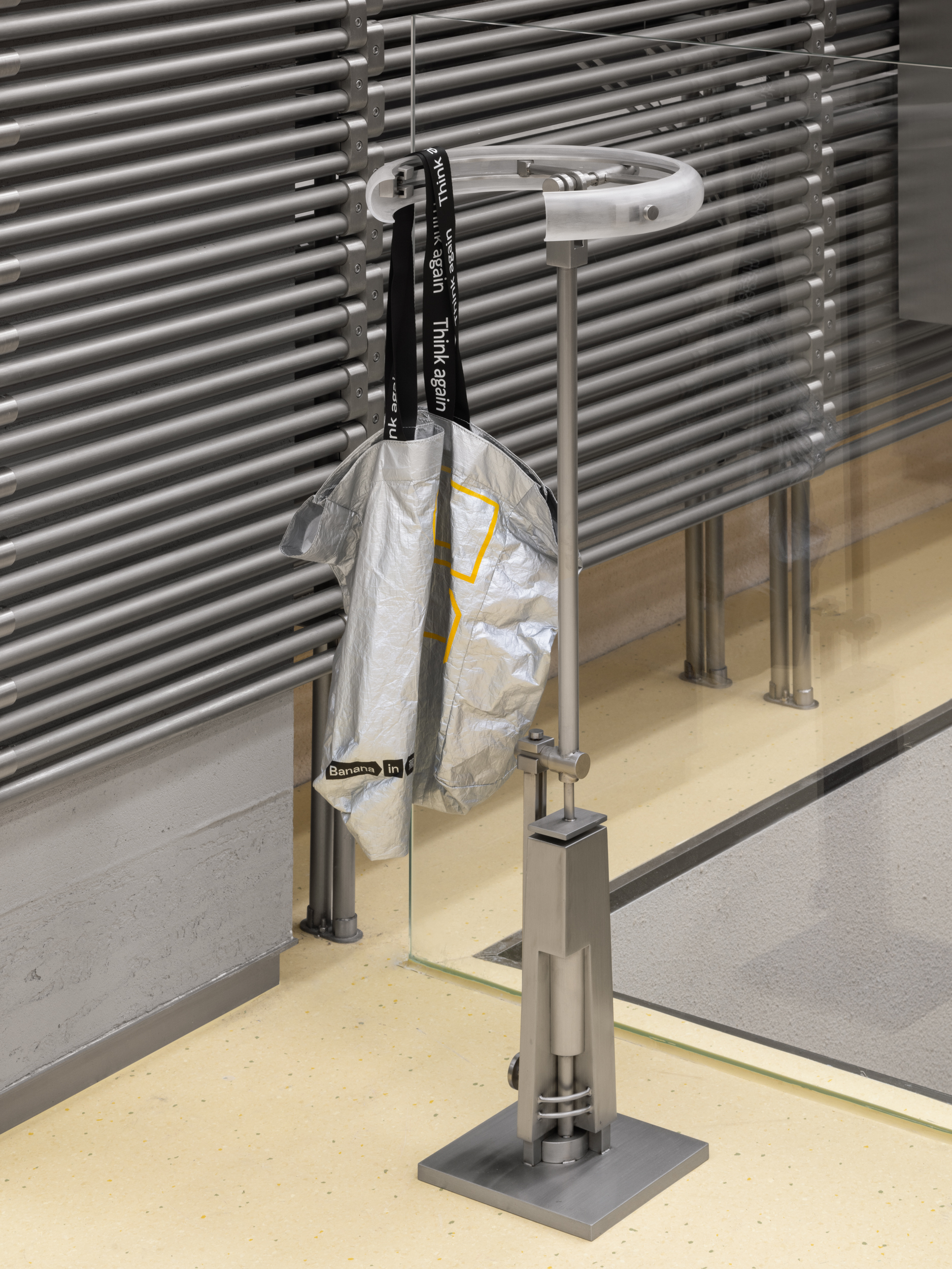 空间通过富有实验性的建造视角,将概念本身基于秩序动感的工业风组建的运用与场所结构加以呈现,并与整体布局产生微妙而和谐的共鸣,模糊建筑、装置与艺术之间的界限。
Through an experimental perspective of construction, the space presents the concept itself based on the application and site structure of an orderly and dynamic industrial style, which resonates subtly and harmoniously with the overall layout, blurring the boundaries between architecture, installation and art.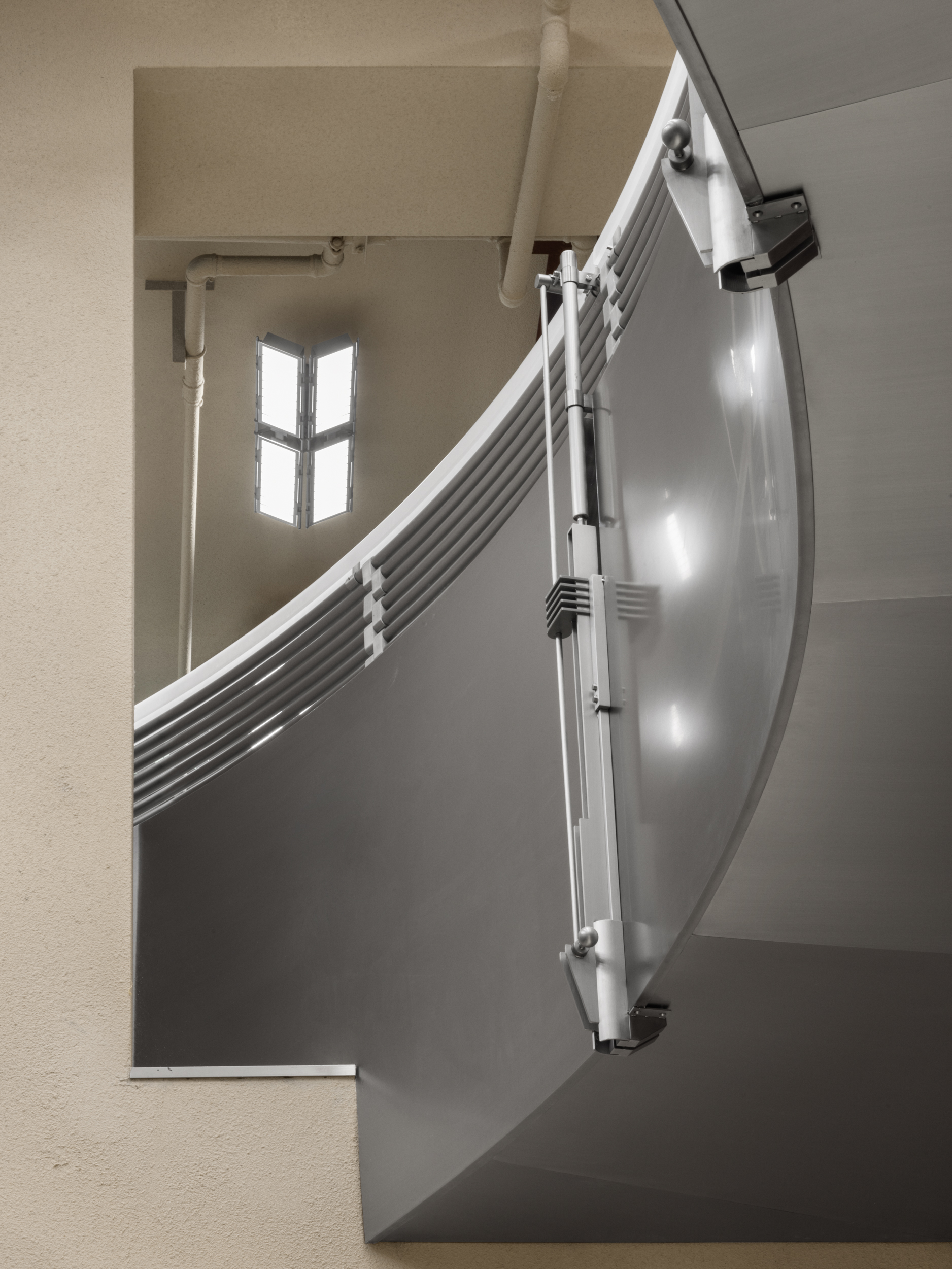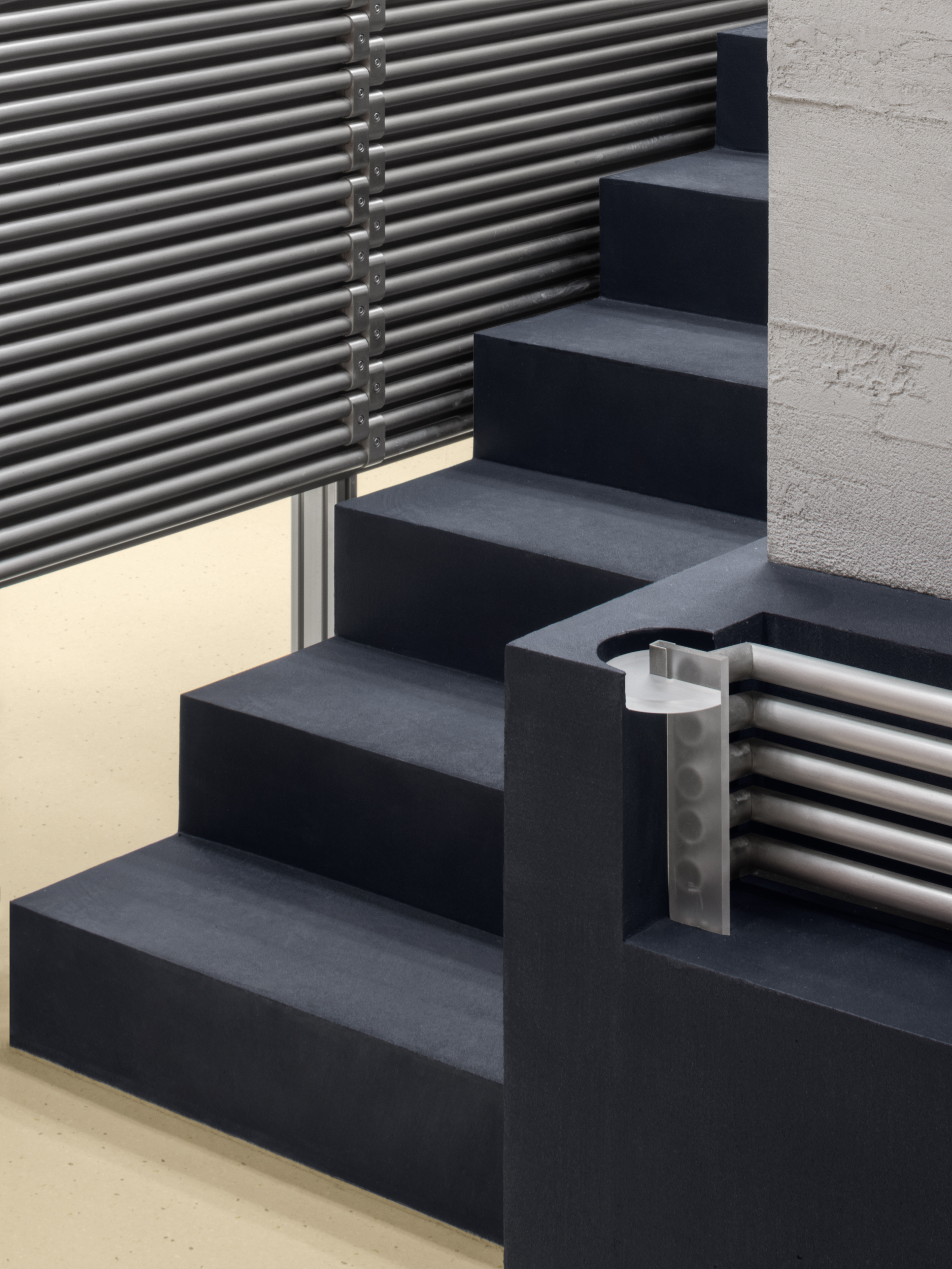 如何表达空间中蕴藏的人文精神?这并不是需要解决与论证的命题,现实的体验才是。我们必须走进它,在约定俗成的框架之外,保留核心线索,开凿新世界。空间应该是温暖的,应该是能关怀到身处其中的每一个人。
How to express the humanistic spirit contained in the space? This is not a proposition that needs to be solved and demonstrated, but the actual experience that needs to be discussed. We must walk into the space, keep the core clues outside the conventional framework, and open up a new world. The space should be warm and caring for everyone in it.
---