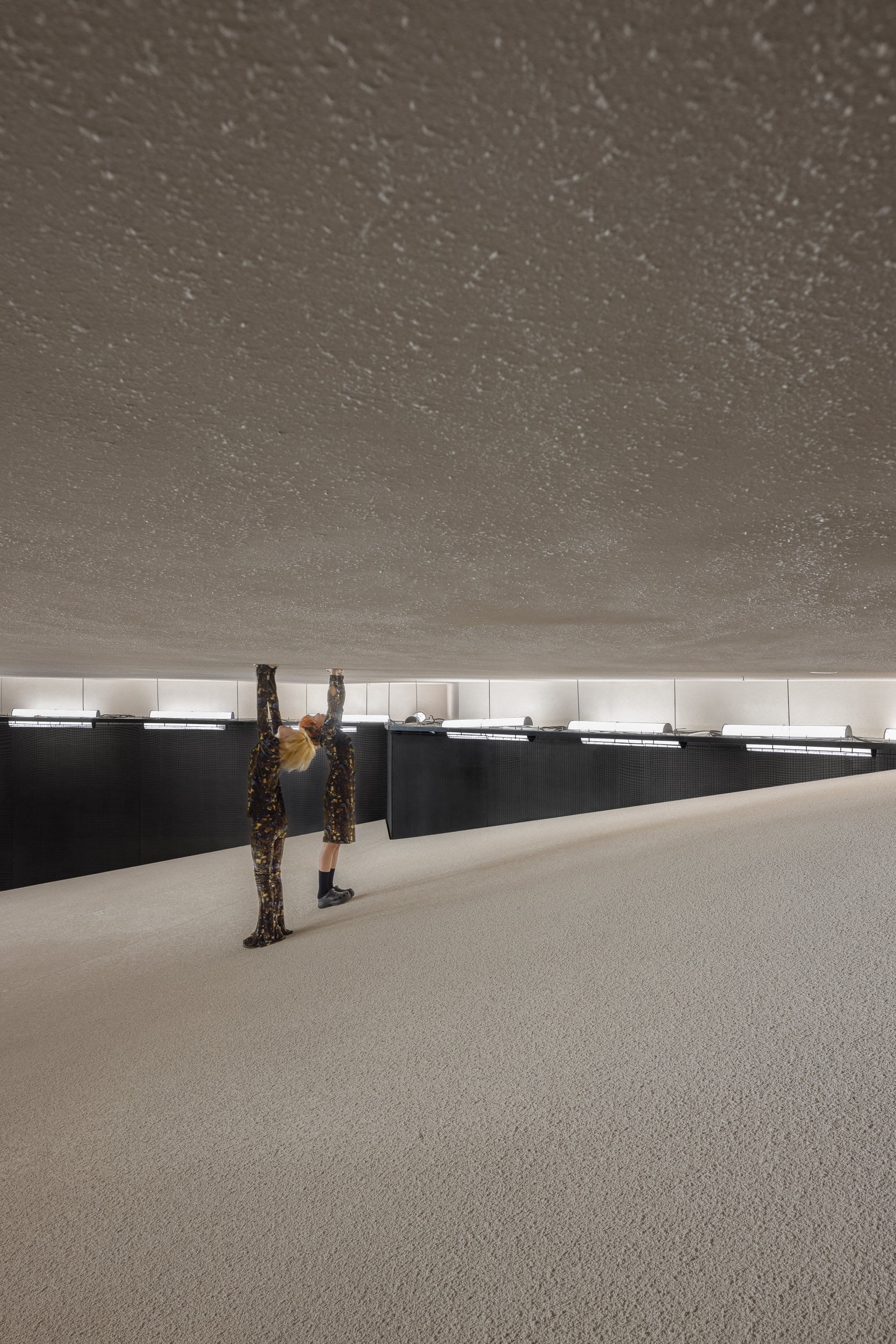 不要温和地走进那个良夜。
Do not go gentle into that good night.
---
时尚是流动的,有趣味的、无限循环的场合。一个简洁 、舒适、有力量的空间。
Fashion is fluid, with playful, endlessly recurring occasions. A simple, comfortable and powerful space.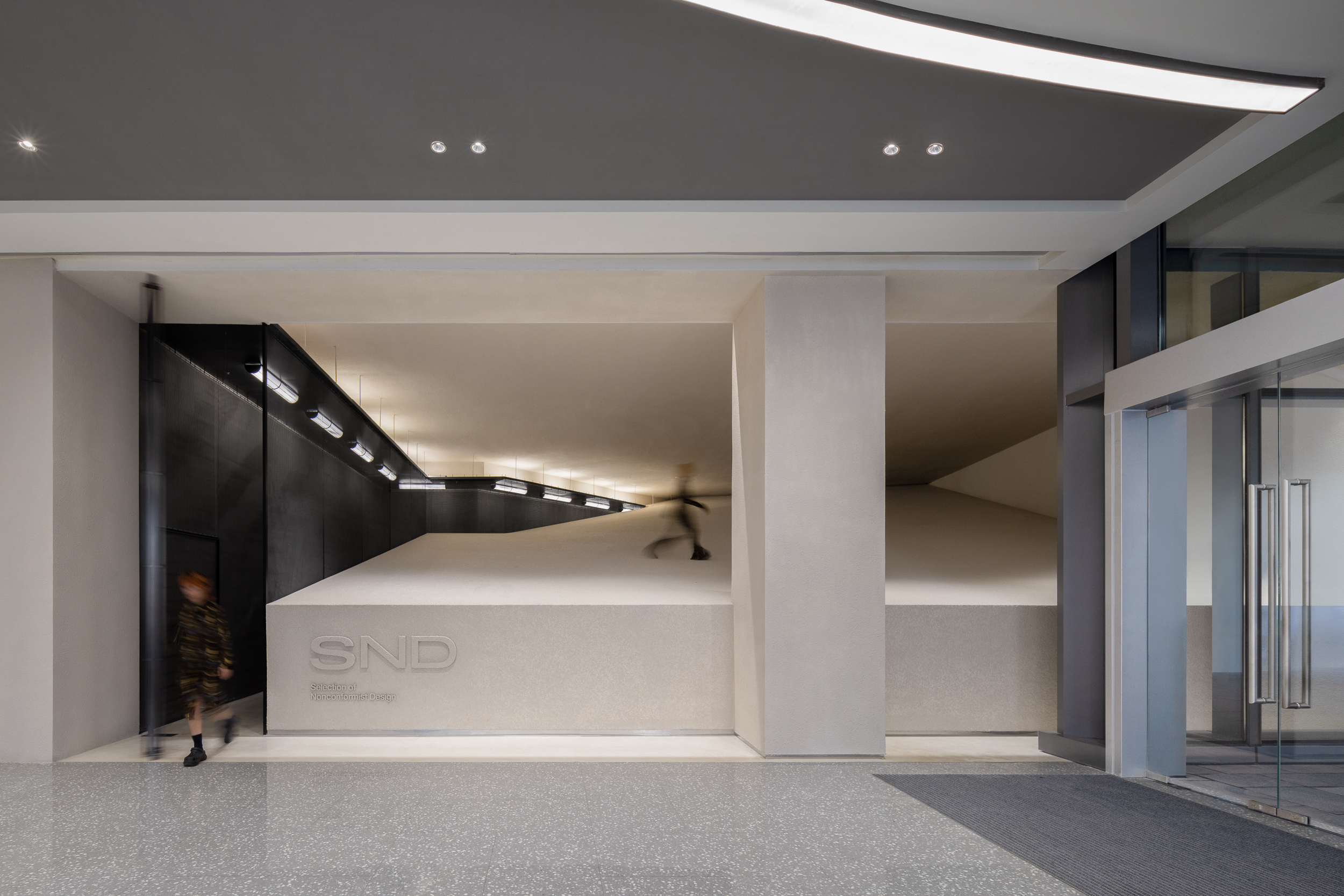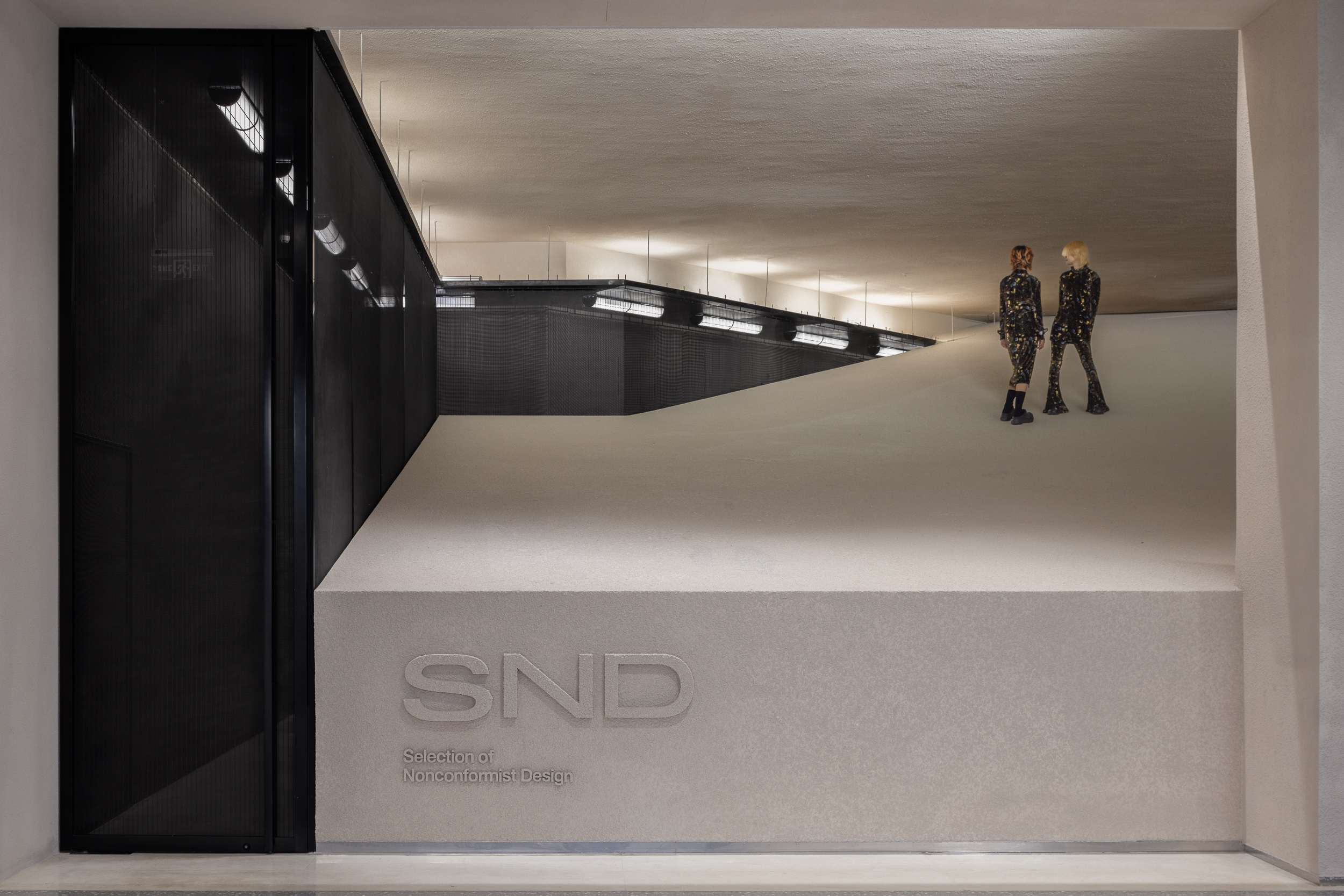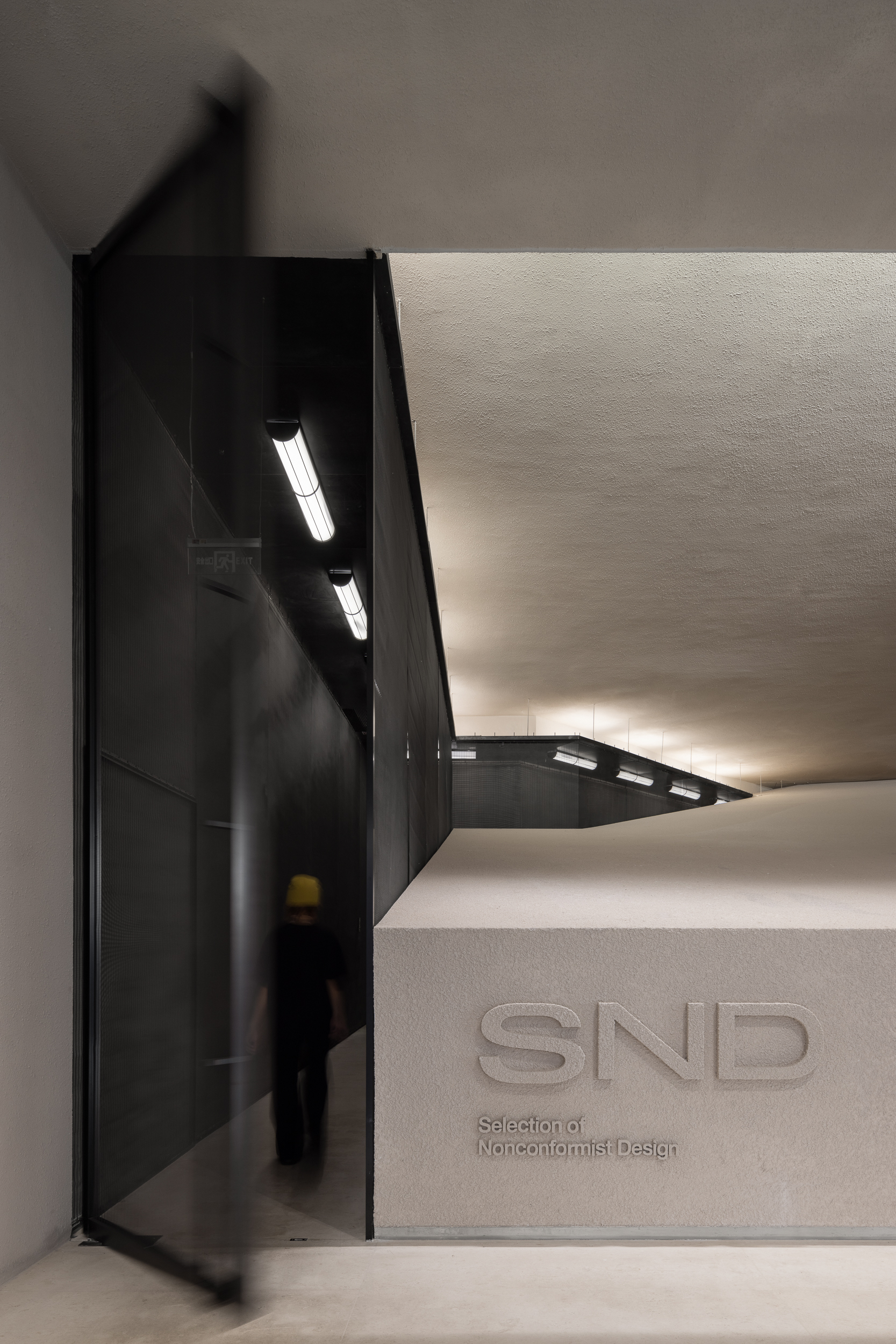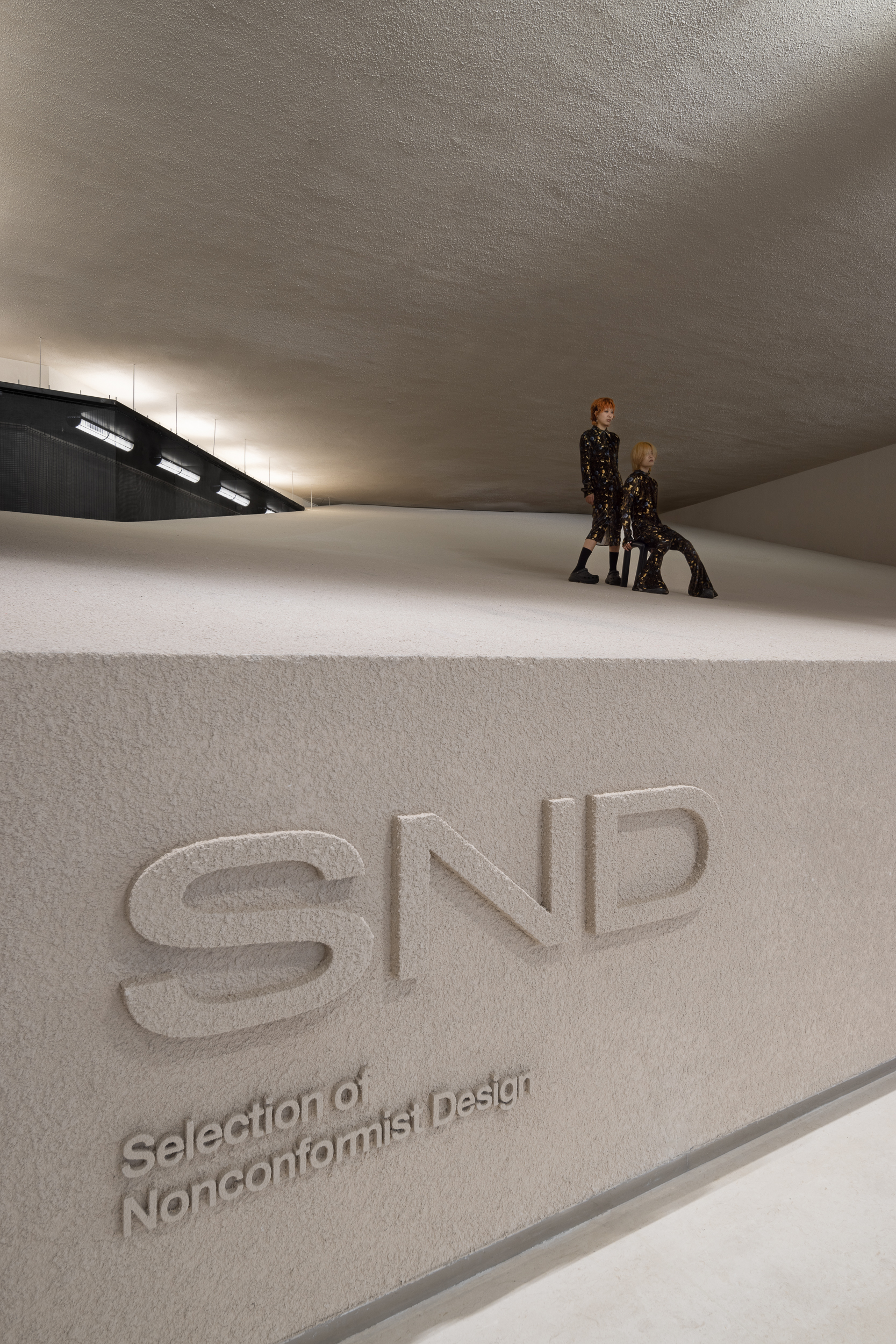 雕塑化的台面是视觉的核心空间,是极具纪念性的,是聚集或是承载精神性的地方,与高处融为一体的台面仿佛是登向未知宇宙的台阶,可以承载品牌所想表达的状态。
The sculptural stage is the core space of the vision, which is very commemorative. It is a place to gather or carry spirituality, and the stage integrated with the high place seems to be a step to the unknown universe.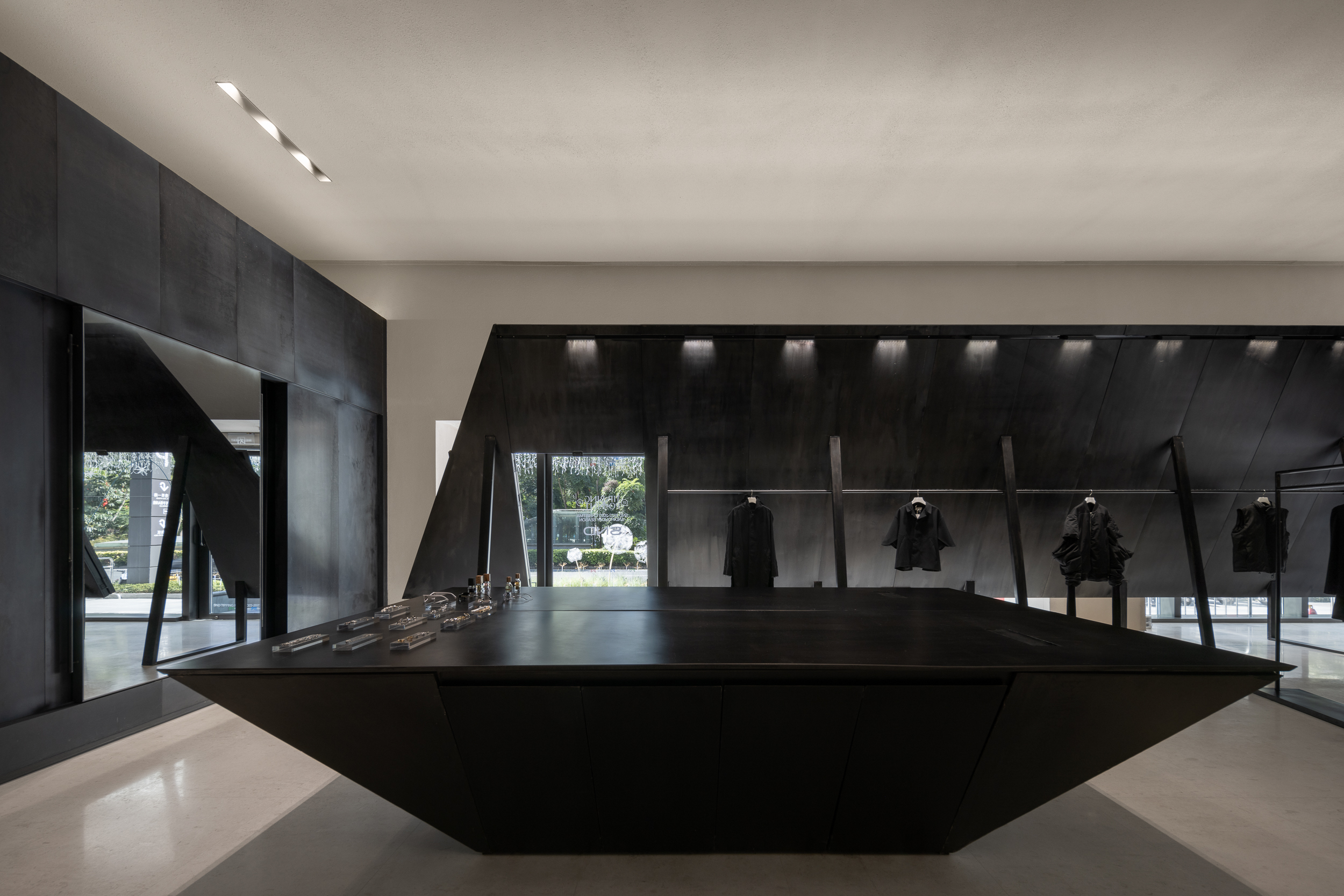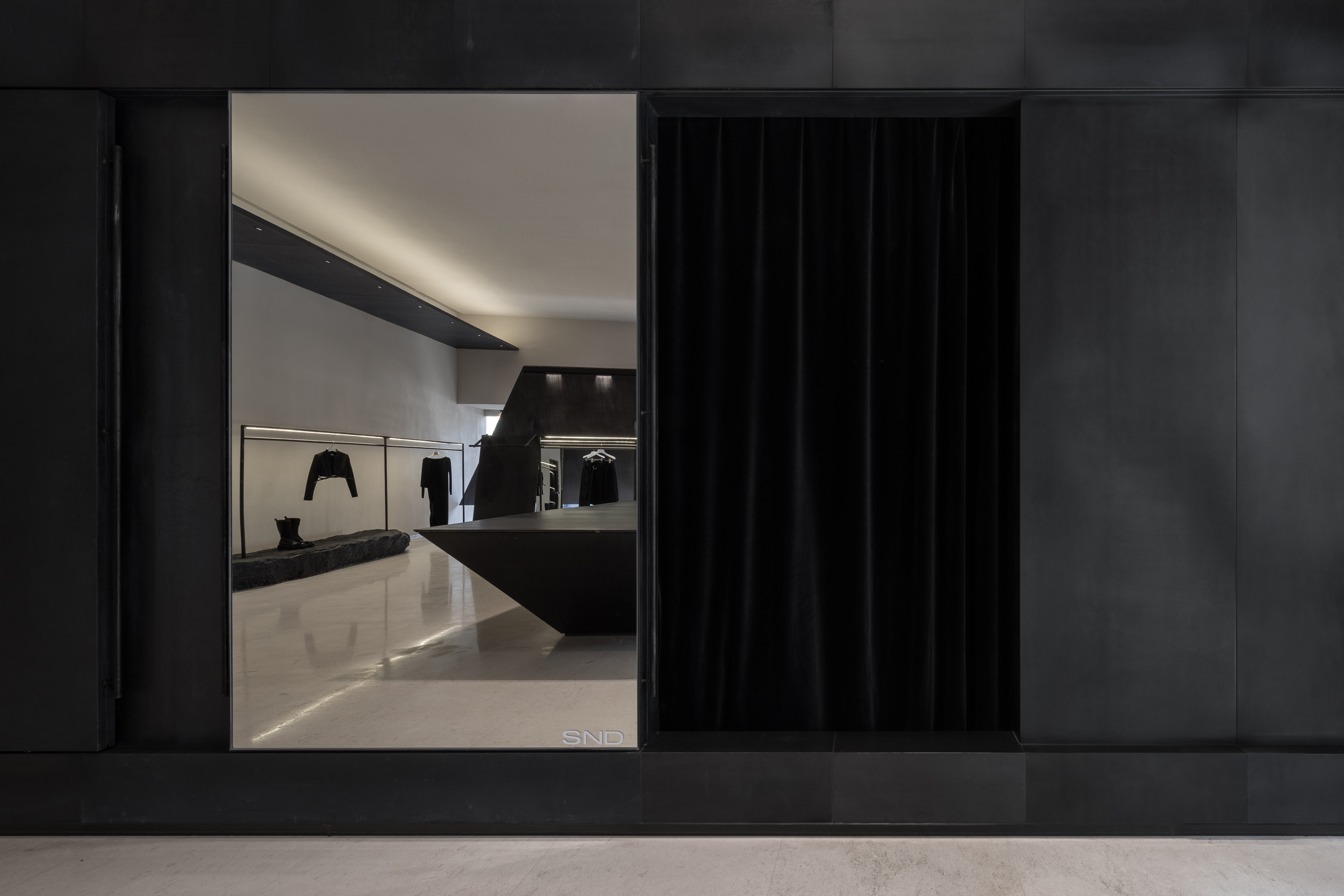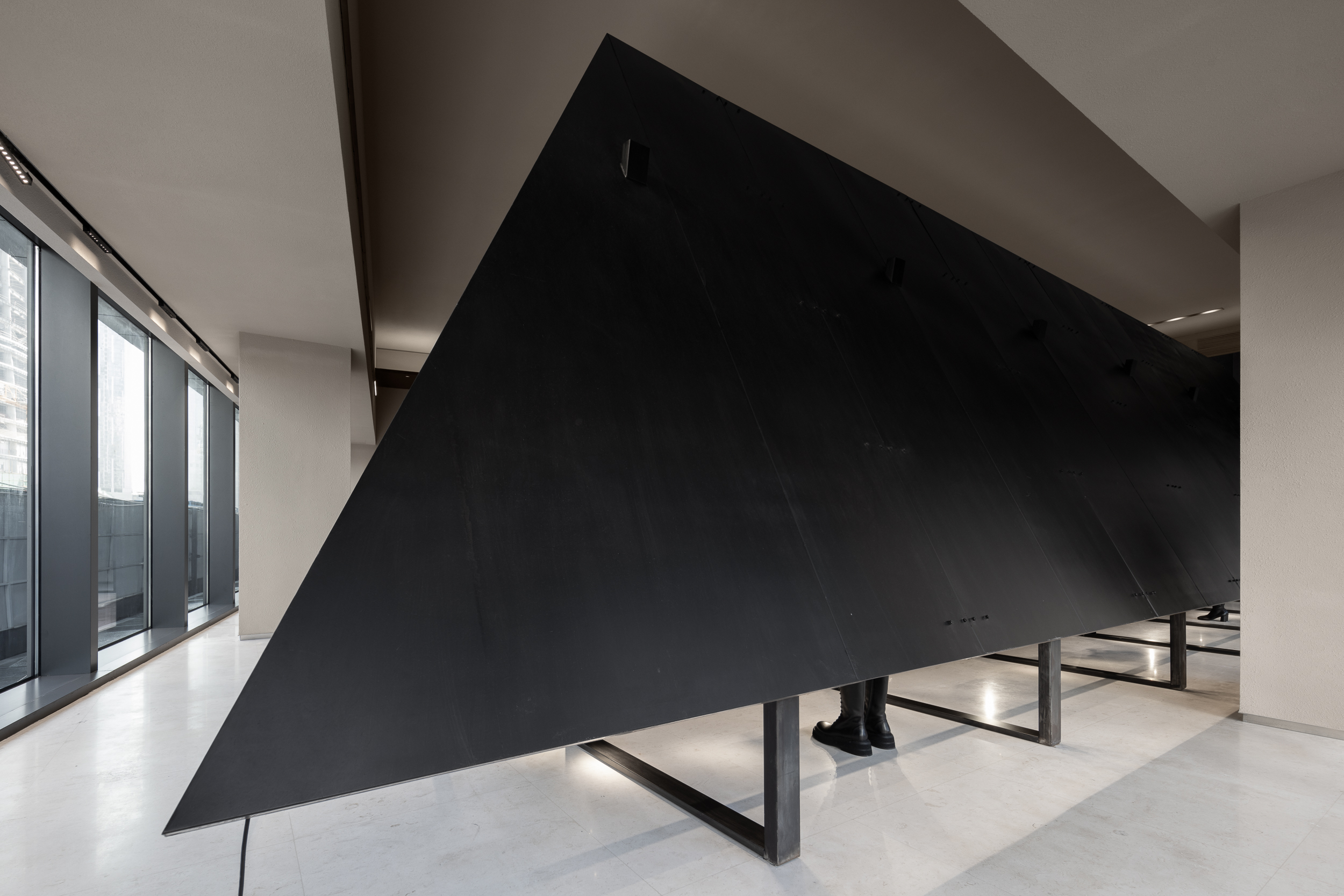 服饰漂浮悬挂在舞台中随着人们行走微微晃动,显得格外的自由、灵动。而黑与白的极致对比,映射到几何形体表现的衣杆上,元素相互影响,融合共生。
The costumes float and hang on the stage and shake slightly as people walk, appearing extra free and agile. The extreme contrast between black and white is mapped to the clothes pole expressed by geometric shapes, and the elements influence each other and co-exist.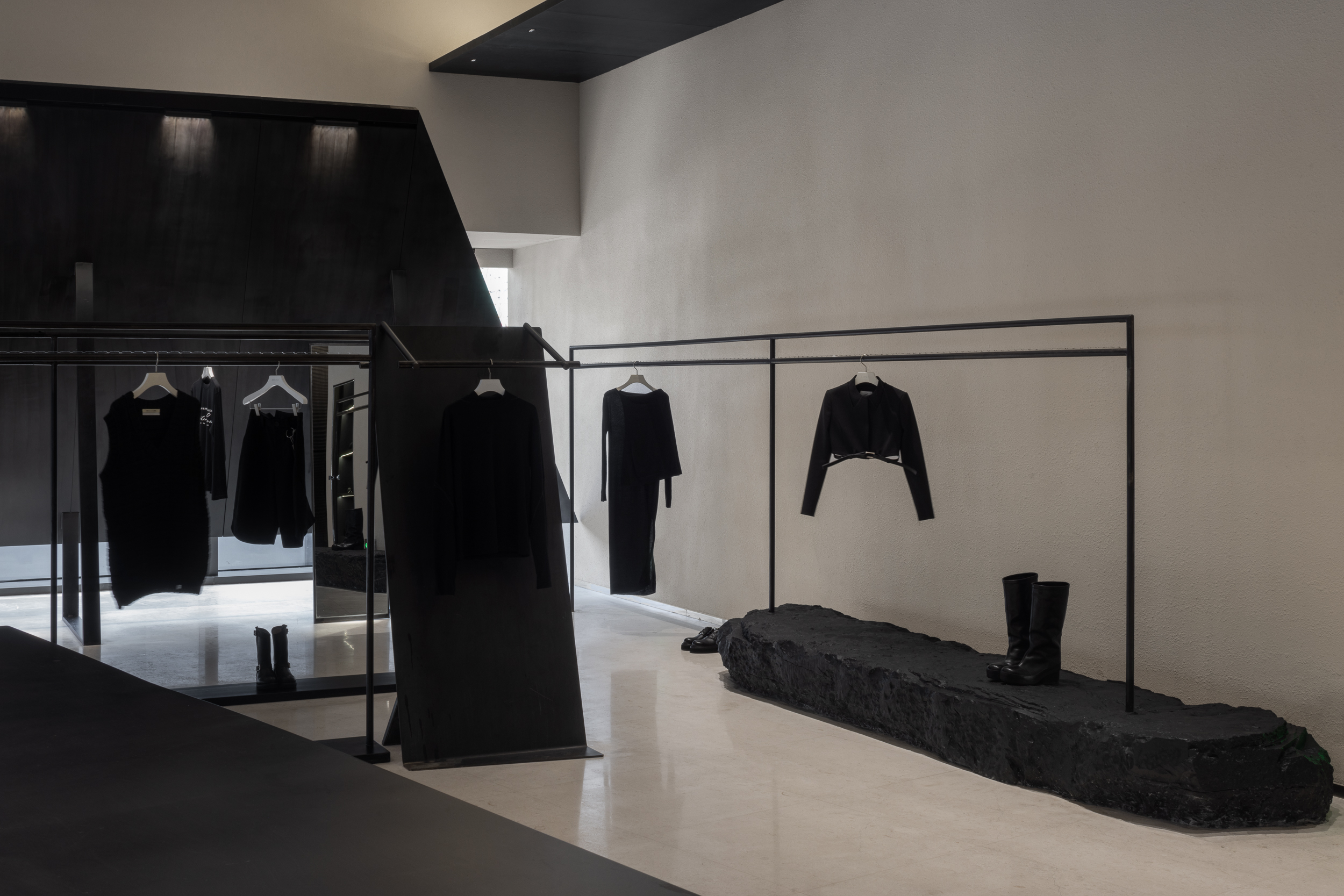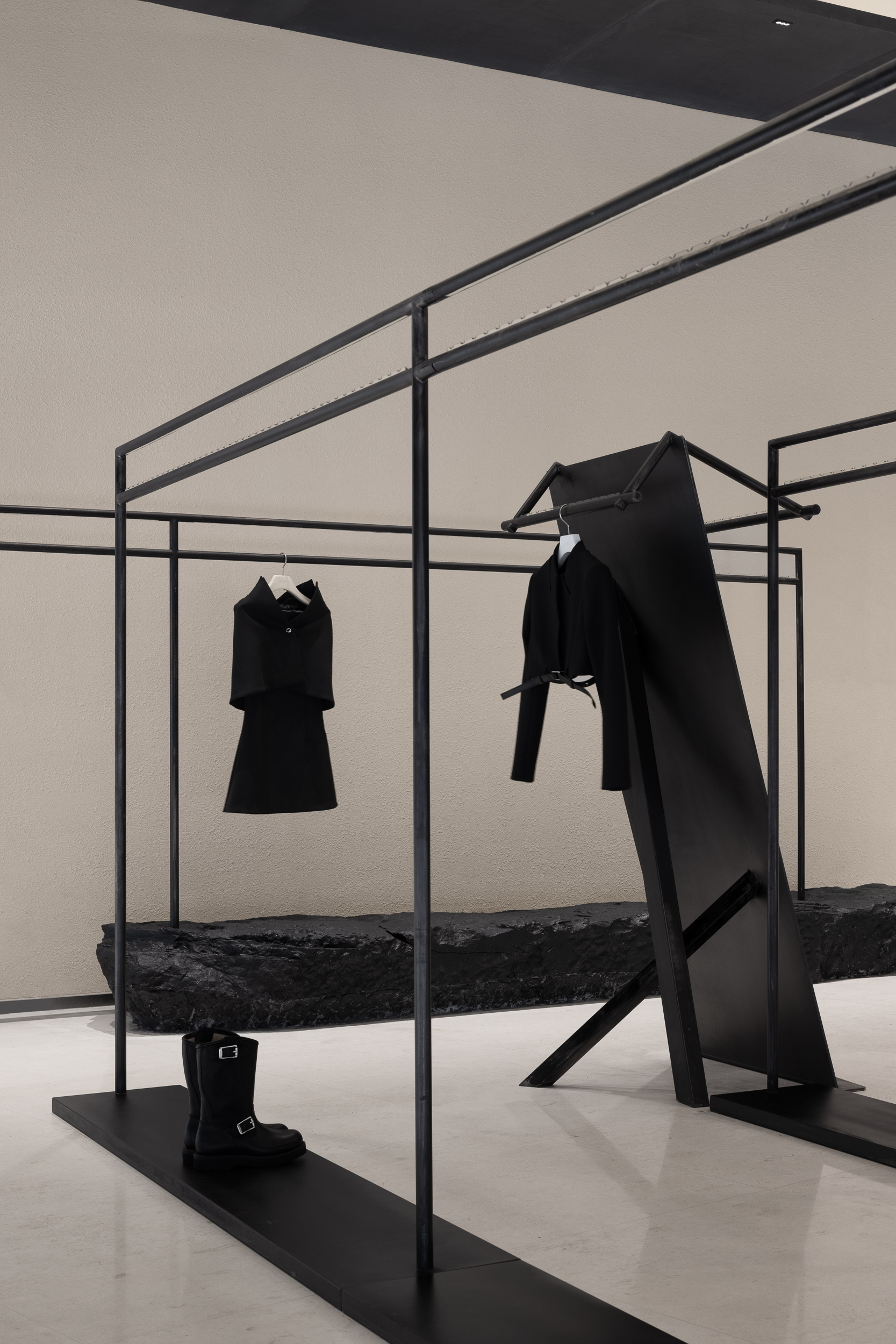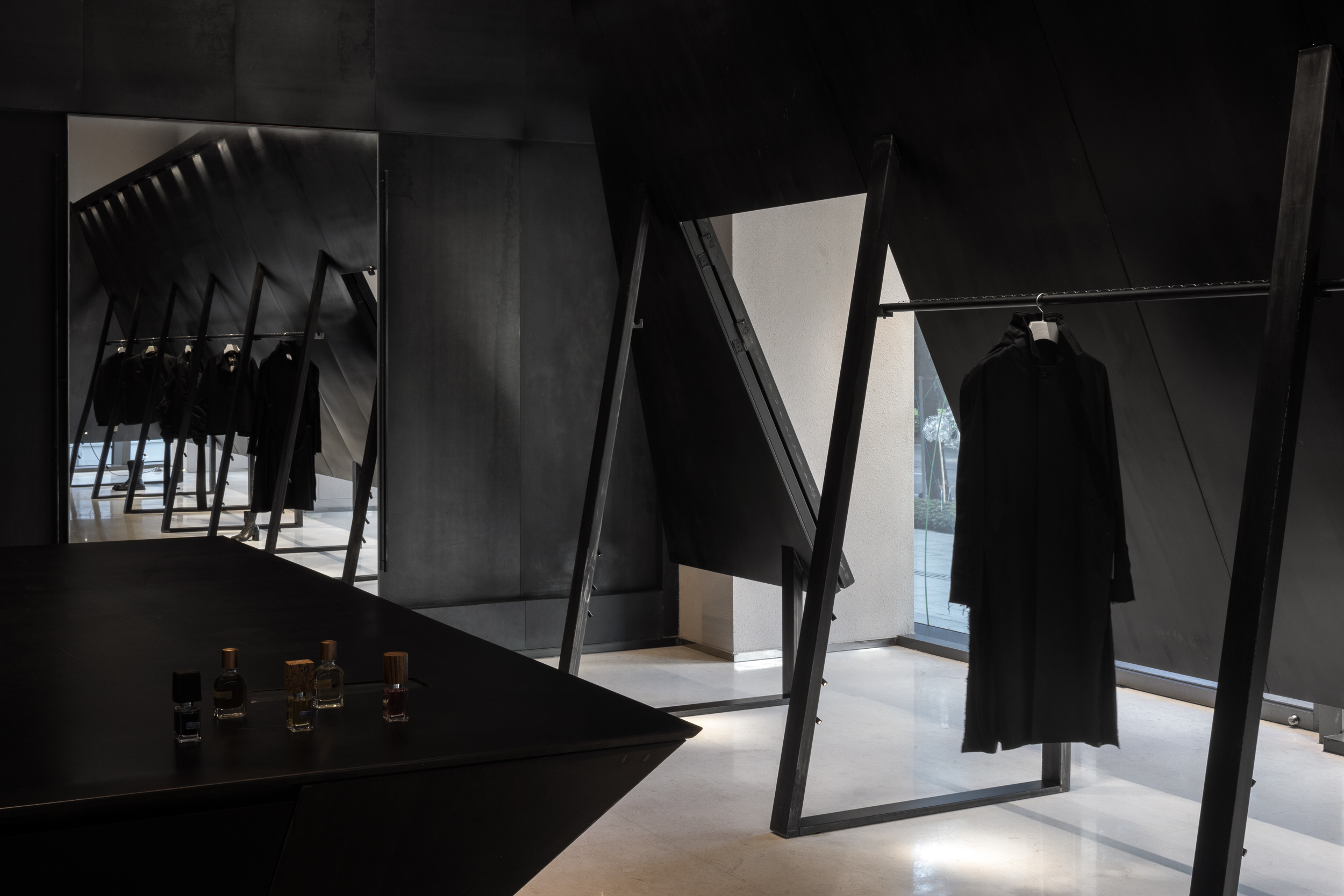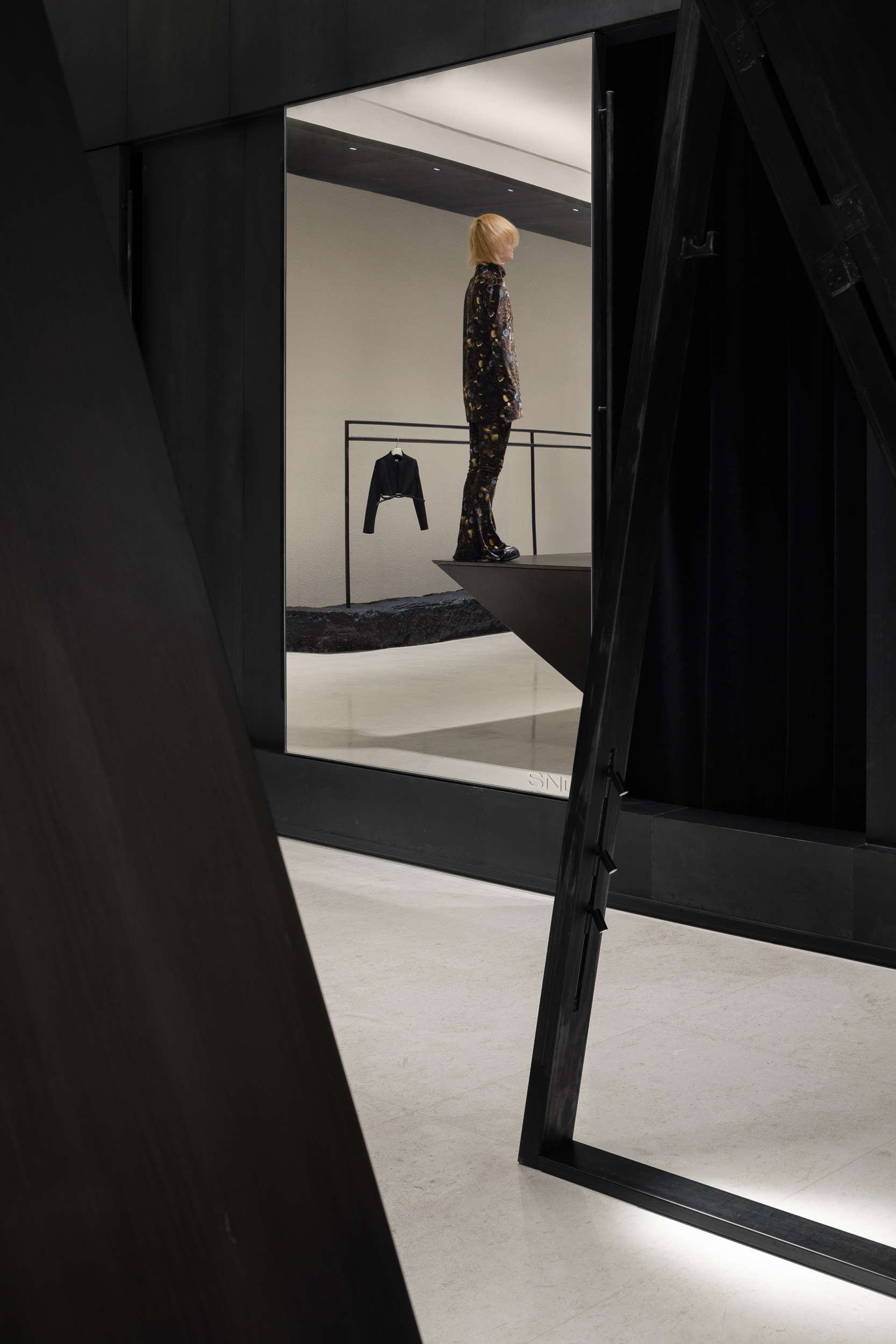 纯粹的、无尽的、但有层次的黑,是对这整个空间除去构筑物的唯一印象。所有的一切有颜色的律动,在这里都特别都清晰且显色。整个空间自由不拘谨,用不同的地面高度划分区域,空间层次循序渐进。
The pure, endless, but layered black is the only impression of the entire space except for the structures. All the rhythmic colors are especially clear and contrast here. The whole space is free and informal, with different ground heights to divide the area, and the spatial hierarchy is gradual.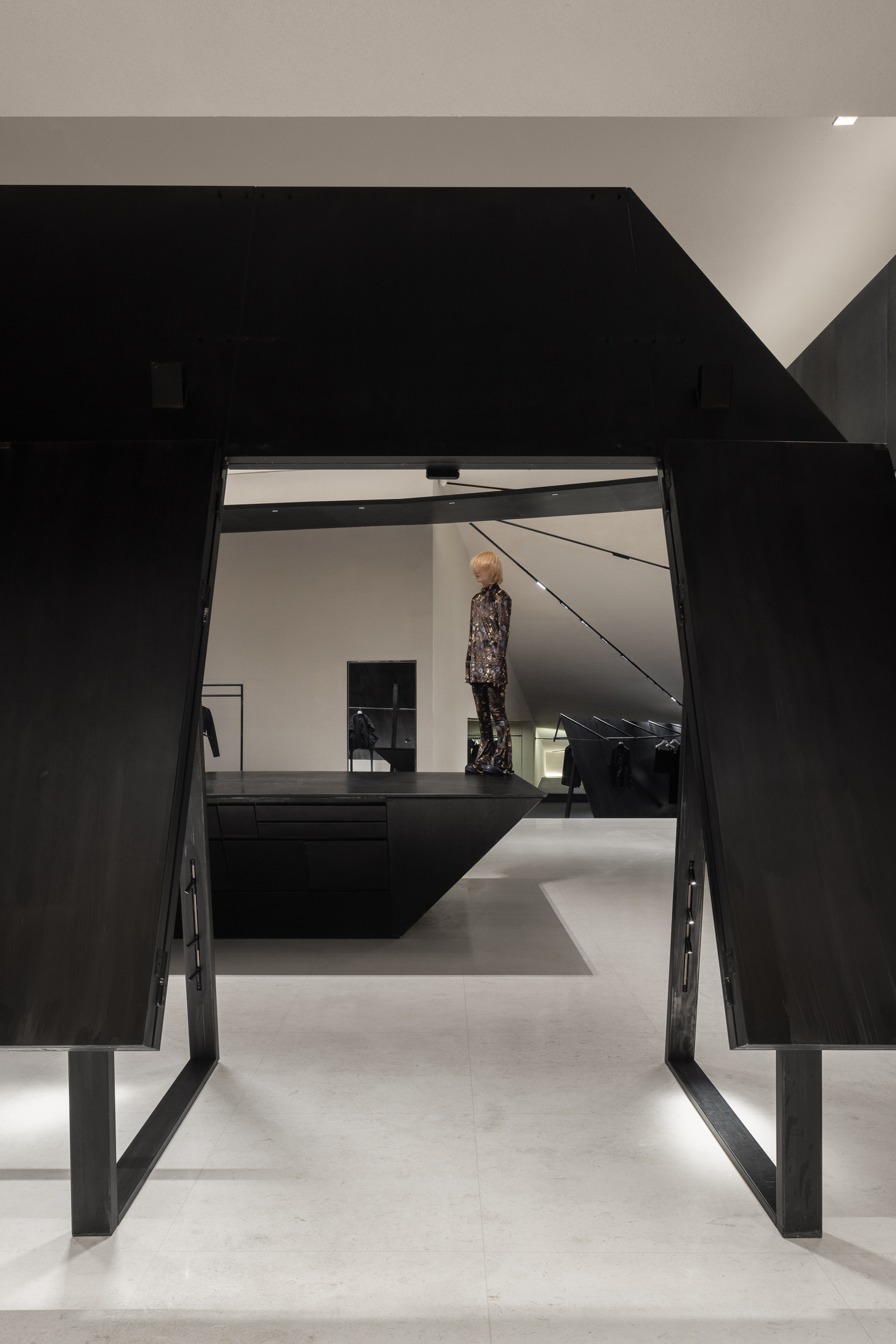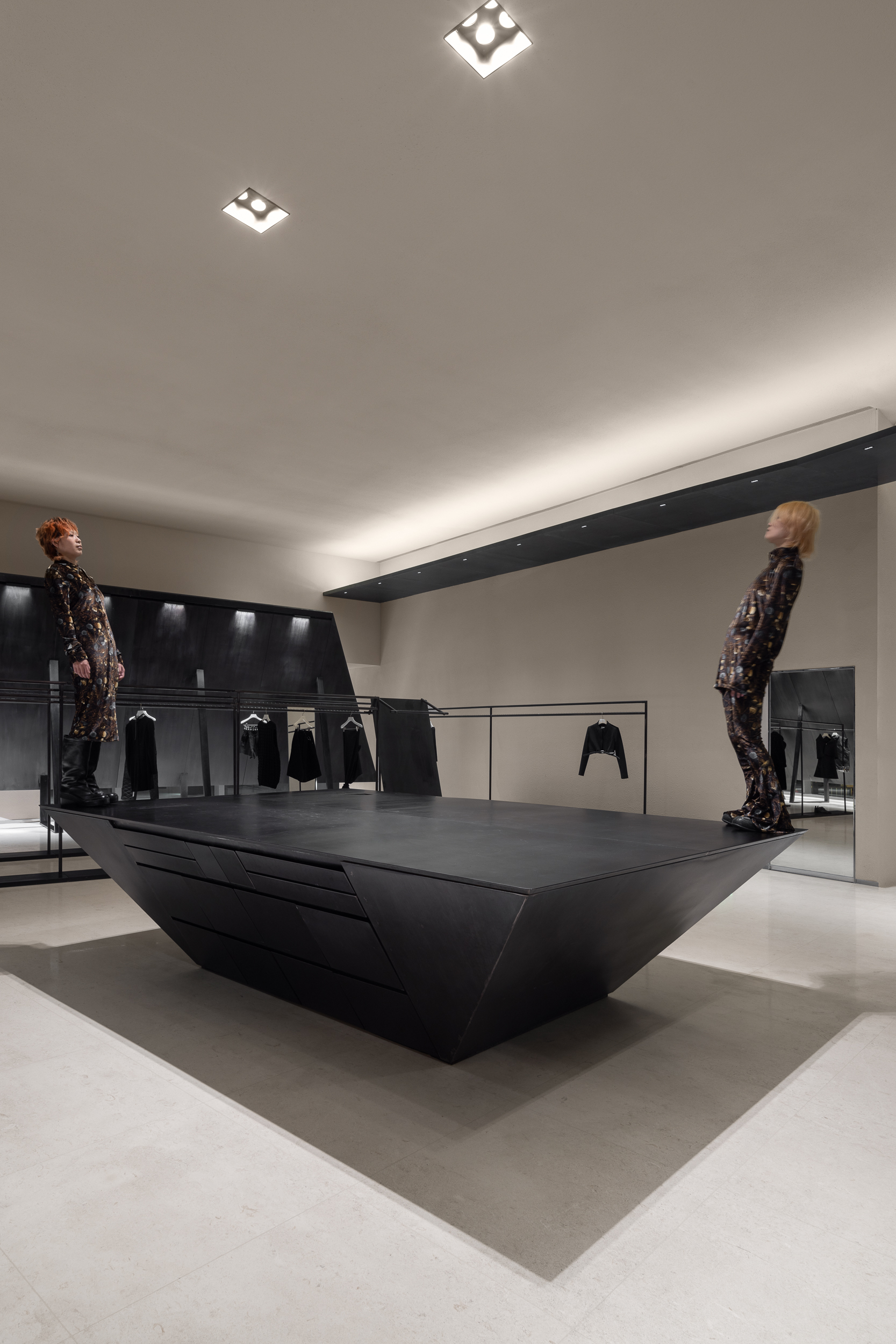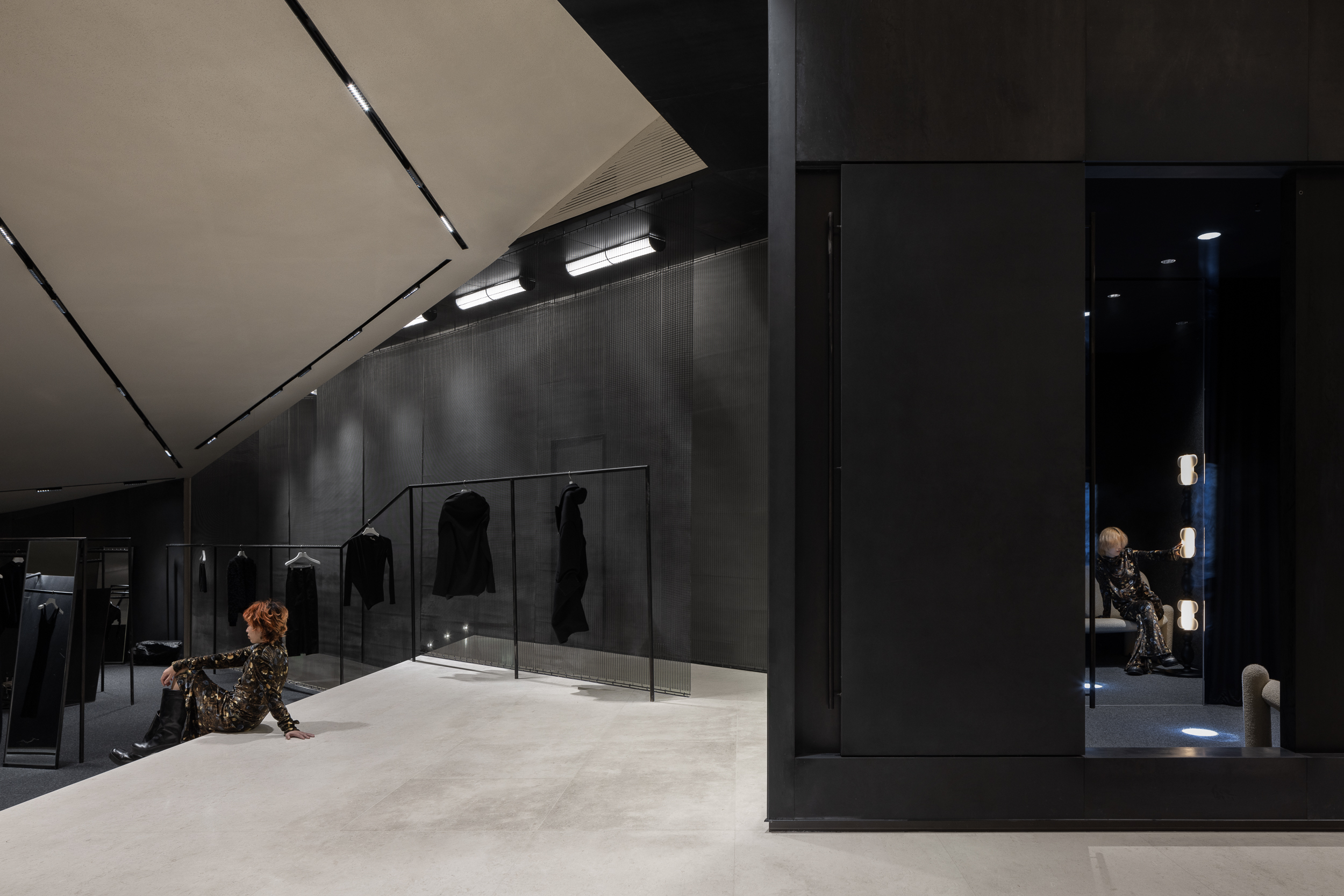 空间方案从主体受众心理和使用出发,温柔温暖的地面和天花板色调,极致的黑色构筑而成的墙面与装置,简洁流畅的空间动线,硬朗的装置。仿佛是另一个未来世界的自己是一种向现在表达自我的方式;简单且自由。 
The space plan starts from the psychology and use of the main audience, with gentle and warm floor and ceiling tones. Walls and installations are made of extreme black. The space movement lines are simple and smooth, combined with the tough installations. It's as if another future self is expressing oneself to the present: simple and free.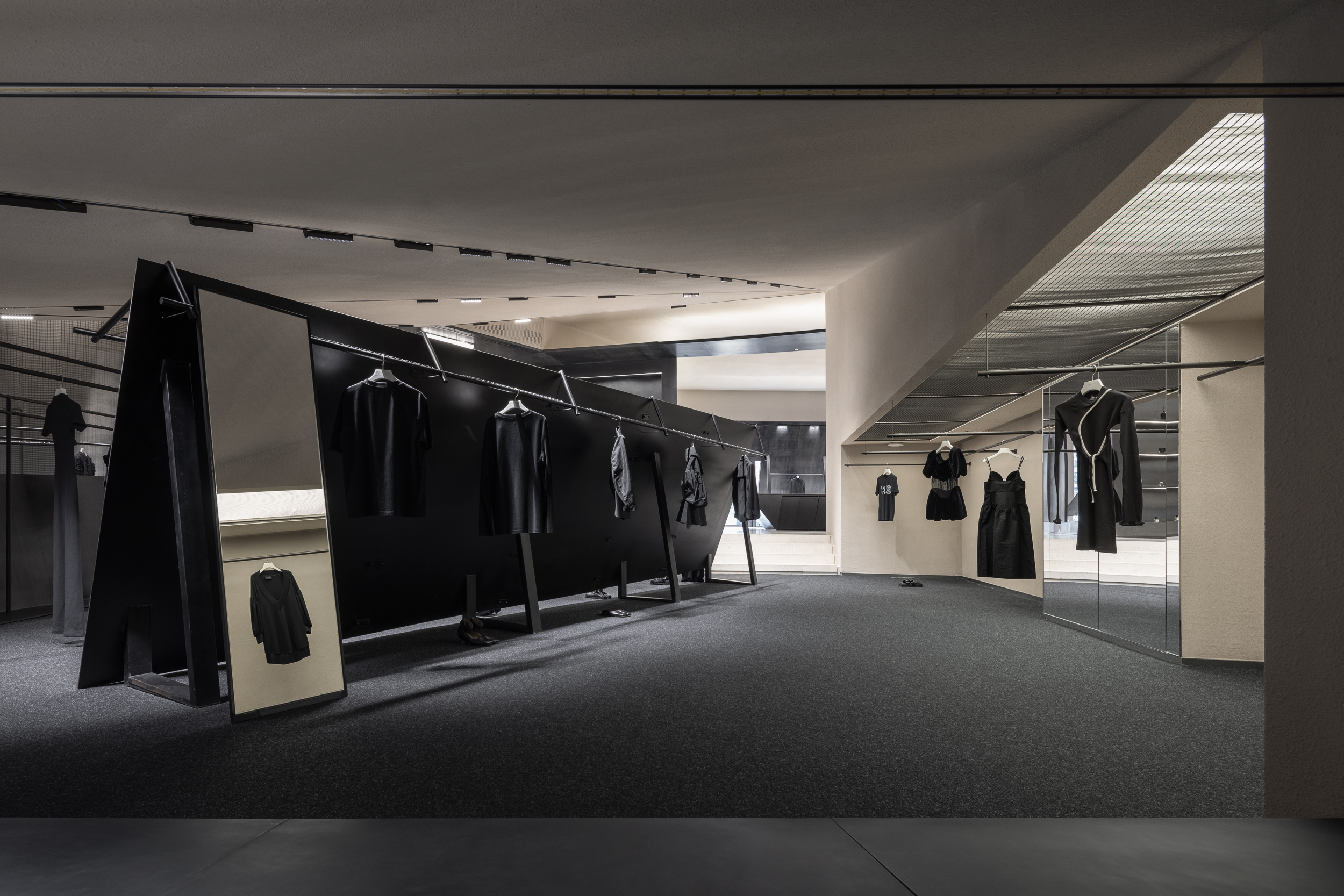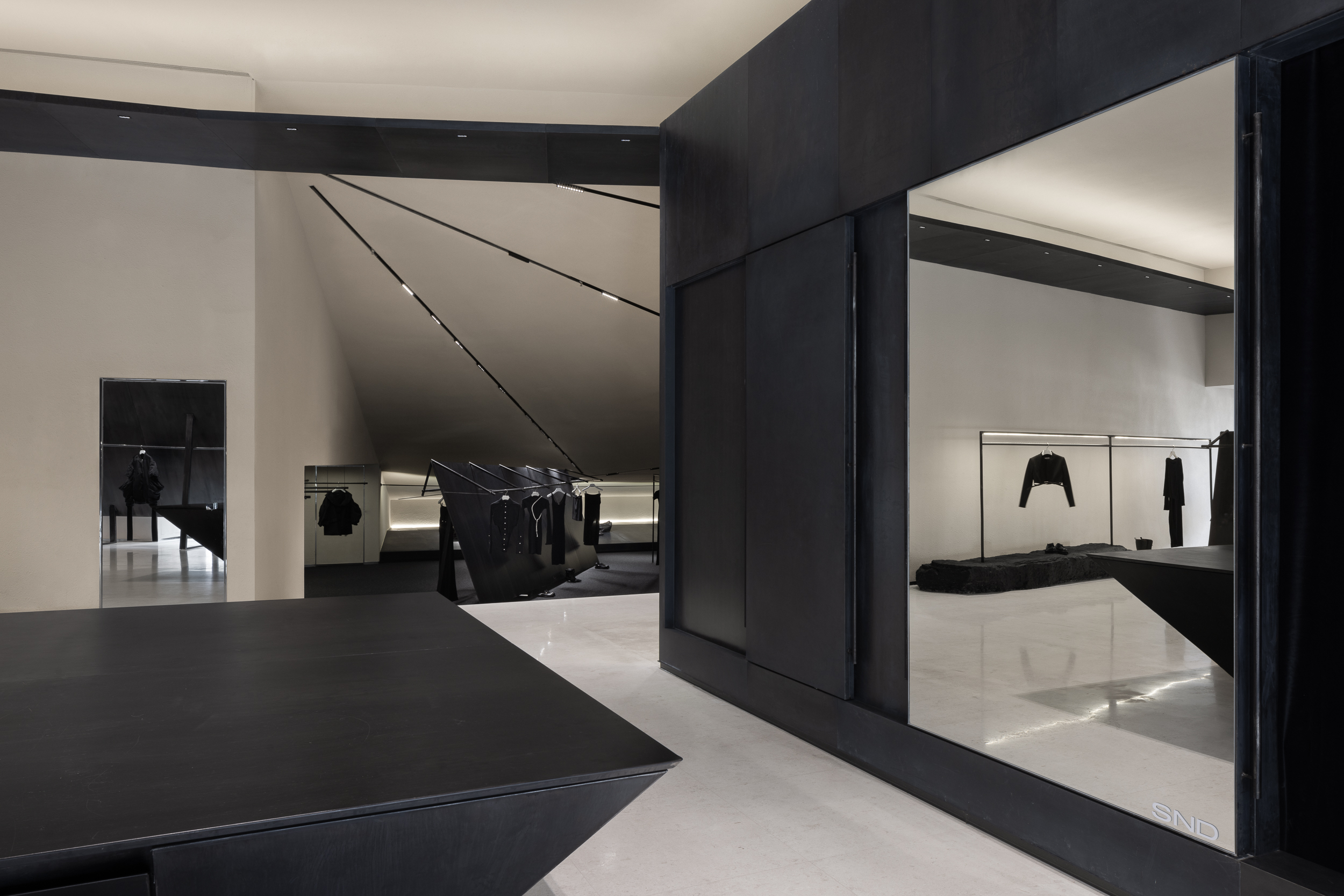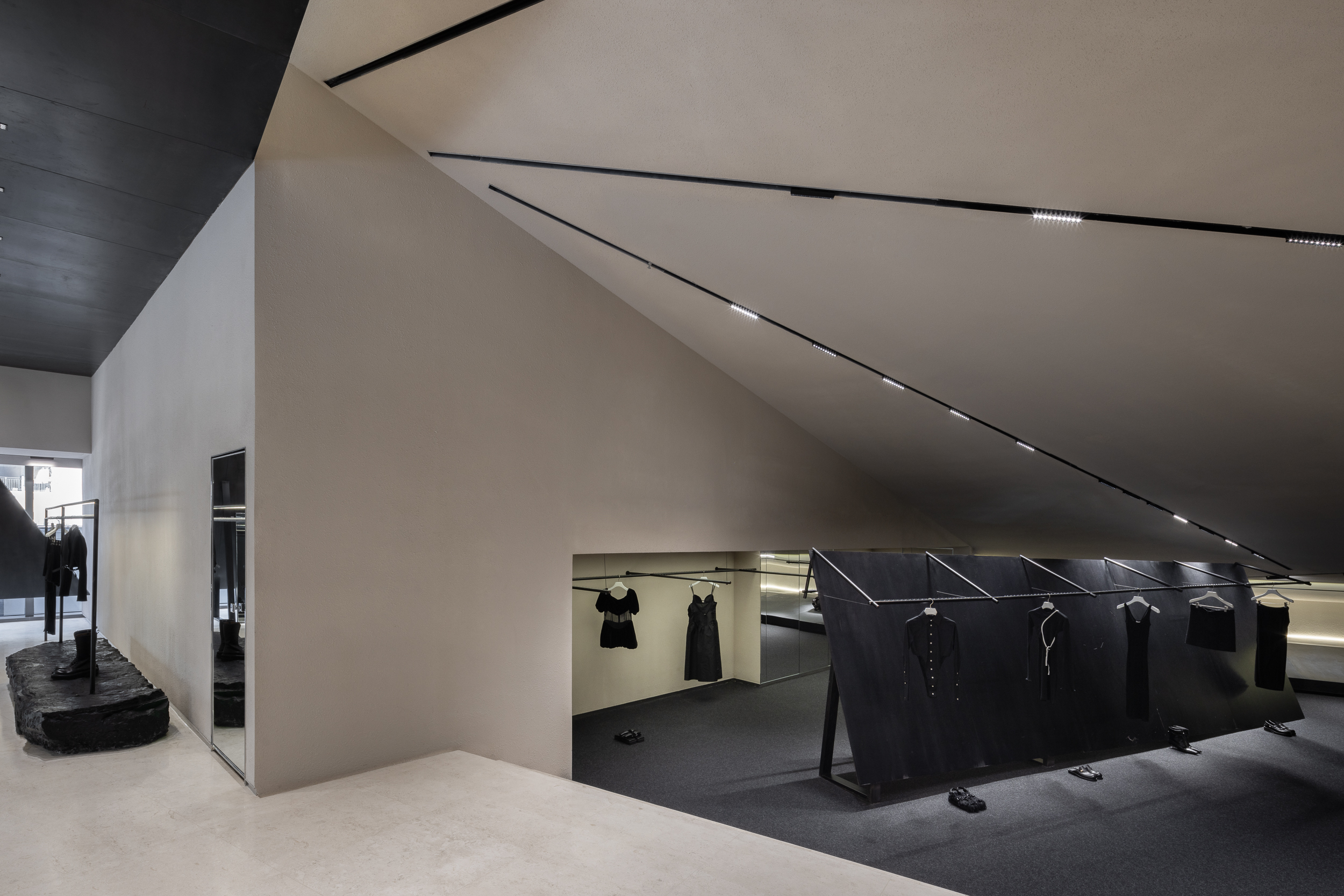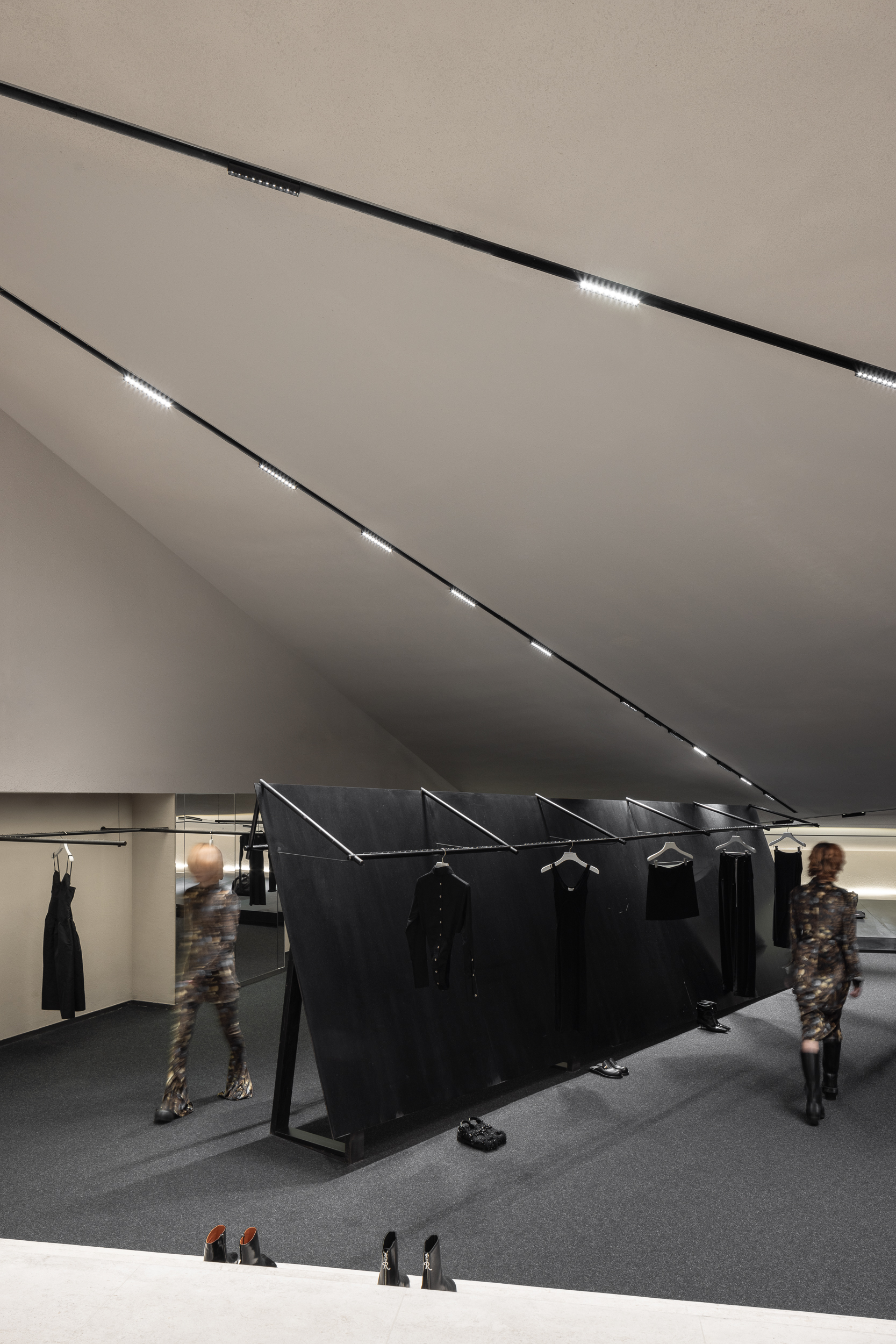 空间里黑色的体积感的物体分布在各个区域内,与米色调形成的柔和的形态,形成一定的反差。通过物体对不同区域的界定,形成了简洁流线的空间形态;充满棱角的装置物,更突出了产品的剪裁。
The black volumetric objects in the space are distributed in various areas, forming a certain contrast with the soft shape formed by the beige tone. Through the definition of different areas by objects, a simple and streamlined spatial form is formed. The angular installations highlight the tailoring of the product.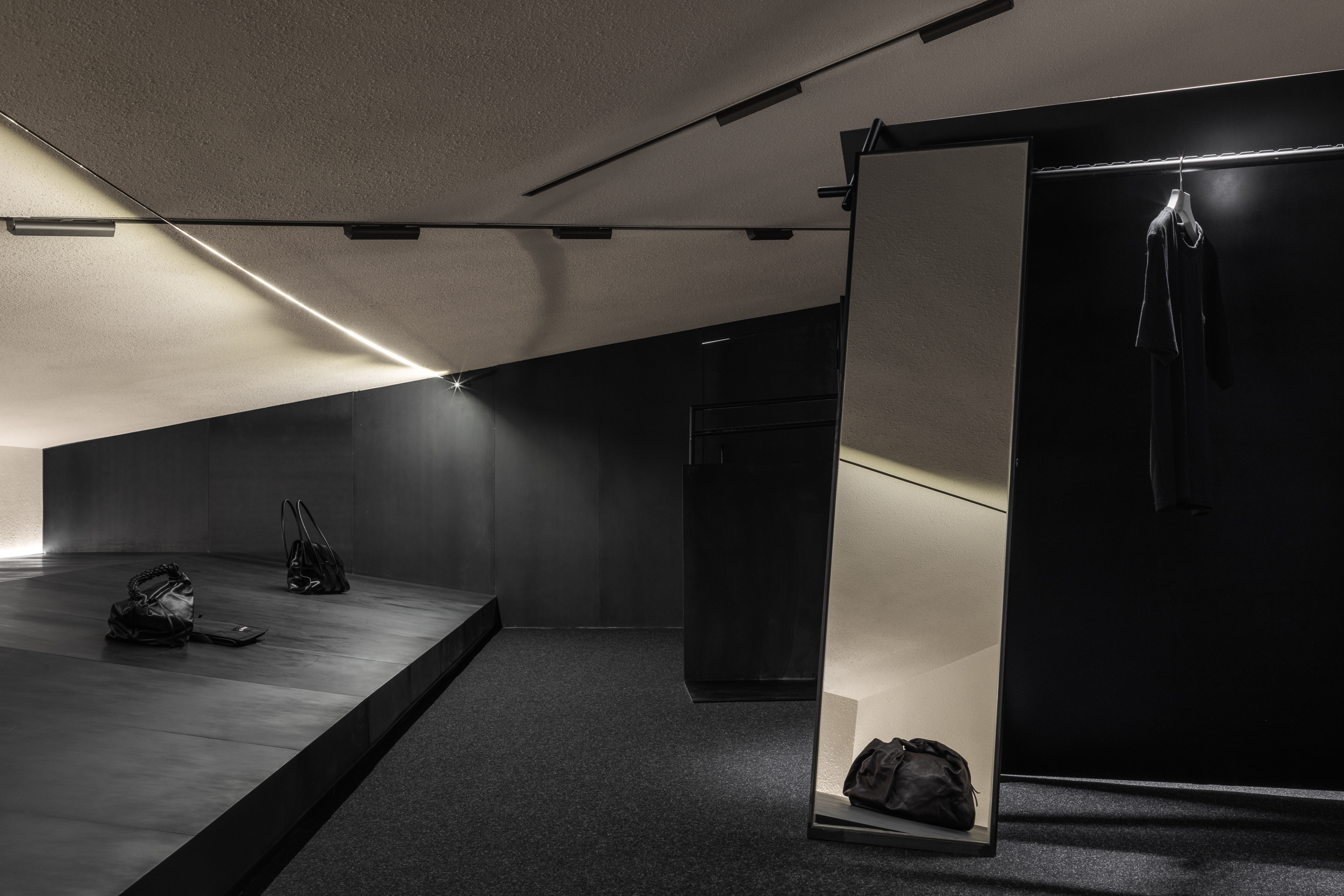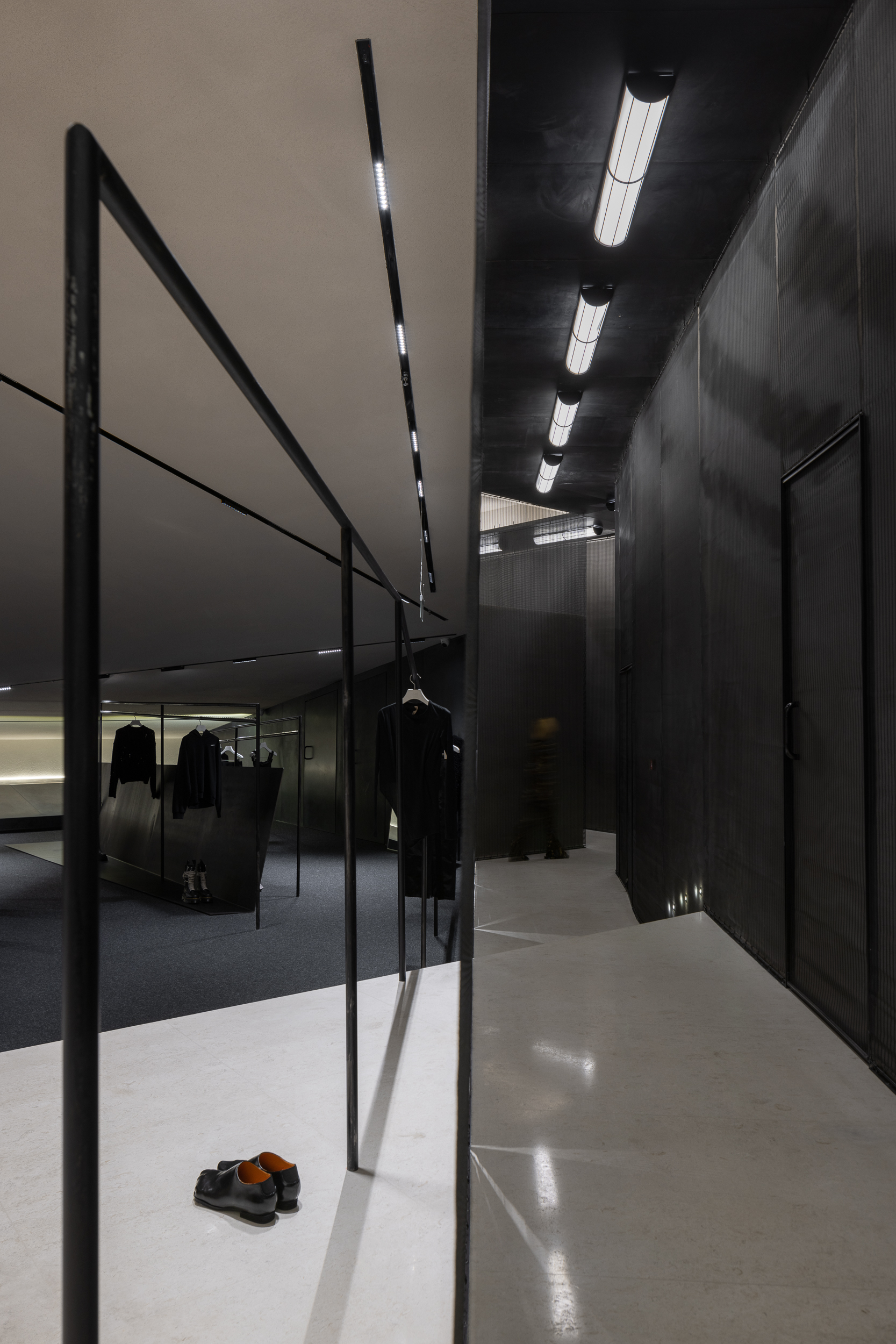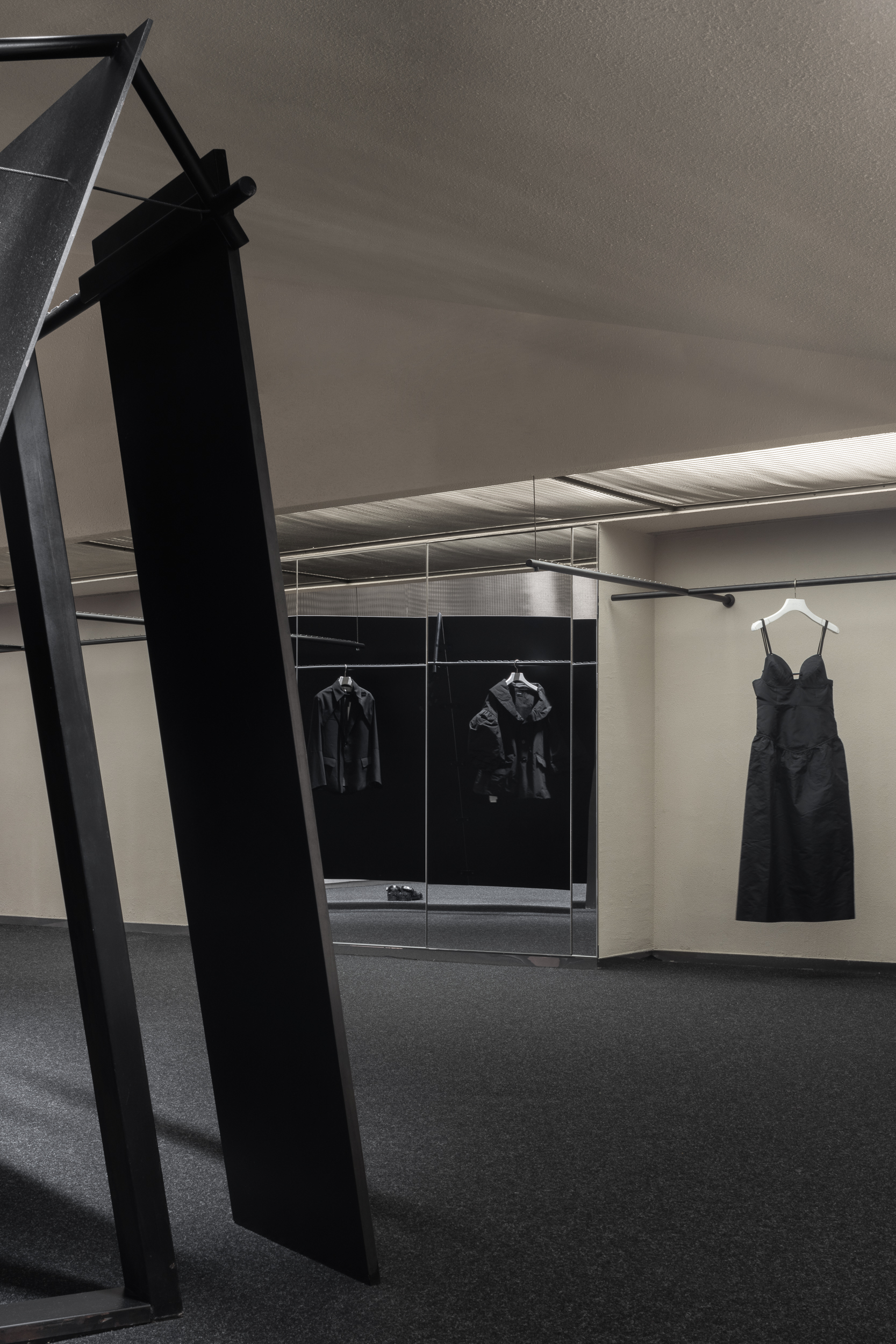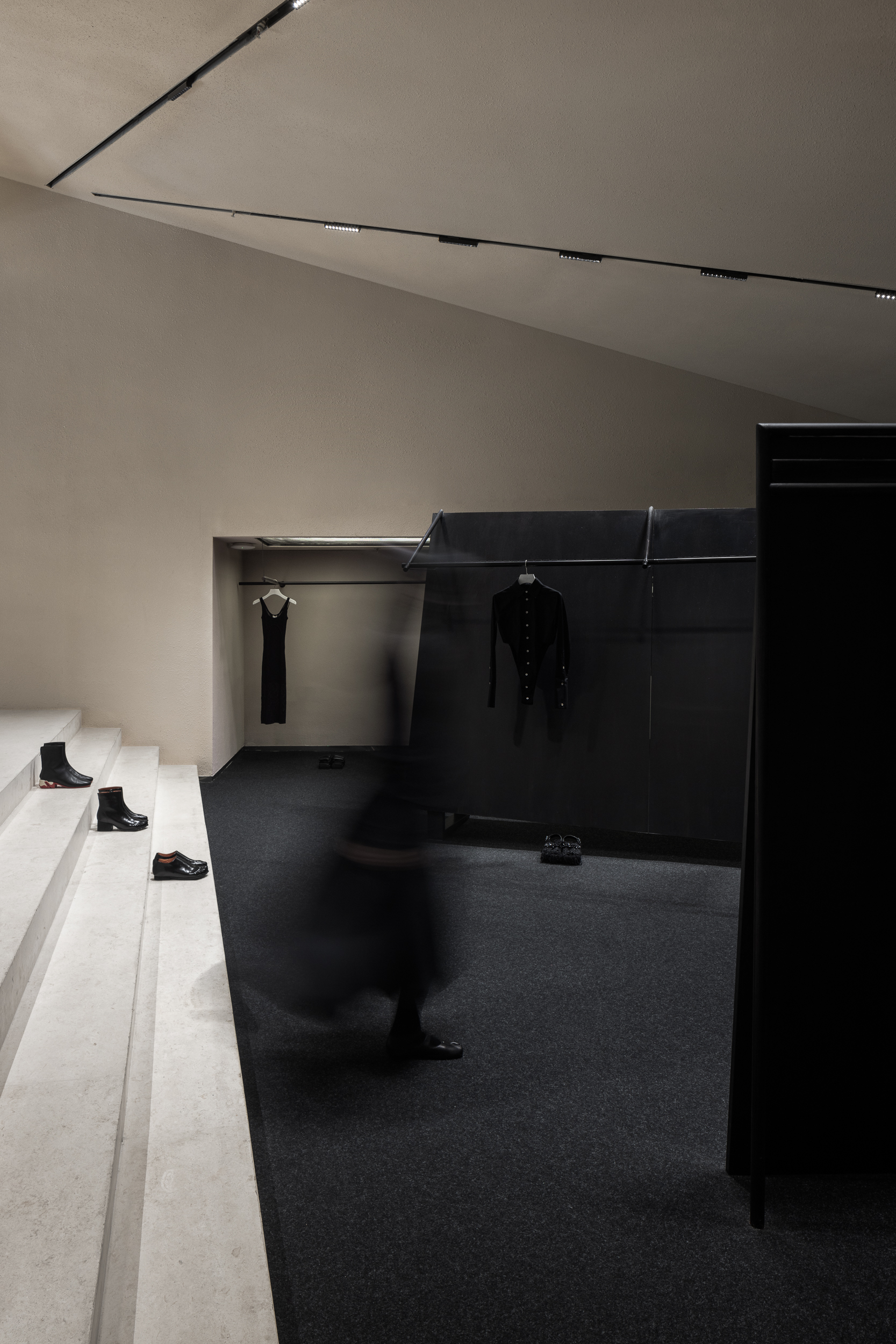 不停反射、分散在四处的镜面包裹着整个空间,感受到能量、传递、纯粹,一种静谧的、无杂质的游走状态。一切都像是被添上了一层神秘的滤镜,包裹感与未知感在此处扩散开来,特殊材质的肌理感带来平静与起伏的碰撞感。
The mirror surface that keeps reflecting and scattered around wraps the whole space. People can feel energy, transmission, and purity inside. A quiet, impurity-free wandering state is delivered. Everything seems to have been added with a layer of mysterious filter, where the sense of envelopment and unknown spreads. The texture of special materials brings a sense of calm and undulating collision.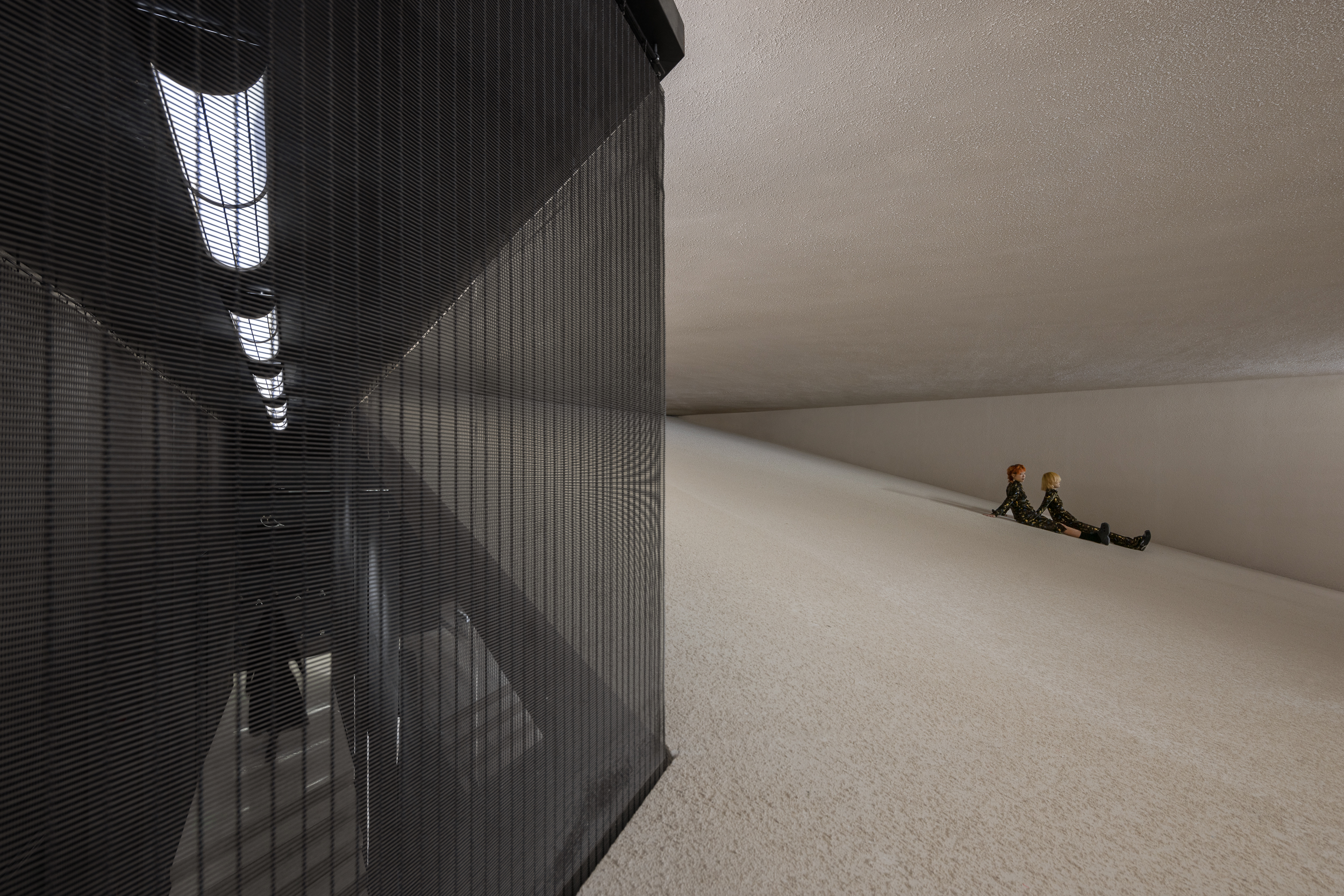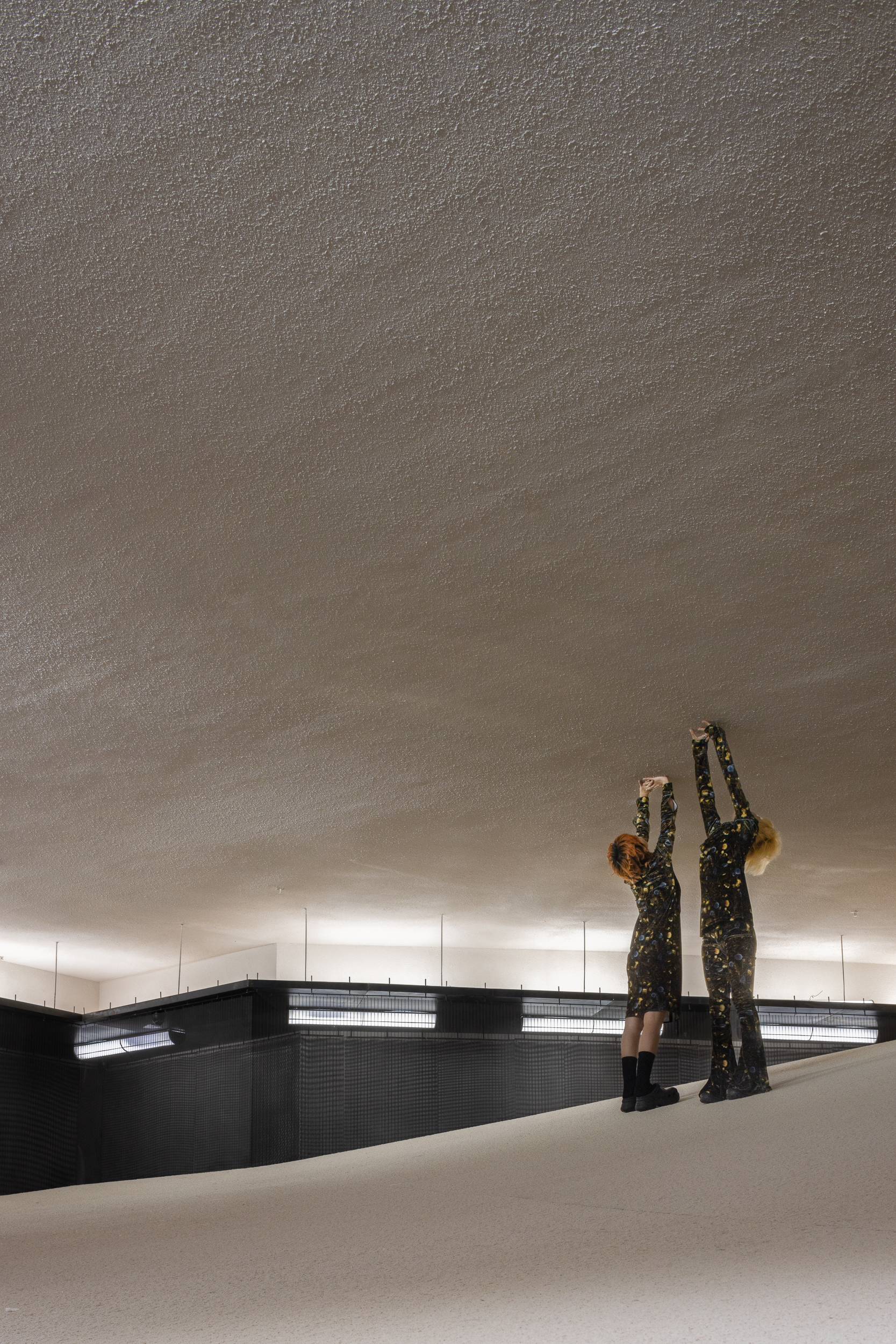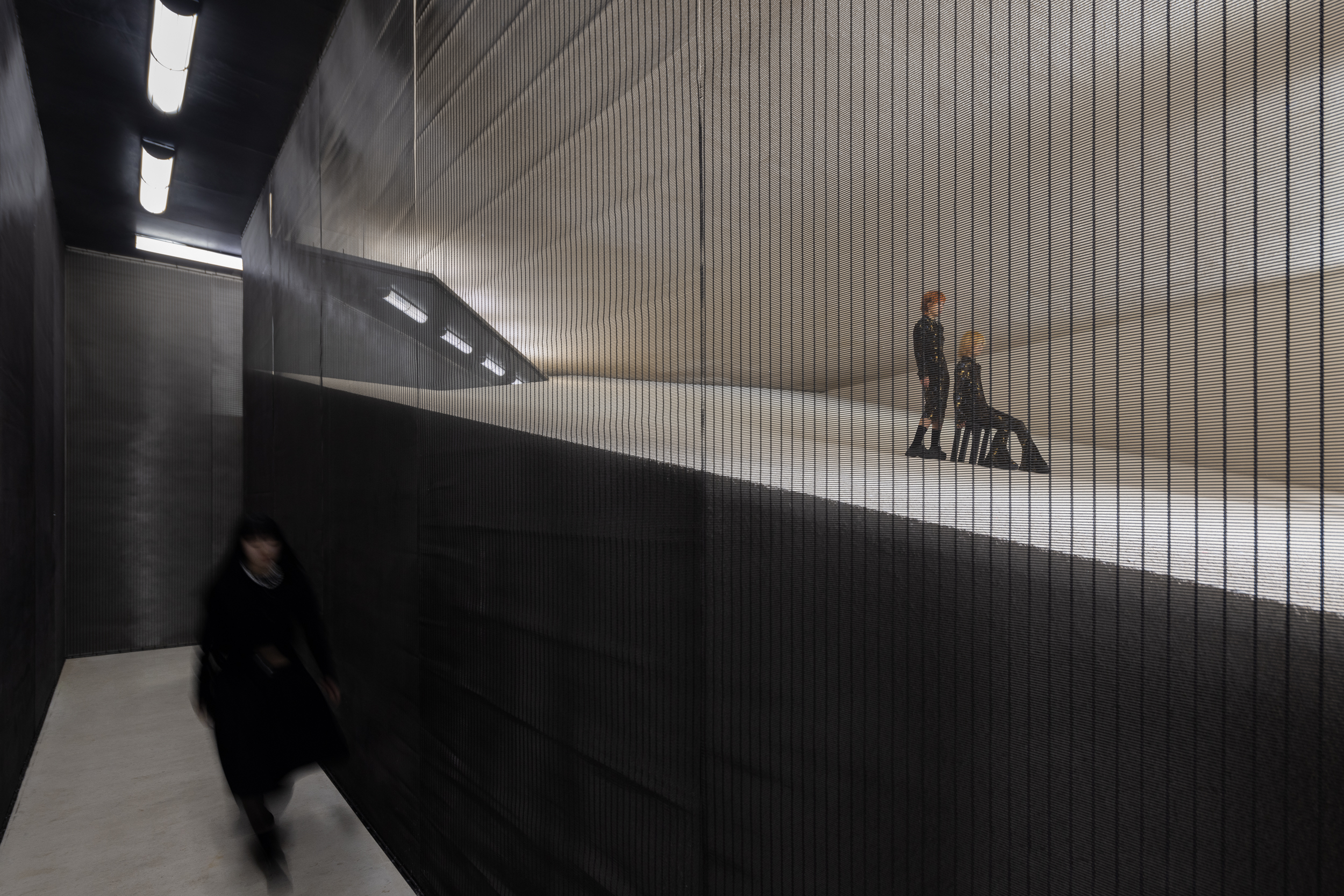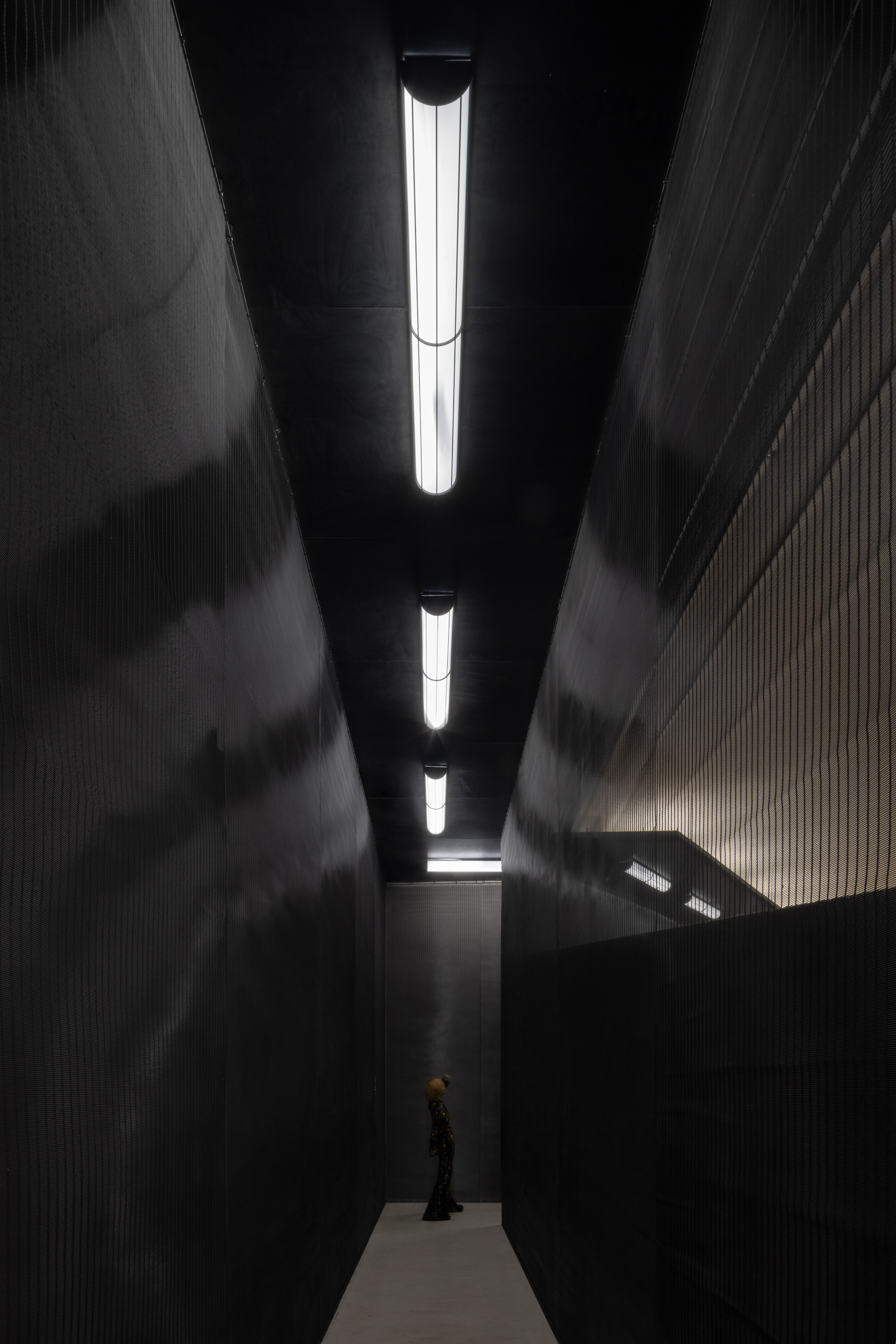 通过不同的视角,游走于幕前幕后,天空变得不再触不可及,目光所至皆是自在。当视线穿过纱网,随之而来的是自由呼吸的畅快感。
Through different perspectives, walking in front of and behind the scenes, the ceiling becomes no longer untouchable. Eyes are free everywhere. When the line of sight passes through the gauze net, what follows is the pleasant feeling of free breathing.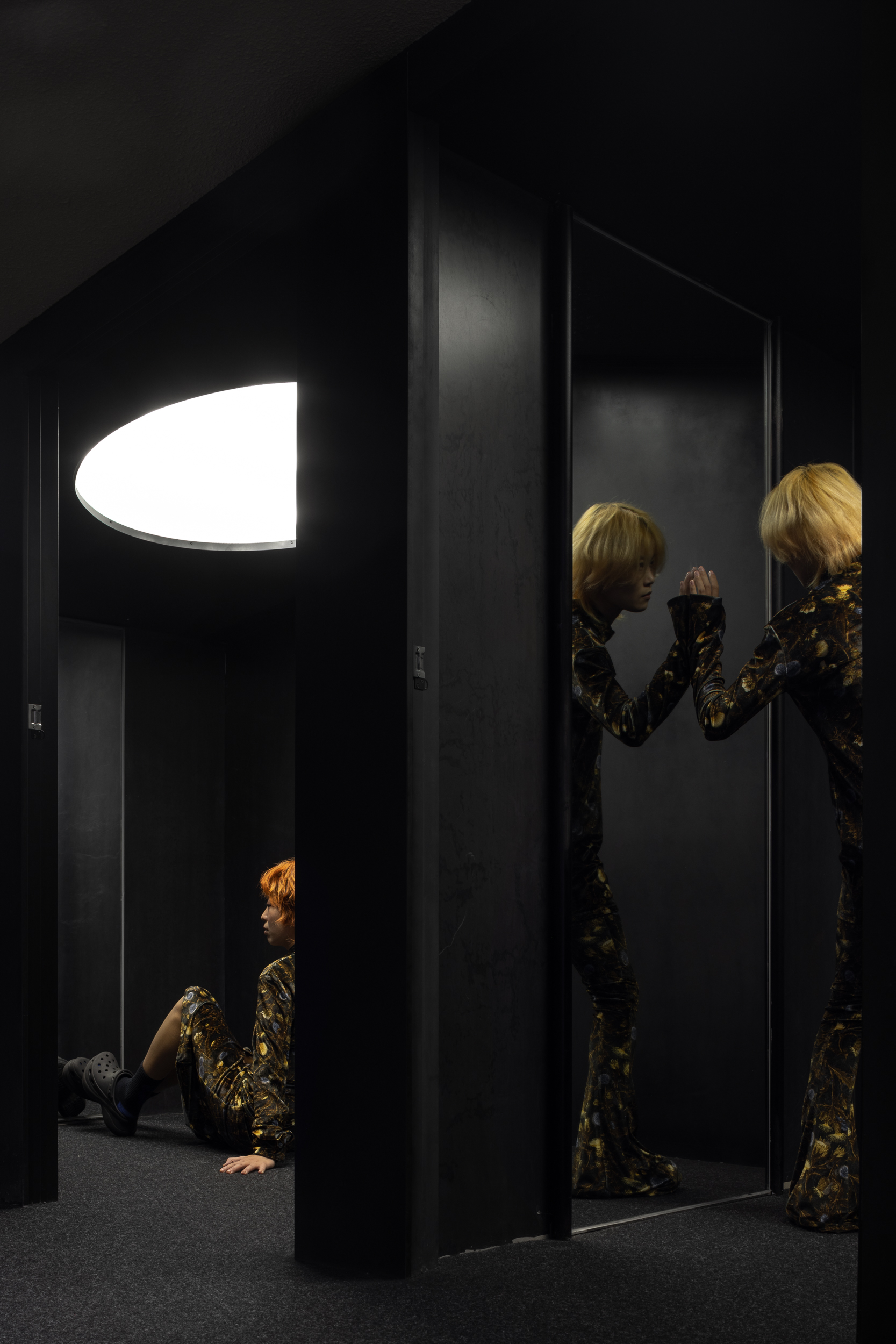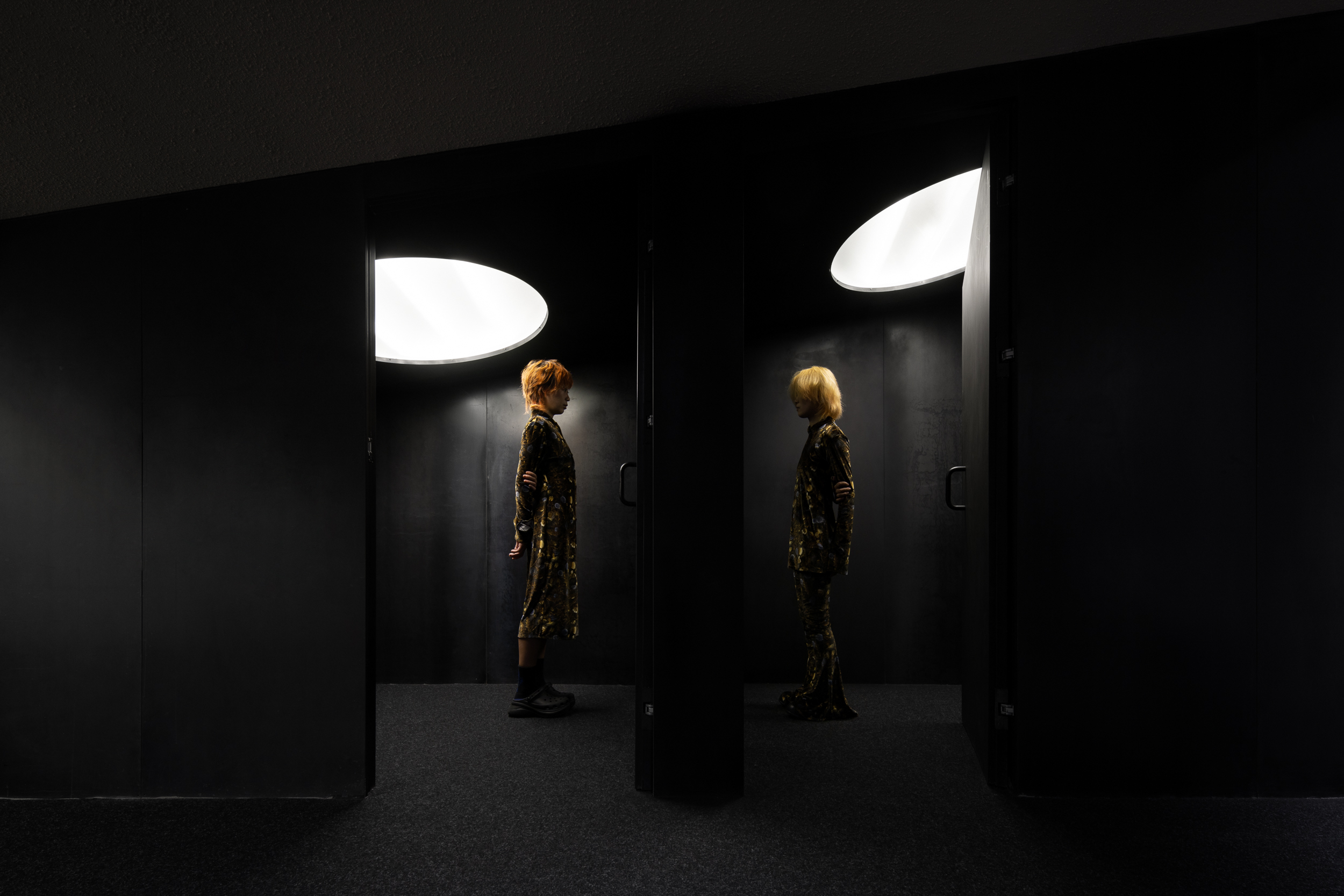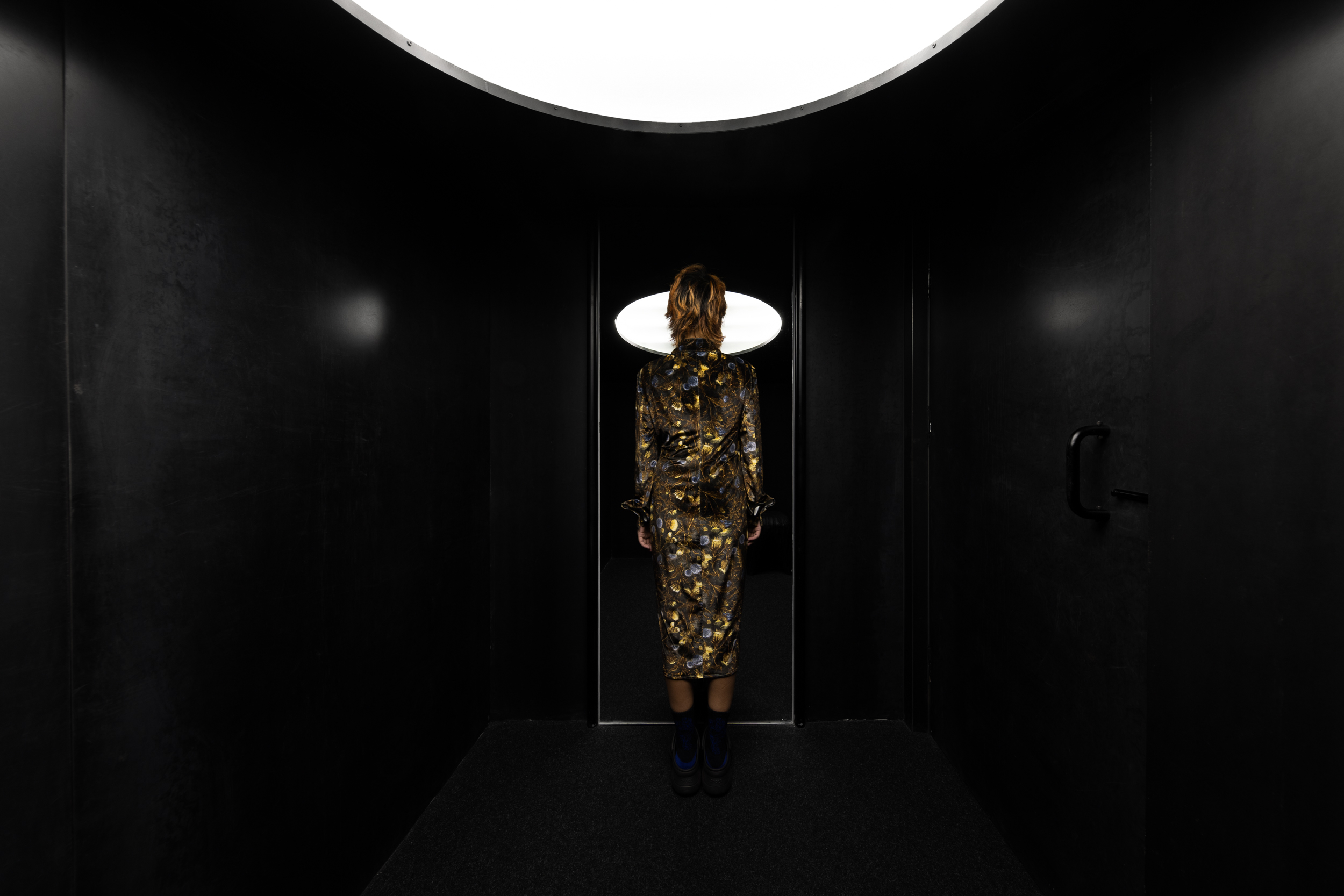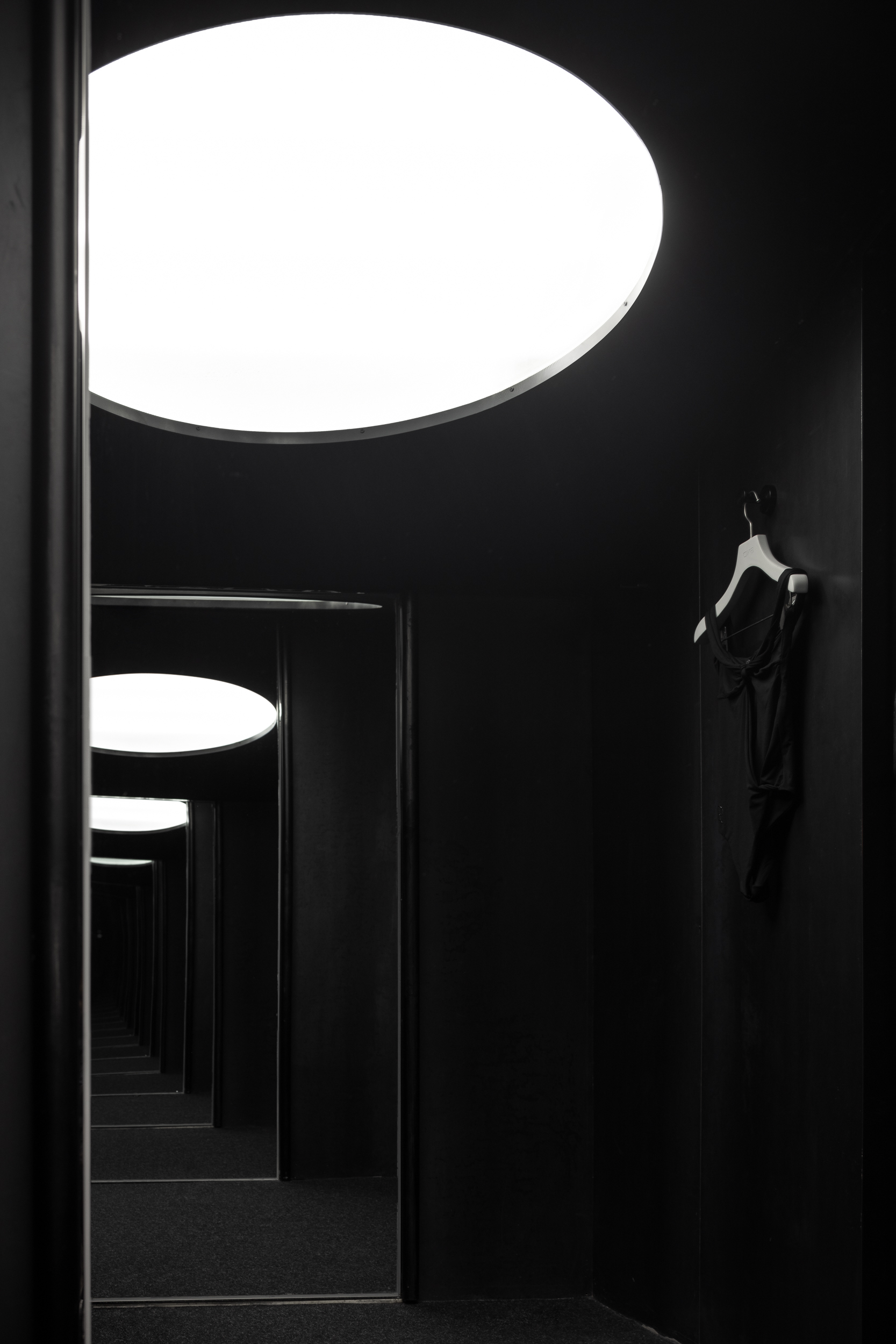 在失去时间刻度的空间中,尘封的记忆在某个瞬间被唤起,前进的脚步声与此起彼伏的呼吸声也在此刻得到了短暂的消逝。空间的轨迹像是穿梭于时空中的隧道,看到的不只是远方,更是时光的流逝与画面的定格。
In the space that lost the time scale, the dusty memory is awakened at a certain moment. The sound of advancing footsteps and the sound of breathing also briefly disappeared at this moment. The trajectory of space is like a tunnel traveling through time and space. What people see is not only the distance, but also the passage of time and the freeze frame of the picture.
---