前往异世界的飞船已降下太空梯,
The spaceship to another world has descended the elevator.
永葆好奇的旅客才能与未来同行。
Travelers who are always curious choose to travel with the future.
---
一堵渐变珠光白墙跳脱于百无聊赖的街景,空间以色彩与星球为设计灵感筑造,充满末来感的外立面如同异时空的边界,将外部的现实世界与内部的奇幻风景分割开来。
A gradient pearlescent white wall escapes the boring street scene. The space is inspired by colors and planets. The futuristic facade is like the boundary of different time and space, separating the real world outside from the fantasy scenery inside.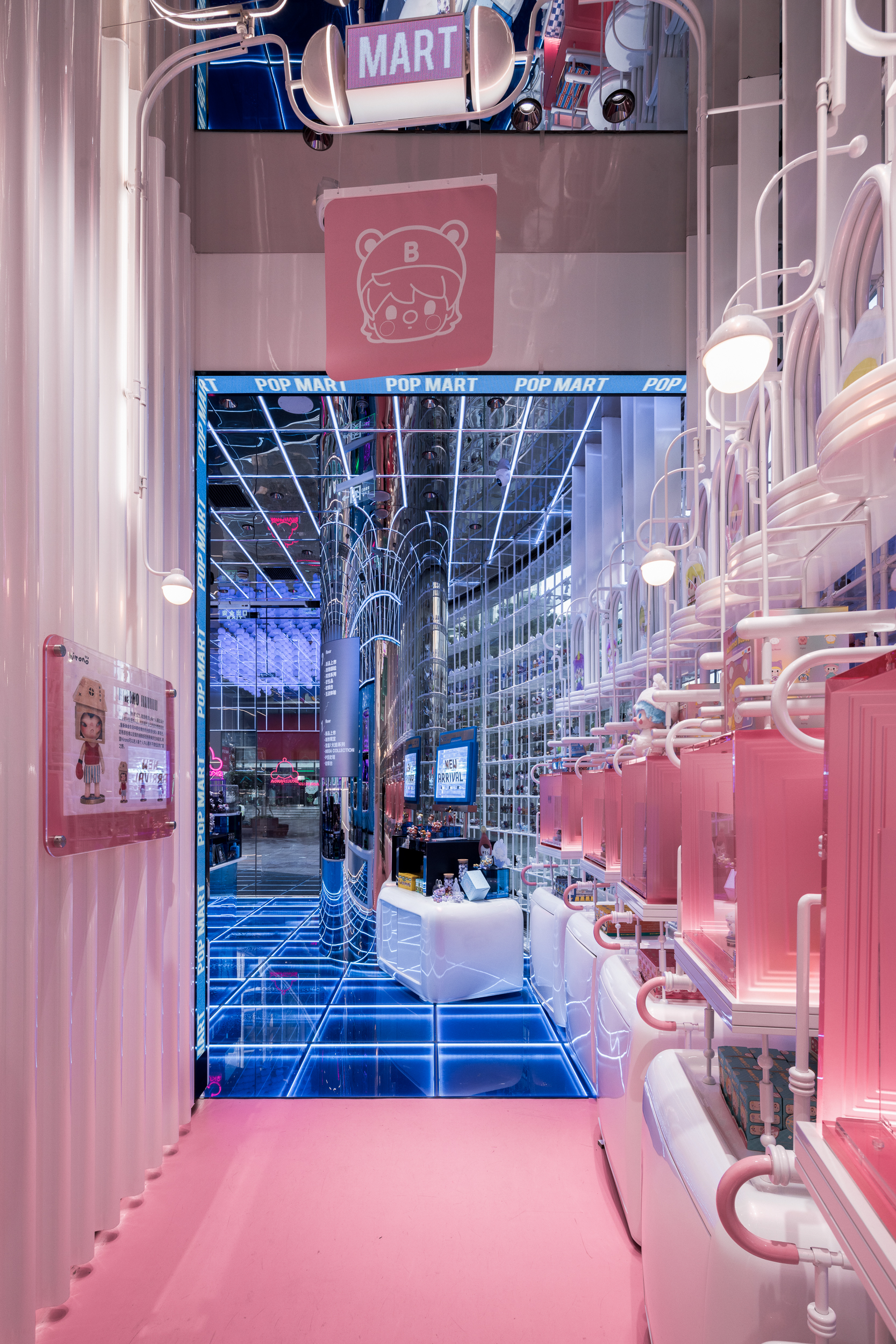 步入室内零售空间,色彩浸润天、地、墙,消融于视线端头,绽放出另一种鲜亮绚丽,仿佛不同空间自然生长般地嵌套咬合于一起。
Stepping into the indoor retail space, the colors infiltrate the sky, the ground, and the walls, and melt at the end of the line of sight, blooming another kind of bright and gorgeous, as if different spaces are nested and occluded naturally.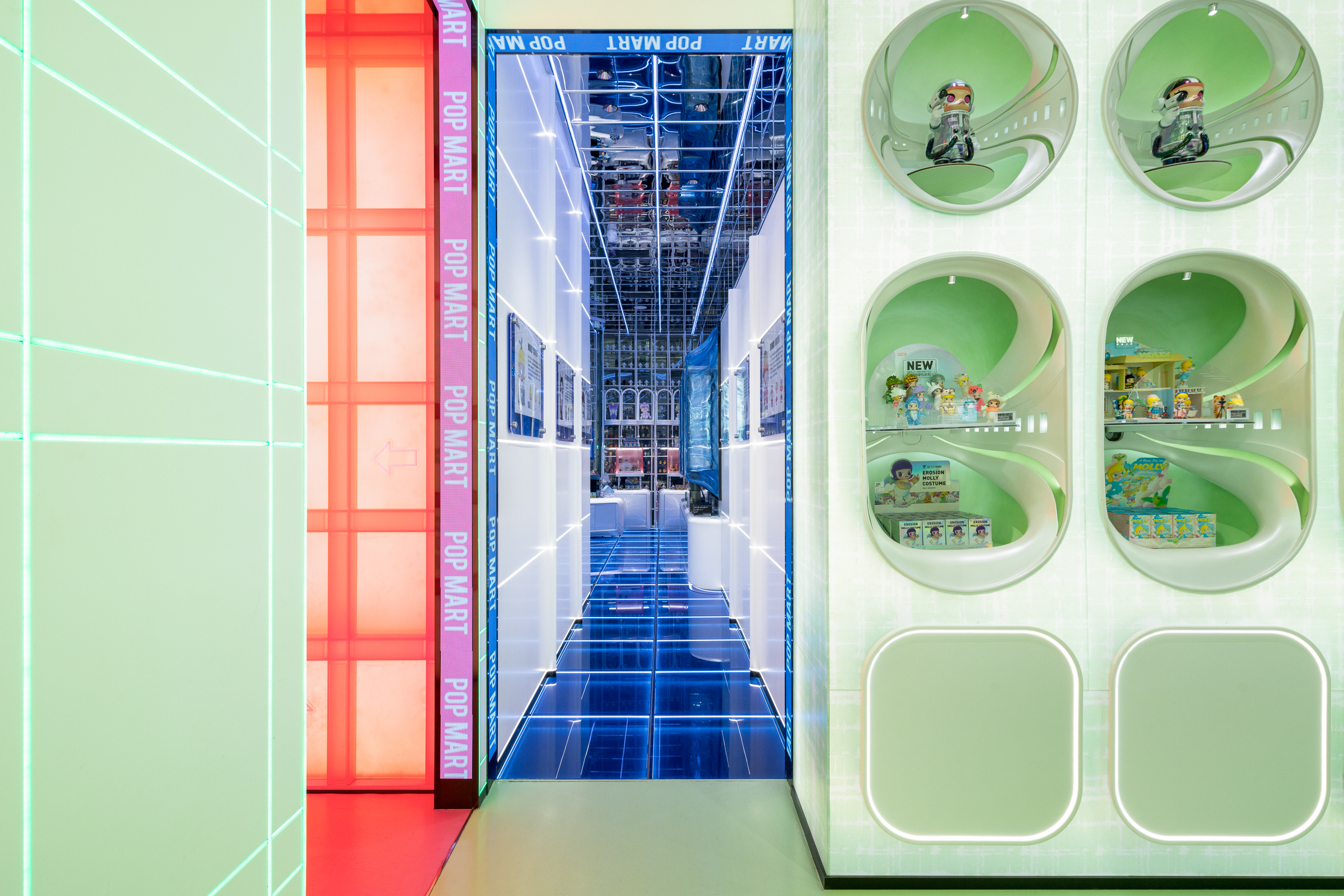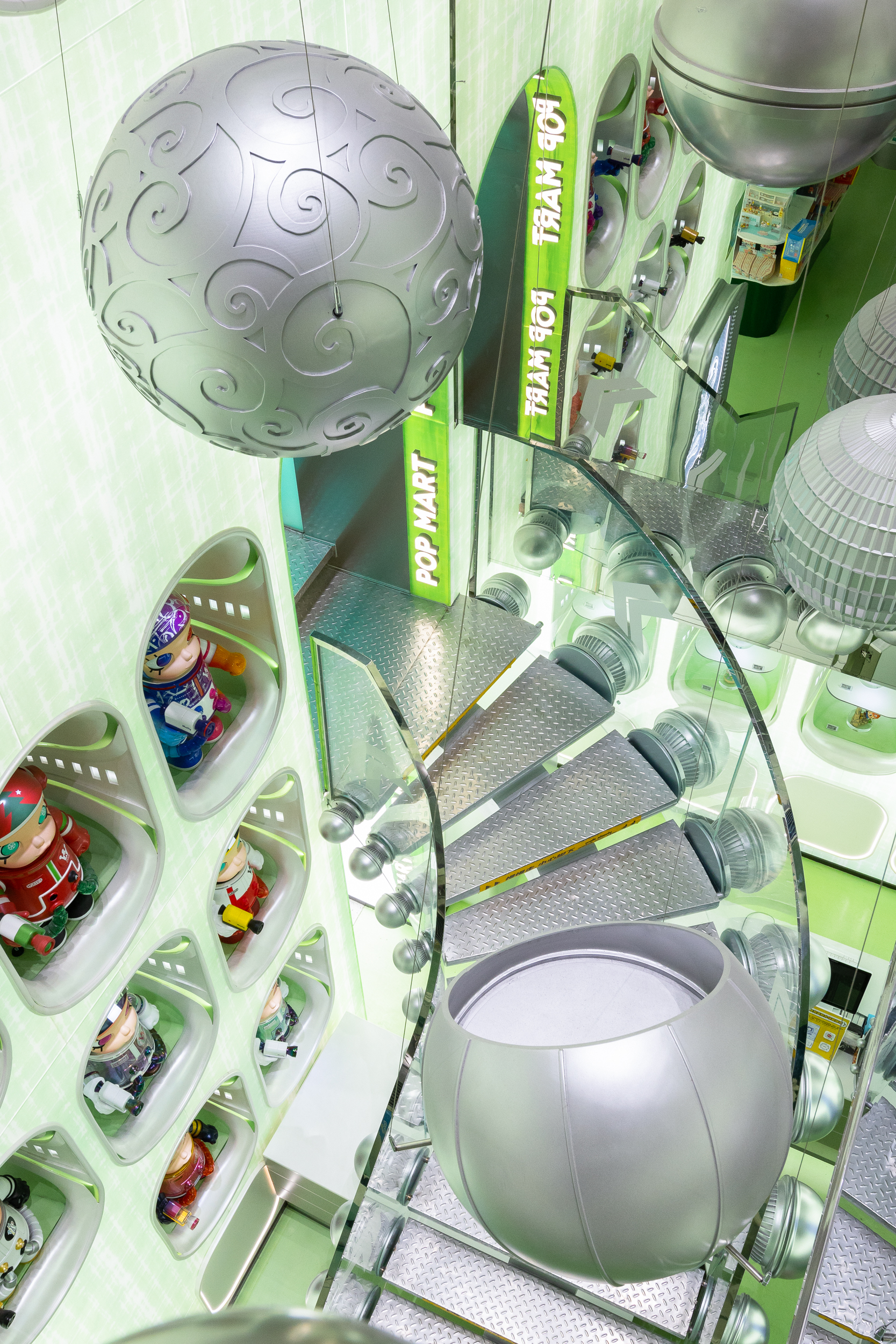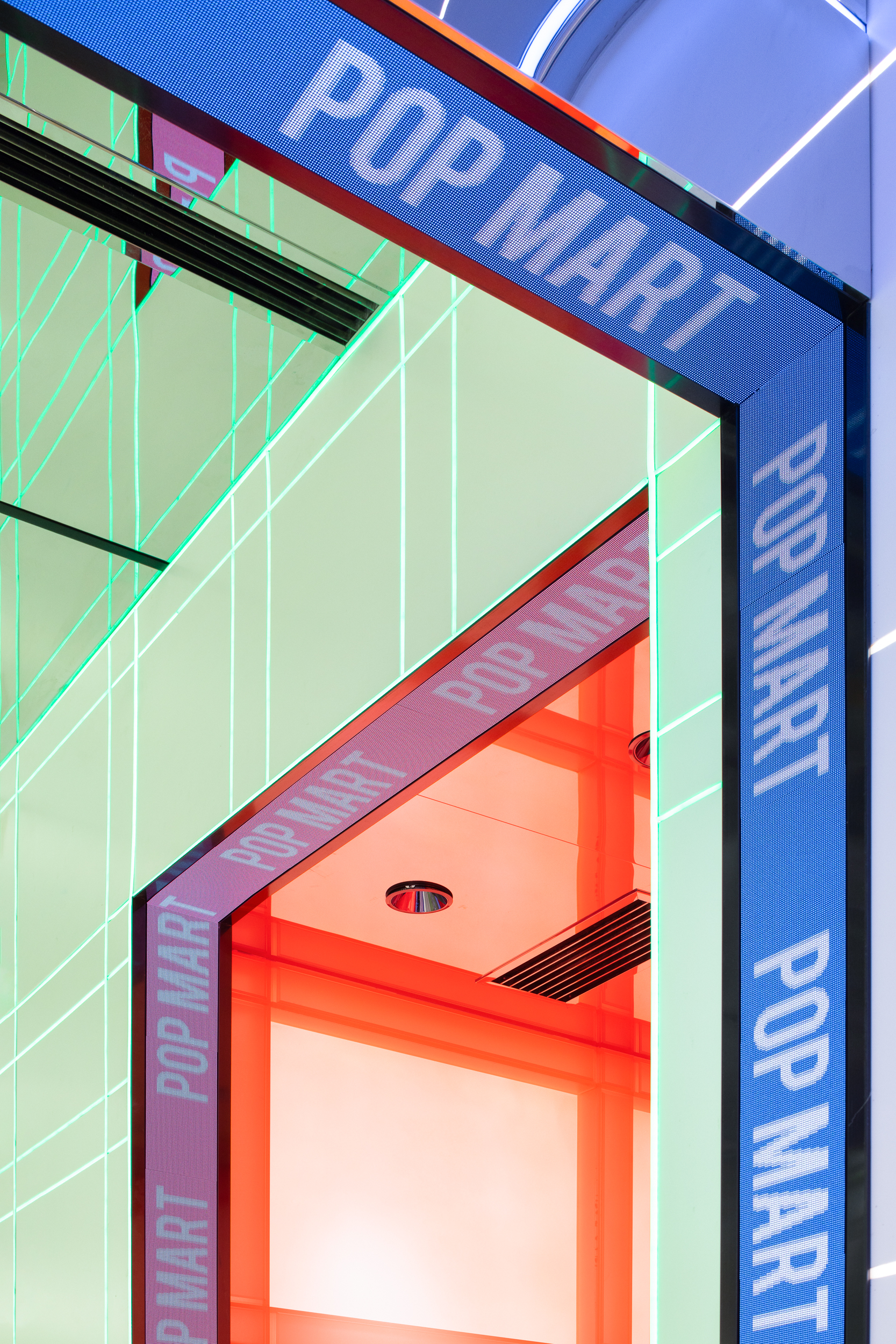 用色彩张扬个性,反扣品牌态度鲜明的潮玩产品,呼应倡导富有活力的品牌调性。彩色亚克力材料的使用覆盖至规则方形陈列柜到异形展架,从色彩到造型定制工艺的极尽考究,才最终营造出精致通透的琉璃般质感。
Using colors to show individuality, flipping back trendy products with a clear brand attitude, echoing and advocating a vibrant brand tone. The use of colored acrylic materials covers from regular square display cabinets to special-shaped display racks, and the exquisite and transparent glass-like texture is finally created through the utmost care in the customization process from color to shape.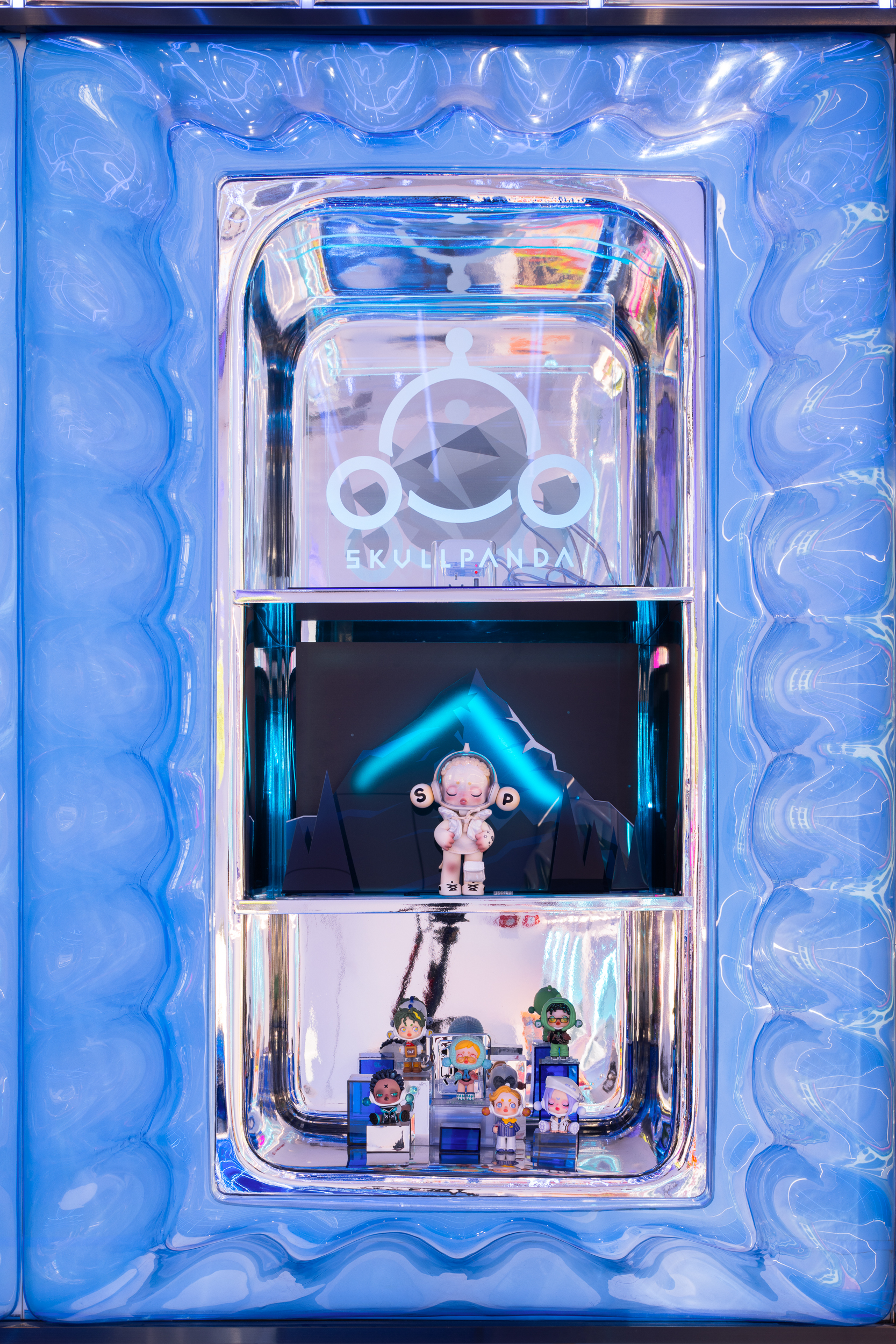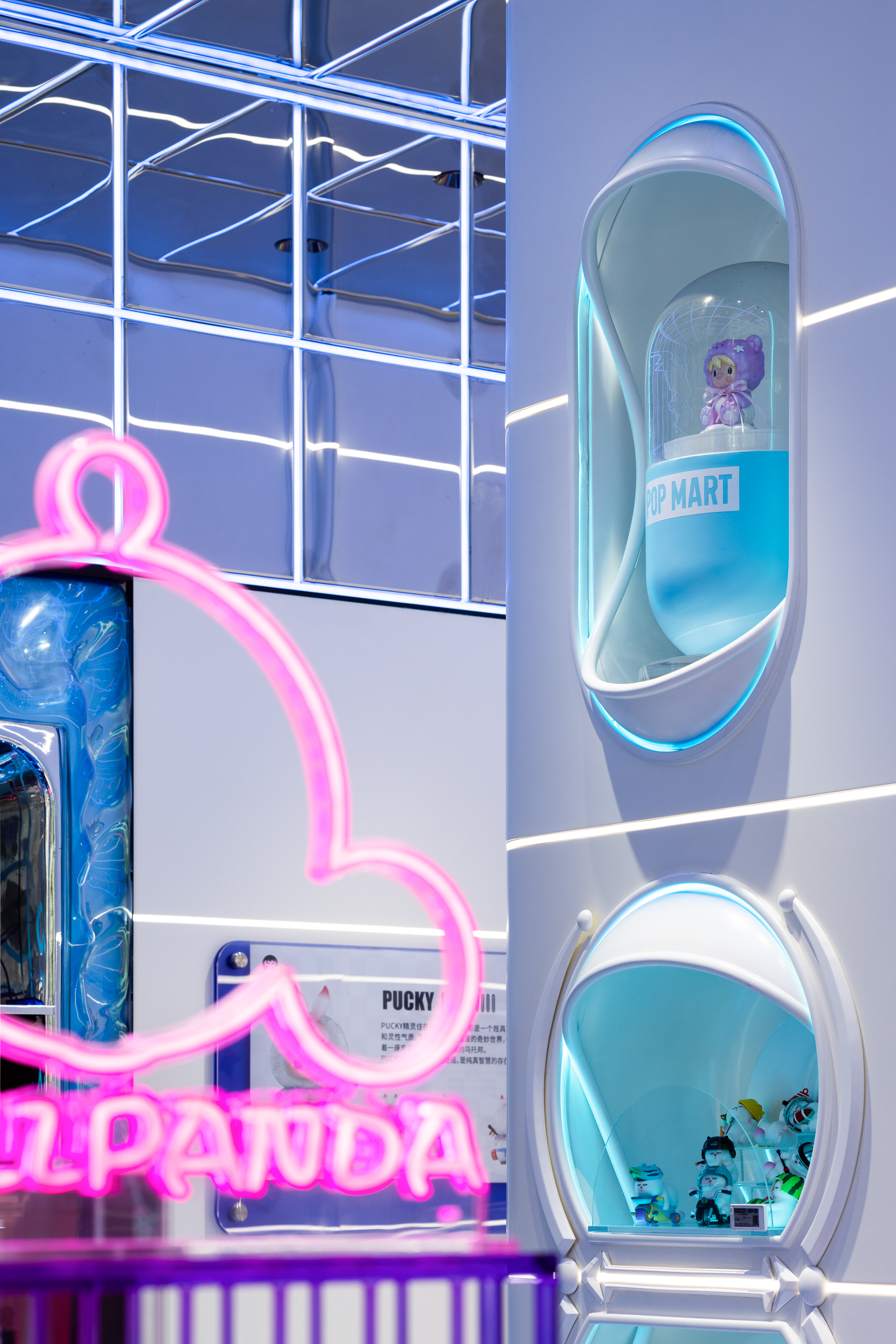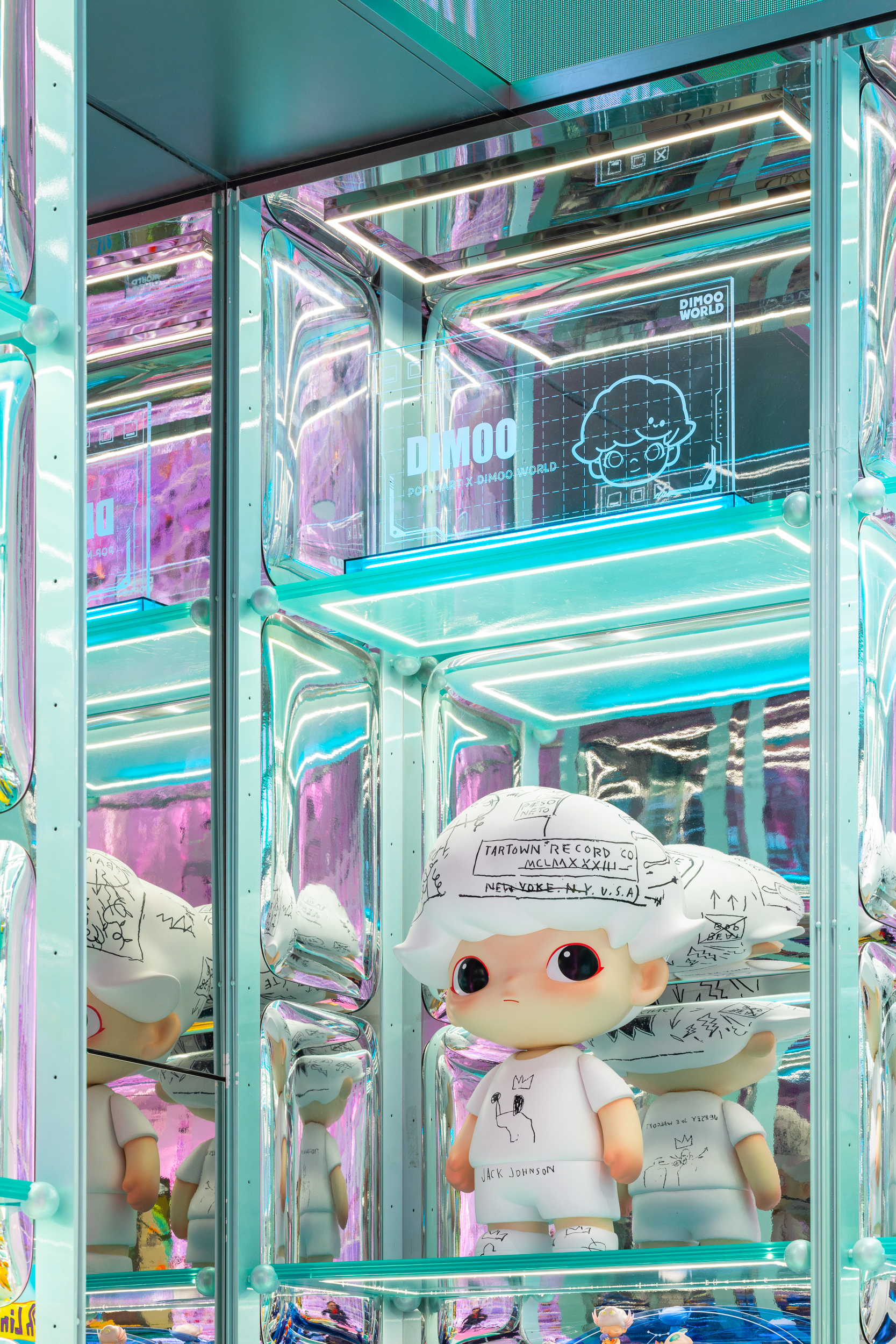 玩转色彩、材质、光影打造出色彩交融的氛围场,侧写品牌理念的玩趣张力,令人好似摆脱了地心引力漂浮于一汪梦幻泡影。
Playing with colors, materials, light and shadows to create an atmosphere field of blending colors, profile the playful tension of the brand concept, making people seem to get rid of gravity and float in a dreamy bubble.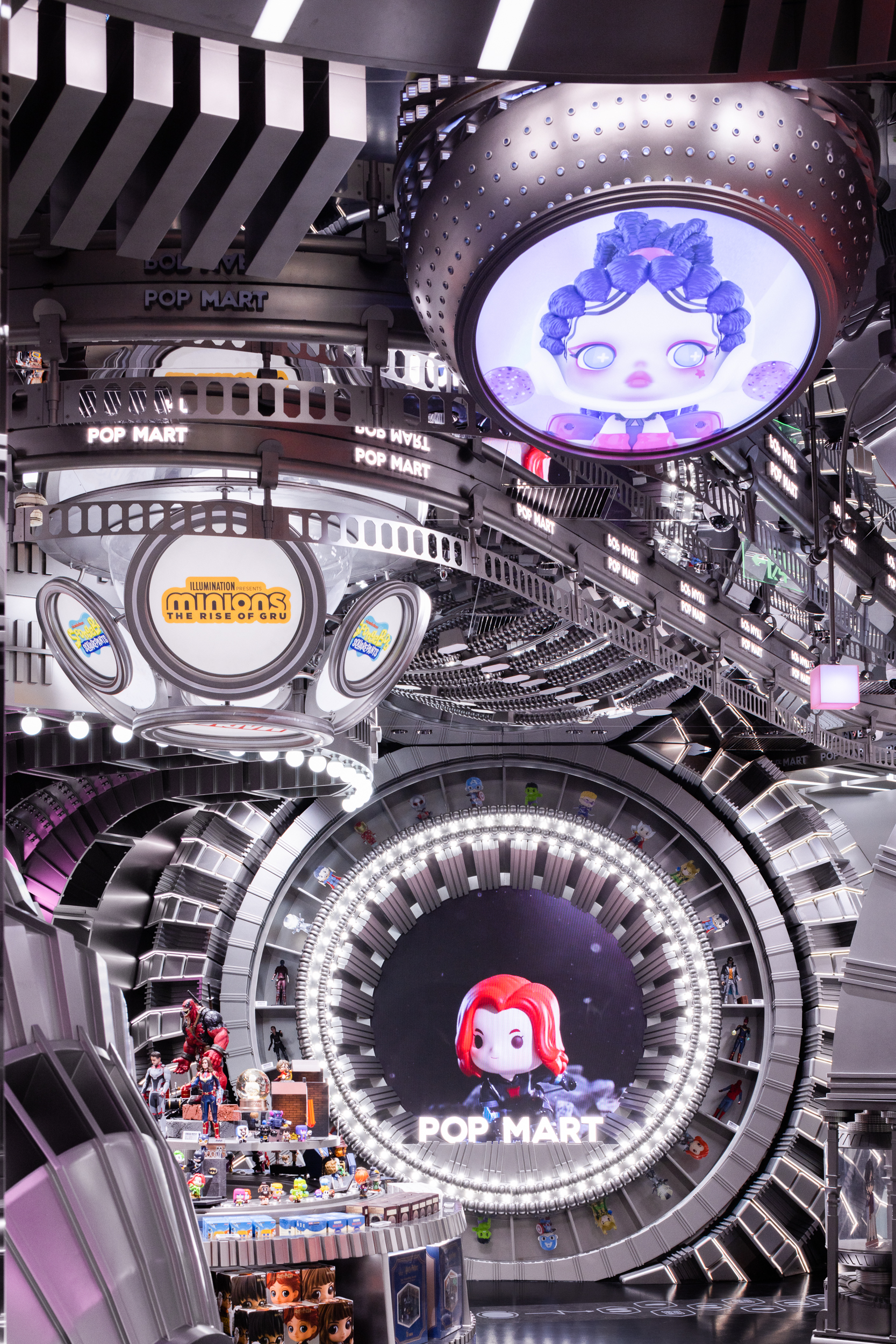 空间里散落着多个镶入电子屏的大型球体货架,打破了零碎分区之间的视野局限性,像是这个银色机械之星的控制心脏,指挥着天花板上的传送带运送潮玩产品。
There are many large spherical shelves embedded with electronic screens scattered in the space, breaking the limitation of vision between the fragmented partitions, like the control heart of this silver mechanical star, directing the conveyor belt on the ceiling to transport trendy products.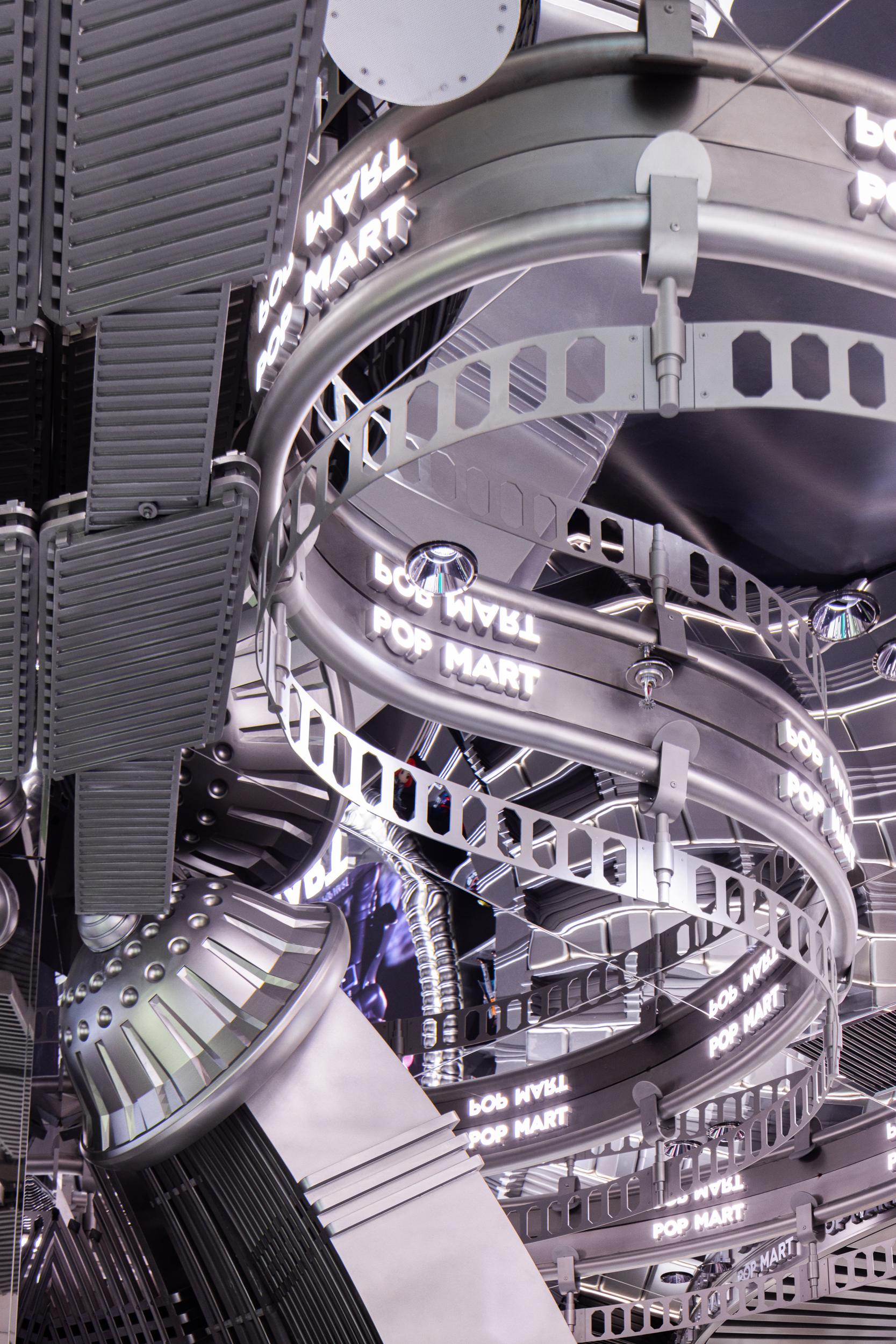 大片银色强势而不容抗拒地侵入视野,机械质感浓重的构件描摹出空间的表皮。充满未来感的科技机械杆件,依循植物生长般的发展态势,呈现出一个假想中的未来新世界,更加深了空间叙事的戏剧张力。
A large piece of silver invades the field of vision strongly and irresistibly, and the components with strong mechanical texture trace the surface of the space. The futuristic technological mechanical rods follow the growth trend of plants, presenting a hypothetical future new world, which further deepens the dramatic tension of the space narrative.
将通往二层的阶梯设计为集交通、美学、展陈三重属性为一体的功能区,描绘出一幅未来先锋感的太空漫旅图。空间的探索也如同新世界的开拓,一场振奋人心的旅程,怀揣着对新奇事物的崇敬之心。
The staircase leading to the second floor is designed as a functional area integrating transportation, aesthetics, and exhibition, depicting a future pioneering space travel map. The exploration of space is also like the opening of a new world, an exciting journey, with a heart of reverence for novelty.
---