承载城市记忆之门。
The gate that carries the memory of the city.
---
▼
双辉大厦是陆家嘴金融中心区的地标性建筑,曾获CTBUH年度最佳高层奖。两座塔楼建于原上海船厂厂址之上,以"记忆之门"为意,通过虚空间构造出巨船的形象,连接上海船厂的记忆,并通向陆家嘴金融区的未来。
Riviera TwinStar Square is a landmark building in the financial center of Lujiazui district, and has won the CTBUH Annual Best High-rise Award. The two towers were built on the site of the former Shanghai Shipyard, with the intention of "the gate of memory". It constructed the image of a giant ship through virtual space, connecting the memory of Shanghai Shipyard and leading to the future of Lujiazui Financial District.
| 以隐喻手法唤醒城市记忆 |
Awakening the Memory of the City with Metaphors
▼
建筑如同一座虚实倒置的纪念碑,虚空间构造出巨船的形象,仿佛一艘巨船驶过后留下的剪影,连接起上海船厂的记忆。
The building is like a monument in which the virtual and the real are inverted. The virtual space constructs the image of a giant ship, like the silhouette left by a giant ship after passing by, connecting the memory of Shanghai Shipyard.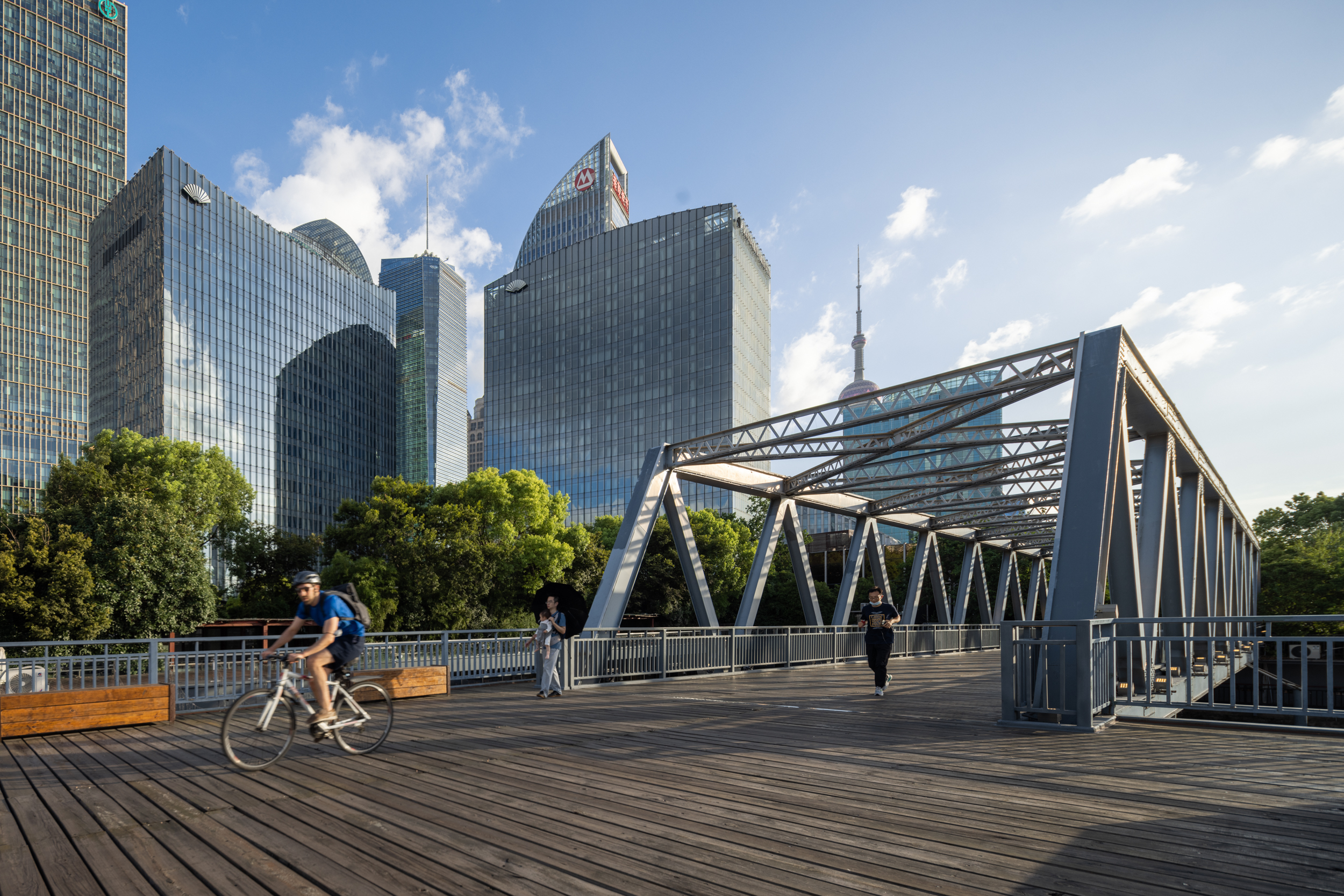 双辉大厦作为黄浦江畔的一线地标,立于上海市区最繁荣的陆家嘴金融区,亲邻浦东滨江公园。优美的建筑形体勾勒出了一道美丽的天际线,仿佛是雕刻而成的现代都市景观,令人印象深刻。
As a first-line landmark along the Huangpu River, Riviera TwinStar Square stands in the most prosperous Lujiazui Financial District in downtown Shanghai, and is close to Pudong Binjiang Park. The graceful architectural form outlines a beautiful skyline, as if it is a sculpted modern urban landscape, which is impressive.
| 以结构设计呈现发展之变 |
Presenting Changes in Development through Structural Design
▼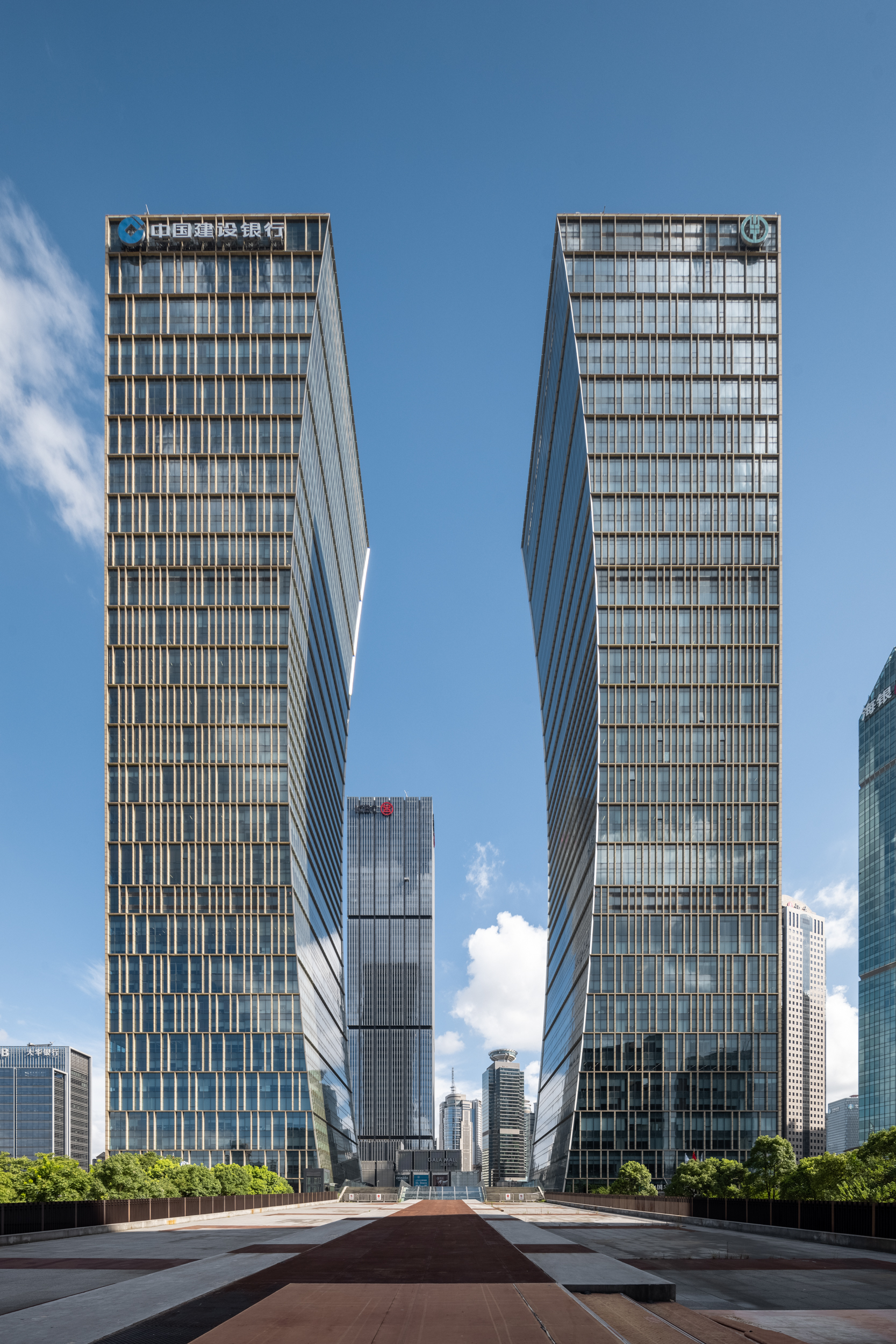 玻璃幕墙营造轻盈之感,石材框架增添中国色彩,立面线条随形体变化而变化,中间密、上下疏,寓意建筑宛如拉开的城市帷幕。
The glass curtain wall creates a sense of lightness, the stone frame adds Chinese colors. The façade lines change with the shape. The middle is dense and the upper and lower are sparse, implying that the building is like an open city curtain.
整个建筑形体对称于原来船台的轴线,模拟出巨船船舷的曲率。两条优雅的曲线,尽显严谨之美、历史之韵。
The entire building is symmetrical to the axis of the original slipway, simulating the curvature of the side of the giant ship. Two elegant curves show the beauty of rigor and the charm of history.
酒店塔楼似巨船入水的浪花,延续了办公塔楼的语汇,与之依存,又自成一脉。连贯的空间予人连续的体验,共塑均衡、井然、庄重之感。
The hotel tower is like the waves of a giant ship entering the water. The coherent space gives people a continuous experience, creating a sense of balance, order and solemnity.
---