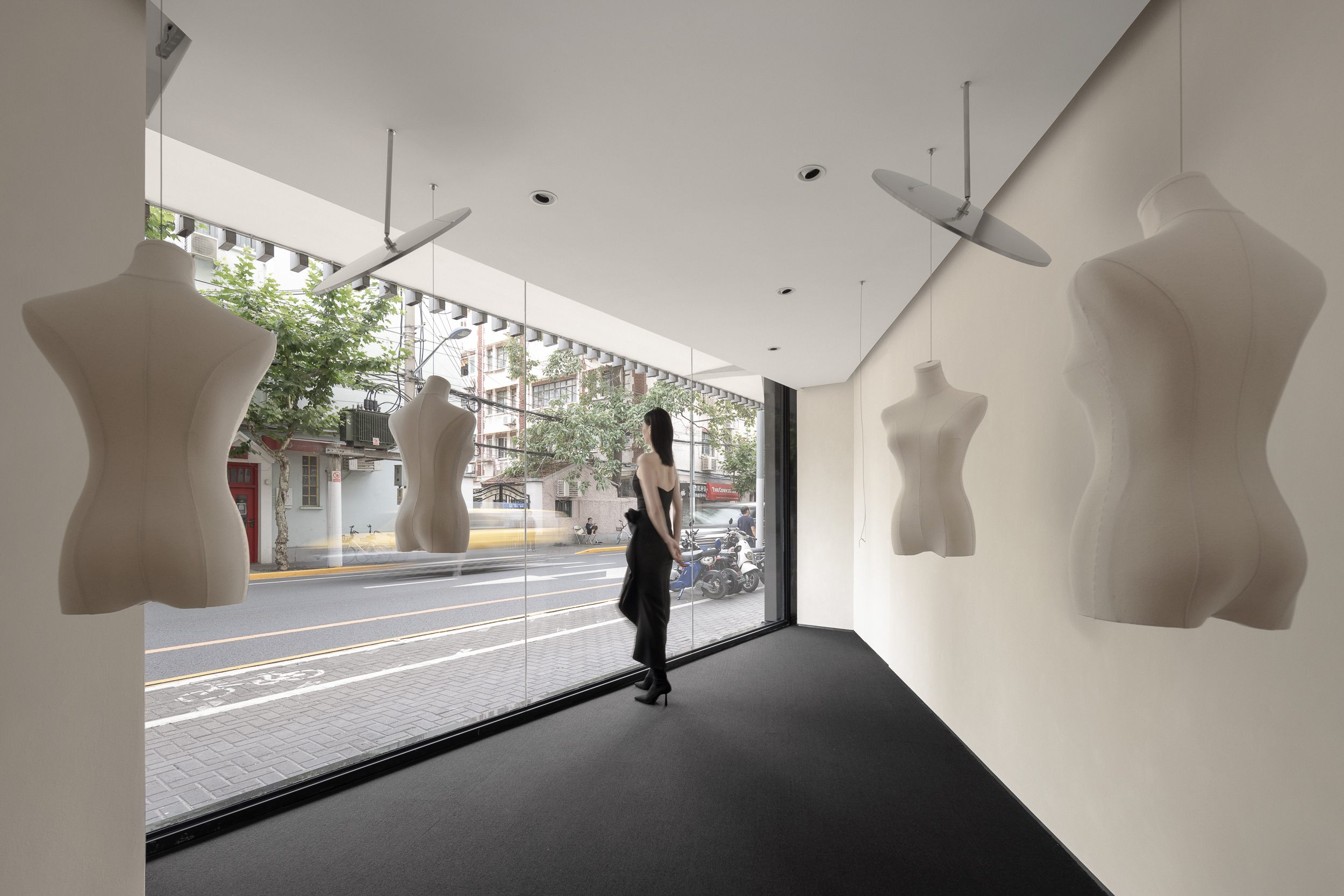 在秩序中表达自由,在坚固中感受柔软。
Express freedom in order, feel soft in solidity.
---
日常生活与审美文化之间边界的消弭,让设计不再是某一类可以清晰界定的风格概念,而是柔和模糊,包容变化。
The elimination of the boundary between daily life and aesthetic culture makes design no longer a certain type of style concept that can be clearly defined, but soft and fuzzy, inclusive of changes.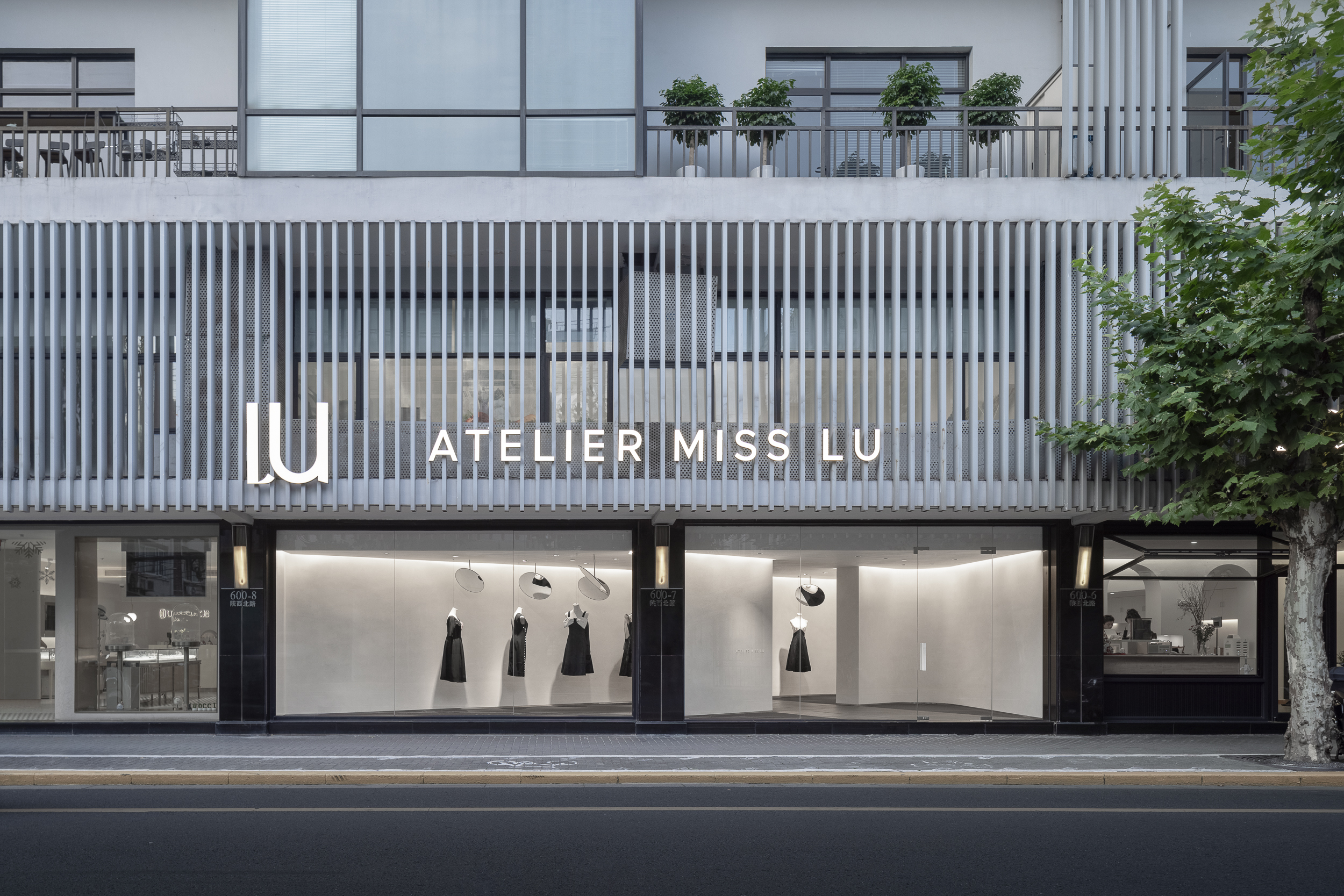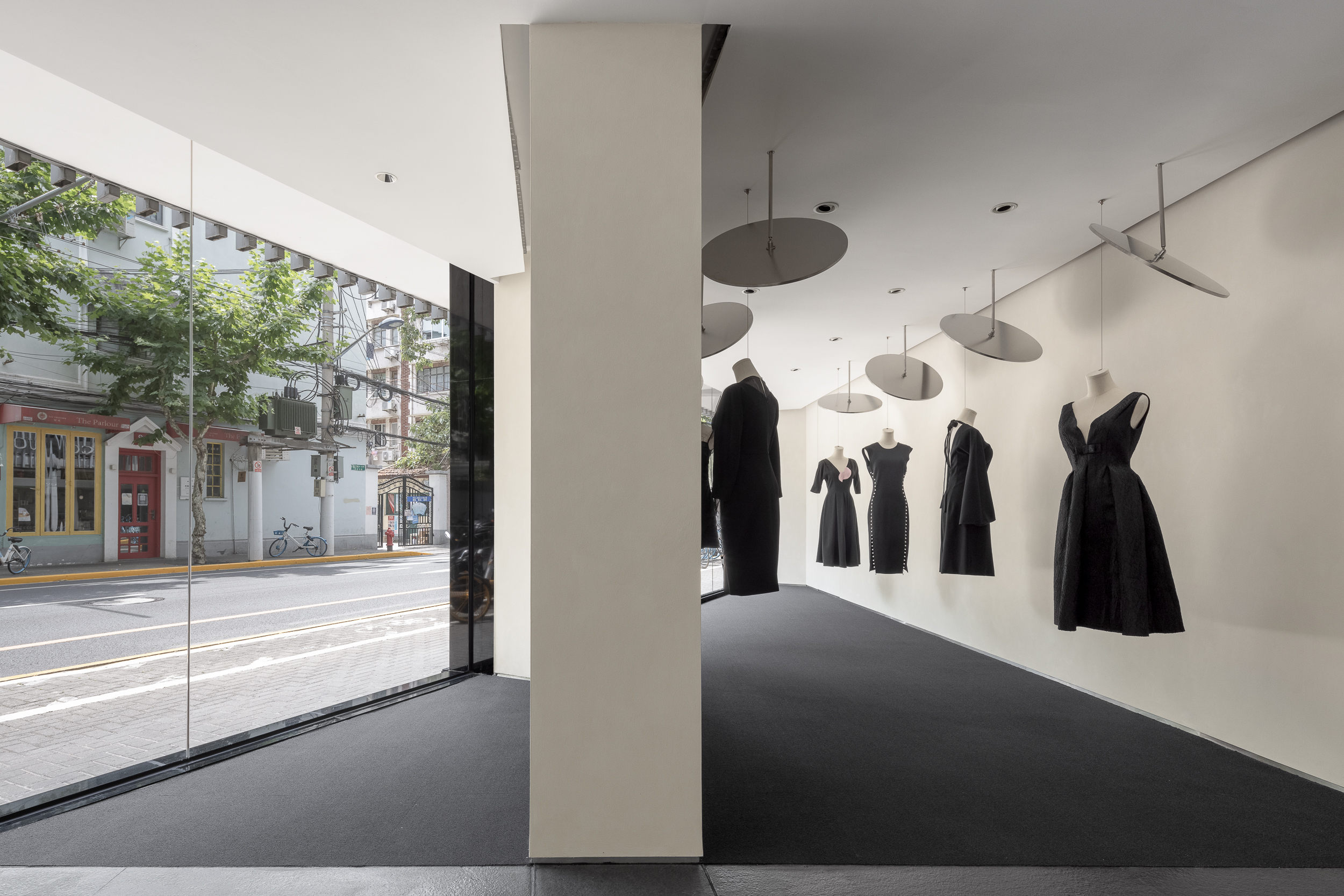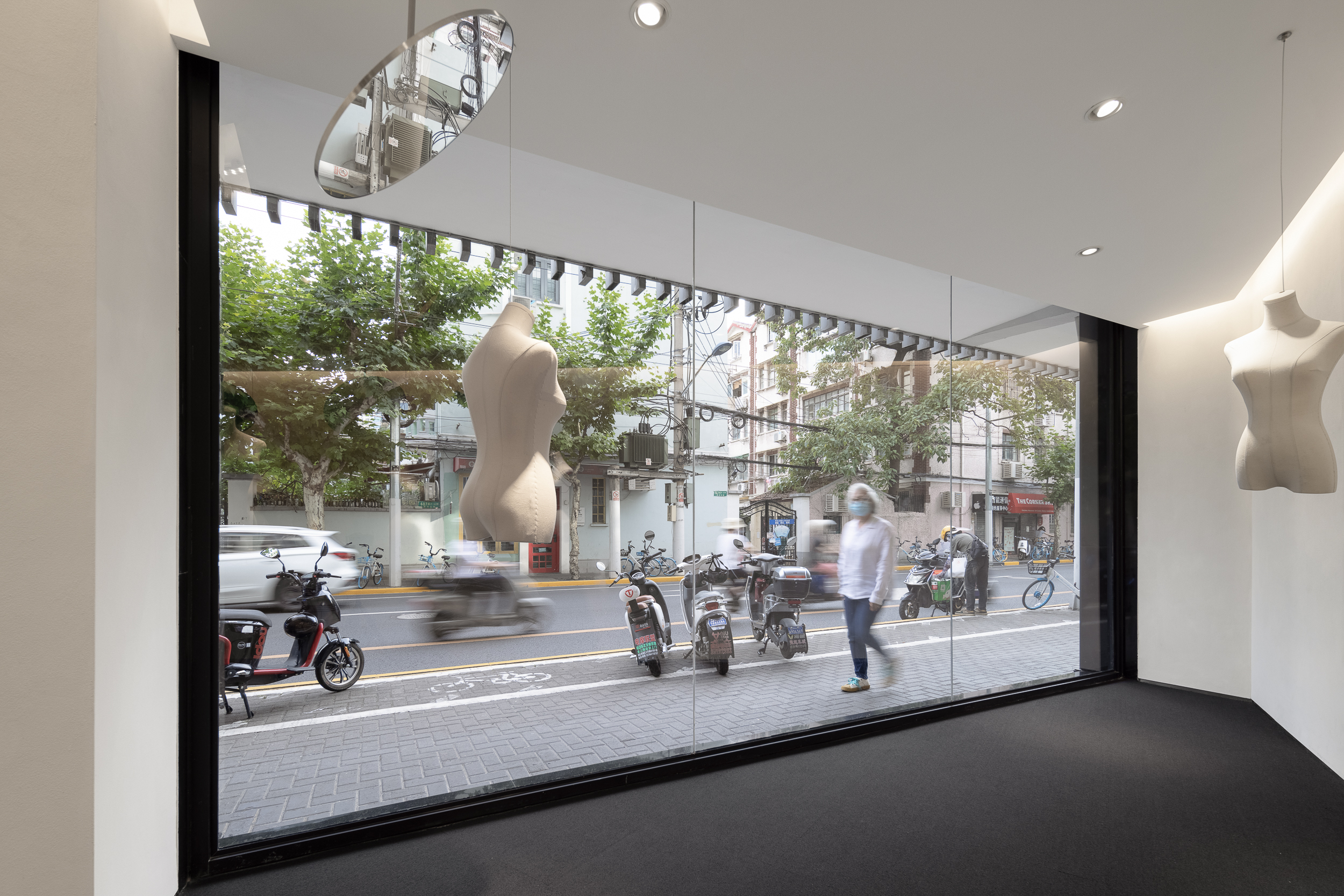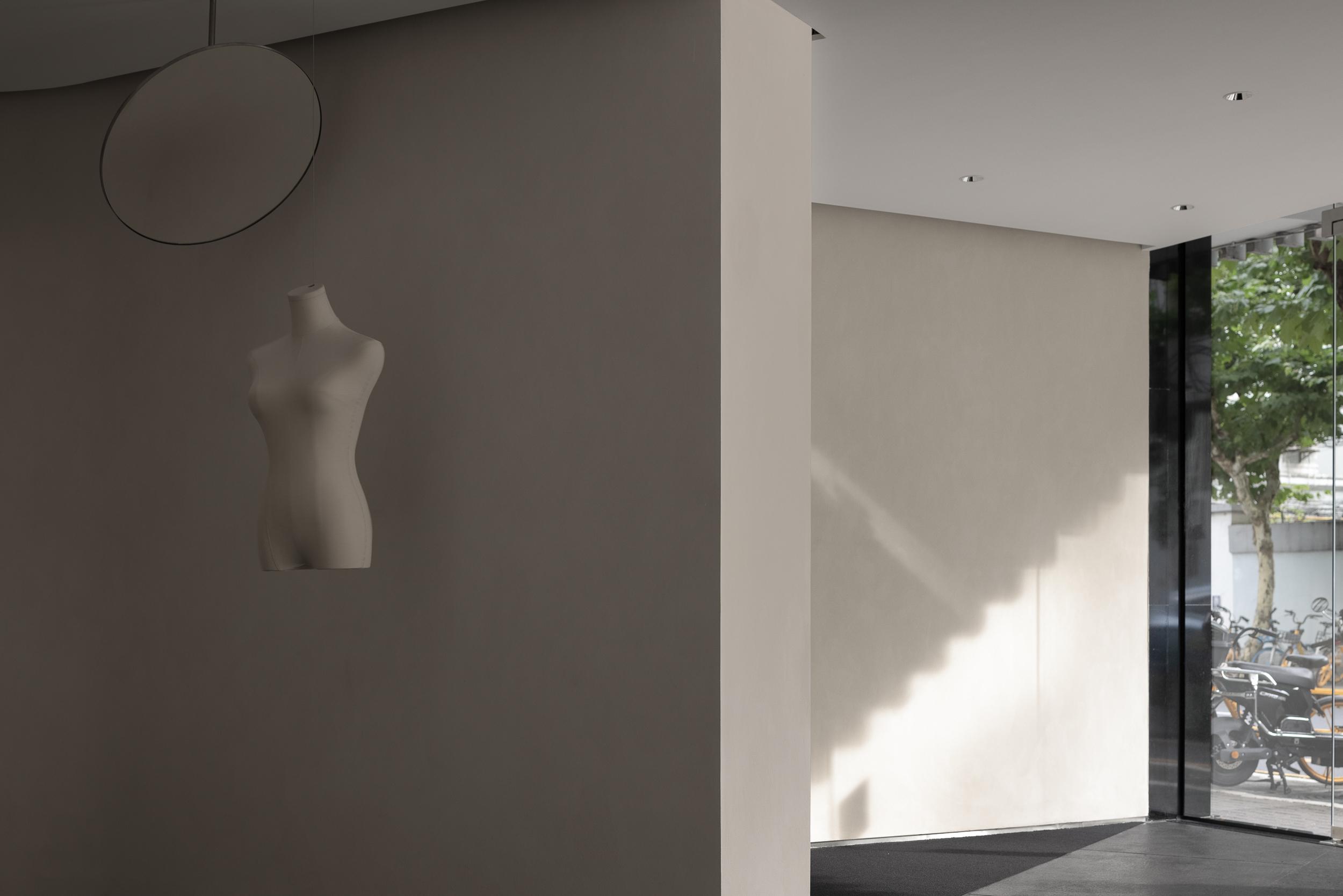 建筑与室内,如同服装,是包裹在人身体表面的一种介质,临街的巨大透明窗户塑造出各类多样的与外界交织的空间感受与形式,与路过的人们发生一种奇妙的联系。
Architecture and interior, like clothing, are a medium wrapped around the surface of the human body. The huge transparent windows facing the street create a variety of spatial feelings and forms interwoven with the outside world, creating a wonderful connection with people passing by.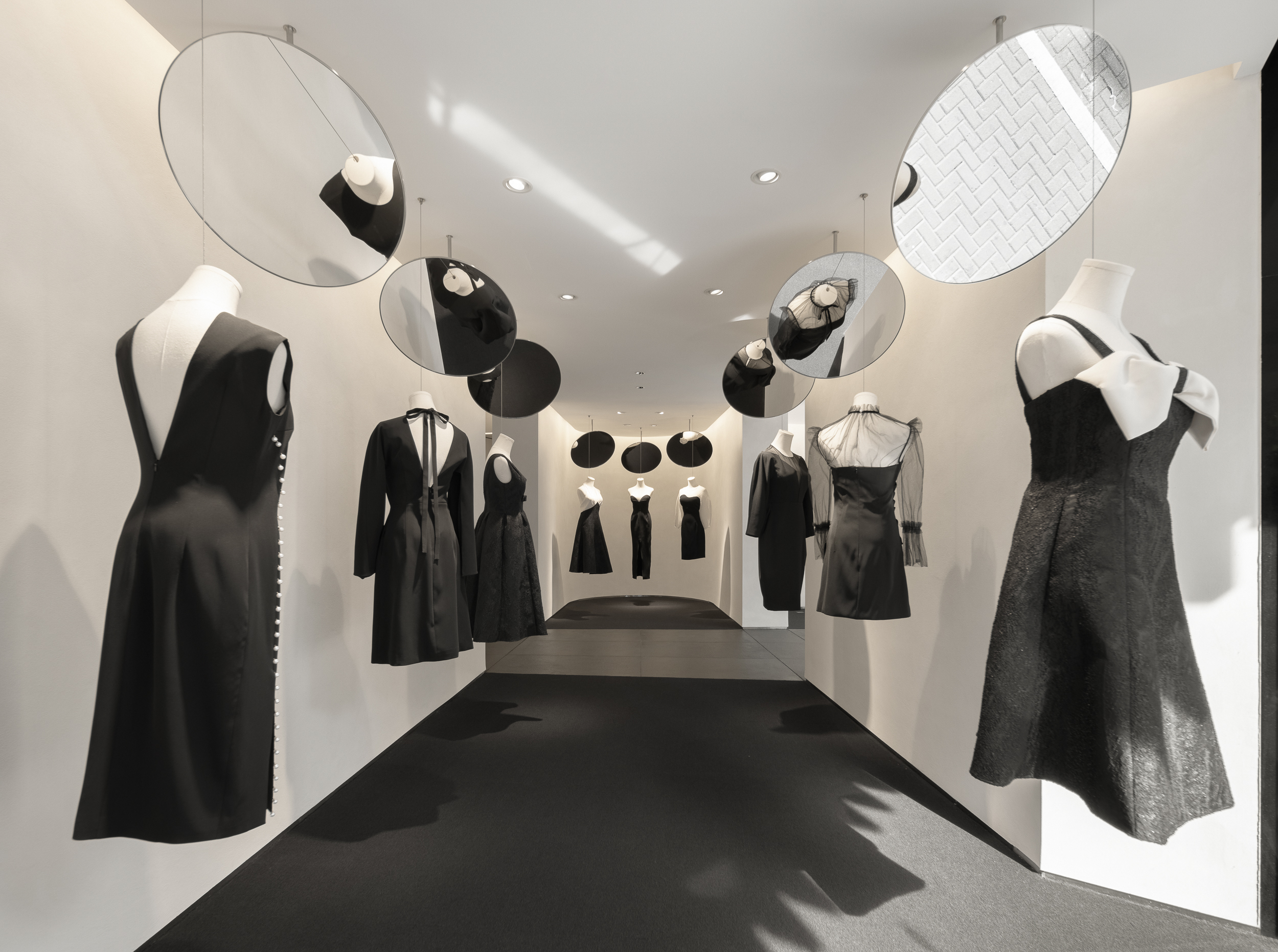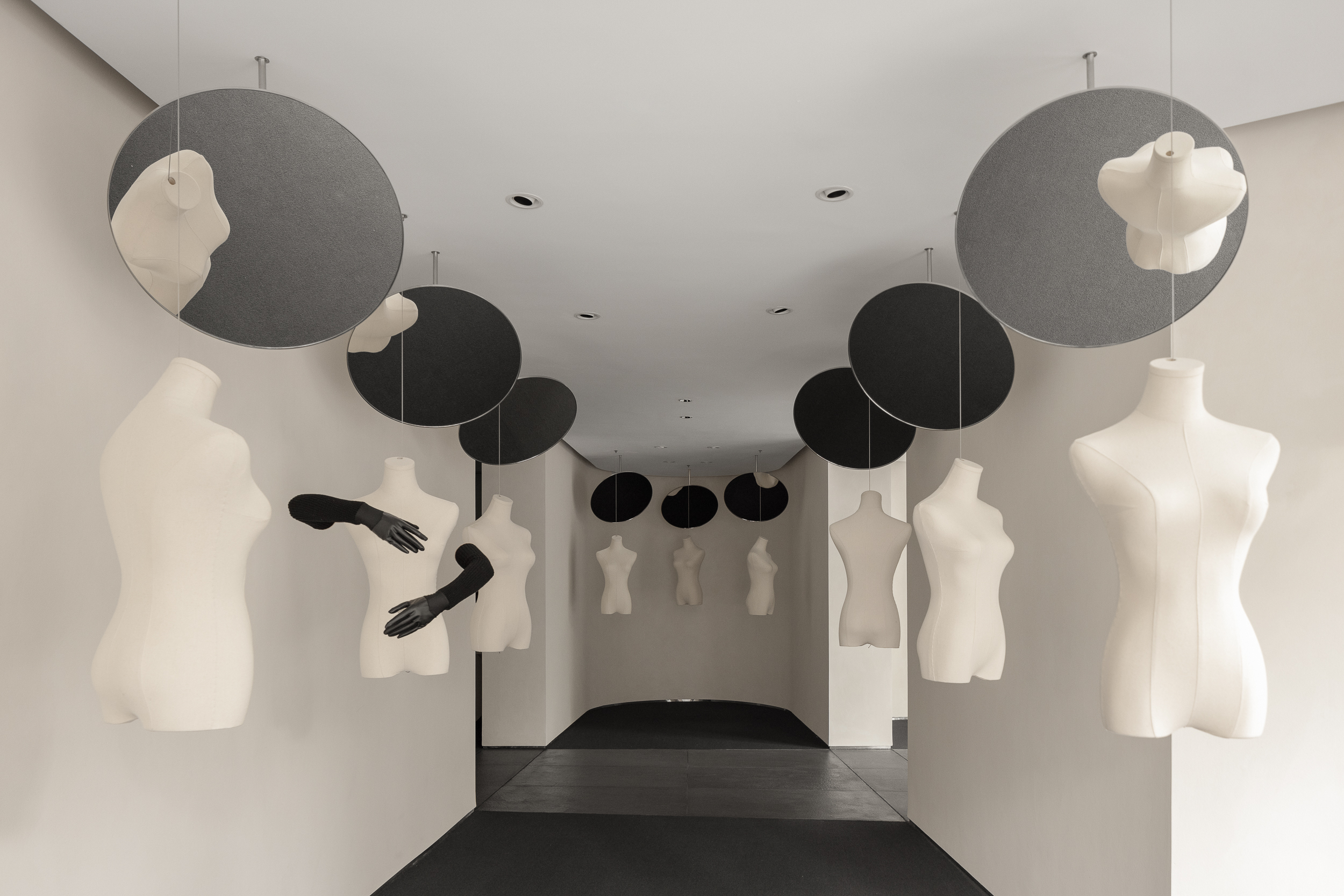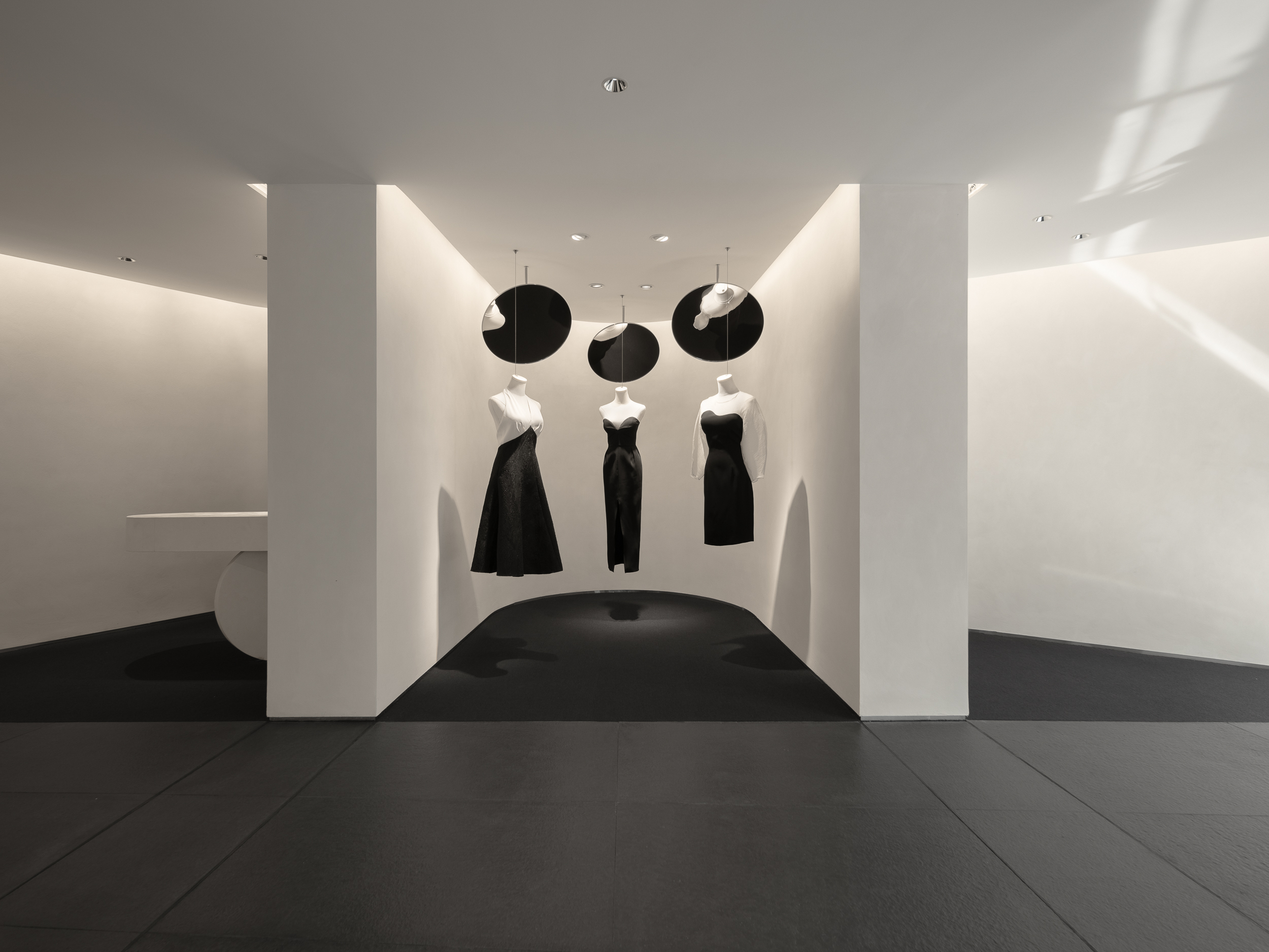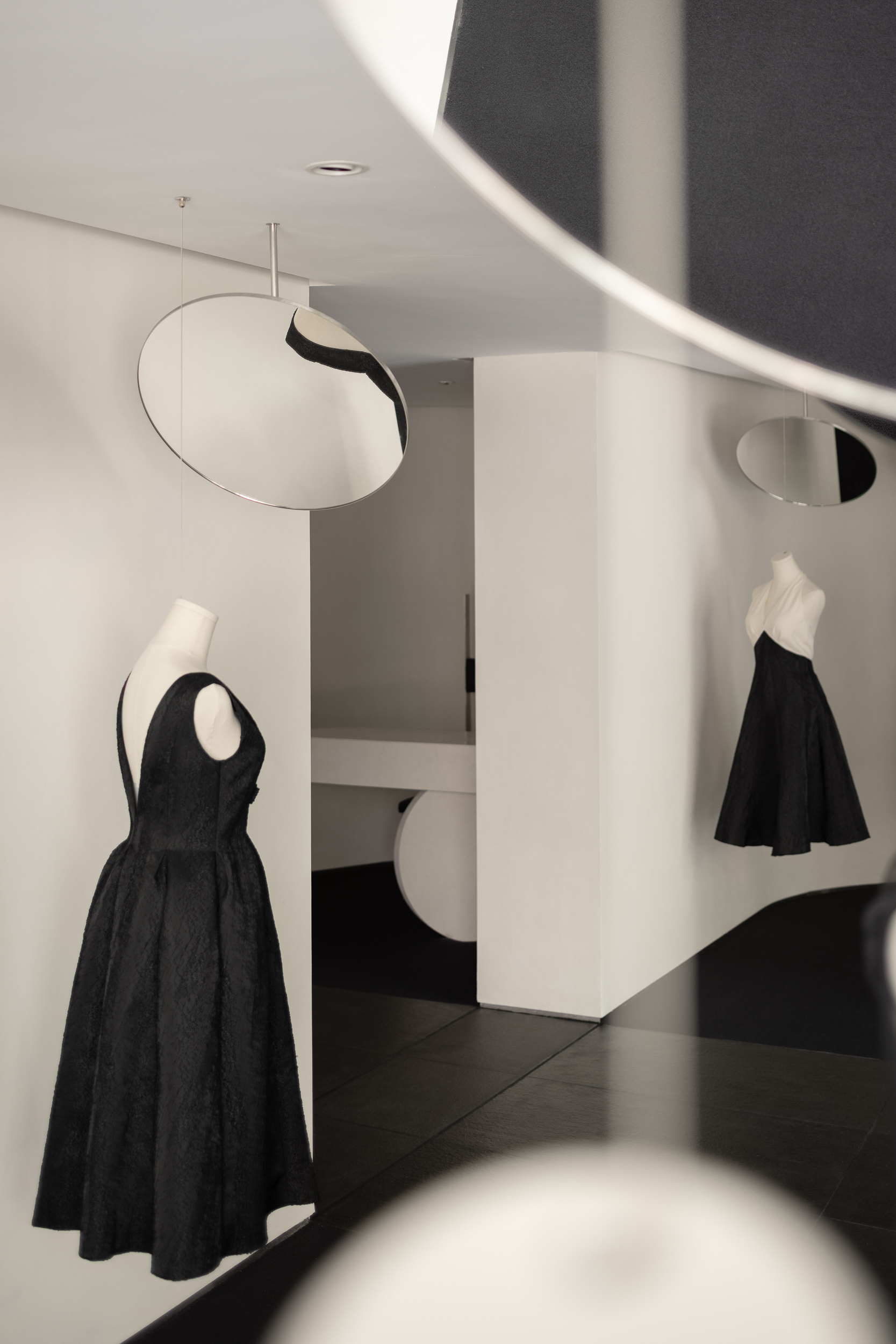 空间倡导将艺术融于生活,希望人们在空间中看到的不仅仅只是物品的陈列,而是能感受到这些衣物带来的情绪与能量的传递。每一个细节都能够唤起现代女性对自己、对生活的自信态度,让每一种独特美丽勇敢绽放。
The space advocates the integration of art into life, hoping that what people see in the space is not only the display of objects, but also the transmission of emotions and energy brought by these clothes. Every detail can arouse modern women's confident attitude towards themselves and life, and make every unique beauty bloom bravely.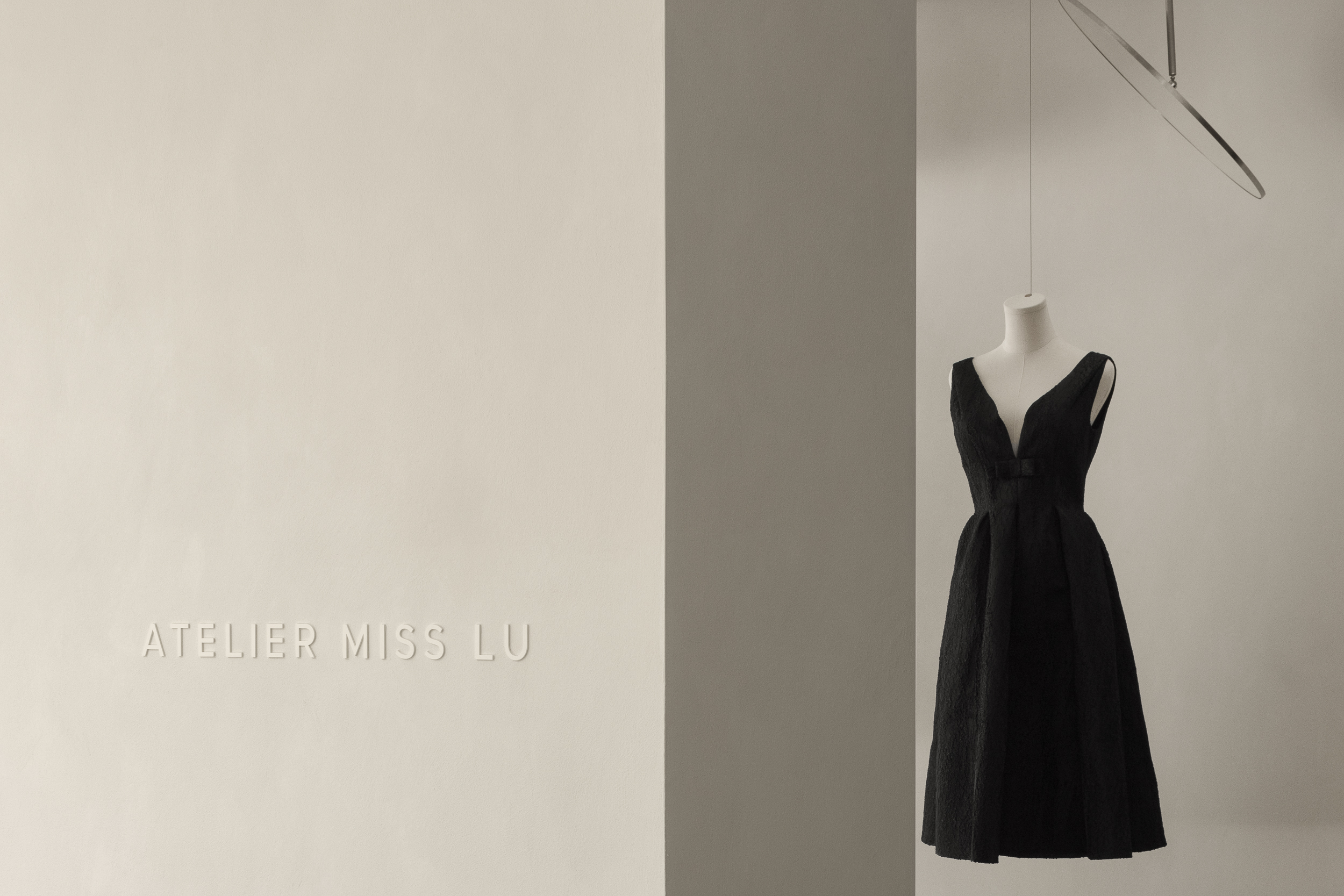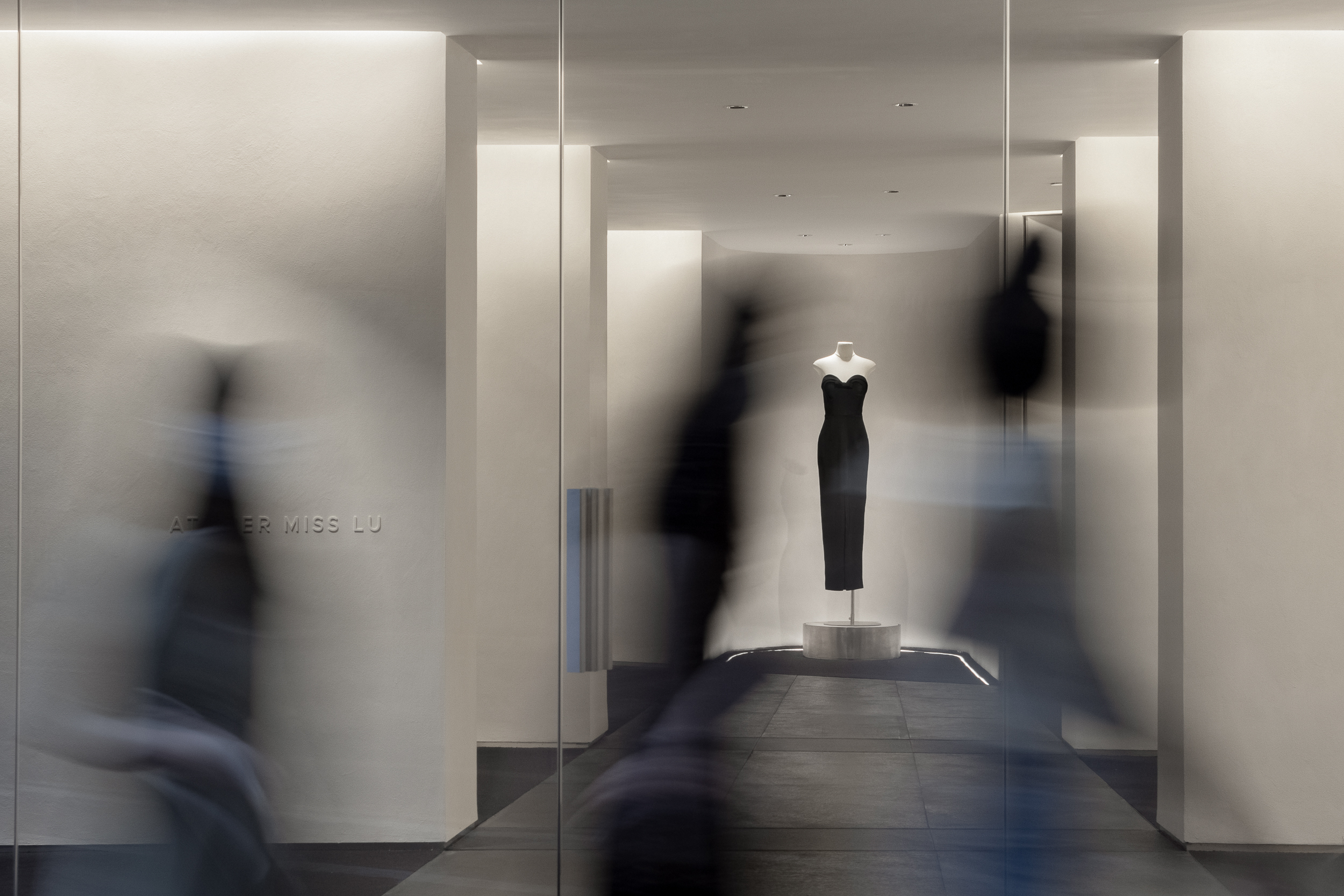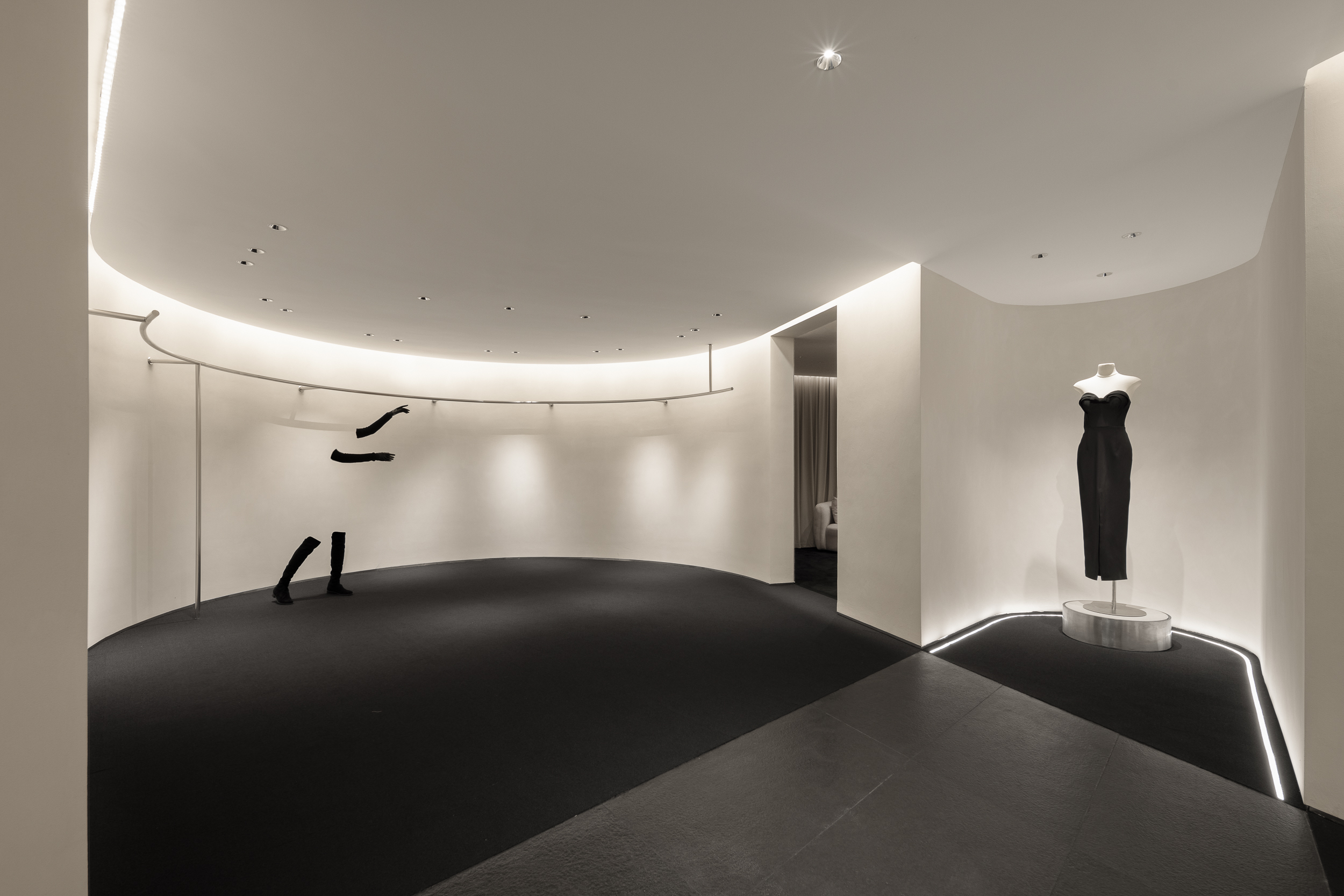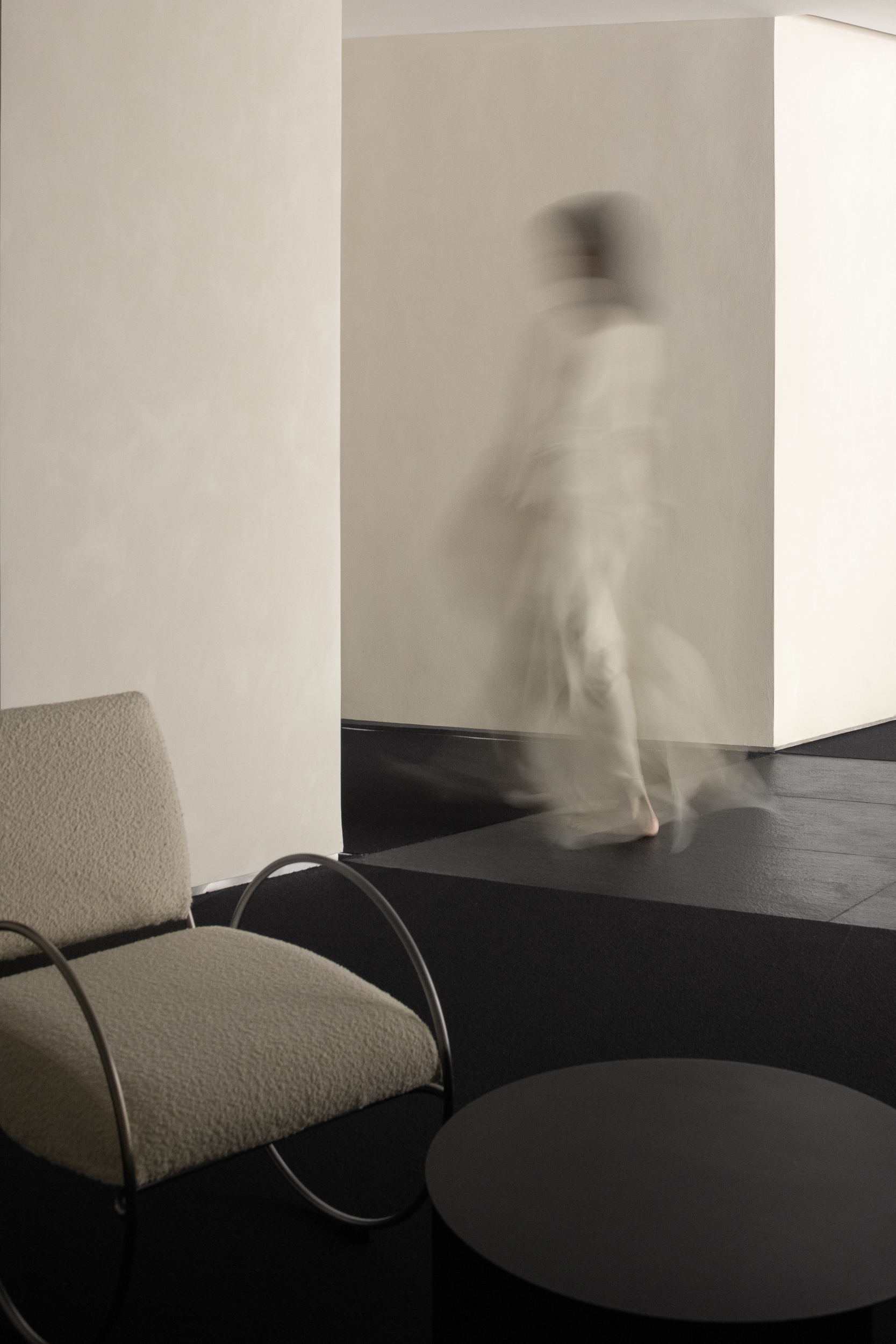 空间的色调连贯、单一、极简。设计通过对石膏表面的处理,赋予空间光泽度和层次感。柔和的光带和沿墙的悬挂装置让这个独立的房间略显柔和,访客可以在试衣时感到私密与安全,静静等待美丽瞬间的来临。
The tone of the space is coherent, single and minimal. The design gives the space gloss and layering through the treatment of the gypsum surface. Soft bands of light and hanging installations along the walls soften this separate room, allowing visitors to feel private and secure while fitting on, waiting for the moment of beauty.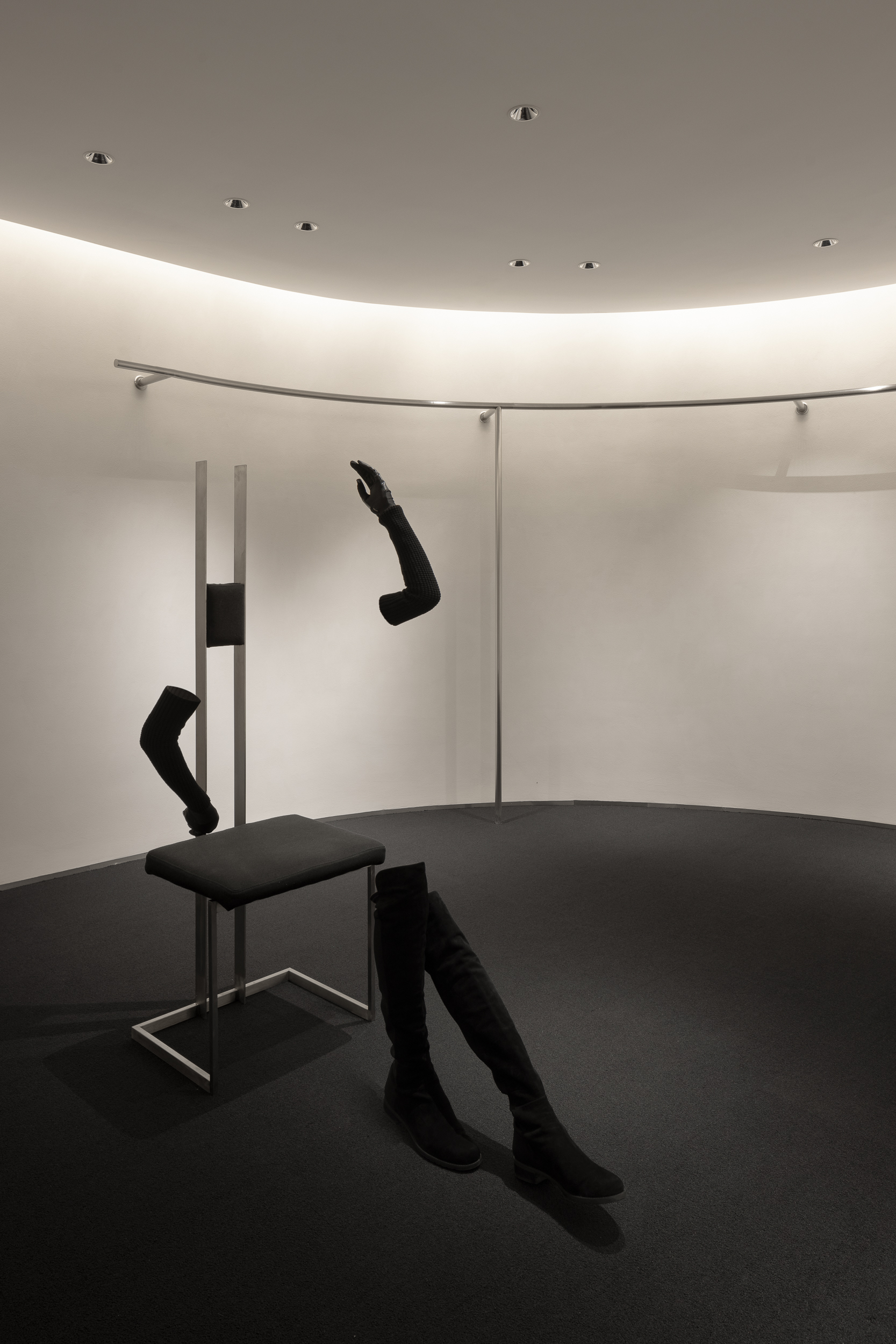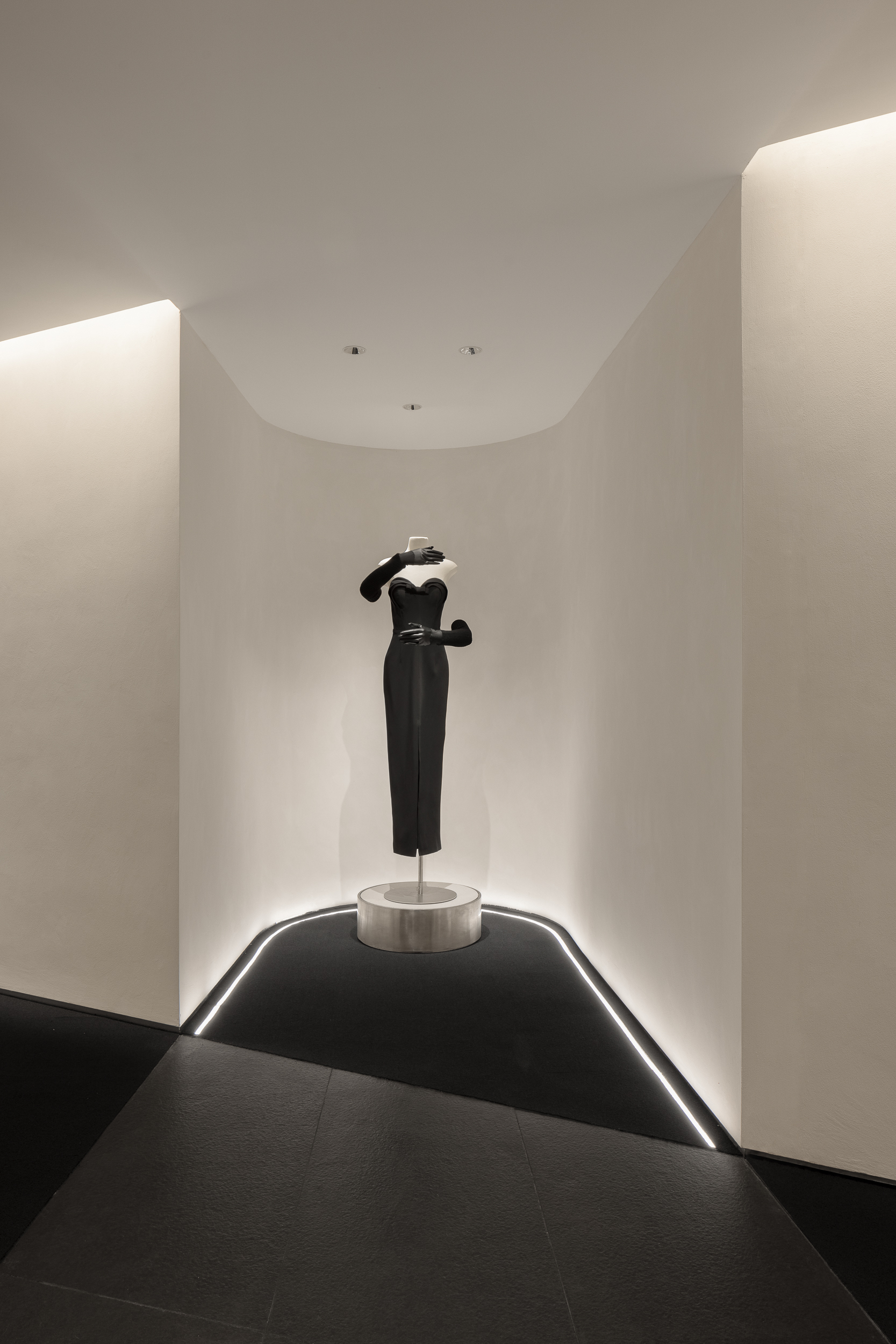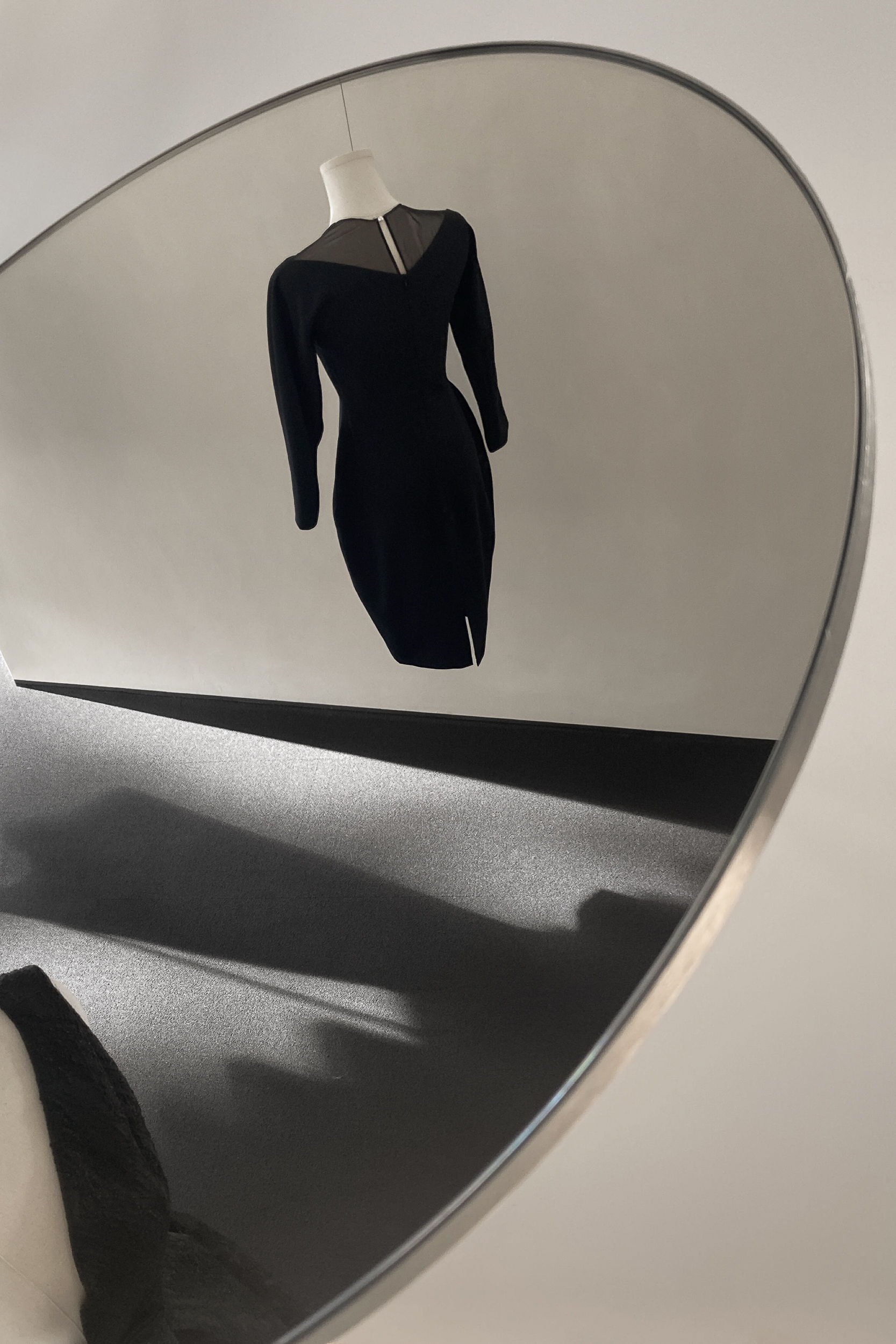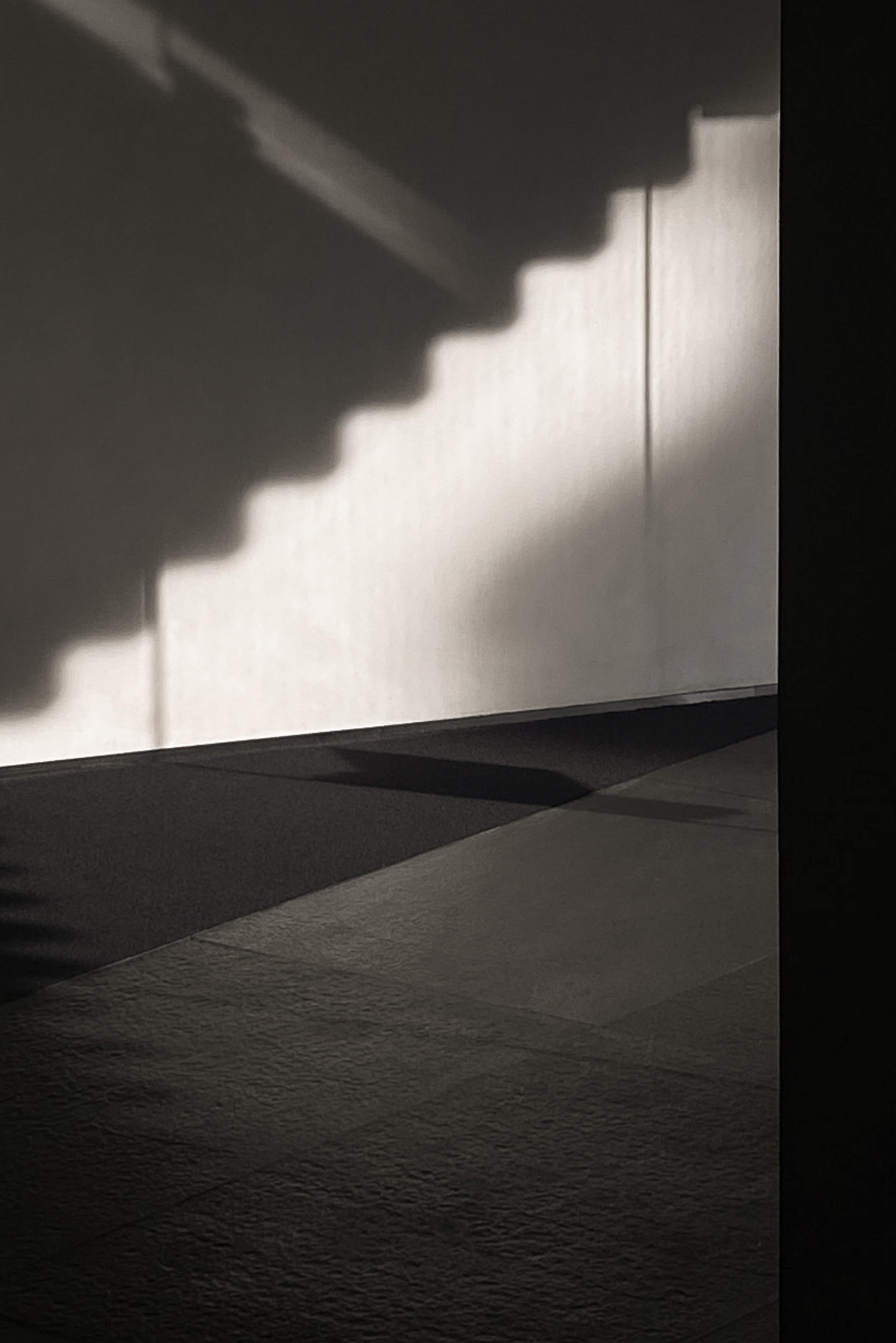 镜面材料利用不同光感的时间与照射范围,对空间进行了二次创造和再组织。光的不同入射方式,产生的阴影,经过透射、折射、反射,光的色彩变化与各种物品的结合,对空间氛围再定义。
The mirror material uses the time and illumination range of different light perceptions to create and reorganize the space twice. The different incident ways of light, the resulting shadow, through transmission, refraction, reflection, the color change of light and the combination of various objects, redefine the space atmosphere.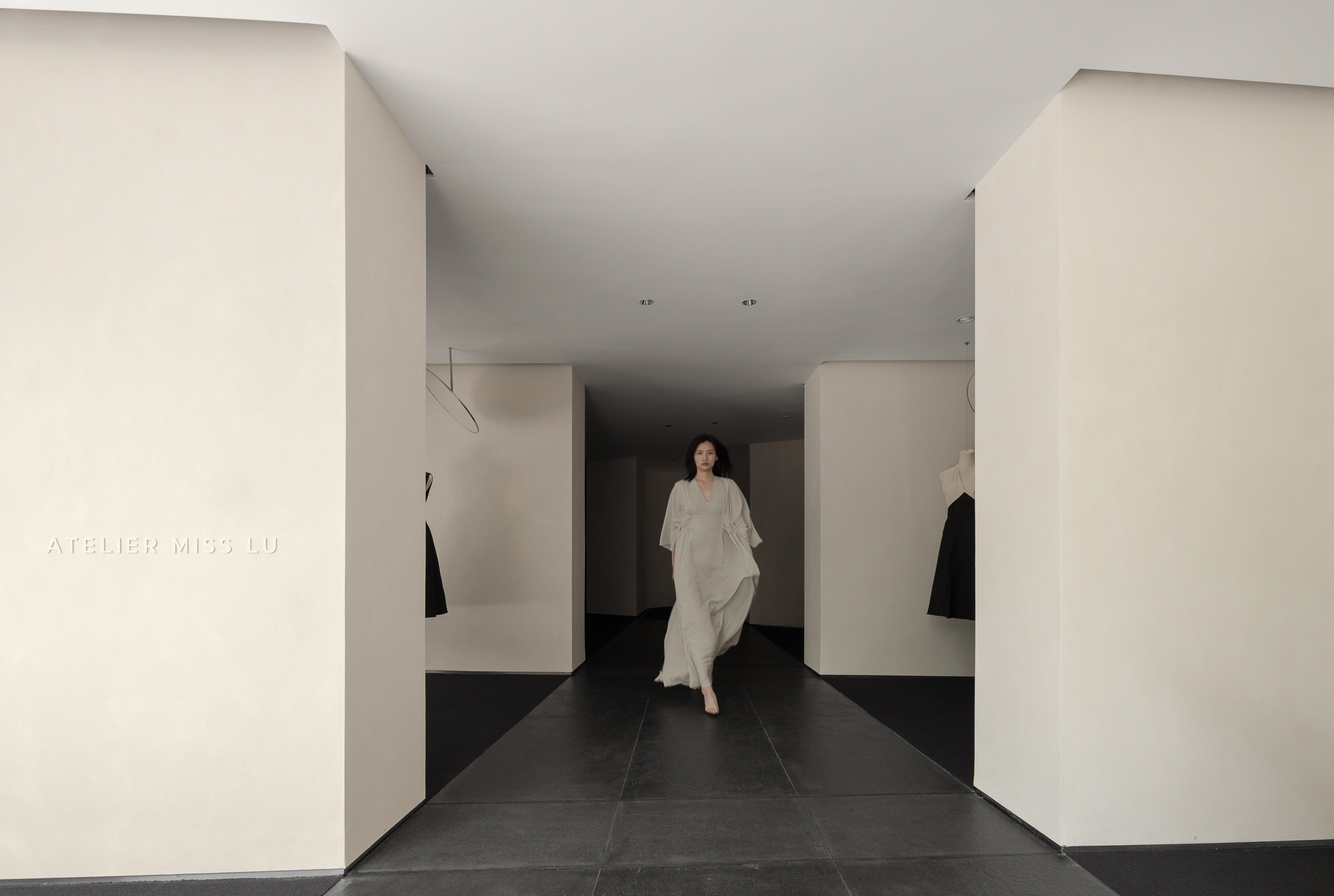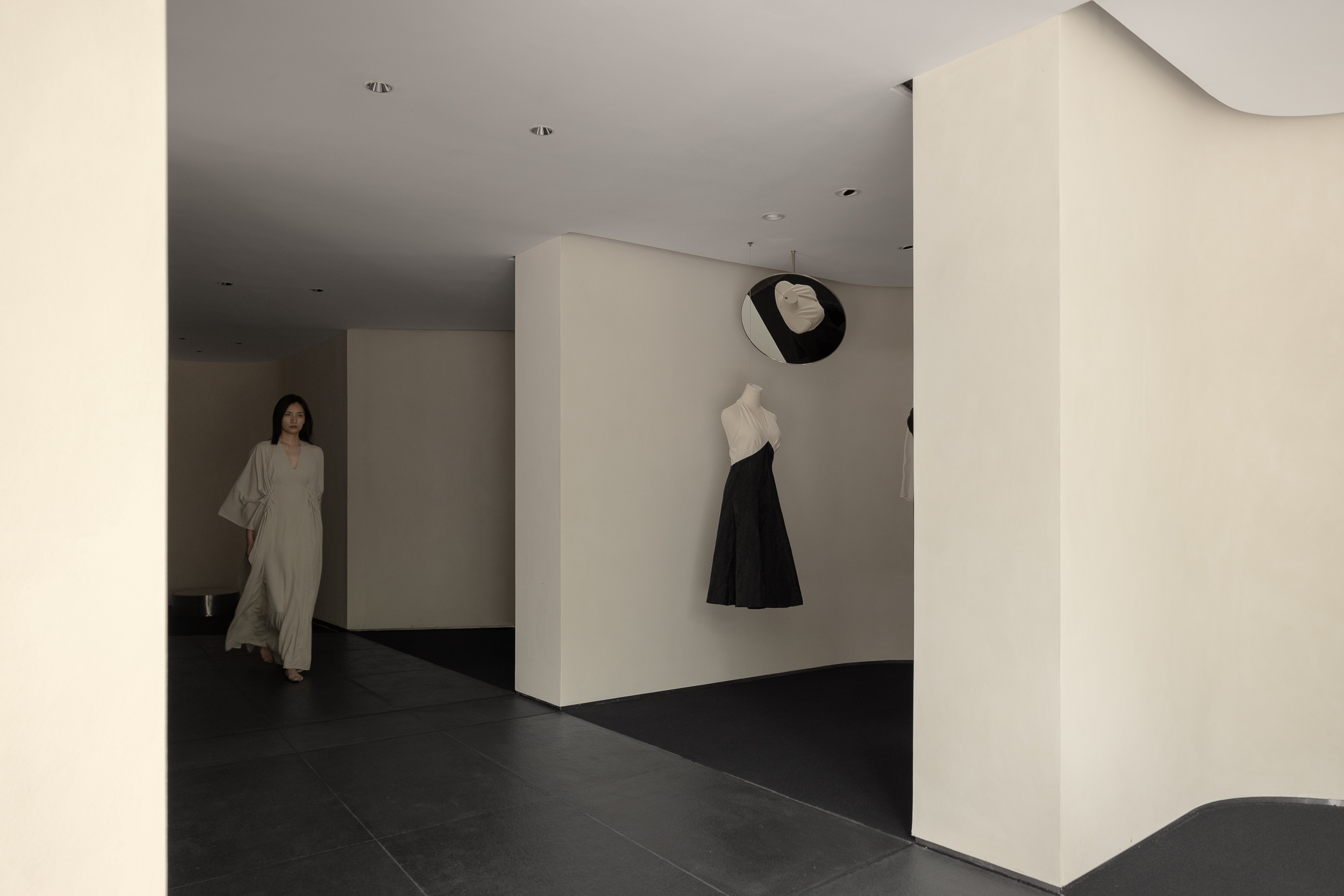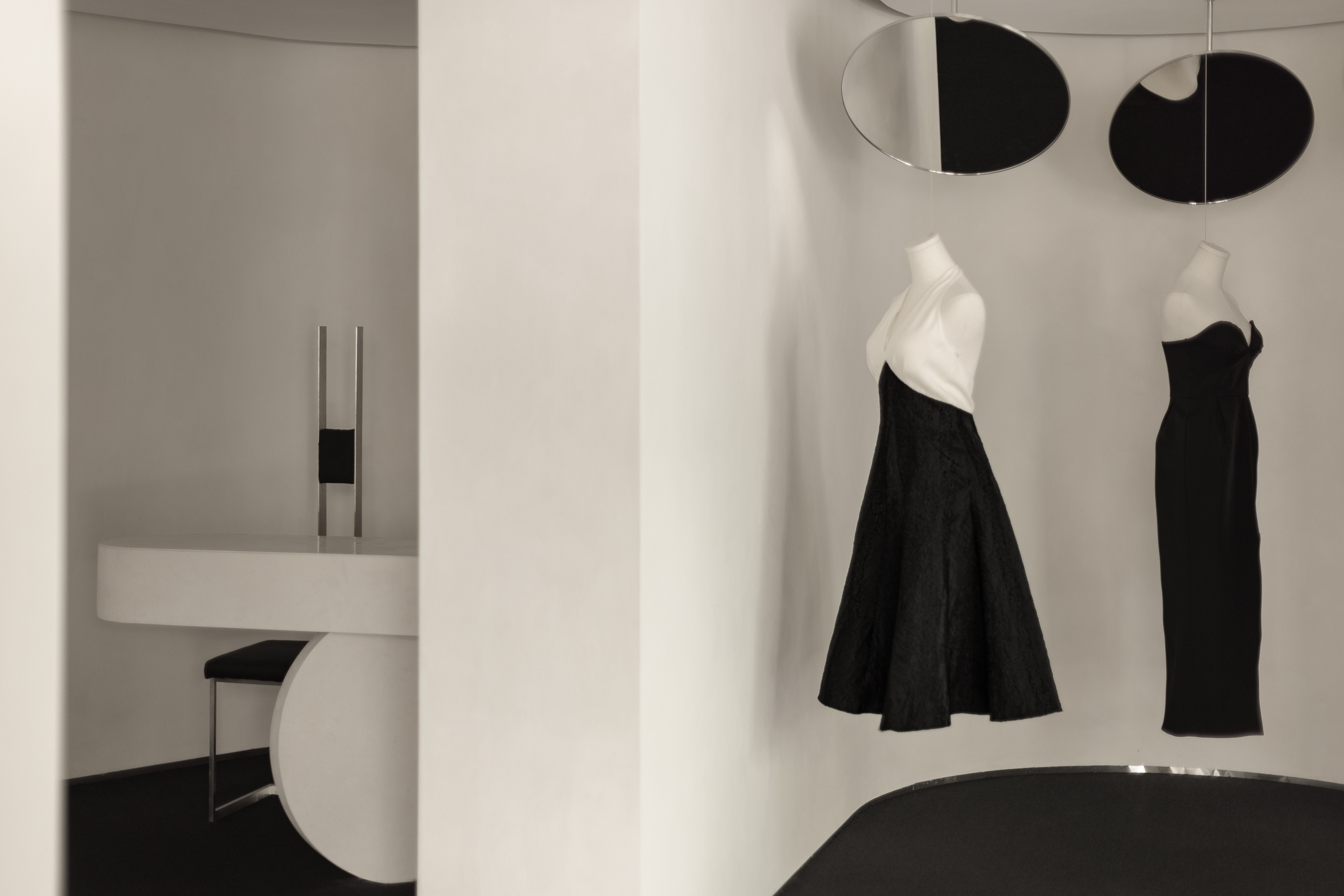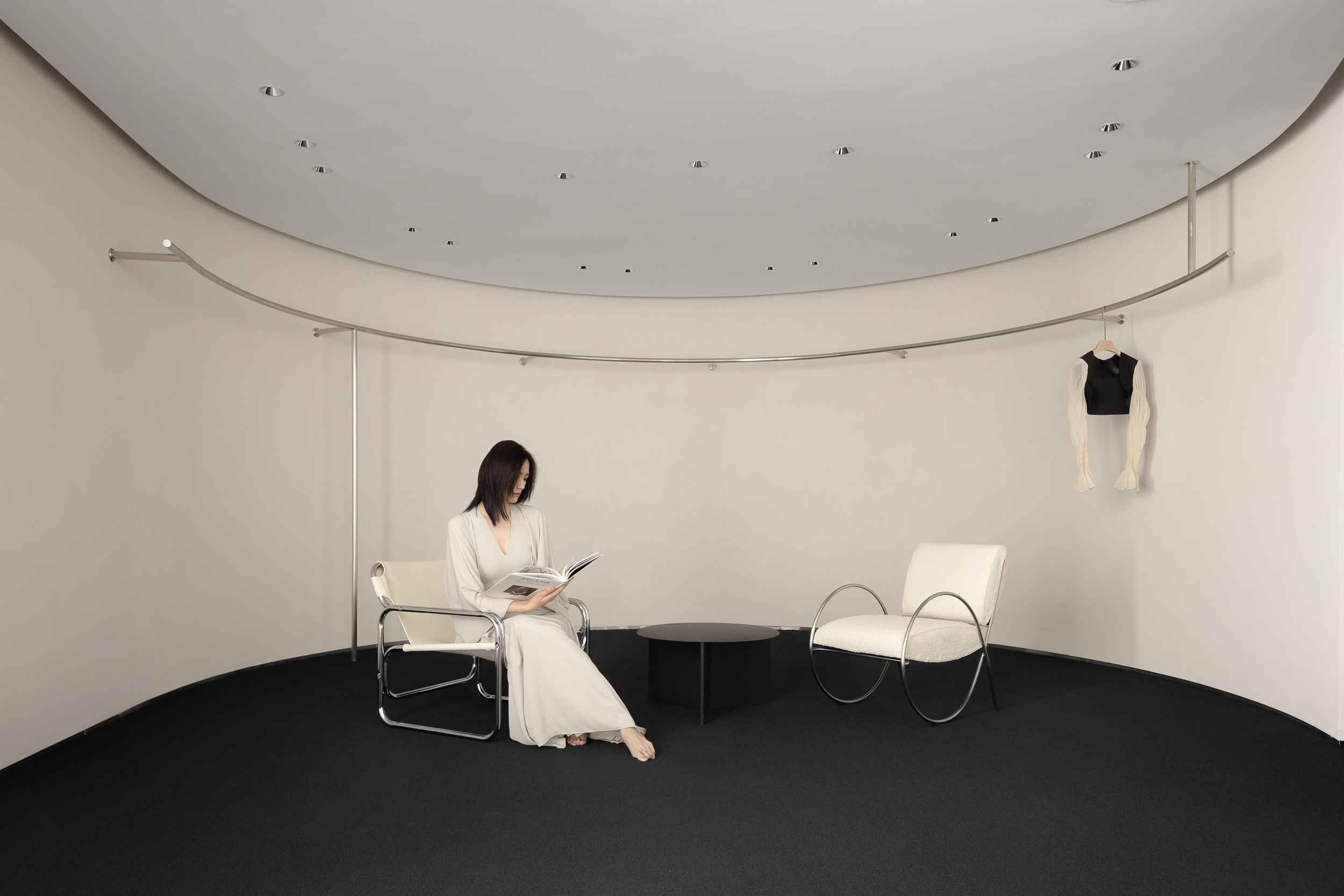 完全不对称的走廊设计,具有强烈的包容性,不再局限在某种风格里面,现代生活每个女性都有自己独特的个性。不争不抢的色彩,自由舒展的圆弧墙体,都呈现出了一种灵动诗意的柔软感。
The completely asymmetrical corridor design has strong inclusiveness and is no longer limited to a certain style. Every woman in modern life has her own unique personality. The indisputable colors and the free-stretching arc walls present a poetic softness.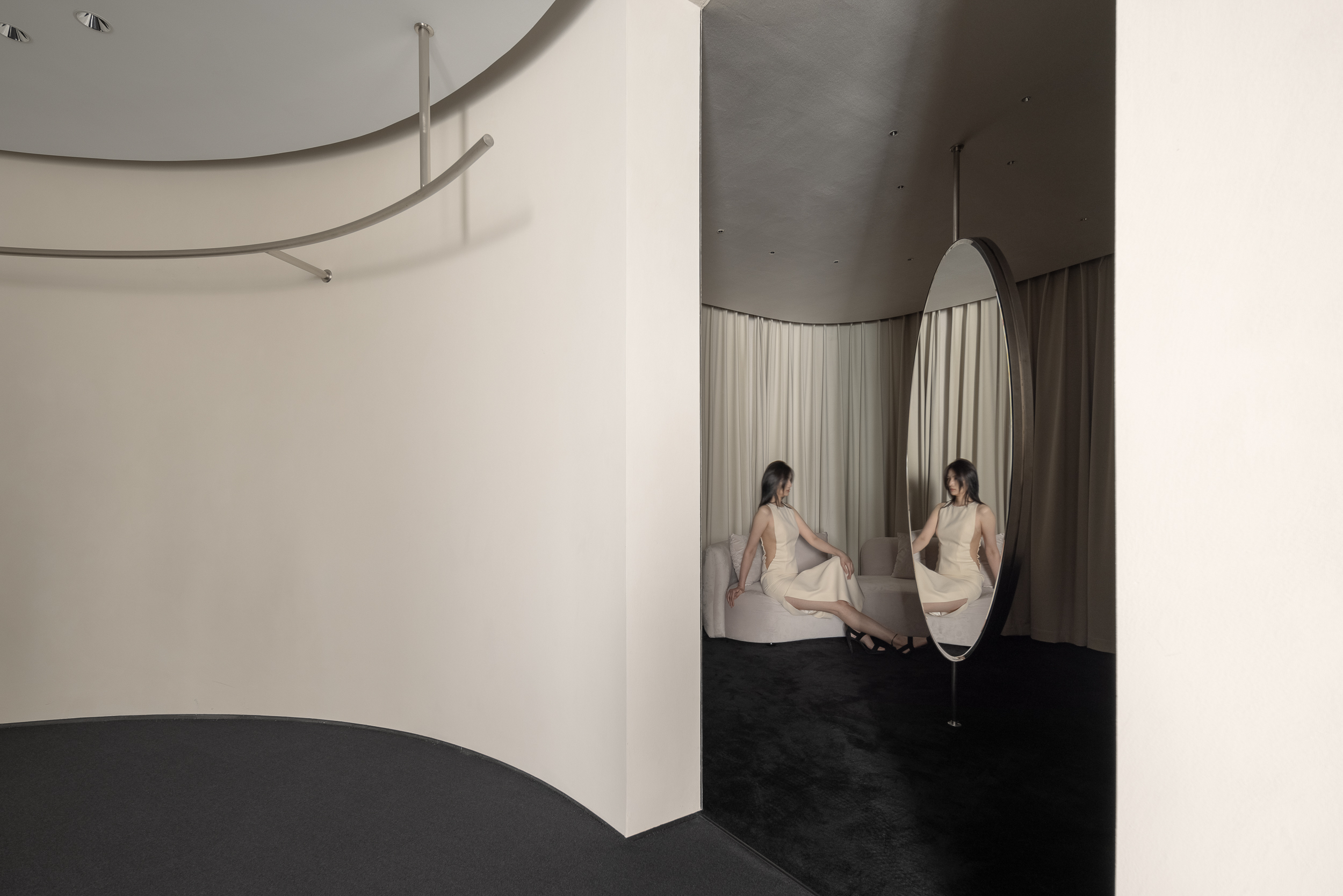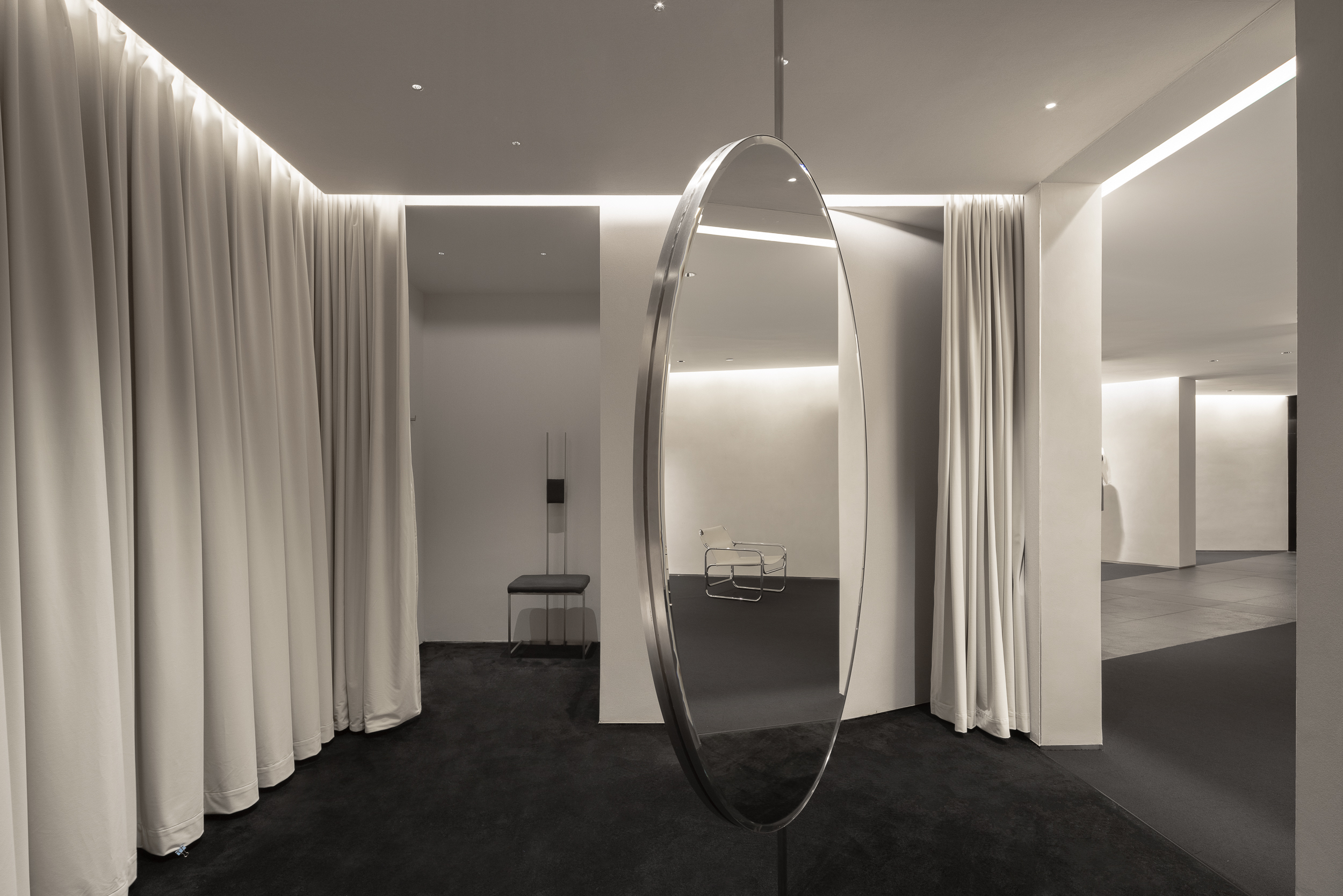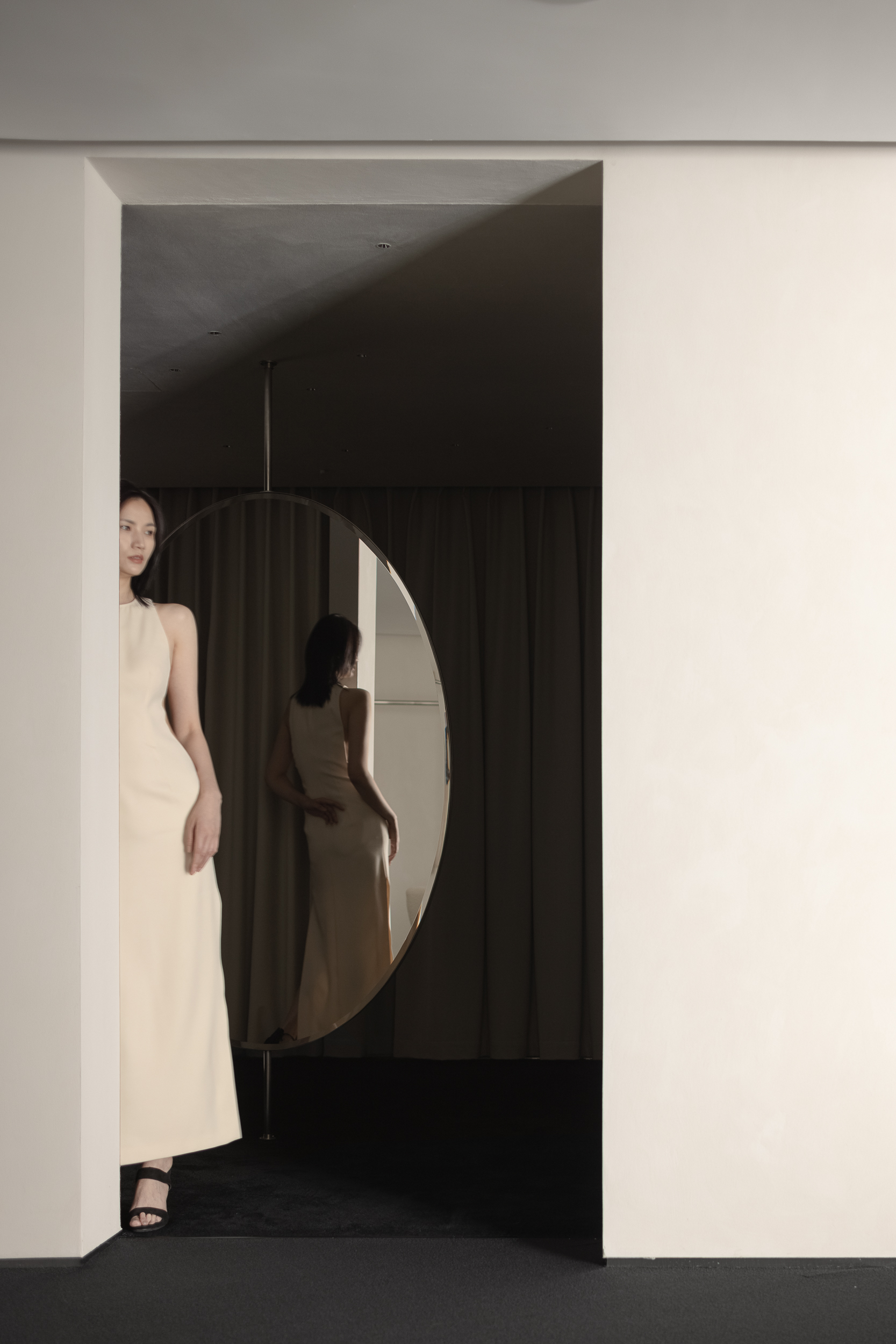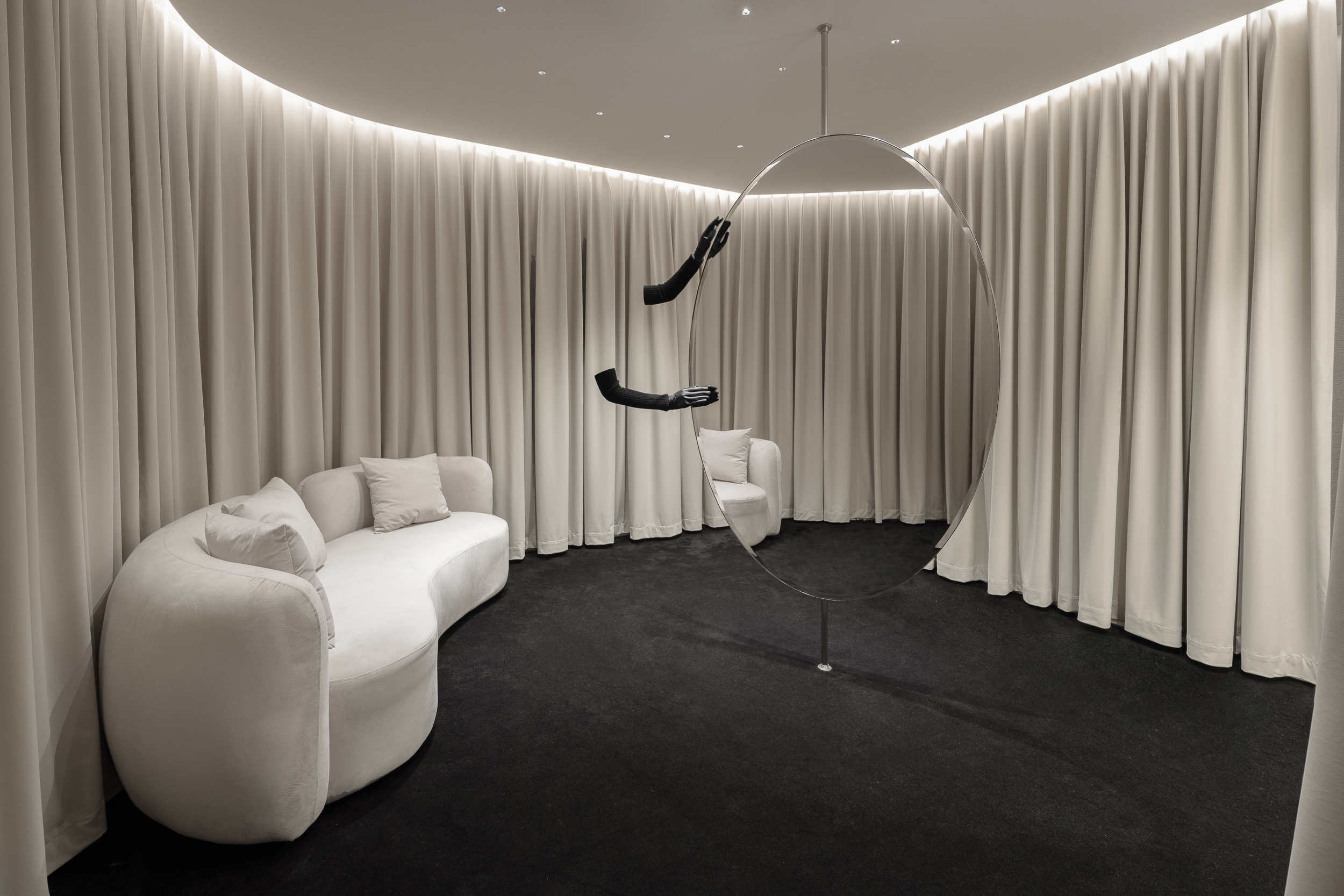 研究这个小秀场里的光与物的关系,让他们产生连接与对话。模特与圆镜的静谧孤独,用"日常生活审美化"来解读当代女性的精神,在"女性化"和"现代感"之间探索微妙的平衡。忠于女性本原特质的同时,映射她们高度个体化的现代精神。
Study the relationship between light and objects in this small show, and let them have a connection and dialogue. The quiet loneliness of the model and the round mirror uses "aestheticization of daily life" to interpret the spirit of contemporary women, and explores a delicate balance between "femininity" and "modernity". While loyal to the original characteristics of women, it reflects their highly individualized modern spirit.
---